November: Donors work with SJI to establish new scholarships to support talented and needy students
With the launch of the Dual Track 'O' Level and IP education and the new IB Diploma Programme at SJI in 2013, the school has worked with several generous benefactors to establish new scholarships and bursaries to support talented students as well as those with financial need. These scholarship and bursary scheme will enable SJI to hold to its commitment that no student shall be denied a place at SJI because of financial reasons.
The SJI Secondary School Scholarships are for boys joining SJI Secondary 1 in 2013 in either the 'O' Level or IP track.
Under the Secondary Scholarships, the SJI OBA (Old Boys' Association) has committed to giving SJIOBA Scholarships to the top-scoring PSLE boy in each of the four Lasallian Primary Schools – SJI Junior, De La Salle, St Anthony's, and St Stephen's – who attends secondary school at SJI. Also, Mr Danny Yong (SJI Class of 1988) has established the Yong Hon Kong Scholarships, named in honour of his father (also an alumni). In addition, new scholarships for boys from the Lasallian primary schools, as well as boys from other primary schools in Singapore, have also been established under the SJI Scholarships Fund.
For the SJI Senior School (the pre-university section), a benefactor has committed to sponsoring scholarships for SJI boys to continue their education at SJI in the IBDP, and also merit bursaries for talented students with financial need from SJI and other secondary schools. Established as the JC Scholarships and Merit Bursaries for the SJI IBDP, this scheme aims to encourage and enable more boys and girls to benefit from the values-centred and holistic education at SJI in its new IBDP.
SJI looks forward to working with more stakeholders to ensure to support students in their growth and learning.
To give to SJI Scholarships and other worthy school causes, email contact@sji.edu.sg
To apply for the SJI Scholarships, click Scholarship form link.
---
November: The First Students of the SJI IBDP in The Sunday Times and LianHeZaoBao
The first students of the new SJI IB Diploma Programme (IBDP) were recently featured in the press.
The 7 October 2012, issue of the Sunday Times featured SJI alongside other schools, which will be offering the IP from 2013. Two boys and two girls who obtained early admission to the SJI IBDP (JC 1) under the Direct School Admission (DSA) Exercise were interviewed for the story.
In the Lianhe Zaobao on 22 November 2012, it was the two girls, Olivia Chew and Dilys Hoh, who were featured on the front page as the first two girls admitted into the new SJI IBDP (JC 1). The girls shared their thoughts on why SJI was their choice school. The article was on the SJI IP, with a focus on the Years 5 and 6 International Baccalaureate (IB) Diploma Programme, which will be open to girls as well.
Click here to read the Straits Times article and Lianhe Zaobao article.
---
November: SJIOBA Charity Golf & Dinner Raises Over $200,000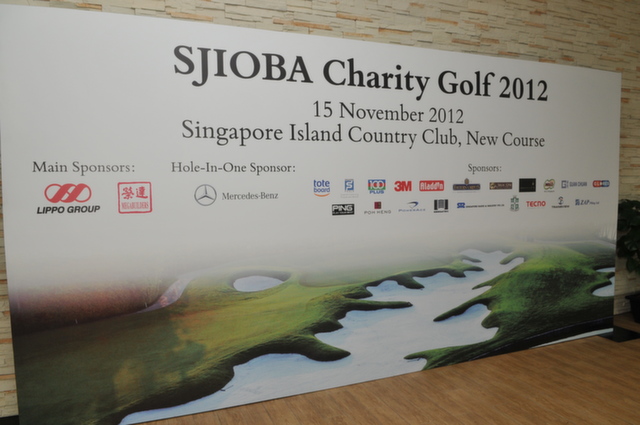 The SJI Old Boys Association (SJIOBA) Charity Golf & Dinner was held on 15 November 2012 at the Singapore Island Country Club (New Course). The Guest-of-Honour was Mr Peter Seah (SJI Class of 1963), Chairman of DBS Group Holdings Ltd and DBS Bank Ltd.
With the generous support of more than 300 old boys, golfers', sponsors, donors and volunteers, the event raised over $200,000 for the The Lasallian Scholarships, SJI Building Fund and Operating Cost for SJIOBA.
In the past year, the SJIOBA has organised many fund-raising activities for the SJI Building Fund, as well as activities that helped SJI alumni to reconnect with their alma mater. Through such events, the SJIBOA hopes to build an even stronger Josephian spirit amongst the alumni.
---
November: Zaobao Comma on Ser Yung's Triumph at 'O' level Chinese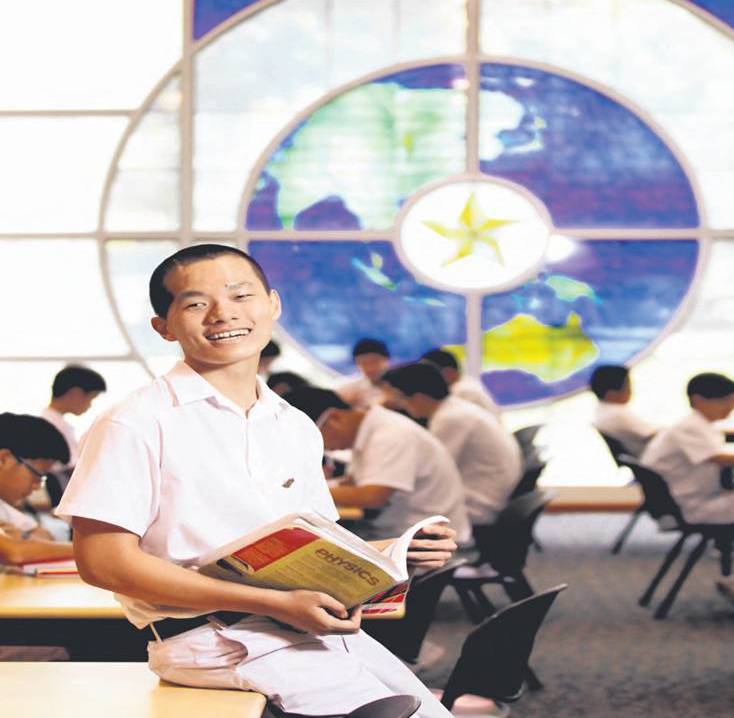 ZB Comma, a supplement of the Lianhe Zaobao, featured on 3 October 2012, the inspirational story of SJI student Tan Ser Yung, following the release of the Chinese 'O' Level Examinations results, in which he scored a distinction (the examination was taken in June). Ser Yung had returned to school last year after a 10-month break following an accident during the National Inter-school Judo Competition, which left him paralysed. In the article, Ser Yung shared with readers his road to recovery as well as the lessons learnt from the experience that changed his life. Ser Yung has just completed the November 'O' Level Examinations, and is waiting to receive his results in early January.
Click here to read the Lianhe Zaobao article.
---
September: Bidding Farewell to the Class of 2012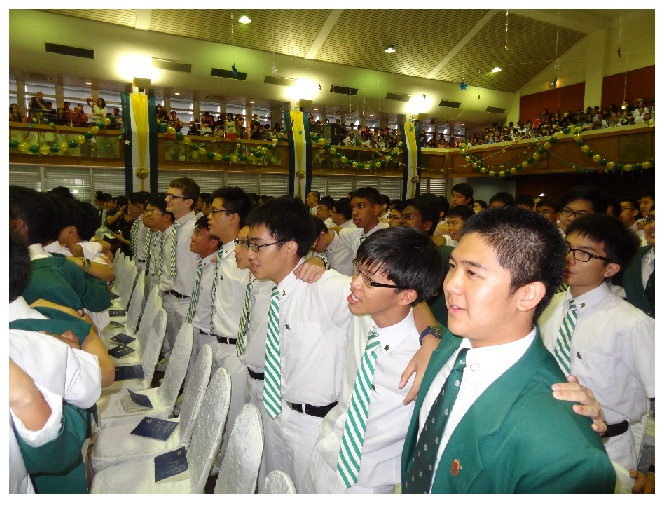 In keeping with SJI tradition, the school community bid farewell to the graduating Class of 2012 with the Farewell Paraliturgy and the Speech and Graduation Day.
The Farewell Paraliturgy on 27 September at the Founders' Hall started with a prayer and lighting of the candle by the Principal and the Class Committee Chairmen of each class. Highlights of the event included the students' reflection on their four-year journey in SJI, and the presentation of the graduation badge by the Class Tutors to each of their students. The event came to a rousing close with the Class Tutors taking the stage with the song "Passing on the Passion".
The Speech and Graduation Day 2012 on 29 September was graced by Professor Leo Tan (Class of 1963), President and Fellow, Singapore National Academy of Science. Known to be one of the most endearing and touching events of the year, this year's Speech and Graduation Day was no different. One special moment was when parents read the letters their sons had written to them, sharing about their growth journey and expressing their gratitude to their parents.
In his speech, Dr Koh Thiam Seng, Principal of SJI, paid tribute to a special young man, Tan Ser Yung from Class 435. In April 2010, Ser Yung met with an accident during the National Inter-school Judo Competition, which left him partially paralysed. With love and support from his family and the SJI community, he returned to school in 2011 to continue his studies. Ser Yung, who scored an A1 in the GCE 'O' levels Chinese paper, has been an inspiration to many and especially so for the Class of 2012.
As SJI bids the Class of 2012 adieu, the school community prays for the boys' success at the coming GCE 'O' Level Examinations, and that they will follow the lead of the generations of Josephians before them - to serve society as Men of Integrity and Men for Others.
---
September: Josephians-at-Large: Career Talk 2012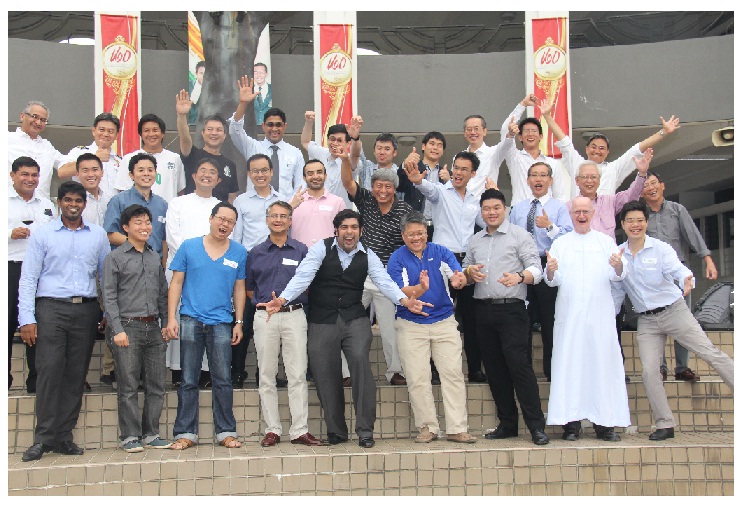 More than 30 old boys from different walks of life returned to their alma mater to participate in this year's career talk on 14 September 2012. Organised for the Secondary 4 boys, the event provided a platform for the boys to hear from their seniors on their choice of profession, as the students themselves begin to think of their own.
This year, the speakers were organised into 10 groups, namely, law, banking investment & finance, design, religious, medical, public service, education, entrepreneur, bio-research and technology.
Head Prefect of SJI, Brandon Krygsman from Class, 431 shared that, "Well, I can't say that I definitely know what I want to be in the future but the career talk has given me insights on how I can contribute to the community in the future. It's really heartening to see that Josephians all over are contributing to the community in their own ways and they are still willing to come back just to help us out."
---
September: Charity Golf & Dinner 2012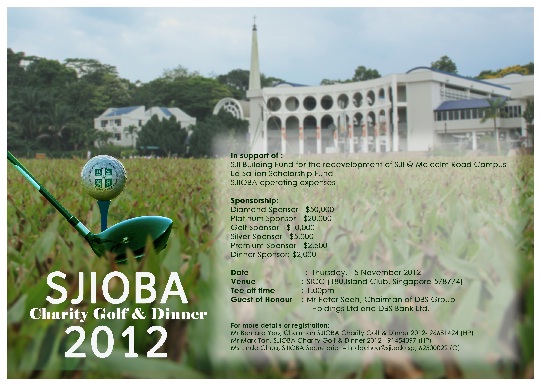 The SJI Old Boys Association (OBA) will be holding the 2012 Charity Golf & Dinner on 15 November at the Singapore Island Country Club. SJI alumnus Mr Peter Seah, Chairman of DBS Group Holdings Ltd and DBS Bank Ltd, will be gracing the event, which aims to raise funds for The Lasallian Scholarship and the SJI Building Fund.
_The Lasallian Scholarships_
The Lasallian Scholarship, sponsored by the SJI OBA, will support the top boy of each of the four Lasallian Primary Schools - De La Salle School, St Joseph's Institution Junior, St Anthony's School, St Stephen's School - to pursue their education at SJI. Valued at up to $4,800 each, the scholarships will be automatically offered to the top boy of each of these four schools, based on the results of the Primary School Leaving Examination (PSLE). SJI will also waive the annual supplementary fees of $600 or $960 for the O-level track and IP track respectively for the scholarship recipients.
_SJI Building Fund_
From 2013, SJI will be offering a dual-track education comprising the O-levels, and an Integrated Programme (IP), which leads to the International Baccalaureate (IB) Diploma in a new SJI JC. As a dual-track school, SJI will be more accessible and cater to a wider range of academic abilities than a full IP school.
To cater to this development, the SJI Malcolm Road campus will be expanded to cater for the new JC, and the current facilities will be refurbished. When the works are completed in 2016, the recreational facilities and social spaces will be open, in the evenings and on weekends, to alumni, parents and other stakeholders to socialize and reconnect with one another and with the school.
For more information and registration for event, please click here.
---
August: Prof Leo Tan kicks off the second series of The Fullerton–SJI Leadership Lectures
The Fullerton-SJI Leadership Lectures, since their inauguration in 2010, have featured distinguished SJI alumni sharing key lessons from their leadership in varied fields. The second series of the lectures was kicked off on the 24th August 2012 by Prof Leo Tan Wee Hin (Class of 1963) at The Straits Room, The Fullerton Hotel.
Prof Tan is currently the President and Fellow of the Singapore National Academy of Science. He was formerly Director and Chief Executive of the Singapore Science Centre, Director of the National Institute of Education and Director (Special Projects) at the Faculty of Science, National University of Singapore.
For close to an hour, Prof Tan shared with an audience of about 170, on how being thrusted into leadership positions had provided him with opportunities to grow and to refine his leadership. Known to be embracing towards all staff, including those who may not necessarily agree with his views, Prof Tan also shared the strategies that he adopted in soliciting 'buy-ins' from his detractors. The last segment of the programme saw a lively dialogue session between Prof Tan and the audience, moderated by SJI alumnus Mr Arnold Gay (Class of 1983), an award-winning TV reporter who's worked at Thomson Reuters and CNBC Asia Pacific in Singapore.
The Fullerton-SJI Leadership Lectures are organised by SJI, with the support of The Fullerton Hotel, and with The Straits Times as the media partner.
Click here for Straits Times article.
---
August: SJI Concert at Singapore Botanical Gardens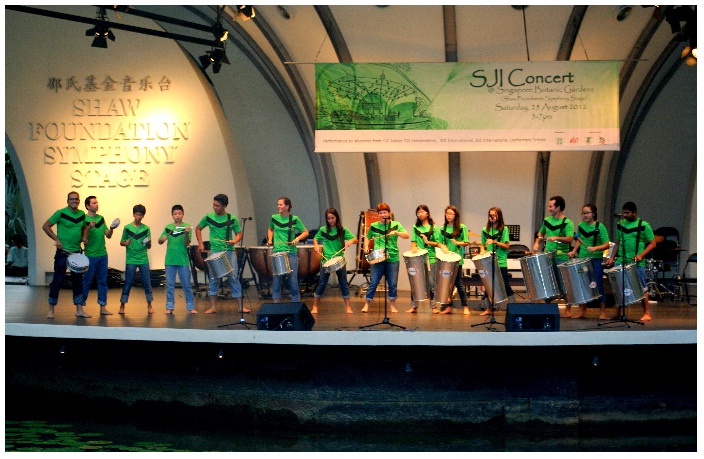 The SJI Old Boys' Association (OBA), together with the SJI family of Schools, organized a fun-filled evening of music and drama on 25th August 2012 at the Singapore Botanical Gardens. The concert featured performances by students from SJI Junior, SJI International and SJI, and included items by dance groups, pop band, choir and orchestra.
Many students, staff and alumni came with their families for a picnic whilst enjoying the concert. The free ice-cream sponsored by the SJI OBA also helped cool the concert attendees in the warm Saturday evening.
Ms Theresa Lim, a parent whose son attends SJI International, shared, "This is the second year my family is here to enjoy the SJI concert and to also watch my son perform. We are looking forward to more of such events."
---
August: SJI emerged first runner-up at the Berita Harian National Debate 2012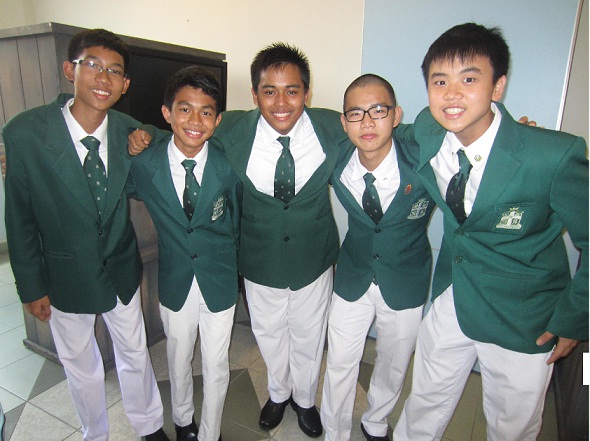 The SJI Debaters attained second position after a tough battle against Kranji Secondary School at the Berita Harian National Debate 2012. The finals were held at the Sultan Mosque Auditorium on 15 July 2012. Bernardus Christianto from Class 435 was awarded Best Speaker in the Grand Final. The team also debated against Dunearn Secondary School and Tanjong Katong Girls' School at the quarter-finals and semi-finals respectively.
The 5-person team comprised, Ahmad Zaki Bin Yazid (Class 303), Muhamad Firas Ardani Bin Muhamad Rafi (Class 436), Hans Toby Limanto (Class 305), Bernardus Christianto (Class 435) and Mohammad Nadhir Qidran Bin Nadzaruddin (Class 311).
---
August: SJI alumni conferred the National Day Awards 2012
We congratulate our alumni who are recipients of this year's National Day Awards. Mr Peter Seah and Mr Tan Chin Tiong received the Distinguished Service Order and Mr Tan Guan Leong, Peter, received the Public Administration Medal (Silver)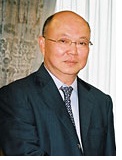 Mr Tan Chin Tiong (Class of 1963) who is the Ambassador-at-Large & Director at the Institute of Southeast Asian Studies joined the Ministry of Foreign Affairs (MFA) in 1997, after three decades in the military and bureaucracy. He then went on to become Singapore's Ambassador to Japan from 2004 to January this year. He is well-known for his ability to reach out to people and take care of Singapore's position.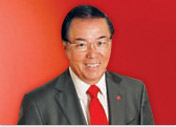 Mr Peter Seah Lim Huat (Class of 1964) is currently the Chairman of DBS Group Holdings Ltd, Chairman of Singapore Technologies Engineering Ltd, Chairman of Singapore Health Services Pte Ltd. Mr Seah had a hand in transforming Singapore financial sector and the stock market as well as making Singapore a premium hub for fund management.
Mr Tan Chin Tiong (top) & Mr Peter Seah Lim Huat (bottom)
Mr Tan Guan Leong, Peter (Class of 1968) is currently the Director/Development Control, Information & Customer Services, Development Control, Information and Customer Services, Urban Redevelopment Authority.
---
August: SJI at Bishan holding site in 2014 & 2015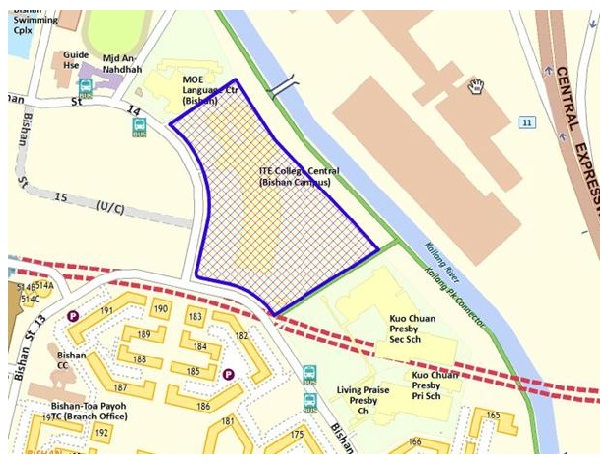 The St Joseph's Institution (SJI) Malcolm Road Campus will be redeveloped from January 2014 to December 2015; to build facilities for the new JC section and to upgrade the secondary school section to the latest MOE specifications. During the upgrading period, the school will relocate in December 2013 to 21 Bishan Street 14, which currently houses ITE College Central.
The holding site, which is relatively new, is strategically placed near excellent sports facilities such as Bishan Stadium, Indoor Sports Hall and Swimming Complex which will serve the school's programme needs. It is also centrally located and served by many public bus routes, as well as both the North-South and Circle Line MRT.
Please email to contact@sji.edu.sg if you have any queries regarding our relocation to the holding site.
---
August: Beijing Exchange Students at SJI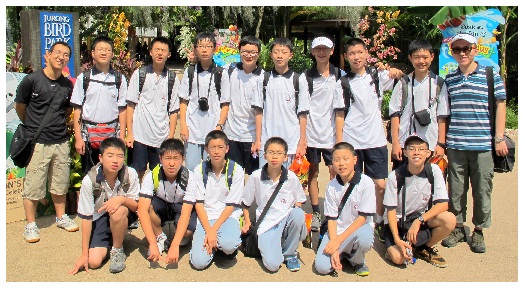 14 students from Beijing No 8 Middle School were in SJI for a 14-day exchange programme from 23 July to 3 August 2012. The programme, which has been ongoing since 2001, provided an opportunity for the Beijing students to attend English lessons as well as to experience Singapore culture. The student visitors also stayed with the family of their SJI student buddy, hence allowing them to immerse in the day-to-day life of a Singapore student.
Student visitor Wayne Wangshuai from this year's programme shared, "My buddy, He Qi Yong of Class 202 and his family have been great hosts. We will quickly finish up our homework once we head back, to spend more time sharing our experiences. I will miss their hospitality." In November this year, the SJI students will be hosted in a reciprocal programme by their Beijing student buddy.
---
July: Esmond Loh wins UOB Painting of the Year Competition 2012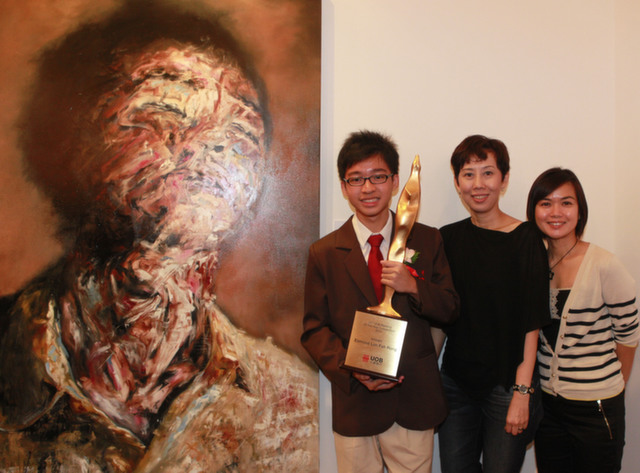 Esmond Loh (SJI Class of 2011), bagged the top prize in the prestigious UOB Painting of the Year 2012. His painting titled "Just Let Me Sleep" was inspired by his transition from secondary school to a new and more stressful junior college environment. Esmond, who has a knack for painting since young joined the SJI Art Talent Programme in 2008, when he began painting earnestly.
Besides Esmond, Alvin Ong (SJI Class of 2004), also won a Highly Commended Award in this year's competition. Alvin had won the UOB Painting of the Year Competition in 2005. The boys were taught and mentored by Art teachers, Mrs Vivian Tan and Pennie Ong. These Josephians are 2 of the 3 winners below the age of 18 in the 31-year history of the contest.
---
July: SJI brings home Ortega Cup for the fourth time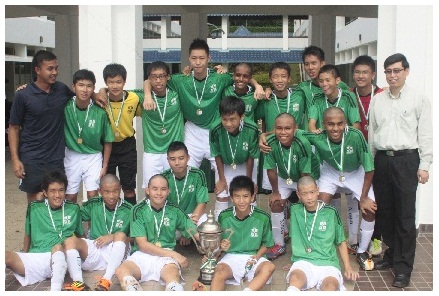 Josephians did the school proud by emerging as the winner after scoring 1-0 against Raffles Institution (RI) at the Ortega Cup 2012 held on 14 July 2012. This marks the fourth consecutive year that SJI has won the competition. Named after Mr. Robert Ortega, an ex-staff from RI, the annual soccer tournament with the key objective of promoting team spirit and sportsmanship between RI and SJI, has been bringing the boys from both institutions together since the 1970s.
This year's match, which took place in SJI's school field, was intense and action-filled. However, the match almost headed for a goal-less draw until SJI scored in the second half the game. The SJI team, made up of boys from Secondary 2 and 3, was naturally ecstatic about the hard-fought win.
---
July: Drenched in the SJI Spirit at the Annual Parade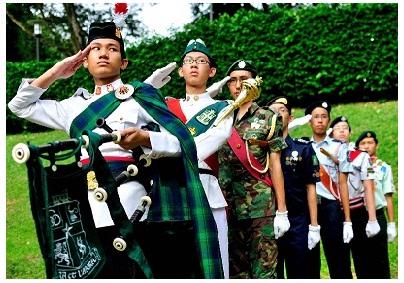 Despite the rain, the 160th Annual Parade (AP) took place as scheduled on 7 July 2012. Graced by Deputy Prime Minister Teo Chee Hean (SJI Class of 1970), the spirit of camaraderie was strongly evident as the contingent marched across the school field, witnessed by alumni, parents and ex-cadets, in this yearly event that marked the passing on of leadership from senior cadets to their juniors.
In the words of Mr Jude Tan ,a member of the AP organising committee, 'One Guest-of-Honour, a dozen VIPs, 30-odd teachers, more than 500 cadets and an equal number of parents and old boys – all with a common experience – drenched with the SJI spirit.' The hour-long event ended with a reception at the school's foyer, where the crowd mingled and re-connected.
---
July: Going bald for a cause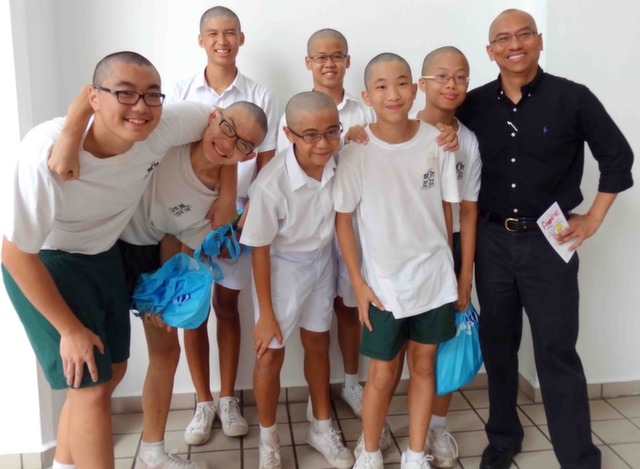 Students and teachers of SJI made a "bald" statement getting their hair shaved for the Hair For Hope 2012, an annual fund-raising campaign of the Children's Cancer Foundation (CCF). SJI has been a supporter of the Hair For Hope campaign for the last 5 years. It was awe-inspiring watching the 283 shavees from SJI shedding their hair for a good cause.
Students from Class 425 shared, "We want to let the children know that they are not alone, and we will stand by them." Another student Ivar Lassesen from Class 204 said, "Both my grandparents survived cancer, and I witnessed what they went through. I think this is good way to spread the awareness of children's cancer."
Do check out our gallery to see our boys and teachers in action.
---
June : SJI launches inaugural Singapore ArtScience Prize in collaboration with ArtScience Lab
On 2nd June, SJI hosted IDEA 2012 which featured IDEA Talks and the inaugural Singapore ArtScience Prize.
IDEA Talks featured ArtScience Lab founder Prof David Edwards of Harvard University and 3 other experts who shared their ideas on the innovations at the intersection of the arts and sciences, including Prof Steve Dixon, President of Lasalle College of the Arts; Prof Wolfgang of Fraunhofer IDM @ NTU; and Dr Shawn Hoon of A*STAR's Molecular Engineering Lab.
At the finals of the inaugural Singapore ArtScience Prize that followed, student teams from all various schools, who have been on the ArtScience Programme at SJI for the past five months, presented their ideas on the theme "Virtual Worlds". A pair of headphones that can help cure addictions helped a team from SJI clinched the top prize. Comprising Christopher Low, Jeremy Luke Soh, Jonah Tan, Hubert Yeo, and Edwin Lim .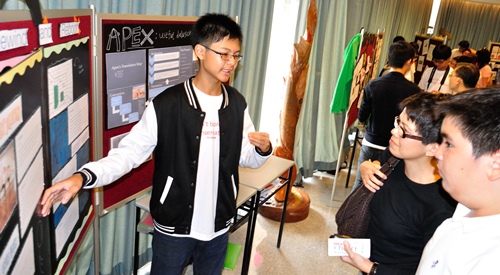 The ArtScience Programme in Singapore is a unique collaboration between SJI and the ArtScience Labs founded by Harvard University's Prof David Edwards. It is a core part of the SJI Integrated Programme curriculum, and part of an expanding ArtScience Lab network of high school students, undergraduates, designers, researchers and entrepreneurs in the US, France, UK, Saudi Arabia and South Africa, to learn and to use the integration of Art and Science to generate innovative ideas and solutions.
The winning team of the Singapore ArtScience Prize will join winners from other ArtScience centers in Paris in end June to refine and present their idea.
Click here for Straits Times article.
View our ArtScience Prize 2012 pictures via our Gallery.
For more information about ArtScience do visit our website.
---
June: Becoming Lasallian Leaders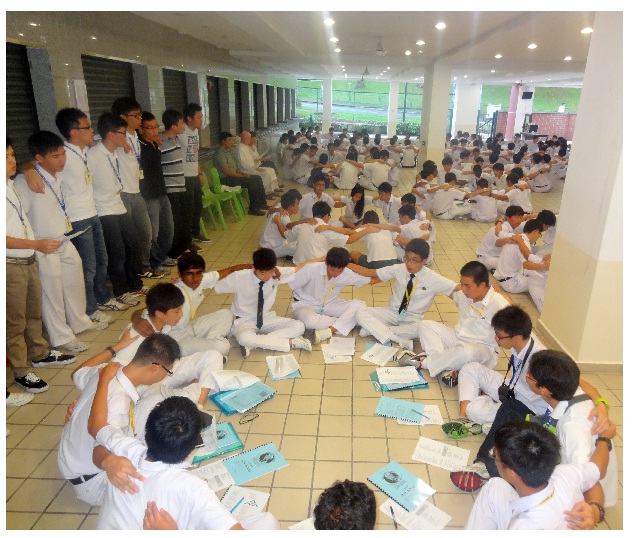 Student leaders from the 3 Lasallian secondary schools in Singapore came together for four days to attend the annual Lasallian Leadership Training Camp (LLTC) from the 17th -20th June at SJI. United around the same shared core values of Faith, Service and Community, these leaders from St Joseph's Institution, St Patrick School and St Joseph's Institution International engaged in activities of the mind, body, as well as the heart and spirit.
They deepened their understanding of our founder St John-Baptist De La Salle, the 'servant leadership' approach, and Kouzes and Posner's five Practices of Exemplary Leadership. Other than lessons, these were also weaved into engaging activities such as rope courses, dragon boating, and the Lasallian heritage play.
---
June: SJI sweeps medals at 2012 National RoboPreneur Carnival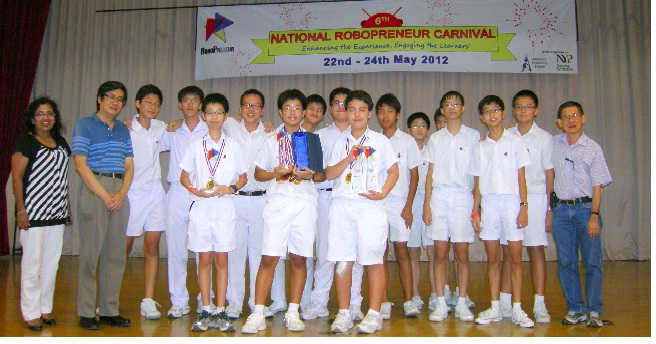 SJI Robotics Club was crowned the Overall Champions by clinching several awards at the 6th National RoboPreneur Carnival (NRPC), held from the 17th - 24th of May 2012. Themed "Metastasis" this year, the teams had to research and analyze the theme and present their research finding in the form of a journal, before being shortlisted for the finals.
The SJI teams were awarded in the following categories:
1. 1st for SIDE EVENT MOST INNOVATIVE ROBOT DESIGN AWARD (OPEN)
2. 2nd for MAIN EVENT MOST BIZARRE ROBOT AWARD (Secondary) -awarded to the team which shows the most outstanding creativity in their robot design.
3. 3rd for MAIN EVENT BEST MECHANICAL DESIGN AWARD (SECONDARY) - awarded to the team which best demonstates a sound understanding and appropriate use of mechanical design principles.
4. 1st for MAIN EVENT BEST ROBOT PERFORMANCE AWARD (SECONDARY) - awarded to the team which accumulates the highest scores in achieving the various mission objectives on the playing field.
---
June: SJI Soccer champions at Berita Harian/Pilot Pen Tournament Content
SJI Soccer players triumphed at the 2012 Berita Harian / Pilot Pen 7-a side Under-13 Soccer Tournament, winning the finals 4-0 against the ANZA (Australia and New Zealand Academy) on the 16th of June. The team played with resilience and fortitude keeping a clean sheet throughout the tournament by not conceding any goals, against a field of schools and soccer academies.
The team comprised, Captain Brian Jeyaseelan (111), Collins Liam Alami (112), Mohd Nasrul Matin (109), Malcolm Tan (103), Fabio Camagni (105), Ameer Khalid (108), Chad Monteiro (108), Timothy Wong (110) and Elliot Ng (102).
In addition to the win, Elliot Ng (102) represented Singapore's Under-14 Soccer Team for a regional tournament in Osaka, Japan from the 17th to the 24th of June.
---
May: Bloody Tuesday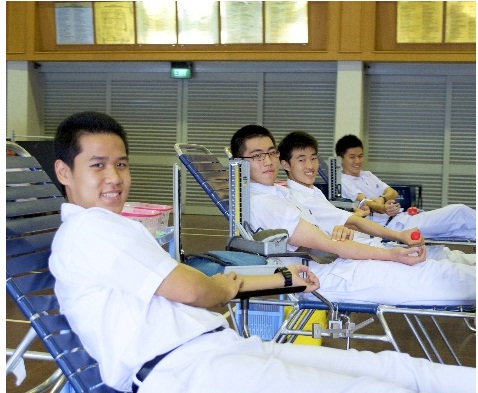 On 22 May, students and teachers of SJI came forward to support the blood donation drive, which was held at the SJI founders' hall. A talk was given to the Sec 4 boys on Blood Donation before the Mid-Year Exams and the shortage of donors was emphasised so that they would be encouraged to do their part during the drive.
When Bloody Tuesday came, 40 bags of blood were collected. It was heartening to see some alumni return to SJI to make their donation. A parent who was waiting to take his son home also took time to donate blood as well. There would have been more donors but unfortunately some students were turned away for various reasons, such as chicken pox and low blood pressure. The next Bloody Tuesday will be on 25 September 2012.
---
May: "Lead Your Life" - New SJI book on leadership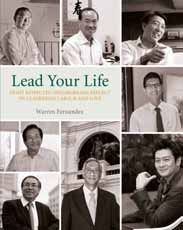 Authored by Straits Time Editor Warren Fernandez (SJI Class of 1982), the book "Lead your life" collates a series of lectures and conversations on the art of leadership, held over several evenings in the past two years (2010-2011). The lectures were part of the Fullerton-SJI Leadership Lecture series which saw eight prominent alumni of SJI share their leadership moments and how they responded to the call of leadership . These prominent men included Former Cabinet Minister Mr George Yeo, Mr Gerard Ee (Chairman of the National Kidney Foundation), Mr Philip Yeo (Chairman of Spring Singapore), Mr Peter Seah (Chairman of DBS Bank), Musician Dick Lee, Mr Lim Chee Onn (Former Cabinet Minister and Chairman of Singbridge), Prof Tan Chorh Chuan (President of NUS) and DPM Teo Chee Hean.
"Lead Your Life" is available at the SJI Corporate Communications Office and will be available at all leading bookstores from June 2012. Visit our SJI Shop for more information.
---
May: Largest gathering ever for SJI 160th Anniversary Dinner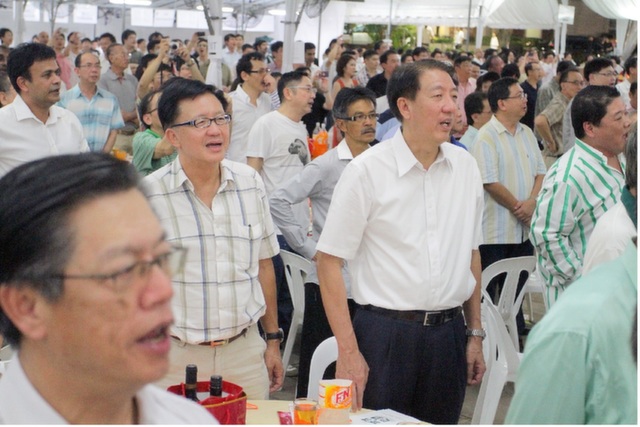 Over 2200 old boys returned to reconnect with their alma mater and celebrate the school's 160th anniversary on the 12th of May 2012. Along with current staff and students, former teachers and other supporters of the school, the SJI old boys showed what it meant to be Josephian with a great sense of camaraderie and community at the dinner held at the school field of the SJI Malcolm Road Campus. The evening also showcased outstanding musicians, singers and hosts who were old boys themselves.
The dinner is the pinnacle of the homecoming dinners that the SJIOBA has organized these past two years as part of its Reconnecting with Alma Mater programme. More events are being lined up.
For more pictures, click gallery.
---
May: SJI PSG Parenting Talk on Cyber Wellness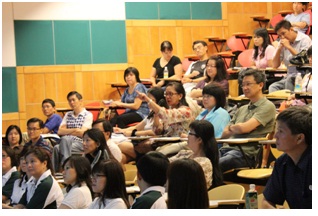 A total of 48 parents participated in the Cyber Wellness workshop organised by the SJI PSG Learning & Development Committee on 19 May 2012. The workshop was led by Mr Anthony Yeong, a counsellor from TOUCH Cyber Wellness. This session was indeed an eye-opening experience as it highlighted the language used, the colour, breadth and vibrancy of today's cyber world. Stories of youths were shared, who started gaming as a form of leisure which became detrimental as they started to spend more time and money to increase powers and levels in their games. He also shared about the risks of online social networking and taught useful tips on how to increase the privacy levels as well as how to spot and stop cyber-bullying. Many parents felt that the talk helped allay their concerns of their children's cyber addiction. It also involved an online real time practical demonstration and a slideshow on notes and useful assessment tools to detect the onset of cyber addiction.
Parents also had the opportunity to network with other parents and clarify issues with the facilitator as well as the school counsellors, Ms Christine Tang and Mr Lee Seng Teck.
---
May: SJI Tamil Debaters clinched 2nd position at Nationals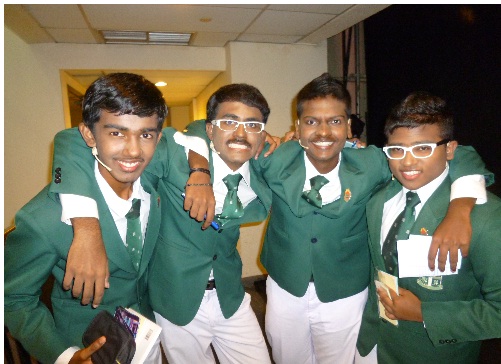 SJI Tamil Debate Team attained second position, speaking passionately against Cedar Girls Secondary School at the Tamil Language National Debate Finals known as "Sorkallam" which took place on 28 April 2012. The debaters from SJI were Sanjeev s/o Sadhasivan (433), Ahabath Rehman (422), Ramu Nachiappan (303) and Kannan Ramanathan (431).
SJI tamil teachers, Ms Kumudavalli, Ms Jothibai, Mr Ramar & Bro Kennedy have been a great source of motivation to the boys, by conducting intensive training and giving constant support throughout the competition which was ongoing for six months. It was the first time ever that SJI participated in this competition and hence, clinching the runners-up trophy was a phenomenal achievement." It was a tough fight amongst 32 schools, but this journey improved our proficiency in the Tamil Language and aided us to strengthen the bond and build rapport amongst us" shared the debaters.
---
April: Big turnout at SJI IBDP Info Evening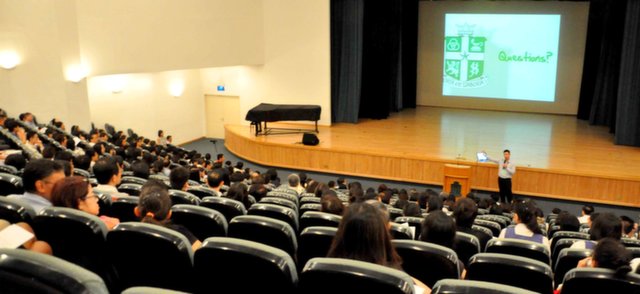 Close to 400 people turned up at the 12 April Information Evening, at which SJI introduced its International Baccalaureate Diploma Programme (IBDP) to secondary 4 boys and girls from schools from all over Singapore. An interesting phenomenon was the particularly strong interest from girls, who formed a large part of the audience. The 2013 SJI IBDP intake of 80 will be a return to the past when girls were students of the school at pre-university level.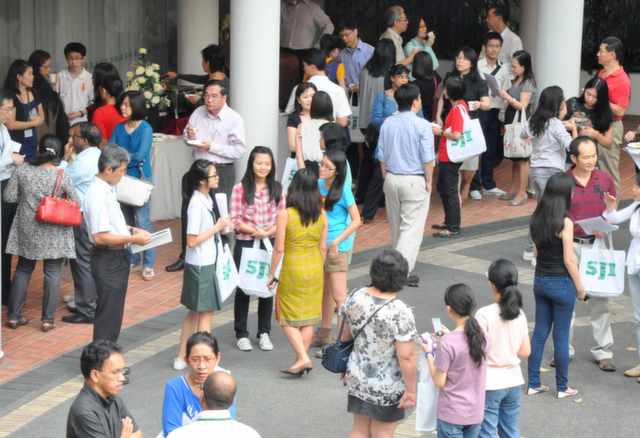 Held at the SJI Performing Arts Centre, the session highlighted to participants three key elements of the IBDP: holistic development, international-minded, and critical thinking and communication. It was also shared that the class sizes would be small with between 10-20 students who will be taught by experienced international staff.
Another information session has been planned for September 2012. Students and parents interested to be notified of it can email admissions@sji.edu.sg
See Straits Times Article : Straits Times
---
April: Lasallian Family 160th Anniversary Celebrations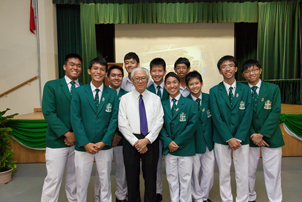 As one of the many events conducted to mark this milestone, a Thanksgiving Mass was celebrated by the Archbishop of the Catholic Church of Singapore at the SJI International Chapel. Among the many prominent Old Boys there, President Tony Tan who was also present to officially open SJI International's new sports and recreational complex.
The event was attended by Principals, Brothers, teachers and students from the Lasallian schools in Singapore. Bro Visitor Edmundo L. Fernandez FSC from the Philippines also flew in with his delegates to grace the occasion. President Tony Tan also launched SJI's Campus Redevelopment Fund and presented mementos to donors. The redevelopment fund is needed to expand SJI's campus at Malcolm Road in view of its IP and IBDP programmes that will be implemented with effect from 2013.
---
April: Together As Josephians' Book by Class of 1964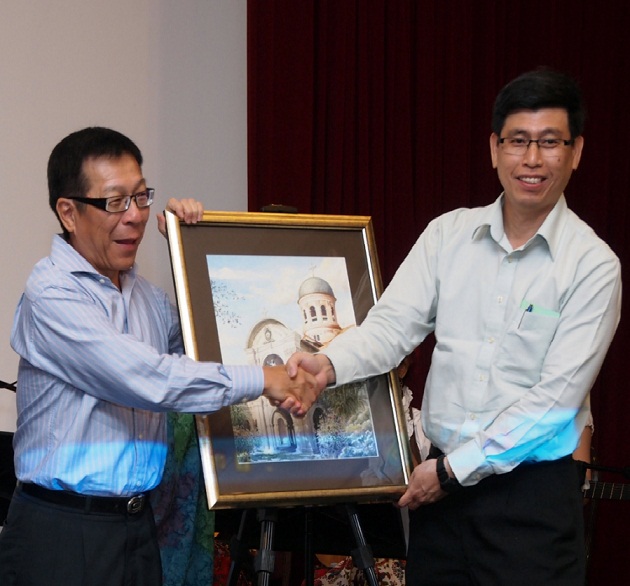 The old boys of Class 1964 reunited for a 3 day celebration, at the former SJI grounds which is now Singapore Art Museum (SAM) on the 30th of January. At the reunion, the Chairman of the Organising Committee, Mr Mah Bow Tan, presented a watercolour painting entitled 'Our SJI' which is also featured as the cover page of their photo book called 'Together As Josephians'.
The painting which is done by Ms Wong Chor Yee wife, of Prof Lun Kwok Chan, (SJI Class of 1964) was presented to SJI Principal, Dr Koh Thiam Seng, for display at SJI, at Malcolm Road. The photo book which was released in mid-march 2012 showcased class photos extracted from the Christian Brothers' Annual of various years relevant to SJI Class of '64, and short write-ups and poetries on 'those days long gone'.
Read more about SJI Class of '64 here.
---
April: SJI wins National Canoeing Championship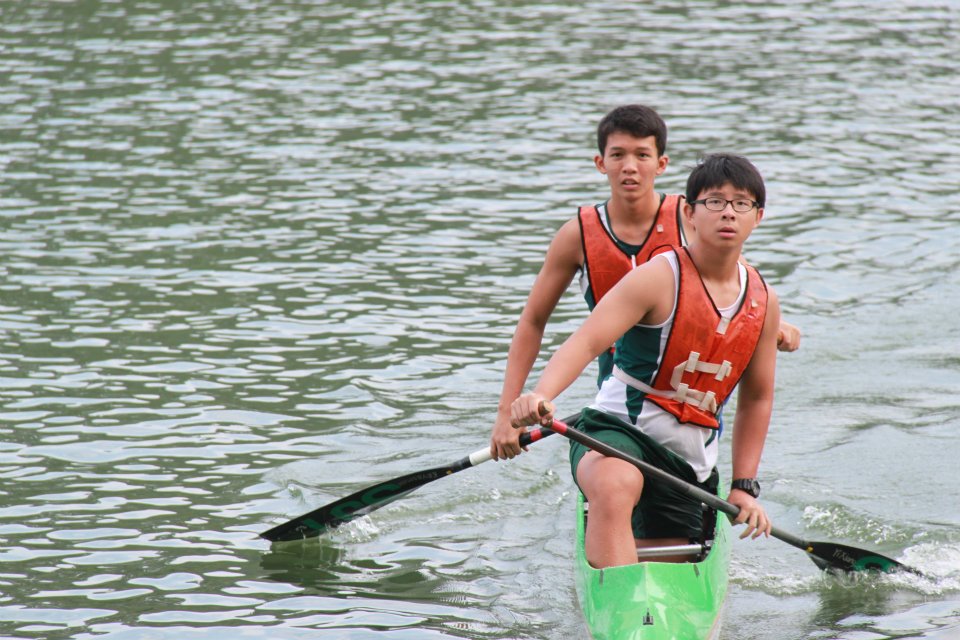 For 4 days during the month of April, the SJI canoeists spent many gruelling hours at the MacRitchie Reservoir competing against many schools to defend their title at the National Canoeing Championship. Despite the inclement weather, the 'B' and 'C' divisions came in 2nd for 'B' division and 1st for 'C' division. The boys also managed to win numerous medals in the various events for K1, K2, K4, T1, T2, C1 and C2 for the 1000m and 500m.
The 'B' division boys put up a good fight considering they were a smaller team compared to the other schools. It was also the first time the 'C' division boys, taking part at the nationals.
---
April: Raymond Scott Lee, a story of Perseverance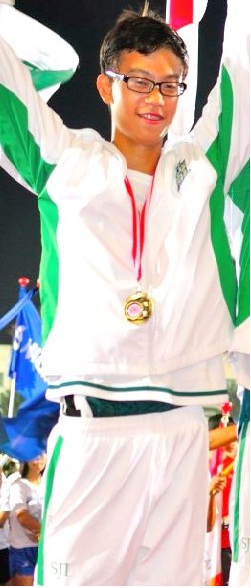 At 13, he began his journey on the tracks being placed at the 50th position, during his first 200m run at the nationals. Raymond Scott Lee who is currently SJI's "Athletics Wonderboy", took part at the first nationals only to experience the aura around him. His average achievements, which did not qualify him for the finals, did not hinder his passion for running.
The inspiration of his seniors helped Raymond muster all his strength bouncing back from his failures where now he stands in triumph along with his medals. His strict training regime, each lasting 2.5 hours for 5-6 times a week not forgetting his controlled diet plan, plays a big part to his progression. He proved that hard work never fails to pay off when he led the SJ
Athletics Team to the overall 'B' Division Boys title at the SPH Relays Championships. The table below showcases his achievements from 2009-2012:
Year 2009 "C Division"
50th Position
200m - Nationals
Year 2010 "C Division"
9th Position
15th Position
400m - Nationals
200m - Nationals
Year 2011 "B Division"
6th Position
400m Hurdles - Nationals
Year 2012 "B Division"
1st Position

400m Hurdles - 53rd National Schools' Track and Field Championships

2nd Position
100m - 53rd National Schools' Track and Field Championships
3rd Position
4X100m - Relay 53rd National Schools' Track and Field Championships
4th Position
4X400m - Relay 53rd National Schools' Track and Field Championships
Raymond Scott Lee will be representing Singapore at the 7th SEA Youth Championships on 28th and 29th April as well as the 4th Asean Schools Games in Surabaya, Indonesia from 26th June to 6th July. He has taught his fellow Josephians to follow their dreams regardless of obstacles.
See Reports:
4x 400m Today Online
400m Hurdles Red Sports
See Video Clips of Events:
'B' Division: 100m, 400m Hurdles, 4 x 100m, 4 x 400m
---
April: SJI boys at the C Division Badminton National Round
After attaining the 3rd position in the South Zone, fighting against 15 schools and a face-off with Ang mo Kio Secondary School, the boys qualified to the C Division Badminton National Round.The team then went on to become the quarter-final round winner and marched into the semi-final challenge along with Anglo-Chinese School (Independent) and River Valley High Secondary School.
This time pitted against Anglo-Chinese School (Independent), the team put up an even fight only to lose narrowly to ACSI to a score of ACSI 3 - SJI 2. They placed themselves at the 4th position after their final match with River Valley High Secondary School.
"Despite their one week break, the boys had returned to train very hard. They might not have qualified to the finals but certainly won the hearts and respect of the ACSI players, coaches and even their parents too" shared coach Simon.
---
April: SJI's Outstanding Taekwondo Team Sets Their Mark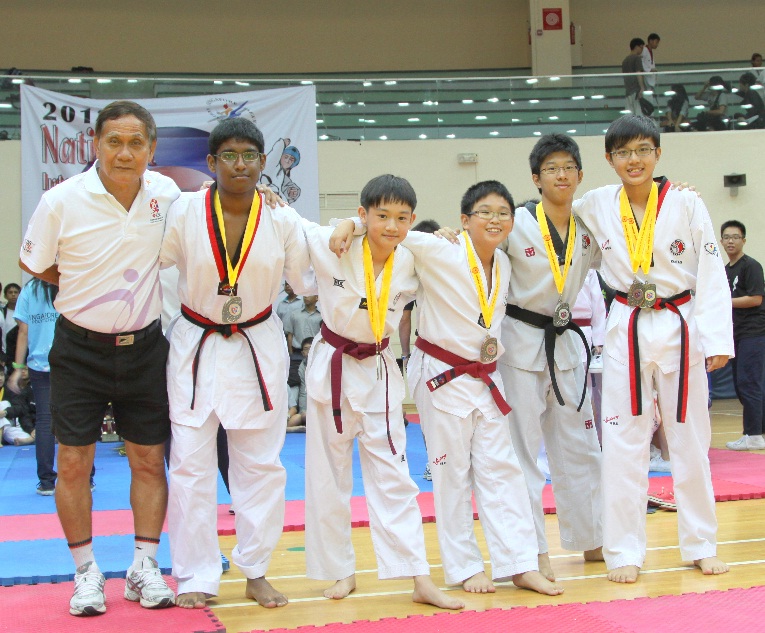 SJI's Taekwondo team brought glory to the school bagging several medals in their respective categories during the 2012 National Inter-Schools Taekwondo championship, for Secondary School (B & C Divisions Poomsae & Kyorugi) which was held over two days on the 18th and 19th April, at Toa Payoh Sports Hall.
The outstanding performance of the team saw The Singapore Taekwondo Federation award the 'Best Coach of the year' to SJI's team coach Mr Adam Chan from J H Kim Taekwondo.
The overall results for Taekwondo Team are as follows:
Aiken Lam
B Division Male under 60kg Poom Belt – Silver (Kyorugi)
Gregory Chan

C Division Male Red Belt - Gold (Poomsae)

C Division Male under 42kg Red Belt –Gold (Kyorugi)

Ignatius Lee
C Division Male Poom Belt - Gold (Poomsae)
C Division Male under 62kg Poom Belt- Bronze (Kyorugi)
Jeremiah Jed Chong
C Division Male under 54kg Red Belt- Bronze (Kyorugi)
Alphaeus Nicholas
C Division Male under 70kg Poom Belt- Bronze (Kyorugi)
---
April: PSG Breakfast Talks 2012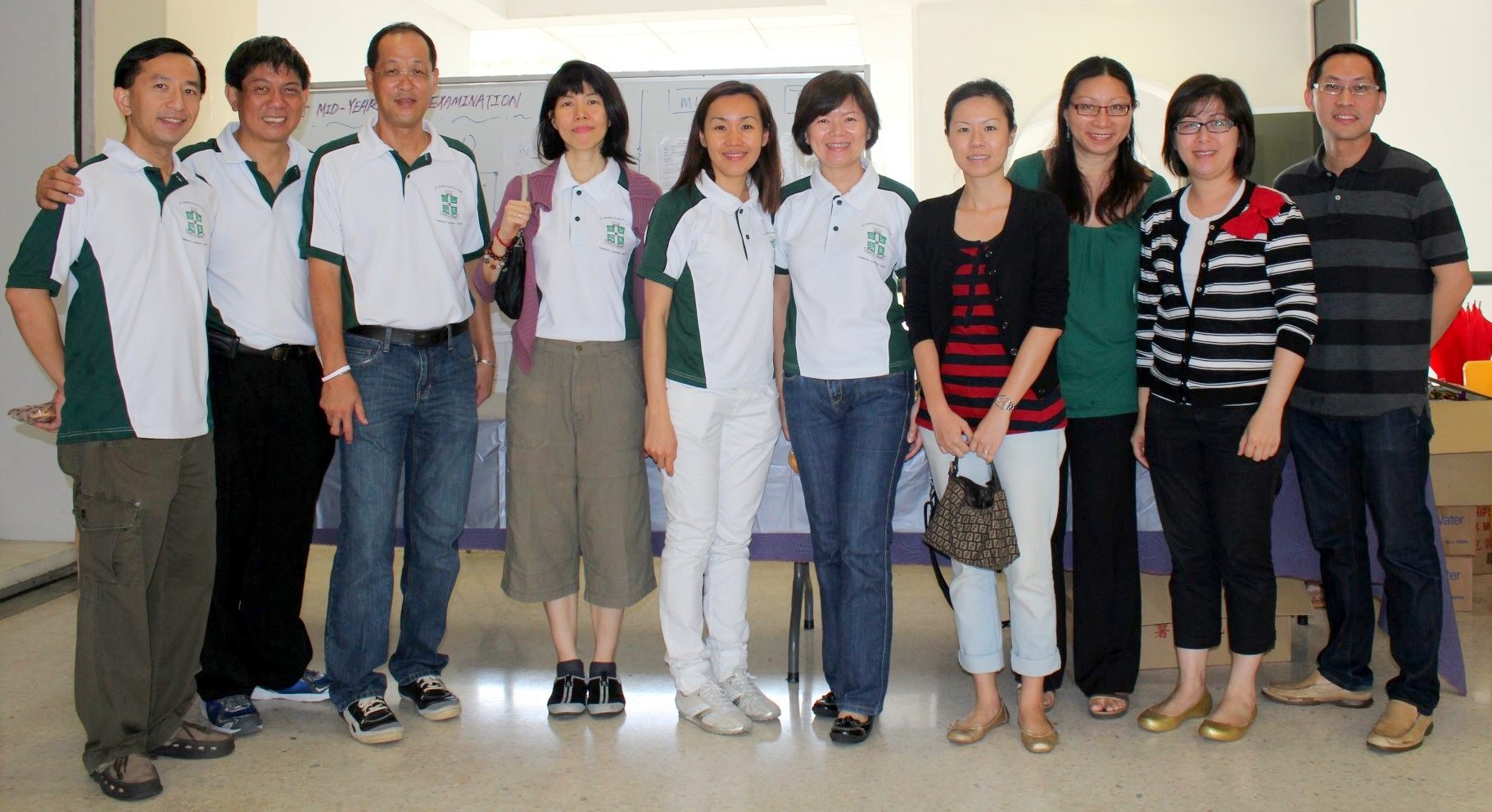 The SJI Parents Support Group (PSG) has this year initiated a series of informal sharing sessions on topics of interest to parents regarding school life and curriculum.
The series began on 31 March at LT 1 for the parents of Secondary One students, focused on helping the parents understand the Humanities subjects, which are new to the students. Three Subject Heads were invited to share about the subjects, and also strategies that parents could adopt to help their sons in the humanities. The session ended with a lively Question-and-Answer session. The materials presented at the session have been made available on the School's Secondary One website, for the benefit of parents who missed the session.
The next session on 26 May, planned for parents of Secondary Two students, relate to subject options in Secondary Three. It aims to help parents learn more about the of Science and Humanities subjects at upper secondary, so as to help their sons make better choices in their O Level subjects. Two other sessions will be planned for Secondary Three and Secondary Four parents respectively in the second half of this year.
---
March: SJI adopts Kallang River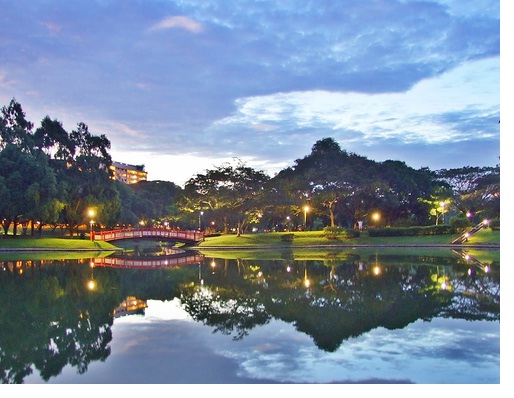 SJI has officially adopted the newly revitalized Kallang River at the Bishan-Ang Mo Kio Park. As part of the adoption, the school will be carrying out activities at the river ranging from science field trips to test water quality in the river to community service projects to help ensure the cleanliness of the river and park. The adoption was formally recognized at the official opening of the new Bishan-Ang Mo Kio Park on 17 March 2012.
---
March: SJI students go barefooted for a day
The boys from Class 309 will be going One Day Without Shoes on 10 April 2012, spending an entire day in school doing all school activities without shoes, in an effort to empathize with the poor and enlighten curious onlookers on the plight of young children who cannot afford shoes.
Nathanael Rajkumar (Vice Chairman, Class 309) shares, "All over the world, in places where people are too poor to even afford daily meals, shoes become something of a luxury.
Teacher in-charge Mr Fong Kok Hoong said, "By taking off our shoes for one day, we would be able to understand these people and we hope that the curiosity about our bare feet will lead to greater awareness of the plight of the needy. Through this project, we hope that Josephians will care for the last, the lost and the least."
---
March:  SJI teachers clean flats for elderly as part of Lasallian induction
New staff of SJI, joined by others from the Lasallian schools in Singapore, lived out the Lasallian value of Service on 24 March 2012, when they took part in a community service project that involved them in cleaning the homes of the elderly who lived in one-room rental flats in Toa Payoh.
This service project was part of their 2-day Lasallian Induction Programme, which also included sessions on understanding the life of the Founder St John Baptist De La Salle, and discussions on what it means to be a teacher in a Lasallian school.
---
March: SJAB conquers the Gold Award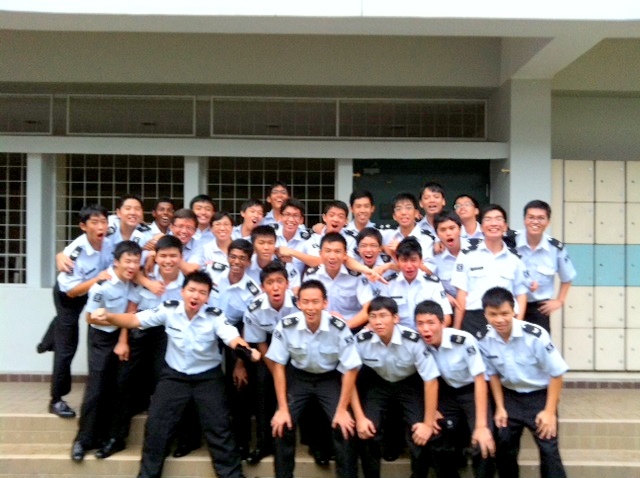 The SJI St John Ambulance Brigade (SJAB) has attained the Gold Award for the assessment year 2011-2012.
The SJAB boys secured above 90 percent in criteria such as first aid competition, fund raising, badge achievement, medical coverage, and performance in the leadership camps.
The Award Presentation Ceremony will take place on 7 April 2012.
---
March: Alumnus Karthic Ragupathy gathers yet another Gold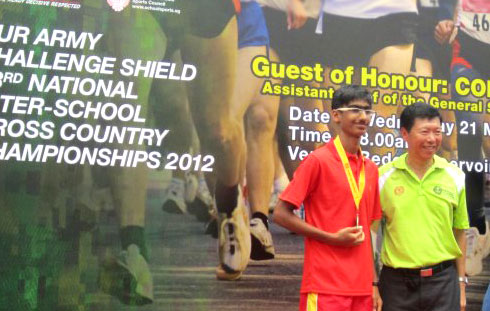 Karthic Ragupathy (SJI Class of 2011), secured a place in the Singapore schools sports record books with his win of the 'A' Division individual title at the National Schools Cross Country Championships on 21 March 2012.
Karthic, who was SJI Sportsman of the Year 2011, had won the 'B' and 'C' Division individual championships when he was at SJI. With this latest win, Karthic is only the third person in the history of the championships to have won the individual 'A', 'B' and 'C' division titles.
---
March: SPH Schools Relays Champions
SJI was crowned 'B' Division Boys champion at the 20th SPH Schools Relays Championships in 2012.
The 'B' Division boys attained Gold for both the 4x100m and 4x200m and garnered a bronze for the 4x400m.
The 'C' Division boys finished at fourth position in what was their first major competition.
The Cross-Country team also competed courageously in their 4 x 800m races, finishing a credible 3rd ('C' Division) and 4th ('B' Division) in their respective races.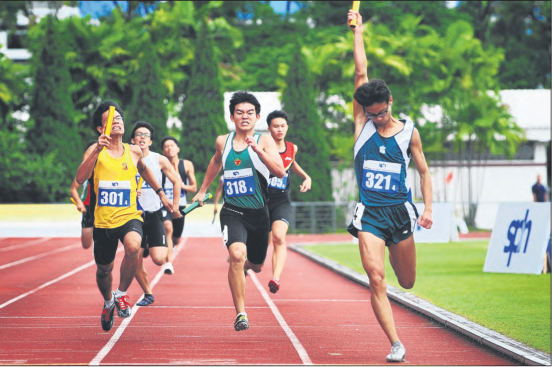 The overall results for the 'B' and 'C' Division are as follows:
| | |
| --- | --- |
| B Division | C Division |
| Overall Champions | Overall 4th |
| 4 x 100m (1st) | 4 x 100m (5th) |
| 4 x 200m (1st) | 4 x 200m (6th) |
| 4 x 400m (3rd) | 4 x 400m (6th) |
| 4 x 800m (4th) | 4 x 800m (3rd) |
Coach Veeramani commended the boys, "Really happy to see how SJI Boys fought right through the finish line. Proud of the SJI fighting spirit."
See Straits Times report: Straits Times
See Video Clips of Events:
'B' Division: 4 x 100m, 4 x 200m, 4 x 400m, 4 x 800m
'C' Division: 4 x 100m, 4 x 200m, 4 x 400m, 4 x 800m
---
February: Lent at SJI
The Lent Project is an annual project by the Religious, Moral and Social Education (RMSE) department to help develop and sensitize the conscience of our students in the overall process of developing them to becoming men of integrity and men for others. It forms part of the Community and Social Justice component of the RMSE programme.
Each level will be introduced to a segment of the community that the RMSE department has identified as in need of greater awareness and help by the SJI community. As part of the students' learning, they are invited to act in response to what they have learnt and reflected on.
This response is reflected in them setting a portion of their daily expenses to buy items to support the organization they have been introduced.
The four organizations for each level are as follows:
| | |
| --- | --- |
| Sec 1 | The elderly poor of Blk 47 in Pek Kio Estate, in collaboration with Tanglin Community Centre Women's Executive Committee |
| Sec 2 | The physically disabled poor from handicapped Welfare Association (HWA) |
| Sec 3 | AIDS patients from Catholic AIDS Response Effort (CARE) |
| Sec 4 | Abused migrant workers staying at the Humanitarian Organization for Migration Economics (HOME) centres |
In 2012, the Lent Project will last from 27 Feb - 5 Apr.
---
February: SJI Soccer Makes Creditable Comeback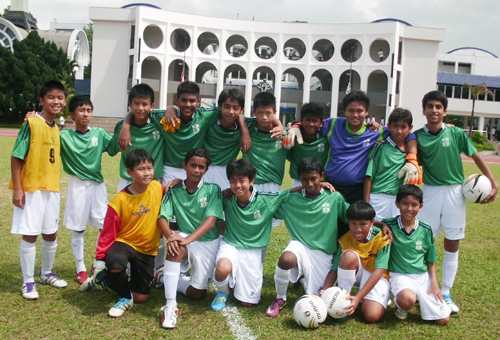 SJI Soccer has made a comeback after a 13-year hiatus with a creditable showing at the 'C' Division Championships. Coached by Mr Kadir Yahya, the assistant coach of the Singapore Lions XII, this team of mostly Sec 1 boys bowed out of the South Zone Competition last week. It was heart breaking for the young boys of this newly formed team, but with only about a month of preparation prior to the tournament, and playing against older boys, their record of not losing a single match is strong encouragement for their future in the game.
Principal, Dr. Koh who was present at the final game, was impressed with the boys' sportsmanship and fighting spirit.
Stats for the Soccer C Division
| | |
| --- | --- |
| SJI vs Bendemeer Secondary School | 2-2 |
| SJI vs Fairfield Methodist School | 1-1 |
| SJI vs Queenstown Sec | 2-1 |
| SJI vs Holy Innocent High School | 10-0 |
| SJI vs Bartley Secondary | 0-0 |
See The New Paper article on SJI Soccer
---
February: Inaugural SJI Model United Nations 2012
SJI successfully organised its inaugural SJI Model United Nations (SJIMUN) conference from 10-11 Feb 2012, featuring student delegations from eight schools: Anglo-Chinese School Independent, Hwa Chong Institution, National Junior College, Raffles Girls' School, Singapore Chinese Girls' School, St Nicholas Girls' School, Victoria School and SJI.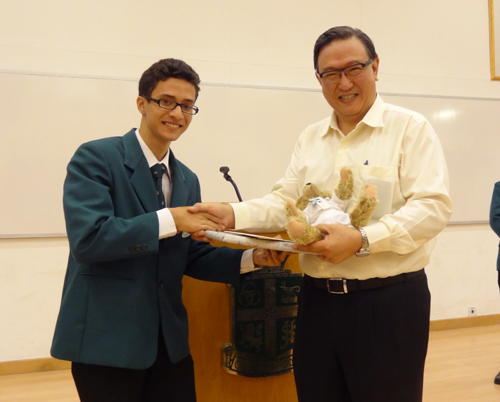 The Model UN is a platform for youths to exercise skills of diplomacy, negotiation and problem-solving promoting global citizenship. At SJIMUN 2012, student delegates discussed issues such as North Korea, the prosecution of political and military leaders for crimes against humanity and foreign aid and intervention in post-revolutionary states in the Middle-East. A special feature of the SJIMUN was that the number of council representation was kept small, which gave the delegates greater debate time and interactions not possible in big councils.
This SJIMUN 2012 was a student effort initiated by seven Josephians from the Graduation Class of 2011 who believed in promoting youth awareness of and involvement in global issues. The organizing team consist of Azfer Khan, Leonard Yip, Rabin Kok, Gregary Gunawan, Jonathan Leong, Surya Bhat, James Cyriac and Yu Kai Yan who are now in JC.
Mr Gerard Ee, Chairman of the SJI Board of Governors, graced the occasion as Guest of Honour for the closing and prize giving ceremony. He shared with participants his personal experiences on volunteerism and community work, and entertaining their questions on community work in Singapore.
Picture: Mr Gerard Ee receives the limited edition SJI Bear from Azfer Khan.
---
February: Table-tennis at the South Zone Championships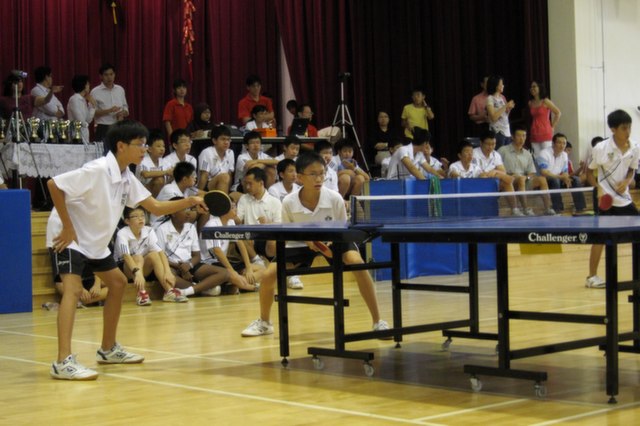 The SJI team has garnered the Silver and Bronze awards for the 'B' and 'C' divisions this year.
This qualifies them for the National rounds which will be coming up soon.
The 'B' Division boys comprised Yang Chenye (208), Poh Sheng Xiang (305), Lee Chee Wan (308), Kyle Looi (313), Jon Tan (301), Tan Yan Kert (304), Leon Sim (304), Shanting Zheren (308), Bryan Teo (436), Kyros Koh (422), Stephan Goh (426) and Zhang Tianle (426).
The 'C' Division team was made up of Chew Yew Tong (201), Wong Yu Cong (202), Daryl Chin (208), Lim Jin Jie (208), Chua Wei Yang (208), Marcus Soh (110), Chua Seah Wei Jie (111), Justyn Chan (107) and Pan Shang Yu (105).
---
February: SJI Wins Honours in the Singapore Junior Physics Olympiad (SJPO)
SJI is awarded the Best Institution (Non-IP Schools) in the 2011 Singapore Junior Physics Olympiad (SJPO).
The Singapore Junior Physics Olympiad (SJPO) is a Physics competition organized by the Institute of Physics Singapore and is catered to secondary school students. This is an annual competition to encourage the study and appreciation of Physics among all secondary school students. In addition, it is also a competition to highlight Physics talents and is also part of the process to select students for early training for the IPhO (International Physics Olympiad).
The objective of this program is to encourage students to pursue their interest and talent in the Physics domain. After 60 hours of training conducted by Professors from NUS and in-house experts, students were challenged to compete in two rounds of the competition-General round and Special Round.
Teacher in-charge Ms Tan Sia Hui said," It is great to see students' efforts pay off after spending many hours plowing through the physics concepts."
The awardees of the competition are as follows:
| | | |
| --- | --- | --- |
| Name (Class) | Award | Category |
| Nicholas Franslay (331) | Silver | Main |
| Vo Hoang Khai (431) | Silver | Open |
| Daniel Harianja (432) | Bronze | Open |
| Louis Medina (433) | Bronze | Main |
| Vo Minh Tu (433) | Silver | Open |
| Joshua Loo (432) | Bronze | Main |
| Varun Moorthy (432) | Honourable Mention | Main |
| Le Vo Hong Linh (432) | Honourable Mention | Main |
| Truong Vinh Hien (331) | Honourable Mention | Main |
| Kevin Tjendra (332) | Honourable Mention | Main |
| Robertus Lawantara (333) | Honourable Mention | Main |
| N Karthik (431) | Honourable Mention | Main |
| Tran Dang Huy (431) | Honourable Mention | Main |
| Christopher Kristo (431) | Honourable Mention | Main |
---
February: Alumnus Nicholas Fang is new NMP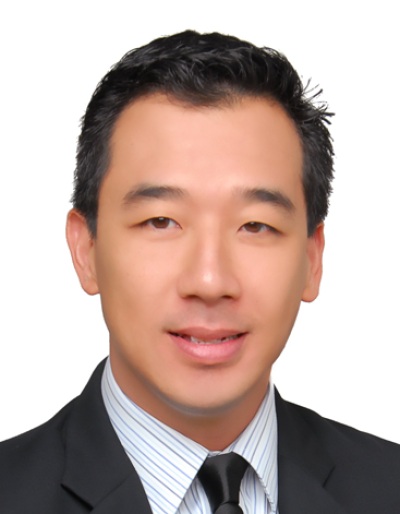 Nicholas Fang (SJI Graduating Class of 1991) is also the only Nominated Members of Parliament (NMP) who applied as an individual. Also the Director of Singapore Institute of International Affairs (SIIA), he was chosen as one of nine NMP by the Special Select Committee.
As an NMP, Mr Fang would like to bring sports into the family scene, making it a form of family fun and entertainment. He would also like to look into more sports opportunities for the elderly.
Mr Fang was an excellent fencer while in SJI. He continued his interest in fencing while in college and now serves the fencing community here as President of Fencing Singapore.
---
February: SJI is now an IB World School
8 February 2012

SJI is now an IB World School, after having received authorization from the International Baccalaureate to offer the Diploma Programme.

From 2013, SJI will be offering both the Integrated Programme (IP) track and an O-level track. For the IP track, SJI, as an IB World School, will be offering the International Baccalaureate (IB) Diploma instead of the GCE 'A' levels. SJI will be starting the IB Diploma programme for an intake of 80 students (boys and girls) in January 2013.
---
January: Inaugural Celebration to mark the start of the Academic Year 2012
On Monday, 16th January, SJI held its Inaugural celebration to mark the beginning of the new school year. Friar Michael (SJI Chaplain) celebrated Mass with Catholic staff and students in the Performing Arts Centre (PAC) at the beginning of the day. This was followed with a school assembly in the Founder's Hall.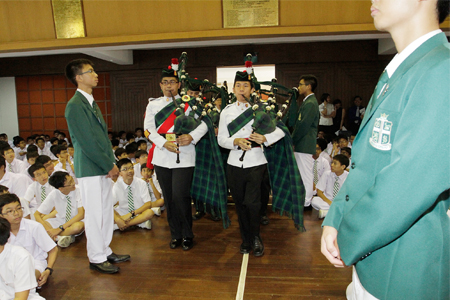 Principal Dr Koh Thiam Seng opened his speech by warmly welcoming new and returning students, teachers and staff back to school for the academic year 2012. Dr Koh first spoke about Aaron Tan from class 303), who was commended by a member of the public, Dr Angela Chong, for helping her lost elderly father find his way home. After sending the 85-year-old man, who is hearing impaired, off in a cab, he even called to make sure that his son knew that he needed to be home to receive his father. The man's daughter, who wrote the letter, congratulated the school for producing "such a fine young gentleman with a good head on his shoulders and the right values in life" despite him being just 14.
Much to the delight of the school body, Dr Koh declared the day after the Chinese New Year as a school holiday in celebration of the SJI's best-ever 'O' Level Results in 2011. He extended his appreciation to the graduating class of 2011 for their hard work, and also to the teachers who had worked even harder than the students to get them ready for the big exam. He urged the 2012 Secondary 4s to live up to the legacy of their predecessors and do SJI proud at the national examinations this year. Dr Koh also expressed optimism about the rising standard of academic development as the school starts the IP/IB programme next year.
The Principal closed by urging the school to continue to work hard in all areas of activity and study and continue to uphold the Lasallian values which are significant to the school.
---
Jan : Senior Josephian of the Year 2011
Yu Kai Yan graduated from St Stephen's Primary with a PSLE T-score of 261. At SJI, he committed himself to his CCA, Track and Field, and was recognised for his leadership potential as early as Sec 1 when he was made Class Chairman. The following year, he was appointed as school Prefect.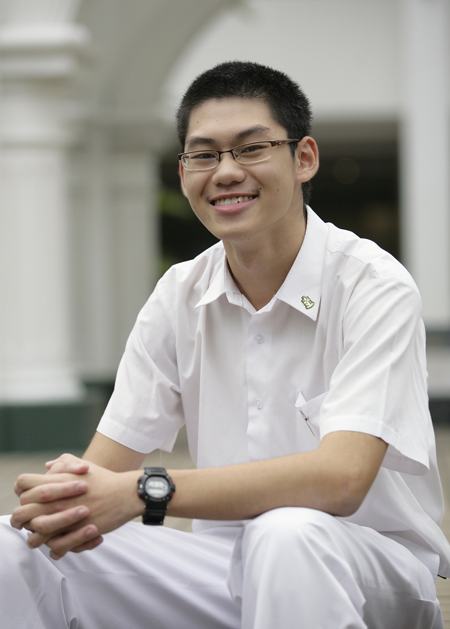 Kai Yan epitomises the Lasallian value of service and has shown himself to be a student leader. He puts others and the school before himself and displays a strong commitment to fulfilling his role as the 2011 Head Prefect. His contributions to the school go beyond organising the SJI Carnival, Sec 1 Orientation, and facilitating the Lasallian Leadership Training Camps. In fact, Kai Yan has contributed to the school in many intangible ways. He has shown in thought, word and deed what it is to be a true Lasallian and Josephian.
Kai Yan is well respected by his peers. Throughout his four years in SJI, he has remained unassuming and humble, and a good friend and classmate who is always ready to lend a helping hand to those in need.
What is most striking about Kai Yan is his mature approach to life, good sense and a set of very sound values that guide his actions. He always has the interest of others at heart and has dedicated much of his time to helping the school and his peers. What he does is done out of service for others and never for self glory. His service and dedication to the school is highly commendable.
Kai Yan graduated from SJI with an impressive 8A1s at the GCE O level examinations. He is now at SJI International pursuing an IB Diploma.
---
January: Dual Junior Josephians
The Junior Josephian Award is presented to a Sec 2 student who has displayed all-round excellence in academia and co-curricular activities, while at the same time being a man of integrity and service to others. For the first time in 2011, two Junior Josephians were selected instead of one. They are Russell Yip and Hubert Yeo both from class 333.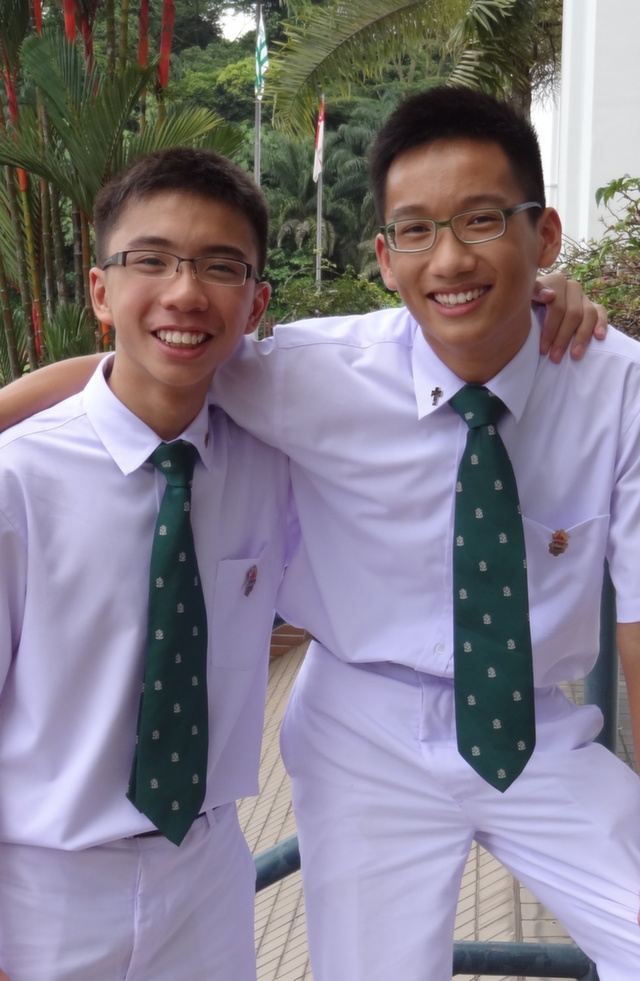 Russell Yip En Shen came to SJI with a PSLE score of 262 from St. Anthony's Primary School. In secondary one, as a new student, Russell already showed that he is capable of greater responsibilities when he stepped forward to help organize the class. As a junior prefect in Sec 2, he served his fellow schoolmates with humility and sincerity. Moreover, he is able to balance his academic and co-curricular activities well. His consistent good results are a testimony to his keen desire to learn and excel.
Hubert Yeo shows that a young man can excel in all pursuits, while being a man of integrity at heart. As a canoeist, he attained a Silver medal for the C1 500m and a Gold medal for the C2 500m at the National Interschool Canoe Championships. He also topped his cohort academically in Sec 1, while maintaining stellar results throughout Sec 2. As admirable as these achievements are, they are but small accolades to Hubert's person. He was born to lead; devoted to family and friends; he is Lasallian. Despite his drive in his commitments at school, he still prioritises family, never missing a family function. He also helps his friends on his own accord.
Both Russell and Hubert have made us proud with their strong sense of values and their achievements.
---
January: Lasallian Service Award 2011
The Lasallian Service Awardees for 2011 are (in picture from left) Kok Rabin (434), Peter Daniel (431), Sai Surya Yarlagadda (433) and James Cyriac (433).
Rabin is an outstanding and sincere young man with sound morals and a commitment to serve. He is one driven by passion and values. These attributes distinguish him from just another high calibre student. As a school prefect, he has discharged his duties well and is a leader who commands respect from his peers and one who all can identify with. He willingly serves and takes on additional responsibilities without having a formal portfolio and is very much remembered for the pivotal role he played in Project Scubillion, a class-based community service project.
Rabin's outstanding achievement in the SJI Debating Team is a clear testament to his commitment and passion. Despite winning a place in the Singapore National Debate Team, he has remained humble and grounded.
Peter is a dynamic student who clearly displays the school values of faith, service and community. He is a charismatic ad confident leader who has earned the respect of his peers and has, on many occasions, gone beyond the call of duty.
Peter also shows integrity in his actions and exhibits compassion towards the needs. He is very helpful towards his classmates and peers and has helped many of his friends and classmates who are weak in their studies. In the four years he has spent at SJI, Peter has shown selfless leadership and utmost dedication to serve.
Surya is a remarkable Josephian who demonstrates tenacity and resilience. He is an outstanding leader who is always the first to accept responsibilities and the last to claim credit. He adheres to his principles and completes tasks assigned to him to the best of his ability.
Surya has held a number of key leadership appointments at various levels, serving as a member of the Prefectorial Board, the Indian Cultural Society and the CSM of the NPCC at SJI. He demonstrates remarkable leadership skills and abilities for a person of his age.
James served in the Prefectorial Board and was a Peer Support Leader and Facilitator. He involved himself enthusiastically in orientation programmes and camps for his juniors. He possesses sound moral values and can be counted on to be fair and just in carrying out his duties.
As a member of the class, James is extremely supportive of all class events. He is not one to hesitate putting forth suggestions to promote class spirit. It is with this same fervour that he helps his classmates who are weaker in their studies. He has gained the respect from his peers for his sincerity, kindness and generosity with his time.
---
January: SJIOBA Sportsman of the Year 2011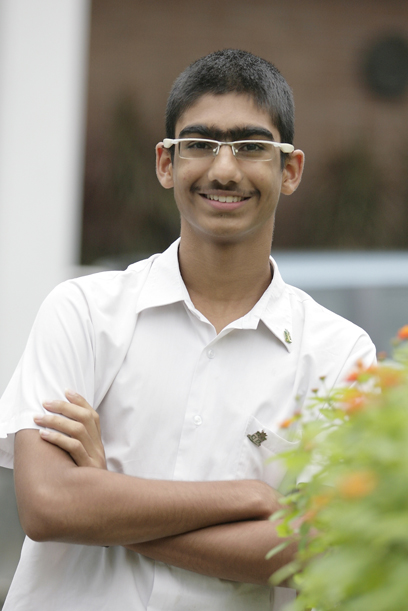 Karthic Harish Ragupathy joined SJI from St. Anthony's Primary School. He displayed a natural talent for Track and Field even at Sec 1. He has a running record of 1.6km in 6.18mins at the young age of 12. At Sec 2 he was crowned Champion at the National Inter-School Cross Country Championships. In that year he also won the 3rd placing for the 1500m at the National Inter-School Track & Field Championships.
At Sec 3, competing against the bigger boys in 'B'Division, he managed a very respectful 3rd position at the Cross Country Championships and won Gold at the 3000m Track event. In 2011, he was crowned Champion for the second time at the National Cross Country Championships and retained the gold for the 3000m event.
This achievement earned him a place in the team that represented Singapore in the inaugural Asian Schools Cross Country Championship in Mongolia. Competing against Asian giants such as China, Iran, Mongolia, and in the harsh terrain at 1368m above sea level, he achieved a very commendable 13th position, helping the Singapore team to achieve an overall third position.
All these did not come easy, behind these accolades there is sheer hard work, discipline and plenty of sacrifice. Despite all these successes, he still remains down to earth never forgetting all those who had helped him achieve so much.
---
January: Alumnus wins 'Best Young Entrepreneur' Award
Fong Wai Hong (SJI Graduating Class of 2002) has been featured in The Age, a prominent Australian newspaper, as a remarkably successful young entrepreneur. His company OzHut's annual revenue went from (AUD) $291,000 to $2.6 million in a mere three years. In 2011, StartupSmart named Wai Hong 'Best Young Entrepreneur'. He was also on the 'Hot 30 under 30' list of the same publication and in The Age Melbourne Magazine's top 100 most influential people. His company was listed as one of the 50 fastest growing start-ups in another prominent Australian magazine. In SJI, Wai Hong was a student of Ms Daisy Chia and a member of the computer club. He first went to Australia to complete a media and communications degree at the University of Melbourne. Upon graduation, he stayed to help his uncle's retail business.