November: Art Collaboration with St Anthony's Primary School (SAPS)
By Ms Joyce Teo
Our Secondary 3 Art students conducted an art workshop for a group of Primary 2 and 3 students at St Anthony's Primary School. The workshop on 31 Oct and 7 Nov were to get the participants excited about making art with unconventional materials and tools that can be easily found around us. Our boys shared different mark-making techniques and encouraged the young children to use leaves, sponges, bamboo skewers and so on, with much success.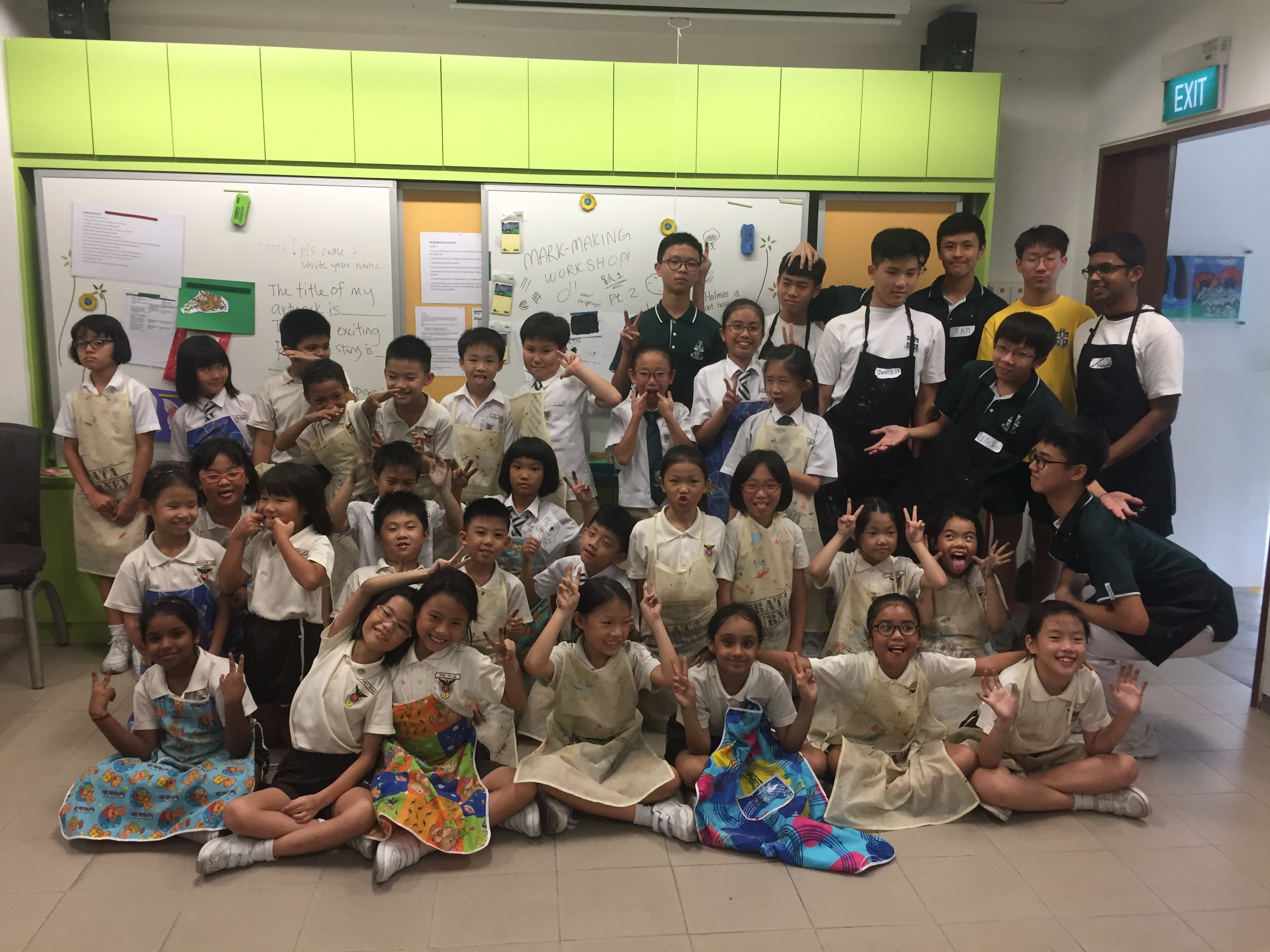 This is what our boys had to say about the whole experience: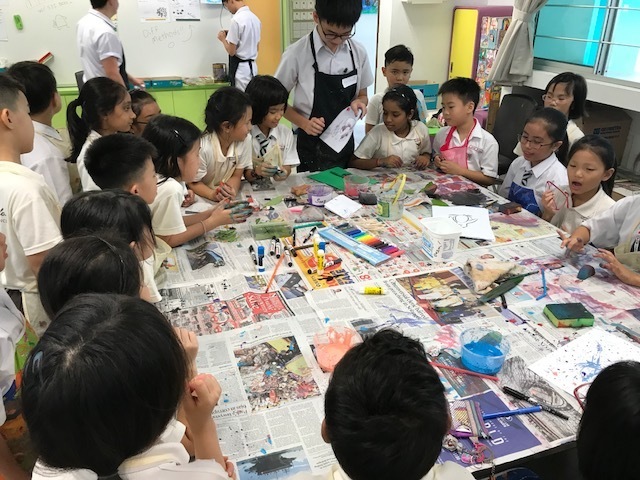 "When we were told to plan a workshop for Primary 2 and 3 children, everyone was stunned and could not fathom what kind of activity would be age-appropriate for them. Our plan changed constantly, we discussed often and even our final plan had its flaws. Despite our stress and frustration, it was all rewarded when we heard the children's gleeful cheers after we told them there was another session next week.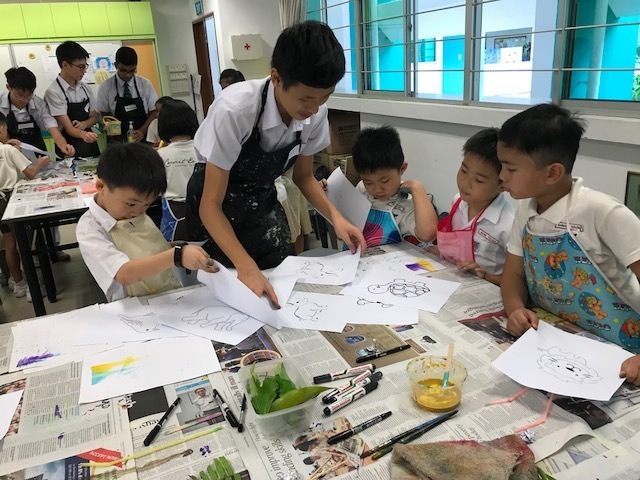 We learnt that in order to work with children, one has to be very patient, understanding and have a whole reservoir of energy. Furthermore, we had to be good role models. We experienced that good planning is essential for success. We realised that the key to have a successful workshop with young children was to keep them occupied with a variety of activities, not spend too long on any one activity and lastly, let them explore and let their creative juices run! Overall, the kids were extremely fun to work with and we would definitely want to work with them again!"
---
October: End of Year Thanksgiving Assembly
By Elliot Yap (MN302)
On 27 October, SJI officially closed the academic year with a thanksgiving ceremony in the Founder's Hall. The ceremony kicked off with the students singing the 125th Anniversary Song and Glorious Patron, as the entourage of school leaders and teachers marched in. This was followed by prayers for the school conducted by Friar Michael D'Cruz and various students from each level. Fr Adrian Danker gave a heartwarming speech, thanking the various teachers who are retiring or ending their service with the school. Students showcased their camaraderie and belted out songs such as "St. Joseph's Call" and "We are Lasallian" in unison. All good things have to come to an end and the ceremony ended off with a farewell to our dearest teachers, as the students sang to the tunes of the school rally and "Salute to the Alma Mater" to close out the ceremony. This marked the end of the first year Josephians returned to the new Malcolm road campus, and students and teachers alike could look forward to a restful December holidays.
---
October: JC2 Speech & Graduation Day
We celebrated the graduation for our 4th cohort of IBDP students with a paraliturgy in the morning, and officially bade farewell to these JC2s at the graduation ceremony in the evening of 13 October. Our guest of honour at the Graduation ceremony was Dr Teresa Lee (Pre-University Class of 1957), who was one of the five pioneer batch of CHIJ girls to study in SJI then. Dr Lee is an Associate Professor (Adjunct) from the Faculty of Dentistry in NUS.
The Class of 2017 is also the first batch to receive the Lasallian Distinguished Leadership & Service Awards given out by the school. Congratulations to the following Josephians who achieved these awards from SJI:
Noah Joel Lopez (JC206) — Spirit of SJI Award (Principal's Award) & Lasallian Distinguished Leadership & Service Award

Cai Lize (JC203) — Lasallian Distinguished Leadership & Service Award

Jared Sim Yu Hern (JC206) — Lasallian Distinguished Leadership & Service Award

Jonathan Soong Wei (JC207) — Lasallian Distinguished Leadership & Service Award

Ng Shao Han Elliot (JC204) — Lasallian Distinguished Leadership & Service Award

Pooja Bhagwan S (JC207) —Lasallian Distinguished Leadership & Service Award
Paraliturgy: 
Graduation ceremony: 
---
October: Alumnus Battles with Cancer to clinch Top Army Graduate Award
MAJ Tan Nan An Harris (Class of 1999) emerged from his battle with cancer, and remained positive and determined to live up to the trust and confidence that his superiors had in him, which ultimately enabled him to clinch the Top Army Graduate Award in his 48th CSC cohort. Read more about his story here.
---
September: JC 2 Retreat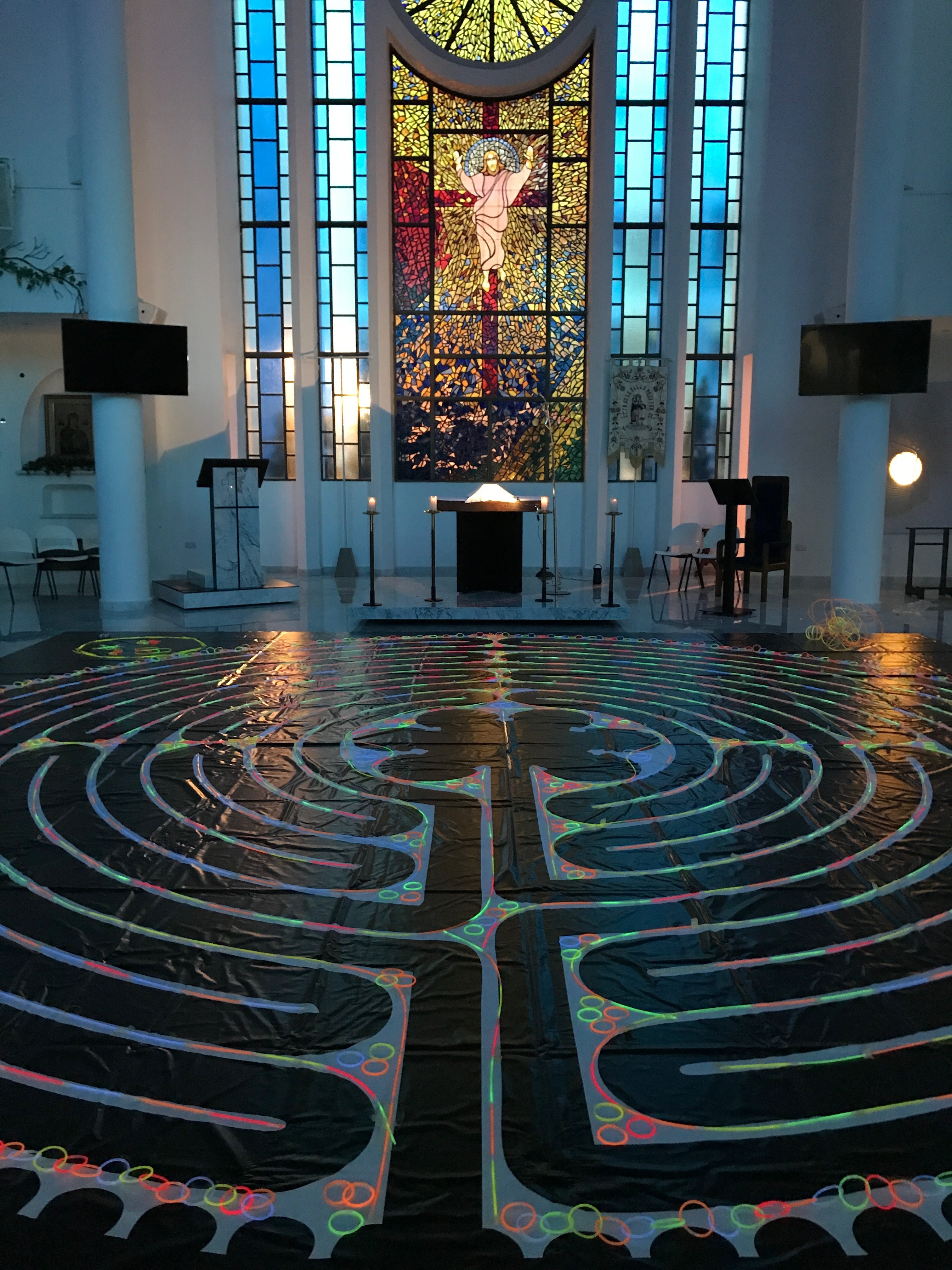 Amidst the stress of the upcoming IB examinations, some 25 JC2 Catholic students attended a JC2 Catholic Retreat on 29—30 September, dedicating some time off their busy studying schedule to spend time in prayer, reflection and meditation. The retreat has spiritually recharged our JC2 students as they embark on their final lap towards their IB Examinations in November.
---
September: Farewell to our Secondary 4 Boys at the 165th SJI Speech & Graduation Day
We celebrated the graduation for our Secondary 4s with a paraliturgy in the morning, and officially bade farewell to our O-level boys at the 165th Speech and Graduation ceremony at night on 29 September. Our guest of honour at the Graduation ceremony was Maj Huang Weikang (Class of 1999), Commanding Officer, Tuas Fire Station.
Congratulations to the following Josephians who achieved the highest awards and recognitions from SJI:
Alexander Wilfred Chew Fu Chong (LE403) — Senior Josephian 2017

Basil Tan Song Sze (FN403) — Spirit of SJI Award (Principal's Award) & Lasallian Distinguished Service Award

Jhunne Philippe A Elasigue (LE401) — Lasallian Distinguished Service Award

Tan Ern Hwee Luke (MN401) — Lasallian Distinguished Service Award

Joshua James Chong (ML401) — SJIOBA Sportsman of the Year

Liew Jun Yi Zac (ML401) — SJIOBA Sportsman of the Year
Paraliturgy: 

Graduation ceremony: 
---
September: IB Art Grad Show - Vice Versa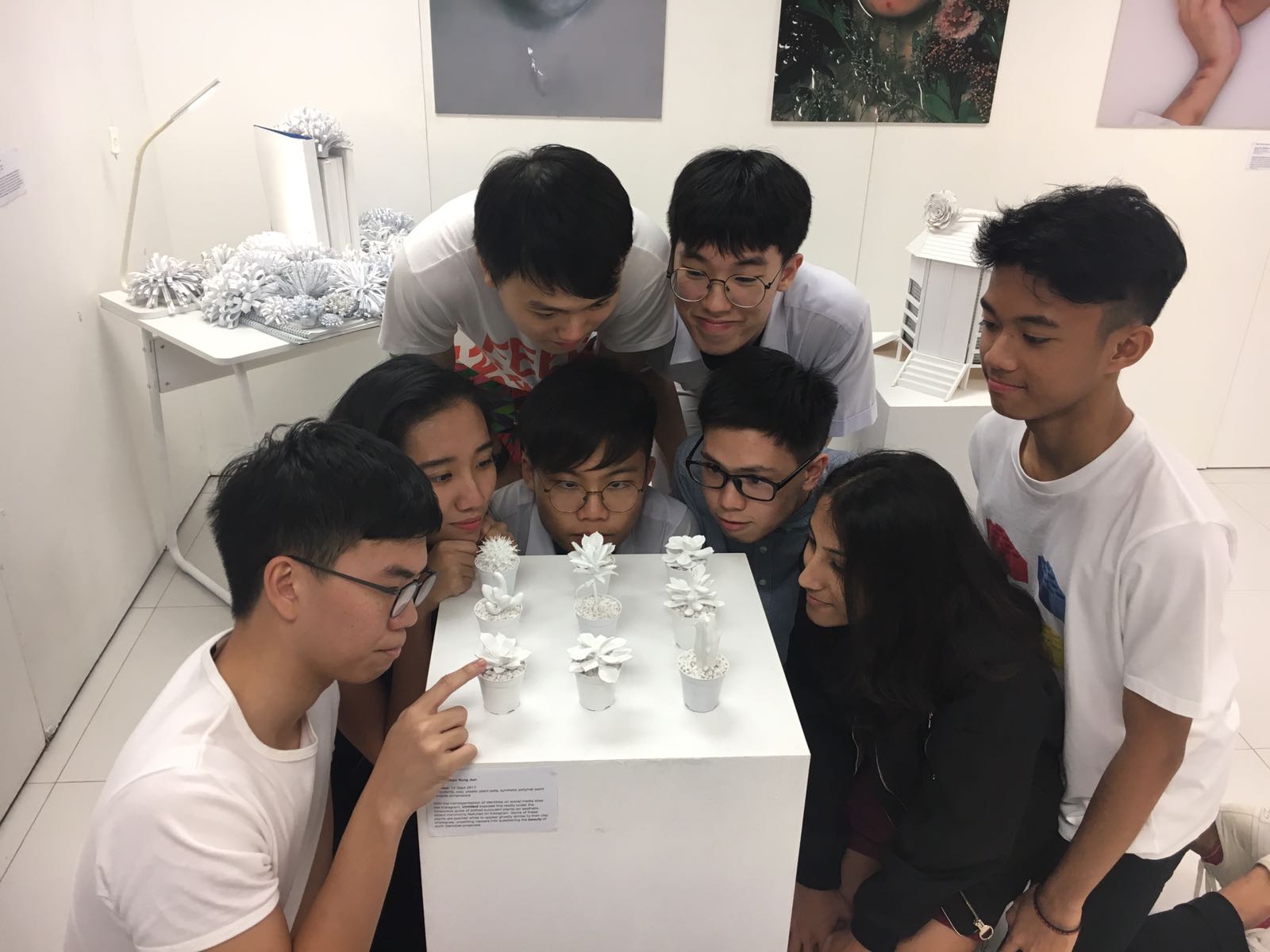 By Mr Samuel Ng
The 2017 Group 6 Grad Show, Vice Versa, featuring the 13 Visual Art students and the 6 Music students from the JC2 level, took place over 2 sessions from 11 - 21 September.
The Training Room at the Indoor Sports Hall that was converted into a gallery for this exhibition, saw full-house attendance on both show dates. Guests were treated to a music recital that included a Jazz number and music from the Final Fantasy video game. The artist talk that followed detailed the labours of artistic creation and expression, from conception to birth, telling of tortured tales and enthralling epiphanies. Finally were the guests allowed into the hallowed enclave of each artist's private world. There they were invited to pause, to reflect, and to empathise. The spectrum of art forms and media engaged, from traditional oil painting to installations of mixed media and multimedia presentations, provided for an integrated sensorial experience far richer than the obligatory reception that followed, sumptuous as it was, could hope to match.
Such first-hand quasi-synesthetic encounters amalgamating the various palates of tastes - auditory, visual, somatosensory, olfactory and gustatory - characteristic of every Group 6 Grad Show presentation, make this annual event a must-attend for every discerning connoisseur.
---
September: Josephians Support URA PARK(ing) Day
Eight groups of JC1 students displayed their creative ideas at the parking lots along Sultan gate as part of the URA PARK(ing) Day 2017 on 16 September.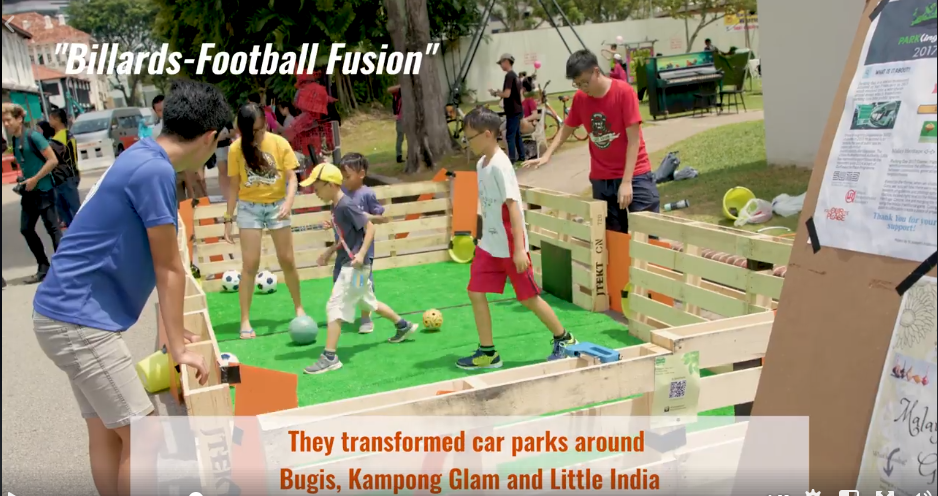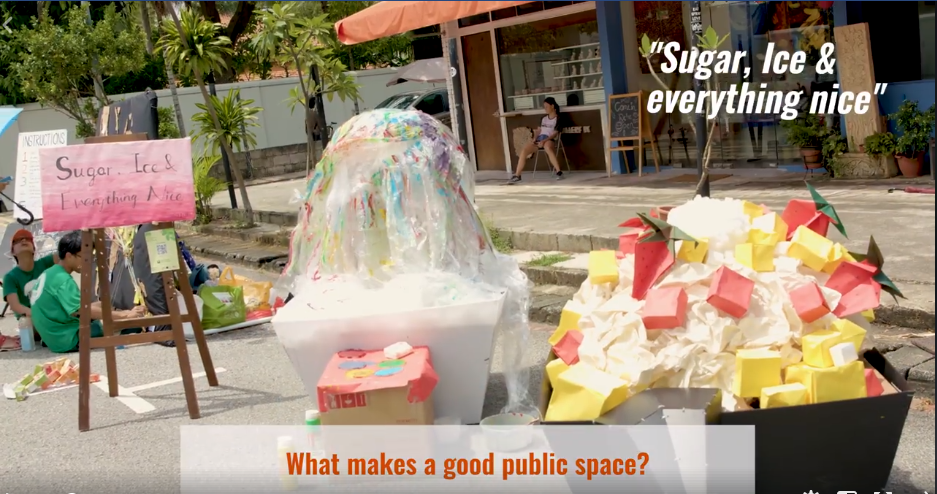 Their hastags are as follows:
#1: Gasing (Gasing Art)
#2: Rest Stop (Escape Completely)
#3: Cuesports (Billiards Football Fusion)
#4: Bingsu ice-kacang (Sugar, ice and everything nice)
#5: Fidget spinner (No!)
#6: Bottle landscape (Growing City)
#7: Heritage Walk (In control)
#8: International connection (A Pin, a Thread and the Rest of the World)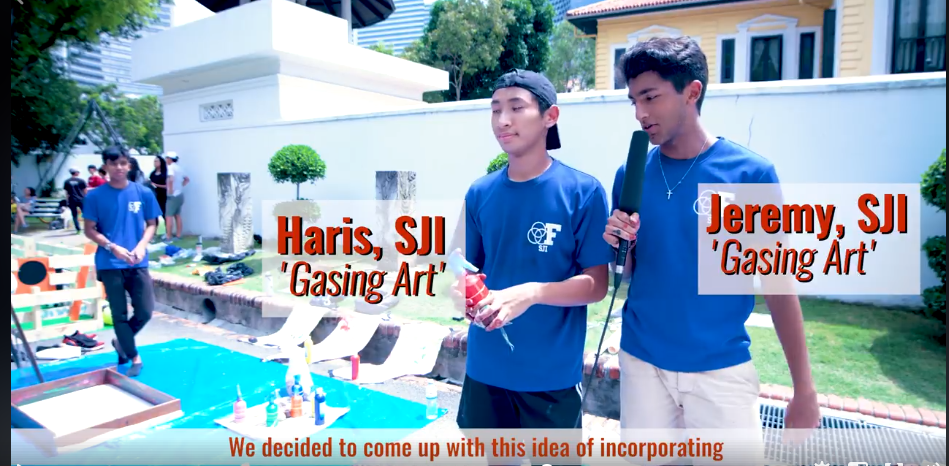 ---
September: SJI BLOODay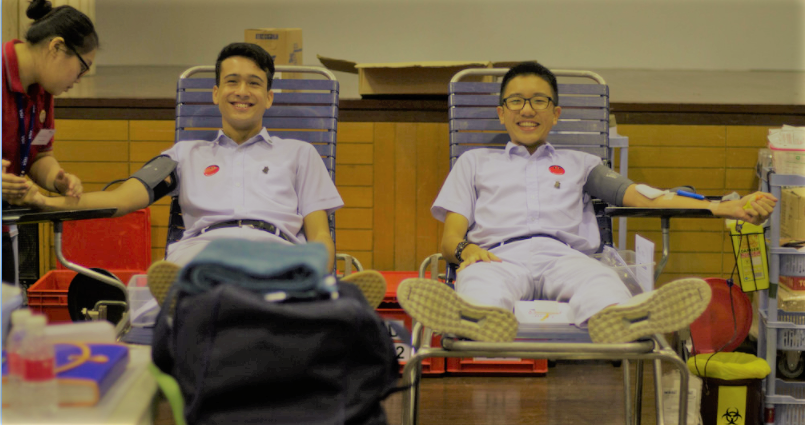 On 13 September, SJI BLOODay held its annual blood drive. In collaboration with Singapore Red Cross and Health Sciences Authority, we received an overwhelming response as many Josephians expressed their interest in the altruistic act, which amounted to about 100 potential donors!
The stringent criteria to donate blood, however, disqualified many of the enthusiasts who were sick recently, had small veins or low haemoglobin levels. The event concluded with 49 successful donors (70% of projected collection), a laudable number in view that this was the first school-held blood donation drive since we moved back to the new campus. 2017 blood donation drive may be over, but the commitment to make a difference will continue in SJI, as the saying goes— "You don't need to be a doctor to save lives".
---
September: SJI Welcomes Pilgrim Image of Our Lady of Fatima
13th September 2017 is a date that will be remembered in SJI's history, where the statue of Our Lady of Fatima visited SJI again, as it did almost 68 years ago at our former Bras Basah campus on 11 November 1950. This year, to celebrate the International Centennial Pilgrim Image of Our Lady of Fatima, SJI was greatly honoured to be the host venue for the main event when Our Lady of Fatima was in Singapore from 11 – 18 September.
The SJI Catholic community took upon this occasion to evangelize about Our Lady and the miracles of her apparition in Fatima, Portugal that happened a century ago. A private event was held for Josephians that afternoon, where the students organised a welcoming party for her and led the school in praying the rosary. This was followed by a Novena ran by the Josephians where a meaningful and heartfelt homily was shared by the students on how Our Lady of Fatima has and continues to touch them. Students from the five SJI Legion Praesidiums from both Secondary and JC sections took turns to keep a vigil throughout the afternoon which ended off with a unique SJI Human Rosary, before she was proceeded to the chapel.
A high altar was erected under the portico of the Founder, St. John Baptist de La Salle and an estimated 5,000 faithful flowed into SJI to venerate the Pilgrim Virgin that evening. Archbishop William Goh celebrated the mass, which was followed by a candlelight procession.
---
September: Alumnus Pursues Passion to Venture into Start-ups
Viren Shetty (Class of 2009) is the co-founder of PlusMargin, a start-up which uses artificial intelligence and behavioural psychology to help businesses predict how consumers behave on websites. Read more about how he ventured beyond conventional academic tracks to follow his passion.
---
September: Catholic Education Sunday - 10 September 2017
The Roman Catholic Archdiocese of Singapore has designated 10 September 2017 as Catholic Education Sunday (CES), to give thanks for God's gift of Catholic schools and the quality education they strive to offer all students, regardless of religion, in Singapore. The theme is "Celebrating 165 years of Catholic Education in Singapore – Passing on the Light".
Besides a prayer of blessing for all Catholic teachers, the screening of a 2-minute video montage and the distribution of prayer cards in all parishes, students from our Catholic schools will be in 18 parishes throughout Singapore this weekend to celebrate CES with the community. It is hoped that their visible presence will remind us all of the call to support the promise of Catholic education - to form people for the better, to form them to better the world.
SJI students will be at the following parishes & masses:
Church of St Ignatius - 8.15am mass

Cathedral of Good Shepherd - 8.30am mass

Novena Church (celebrated @ SJI Junior) - 12.00pm mass

Our Lady of Lourdes Church - 1.00pm mass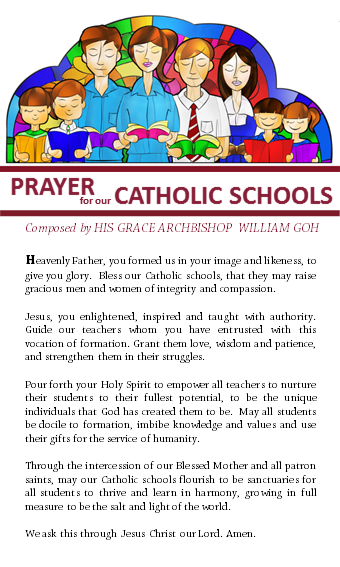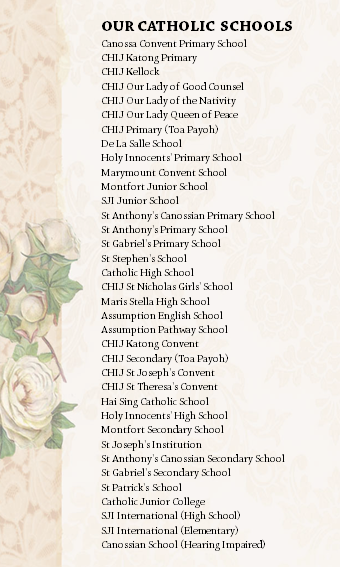 ---
September: Prof Tan Chorh Chuan Appointed as Chief Health Scientist
SJI congratulates Professor Tan Chorh Chuan (Class of 1975) on his new appointment as the first Chief Health Scientist with the Ministry of Health (MOH) from Jan 1 next year. Prof Tan will concurrently serve as executive director of the new Office for Healthcare Transformation. Read more here
---
August: SJI Teams Win 1st and 2nd Runner-ups at Raffles Business Symposium
The Raffles Business Symposium (RBS) is an annual conference that encourages manifestation of feasible business ideas by participating schools. The 2017 theme – 'The Art of Thriving in the 4th Industrial Revolution' prompted young entrepreneurs to analyse the challenges and opportunities presented by the rapid development and commercialisation of technology. The teams were required to recognise the needs of our society in order to develop a creative solution that harnesses the technologies of the 4th Industrial Revolution such as big data, machine learning and artificial intelligence.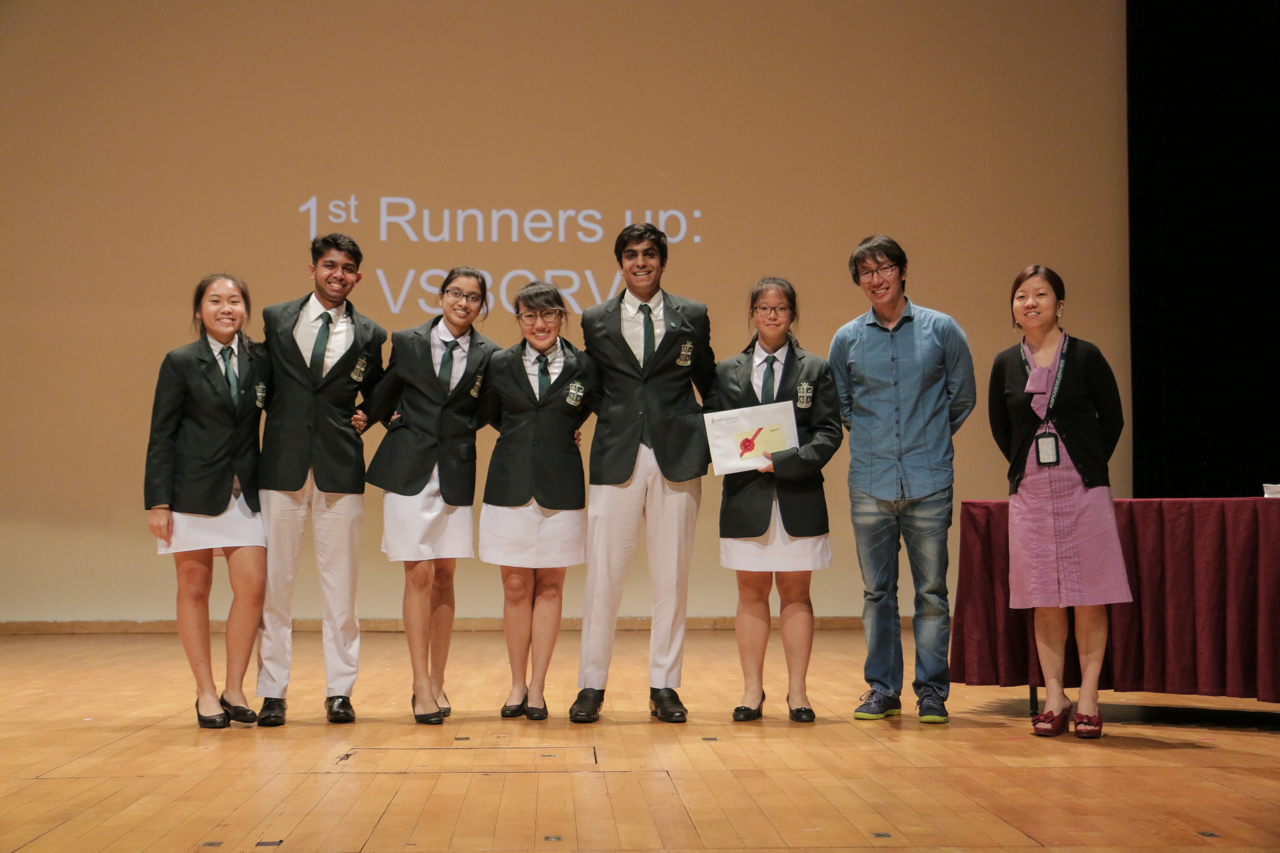 Both teams from SJI qualified for the finals, which consisted of the top 4 teams. Raphael Chew Ann Kim (JC102), Jason Sutanto (JC102), Nguyen Minh Chau (JC104), Pham Thi Huong Phuong (JC118) and Hari Menon (JC102) of Team Samaritan Syndicate proposed VISION, a sleek piece of eyewear that helps to monitor a student's level of understanding based on the content delivered to the student in order to deliver, by way of augmented reality or an online platform, enrichment material tailored specifically for the students. The other team VSBCRV, consisted of Vedant Chauhan (JC115), Sharan Vaitheswaran (JC108), Ng Huey Min (JC110), Vanshiqa Agrawal (JC117), Brenda Tang Hui En (JC102) and Rachel Tan Si Yun (JC102). Vanshiqa of VSBCRV explains her team's proposal, "Looking into Singapore's ageing population, we conceptualised a smart mobile chair, christened GoldLee, which is embedded with an array of sensors which monitors a user's vitals for continuous, cheaper and more accurate healthcare. The smart chair communicates with elderly through speakers in the chair and an AR screen to enhance viewer experience."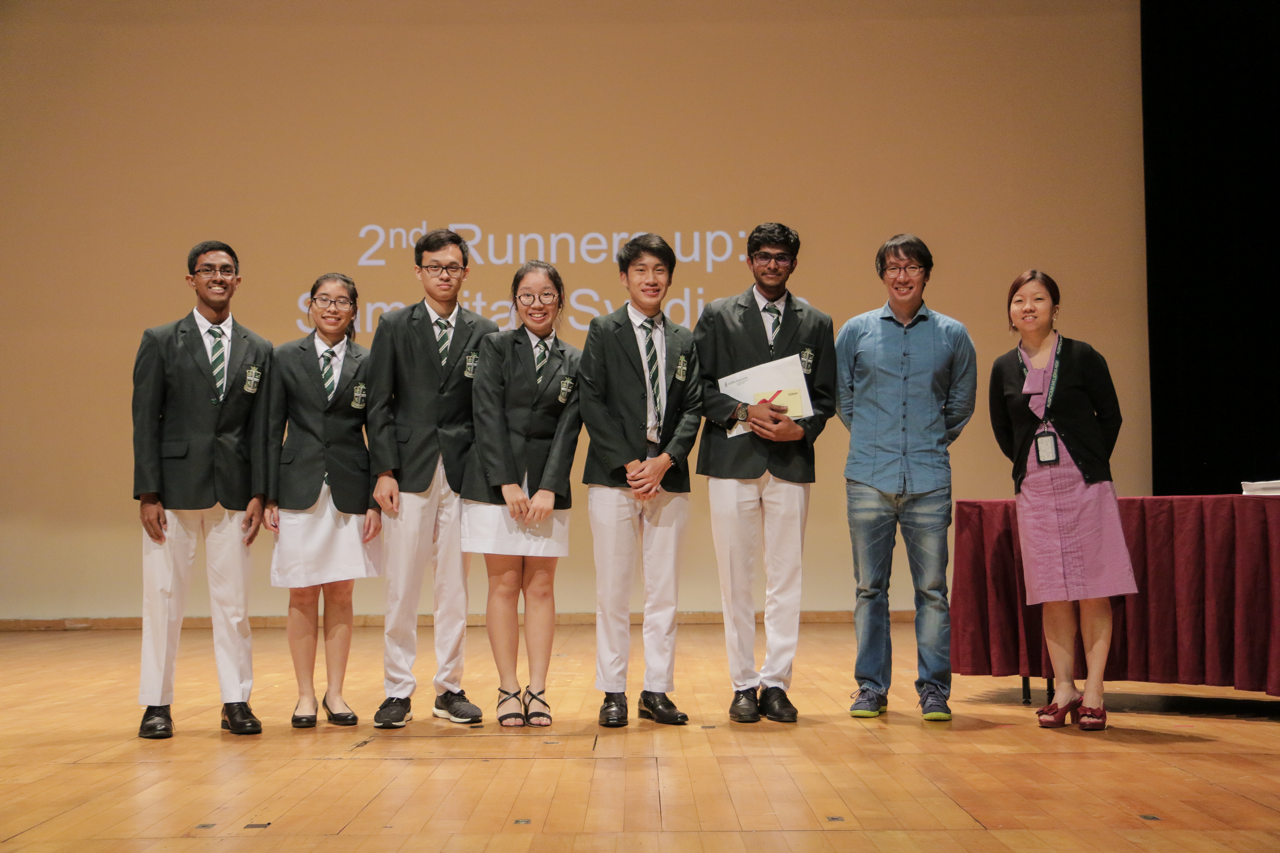 Both teams worked tirelessly in the weeks leading up to their final presentation and stood tall under the scrutiny of RBS judging panel. After an arduous but fruitful journey, SJI secured the second (VSBCRV) and third place (Samaritan Syndicate) in the competition, beating Raffles Institution and coming in behind Temasek Polytechnic.
---
August: Josephian Performs in Wonderland X concert
"Wonderland X" is a concert by TO Ensemble held on 26 August at the Esplanade Recital Studio. It commemorates the Ensemble's 10-year endeavour to engage audiences in the discussion of environmental issues and inspire them to take actions. Among the musicians was Zhang Qintian (TG205), who is also the youngest and the only non-professional performer on stage. She was recommended by her teacher, who is the lead violinist, to play with the ensemble as a guest musician. It was through this 2-month collaboration that she learnt more about contemporary fusion music and its power to communicate and inspire.
---
August: SJI participates in GEB Literature Seminar
By Daniel Choo (MN302)
On 26 August, Sebastian Chan (LE401) presented on 'Exploring the Themes of Coming of Age in Novels and Films' at the GEB Literature Seminar held at the Faculty of Engineering, NUS. Sebastian was one of the few candidates who went through rounds of selections and made it through various rounds of selections to present his research at this seminar. His project focused on two texts and their film adaptations, Stephen Chbosky's 'The Perks Of Being A Wallflower' and its 2012 adaptation, as well as 'To Kill A Mockingbird' by Harper Lee and its 1962 film version, evaluating their use of literary elements and their effectiveness.
---
August: Science Chronicles
By Anne Sim (JC201)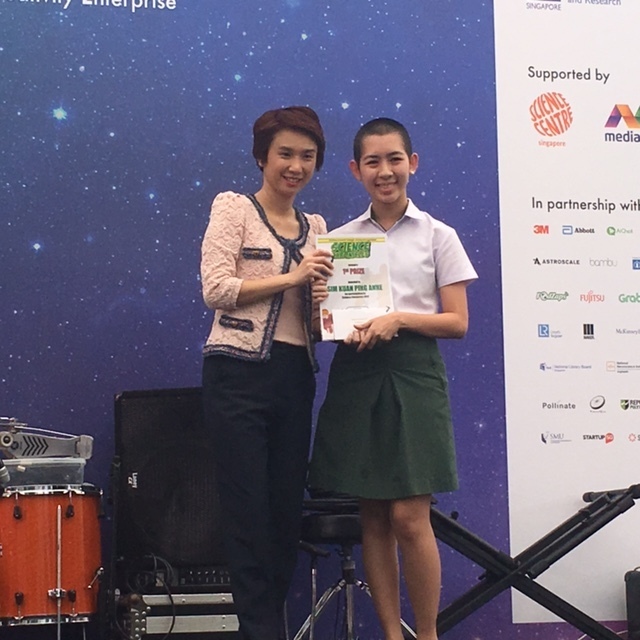 Science Chronicles is a science fiction essay writing competition, organised by the Agency for Science, Technology and Research (A*STAR). It is open to all students from the ages of 15 to 18, and the aim of it is to encourage students to write engaging and interesting short stories, with science and technology as the main theme. This year, SJI had four representatives: one Secondary 4 student, Ng Kai Yang (ML403), and three JC 2 students: Isaac Khoo (JC209), Russell Tan and Anne Sim (both from JC201). Despite our hectic schedules, as we were preparing for our O-levels and International Baccalaureate (IB) examinations, our interest was piqued by this competition and we decided to write for it in order to hone our creative abilities. The results of the competition on 18 August were extremely commendable, with Kai Yang and Isaac emerging as finalists, Russell attaining third place, and Anne in first place.
---
August: Josephians Soar at SEA Games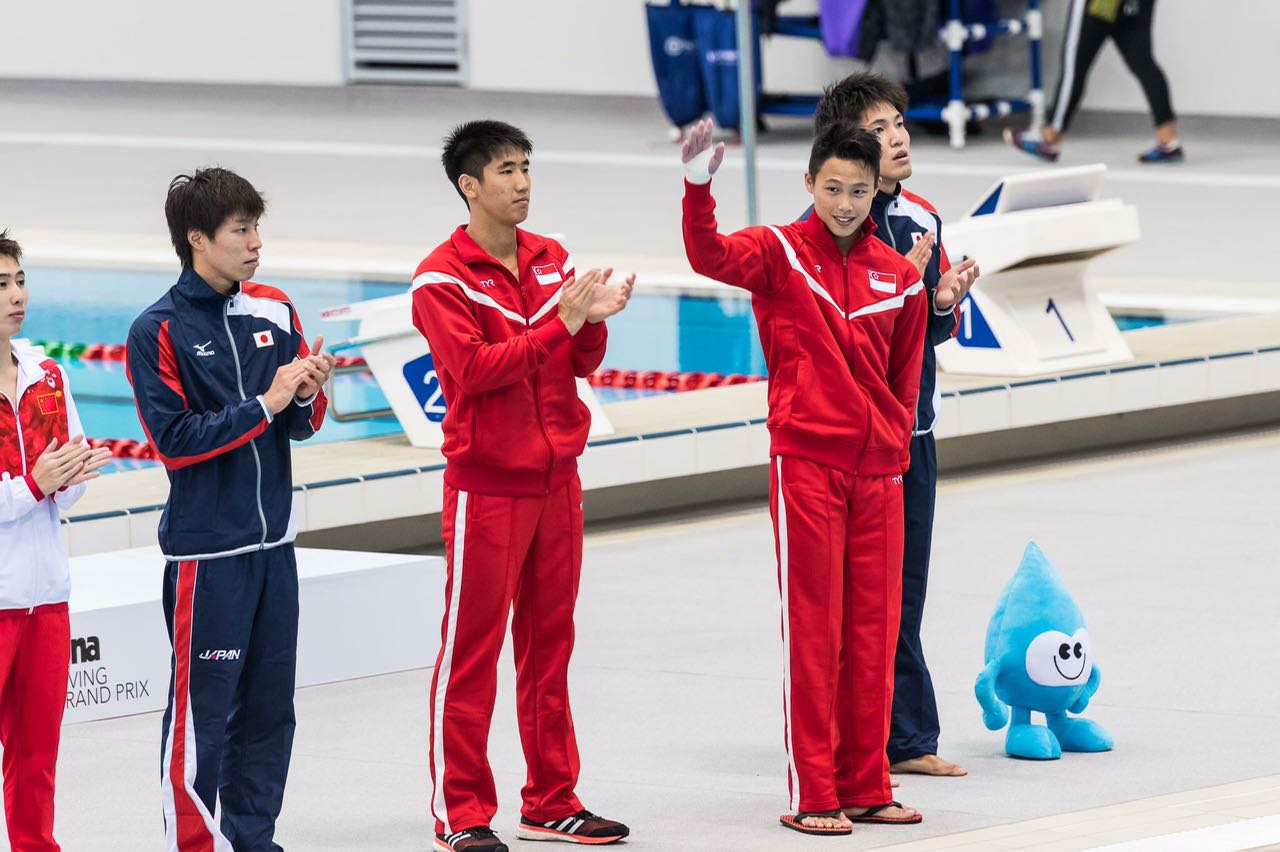 We congratulate our Josephians - Joshua James Chong (ML401) for winning a bronze and a silver at the SEA Games in Diving, and Ron Koh (FN202) for winning a bronze at SEA Games in Sailing. They both embodied the finest of Josephian sportsmanship in their preparation for these Games and in their medal-worthy performances against the best in South-East Asia.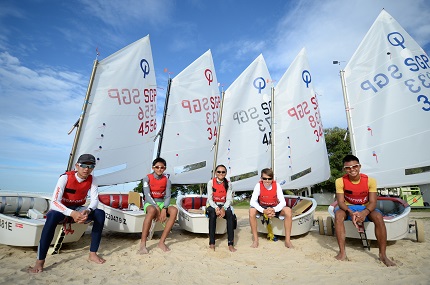 Ron Koh (2nd from left) - Optimist Team (Photo credit Singapore Sailing Federation)
Alumni Timothy Lee took home a bronze medal in Diving (3m springboard finals) with a score of 386.35 while his twin Mark was placed 4th (377.70), in a role reversal of their 2015 Games fortunes. Read more here.
Well done, boys!
---
August: SJI Football CAS
The SJI 'A' Division (boys) team prepared a group of non-A Div players to compete in the CJC challenge Cup 2017. This is a football tournament organized by CJC to give players who were not able to participate in the 'A' division tournament, an opportunity to play in a competitive environment. Many of our boys who came forward for this tournament had never received formal football training before and had only two months to prepare for the tournament. During this period, our 'A' division team saw these boys grow from a group of enthusiastic but raw individuals into a tightly knit and fearless unit that refuses to acknowledge when the odds are against them. The boys fought hard and fairly against traditional powerhouses like RI and ACJC and finished in 3rd place. Though the team was disappointed at not finishing in the finals, our opponents and critics have remarked that the team had bowed out with their heads held high based on their performance.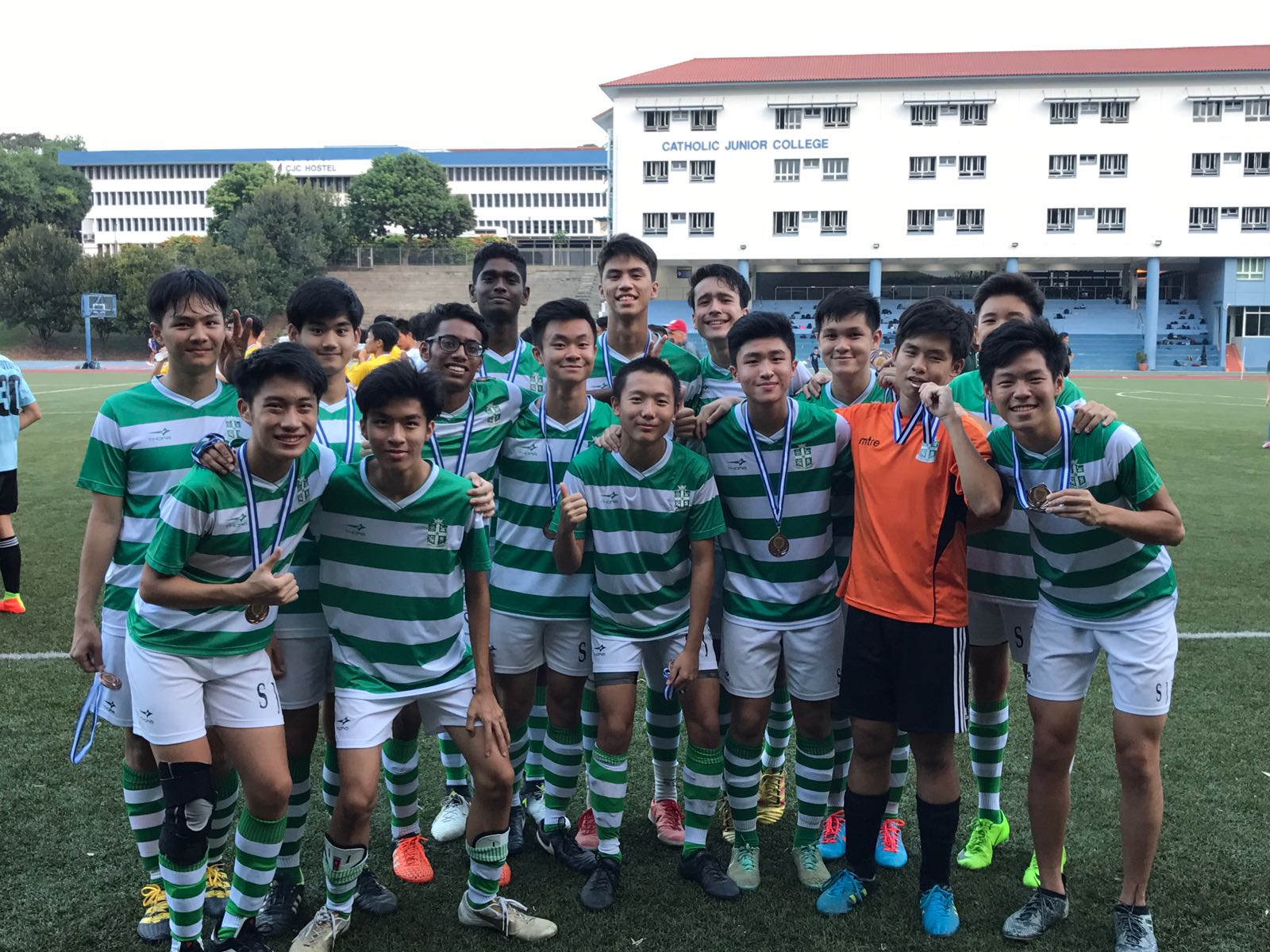 Meanwhile, the 'A' Division team continued their preparations for next year's competition with three friendlies in Term 3. Formed only in 2017, they began with a 6-1 win over ACS(I) on 1 August. Three days later, the team beat Tampines JC with 2-1. Finally, SJI rounded off the term with a 2-0 win against Millenia Institute on 16 August.
The SJI Women's Football, having only started in March this year, have been actively involved in a number of friendlies, as a way of gaining exposure and to hone their newly learned skills as novices. After 3 months of preparation, they played a friendly match against RI on 24 May that ended with a 3-2 loss. This was followed by another friendly against HCI (and its alumni) on 19 July, but were beaten with a score of 5-1. These losses compelled them to reflect on their journey thus far and what they wanted to achieve from this CAS. Their teachers and coach as well as their opponents shared that they were a team with great potential, as they were able to hold their own against well-established and experienced teams in the 'A' division.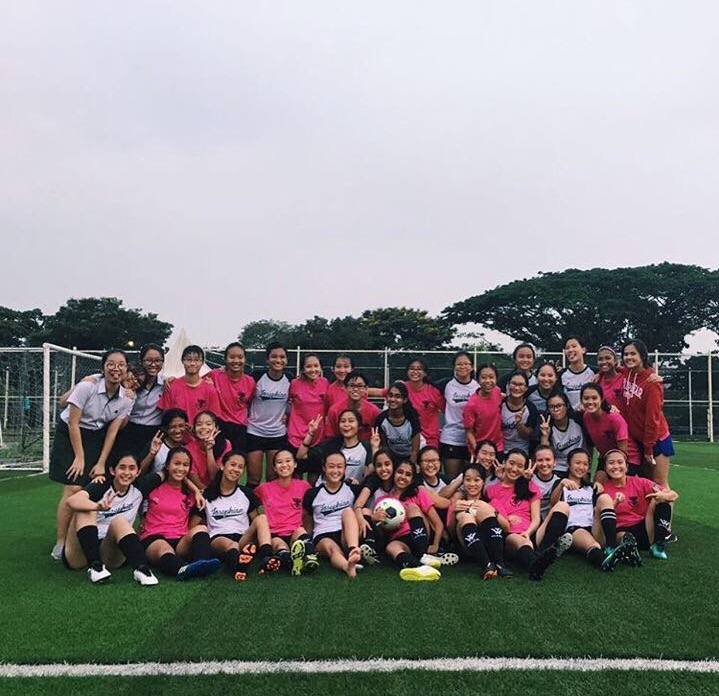 Inspired by such sharing, they affirmed that they wanted to make the most of their time in SJI and fight for something meaningful. They have committed to compete in 'A' division 2018. Under the guidance of their coach and teachers, they trained harder and more strategically, with belief and with passion. In August, the girls participated in two friendlies against TPJC and MI. Despite being a modest squad of 13, they held the bigger and more experienced teams to thrilling draws. These results have only whetted their appetite and they are hungry for more success. The team welcomes more girls who have the warrior's spirit to join them as they prepare to take on the challenges ahead.
---
August: SJI Plays Against St Joseph's College Hong Kong in Football Exhibition Match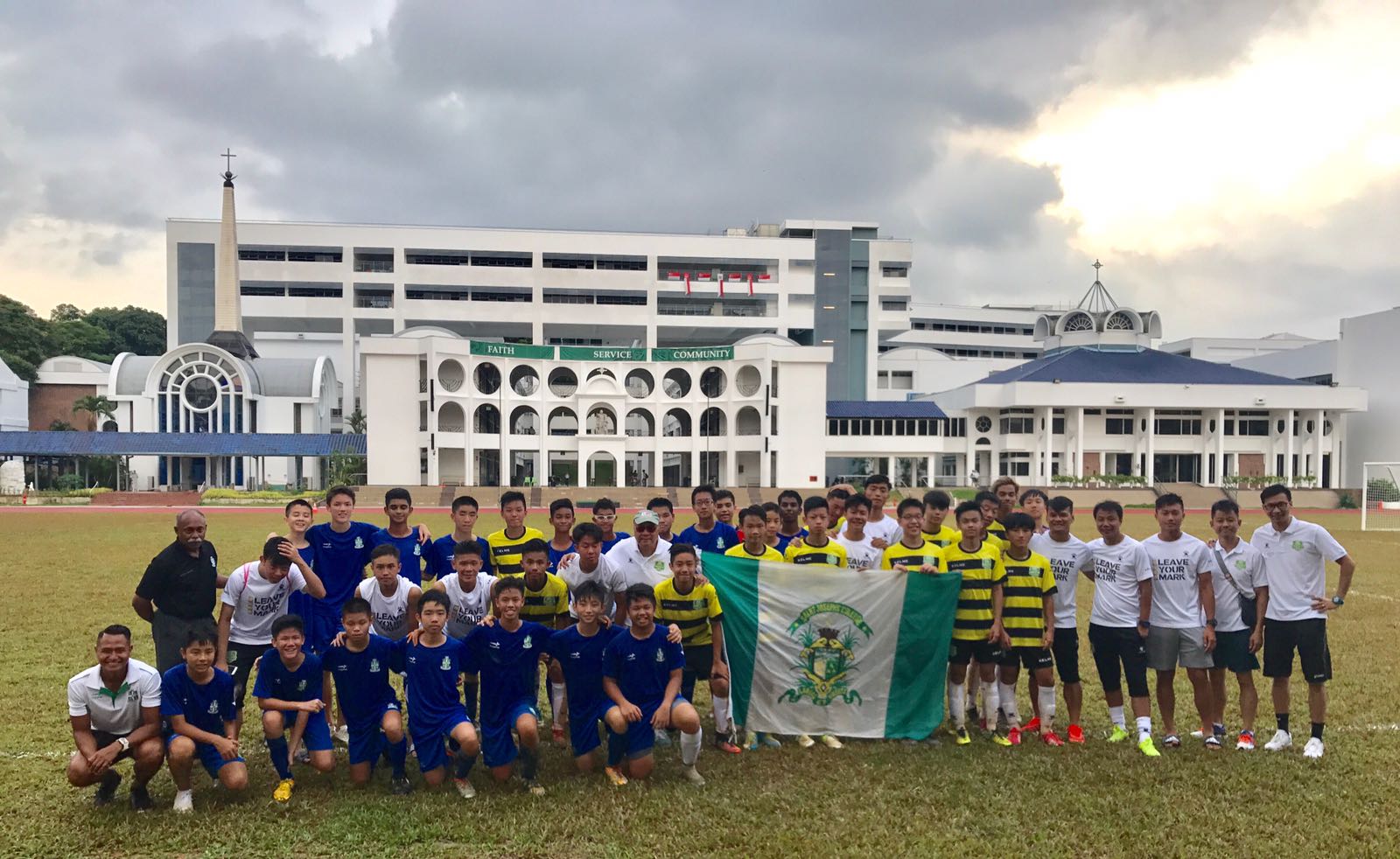 Our SJI Football team welcomed guests from St Joseph's College (Hong Kong) on 18 August with two friendly games that involved the Under-14 and U-17 teams. The 30-minute matches played within two halves exhibited both grit and aggression from both parties who were keen to stamp their marks on the games. In the end, our U-14 team emerged victorious, winning the game 3-0 while our U-17 team lost their game with a score of 2-1. Our U-17 team, which comprised of mainly our Secondary 3 students, fought well to match the physicality and aggression of their U-17 opponents. The matches concluded with exchanges of hugs and handshakes, in the true spirit of sportsmanship.
---
August: National Education Dialogue with Mr Poon Hong Yuen, CEO of SPRING Singapore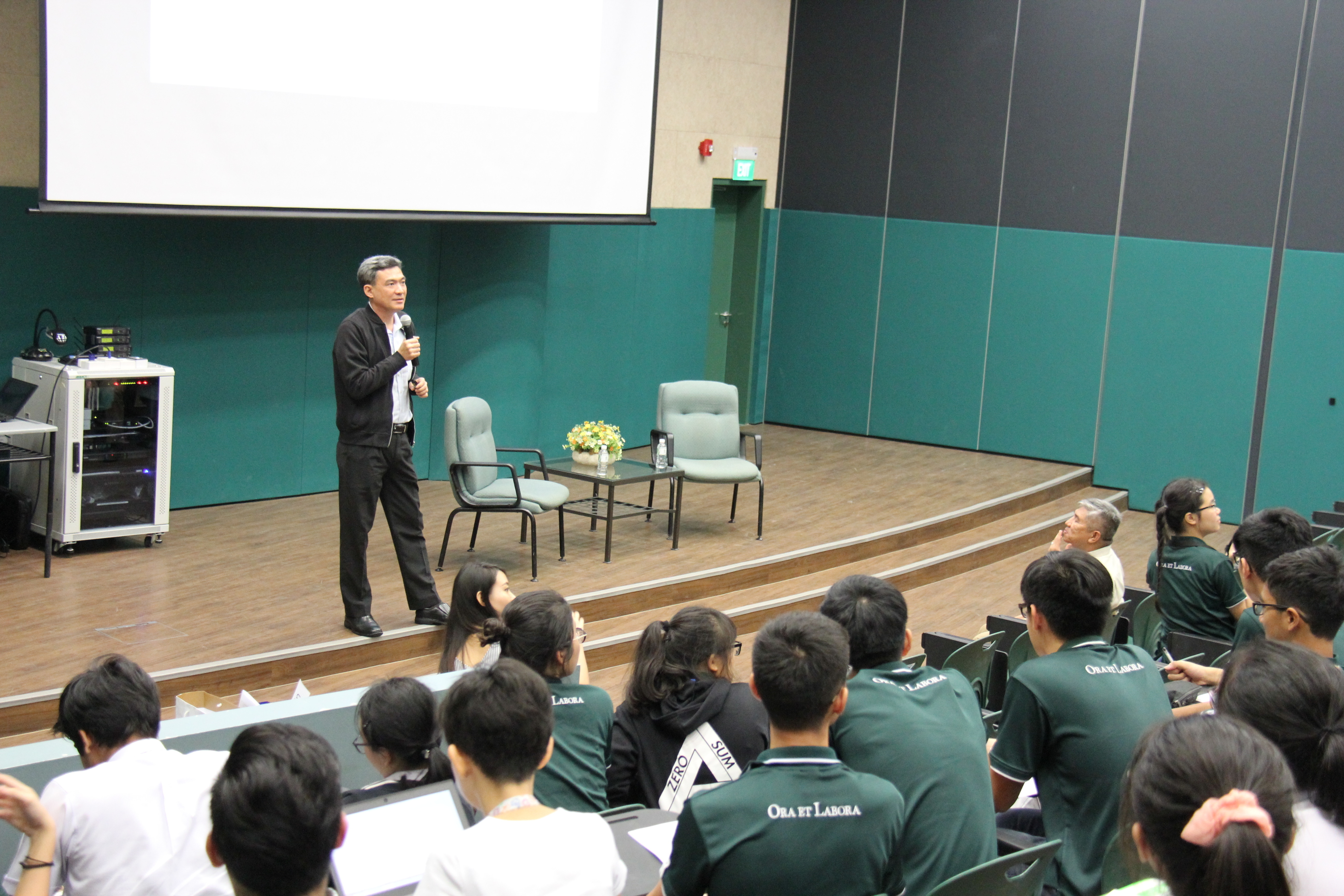 Do you know how many Small Medium Enterprises (SMEs) are there in our Singapore economy and how much it contributes to our economy?
Our JC1 teachers and students had the privilege to engage in a dialogue session with Mr Poon Hong Yuen, CEO of SPRING Singapore on 18 August. During the session, both teachers and students actively discussed about some issues relating to entrepreneurship and innovation in the Singapore economy. Some issues such as the use of Artificial Intelligence (AI) in our economy were discussed and students were concerned about how this development will eventually affect the employment in Singapore, as the economy advances into these different areas.
On a lighter note, Mr. Poon candidly shared about his conversation with his teenage son and gave some timely advice to our JC1 students. Both the teachers and students took away valuable insights from the dialogue and enjoyed their discussion with Mr. Poon.
---
August: Alumni Recognised for Holistic Achievements
Congratulations to our alumni - Yuvraj Chauhan (Class of 2014) who won the Prime Minister's Book Prize for Pre-university studies for 2017, and Kevin Martens Wong Zhi Qiang (Class of 2008) for the Lee Hsien Loong Award for Outstanding All-Round Achievement.
Established in 1974, the Prime Minister's Book Prize is an annual award for bilingualism given at the primary, secondary and pre-University levels. This year, 40 students received the Prime Minister's Book Prize – 12 from the primary school category, 17 from the secondary school category and 11 from the pre-University category.
The Lee Hsien Loong Award for Outstanding All-Round Achievement is funded by an endowment donated by Prime Minister Lee Hsien Loong in 2009. The award is to recognise outstanding academic and non-academic achievements of post-secondary students, particularly those who have made outstanding contributions to the community and demonstrated the spirit of innovation and enterprise. There are four awards to be given out each year, with one student from each of the following four groups – ITE, Polytechnics, Junior Colleges / Millennia Institute and Autonomous Universities.
---
August: SJI Cross Country
By Isaac Chan (MN302)
The Annual Cross Country Meet took place at Bedok Reservoir on 8 August. A test of one's endurance in the form of long-distance running, Josephians donning fraternity colours had to run the shorter 3.6km (for lower Secondary boys and JC girls) or the longer 4.3km track (for upper Secondary and JC boys) around the scenic reservoir. Throughout the run, participants were surrounded by the beauty of nature and treated to a picturesque view of the reservoir's calm waters as they jogged under a blanket of shade provided by numerous trees lining the perimeters of the reservoir. Although the run was tough and arduous, most Josephians still gave their all and completed the race, with many receiving the Finisher's Medal as the reward for their efforts. After the culmination of this year's meet, everyone headed home feeling tired yet satisfied, knowing that they had finished the race and could now rest and enjoy the break that would come with the National Day holiday on the next day.
---
August: Secondary 2 Day of Recollection - Transfigured Me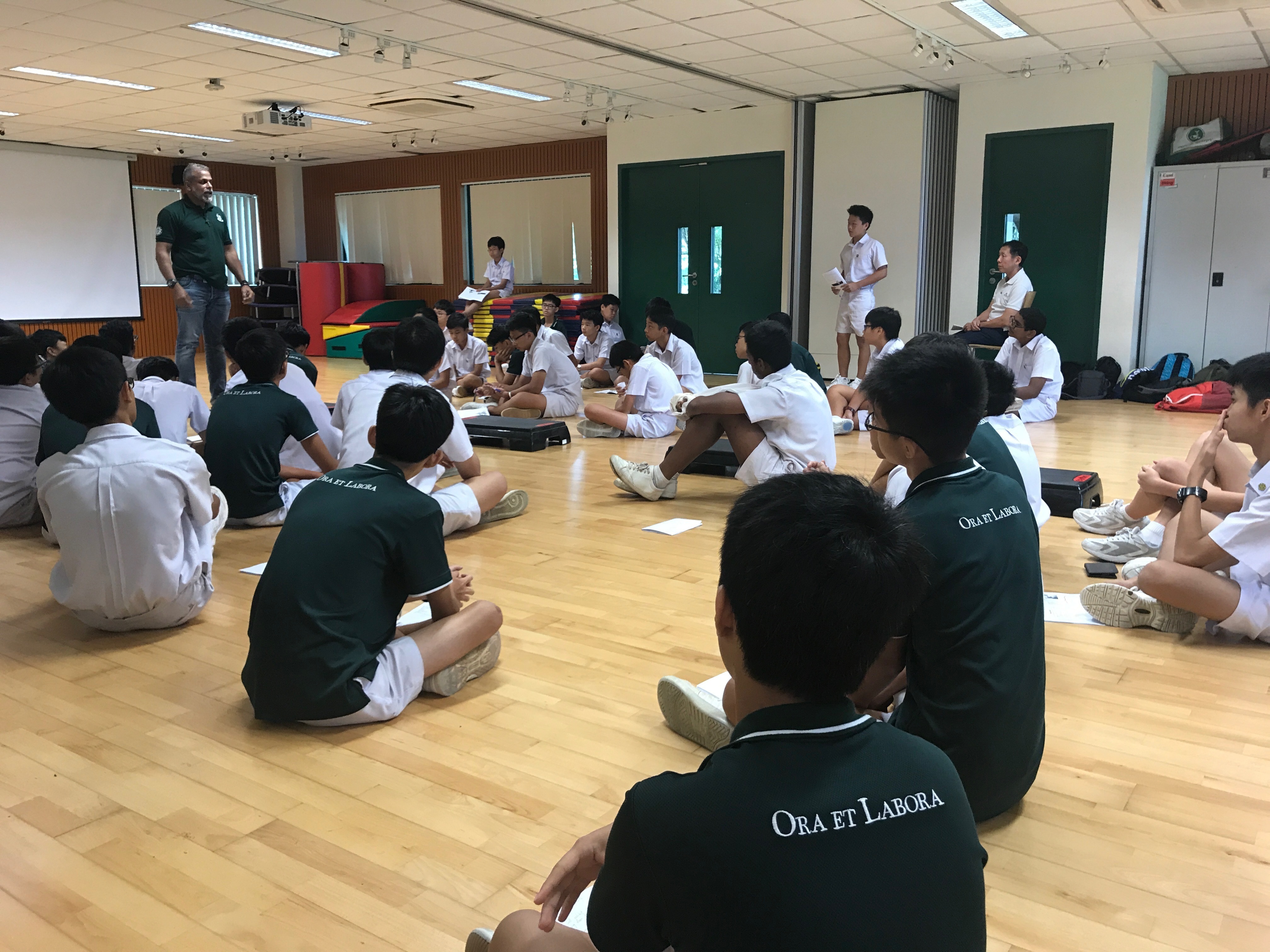 The Secondary 2 Day of Recollection was held in SJI Junior on 5 August. Based on the theme "Transfigured Me", the boys gathered in the morning in preparation for the Feast of the Transfiguration, which fell on a weekend this year. A little short prayer they prayed and shared during the Eucharistic celebration:
"We pray for our faith, that we can be more faithful to God and commit less sin. We pray for our parents, that they may be good parents and help us as we grow up, not being too strict with us or spoil us. We pray for our friends, that we will understand the true meaning of friendship, that we will be able to get true friends that will stay by our side and support us through our problems and that we will be true friends to others. Amen."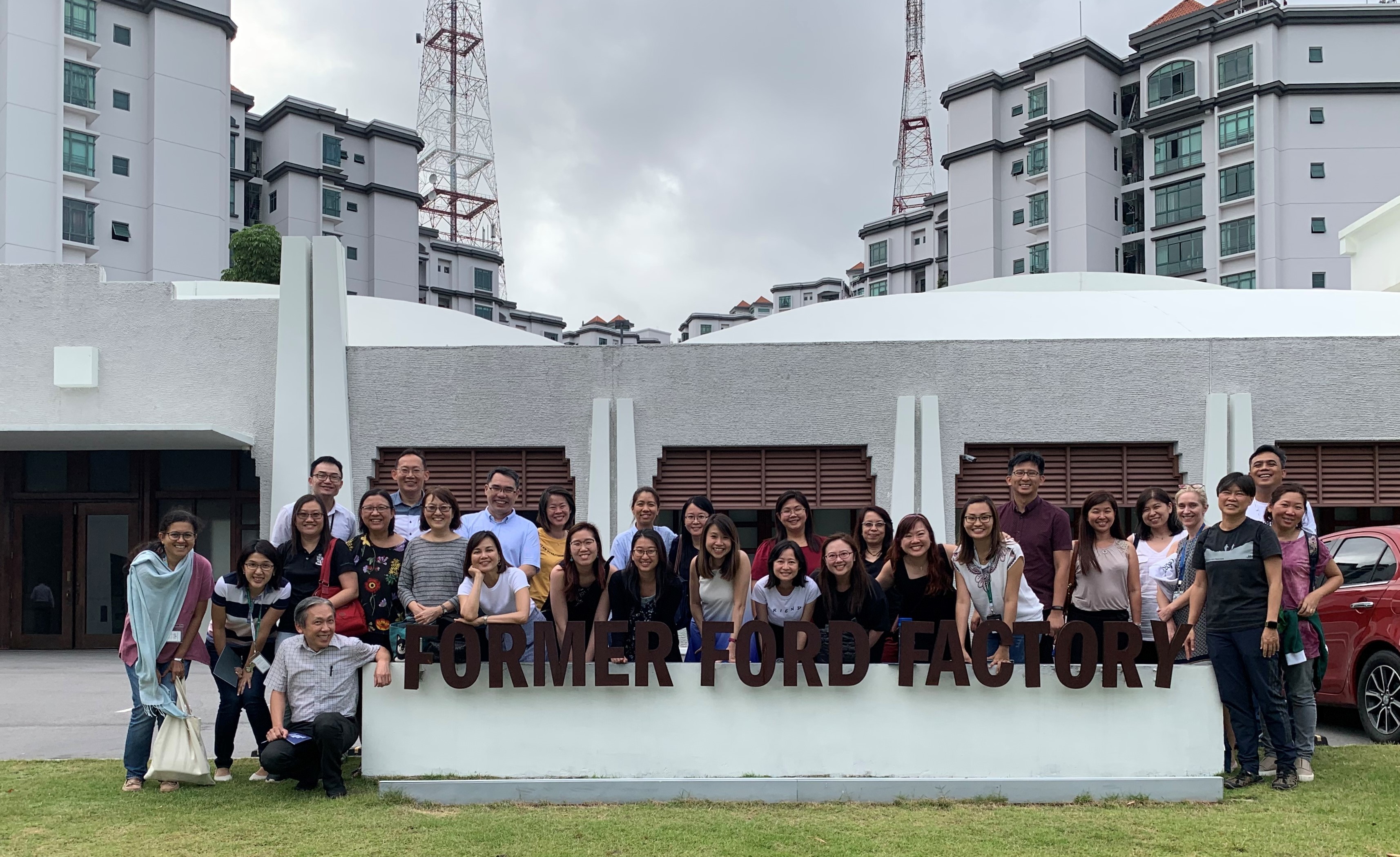 ---
August: The Individual Academic Project (IAP) Fair
By Anson Goh Jia Wei (MN203)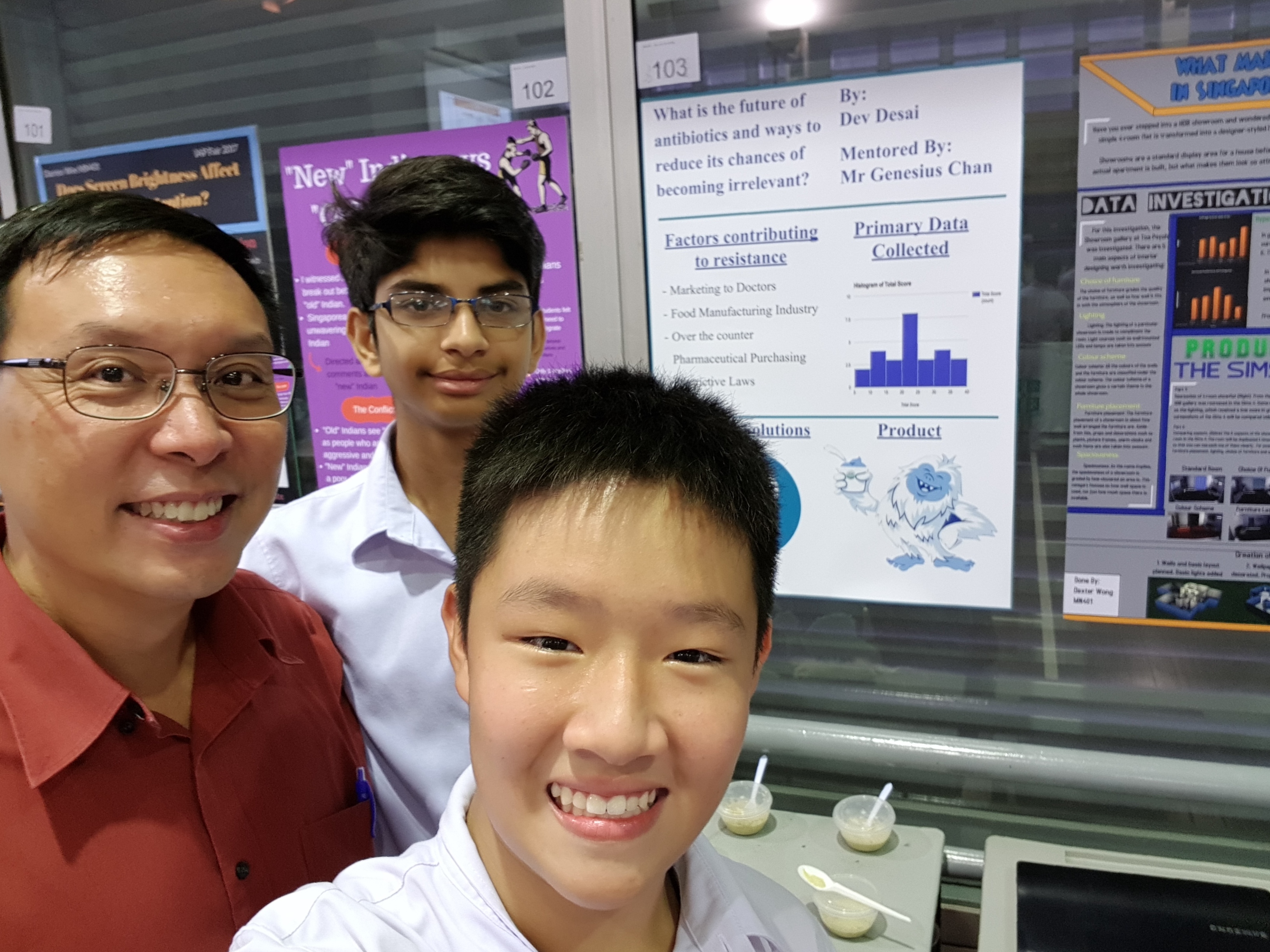 The Individual Academic Project (IAP) Fair was held on 3 August in the Founder's Hall. All Secondary 1 to 3 IP students attended the fair to learn about the research done by our seniors in Secondary 4. This was truly an eye-opener for me, as it allowed the juniors to have a preview of the life of a Secondary 4 IP student.
One of my seniors, Devvrat from MN401, researched on the growth of bacterial microbes in the body and that led him to develop yogurt as a product which he brought to the fair for visitors to try. Although it did not look appealing, it was fairly delicious and nutritious. This was achieved with ingredients such as avocados, and bananas. His mentor, Mr Genesius Chan, provided guidance along the way, as Devvrat worked independently to complete his assignment.
Basil Tan (FN403) created a simple yet intelligent device to aid the growth of a toddler's motor skills. A child could control a Lego car through a phone connected by sensors to the car to develop motor skills by playing a simple car driving game. Despite the idea is simple, it is very useful in the development of necessary skills of a toddler or growing child. Overall, this was an extraordinary exhibition with wonderful projects that blew the minds of students.
---
July: Josephians and Rafflesians Meet at Annual Ortega Cup
Embodying the essence of team spirit, sportsmanship and a history of friendship with Raffles Institution, this year marks the 11th edition of the Ortega Cup, which was held on 28 July at SJI International. We were blessed with good weather, end-to-end action and great camaraderie.
The Under-16s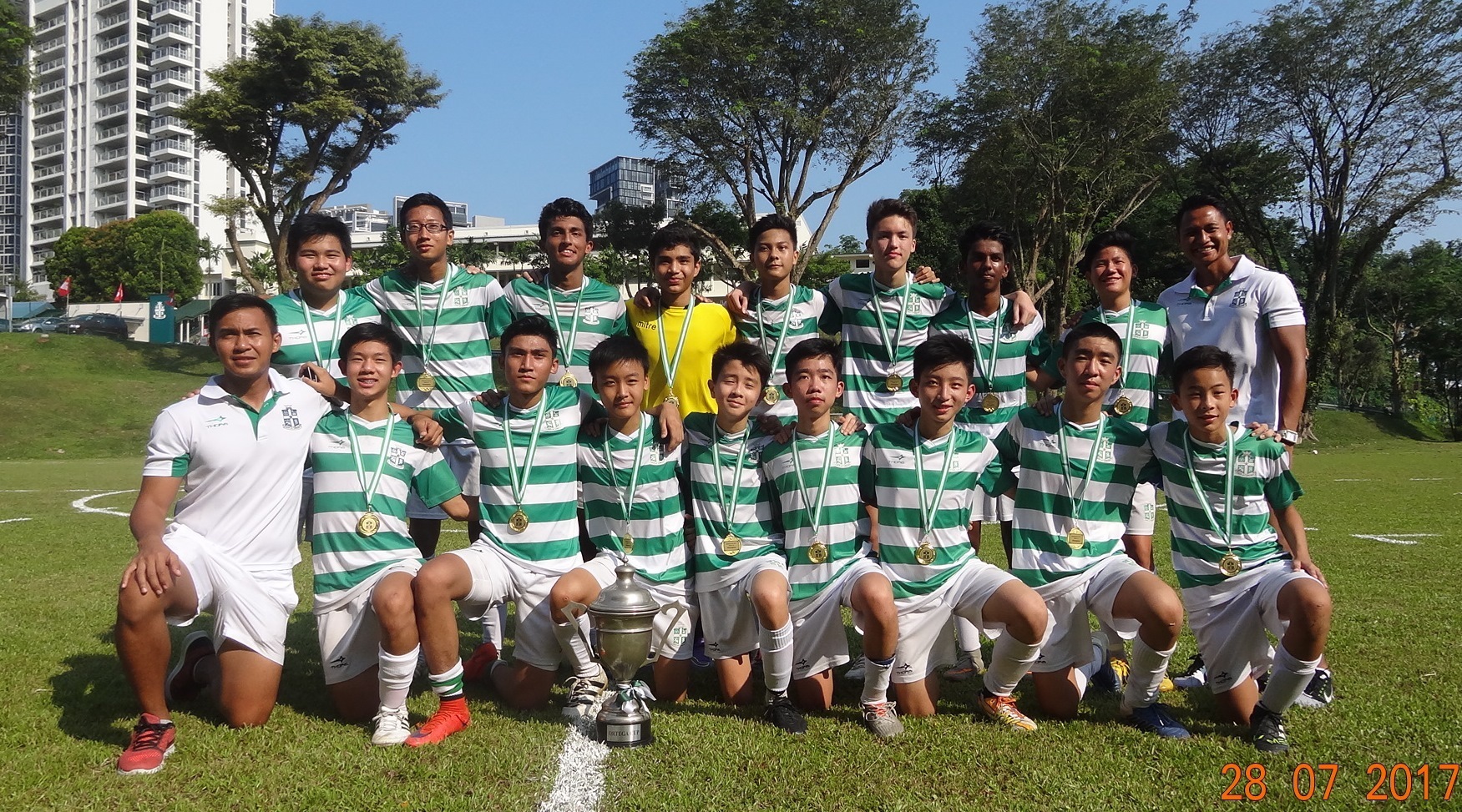 The event started off with a pulsating and breathtaking U-16s match that saw our young Josephians play with great tactical discipline and finesse. A close range shot made it 1-0 in the first half but the Raffles team didn't take this lying down. They were rewarded with a goal that brought the game level at 1-1 when the Raffles striker made a rare break into the penalty box and slotted the ball under the goalkeeper's arms. The goalkeeper kept the game intact by denying a subsequent Rafflesian penalty. The boys left it late and eventually overcame the Raffles defence once more in the second half, with a thumping shot into the far right of the goal.
Final score: SJI 2 - Raffles 1
The Over-40s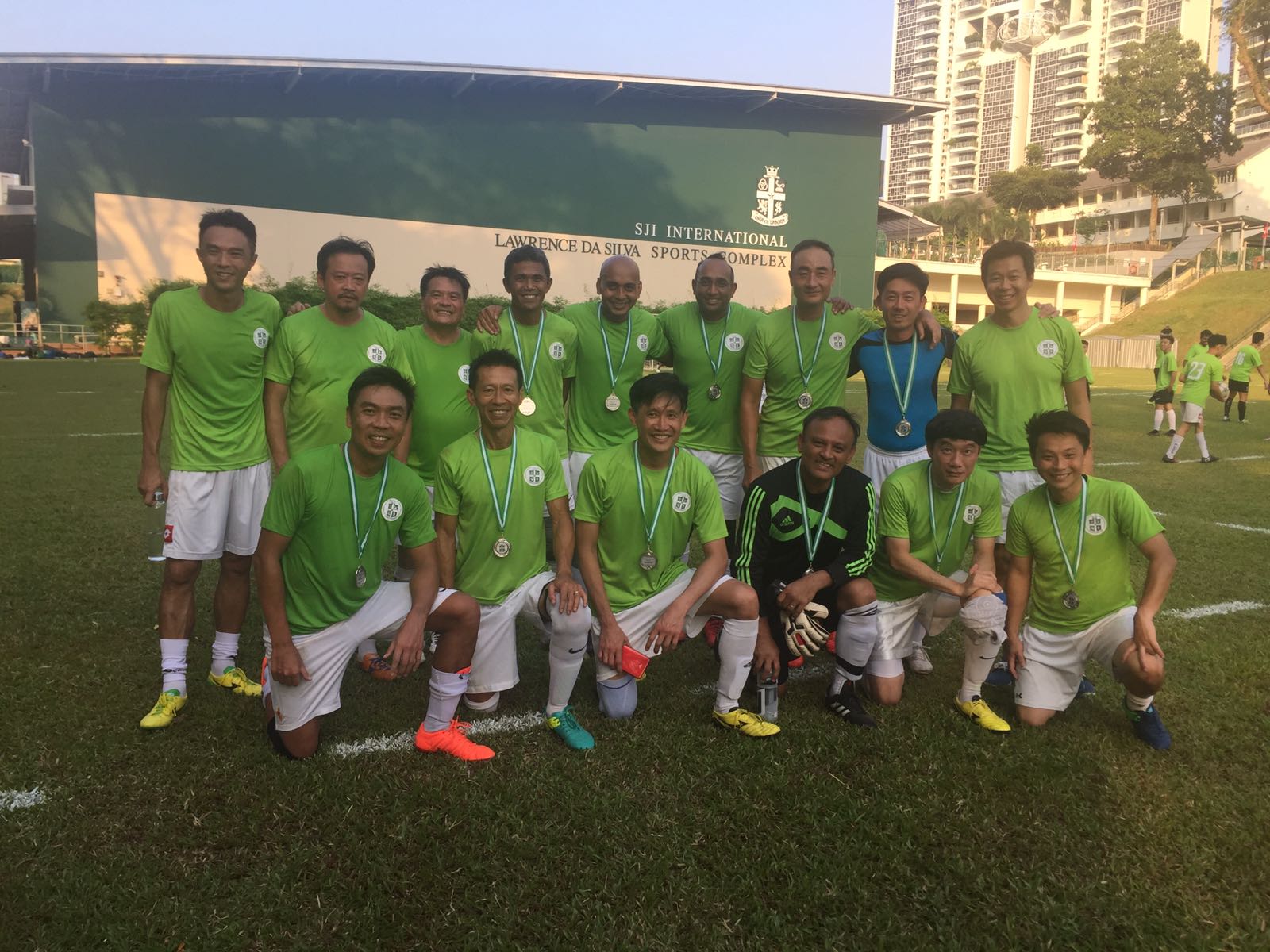 The O-40s match followed thereafter and we were entertained with nail-biting action throughout the game. Both sides wore their heart on their sleeves and were keen to win the Suhaimi Ali Cup; more so for the SJI O-40s team as they look to take the cup back from the Rafflesians. With the oldest team member just a year short from 60 and several of them in their fifties, the SJI O-40s team led by Captain Dr Ooi Lai Hock (Class of 1986) showed great energy and team spirit throughout the game. Clever gameplay and overlapping runs down the wings from both sides saw some near misses but all was level at the end of game. As the visiting school, the Raffles O-40s team was awarded the winner of this game.
Final score: SJI 0 - Raffles 0 (visiting school wins)
The Under-40s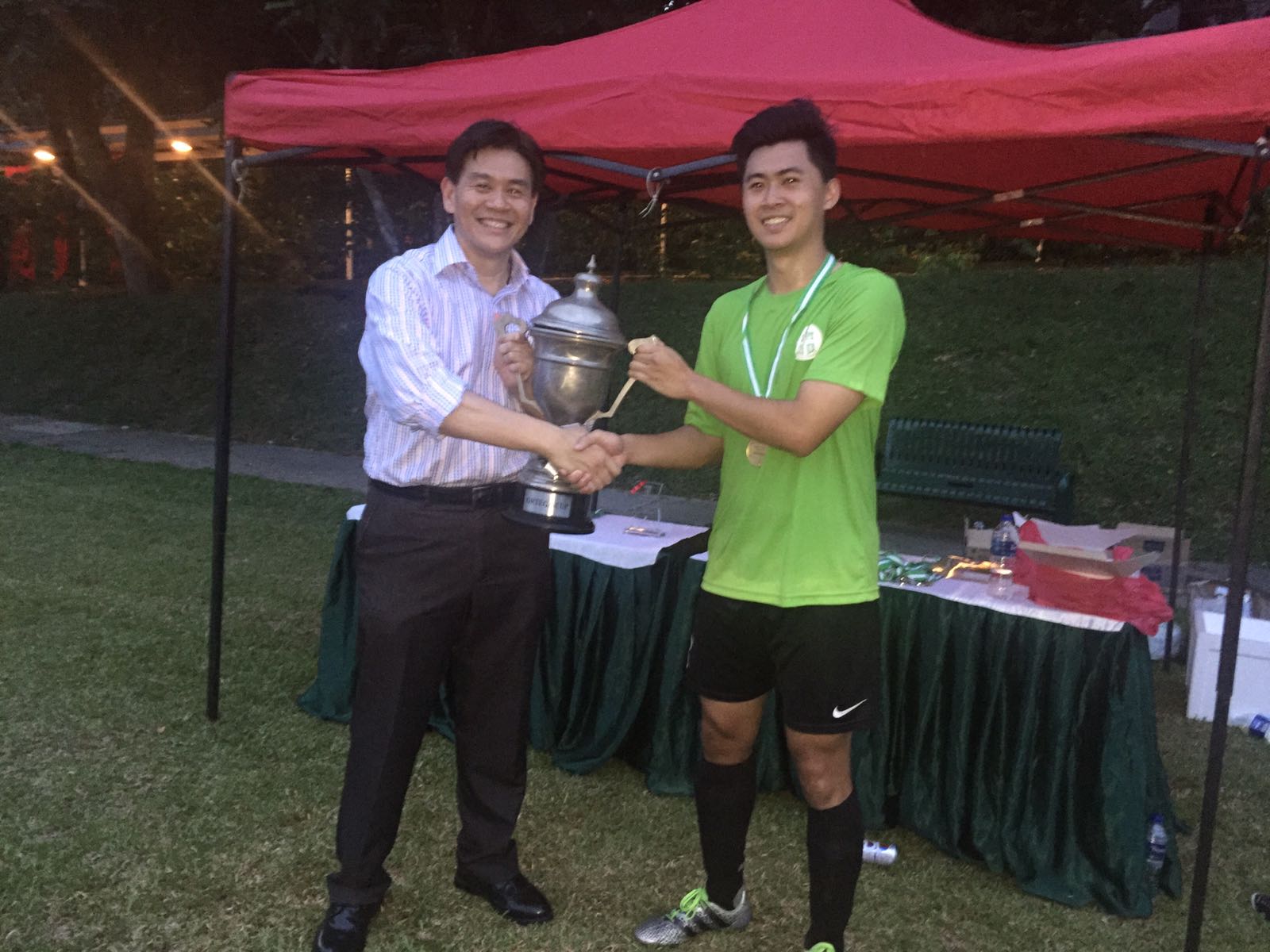 Winning against the brilliant Raffles U-40s team for the first time at the last Ortega Cup, the SJI U-40s team was determined to win their counterparts for the second year running. Led by Captain Ang Siong Guan (Class of 2003), several of the winning team members returned to play alongside with new entrants. The SJI U-40s fired its cylinders and came agonisingly close to scoring on many occasions but all came to naught at the end of the first half, as the Raffles defence stood strong.
Winning important balls all around the pitch, the SJI U-40s continued its barrage of attacks against the strong Raffles defence. The defence was finally overwhelmed and a glancing header off a wonderfully taken corner put SJI up 1-0. This invigorated the Raffles U-40s team and they came firing thereafter. The SJI team however held strong to the lead they have right to the end, showing grit and resolve.
Final score: SJI 1- Raffles 0
---
July: Josephians Celebrate SJI's 165th Anniversary
Josephians from all walks of life came together to celebrate SJI's 165th Anniversary at the Fairmont Hotel on 22 July.
SJI has been blessed for 165 years, to have the support of the De La Salle Brothers to educate generations of Josephians since 1852. It was from SJI that the De La Salle Brothers built up the family of Lasallian schools in Singapore.
It is also a time for all to reflect on the value of Lasallian education that has shaped generations of students from St Joseph's Institution, St Patrick's School, St Anthony's Primary School, De La Salle Primary School, SJI Junior (formerly St Michael's School), St Stephen's School and SJI International to become men and women of integrity, and men and women for others.
Over 880 donors, alumni, and former teachers attended the gala dinner, who were enthralled by highly entertaining performances by FIVERA, a Thai pop‐opera group. The event raised more than $570,000 for the school's building fund.
Check out the highlights of the event on our Flickr album or follow us on our Facebook and #sjicelebrates165 #sji_oraetlabora. Ora et Labora!
---
July: SJI Celebrates Racial Harmony Day
SJI commemorated Racial Harmony Day (RHD) on 21 July, the same day when the 1964 Race Riots took place 53 years ago. The emphasis for this year's RHD is our journey from tolerating differences to embracing diversity, as our Singapore identity continues to develop. It reflects the harmonious relationship we try to instill in every Josephian as well as in the wider community. With the support of the Parent Support Group (PSG) and the Senior and Secondary Student Councils, an old-school-themed carnival was held at the school Foyer during break time with cultural games and food stalls prepared especially to forge Racial Harmony within our community this day.
---
July: FRENCH DAY 2017
By Anshiqa Agrawal and Russell Koh
Bonjour Mes Amis! (Hello my friends!)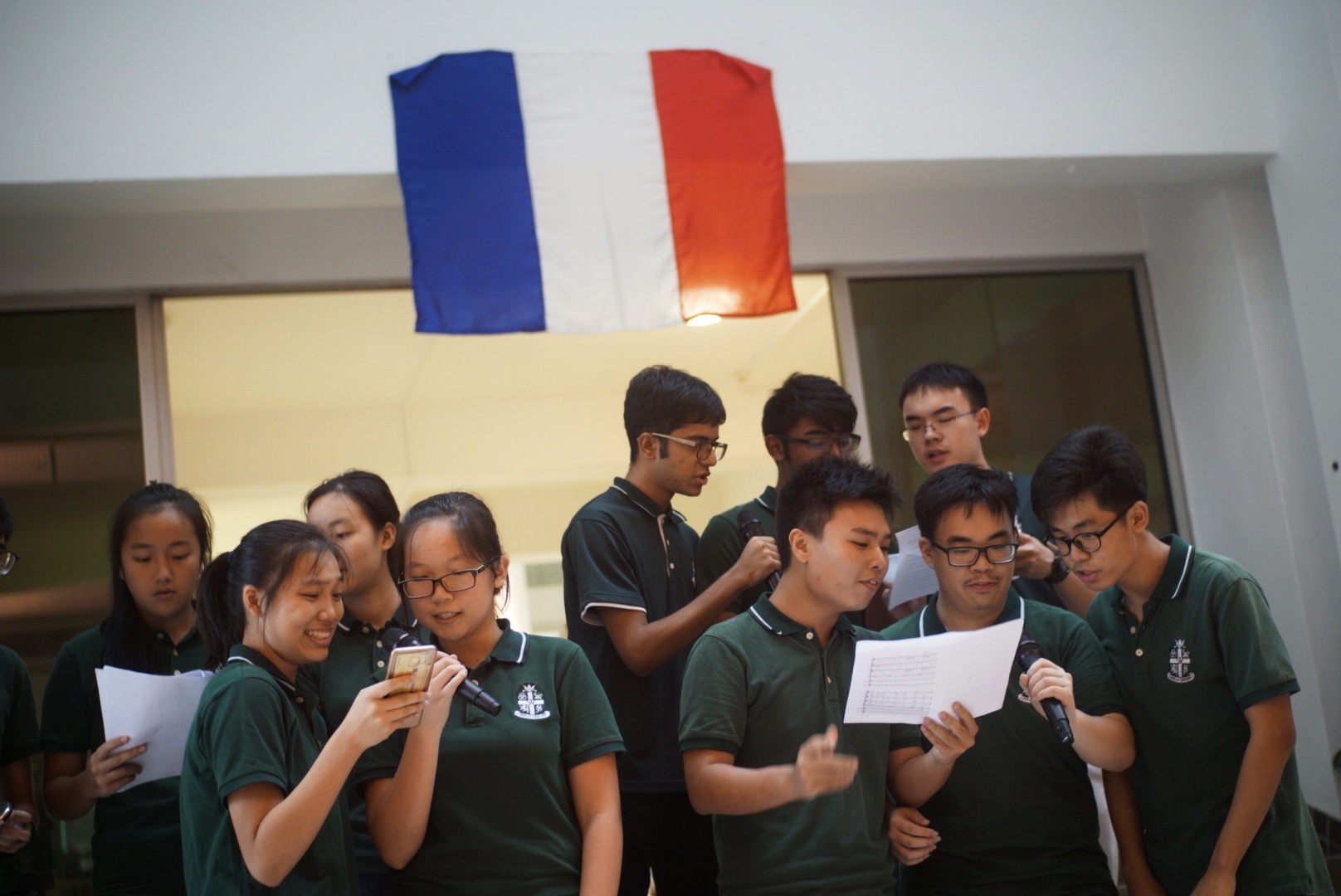 SJI celebrated the French National Day on 14 July, with an event organised by French teacher Mr Jean Paul Heusdens, the French Ab Initio and French club students from the Senior section. The school foyer was transformed into a vibrant plethora of engaging posters all about French Culture, designed by the students, and the tempting aroma of baked French Cuisine by the Culinary Club invited many to pop by and join in the celebration. C'était délicieux!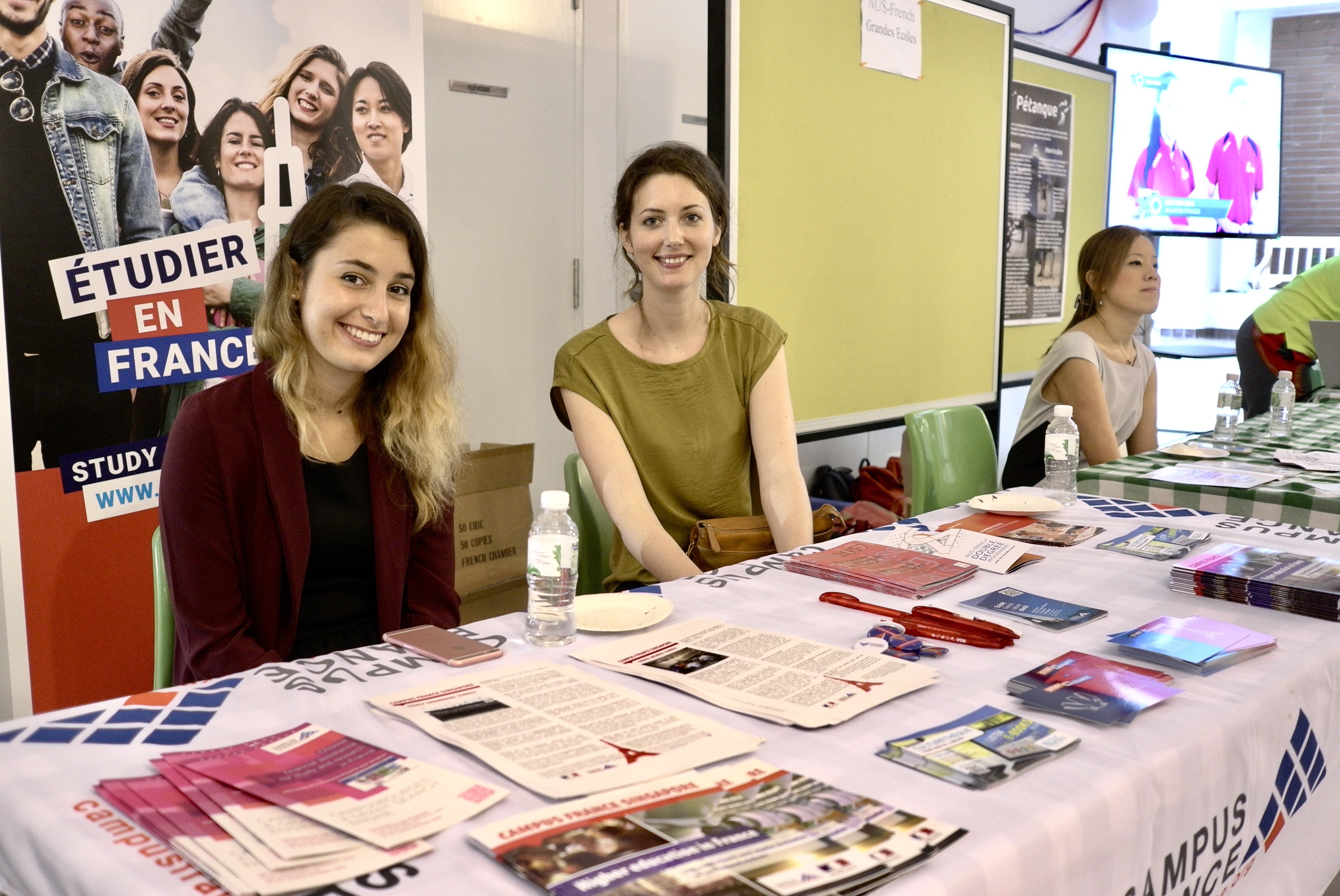 There were also many entertaining performances by the Vocapella CAS, Hannah, Phuong, and Ms Elizabeth Mosbergen. Informative booths held by organisations such as the Swiss Embassy, the Belgium Embassy and the French Chamber of Commerce, also enlightened students about higher education in countries of Europe. The day concluded with an interaction session with Singaporean French-speaking alumni for JC1 students at the LT.
---
July: One Week, Many Stories
By Lucius Yeo, Chong Jin Qi and Ridley Leong (FN202)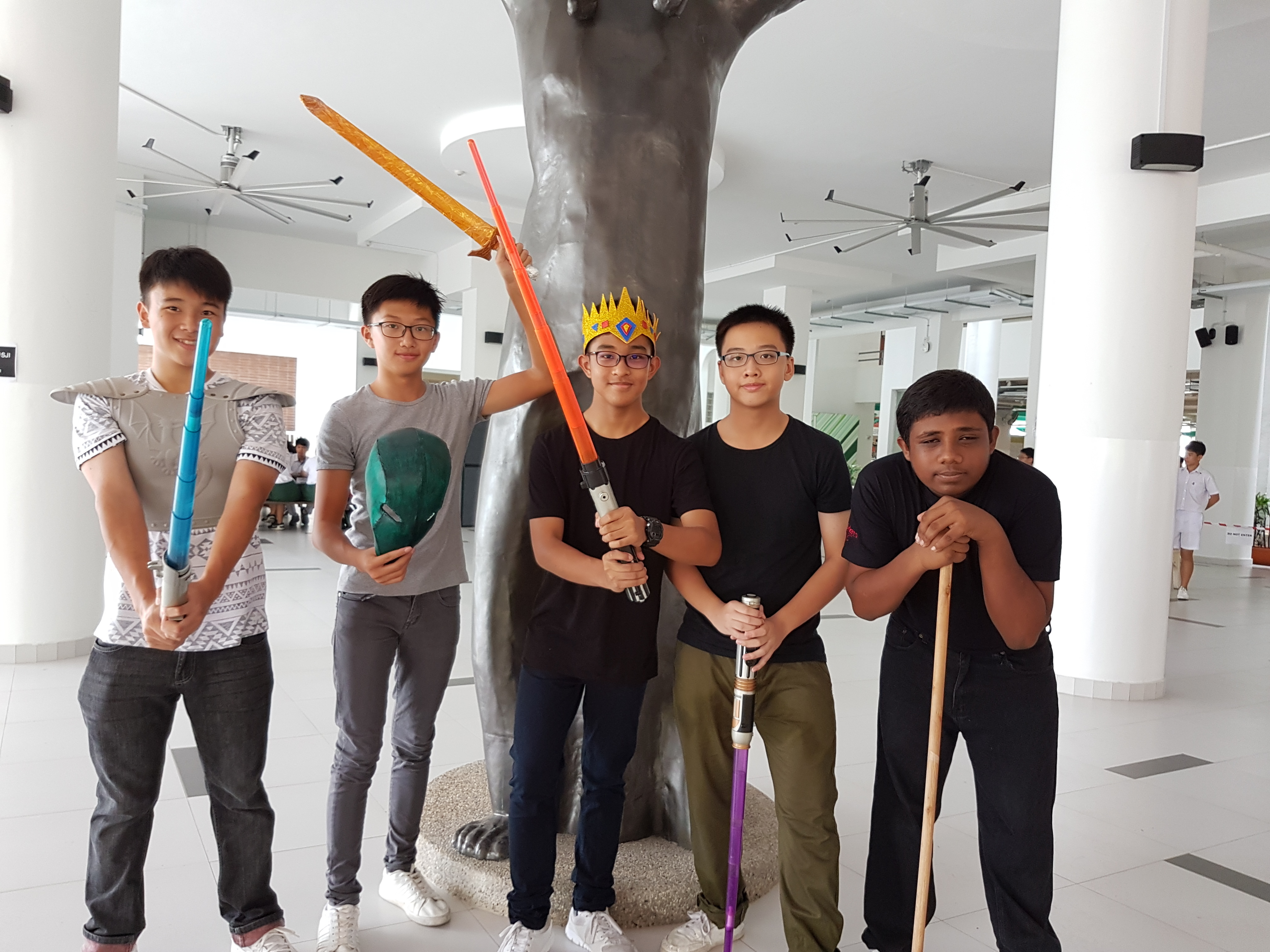 The annual English Book Week was held from 10 – 14 July and saw the students come forth to participate in various English activities. FN202 and LE203 squared off during the Inter-class Taboo competition. Taboo tests one's description skills and enriches one's vocabulary. Students had fun guessing words from the given clues. With two games played simultaneously in both classrooms, FN202 was victorious by winning both games at home and away turf. It was indeed a close fight!
Through verses, students from ML201 and MN201 partook in a poetry slam battle. Puns and rhymes were just a few of the countless poetic devices utilized. At times of witty words, excitement followed. At times of weighty words, a pensive silence was observed. The tutors carried out careful consideration and the results were to be released at a later date.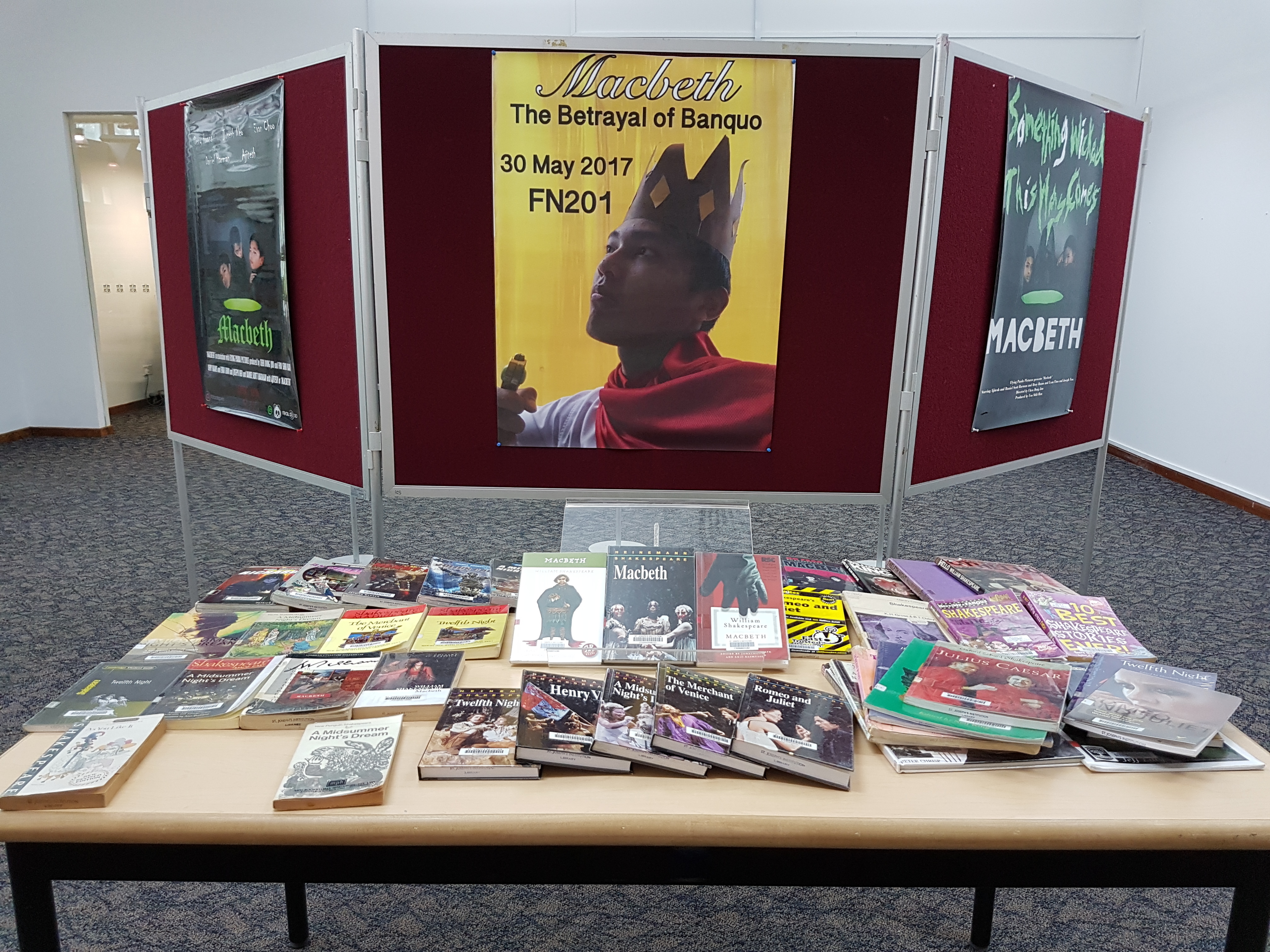 Students also displayed their talents by presenting the art of acting, script writing and directing. They acted upon the treason, treachery and tyranny of Macbeth. Alden and Xuan Han from FN203 commented, "It was also a matter of confidence and voice projection. As a whole, this Macbeth performance helped us to develop both holistically and intellectually". Together with LE201, these students had the opportunity to spar their acting skills in front of an audience, bringing their weeks of preparation and rehearsals to fruition and the delight of the audience. Not forgetting an exhibition booth in the library that showcased all the creative posters by the Secondary Two students.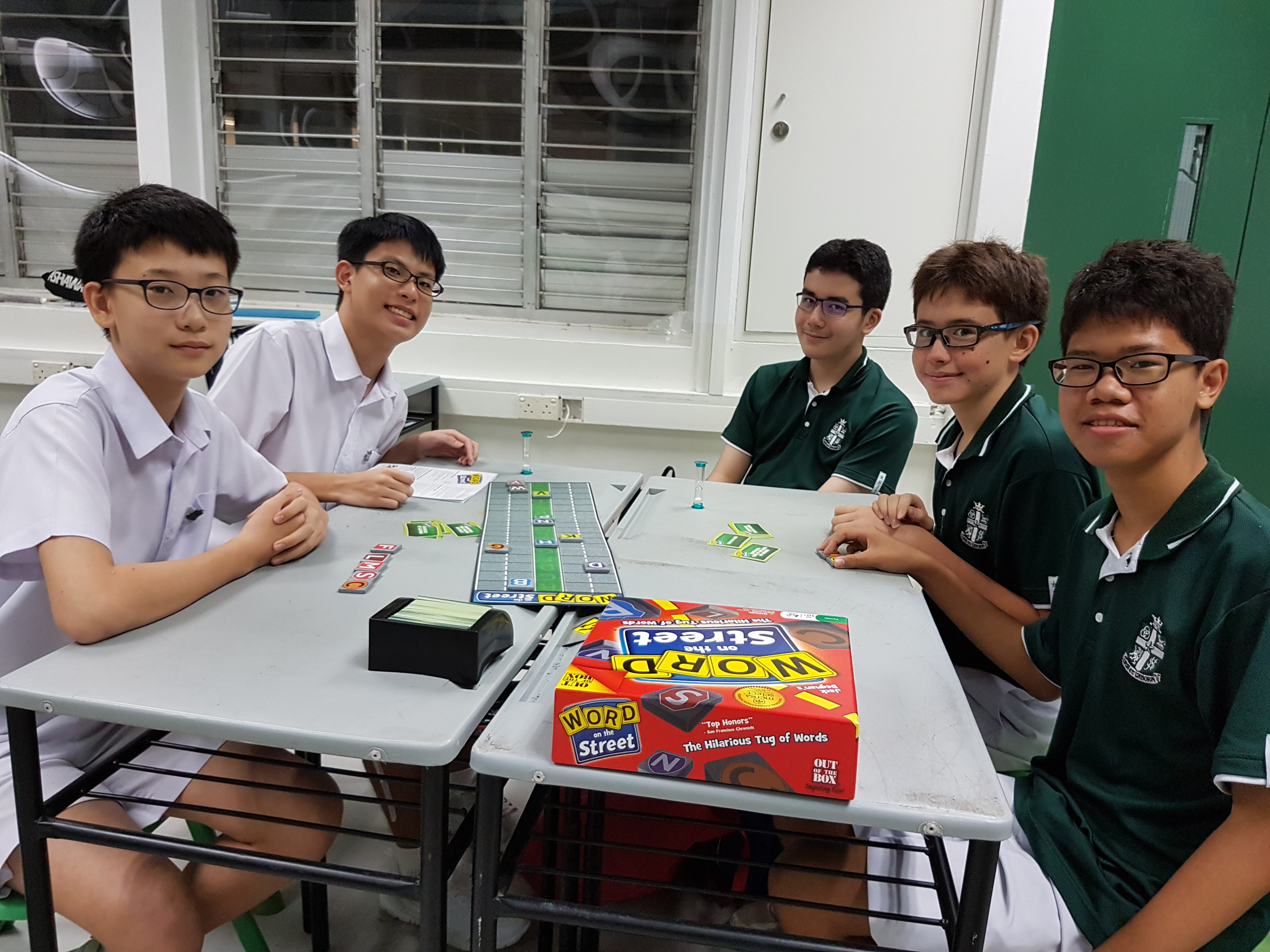 The week was nearing its end when 10 student ambassadors went on a secret mission to spot readers in the SJI community. Known as the "Spot-A-Reader Campaign", SJI collaborated with the National Library Board to run this event to promote reading among youth. The ambassadors went about spotting avid readers and rewarding them with prizes for their endeavour. Although the number of readers spotted on the first day were low, the numbers surged on Day Two when teachers holding books were ambushed at the Annex.
In all, the week had whizzed past and the activities came to a close. As student reporters, we are very happy to be able to capture these moments in SJI that made school life so much more enriching. In fact, we believe that the students involved in these activities certainly would have their own stories to tell as well.
---
July: Josephians Go On Annual Pilgrimage to Mount Carmel
It is a treasured privilege to be invited by the Carmelite Sisters to join in their annual celebration for the Feast of Mount Carmel. This annual pilgrimage is a unique relationship the Josephians have with the Carmelite community in Singapore. To prepare the Josephians for this Feast, the Carmelites from St John of the Cross Community including their Superior, Fr. Ferdinand, Bro. Moses and the postulants; Jeremy, Bernady, Joseph, Raphael, Michael, Francis, and Daniel – shared about the charism of the Carmelites. Josephians as a school community, prayed as well as offered their service as a choir for the Eucharistic Celebration in the Carmelite Convent Chapel.
---
July: Josephians Shine at NP with Outstanding Academic Achievements
Congratulations to our alumni who have attained outstanding academic achievements during their studies at Ngee Ann Polytechnic (NP):
Amirul Hazim B Salleh was awarded a Diploma with Merit in Environmental & Water Technology. He also won the SWA Prize.
Andrew Prabhu Reveenthran was awarded a Diploma with Merit in Aerospace Technology. He won the Scoot Book Prize.
Tan Yan Feng was awarded a Diploma with Merit in Aerospace Technology.
---
July: SJI's Out of Time emerges 2nd in Voice Of My Generation (VOMG) Competition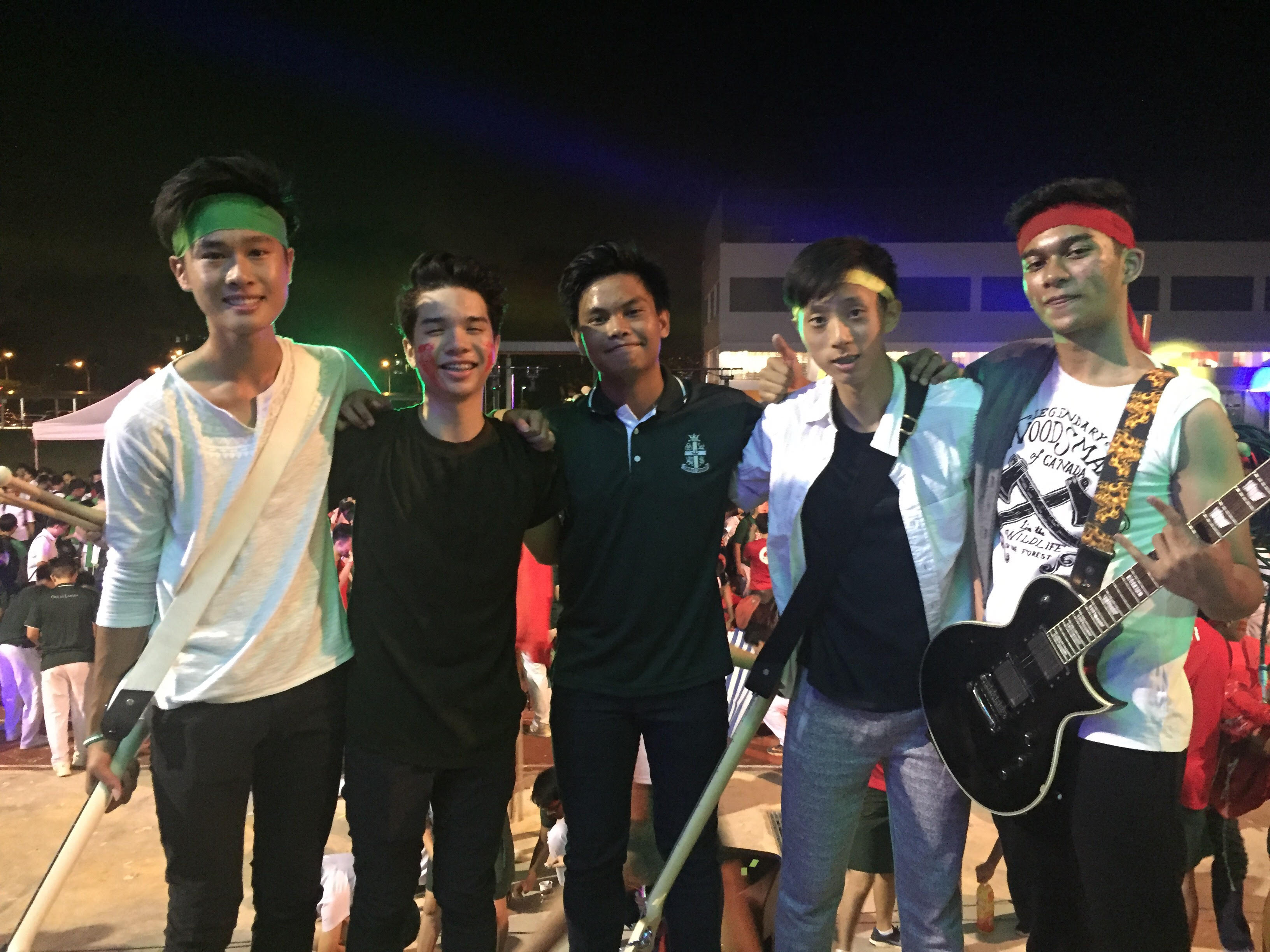 Out of Time performing at SJI's homecoming event in January 2017
Formed in 2014 when they were just in secondary 2, Out of Time's Justin Alfonso S Pansacola (JC 103), Tyrone Santiago (JC 103), Chia Jeng Yee (JC 103) were exploring pop punk music. They did not succeed well in early auditions as they were still finding themselves as a band. Since then, the band has grown to include drummer Wells Chin Shijian (JC 106) and bassist Justin Tan (JC 116). Just as they have increased in strength, their music also found its voice. In the VOMG 2017 – 'a showcase and competition for junior college bands' on 13 June, Out of Time was rewarded with a first runner up position. "We weren't expecting to win. We thought we didn't stand a chance," said Justin Pansacola.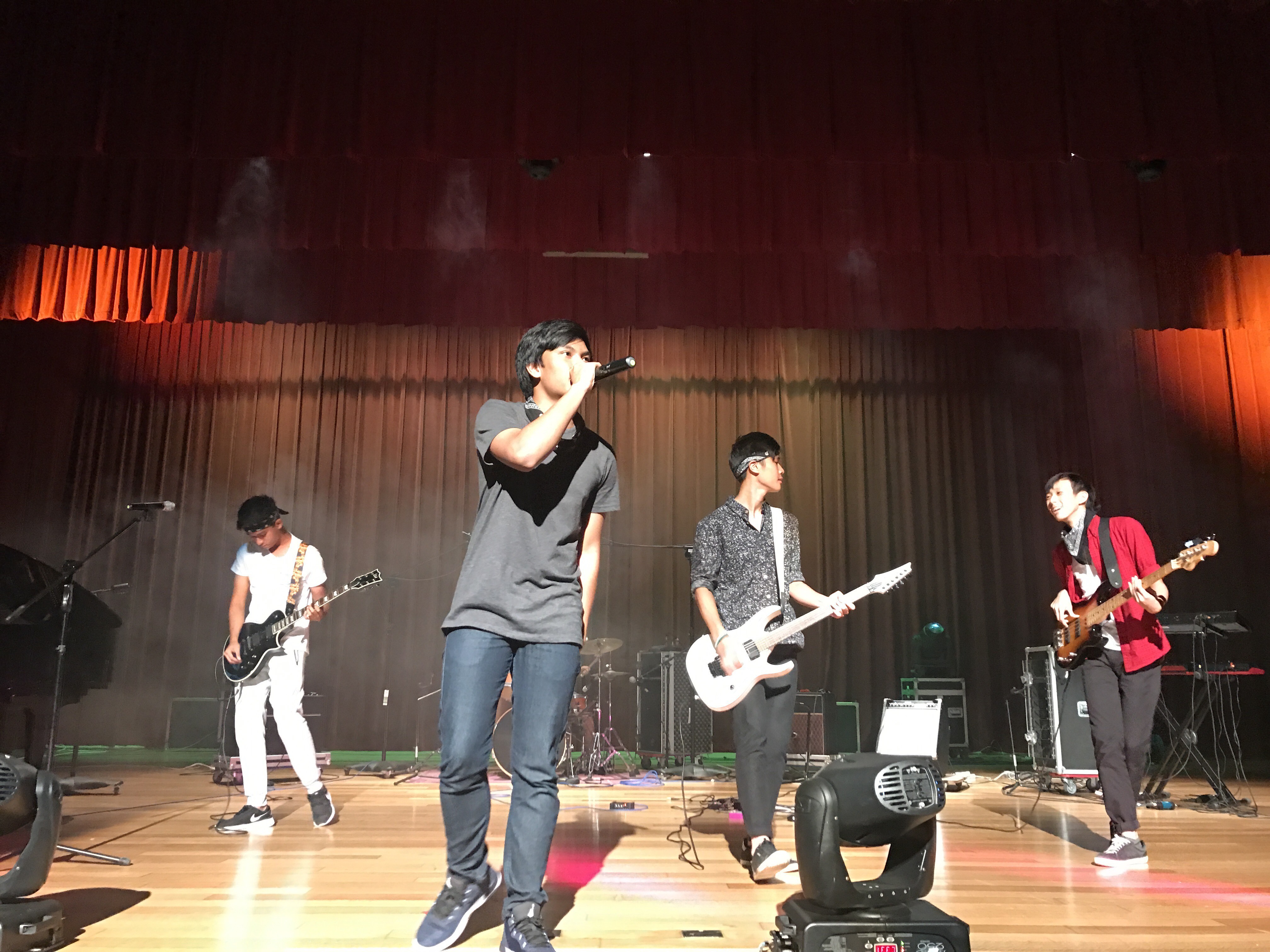 Out of Time delivering their winning performance at VOMG
They have certainly come a long way. From not being able to find time to practise (hence, their band's name) to the many disagreements they have had; they have an achievement to be proud of. Out of Time will be performing at the SJI 165th Anniversary Gala Dinner on 22 July 2017.
---
July: Josephians Named Soldiers of the Year
---
July: Josephians Bagged Gold for Gymnastics at ASEAN School Games!
Our Josephians Zac Liew, Jibreel K Hussein and Ryan Lee (Class of 2015) and their team won the Asean School Games Gymnastics-Team gold medal! Way to shine, boys! Click here to read more.
---
July: TEDxYouth@SJI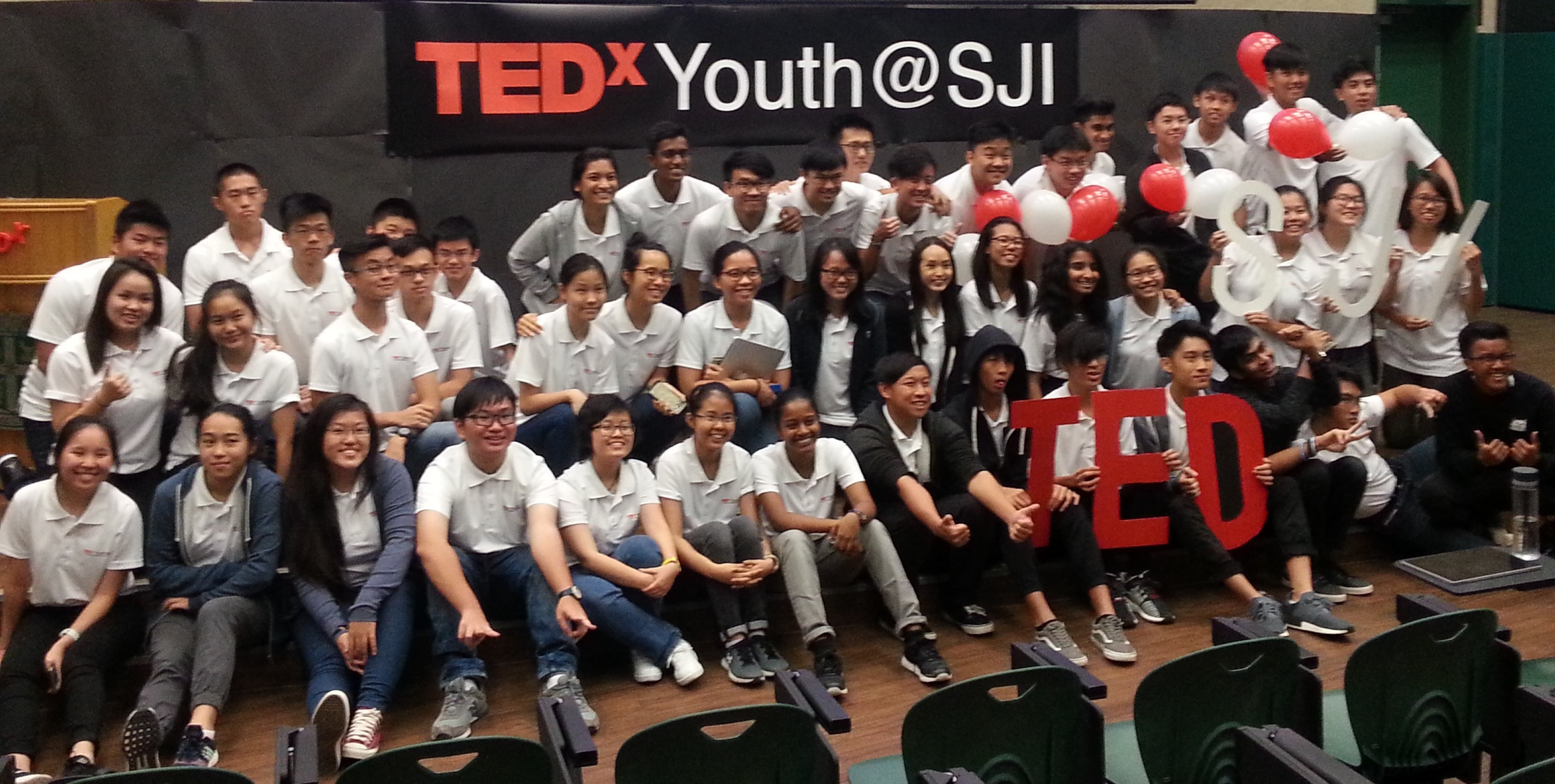 Organised by JC 1 students of the senior section over the past six months, TEDxYouth@SJI successfully concluded on 8 July 2017. With a total of seven amazing speakers from various backgrounds and industries, including two of our very own, the audience was inspired by heart touching stories and intriguing ideas.
| | |
| --- | --- |
| Dr Tan Lai Yong | Lyn Lee |
The speakers included:
Dr Tan Lai Yong, Lecturer/Director for Outreach and Community Engagement, NUS
Ms Lyn Lee, Founder of Awfully Chocolate
Mohamed Czarmir Ikraam Mohamed Ariff, JC 1 student, St Joseph's Institution
Mr Chow Yen-Lu, Founder of Over the Rainbow
Ms May Seow, Story Director at Facebook
Dhanabalan Senthil Kumar, JC 1 student, St Joseph's Institution
Mr Karl Mak, Co-founder of Hepmil Media Group - operating SGAG and MGAG
| | | |
| --- | --- | --- |
| Karl Mark | Mohamed Czarmir Ikraam Mohamed Ariff | May Seow |
Dazzling performances by the String Quartet, Audie and Lindsey, and band Out of Time made the intervals worth bearing and highly entertaining.
---
July: Sweet Victory at Social Innovation Relay
| | |
| --- | --- |
| Chaleur: Ezekiel, Phuong Ha, Jonathan, Thaddeus | Rushe: Chantel, Jia Ying, Anshiqa, Sean |
A clean sweep – that was what SJI did in the recent Social Innovation Relay (SIR) competition organised by Junior Achievement Europe and supported by Nationale-Nederlanden Group. As part of PRISM (the social enterprise club in the senior section) our two teams: Chaleur and Rushe emerged champion and first runner up for the national competition on 2 July 2017 respectively. At the international arena, Chaleur representing Singapore could not do any better by overcoming the other nine teams to claim victory on 21 June 2017.
This is no mean feat considering this year, over 10,000 students across 10 countries were involved in the 7th edition of SIR. Teams taking part are challenged to develop feasible and innovative business concepts that solve social problems.
Rushe, comprising Anshiqa Agrawal (JC 108), Sean Koh (JC103), Lim Jia Ying (JC117) and Chantel Lee (JC113), presented Tribus, an innovative recycling bin that can automatically sort different types of waste and incentivize users for doing so. Thaddeus Lee (JC117), Ezekiel Ang (JC117), Jonathan Audie Widjaja (JC108) and Tran Nguyen Phuong Ha (JC117) forming Chaleur, decided to support students, especially those from lower income households, to take charge of their education through a one-stop learning e-platform. This concept took the standard Q&A platform and enhanced it with a social networking aspect, and made revenue through partnerships with businesses to provide coupons for the students.
As part of their hard earned efforts, Chaleur will be flying to Prague from 30 Aug to 4 Sept to participate in the JA Alumni Europe Annual Conference. (Read more about their win here)
---
July: Scout Jamboree in Mongolia
By K Preneel (MN201)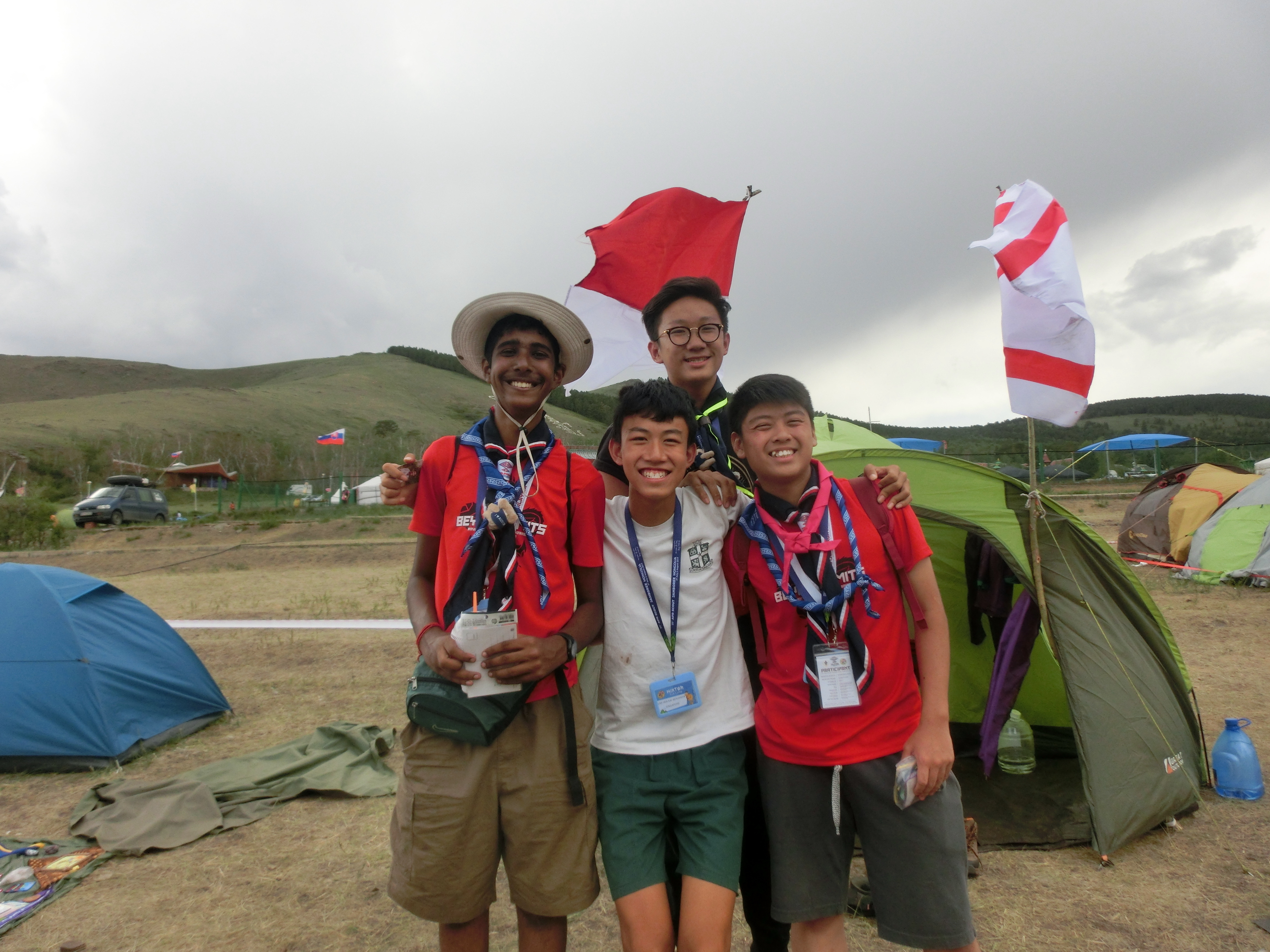 Over a period of 7 days from July to August, three Pelandok Scouts - Elkan Chan (MN201), Lim Yan Kai Benjamin (ML201) and K Preneel (MN201) attended the 31st Asian Pacific region Scout Jamboree in Mongolia. The Scout Jamboree can be broken down into three parts: International Friendship module, leisure time and important events.
The International Friendship module is where the scouts learn about the way the Mongolians live, and interacted with the scouts from different countries to understand each other's culture, especially the culture in Mongolia. When there are any pockets of leisure time, the scouts would play games with the Mongolian scouts or tour other contingents' campsites.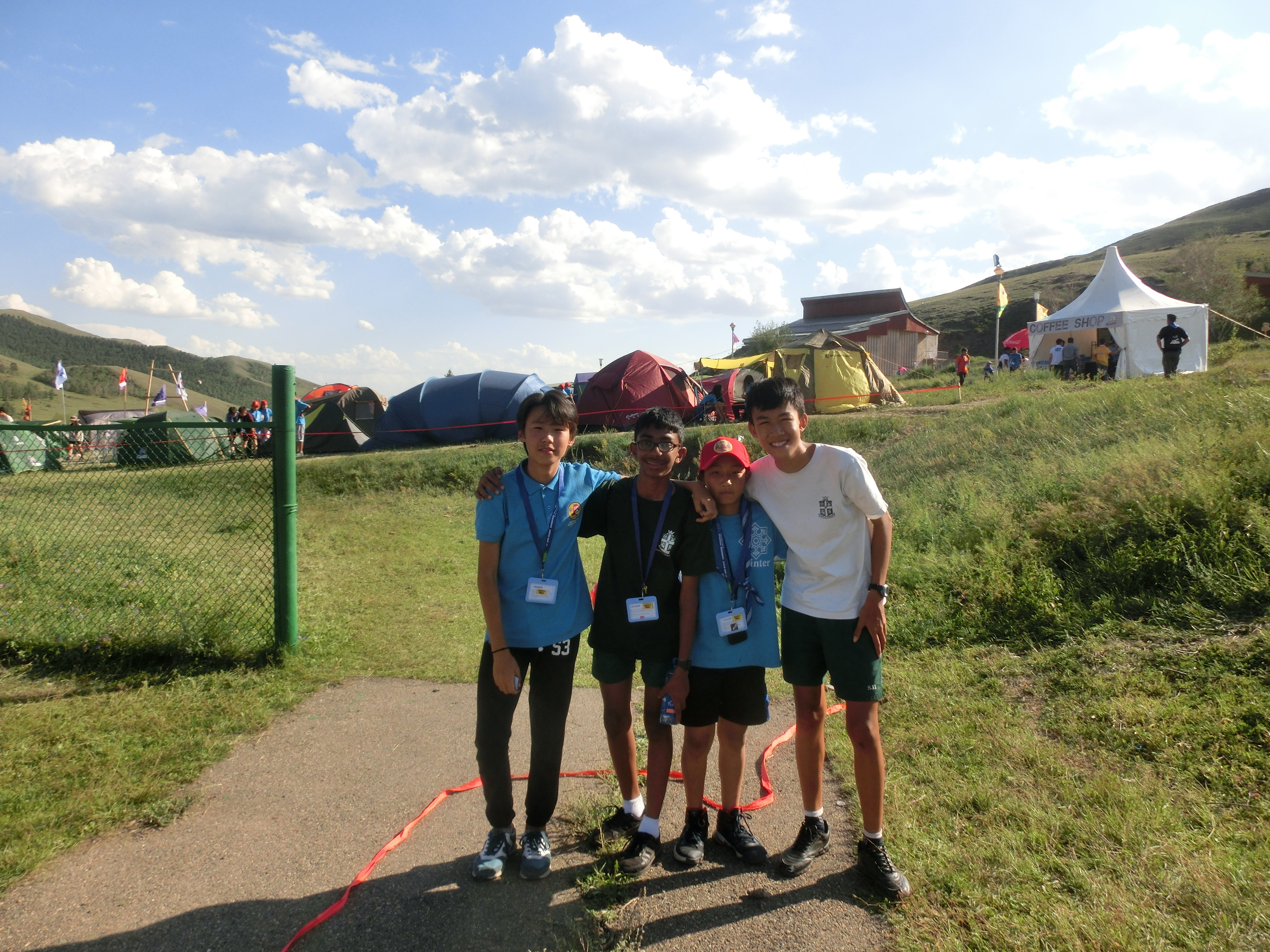 The Singapore contingent also traded badges with the scouts of other nations, taking the opportunity to get to know each other and exchange contacts. The Singapore scouts also had a chance to play soccer and even do traditional Mongolian wrestling with the Mongolian scouts. There was a Cultural Festival day where all the different contingents cooked their traditional dishes and showcase it to all the scouts of different nations.
---
July: I am loved by God, #EncounteredGod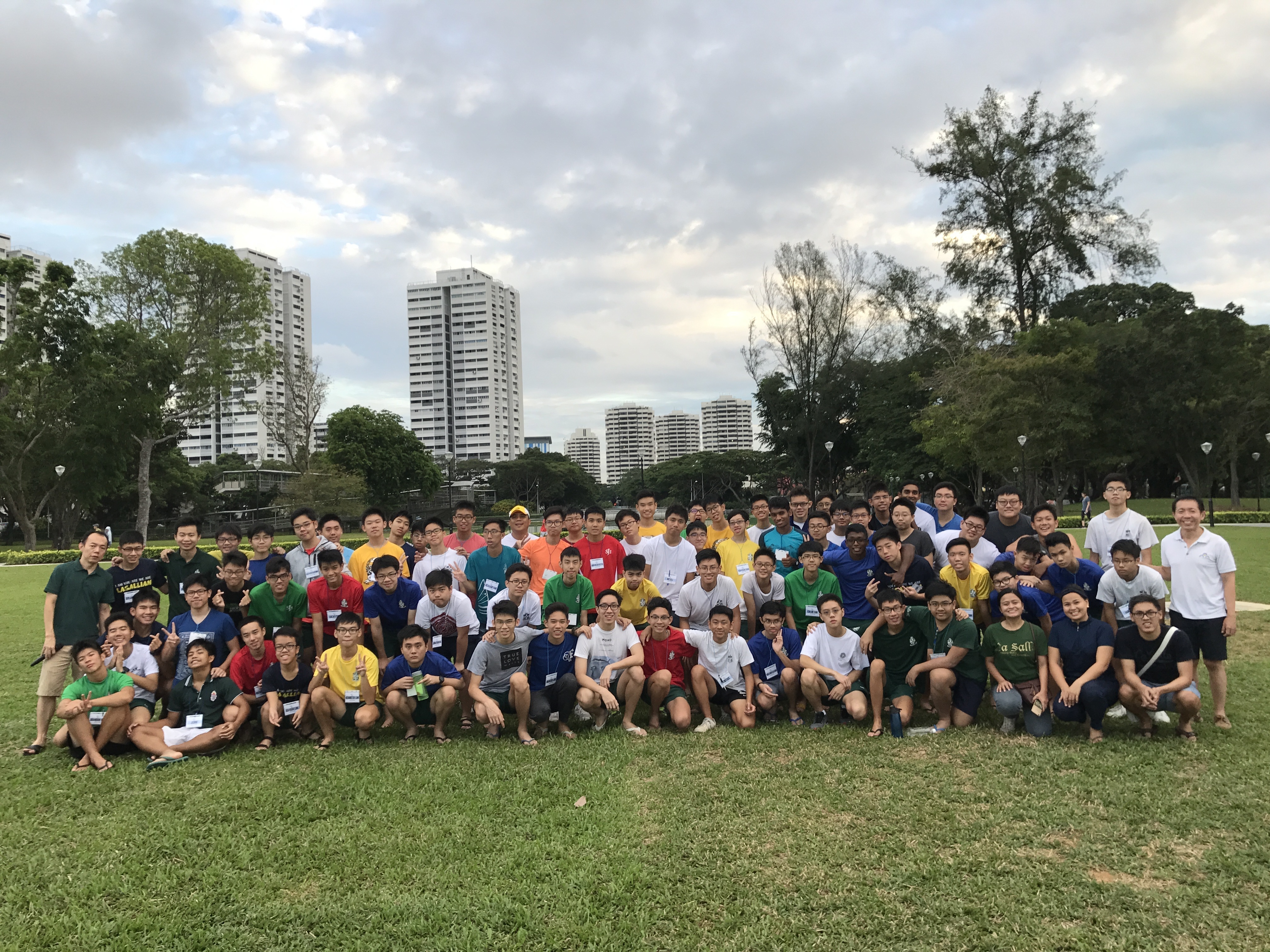 I am loved by God, #EncounteredGod is the theme of this year's retreat for the graduating Secondary 4 boys. They had a wonderful time experiencing God throughout the 3-day, 2-night camp in June, at St. Patrick's School, a fellow Lasallian school. It was a spirit-filled weekend with movies based on the theme, sessions that spoke about the gift of one being blessed and loved by God even through our difficulties. This retreat was directed by the Filipino Brothers and lay partners who were professionals in their back home as campus ministers in their respective Lasallian University or High schools. The boys entered the retreat reluctant and tired, but ended with an encounter, knowing that they are truly loved by God.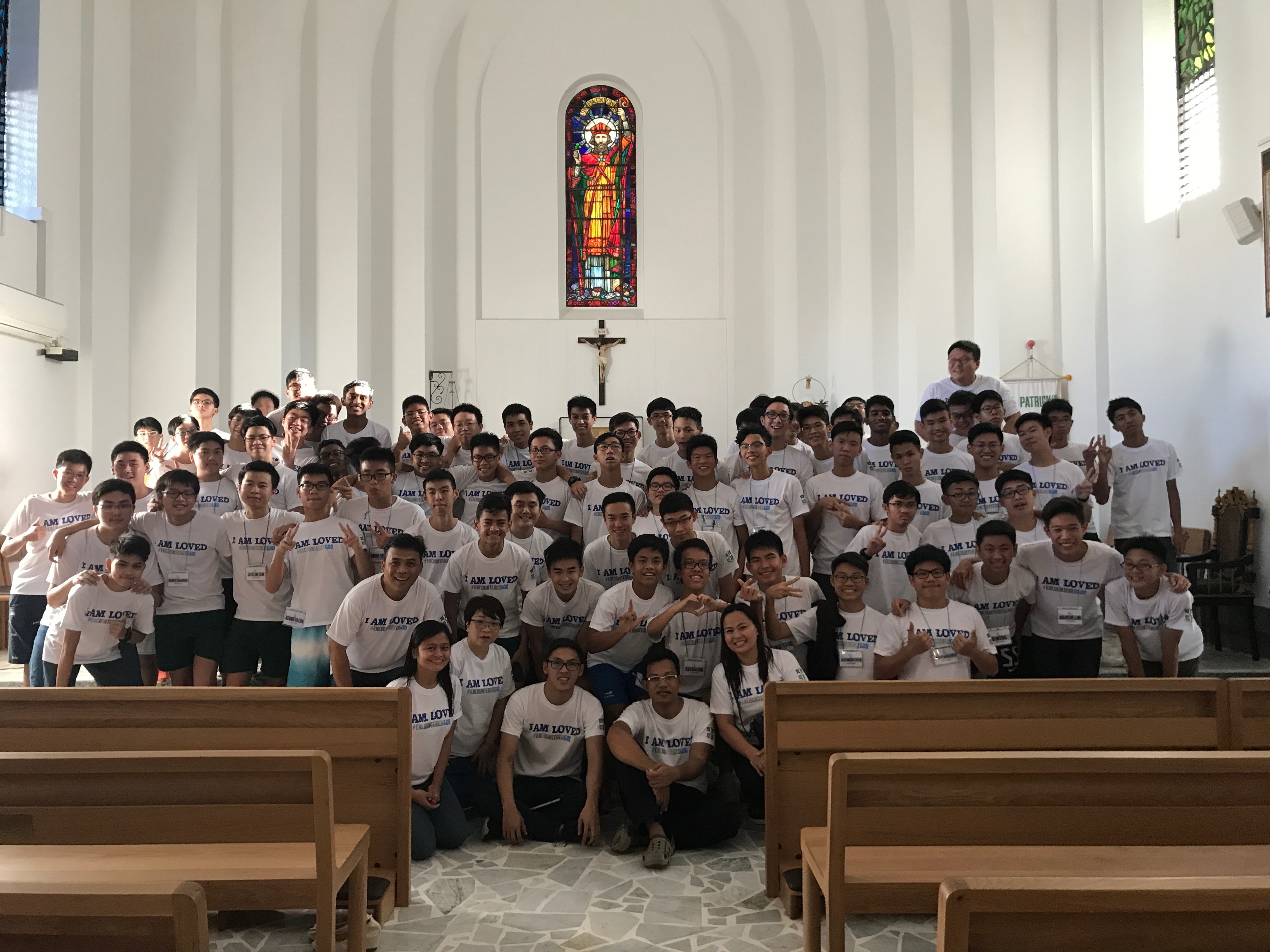 June: Lasalle College HK Scouts Visit Singapore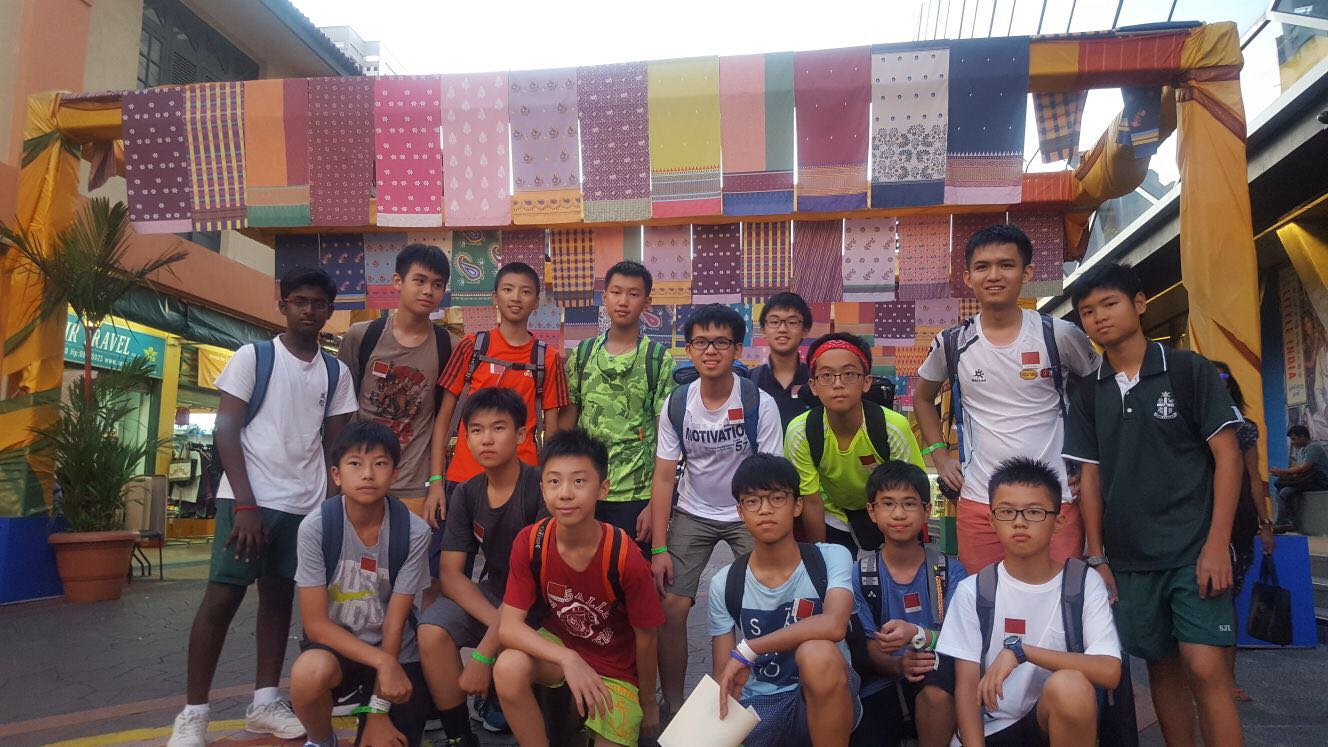 Scouts from Hong Kong LaSalle College touched down on the shores of Singapore on 28 June, to learn about education in Singapore and our culture. They visited several local haunts, such as the famous Newton Hawker Centre and a shopping trip down Orchard Road, soaking in the hustle and bustle of Singapore's shopping district.
They also visited the Singapore Art Museum, which was the former SJI, and paid a visit to the Singapore Scout Association to learn more about how Singapore Scouting came to be and how much it has grown over the years.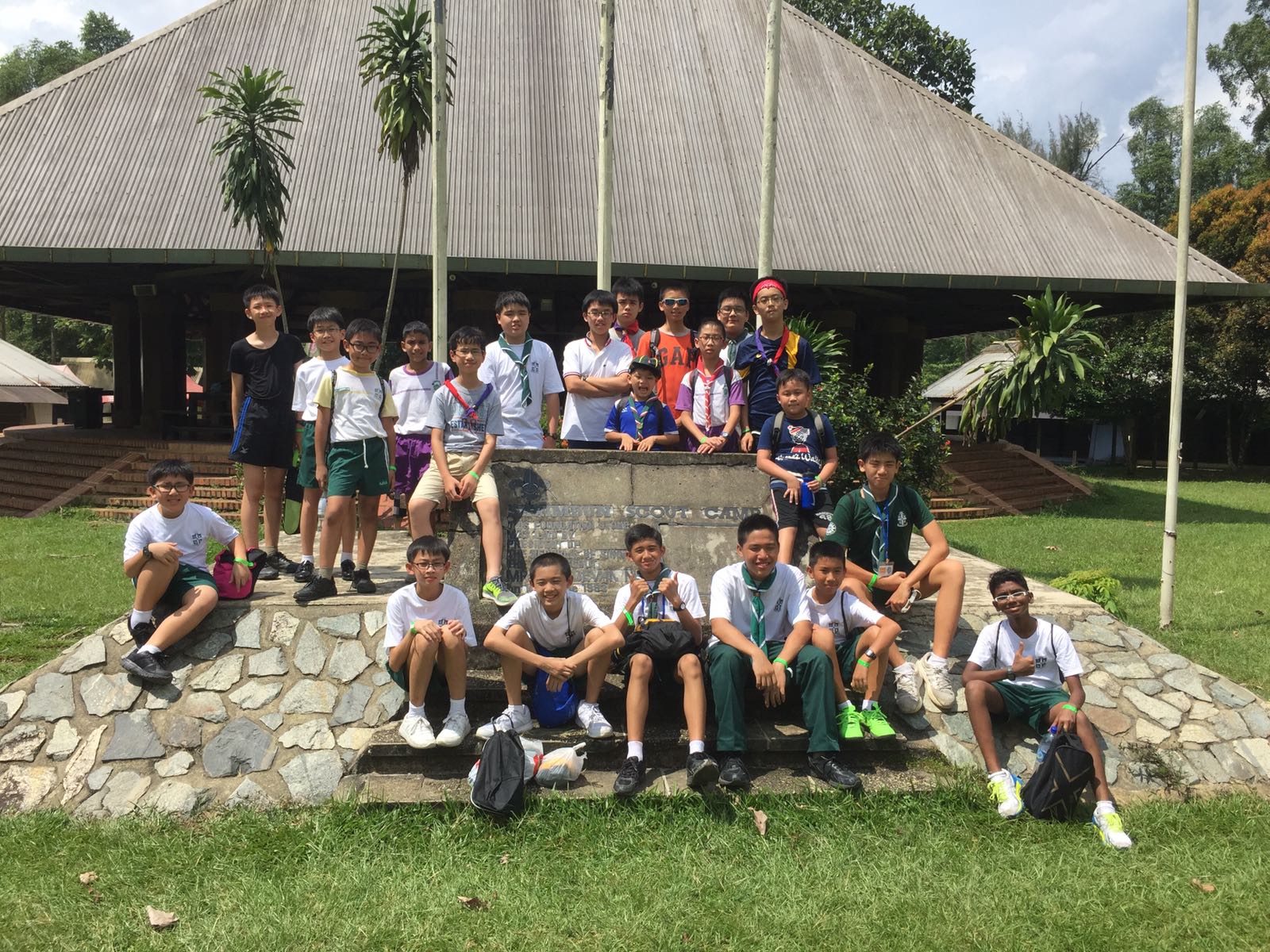 To top it all off, they participated in the Lasallian Scout Camp, totalling over 100 participants from 4 different LaSalle Schools to celebrate 165 years of Lasallian education in Singapore. They also participated in various exciting Scout activities, such as outdoor cooking and games at Sarimbun. To end it all, a campfire was held where everyone sang their hearts out and basked in the campfire as one Lasallian community.
---
June: A Brand New Experience at ORP Vietnam 2017
By Mark Caleb Chan (MN401)
On 22 May 2017, a group of Sec 4 IP students took off on a plane to the rustic plains of Vietnam. Some were looking for something to check off their resume, while others just wanted to have some fun. All got far more than they bargained for.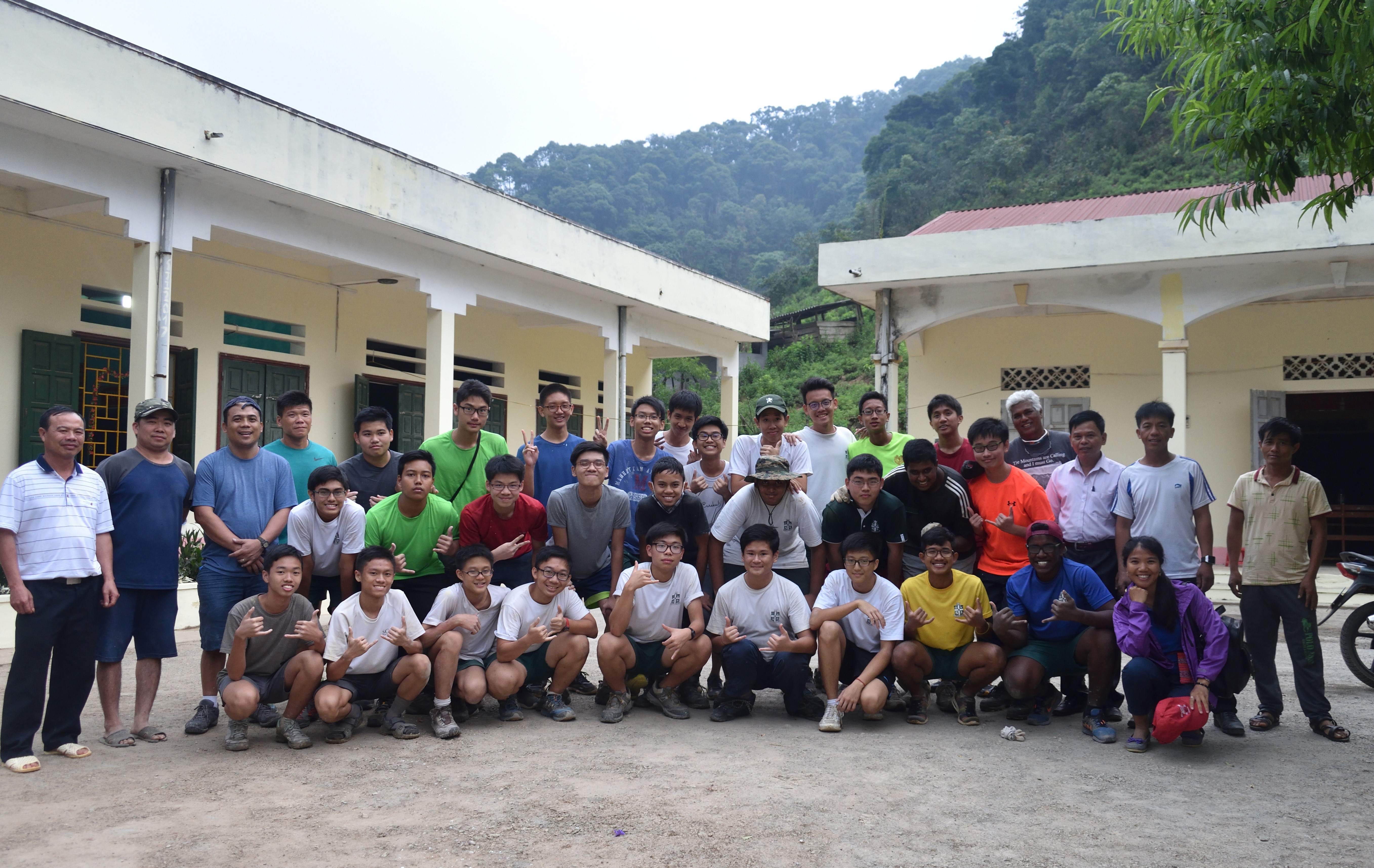 The first week was spent in the heart of Hanoi, surrounded by the opulence of the best Vietnam had to offer. It was a first-hand experience and an eye opening reflections for many. Under the dedicated eye of the teachers and the hospitable care of the student hosts from Vin School, SJI students had a whale of a time, trying out many exotic Vietnamese dishes such as the renowned vegetable wrapped spring roll, and green bean cake. The second and third day saw the SJI students serving at Thuy An Rehabilitation Center, with opportunities to hoe the ground, try their hand at local handicrafts and interact with children through football and bowling, showing once again the timeless and universal nature of service. We spent our third and fourth days mingling with the locals and getting to know first-hand the ancient and intricate culture of the Vietnamese. Whether haggling over items or visiting famous Vietnamese landmarks like Ho Chinh Minh Memorial or prisons where the colonial French's influence is still clearly felt till today, the students found many meaningful relationships, and widened their worldview in just a few days. It all culminated in a stunning prom night on the fifth day, where everyone got down to dance to the beat of famous Vietnamese DJs. Throughout the amazing and fun experiences, there were reflection sessions for the students to internalise what they learnt and to share their stories in their group discussions.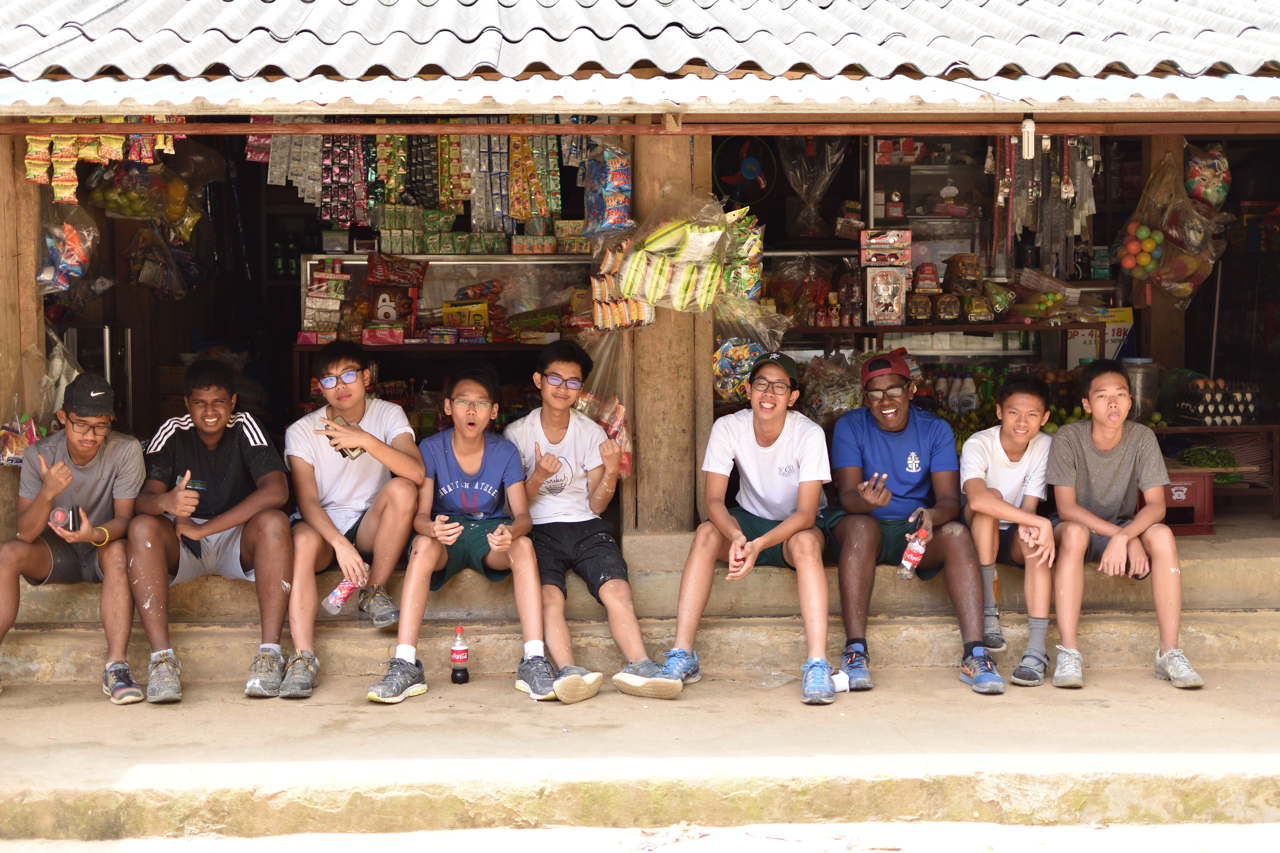 In the second week, we headed to Hang Kia Village, a community of farmers in the mountains of Vietnam, a place of cool climate, diverse flora and fauna and stunning natural beauty. The going got tough this week. Pushing through fatigue and muscle cramp, the boys learned the true meaning of sacrifice, and experienced the same physical labour the locals went through. We spent three days building a wall around the local school and painting the school building. This project had helped us come together as a team, working side by side with each other. Despite the hard work and the intense heat from the afternoon sun, we were determined to complete our task well. It became apparent to us the value of the newly built wall and the newly painted surroundings. Before we started, we surveyed the classroom walls and the exterior wall; they had not seen a fresh coat of paint since the day it was built. A thick layer of algae had covered the surface, making it look old and dilapidated. We could relate very well to the village students' need for a newly painted classroom since we too had just moved to our upgraded school earlier this year. Concurrently, a group of us with some "masonry talent" set out to build a surrounding wall behind the school. This would greatly enhance the safety of the students from oncoming traffic and it was a barrier to prevent farm animals from randomly entering the school. It was challenging and backbreaking work; however, we were determined to complete it. It was sheer jubilation that the Principal of the school, and several villages watched us ceremoniously cement the last brick in place at 18:52hrs on 30 May 2017. A loud cry of "JOSEPH'S – ORA, ORA, ALL THE WAY" echoed through the mountains that evening. The local supervisor overseeing our work was very impressed and commended us for the good quality workmanship.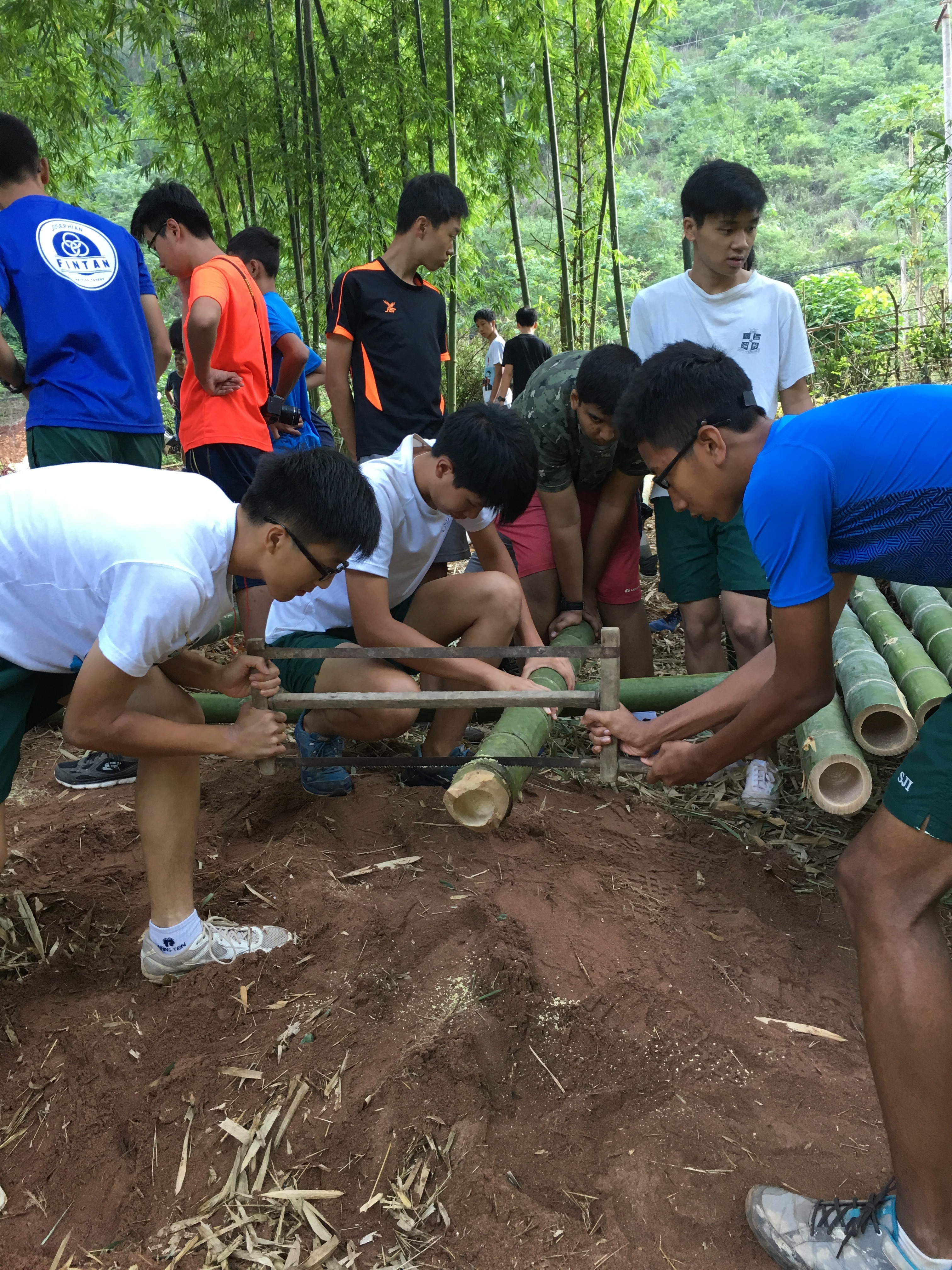 We received a special surprise on the last day in Hang Kia where we had a chance to build our own bamboo rafts. A whole pile of felled bamboo trees and several traditional tools lay in front of us, as we had to build three working rafts. It took us some time to be organised and to figure out what to do. The scouts in our group began discussions with the local raft builders and soon we were busy chopping, and sawing away at the logs of bamboo. The whole riverbank transformed into a hive of activity as we worked noisily in the serene backdrop of a quiet mountain farming village. Soon it was time to test the rafts, and a local raft operator helped to inspect our rafts for stability and safety. With a broad smile, he gave all three rafts the thumbs up. It was truly gratifying as we paddled leisurely down the river in the fully functioning rafts that we had just built. We donated the three rafts to the village, it would earn them some income from tourist rides and the money would go toward funding their community projects.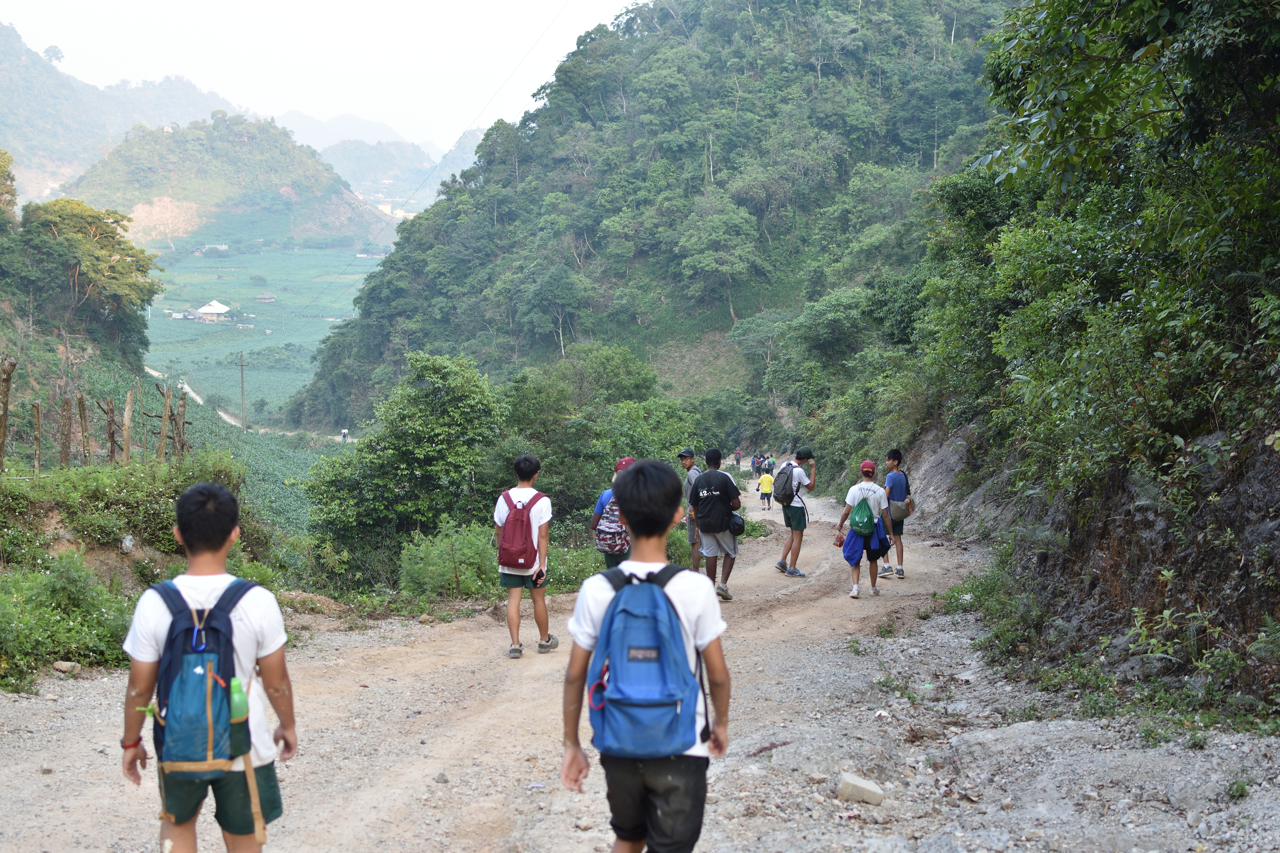 As we descend from the mountain, our physiques were put to the test during the brutal six-hour trek to Cun Pheo village. We carried our heavy backpacks as we headed down the seemingly endless descend, and every muscle and joint in our lower extremities were screaming in protest, as we endured a sudden heatwave with temperatures in the high forties. The frequent stops under the shady trees and a picnic by a large buffalo pond provided us the rest we needed to complete the journey. This was a first for all of us and we definitely would not complain about the extra water that we carried at the start of the trek. We consumed every precious drop.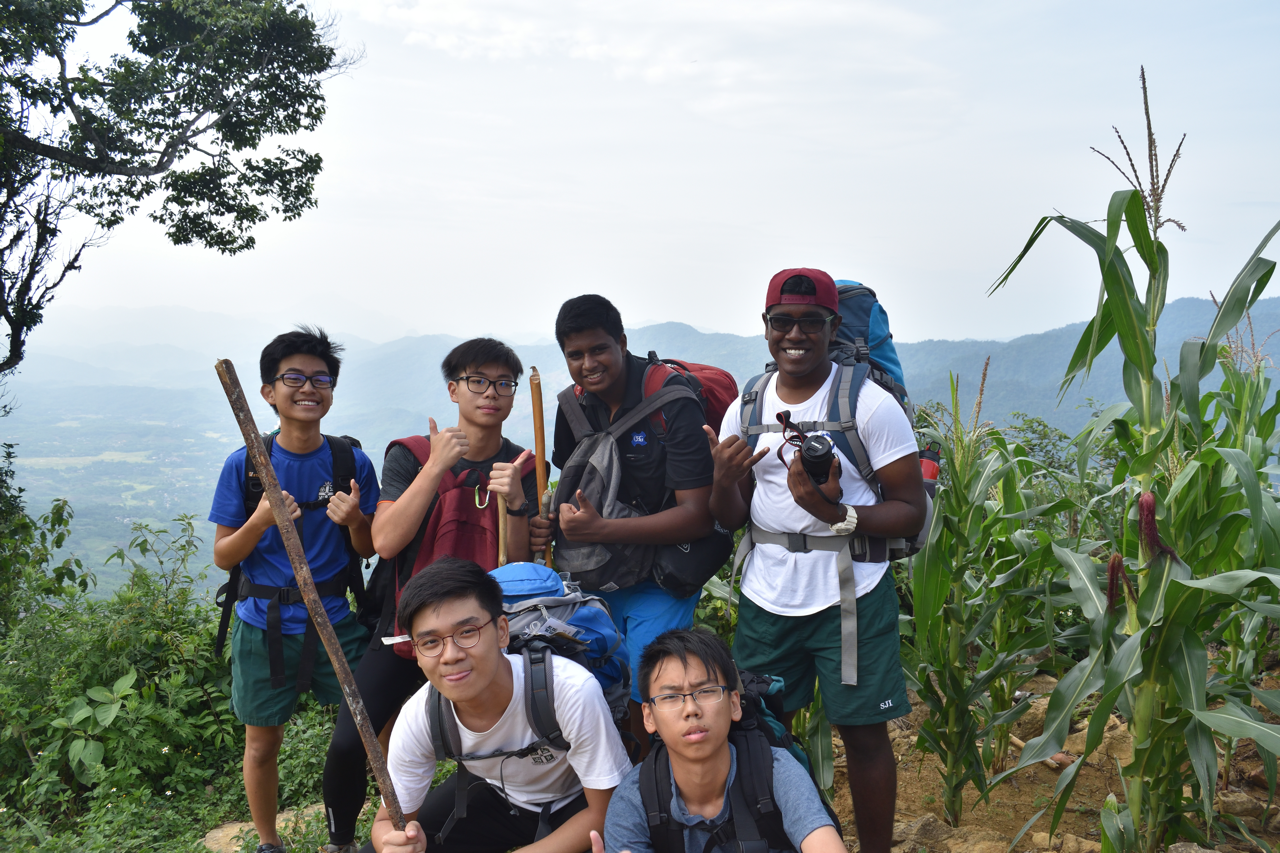 We returned home to Singapore three days later on 5 June 2017, tired but satisfied. Through this journey, we experienced personal growth with many important life lessons learnt—simplicity, hardship, adventure, the companionship of good friends and new friends. It tapped on our mental, physical, social and emotional capacities on many different levels. The events, sights, sounds and interactions with others, constantly challenge our thoughts as we begin or end each new day on the trip. As one student said, "This journey is an essential first step in an SJI student's development as a man and as a servant leader." ORP may not be easy nor convenient. However, it is worth every penny because it is more than just a trip. One that every Sec 4 student would be better off experiencing it once in a lifetime.
---
June: SJI Dragon Boat Team Clinches 3 Bronzes at Championship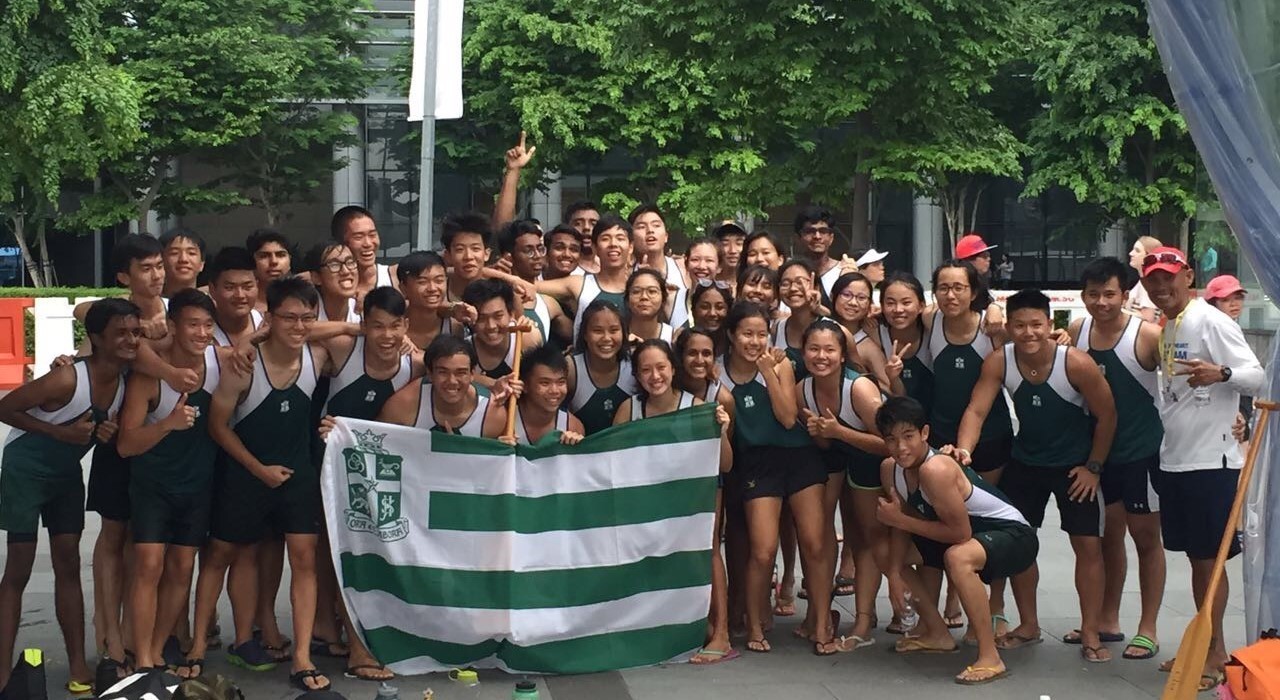 The SJI dragon boat team from the Senior section paddled their way to 3 bronze medals at the National Inter-Schools (A Division) Dragon Boat Championship on 2 June. Organized by the DBS Marina Regatta, it features over 82 local and international dragon boat teams, including 5 junior colleges. The race was located at the promontory @Marina Bay, surrounded in the scenic view of the CBD area. Despite the intense heat from the afternoon sun, many students came down to support and cheer on the dragon boat team. The SJI dragon boat team put up a good fight against the defending champions NJC and the other junior colleges, getting 3rd place in the DB12 and DB22 crew men 200m as well as the DB 12 crew girls 200m. It was a proud moment for the team as it was a race that they have trained hard for, making many sacrifices along the way and having to achieve a sweet and hard-earned victory at the end of the journey.
---
May: Josephians Enriched By Lessons Beyond the Classrooms
Our Secondary 1 – 4 students set off from SJI to various locations for Enrichment Day on 31 May, which was organised for students to experience multi-disciplinary learning and to learn beyond the confines of the classroom. Different activities were organised for each level.
The Secondary One boys visited Bukit Timah Nature Reserve, MacRitchie Reservoir Park and Singapore Botanic Gardens to understand the adaptation of natural vegetation in a tropical humid environment and develop the spirit of field inquiry, acquire skills in field observations, data collection, analysis and presentation.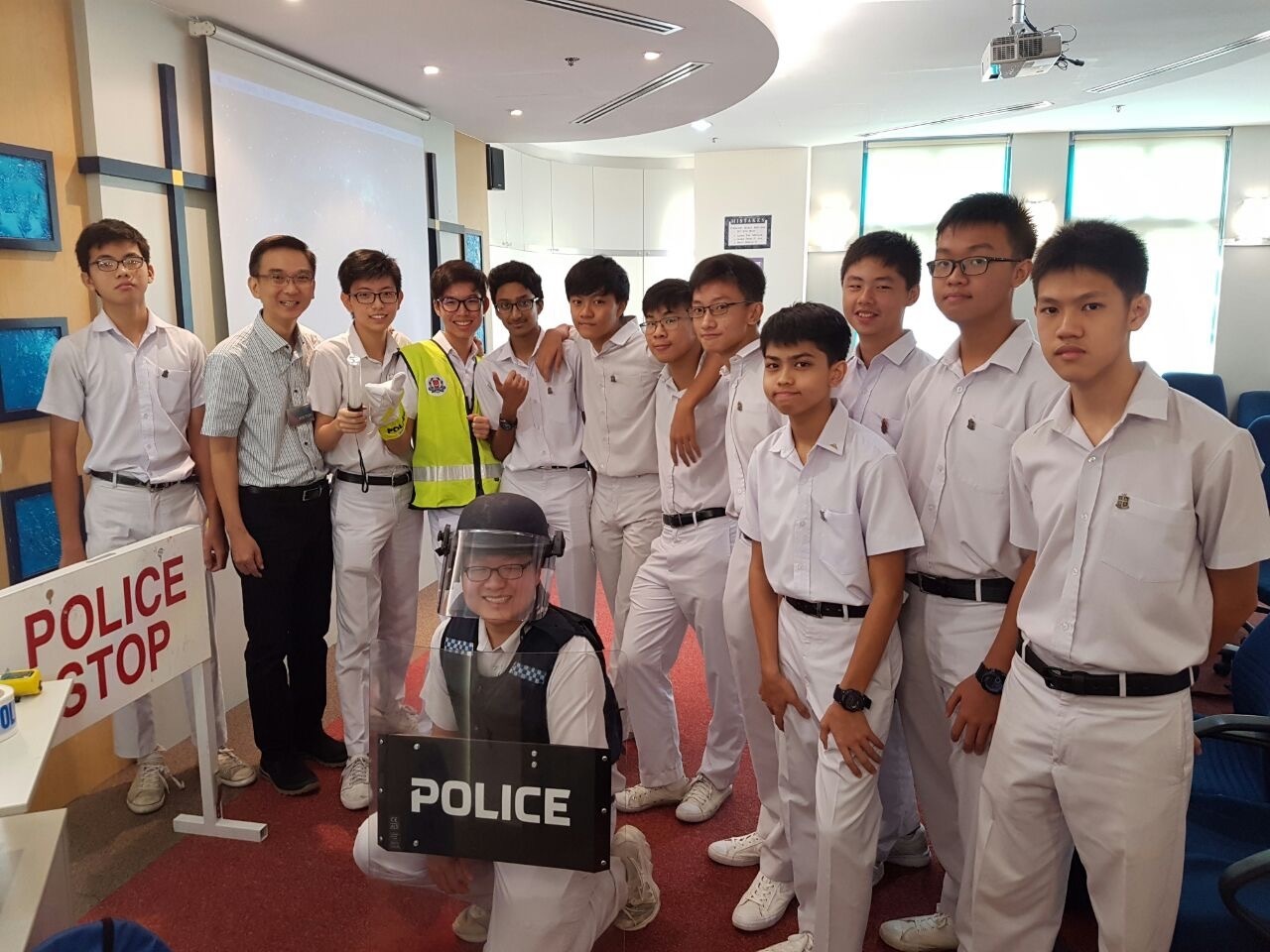 Our Secondary Two boys visited the Singapore River to engage in field-based learning by forming hypothesis and constructing their understanding through observation and data and expressed their learning in History, Geography, Mathematics and Science through infotainment graphs, videos and reports.
To better understand and appreciate the values and customs of different cultures to build successful interpersonal relationships in a diverse environment, the Secondary Three boys had the opportunity to experience enriching and meaningful cultural modules such as calligraphy, bhangra dancing, martial arts and sepak takraw.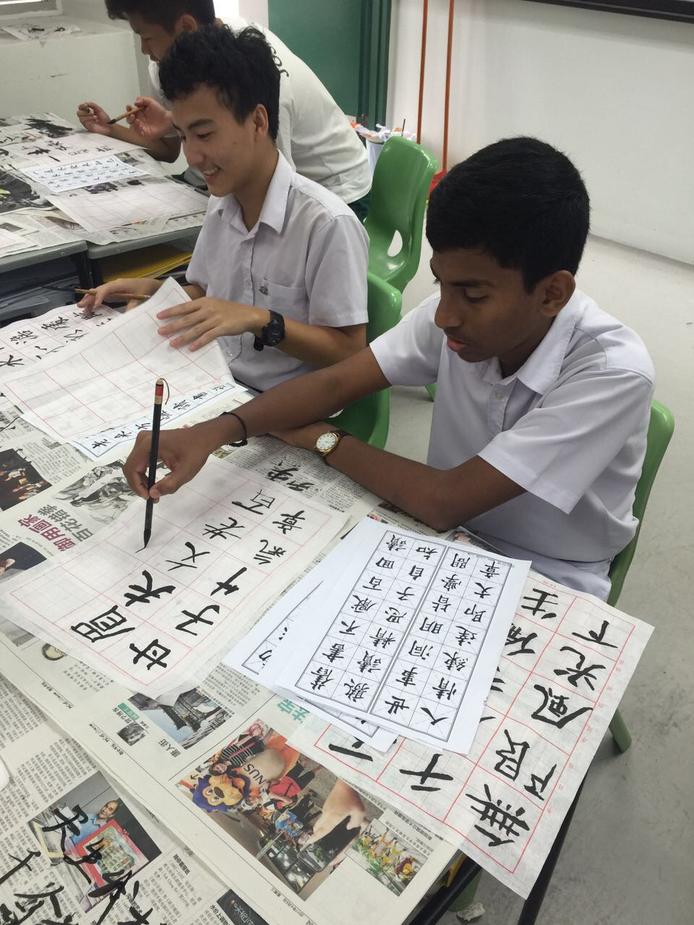 The Secondary Four students had a list of 14 organisations they could opt to visit so that they could learn about professions and industries that they may encounter in the future. These organisations ranged from law firms to financial institutions. During the visit, speakers provided insights to the educational qualifications, skills and dispositions required for the spectrum of jobs available in these organisations. These were followed by a tour of the work place.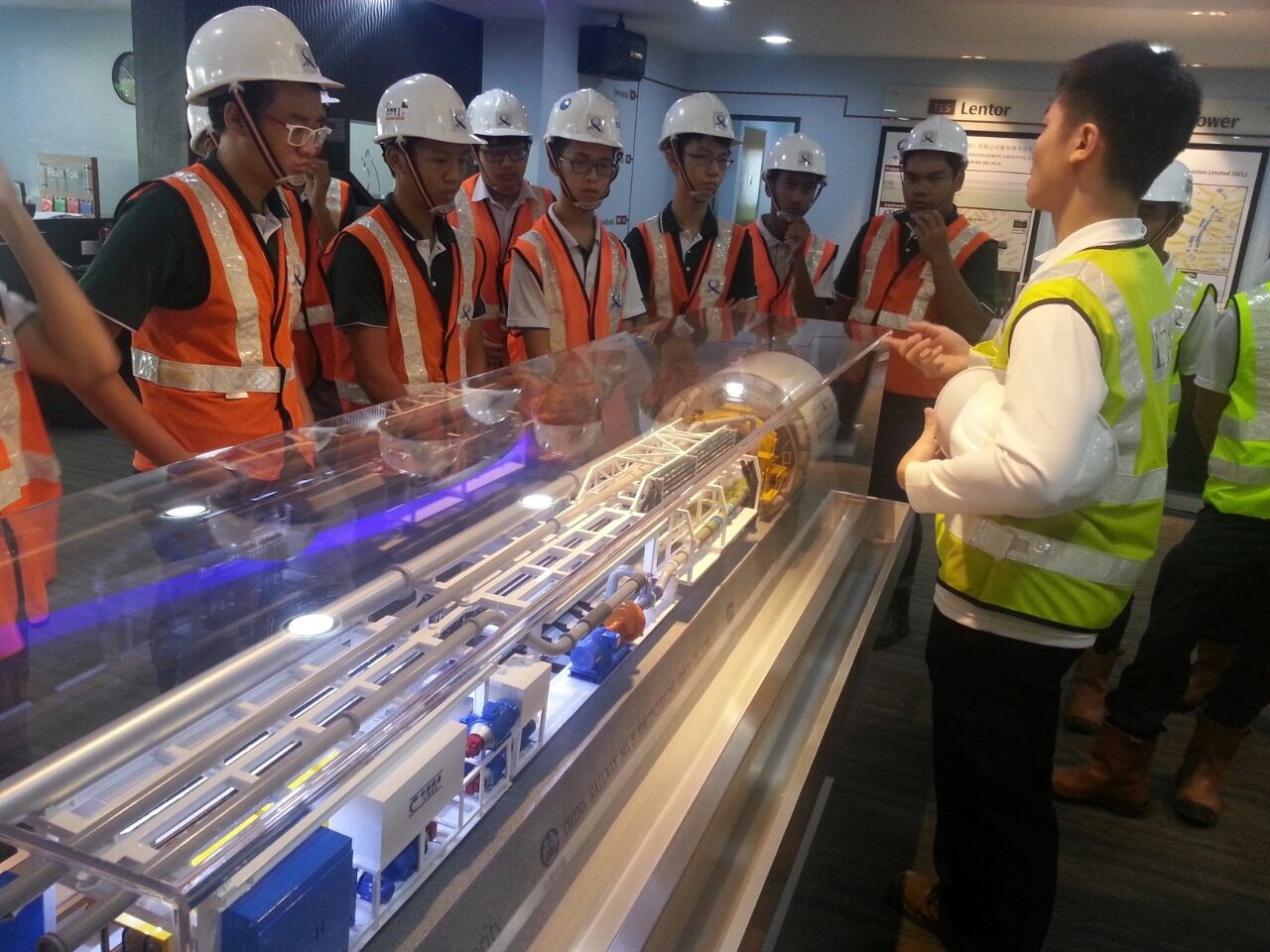 Caleb Chan (FN301) shared, "The Sec 3 Enrichment Day was an eye-opening experience for us. It has enabled us to learn various things away from the class and the textbooks. From the cultural activities that we participated in, we were able to appreciate and find meaning in those cultures - and its beliefs, values, and customs - which would otherwise be alien to us. As a school that hails students from many different races, finding out more about the cultures of our fellow men will help us to build better relationships among peers, due to these shared experiences."
---
May: Keane Lim and Lucas Huan Win Sports Scholarships
Lim Jun Ying Keane (FN303) and Lucas Huan Zhi Kai (ML402) have been awarded the Peter Lim scholarships from the prestigious Singapore Olympic Foundation for their respective achievements and efforts in Artistic Gymnastics and Canoeing! The scholarship will provide the promising young athletes in Singapore the additional support required in their pursuit of sporting excellence.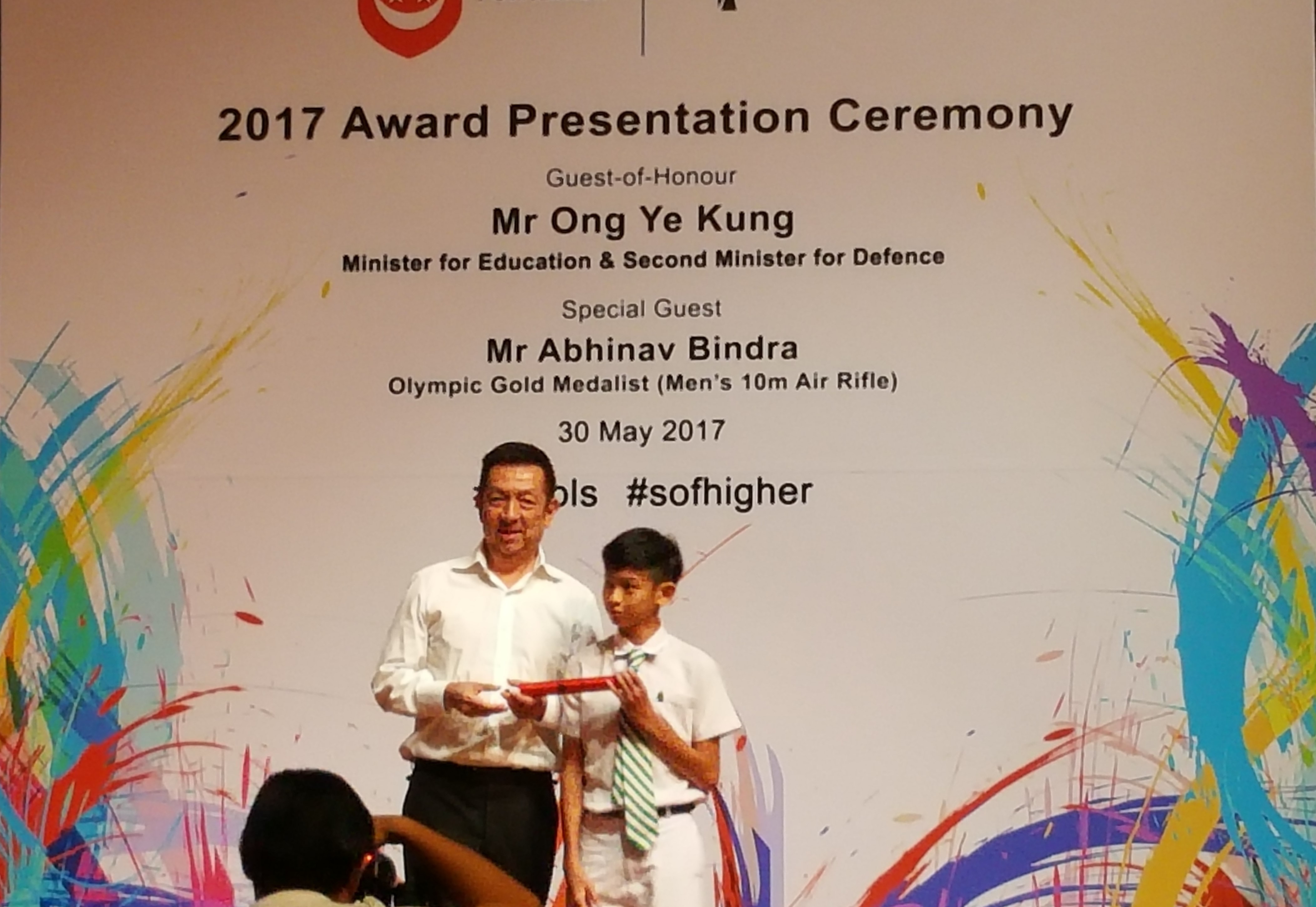 ---
May: SJI Wins Top Prize at National Robopreneur Carnival
The SJI Robotics Club took part in the National Robopreneur Carnival organised by the Admiralty Secondary School and Nanyang Polytechnics. The competition consists of E-journal, Technical Presentation, Robotics Competition as well as Drone competition.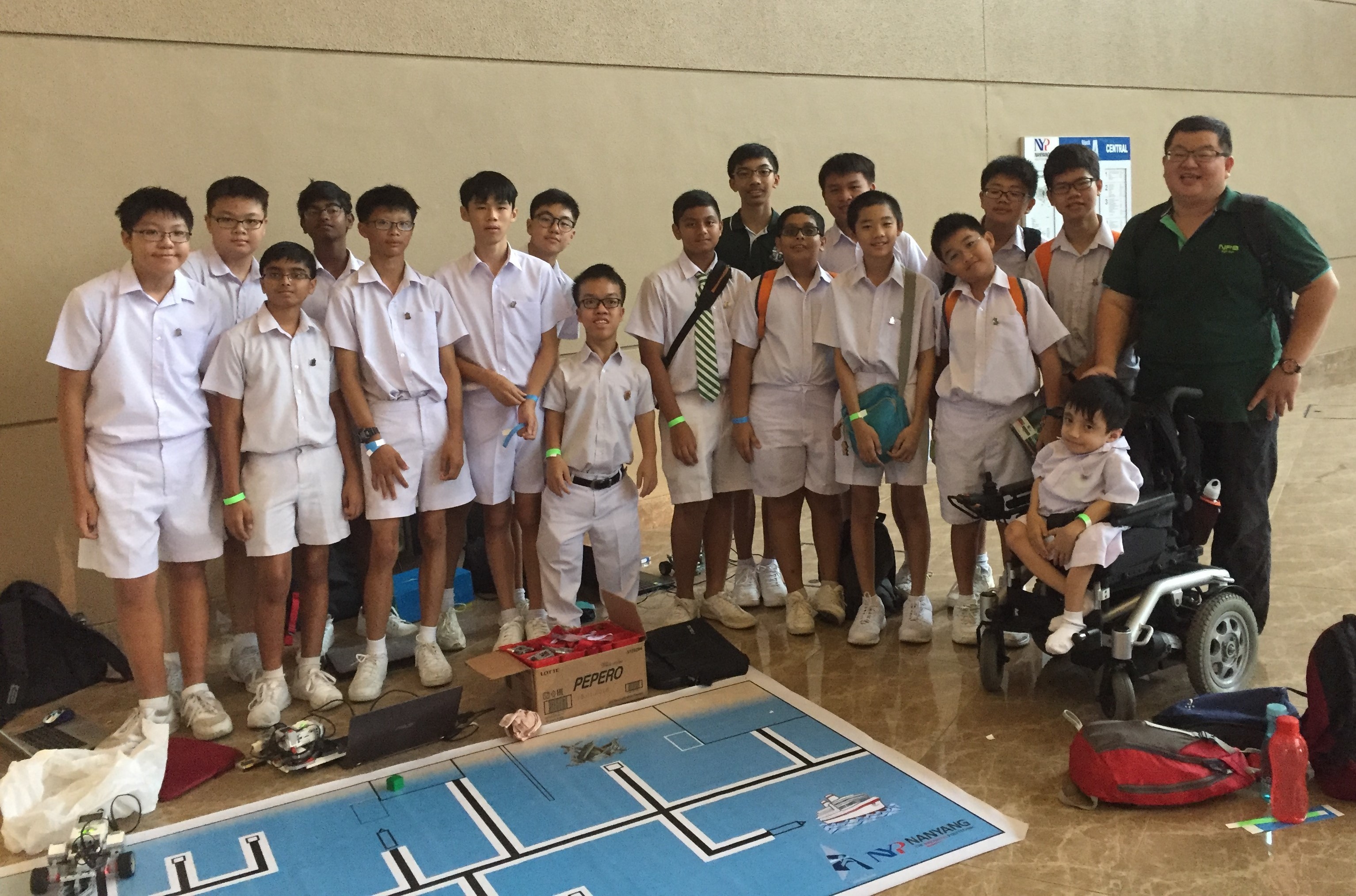 Persistence paid off for Andrew Petselis (FN103) as he defeated 47 other teams in this National Competition to emerge as the champion for the Drone category on 30 May.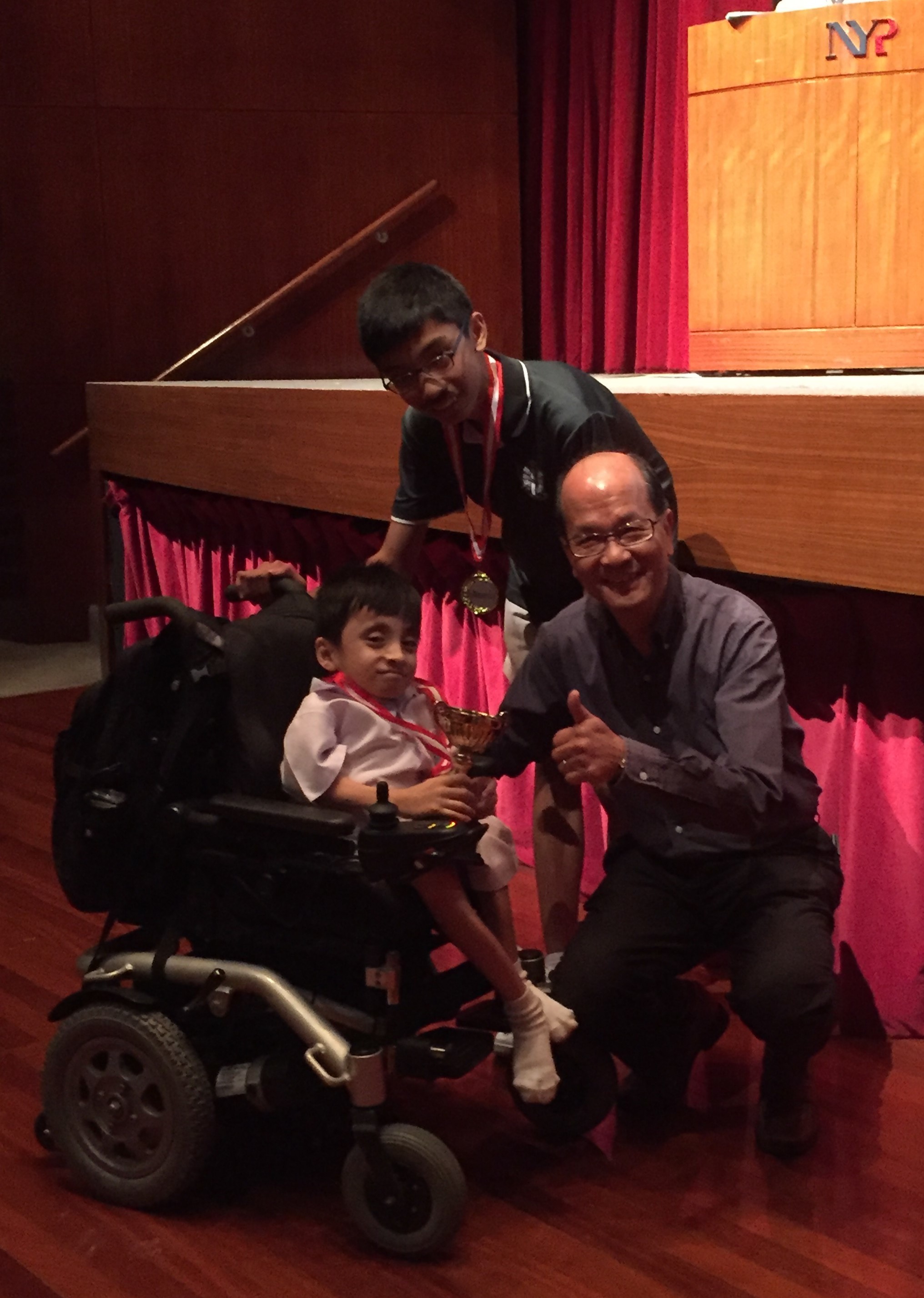 ---
May: Endearing Performances at Heartstrings 2017
The Heartstrings Charity Concert was performed to a full-house audience on 27 May. Organised by SJI's Social Enterprise Club, PRISM, the 2017 Charity Concert was held in aid of Beautiful Minds Charity (BMC) Singapore and Riding for the Disabled Association Singapore (RDA). Beautiful Minds is a music academy which nurtures musical talent in children with disabilities, while RDA provides free horse riding therapy session for the disabled.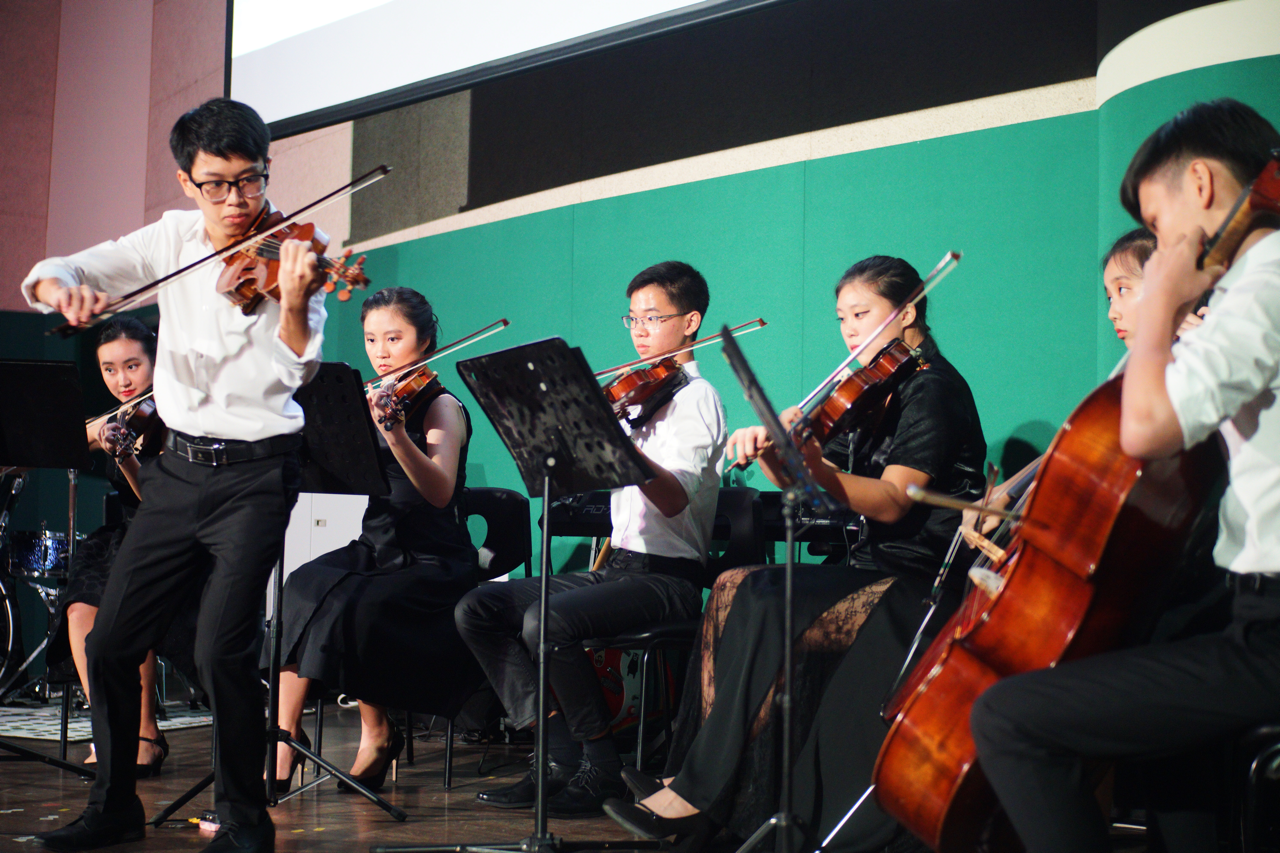 The idea of the Heartstrings Concert began as a request to PRISM to help the SJI String Ensemble organise a concert. Instead, PRISM decided to turn it into a charity concert and to include more performances from various artistes across both the Secondary and Senior sections of SJI. Since December 2016, the PRISM concert committee, including the PRISM members from the SJI String Ensemble, worked intensively to source for an appropriate venue, secure the different performing artistes, formulate the marketing strategy as well as to logistically manage and optimise manpower and financial resources. The committee harnessed the many talents within SJI in planning and producing the concert, including the design of the publicity posters and tickets.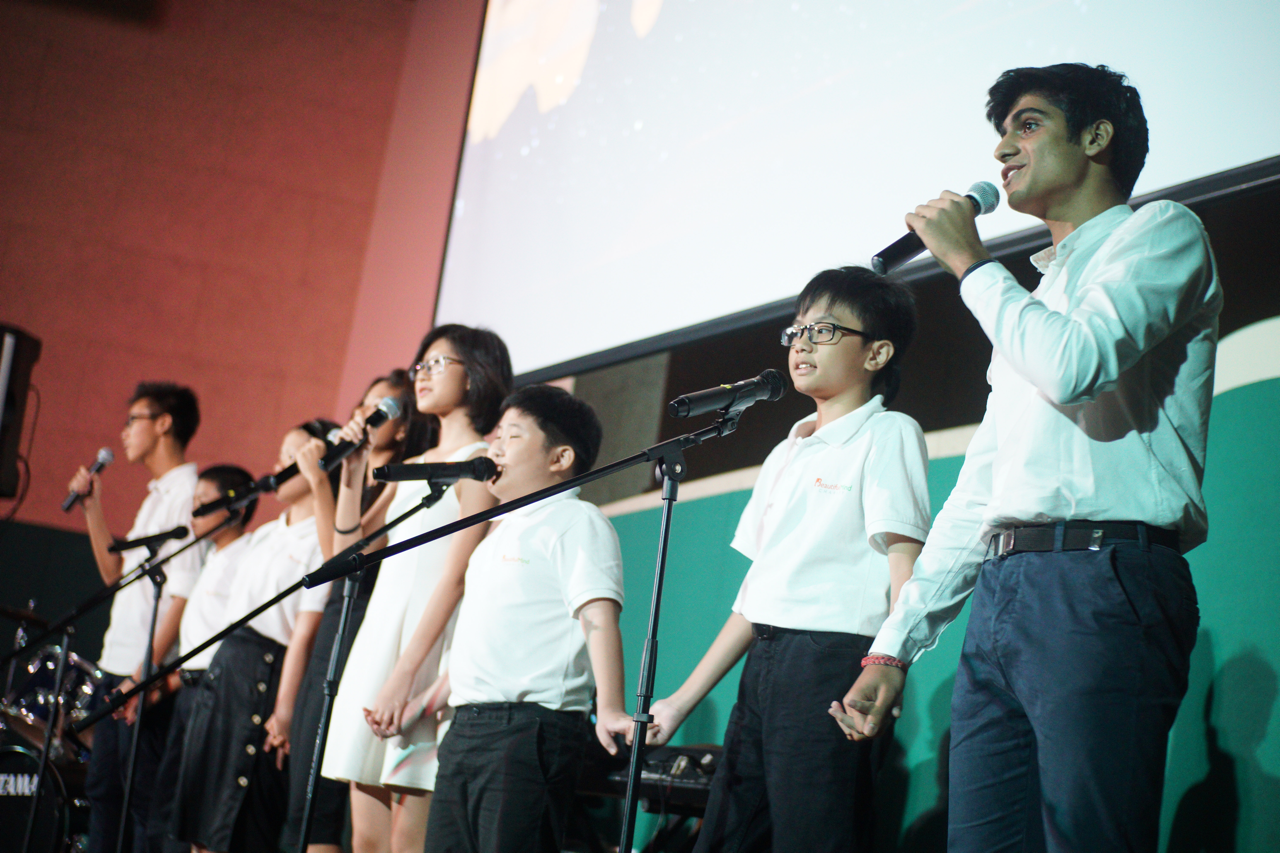 The concert turned out to be an evening of musical treats, with performances by Beautiful Mind Music Academy students with special abilities as well as SJI's award winning guitar ensemble, the string ensemble and our various bands. Heartstrings concluded with three songs by the award-winning 13-year old soprano soloist, Ms Lauren Yeo, who has sung in over 100 events worldwide. She is the first prize winner in the inaugural SLO-ASEAN Vocal Competition 2016 (junior category) organized by Singapore Lyric Opera for contestants all over South-East Asia.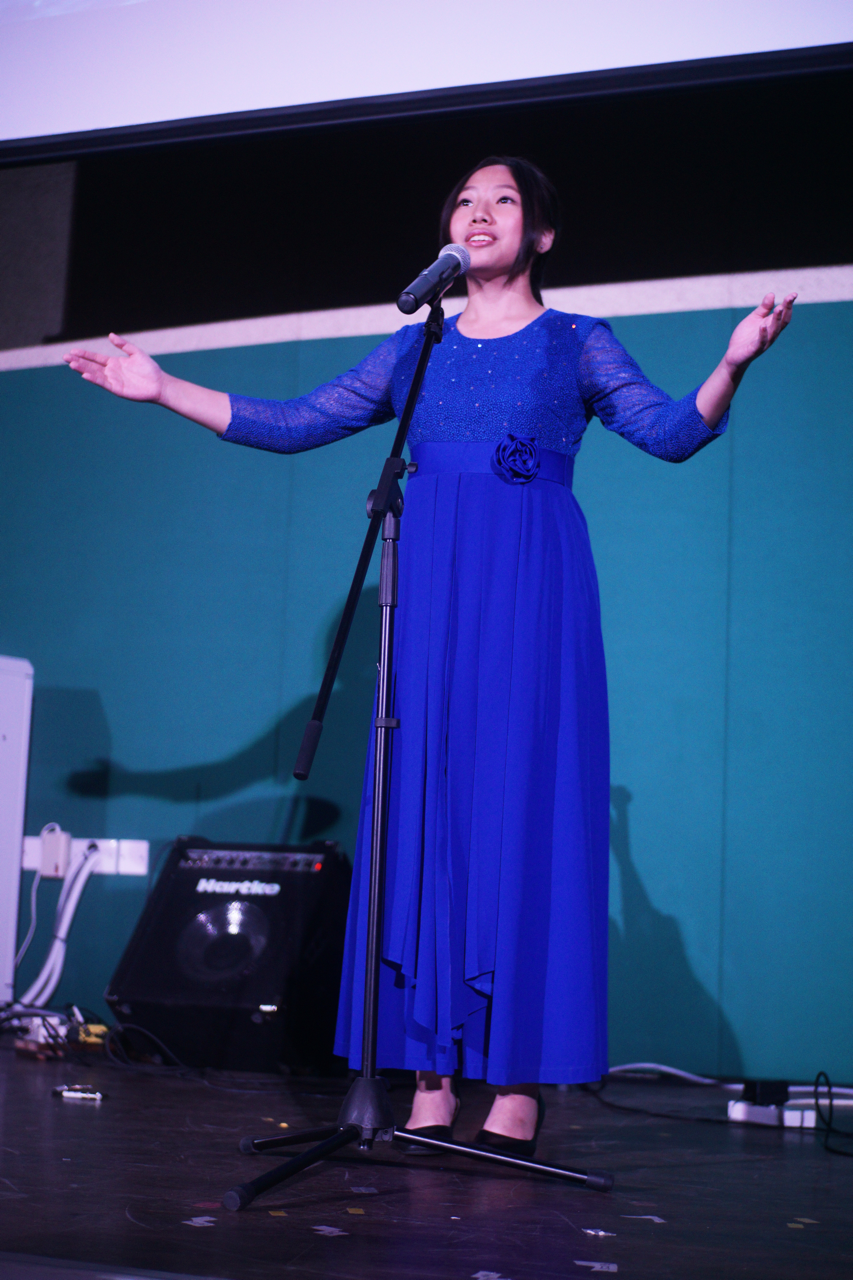 The proceeds from the concert went to the two charity organisations—Riding for the Disabled Association and Beautiful Mind Charity. As a result of months of hard work and the support from many within the SJI community, the concert was a resounding success, as all the 300 tickets were sold out prior to the concert. The support of the audience, staff and students from SJI including our Principal, Father Danker, as well as the huge effort made by the amazing Prism concert committee, contributed to the success of Heartstring 2017.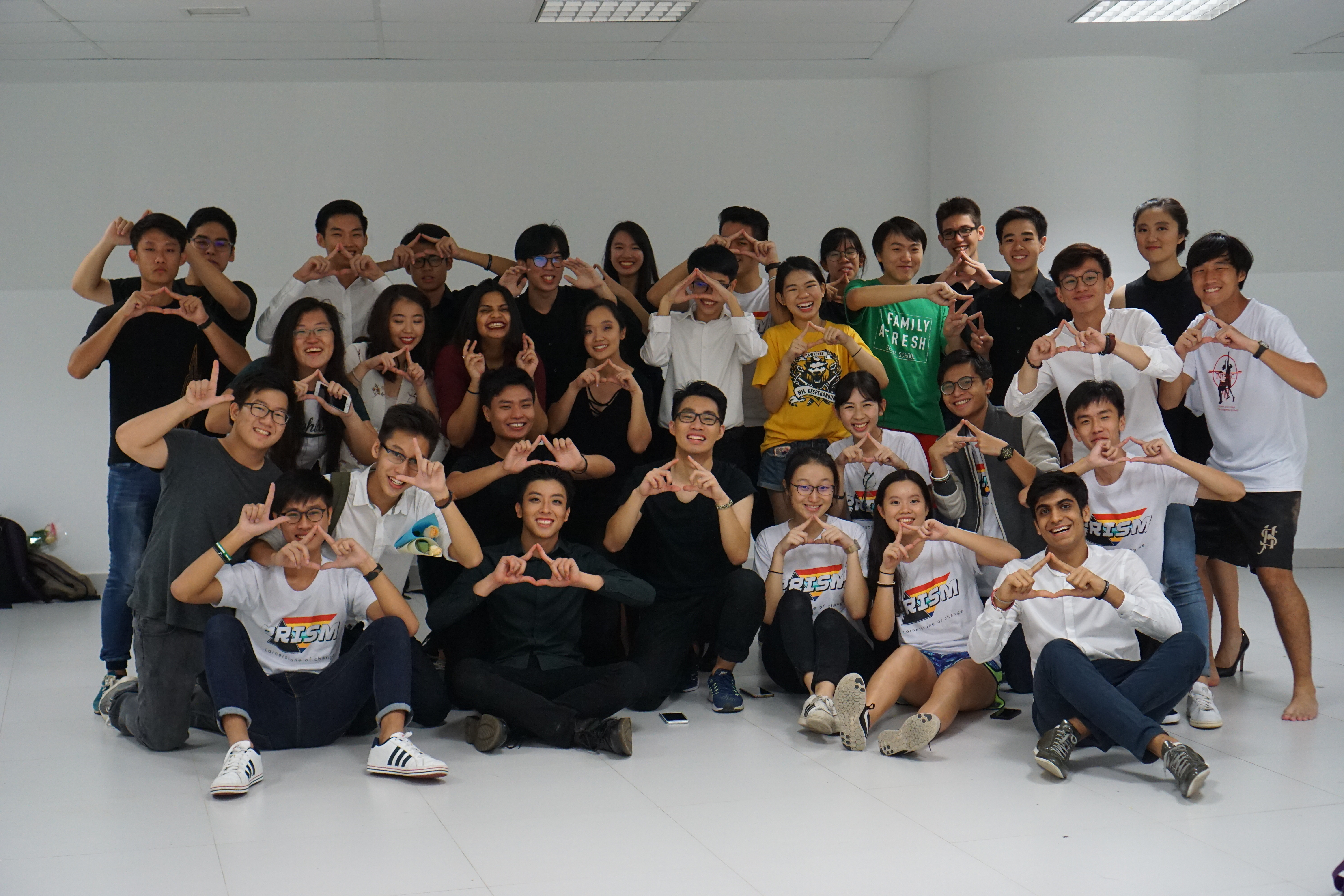 ---
May: A Night of Worship
By Neil Bhargava (JC105)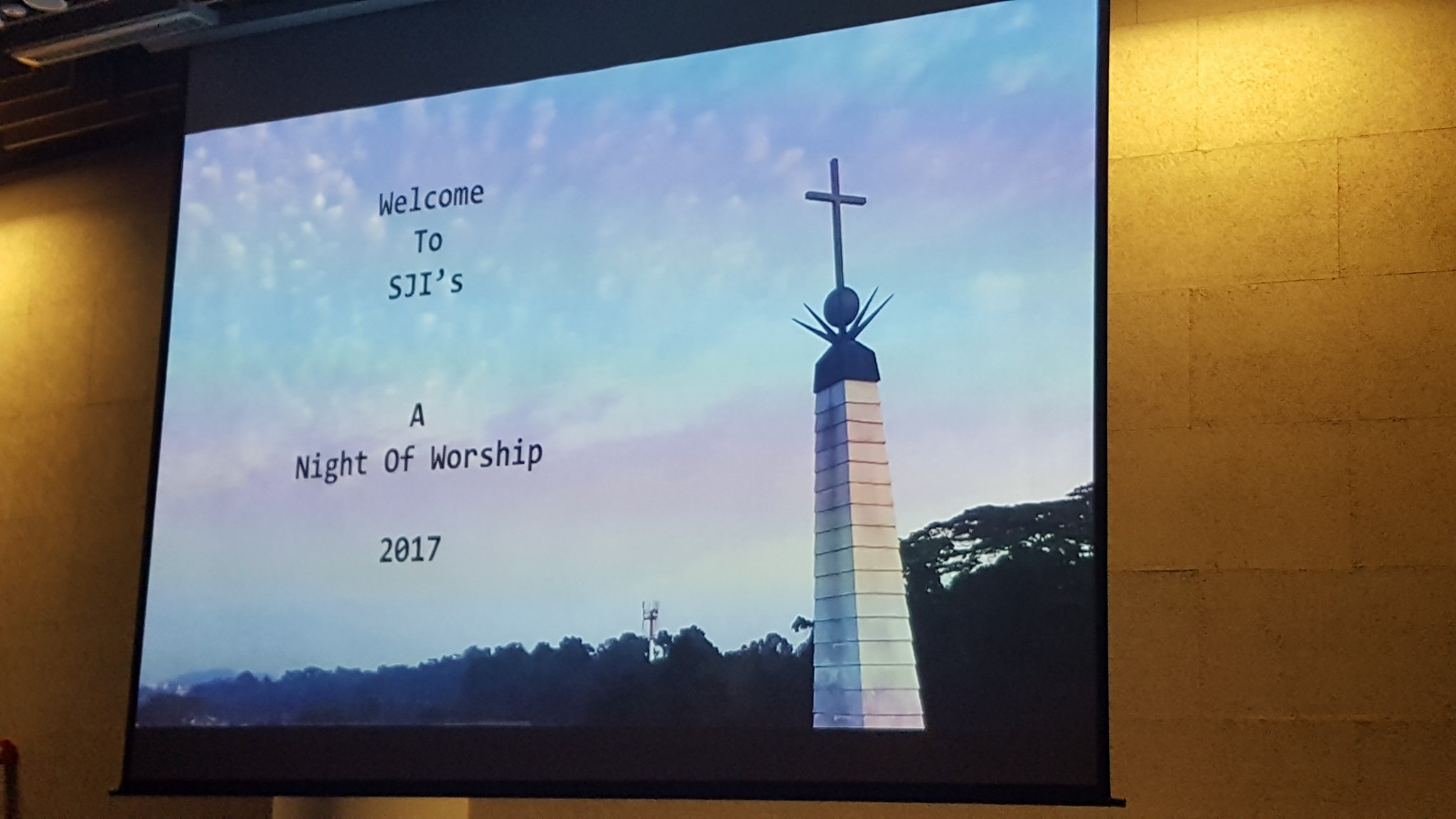 With the theme 'Come Back to God', the inaugural Night of Worship was held on 26 May at LT3. Organised by a group of JC1 Catholics, the event aimed to offer Josephians and teachers a time to reflect on and give thanks for the term that has drawn to a close. The night began with worship songs and continued with a sharing from Fr Danker on letting go of the 'baggages' in our lives and placing our trust in God. This was followed by Eucharistic Adoration and a prayer service, where each of us could place our prayers before God in the form of a lit candle. While the Night of Worship followed Catholic traditions, it was heartening to see Josephians of various religious expressions come together for the event.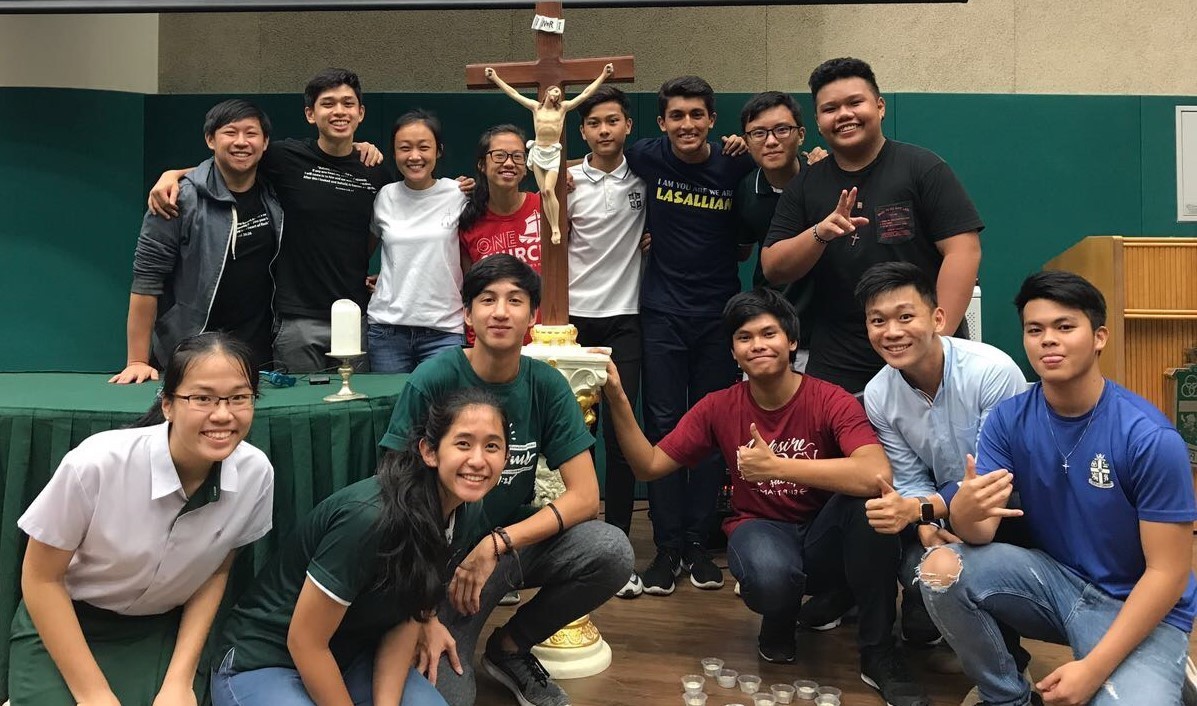 ---
May: SJI Welcomes its 5th Student Council
By Shane Keiser (TG117)
SJI's Senior section conducted its 5th Student Council Investiture, "Mutatione Temporum - Changing of Seasons" on 26 May, in the style of a paraliturgy. It was a momentous occasion where the preceding council passed down their roles to the 25 new councillors - the largest Council SJI has ever had - for them to humbly accept a position of leadership and servitude to the Josephian community. The theme of the Investiture was the changing seasons; this embodied the idea of the passage of time in the life of thee Council–it is a cycle that has ups and downs, but ultimately ends in the passing on of leadership. The symbolism of the candles, being lit for the 4th Student Council and subsequently the 5th, symbolises the passing of passion from the old to the new council.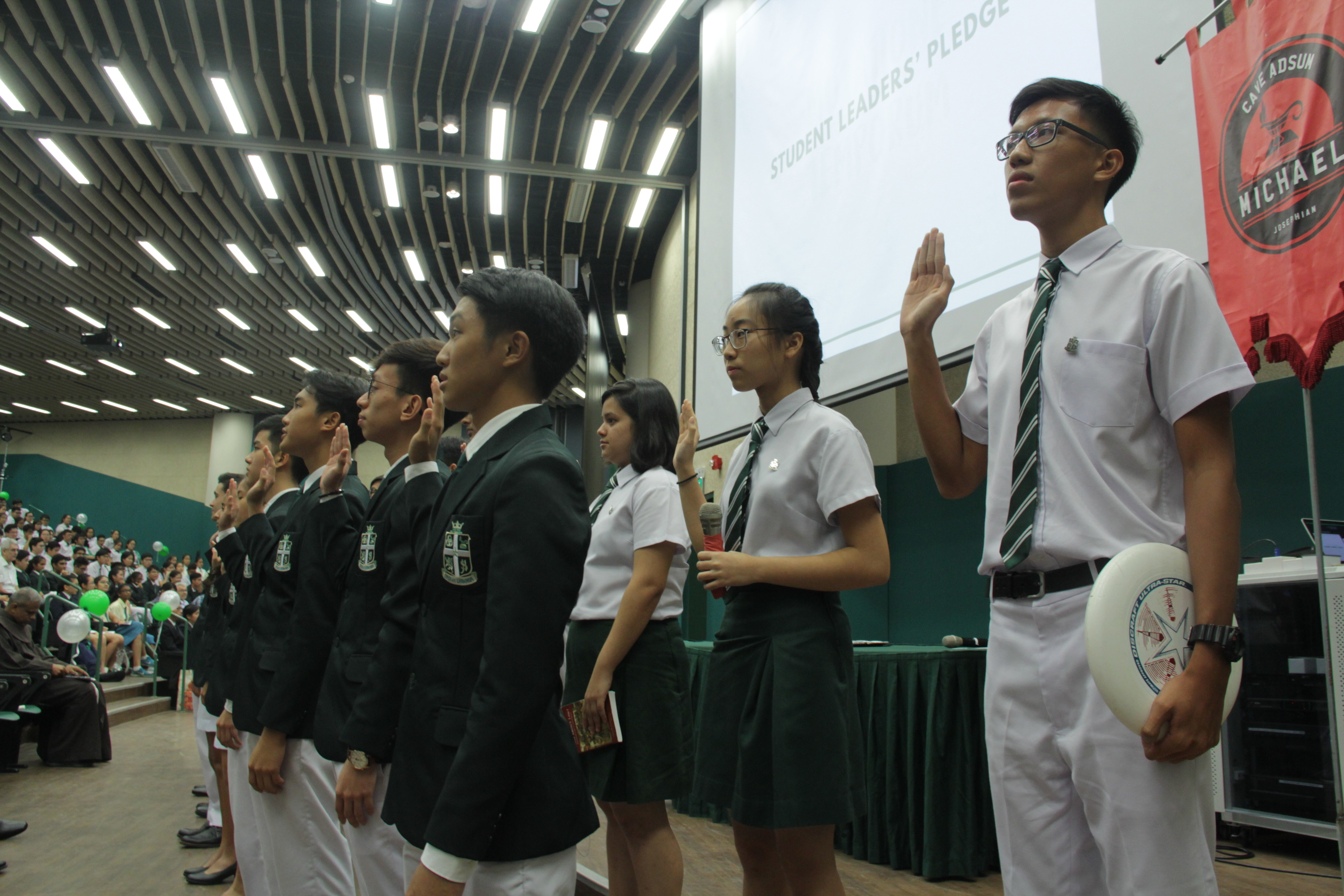 ---
May: ArtScience 2017 - The Future of Water
By Isaac Chan Jing Xuan (MN302)
The ArtScience exhibition on 26 May was the epilogue of a fruitful 4-month journey for the Secondary 3 IP students who had opted for the ArtScience module. Following this year's theme of "The Future of Water", we put on our thinking caps and invent or innovate a product involving the use of water that would assist in the betterment of the world and society at large. A single idea by a group member in the early stages of the ArtScience journey was then transformed into an advanced concept of a feasible idea through much brainstorming, meticulous research and the constructive feedback of our classmates and the teachers during the weekly ArtScience lessons. Our hard work culminated to a group presentation to two teacher-judges about the idea conceptualisation, translation and its benefits to society. The exhibition was held the following day.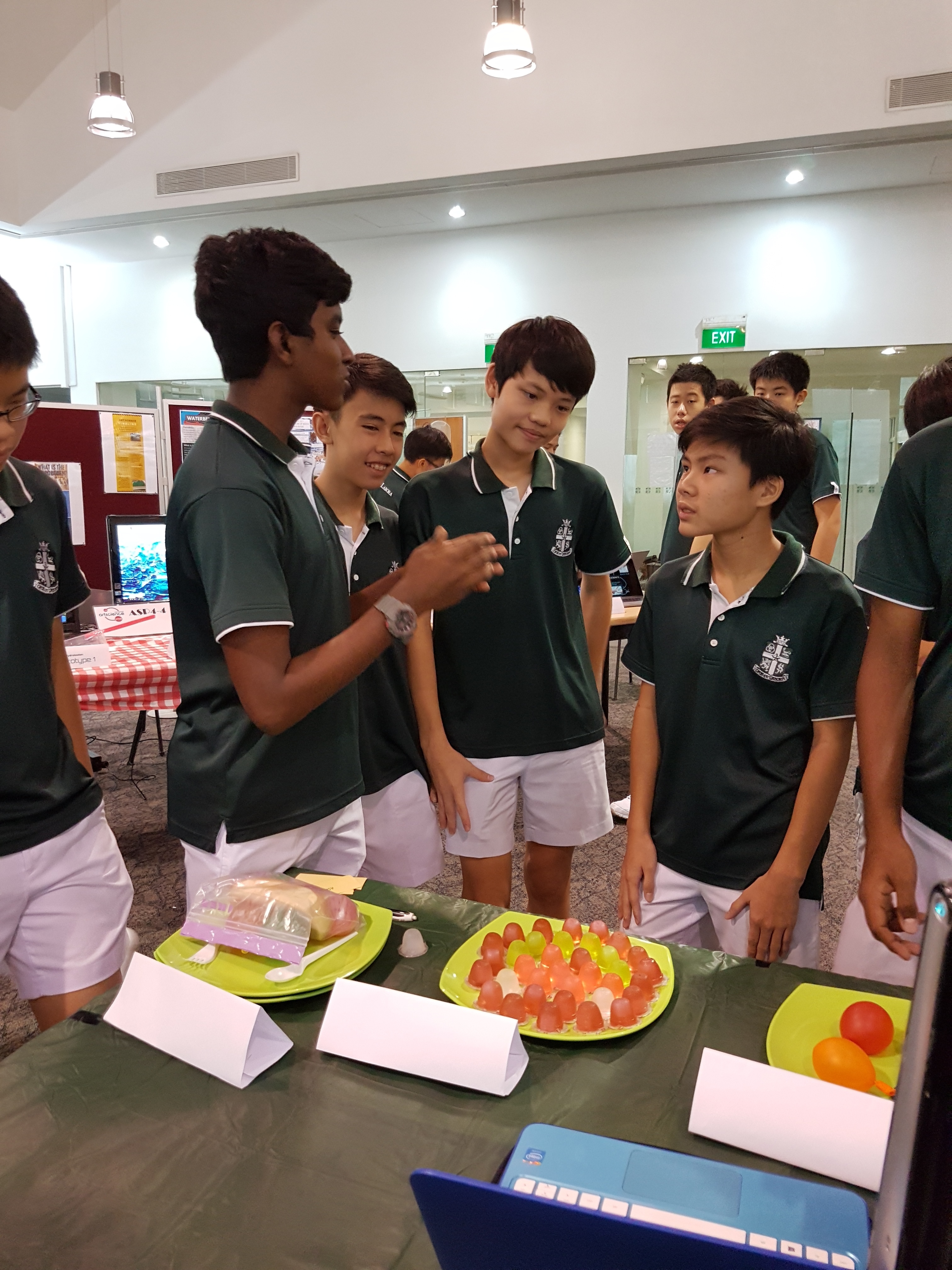 During this exhibition, we had the opportunity to showcase our ideas and prototypes to parents, teachers and fellow Josephians at the many booths set up in the school library. A total of about 40 exhibition booths immediately transformed the library into a vibrant learning hub. We took turns within our group members to share with the visitors our ideas and prototypes. Some of the ideas included Edible Soup Bubble where water can be used to make soup bubbles that are edible and at the same time, reduce food packaging. Another interesting idea was a salt-water powered transport boat utilising the salt in the seas and reservoirs to transport materials from place to place, encouraging less reliance on cargo planes, which require the use of fossil fuels.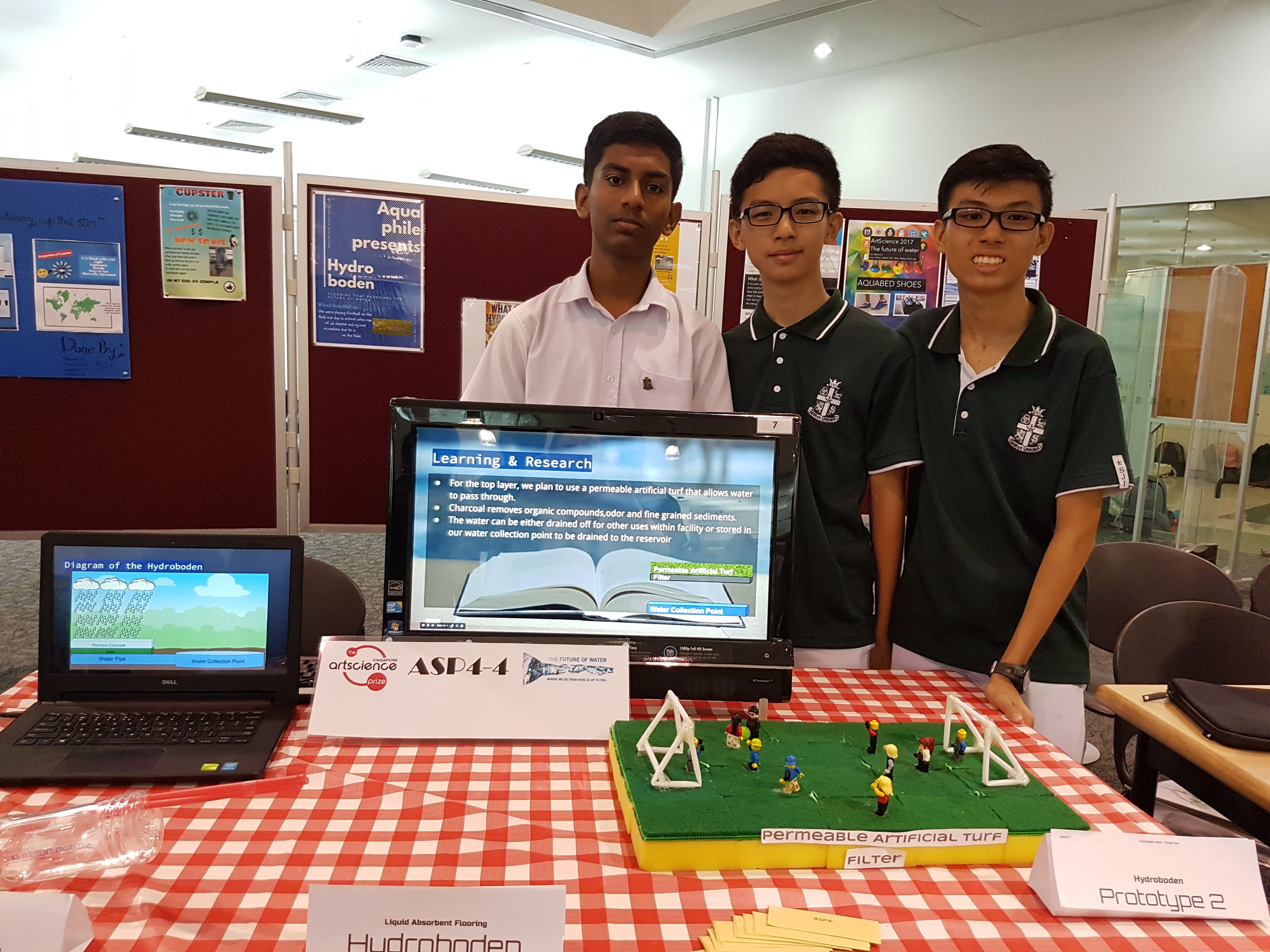 The exhibition was an absolutely fulfilling end to the enjoyable ArtScience journey for every student and teacher who had the opportunity to imagine and innovate. In the spirit of ArtScience, all ideas are feasible. Think bluesky because the sky is the limit.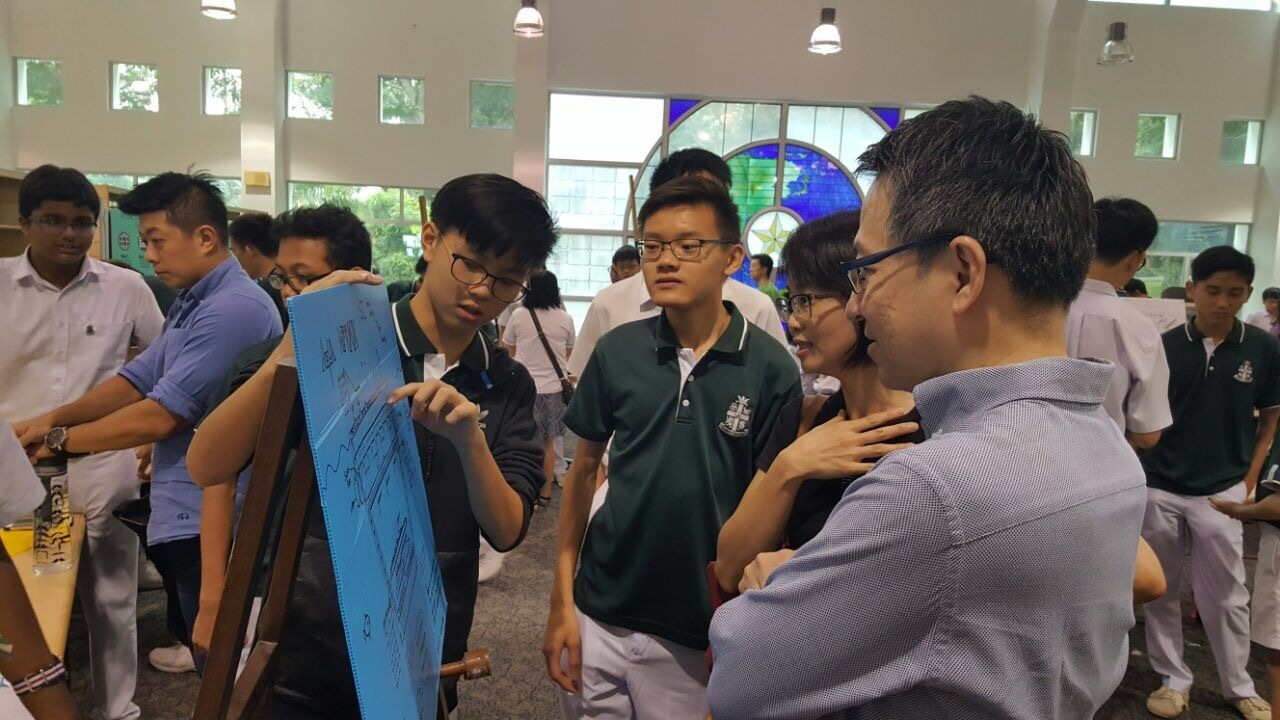 ---
May: Project Scubillion - CDC Silver Friends Programme
By Christian Asher Widjaja (MN302) and Christian Beh (FN303)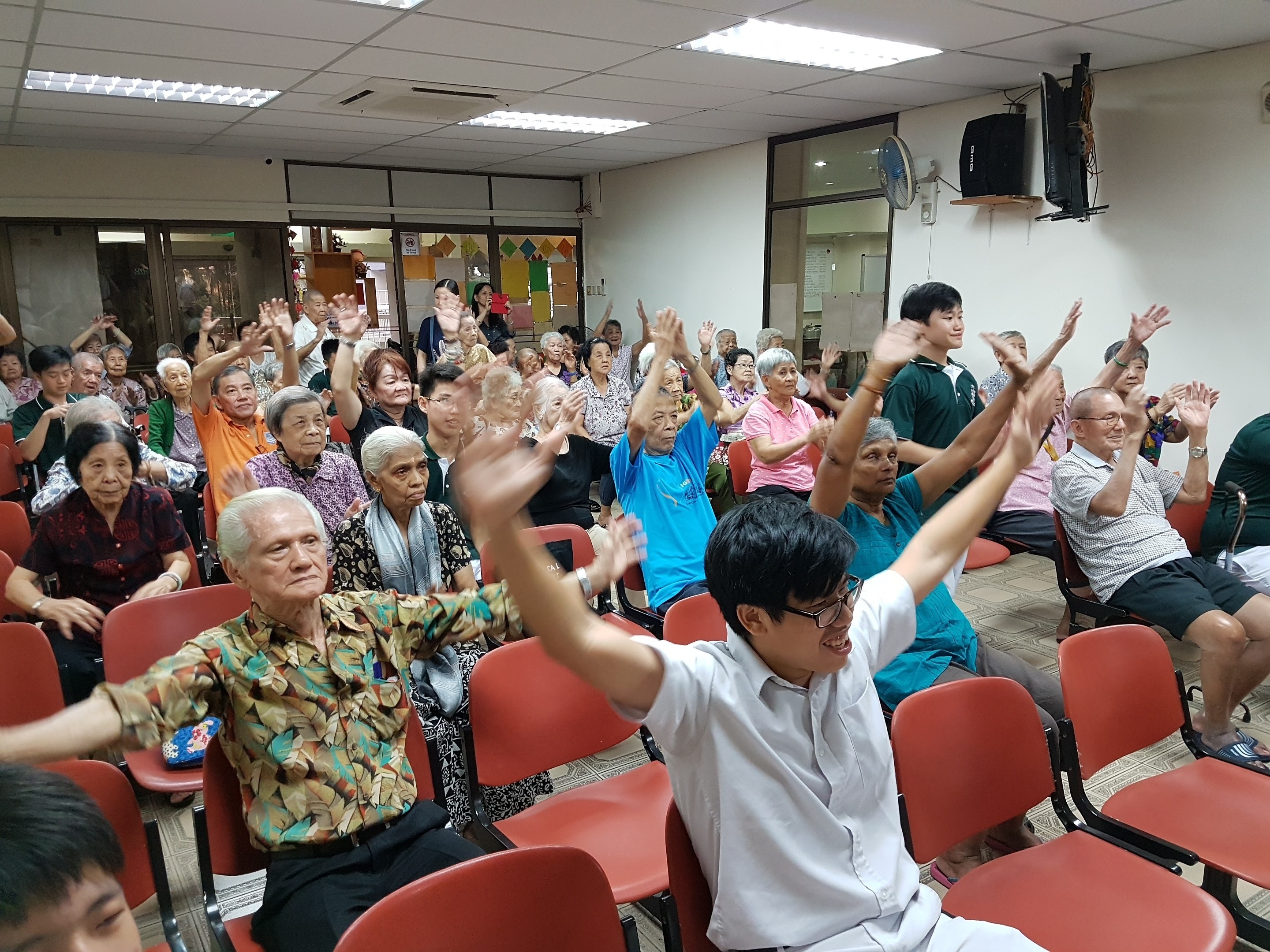 Conducting radio calisthenics
On 26 May 2017, the Guitar Ensemble served at Kreta Ayer Senior Activity Centre, to share the spirit of giving and love, and to spread joy to the less fortunate and elderly. We were delighted to see that the elderly warmly welcomed us with open arms. However, language barriers soon kicked in after we started the activities, as most of the elderly spoke only Mandarin or Cantonese. As we started radio calisthenics, we not only had a lot of fun, but managed to cheer them up. The boys also sang with the elderly, and helped the elderly to design their own fridge magnets.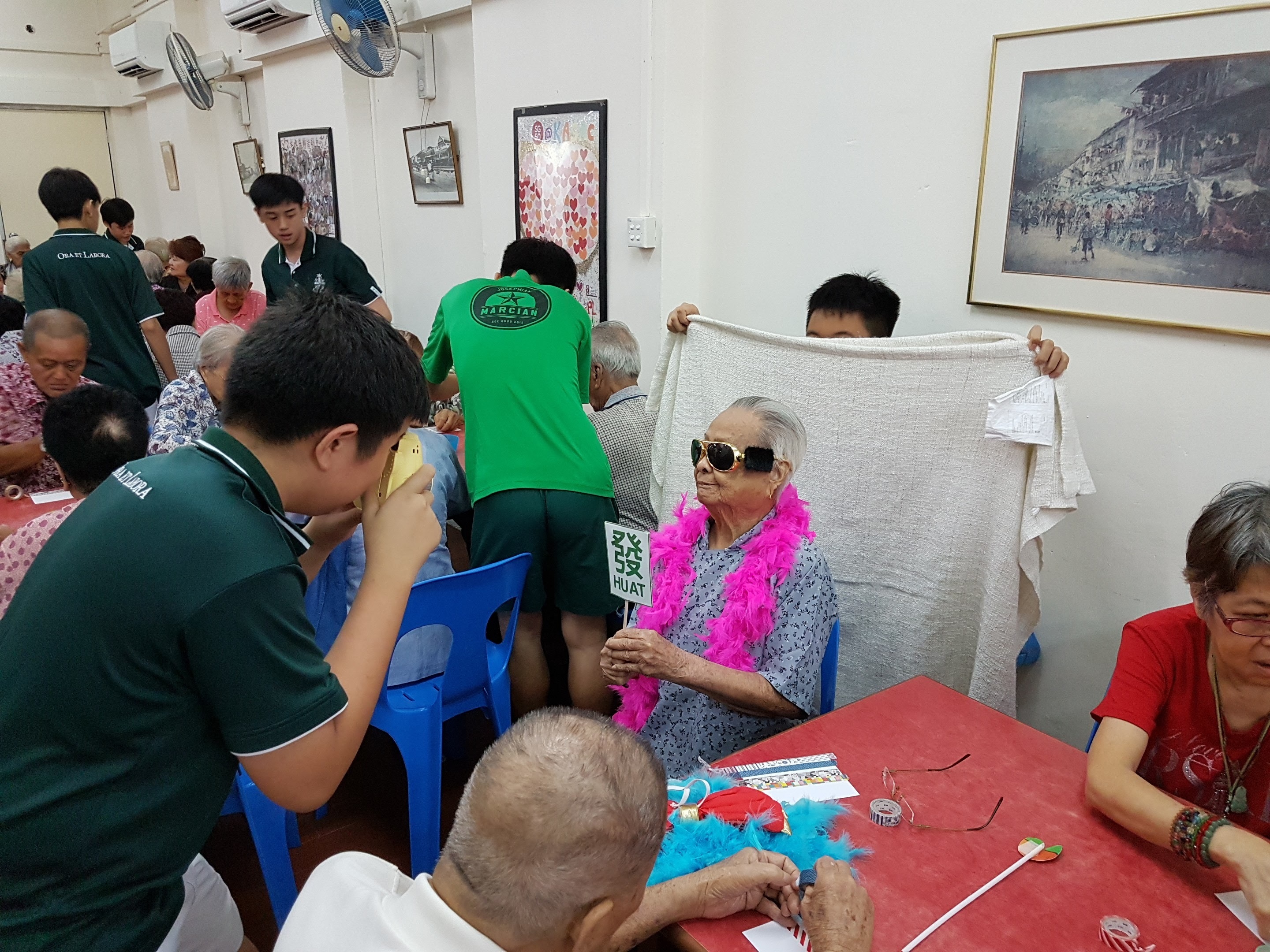 An elderly posing for fun Polaroid shots
Though everyone was busy helping the elderly design the magnet, or to take photos of them; everyone were really enjoying the experience. The boys were heartened to know that they had spread the warmth and joy to these elderly, which was the takeaway from this whole experience. The Guitar Ensemble will continue to meet up with the elderly in Term 3.
---
May: A Growth Mindset for SJI Teachers
By Mr Joseph Edison Junior
Growth Mindset was embarked on as a personal hobby to learn more about taking on challenges and facing roadblocks and how to manage expectations. It then led to trying to expand it and entice more teachers to learn from the good work written by Carol Dweck with the 2016 Sec 1s and the teachers.
This year, we were excited to have a trainer who willingly ran a two-day pro-bono workshop to train the teachers about Growth Mindset in the classroom and growing oneself. Our first session was held in April and the second one in late May to allow incubation of ideas and practicing what we learnt from session 1 and sharing at session 2 what was achieved.
The SJI teachers learnt a great deal through gameplay, sharing, anecdotes, role play and even group discussions. Mrs Tan Nga Hoon of Gifted Branch at MOE gave us good insights and examples as a trainer and for her age, she was the epitome of what Growth Mindset looks like.
While this is still a work in progress for us at SJI, every endeavour requires small steps together. SJI was fortunate to have one of our own to share and help us learn more about Growth Mindset.
---
May: Discovering from "Inside Out" at Sec 3 Catholic Camp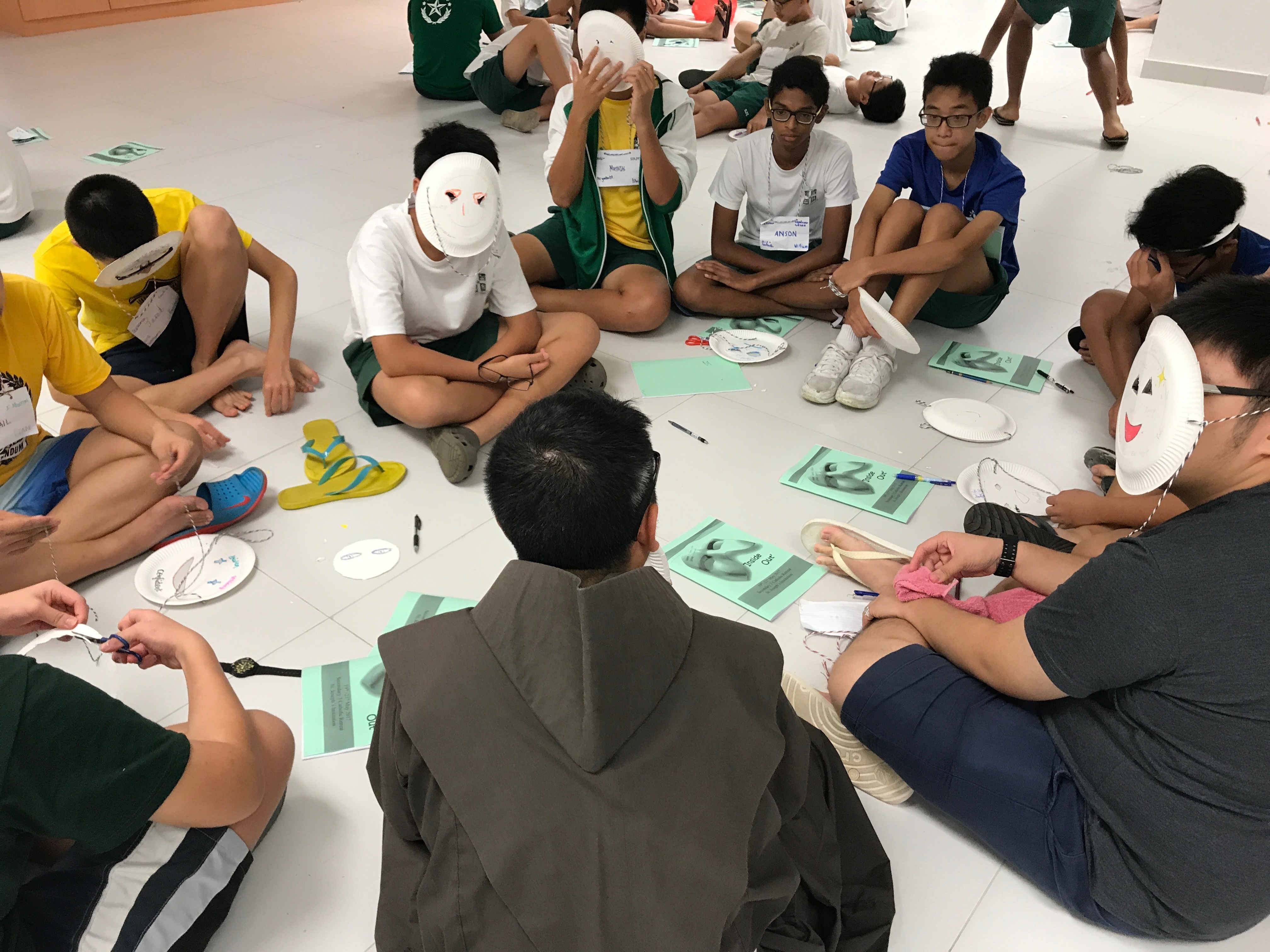 From 19 to 21 May, Josephians were offered an opportunity at the Secondary 3 Catholic Retreat to explore the masks they wear that often get in the way of who they really are. It began with the assumption that everyone tries to hide behind a mask at some point—even people who seemed confident and self-assured. Accompanied by eight Franciscan Friars, the boys examined their own false masks and discovered ways to reveal their true self.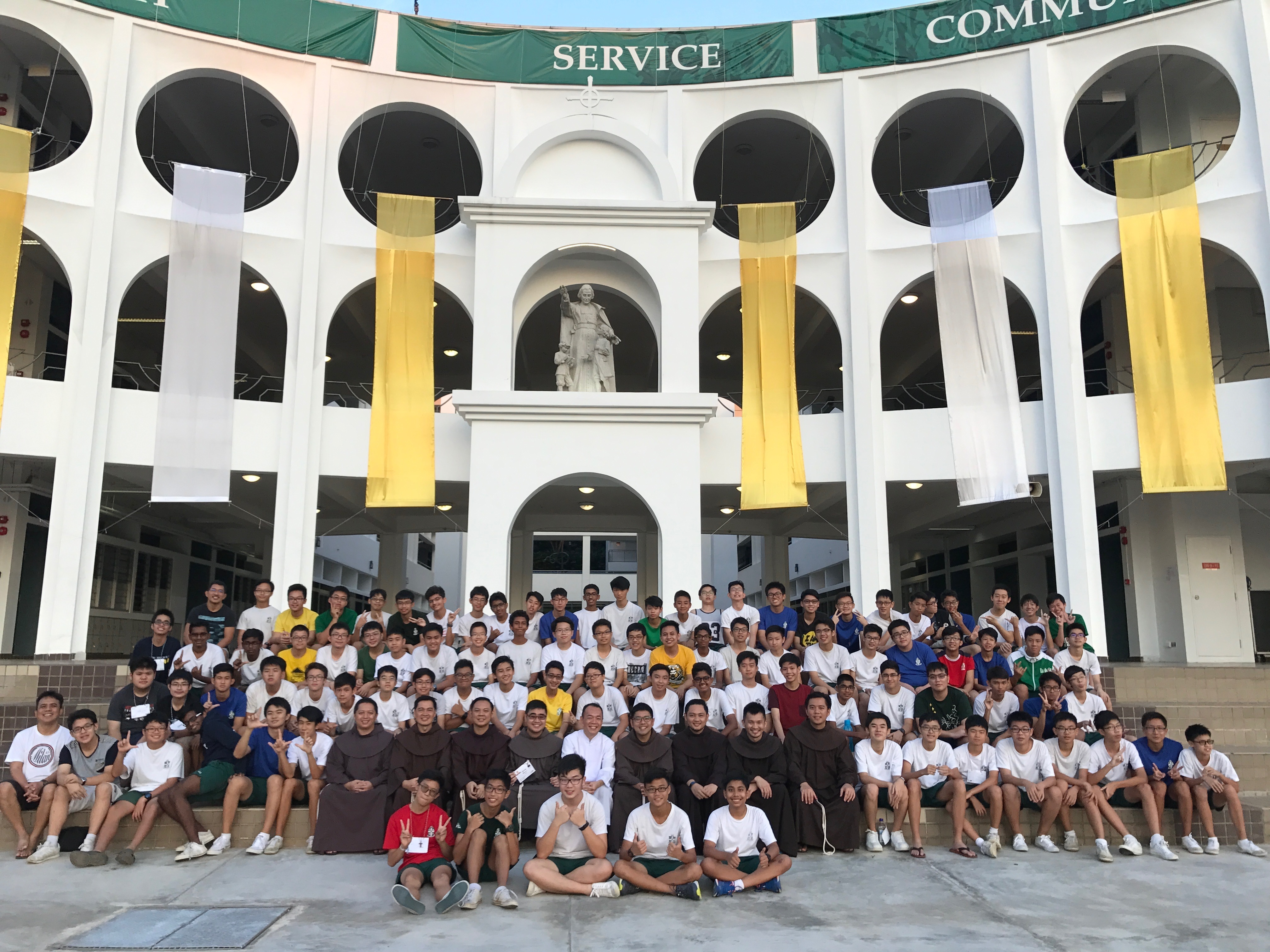 ---
May: Alumnus Receives Singapore Polytechnic's Gold Medallist Award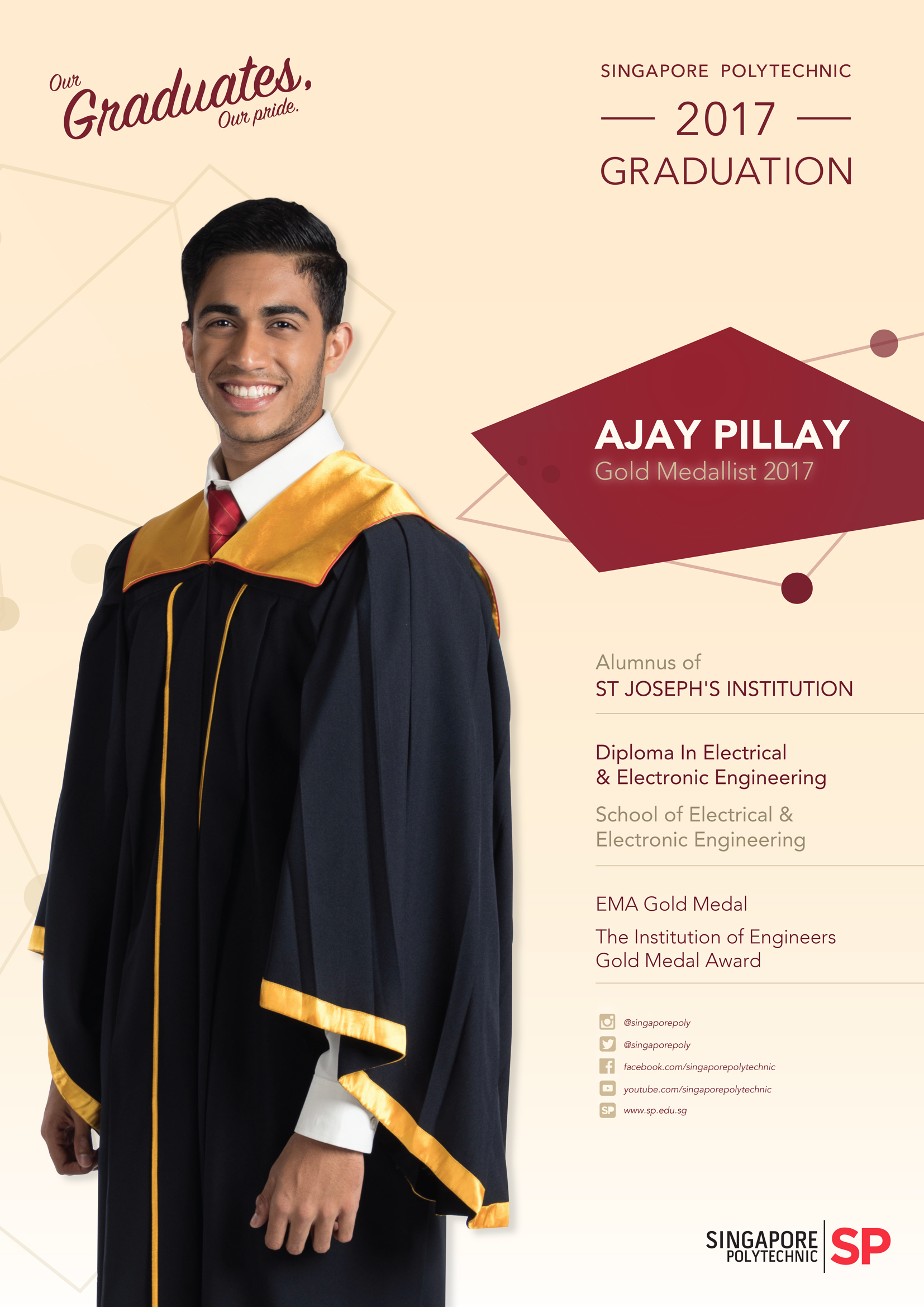 Mr Ajay Pillay (Class of 2013) has been awarded the Gold Medallist 2017 by Singapore Polytechnic. The Electrical and Electronics engineering graduate also won gold medals from EMA and The Institution of Engineers.
---
May: Ron Koh to represent Singapore in the Southeast Asian Games for Sailing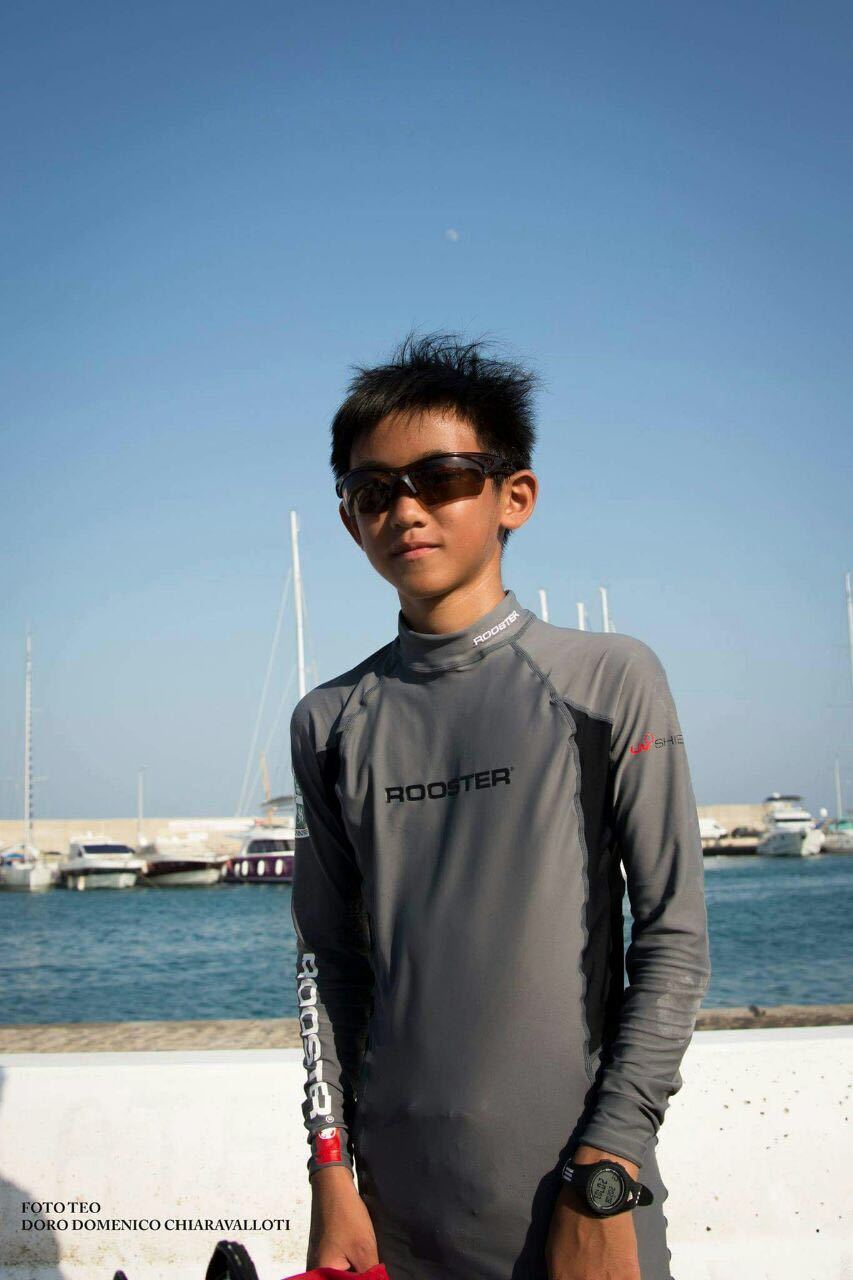 Ron Koh (FN 202) has qualified to represent Singapore in the Southeast Asian Games for Sailing in the Optimist Class. The Optimist is the biggest youth racing class in the world. As well as the annual world championships, the class also has six continental championships, of which Ron has participated in 2 so far.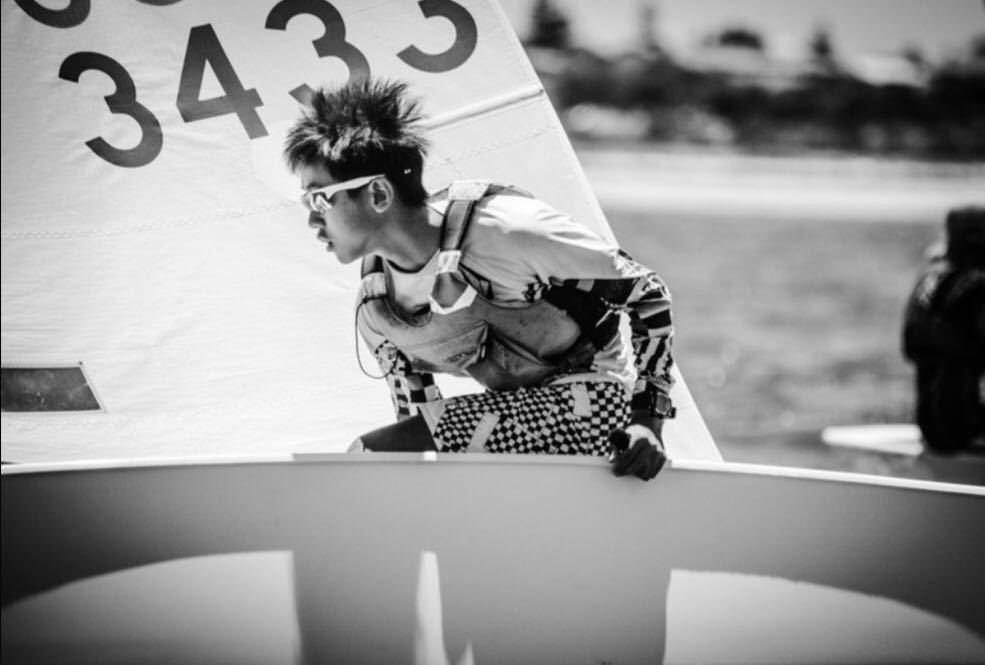 ---
May: SJI Hosts Parenting Talk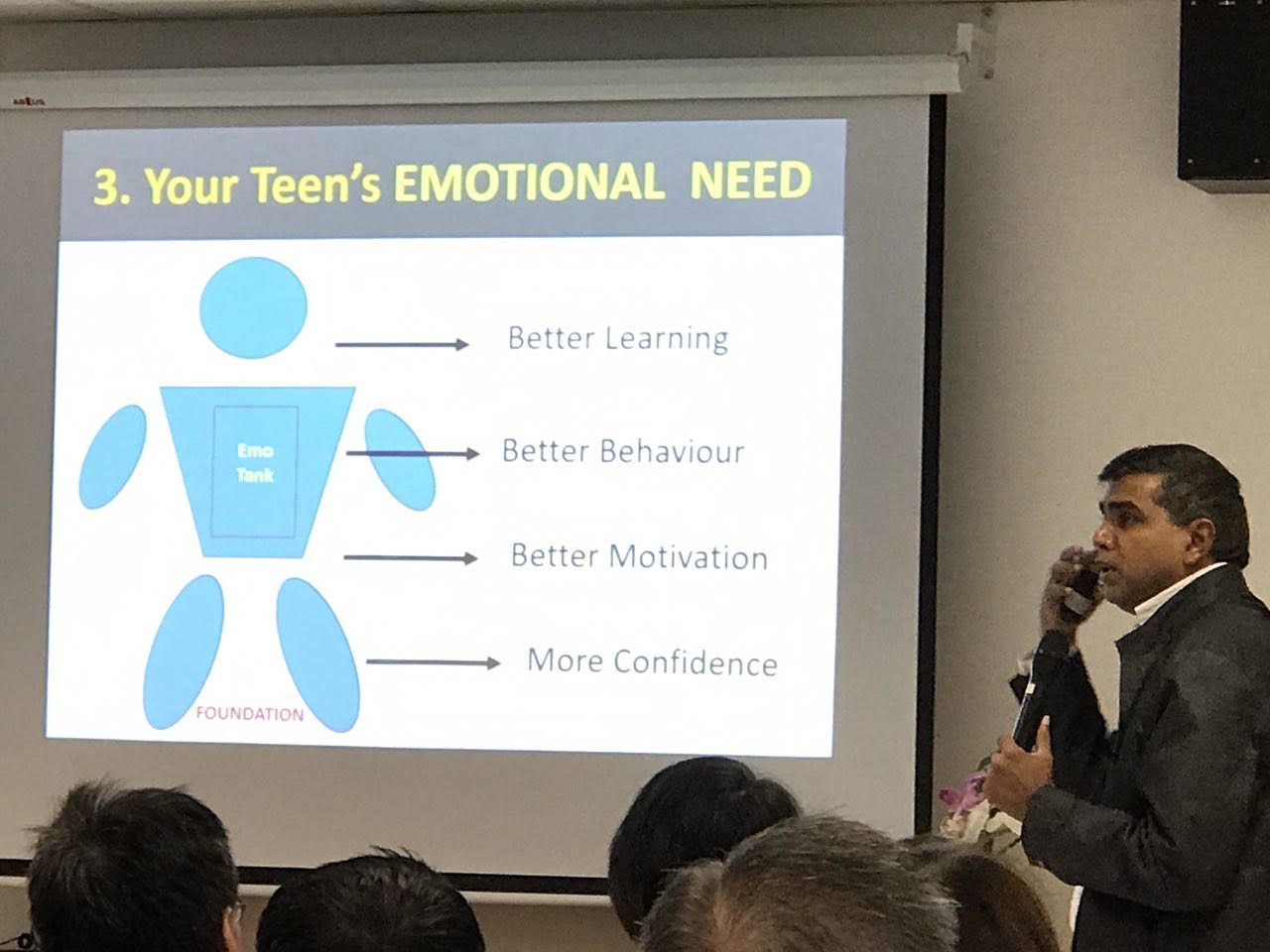 A parenting talk titled "Understanding Your Teen's Emotion" was held on 6 May for the SJI parents. Many parents in their feedback, shared that the talk was very relevant to them, either it is happening to them now as upper secondary parents, or is useful information for the lower secondary parents in preparation for the future.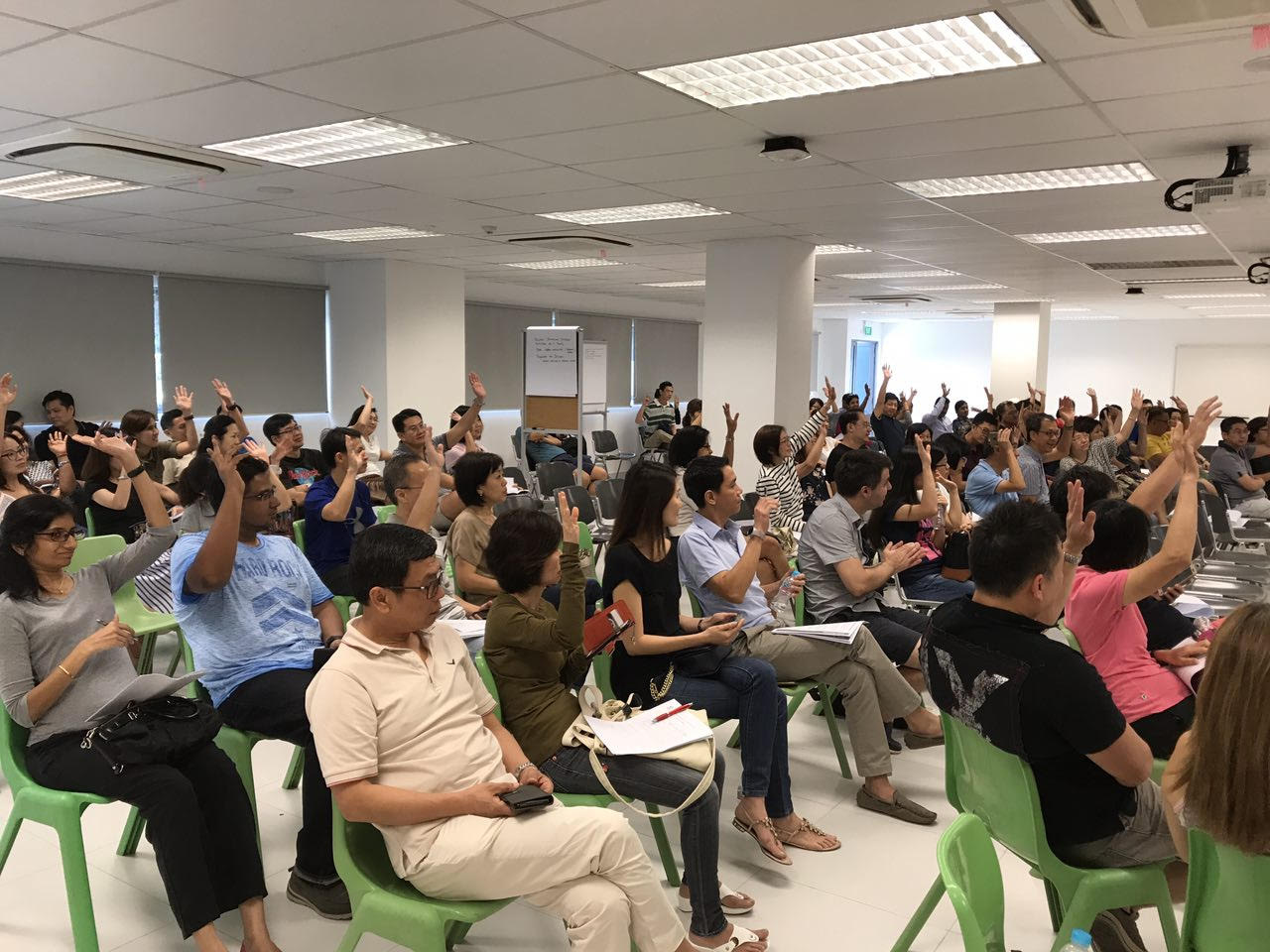 The speaker was delighted that many parents came for the talk; and that they were very interactive and asked a lot of questions and eager to give opinions.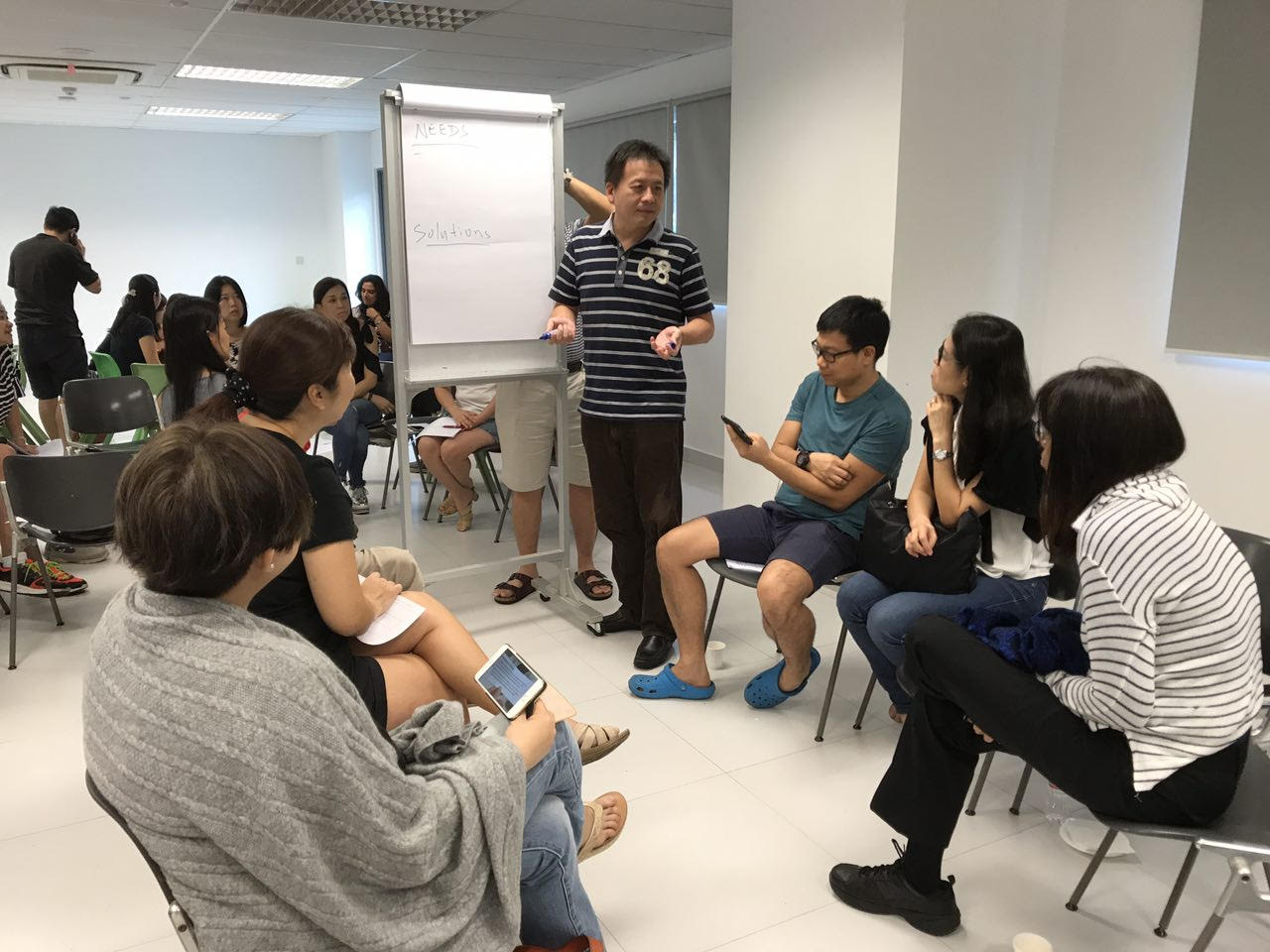 ---
April: Understanding the English Curriculum as Lived: Experiential Learning at Orchard Road
By Mr Karthickeyen s/o Govindaraj
'Tell me and I forget, teach me and I remember, involve me and I learn.' – Benjamin Franklin
Franklin's words, as mentioned above, remind us how knowledge is created through the transformation of experience – a belief educators at SJI subscribe to. Thus, in the spirit of understanding the IB Diploma (IBDP) English curriculum as lived, some JC1 students made their way to Orchard Road in late April to identify and assess guerrilla advertisements with the following questions in mind:
How do commercial advertisements in Singapore interpret persuasion?

How is persuasion visually presented to the masses, with an emphasis on language use and its relationship with images.
The learning journey took place every Friday, across three weeks, to suit each class's varied schedules. In wanting to be part of the hustle and bustle characterizing Singapore's popular shopping boulevard, students made their way to Orchard road at sunset with ION Shopping Centre as the starting point of their journey. Seated on the steps in front of ION, students began to familiarize themselves with a guide sheet spelling out five guerrilla marketing techniques popular amongst 21st century advertisers. Guerrilla marketing, as an advertisement strategy concept, was new to students at the time when the guide sheets were distributed to them. Nonetheless, the purpose in getting students to engage with unknown information lay in the pedagogical belief that the unknown must be negotiated with the known. As students were already familiar with the principles of persuasion via visual and multi-modal advertisements in class, they now had to apply what they had learnt - under time constraints - to comprehend the features of a text-type similar to many advertisements, albeit unique in its approach with regard to persuasion. As predicted, students either independently or with peer support understood the key features of guerrilla marketing and spent an hour, amidst laughter and chatter, identifying and assessing guerrilla advertisements.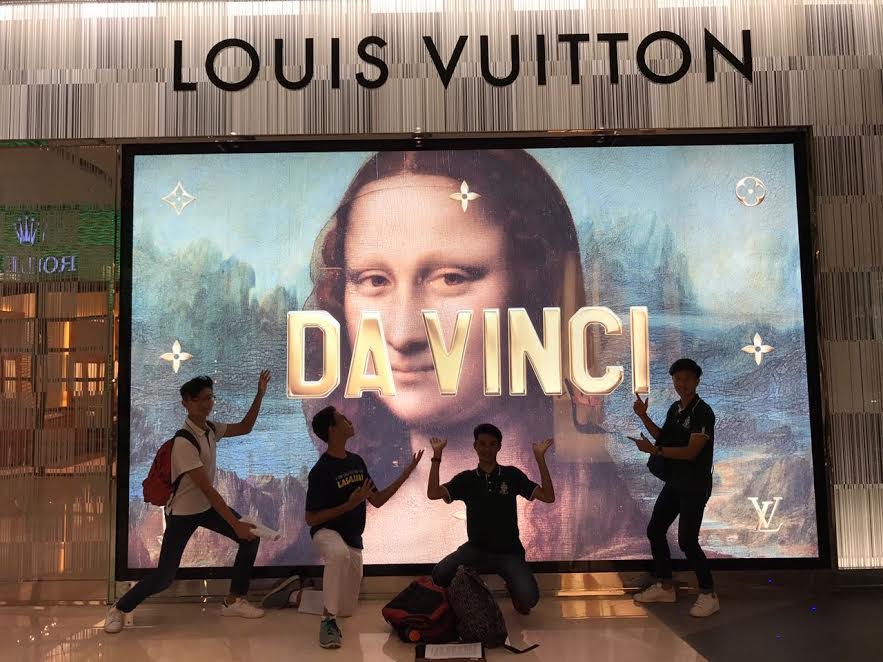 At the end of the "advertisement-hunt", students made their way back to ION where they had to complete a worksheet that helped them reflect about what they had seen and learnt, and to write a critical commentary about a guerrilla advertisement that caught their attention.
About the experiential learning session at Orchard Road, Kevan Toh shared, 'This trip made me more observant of my surroundings and more critical about how firms portray their branding'. Johanna Lim Ziyun echoed similar sentiments, 'I felt the trip was beneficial and engaging as we got the opportunity to learn about advertisements in an innovative way, allowing me to understand advertisements better'.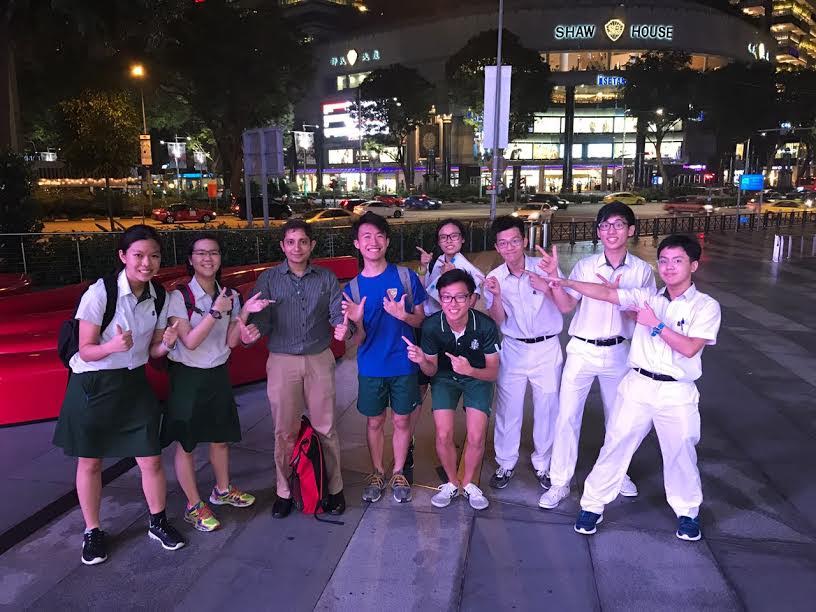 The learning journey brought language and culture together, allowing students to appreciate how the classroom is not confined within a school building and that, the value of learning does not solely lie in the appreciation of the hypothesis but in every sense of the word, the lived experience too.
---
April: SJI Alumni Elected into Football Association of Singapore Exco
SJI congratulates our alumni - Mr Bernard Tan, Mr Edwin Tong and Mr Teo Hock Seng, who were elected into the Football Association of Singapore (FAS) Exco after elections on 29 April.
With Team LKT winning the FAS election, the new council will comprise Lim Kia Tong (President) and Bernard Tan as the FAS' deputy president, with Edwin Tong, Teo Hock Seng, S Thavaneson and Razali Saad taking up vice-president roles.
Click here to read more.
---
April: Josephians Wowed by Latest Technology on IMDA Buses
Selected Sec 1 and Sec 2 boys as part of their computing classes visited the two IMDA buses that visited SJI from 24—26 April. The boys attended Drone workshops, interacted with social robots, tried on Virtual Reality headsets, learnt the basics of 3D printing, and also witnessed how a 3D camera works. During the drone workshop, they learned to program drones and also maneuver the drones to land at a particular spot.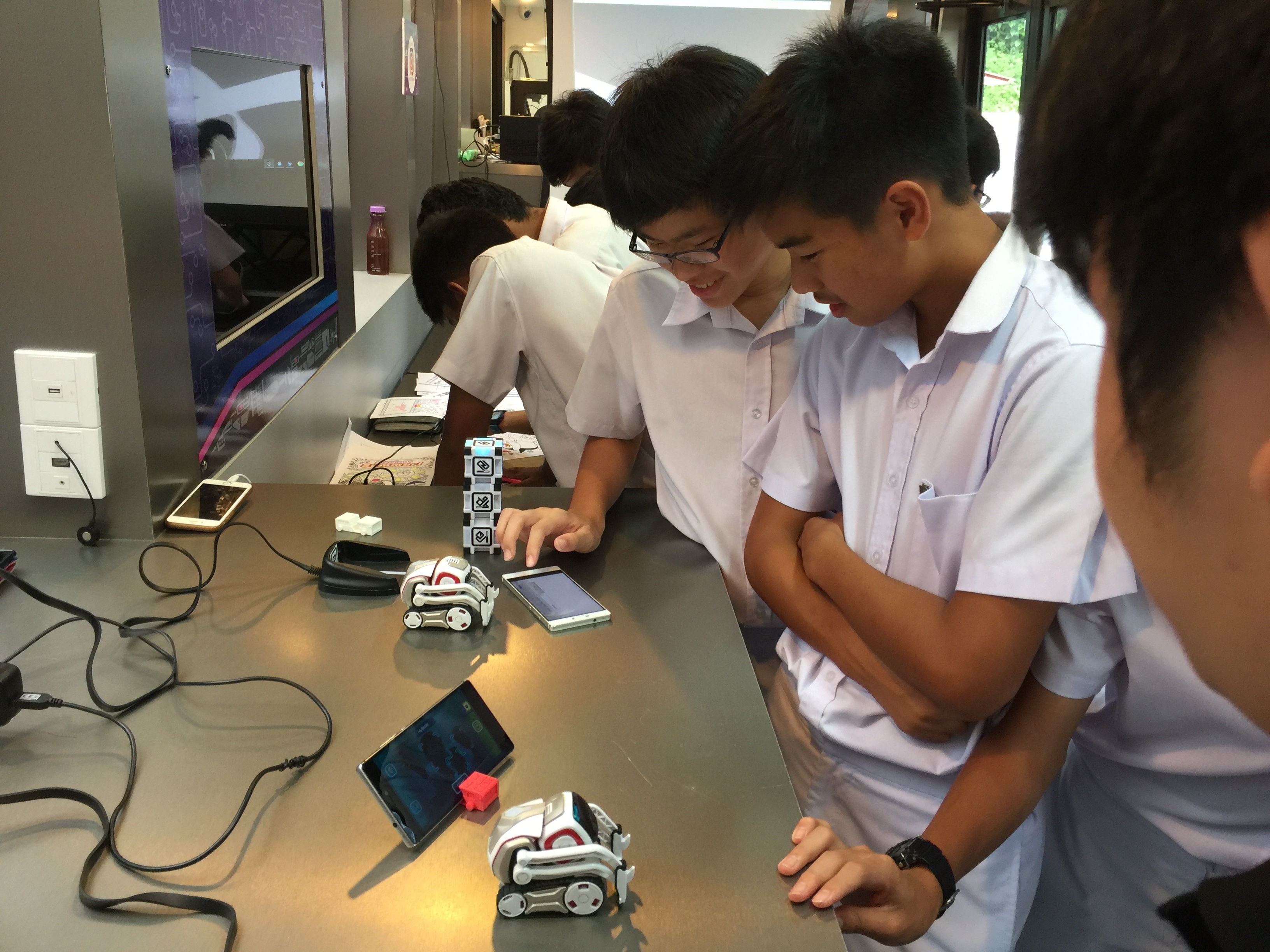 ---
April: Guitar Ensemble Strums to Distinction at SYF 2017
By Christian Asher Widjaja (MN302) and Christian Beh (FN303)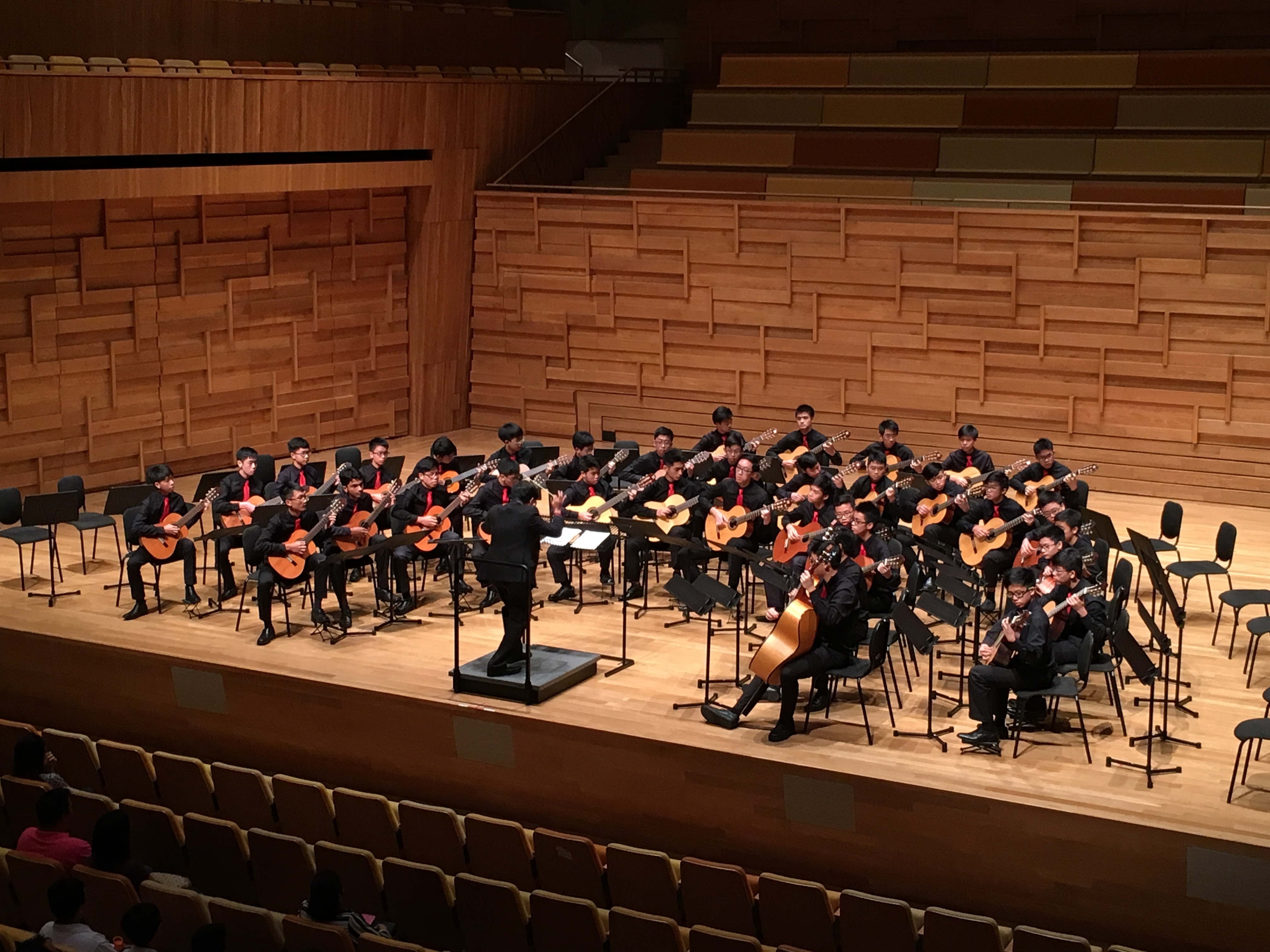 The Singapore Youth Festival (SYF) Arts Presentation 2017 taught us how to be more than just an ensemble, it's akin to being part of a family. We played together, trained together, loving every second of it. Despite our anxieties, we were still able to put our trust in one another and play as one united ensemble. This cumulated to the ensemble being awarded the Certificate of Distinction in April 2017. We thank the school leaders, our instructors, our teachers, parents and all those who have supported us in one way or another.
---
April: Josephians Score at National School Games
Our boys have done well in several zonal and national sporting events in the new academic year. These are their achievements till date:
---
April: SJI's Dave Tung Clinches Gold at B Division 1500m Nationals
Tung Kin Pang Dave (ML401) won gold in the 'B' Division 1500m finals with his timing of 4:22.54, while Arian Zaw (MN201) achieved a silver (2nd) in the 'C' Division 800m finals at the 58th National Schools Track and Field Championships. Read more at Red Sports.sg.
Name
Class
Category
Timing/Distance
Ranking

Tung Kin Pang Dave

ML401

1500m

4:22.54

1st

Joshua Timothy D'Cruz

MN402

200m

23.73s




4th




100m

11.65s

6th

Lionel Koh

MN402

400m Hurdles

1:04.09

8th

Adam Zachary Lee Kai Juin

LE302

Long Jump

6.21m

7th

Jorden Chong

LE402

Long Jump

6.32m

5th

Triple Jump

13.05m

7th

T Naveen Prasath

MN402

Javelin

41.80m

8th

Adam Razali, Joshua D'cruz, Chua Zhili, Kyes Gafoor

4x100m

44.66s

4th

Lionel Koh, Rovin Thomas, Joshua D'cruz, Kyes Gafoor

4x400m

3:44.03

5th

Wee Liang Shen Ian

MN201

Triple Jump

11.63m

4th

Arian Zaw

MN201

800m

2:11.75

2nd

1500m

4:52.60

7th

Teoh Tai Ran, Joseph Leong, Kai Bhandari, Arian Zaw

4x400m

4:00.05

7th
---
April: SJI Canoeing Teams Win Double Gold in National Inter-school Canoeing Championship 2017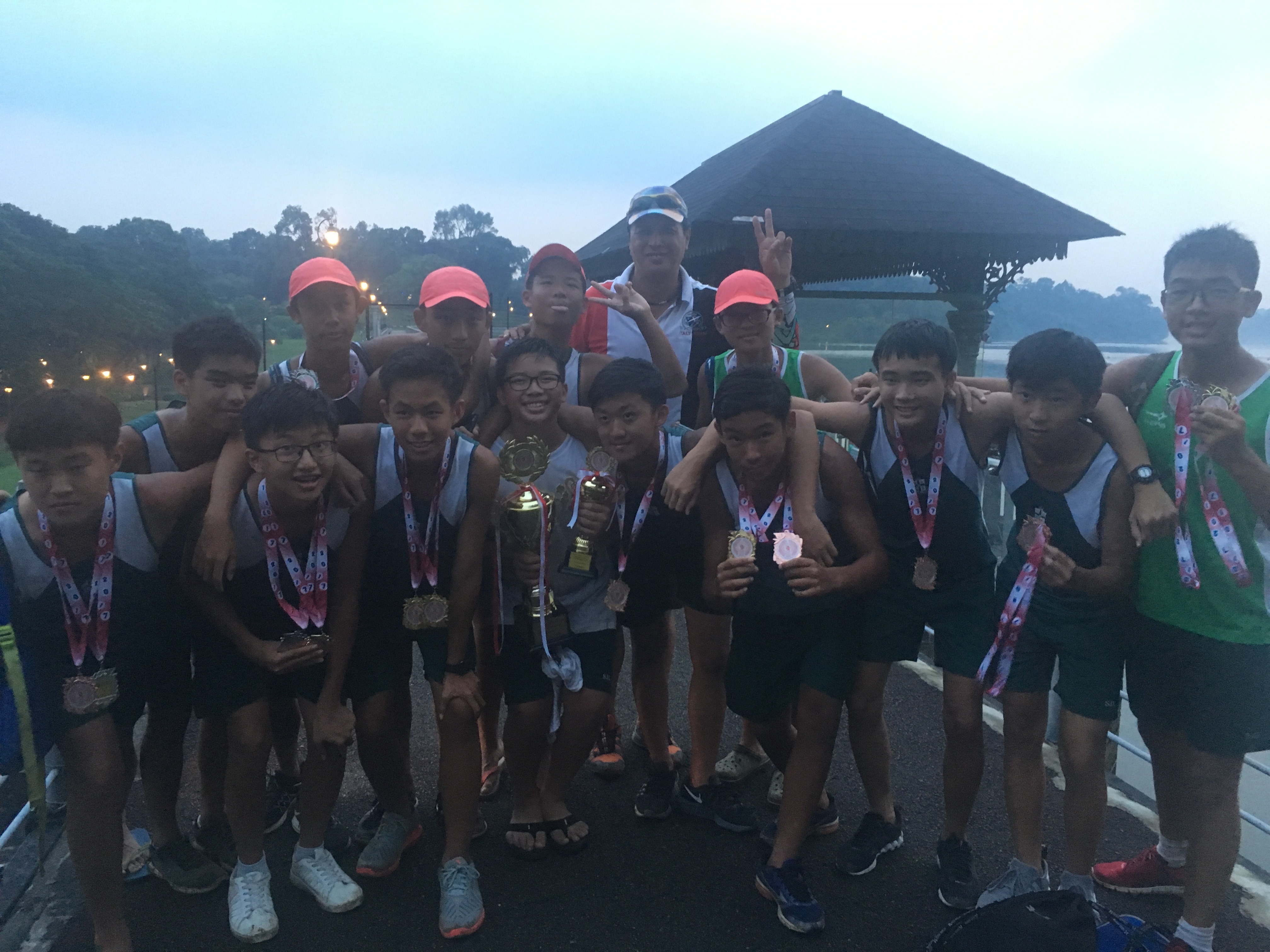 Our canoeists have done SJI proud again - bringing home the gold trophies for both B and C Division championships this year! The last time SJI achieved this amazing feat was back in 1998! The B Division boys won with 74 points, ahead of HCI (61) and ACS(I) (50), while the C Division boys bagged the crown with 60 points, beating ACS(I) (55) and HCI (45). Well done, boys!
Read more at The Straits Times and RedSports.sg.
---
April: Minister Tan Chuan-Jin Dialogues with IBDP Students
By Ms Cherie Chua
SJI had the honour of having Mr Tan Chuan-Jin, Minister for Social and Family Development, at SJI for a dialogue with our Junior College 2 students on 17 April. Through this formal dialogue, students were able to understand some of the societal issues that Singapore faces. Minister Tan also discussed some issues like the Values-In-Action programme that schools do and how these impact on the society. He is very passionate about helping the community together and feel strongly that as long as everyone work together to help the community, no matter how big or how small the action is, an impact will be felt eventually.
This discussion provoked the minds of many of our students and both parties had a meaningful time talking about issues that will affect them as students but may also have great impact as a society. At the same time, Minister Tan also gave our students some insights about the life of a Singapore politician and how he copes with his work and family to ensure that there is work life balance. The students had a gratifying session with Minister Tan and gained many insights from the conversation.
---
April: Josephians Win YDSP Awards by DSTA and DSO
The Young Defence Scientists Programme (YDSP) is an initiative by Defence Science and Technology Agency (DSTA) and DSO National Laboratories (DSO). The YDSF seeks to interest and inspire youth in the area of defence science and technology. Since 1992, YDSP has been inviting students to discover more about the world of defence by taking part in a wide spectrum of programmes designed to stretch young minds to their fullest potential. Through programmes such as YDSP science and technology camps, YDSP World of Science modules and Research@YDSP, the YDSP presents an exciting and wonderful educational opportunity and experience for aspiring engineers and scientists.
The YDSP scholarship is awarded to Integrated Programme (IP) Year 3 Singaporean students who have achieved outstanding academic results (based on their Secondary 2 performance) and a passion for Science and Technology. The recipient from SJI this year is Edward Tan Yung Wen (ML303). He is one of the 30 awardees from 19 IP schools.
The YDSP Academic Award recognises outstanding academic achievements of Singaporean students in Mathematics and Physics from IP Year 3 to Year 6.
The awardees from SJI are:
Maximillian Lim Sheng Lee MN401 (Math) - IP3 in 2016

Bertrand Wong Xing Hui FN403 (Physics) - IP3 in 2016
Ong Jun Xun (Math) - IP4 in 2016

Lim Jia Le Kevin (Physics) - IP4 in 2016

Yap Zhan Hao Sean (Math) - JC1 in 2016

Noah Joel Lopez (physics) - JC1 in 2016
The students received their awards from Senior Minister of State for Defence Dr Mohamad Maliki Bin Osman on 18 April.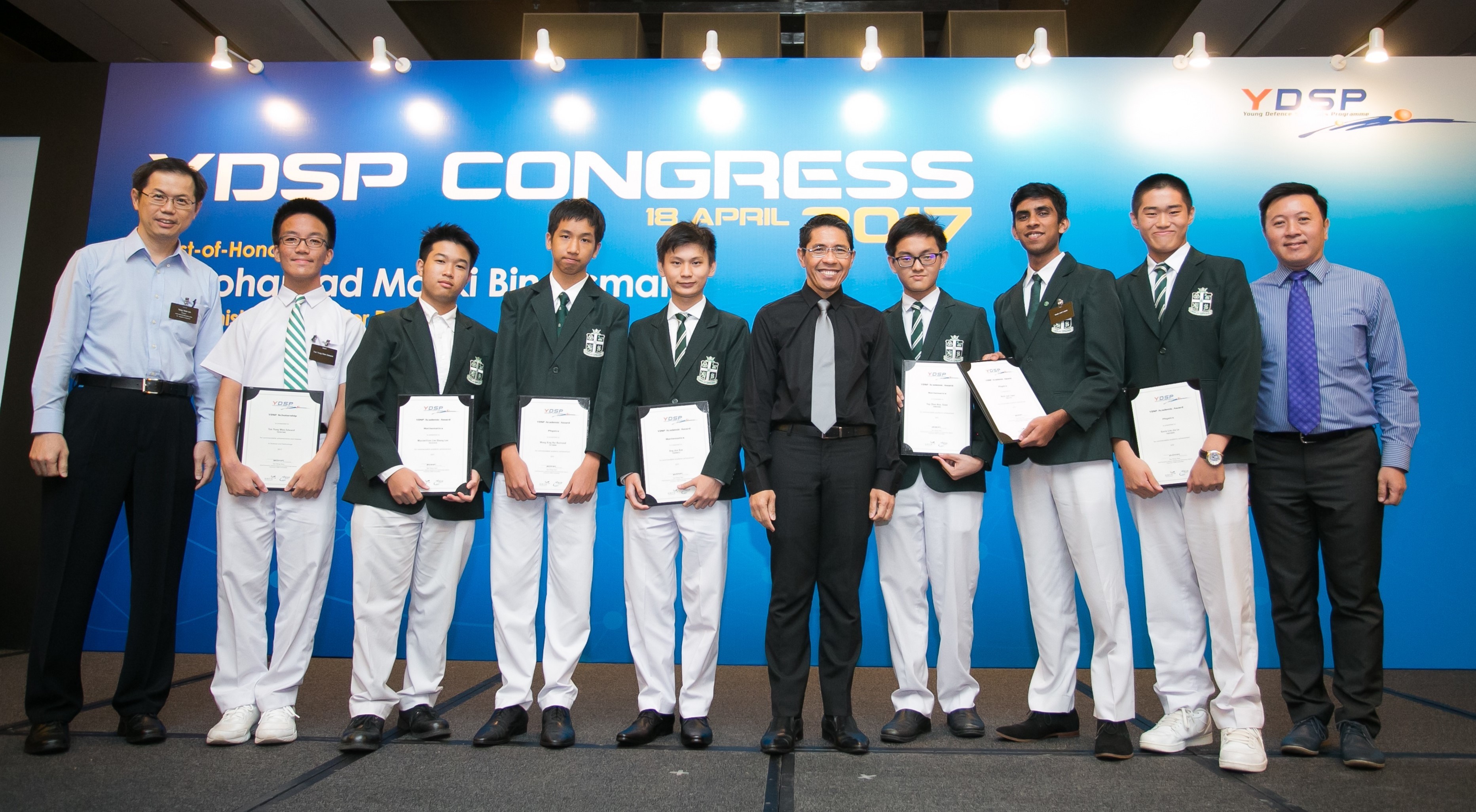 From left to right: Mr Tang Woh Un (Director, IB), Edward Tan (ML303), Maximillian Lim (MN401), Bertrand Wong (FN403), Ong Jun Xun (JC106), Dr Mohamad Maliki Bin Osman, Sean Yap (JC208), Noah Joel Lopez (JC206), Kevin Lim (JC107) and Mr David Kwang (HOD Science, Secondary Section)
---
April: SJI Footballers Are the Champions for South Zone!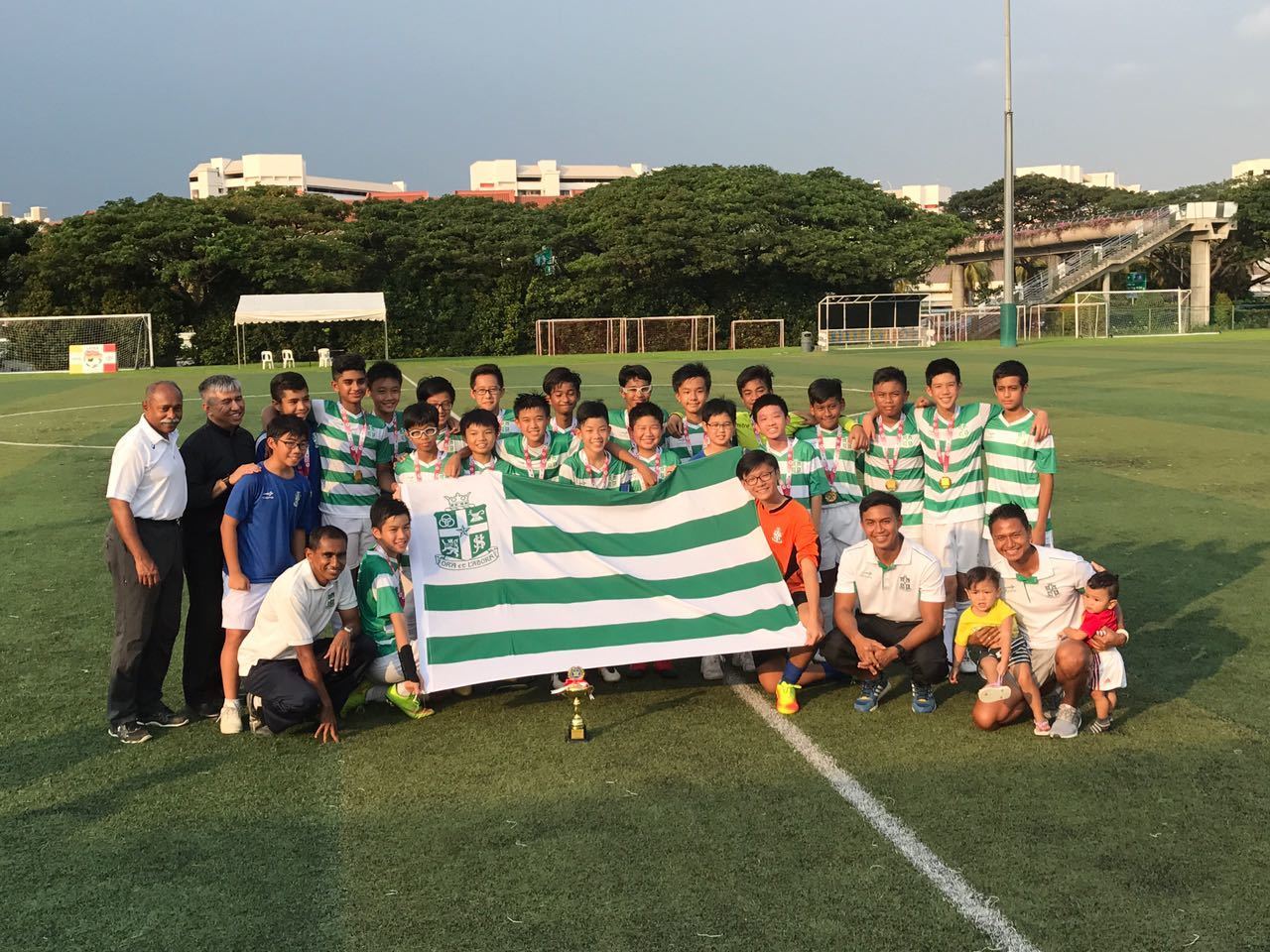 SJI Footballers took home the championship for C Division Football in the South Zone competition on 10 April. The boys scored 4-1 to beat Queensway Secondary, as they took command of the game early, scoring 3 goals before adding a 4th in the second half. The boys will head off to the Nationals after the mid-year exams.
Congratulations to the team and the teachers-in-charge and Coach Kadir for accompanying our team in their training and developing them to become a winning team!
---
April: SJI Scouts Join in St Margaret's Girl Guides Campfire
By Gabriel Tan (FN301)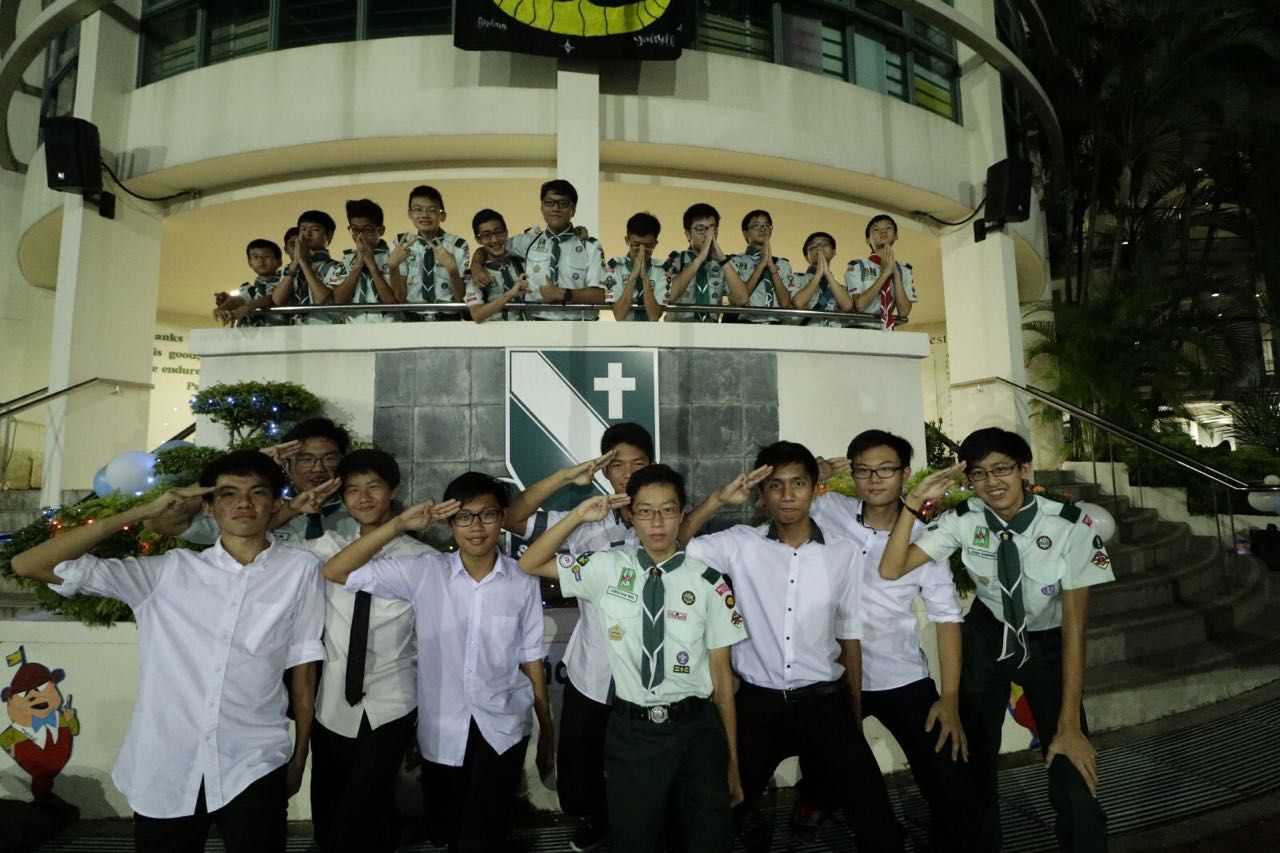 On 8 April, a handful of SJI scouts visited St Margaret's Secondary School to attend their annual Girl Guide's Campfire, which was themed "Alice in Wonderland". The plot was that the modern world and its people were found to be similar to the characters in Alice in Wonderland. For example, Alice was an office worker who was constantly oppressed and abused by her dictator-like boss. The boss was also shown to be similar to the notorious and tyrannical Red Queen. This showed us how we need to stand up for our beliefs as well as make workplaces more fun and conducive.
SJI's Secondary 4 scouts also performed a dance to the song "Stole the Show" by Kygo. Their synchronised and creative dancing won thunderous applause by the guides and scouts who attended the campfire. The event also featured many fun games such as Scavenger Hunt, Musical Chairs and Don't Forget the Lyrics. The Josephians put in their utmost efforts and clinched an overall first place for games.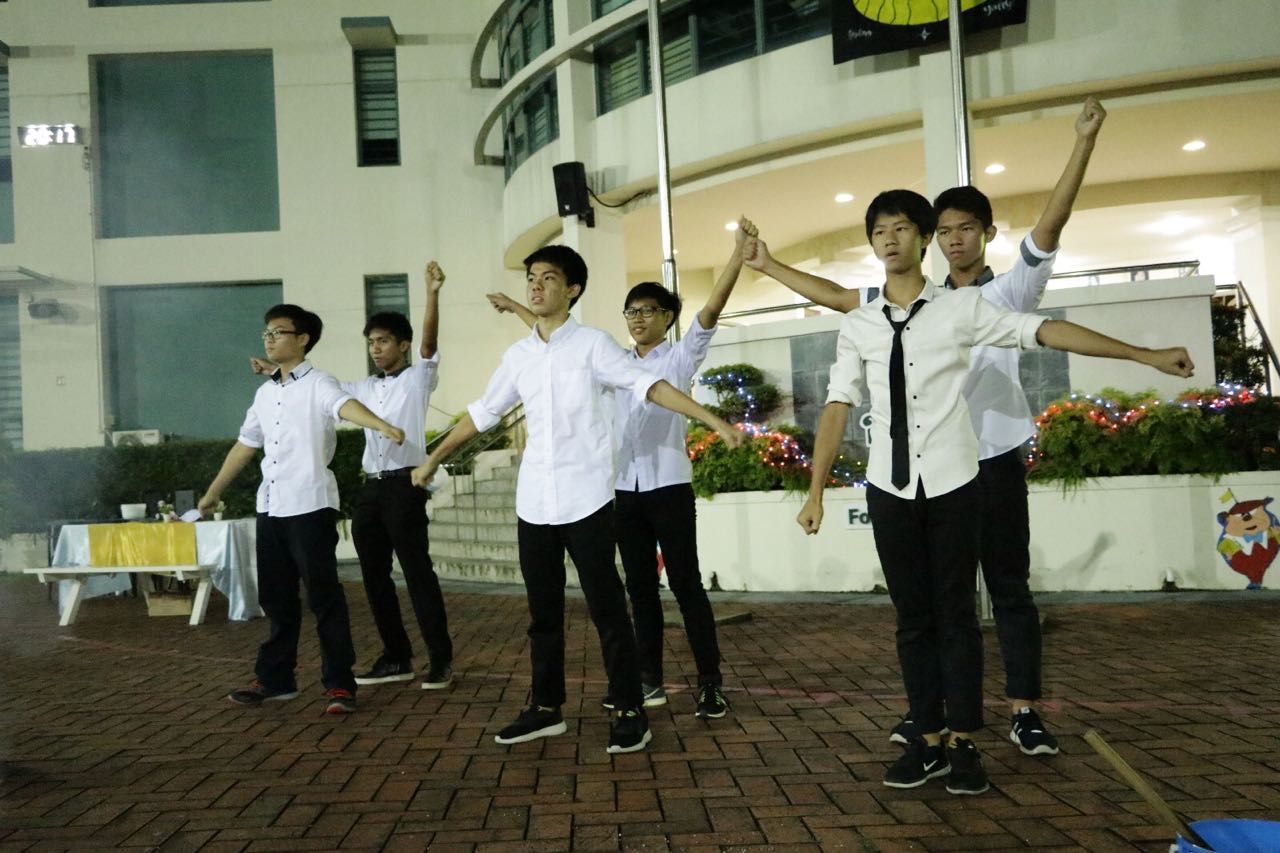 The campfire was very well-run, featuring creativity, innovation as well as a smooth flow of activities in conjunction with the storyline. We went back home with a great sense of achievement, friendships with other scouts and guides and the knowledge on how to run our own campfires in future.
---
April: SJI Alumnus Assumes Leadership Role at SGH
SJI congratulates Professor Kenneth Kwek (Class of 1981) who will become CEO of SGH from 1 May 2017. Prof Kwek is currently the Deputy CEO of SGH and CEO of KK Women's and Children's Hospital (KKH). Prof Kwek will relinquish his role as CEO of KKH and hand over the reins to Professor Alex Sia who is currently Chairman, Medical Board of KKH. Read more about it here.
---
April: Lenten Season - A Season of Fasting, Reconciliation and Alms-giving
Josephians started off their Lenten journey this year with the Sacrament of Reconciliation. This was to help Josephians experience God's love and forgiveness for us through understanding the Lord's passion, death and resurrection.
On Maundy Thursday, the SJI family gathered to remember and journey with the Lord during His Passion, Death and Resurrection. The solemn remembrance started with the washing of the feet, the re-enactment of the act of love by Jesus for His Twelve disciples on the night of The Last Supper.
The boys started their Easter Triduum with Maundy Thursday Mass and journeyed together with their respective Catholic CCAs on their visitation to the various churches in Singapore. They returned for the night, and continued their Lenten vigil with an early hour Stations of the Cross, which was followed by Good Friday Service. A blessed tiredness that is not only fulfilling but a spirit-filled Lenten Vigil for them.
The Catholic parents also embarked on a Lenten Project during this season of giving with "Eating soup for the Poor" – where they cooked and sold various wholesome soups for the Josephians, to prepare them for their Lenten sacrifices over two Fridays. The sale of soup was to raise funds for the needy.
---
April: SJI's PRISM Raises Funds and Adopts "Louis" from the Riding For The Disabled Association of Singapore
Funded by Citi Foundation and organised by YMCA, Citi-YMCA Youth For Causes (YFC) aims to promote social entrepreneurship among youths and encourage youths to play an active role in making a positive impact on society. Across Singapore every year, 100 teams of four members engage on this meaningful journey to support a voluntary welfare organisation (VWO) of their choice with a seed fund of $1,600. In 2016, nine teams from SJI represented PRISM, a social entrepreneurship club in SJI's senior section, successfully raising close to $50,000 for their chosen VWOs.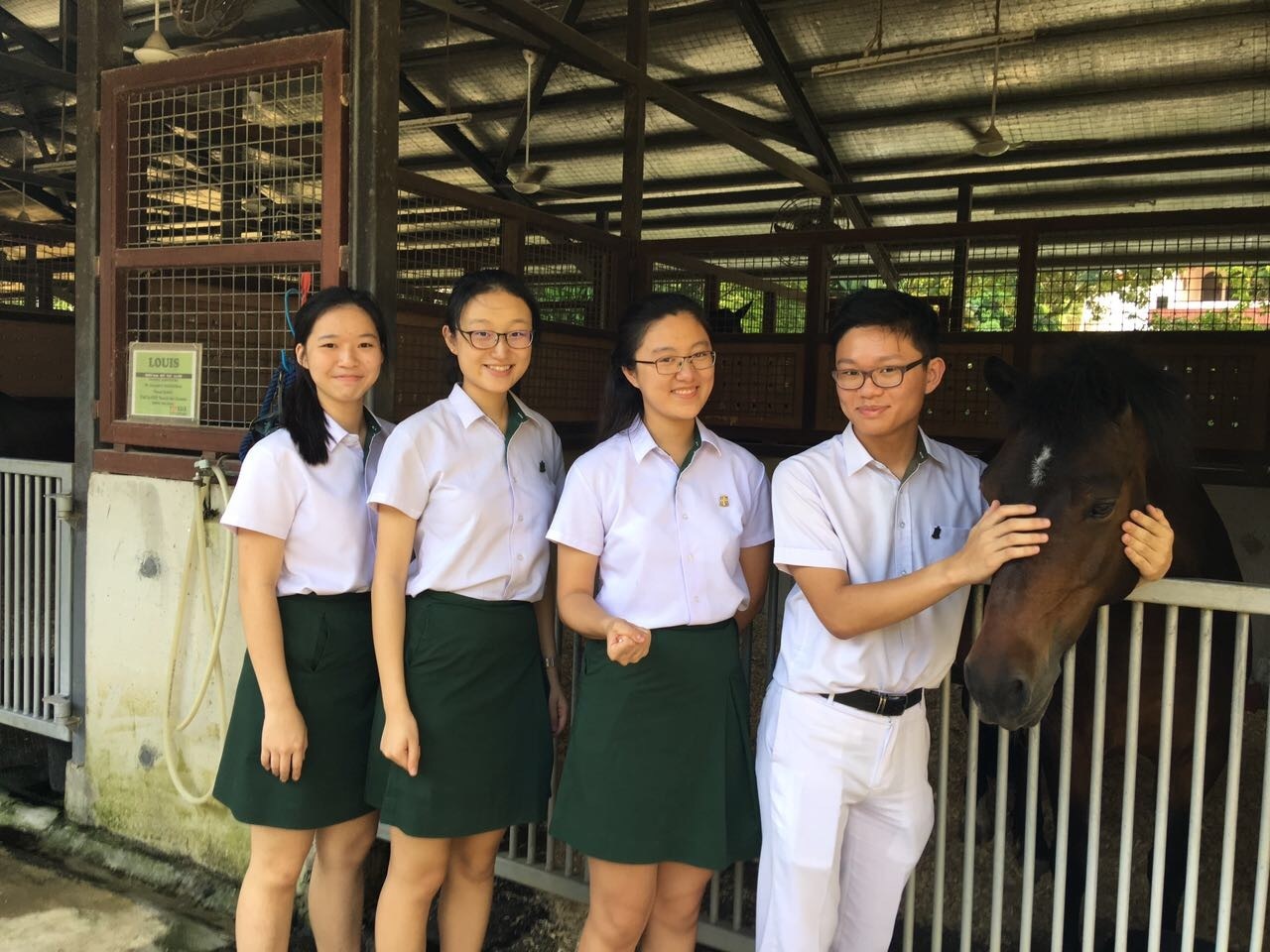 From left to right: Joelle Tan Hwee Inn, Peng Lihong, Li Zijian and Mark Wee Yi Ren
In particular, Team IGNITE from PRISM managed to use the $1,600 seed fund to raise over $12,000 for their chosen VWO, Riding For The Disabled Association of Singapore (RDA). Over a six-month period, Team IGNITE organised a whole host of activities such as street sales, where Team IGNITE designed and sold a range of merchandise, successfully raising funds and awareness for RDA. The efforts of Team IGNITE were not in vain and they eventually succeeded at accomplishing the seemingly inconceivable goal of raising $12,000 to sponsor a horse for one year. Team IGNITE consequently proudly adopted Louis, an affectionate yet athletic horse, who will provide free horse riding therapy for the disabled. They paid him a visit on 11 April 2017 at RDA Centre and the bond was special. When asked to sum up the YFC experience, Team IGNITE agreed that although the journey was challenging, it was a very enriching and fulfilling one.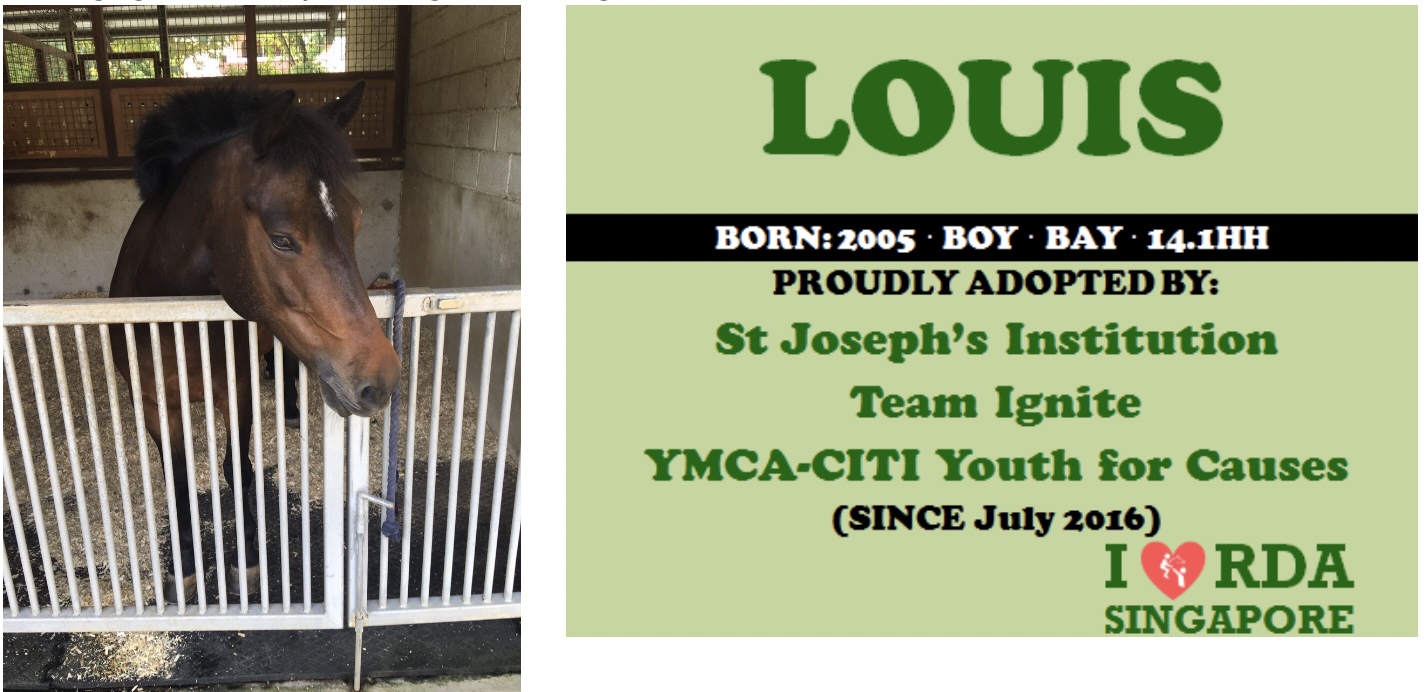 ---
April: Marching On at the 165th Anniversary Parade
This year's Anniversary Parade on 7 April is historic, as it marks the 165th anniversary of SJI's founding as a school as well as our return to home to Malcolm Road campus after three years of redevelopment works. We were privileged to have our Guest of Honour - alumnus BG Paul Chew (Class of 1988), Director of Military Security (MINDEF) to grace this parade.
The 165th Anniversary Parade honours our Uniformed Groups (UGs), whose members have contributed to the ongoing development of SJI. Their efforts were built on the earlier work of Josephians. This is how we have built SJI over the years: each batch of Josephians adding to the SJI story; every Josephian making a contribution to help SJI develop further and better.
At this parade, we also witnessed the Change in Command from the seniors to their juniors. This marks the passing on of command and stewardship. Just as the seniors have led each UG well by building on the strong foundations, the new commanders are called to add on to what has been achieved and to take their UGs even further. They now have the task of continuing the good work each UG has accomplished this past year as evidenced by the many awards of excellence they have all garnered at the national level. These new commanders have the task ahead to nurture their juniors and their units to strive for greater heights. It is how Josephians have always made a difference and helped the school move forward and upward.
Many gathered in SJI for this year's Anniversary Parade at Malcolm Road. Our coming together testifies to the strong Josephian Spirit we share. As our senior members step down from leadership and our juniors step up to command, let us support them in the Josephian Spirit that binds us together but that also invites us to keep striving to change for the better as we look ahead with hope to the next 165 years of Josephian education.
---
April: SJI Celebrates 165th Founder's Day
By Shriharan S/O Ganesan (FN301)
This year marks SJI's 165th anniversary, a milestone to celebrate 165 years of the De La Salle Brothers' presence, progress and achievements in Singapore.
On 7 April, the Church and the Lasallian family worldwide remembers the death anniversary of our Founder, St. John Baptist de La Salle. The day began with a mass celebrated by Fr Adrian Danker, and Friar Michael D'Cruz gave his homily and invited the students to reflect on their lives in SJI. For the secondary and JC1s, a new chapter of their lives had unfolded when they joined SJI this year, while the secondary 4s and JC2s reflected on their SJI journey that they have endured with their peers, teachers, and family.
The celebrations continued with the Founder's Day ceremony. The former Scout Leader of the Scout Troop, Mr James Tseng Yan Li (also known as Pelandok) was our Guest of Honour. Students who had clinched stellar results in their academics and sports through their diligence, conscientiousness and enthusiasm in the past year were presented with awards. It was undeniably an honourable moment for these students and their parents who were present to contemplate awards being bestowed upon their child. Peers of these students cheered their award-winning schoolmates as their made their way up on stage to collect their well deserved prizes.
---
April: SJI Commemorates International Friendship Day
SJI commemorated International Friendship Day (IFD) on 3 April. The theme for IFD this year is ASEAN 50. This day brought Josephians, staff and parents together as they learnt about the importance of good relations with our neighbours and beyond, and how these relations cannot be taken for granted. During assembly, our International Josephians put up a skit to showcase the importance of how to relate well with people from different cultures, both within Singapore and in the world. The parents also set up stalls featuring food from ASEAN and different parts of the world.
---
April: SJI Gymnasts Win Individual all-around B Division Gymnastics Titles
We congratulate our gymnasts who came in 2nd in the C Division and 3rd in the B Division Gymnastic competitions (National Trampoline Championships). Well done, boys!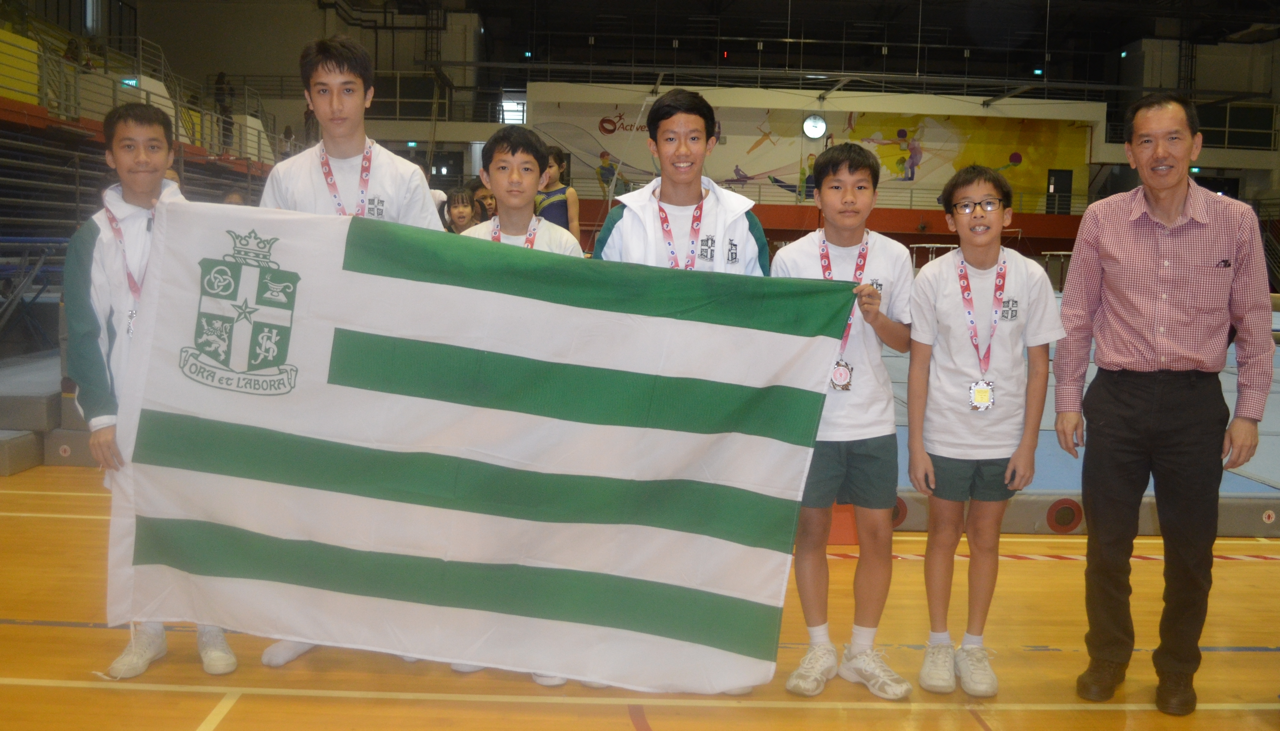 Trampoline (C Division) - 2nd in position
Team members:
CHAN JEUN GWONG

LEE JIA JIE JONATHAN

OWAIN CHONG BOON KHAI

RANDAL JAMES WALLACE

SAMUEL CHAI CHIH HONG

WONG YI FENG DAVID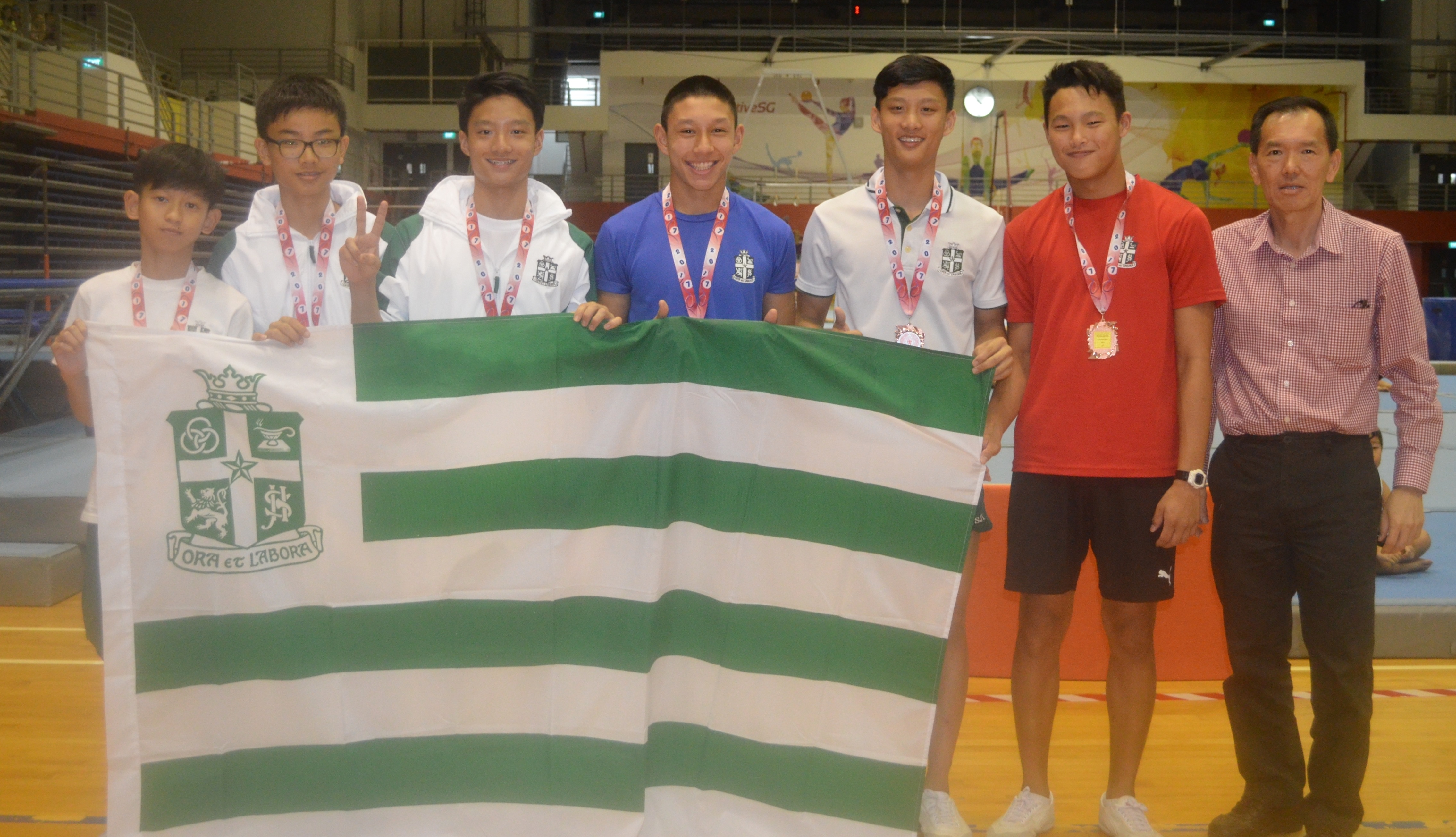 Trampoline (B Division) - 3rd in position
Team Members:
LIEW JUN YI, ZAC

LIEW JUN CHENG, ZON

JIBREEL KHALEEL HUSSEIN ABO AL THININ

RACHMIEL TEO REN XIANG

LIM JUNYING KEANE

JOSHUA JAMES CHONG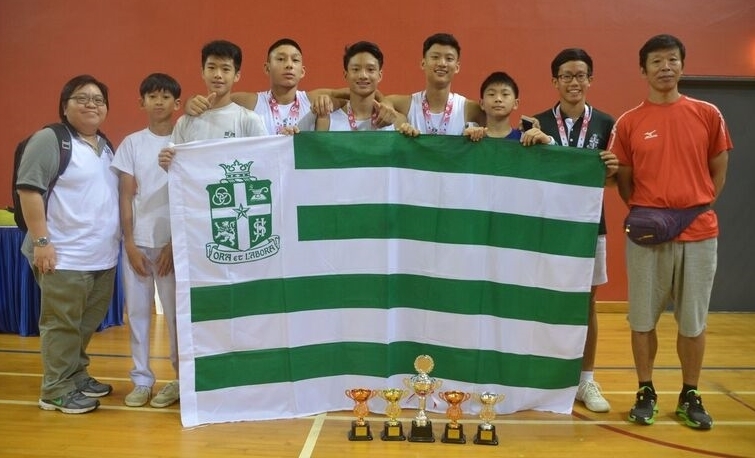 Artistic Gymnastics (C Division):
- 2nd in position for All Round
- 2nd in position for Floor Exercise, Parallel Bar and Rings (3 out of 6 events)
Artistics Gymnastics (B Division):
- 1st in position for All Round
- 1st for Floor Exercise
- 2nd for Parallel Bar, High Bar, Pommel Horse and Rings
- 3rd for Vault
JIBREEL KHALEEL HUSSEIN ABO AL THININ
- 3rd in position for All Round
- 1st for Vault
- 3rd for High Bar
- 3rd for Parallel Bar
- 3rd for Pommel Horse
Click here to read more.
---
April: PRISM Wins Finals of Youth Innovation Challenge 2017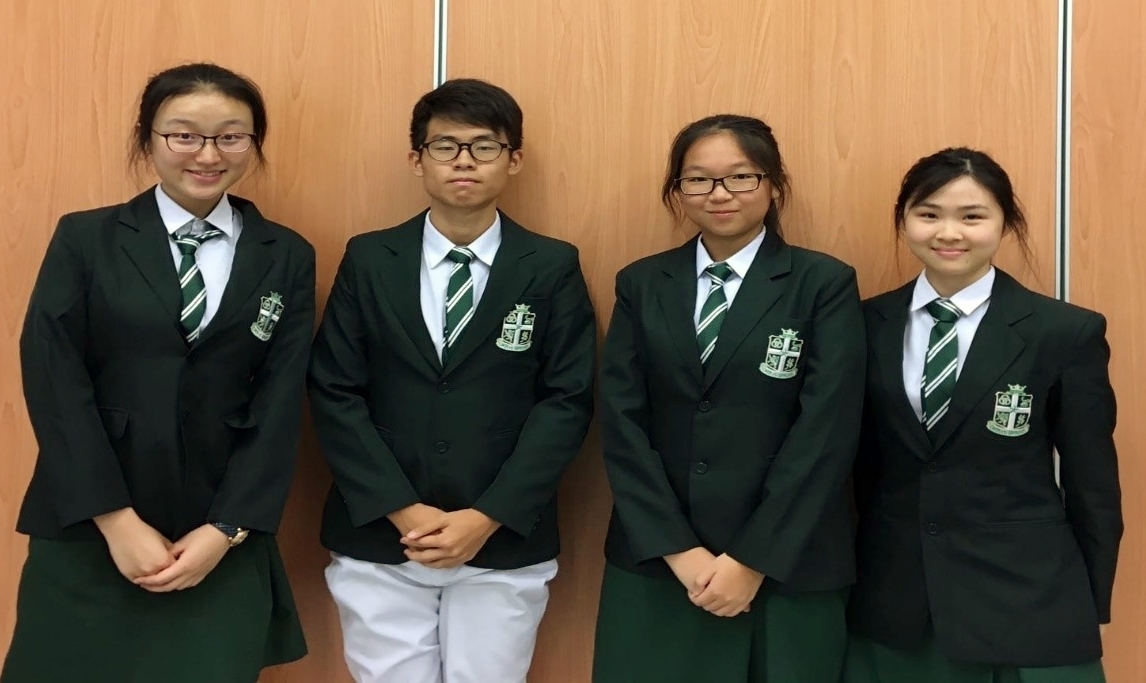 Team Insight, comprising four PRISM members from JC2—Peng Lihong, Na Byung Hee, Natasha Wong and Cho Mei En (from left - right in the photo insert)—has succeeded in entering the final round of the 2017 Youth Innovation Competition organized by the Singapore Management University (SMU). The team competed against the other top schools in Singapore on 1 April 2017 and they clinched the most comprehensive business plan award, winning for themselves $1,500 cash and a trophy.
The competition serves as a platform for entrepreneurs of tomorrow to showcase their ideas, business plans and entrepreneurial talents and attract potential seed funding to further their social enterprise ideas. The team is passionate about the ageing population problem in Asia including Singapore. They worked throughout the December holidays and, eventually, came up with a multifunctional and wearable smart device that provides navigation assistance, facial recognition, emergency alerts and general age support functions including vocalizing small‐worded text to the elderly. The business pitch originated from the pressing concern of an impending 'Silver Tsunami' in Singapore, which will strain the country's financial resources as healthcare costs rise exponentially with rapidly deteriorating mobility, hearing, vision and memory among the elderly.
The Team hopes that their product will one day become commercially viable and help the elderly remain more mobile and independent as they age. They believe this will help arrest many of the age‐related ailments like dementia with a less sedentary lifestyle. As the team continues to prepare for the final round of the competition, they agree that the business fundamentals that they have learnt and the experience gained are invaluable. This is best summarized by one of the members of team, who said, 'We have grown so much along the way, and regardless of the result, we will always cherish the experience we have gained, continue passing on the flame of our faith in our community, and most importantly keep working hard for the sake of a better world.'
---
March: Elliot Ng Represents NFA U18 Team in Jockey Club International Youth Invitational Football Tournament
Ng Shao Han, Elliot (JC204) was selected to represent the NFA Under‐18 team in The Jockey Club International Youth Invitational Football Tournament in Hong Kong from 16 – 20 March 2017. The youth football tournament will also see high quality opposition teams from Taipei, Thailand, Qatar and Hong Kong participating as well.
---
March: SJI Guitar Ensemble Learns From Japanese Master Conductors
By Law Bing Feng, Keith (MN 401), Vice President, SJI Guitar Ensemble (2016-2017)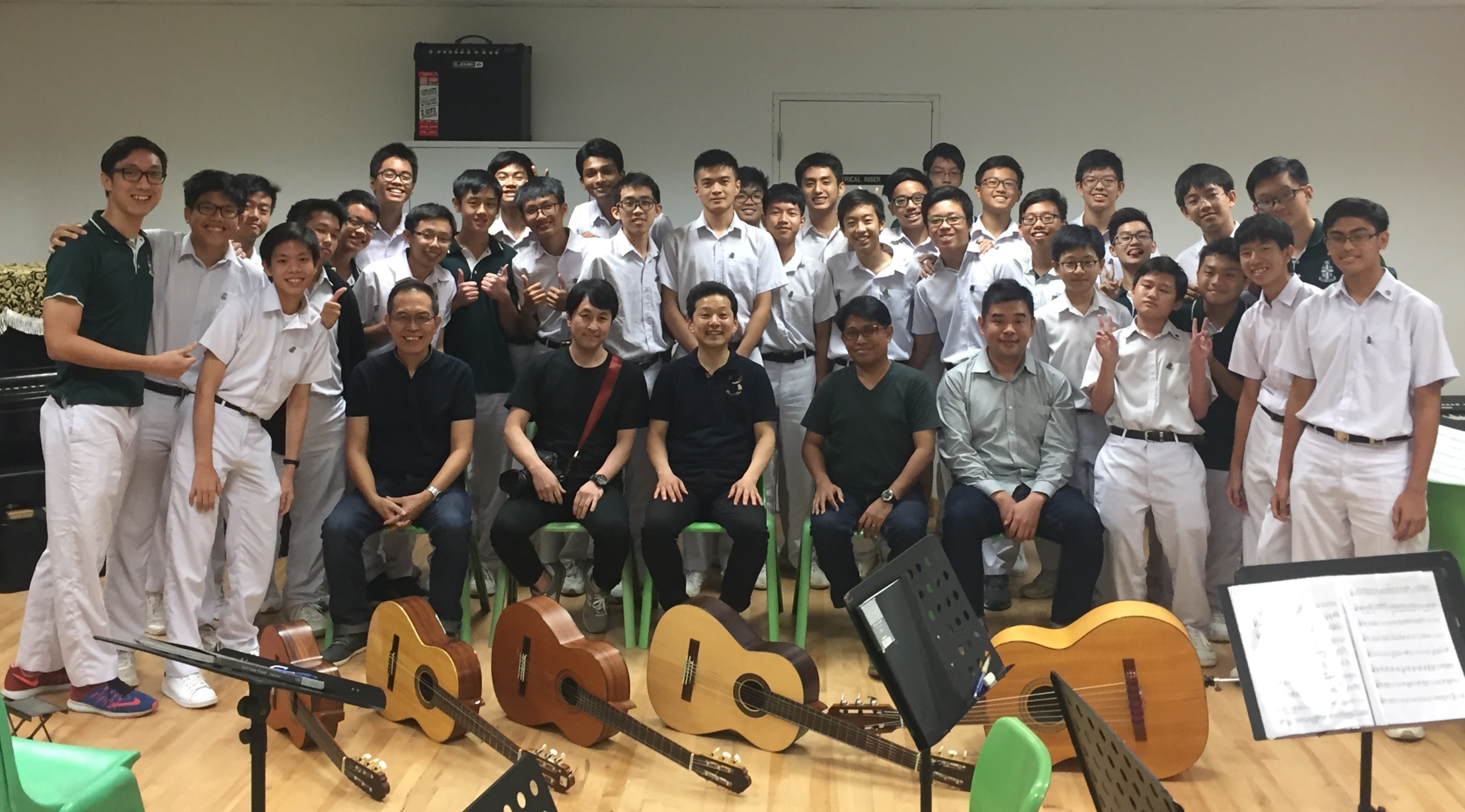 On 14 March 2017, two distinguished guitar instructors from the International Niibori Music Academy based in Kyoto, Japan, Mr Kazuyuki Terada (Chief Conductor) and Mr Yoshinori Takeuchi came to SJI to conduct a professional masterclass to help the SJI Guitar Ensemble prepare for the upcoming Singapore Youth Festival (SYF) Arts Presentation.
Working on our two performance pieces, Summer's Wind and Big Band Medley (arranged by Mr Jiro Hasabe and Mr Micheal Gaspar respectively), the two master conductors helped to take the pieces to a whole new level. From adding new layers of expression to fine-tuning our playing techniques wherever possible, the two masterclass instructors' expertise clearly spoke for itself.
Minor details such as our string attack position to slight tempo inconsistencies were all picked up and swiftly rectified by the conductors, with our music quality showing an obvious and immediate improvement under their guidance. Under their unique and interesting style of guidance, the SJI guitar ensemble indeed learnt a lot during the 2-hour experience and improved our techniques tremendously in ways that we did not expect. The two instructors undoubtedly provided a large stepping stone towards our SYF performance.
---
March: SJI's Paddlers win 2nd place at South Zone Table Tennis Competitions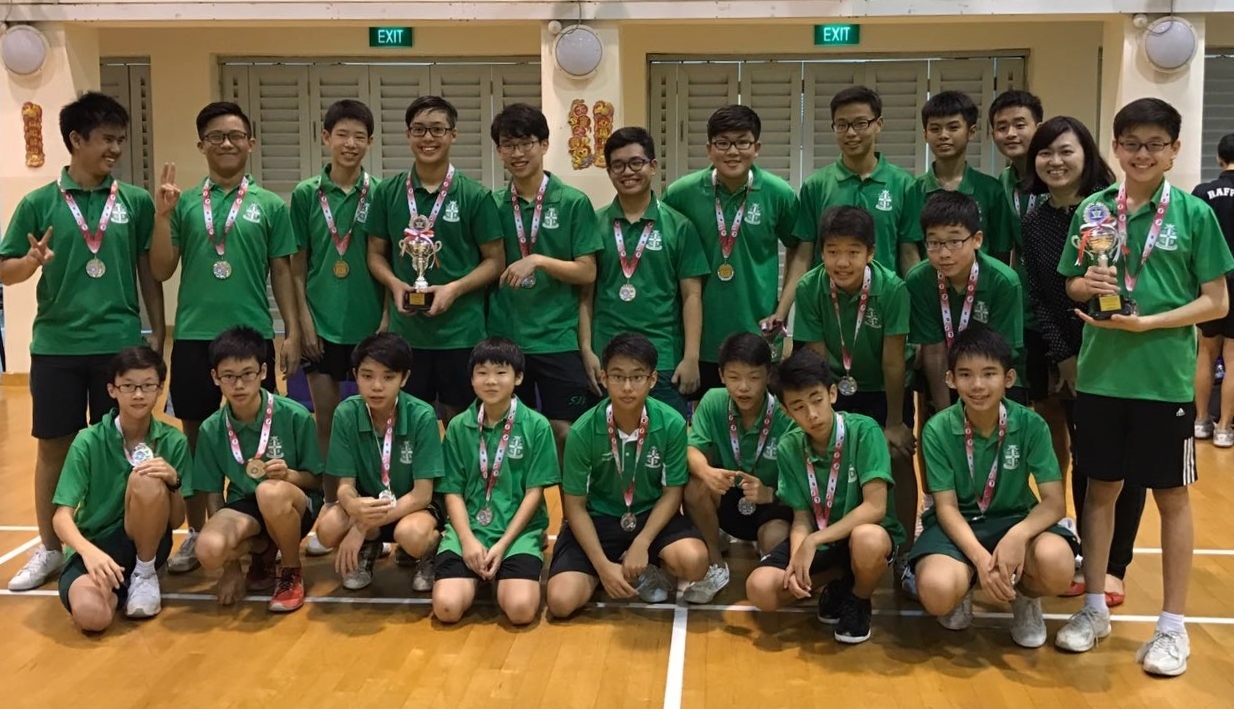 SJI's Table Tennis teams took home the 2nd place in both the B and C Division titles at the South Zone Competition. Their win brings them to the next match at the national level. Well done boys!
---
March: Alumni Recognised As Singapore Polytechnic Model Students
Mr Gabriel Tay and Mr Ajay Pillay (Class of 2013) have been presented with the Singapore Polytechnic Model Student Award for their outstanding academic achievements, exceptional leadership and character as well as significant contributions in their co-curricular activities.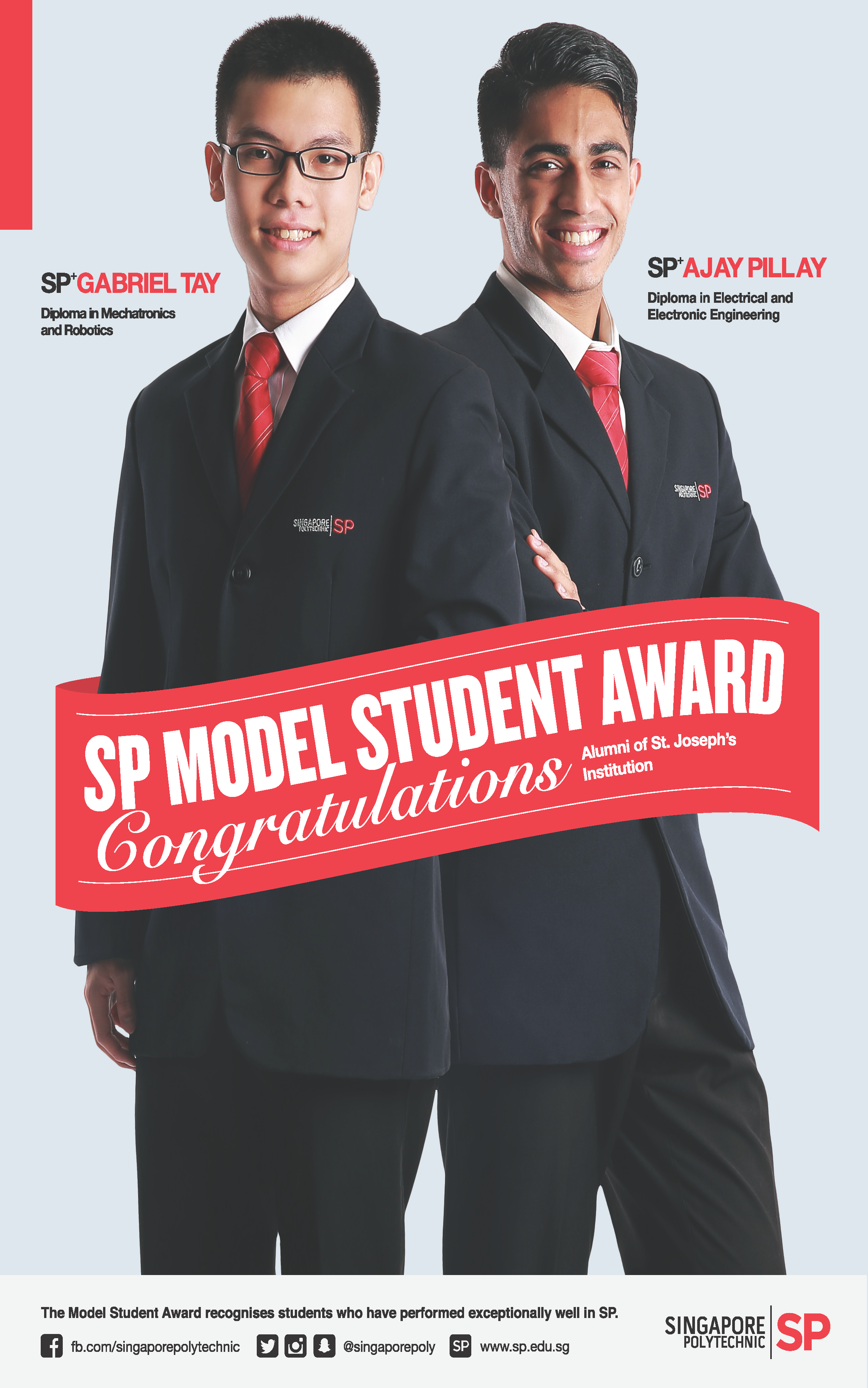 ---
March: Deaf Alumnus Overcomes Disability to Pursue Medicine
Alumnus Joseph Heng from Class of 2002 was born profoundly deaf. A cochlear implant at 12 helped him to hear speech clearly, although he struggles to isolate sounds in noisy environments. To live like us, he has adopted strategies to live, study and work well. In spite of his disability, Joseph has done exceedingly well in life, graduating from SJI with a string of As at the 'O' Levels, at JC and university. Today he is a doctor, completing studies in internal medicine at The Johns Hopkins Hospital in America. Read more about his story here.
---
March: Growing with and through each other at the Catholic Day of Recollection
By Bro Kelvin Tan, FSC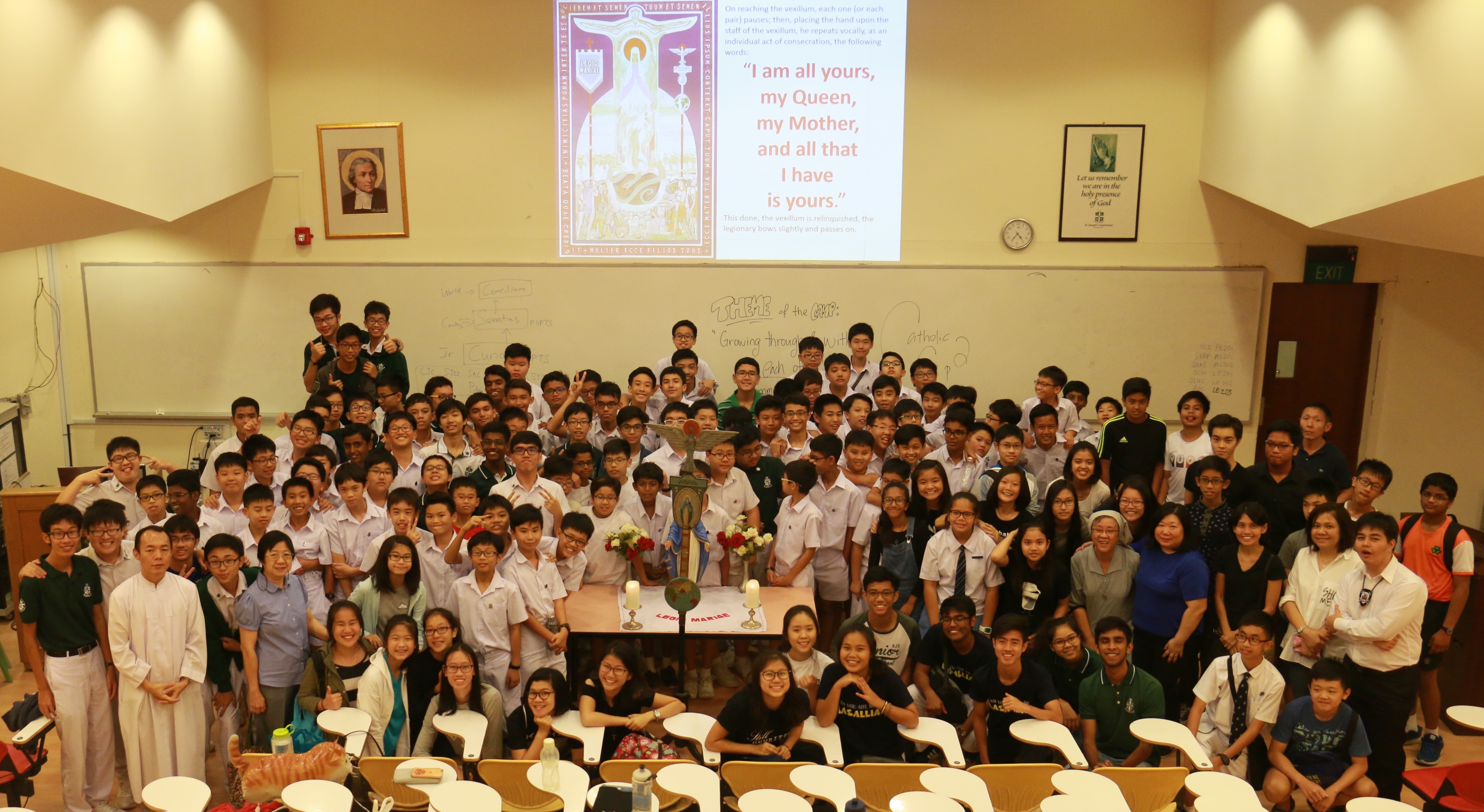 "Growing with and through each other" was the theme for this year's Day of Recollection on 11 March. It was aptly chosen by the Catholic student leadership team from the various Catholic CCAs. One of the objectives of this day was to encounter God by getting to know one other well, from the Sec 1s to the Sec 4s. It is part of the faith building process where every Josephian tries to support each other in their growing journey. One of the highlights of the day was the newly minted Sec 1s witnessing the investiture of their upper secondary leaders with the pinning of the badge by their respective CCA teacher‐in‐charge. The camp was followed by a consecration to our Mother for the year. It ended with the Eucharist celebration.
---
March: Mass Swim
By Nge Chi-E (MN302)
The 2017 mass swim was held on 8 and 9 March at the Yio Chu Kang Swimming Complex. The blaring sound from the air horn indicated the start of the event, and students started swimming towards the other end of the pool. Some glided through the water with swift strokes, competing against each other or aiming for their personal gold. Others swam alongside each other at their own pace, bonding with each other and sharing a good laugh. Josephians cladded in uniform and their respective Fraternity shirts sat at the spectator stand to cheer for their classmates.
---
March: The SJI Spirit Rained at 109th Annual Sports Meet
By Caleb Chan Jing‐Rei (FN301)
The 109th SJI Annual Sports Meet on 3 March saw Josephians from the fraternities of Fintan, Lawrence, Marcian, and Michael come together to cheer for their houses and the runners of each race. Coloured flags waved in the air and loud choruses of cheers, stomps and singing could be heard from students with fraternity‐coloured painted faces throughout the Bishan stadium.
From the 50m dash to the 4x100m relay, each event had Josephians close to the edge of their seats watching the races in anticipation. Students from SJI International and St. Patrick's and friends from Rainbow Centre also dropped by our Sports Meet for a friendly relay. Although the rain came down on our parade that day, the downpour did not dampen our spirits; Josephians remain united, supporting the runners right till the end.
---
February: SJI's Shuttlers Win 3rd Place at South Zone Competitions
By Yap Jing Hui Edmund (FN201) and Ambroise Matthew Notorahardjo (LE301)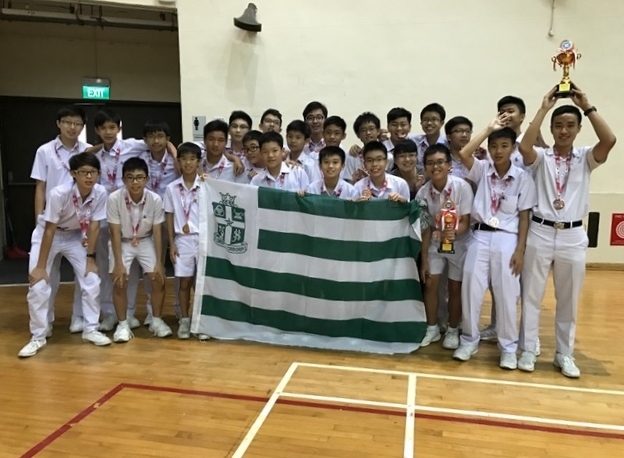 It was a nail-biting and intense match on 28 Feb as both our SJI B & C Division shuttlers met their competition from Ang Mo Kio Secondary School and ACS Barker respectively.
The cheers that supported the players almost brought the house down as both teams battle it out on adjacent courts. The true Josephian fighting spirit was witnessed at every single turn of the game. With determination and perseverance, our C Division players beat ACS Barker boys with a score of 3-2, clinching the coveted 3rd place in the South Zone competition.
"SJI! SJI!" – was the glorious cheer that began our game. For every point scored, cheers echoed across the hall from the SJI boys. Knocked out from Top 4 position in the previous year, the Josephians were eager to win back the title. Initially losing to Ang Mo Kio Secondary School 2 - 0, the determined boys struck back with a vengeance to win 3-2, after an intense match. With their heads held high, our shuttlers left the court gloriously with a 3rd position placing in the South zone games, proud that they had exceeded all expectations.
---
February: Alumni Assume New Appointments in Supreme Court
SJI congratulates its alumni on their new appointments in the Supreme Court with effect from 1 April 2017. Justice Steven Chong Horng Siong (Class of 1975) will be appointed Judge of Appeal, and current deputy Attorney-General Tan Siong Thye (Class of 1970/72) will take on the role of High Court judge.
| | |
| --- | --- |
| | Justice Chong was appointed Judicial Commissioner in October 2009, and a High Court Judge in June 2010, after more than 20 years in private practice. He assumed the position of Attorney-General on June 25, 2012, and he was re-appointed as a Judge of the High Court on June 25, 2014. |
| | Mr Tan, who joined the legal service in 1979, was previously prosecutor in the Attorney-General's Chambers, Director of the Commercial Affairs Department and Chief District Judge of the then-Subordinate Courts. Mr Tan was appointed Judicial Commissioner in October 2013 and was elevated to the Bench in July 2014. He assumed his current position as deputy Attorney-General of the Attorney-General's Chambers (AGC) in February 2015. |
Photo credit: The Prime Minister's Office
Click here for the full press release from the Prime Minister's Office.
---
February: Alumni Awarded Singapore Polytechnic Scholarships
SJI congratulates its alumni Gabriel Tan Wei Yang (Class of 2008) and Ryan Tan Hong Liang (Class of 2014) for being awarded Singapore Polytechnic Scholarships in Nautical Studies and Aeronautical Engineering respectively.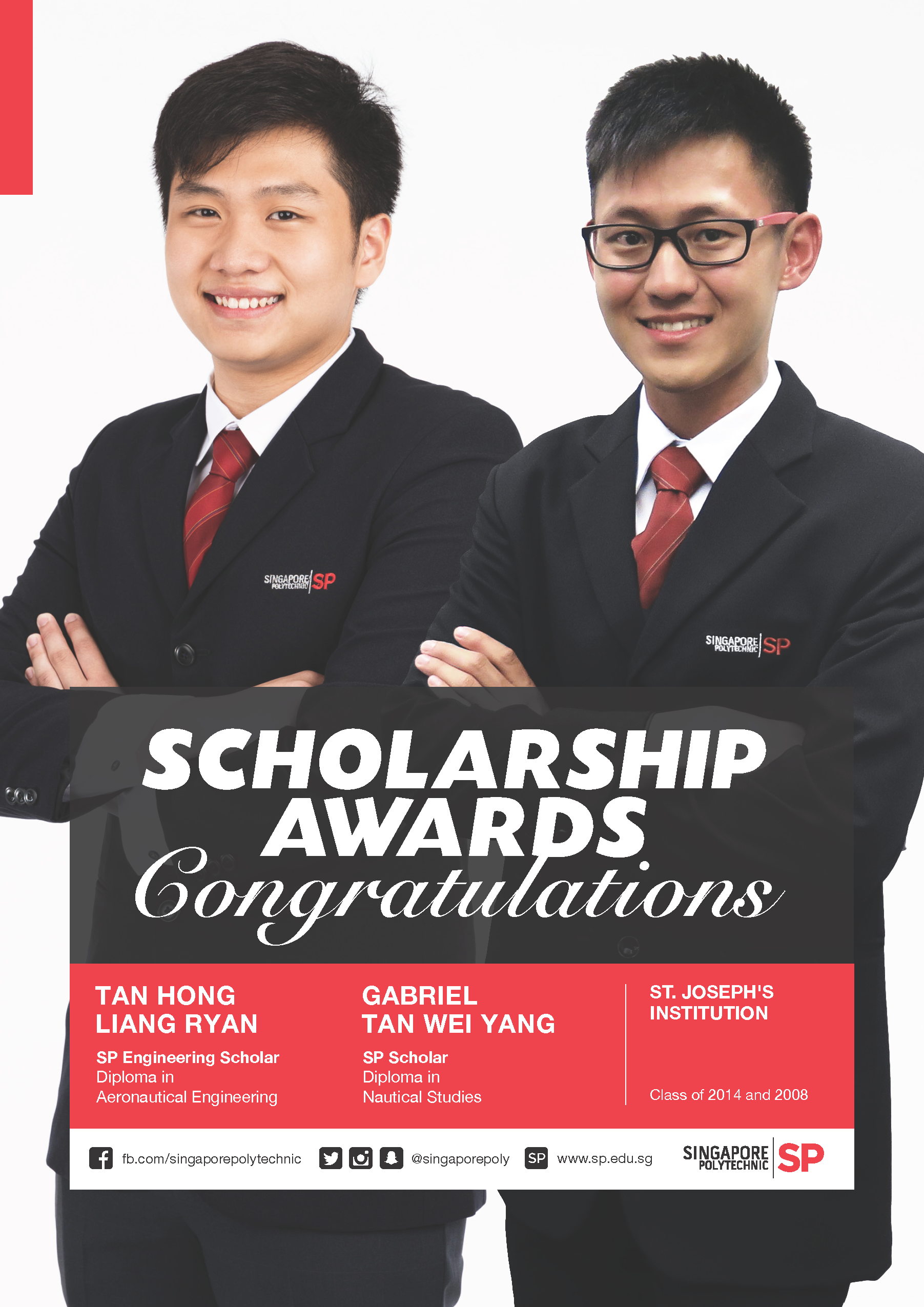 ---
February: SJI Art Teachers Host Learning Journey for Beginning Art Teachers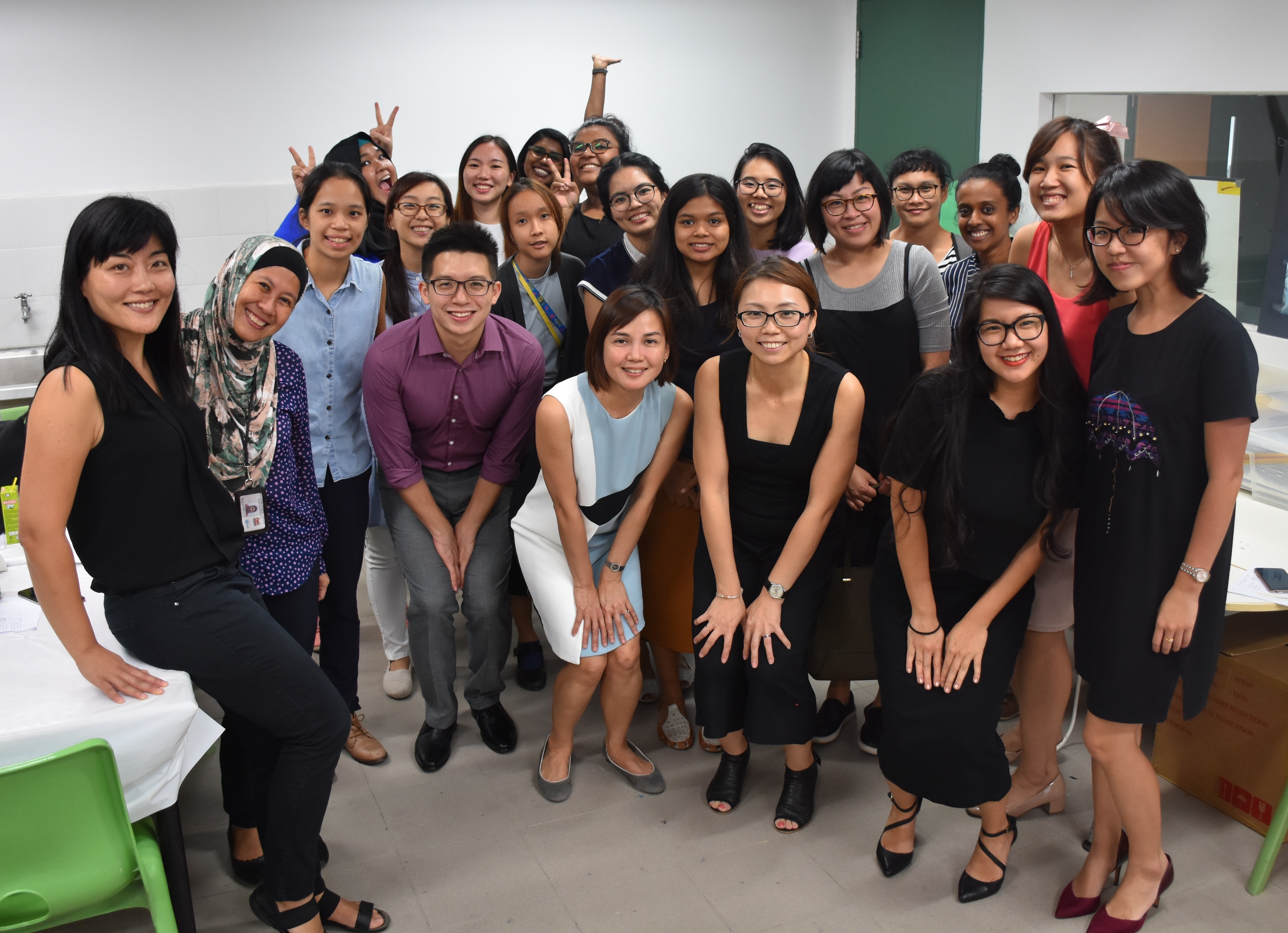 Mrs Vivian Tan and Ms Yasmine Chan hosted the Singapore Teachers' Academy for the aRts (STAR) Beginning Teachers' Learning Journey on 27 February 2017. The beginning teachers benefitted from their generous sharing of their good practices and their mastery of the subject.
---
February: What It Means To Be A Josephian
SJIOBA organized a talk on 23 February for the freshly enrolled Secondary One boys to meet the alumni who shared their thoughts on "What It M eans To Be A Josephian". The interactive session was to help the students in their formative years to become exemplary Josephians and also to appreciate the rich heritage of SJI.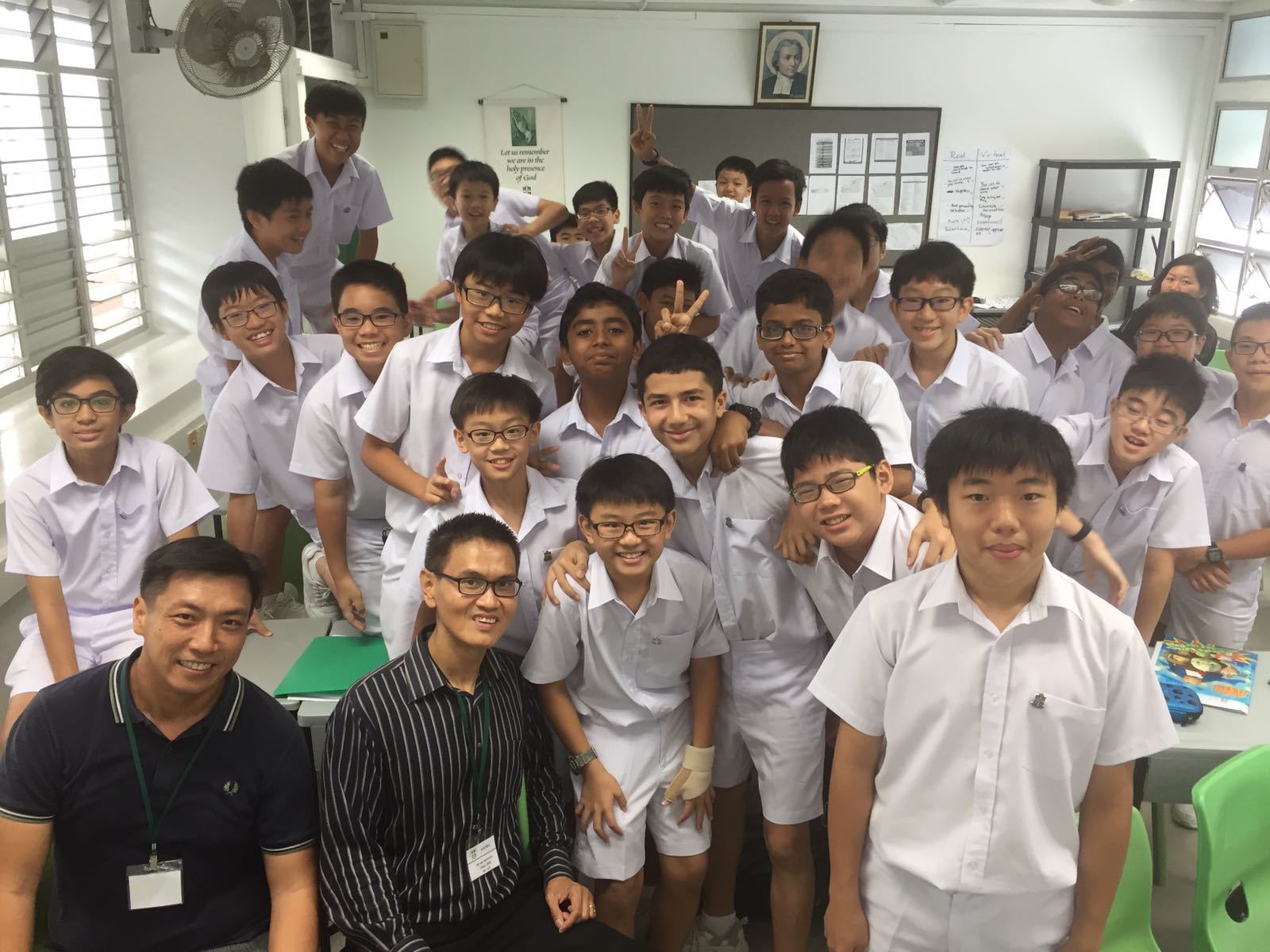 Simon Seow (Class of 2000) who shared his Josephian experiences said, "Speaking to the Secondary 1s brought back a lot of memories for me. It was like speaking to my younger self. I see their character peeking through their shy or boisterous exteriors. The students were interested to know about what extra-curricular activities to join. I brought my old band gloves, photos, and memorabilia to show the fun we had then."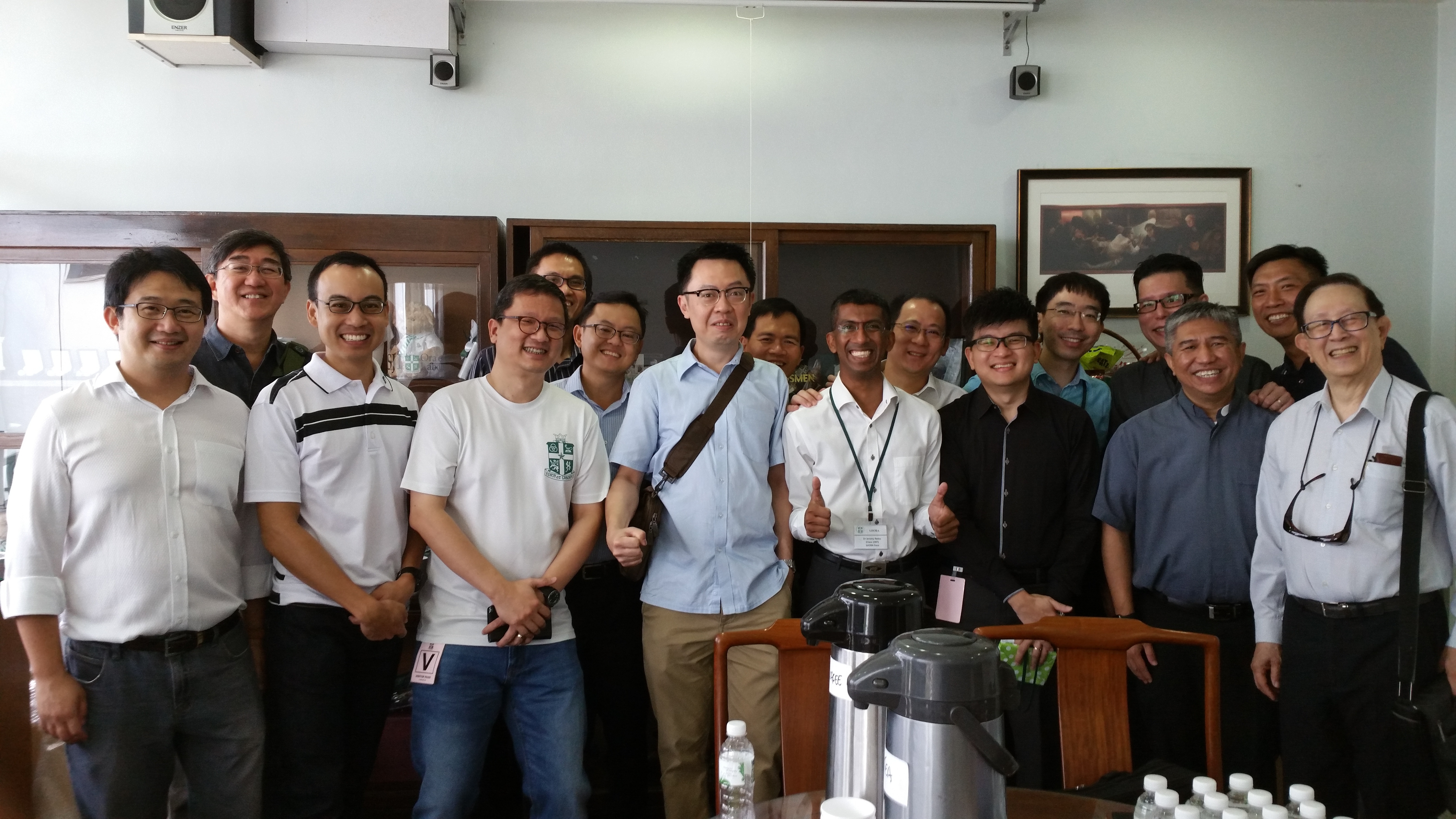 ---
February: SJI Commemorates Total Defence Day
SJI was honoured to have alumnus LTC Alvin Tjioe (Class of 1997) commemorate Total Defence Day with the Josephian family on 13 February this year. With the threat of a light drizzle, the school community felt his humility even with his commanding voice, as he shared his love for the country. SJI has played a special part in shaping him to become who he is today, through his time in NCC (Land) and the Peer Support Programme. A Lieutenant Colonel with a heart for his soldiers, he shared what it takes to be a good citizen and a Josephian, to have resilience, and to be grateful for the racial harmony that exists in Singapore. Josephians also observed a minute of silence in remembrance of the 16 Brothers who lost their lives for the sake of God in the Manila Massacre in 1945. This was followed by the sound of the solemn bugle to signify that we should not take our defence for granted.
---
February: SJI Celebrates Home Coming to Malcolm Road
The highlight of our celebrations was the SJI Inaugural and Homecoming party on 10 February, where SJI had its first ever picnic cum night party for students and staff. Josephians danced and cheered against an array of glowing house colours on the walls where our St John Baptist de La Salle statue now stands.
Maretta Simon (JC106) shared, "Homecoming has never been as great – the live band, the atmosphere, and of course, the people were beyond amazing. It was a stellar night of performances which will be tattooed in the memories of every Josephian. Everyone was caught in the moment of pure joy; Josephians sang in unison to their hearts' content, and this sight was truly heartwarming. Not only did we see the physical bond between fellow Josephians, but the sense of being welcomed was heartfelt too. We have indeed come home."
---
February: SJI's Pelandok Scouts Holds Joint Event with St Margaret's Girl Guides
By Sanskar Gupta (FN401)
On 3 and 4 February, the St. Joseph's Pelandok Scouts Troop held a combined activity with the Girl Guides from St. Margaret's Secondary School. As scouts, one of our laws and a core objective is to make friends, as well as establish and maintain harmonious relations, which was our main objective of this event.
We kicked off the first day with icebreakers at St. Margaret's Secondary School, followed by a host of interactive and teambuilding games. As the day came to an end, the groups were then given time to prepare for their items for the gangshow, which would be held on the next day.
The groups started off the second day with pioneering, the main activity of the day. This was an opportunity for the participants to build the structure they had planned for, as well as strengthen relationships within and between the groups. This was followed by a few games for the guides and scouts to enjoy before the gangshow. At the end of the combined event, the groups were given time to present their items.
---
February: Terra Nova: Exploring the New Lands of SJI
By Audrey Tung (JC106)
On 3 February, 275 Junior College One (JC1) students came together for the very first time and were tasked to explore their new territories on S‐J‐Island. It was not long before new friendships were forged and laughter shared amongst them as they began their exploration as one family.
Orientation started off on a high note with the Josephian Challenge, where the new Josephians explored their new home and learned what is expected of them in the SJI family. A vital programme of the orientation was the heritage trail: the JC1s returned to the original SJI campus situated at Bras Basah Road (now known as the Singapore Art Museum). They learned about the vision and mission of De La Salle and his Brothers. At the same time, it reminded them of their responsibility to pass on the passion of De La Salle.
The camaraderie amongst the JC1s was further strengthened as they bonded over mass games and amazing race. They had to complete various stations all over Singapore, ranging from Sentosa to Gardens by the Bay and the National Stadium. Decoding clues and maneuvering around allowed them to form priceless memories and allowed each other's strengths to be showcased.
Not only did the JC1s spend quality time with their tutor groups, they also bonded with their respective houses – Fintan, Lawrance, Marcian and Michael through house games. From playing capture the flag to a tug of war, the house spirit was at its highest.
The orientation ended with a blast at the Campfire. As the campfire was lit, the green flames are symbolic of the burning SJI spirit ignited in the hearts of the JC1s through the orientation. As they sang St. Joseph's Call with gusto, a homely feeling warmed everyone's hearts.
Welcome to the SJI family, JC 1s! Ora et Labora!
---
February: SJI Celebrates Lunar New Year with Gifts of Gratitude
SJI celebrated Chinese New Year by thanking the construction workers who redeveloped our campus and our cleaners who daily maintain it. Our staff and students prepared 65 hand-made hampers from each class or department on 26 January, as a gift to this community of workers who contributed tirelessly behind the scene to get the campus ready for the new school year. What better way to celebrate the Year of the Rooster than to give to others as a school, and to give abundantly!
The festive celebrations continued on 3 February, as staff and students came together for a mega toss of "lo-hei" in school, to mark the 7th day of the lunar new year which is also known as "人日" (ren-ri; which means everybody's birthday). The lo-hei were sponsored by the SJI Parent Support Group (SJI PSG).
---
January: Growing in Fraternity Through Camp TABA
By Amadeus Lam Tze Min (FN301) and Dhivesh (LE301)
Camp TABA (Together‐And‐By‐Association) is one of the most memorable experiences of every upper secondary student. At Secondary 3, besides the change from shorts to long pants, it also marks the boys' transition from adolescents to young men of integrity. Camp TABA was organised for the Secondary 3 cohort to bond with their new classmates and form tutors.
This year, the camp was held at St Patrick's School and the boys walked with their classmates from SJI to the campsite with ice‐breakers along the way. This truly encouraged new members of the class to bond and persevere throughout the walk.
During the camp, team bonding games and class reflections brought the new classmates together and by association. Through Camp TABA, we learnt the values of teamwork, listening and togetherness. Through activities like the snake game, we learnt that we need each other to propel us forward to success, for without that helping hand, we would plunge. Through the Hurl the Ball activity, we understood the need to listen to each other so we can learn our weaknesses and strengths and use them to work towards success. Finally, through the Build The LASALLIAN poster activity, we learnt that each and every one of us play a crucial part in SJI and when we are united, we can work together to accomplish more.
Camp TABA gave meaning to our classes and made us understand the saying "all for one and one for all", and what it means to be united as a class, a fraternity, a level and as a school.
---
January: SJI Welcomes the Secondary Ones at Orientation Campfire
The week-long orientation for our new Secondary 1 boys ended with an awesome campfire on 20 January. They cheered, danced and sang throughout the night, forming new friendships with their peers and seniors. Welcome to the family, Josephians!
---
January: Josephians Achieve Stellar Performance at 2016 GCE 'O' Level Examinations
SJI's Class of 2016 has performed very well in the GCE 'O' Level examinations. The school achieved 100% passes, with 100% receiving at least 5 GCE 'O' Level passes. All the boys will advance to junior colleges and polytechnics for their post-secondary education, with 98% of the boys qualifying for junior college.
The Class of 2016 is the first batch of boys to take the GCE 'O' Level examinations since the dual track programme started in SJI in 2013. 48% (124 out of 260 boys) scored 6A's or more, and 74% (192/260) of the boys achieved scores of less than 10 points.
SJI is extremely proud of the boys' achievements and the school wishes them well in their next phase of post-secondary education.
Fr Adrian Danker says, "I am so very happy for our Class of 2016. They have achieved these very good results by living our school values fully and joyfully. They have lived with faith in themselves and in God to do well and in God's guidance. They have grown up together as a community by supporting each other. They have learnt that the value of their SJI education is when they uplift others. Most of all I am delighted because this year's results continue the school's value-adding efforts over the years. Last year we added value to the Class of 2015; this year, we have added even more value to our students."
Ms Surjeet Kaur who teaches History said that this year's results were the sweetest and best for her in her 23 years of teaching in SJI. Like many teachers, she attributed this to the students' perseverance to stay the course to the end, never giving up, even as they face their own challenges and struggles.
| Summary of SJI's 2016 GCE 'O' Level Examination Results | 2016 | 2015 |
| --- | --- | --- |
| Number of students who sat for the 2016 GCE 'O' Level examinations | 260 | 347 |
| Pass rate/ Qualify for JC/Polytechnic education (%) | 100% | 100% |
| Boys who qualified for JC education (%) | 98% | 96% |
| Boys with 5 GCE 'O' Level passes (%) | 100% | 99.7% |
| Boys with 6A's or more (%) | 48% | 38% |
| Boys with scores of less than 10 points (L1R4) (%)* | 74% | 67% |
| Boys with scores of less than 10 points (L1R5) (%)* | 48% | 38% |
| Distinctions (A's) per student (%) | 62% | 59% |
*Aligning with the direction of more pathways to the tertiary education, the L1R4 (10 points and below) is introduced to track the students qualifying for popular courses in the polytechnics. The L1R5(10 points and below) remains an indicator used to track the students qualifying for popular junior colleges.
Subjects With High Distinctions:
English Language - 51.2%
Mathematics - 85.8%
Additional Mathematics - 82.5%
Higher Art - 80%
Combined Humanities - 80%
Geography - 74.1%
Physics - 70.5%
Biology - 66.4%
---
January: SJI Students Excel at 2016 International Baccalaureate Diploma Examinations
SJI's Class of 2016 International Baccalaureate Diploma Programme (IBDP) students have performed well in the November 2016 examinations. All 80 students from our third IBDP cohort passed the examinations, and achieved an average score of 41.5 out of 45 points. This is higher than the average score of 40.7 attained by our Class of 2015, and the 2016 national average of 38.27 and the global average of 29.21.
The Class of 2016 also produced SJI's first perfect scorer since the IBDP started in 2013. 10 students had a near perfect score of 44 points and 84% (67 out of 80) students attained at least 40 points out of 45.
The Class of 2016 has surpassed the results set by their predecessors, evident of a trend that the SJI IBDP relates well with our students who enjoyed high academic expectations from the programme. They found joy in learning by being risk-takers who pursue their interests and passion, instead of being rote-learners.
Fr (Dr) Adrian Danker, SJ, Principal, says "We are very proud of our third batch of IBDP students who have graduated with stunning results. More importantly, we are glad to know that our students have enjoyed learning from the two-year IBDP. We are confident that they are well prepared for their next phase of education beyond SJI. But what I am particularly proud of our school's achievement is that our students achieved this by having a healthy and happy balance between studies and play, between learning deeply and serving the community generously, between acquiring skills to do well in the world and letting our Lasallian values and ethos form them into men and women who now want to go out and make a difference in our world. To see this alive in our students is for me the enduring gift they have received from an SJI education that I know they will share with many."
The Head of SJI's Senior section, Mr Nick Moughtin, is very pleased with the results and is proud of the students. He said, "We encouraged them to "aim high and get involved"; they seized the opportunities to be responsible for their own learning, pursuing and developing their interests and passions beyond the academics."
As a Catholic and Lasallian school, SJI is committed to developing every student's character and to helping them realize their academic potential, so that they become men and women whose education empowers them to make a positive difference in the world. The IBDP results of the 2016 cohort are an affirmation of the quality of the balanced and holistic education offered at SJI.
Summary of SJI's International Baccalaureate (IB) 2016 Examination Results
| IBDP Results | 2016 | 2015 | 2014 |
| --- | --- | --- | --- |
| Number of students | 80 | 80 | 80 |
| Diploma pass rate (%) | 100% | 100% | 100% |
| Average points out of maximum 45 points | 41.5 | 40.7 | 40 |
| Percentage of students with 40 or more points | 84% | 71.25% | 58% |
| Number of students with Perfect Score (45 points) | 1 | 0 | 0 |
| Number of top students (44 points) | 10 | 4 | 3 |
| Number of bilingual diploma students | 2 | 3 | 2 |