December: SJI Remembers Mr James Tseng, Founder of SJI Pelandok 2104 Scout Troop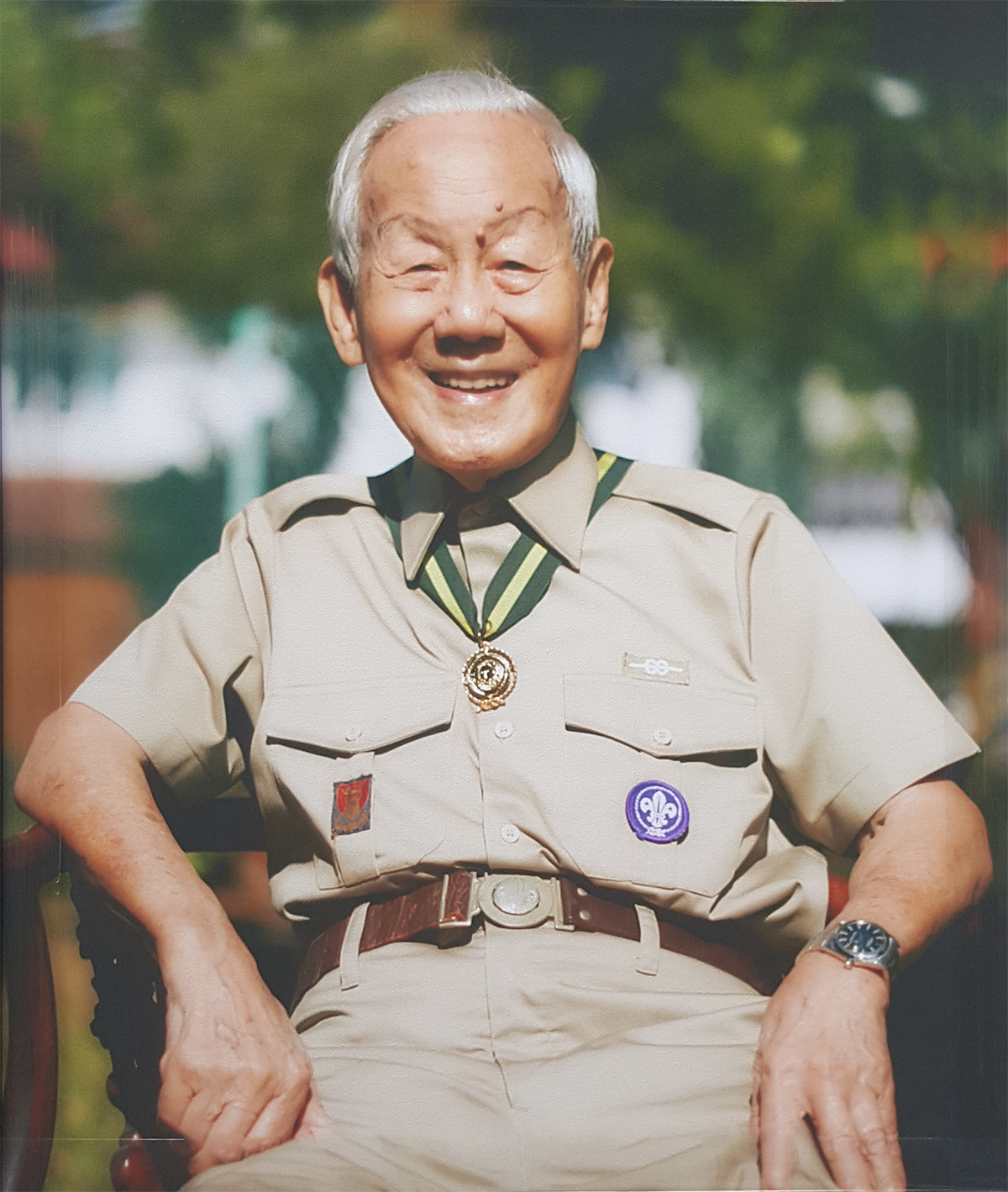 The SJI family is saddened at the passing of Mr Tseng Yan Lin James, founder of the SJI Pelandok 2104 Scout Troop. He passed away peacefully on 9 December 2018, at the age of 91. Fondly known as "Pelandok" to his scouters with whom he has shared decades of his passion in scouting, Mr Tseng was part of the La Salle family for most of his life.
An old boy of SJI from Standard 1 when the Primary and Secondary Schools were co-located, his studies were abruptly halted when the Japanese occupied Singapore in 1941. He was only 15 years old and worked for 3 years with a Japanese trading firm and a telecommunications company to survive.
When the war ended, Mr Tseng went back to school in SJI and graduated with a Final School certificate at the age of 19. He went on to pursue a Teachers Training course whilst teaching in SJI and continued to teach in his alma mater for another 5 years.
He was offered an Education Ministry scholarship to study at the then Singapore University and graduated with a degree in Mathematics in 1960. He was posted to teach at various schools, including Swiss Cottage Secondary School, MacPherson Secondary School, Willow Avenue Secondary School and Pasir Panjang Secondary School.
He was eventually appointed Principal of Upper Serangoon Technical School and thereafter of Montfort Secondary School until his retirement in 1987.
Throughout his long and fulfilling career in education, Mr Tseng's selfless contributions to the Scout Movement have been instrumental in making scouting alive and well today. He was responsible for reviving the St Joseph's Pelandok 2104 Scout Group in 1950. Inspired by the philosophy of self-help, perseverance and resourcefulness, Mr Tseng decided to introduce scouting as part of an extra school curriculum. His passion in scouting eventually led to one of the Brothers, Brother Joseph Kiely, FSC, becoming interested in scouting as well.
Mr Tseng has been the driving force behind the many activities of the Group. These range from international events like the 17th World Jamboree in Korea and the visit of the King of Sweden to Singapore, to national events like Environment Conservation and his support of HQ and district activities to bring scouting to greater heights. After his retirement, he still actively serves the Group as Group Scout Leader, an appointment he has held since 1957. Under his capable leadership, the Group boasts of a long list of recipients of the District Commissioner Award, Chief Commissioner Award and President's Scout Award. On the 165th anniversary of the founding of SJI, the school honoured him to be the Guest of Honour at its Founder's Day.
The Pelandok Scout Group, one of the few groups that has 3 sections registered, offers comprehensive programmes for youths between the age of 9 and 18 years from St Michael's School, SJI, Junior Colleges and the various Polytechnics. The Group organizes the Bi-Annual Round Island Canoeing Expedition and Mountaineering Climbing Expeditions to Mount Kinabalu on a regular basis.
---
November: SJI Admits Students Beyond Academic Talents
SJI is committed to developing every student beyond academic talents. We seek to also develop their non-academic talents. This commitment underlies SJI's approach towards the Direct School Admission (DSA) Exercise: Year 1 students can be admitted under the talent domains of innovation, leadership, visual art, music, and sports. This approach is aligned to the school's belief that every student brings a gift to school where it can be developed for the common good in society. It is also aligned with the school's mission to always look out for the last, the lost and the least.
Muhammad Daiyan Iskandar, 13, was admitted to SJI (via DSA Leadership domain) because of his leadership qualities. The former head prefect in Dazhong Primary said: "I like SJI because it's like a family, and it's not about exams and competitions."
For more information on the changes to DSA Scheme, please refer to the news links below:
---
October: Thanksgiving in Gratitude for 2018
As 2018 drew to a close, SJI remembered the events of a busy year at the Thanksgiving Assembly on 26th October. There was a great sense of pride and achievement as the processional contingent led the school colours into Founder's Hall. The ceremony began with a rousing singing of the "125th Anniversary Song" before viewers were treated to a colourful yet disciplined spectacle of flags and banners from the uniformed groups, fraternity captains and student council presidents.
Friar Michael led the school prayer for the respective levels, with the theme of thanksgiving taken from Ecclesiastes. Each level was contemplative about a time for everything and to remind us to be mindful of "a season for everything under the heavens".
The school also bade farewell to the staff who were leaving SJI. Most notably were the retiring of Ms. Teresa Lim and Ms. Khoo Cheng Eng, who have served the school for an impressive 27 years and 30 years respectively.
---
October: Men and Women for Others, Josephians for the Future
On an early Friday morning of 19 October, over 20 alumni turned up at SJI to speak to our Sec 3 and JC 1 students at the 8th annual Josephians-At-Large career workshop. These alumni who are mostly professionals in their own arena, presented on a wide variety of careers, to help the young Josephians learn and plan for their future careers. Since its inception, the feedback from students has always been positive and that they truly value the personal engagement during these sessions.
This theme for this year – "Men and Women for Others, Josephians for the Future" not only traces its roots from what the alumni have inculcated during their time in SJI but also their own personal experiences and positive contributions to society and the communities.
This year, the Sec 3s were arranged into three separate but sequential sessions on careers that they had pre-selected while the JC 1s gathered in the lecture theatre for a forum style Q&A session with a panel of speakers.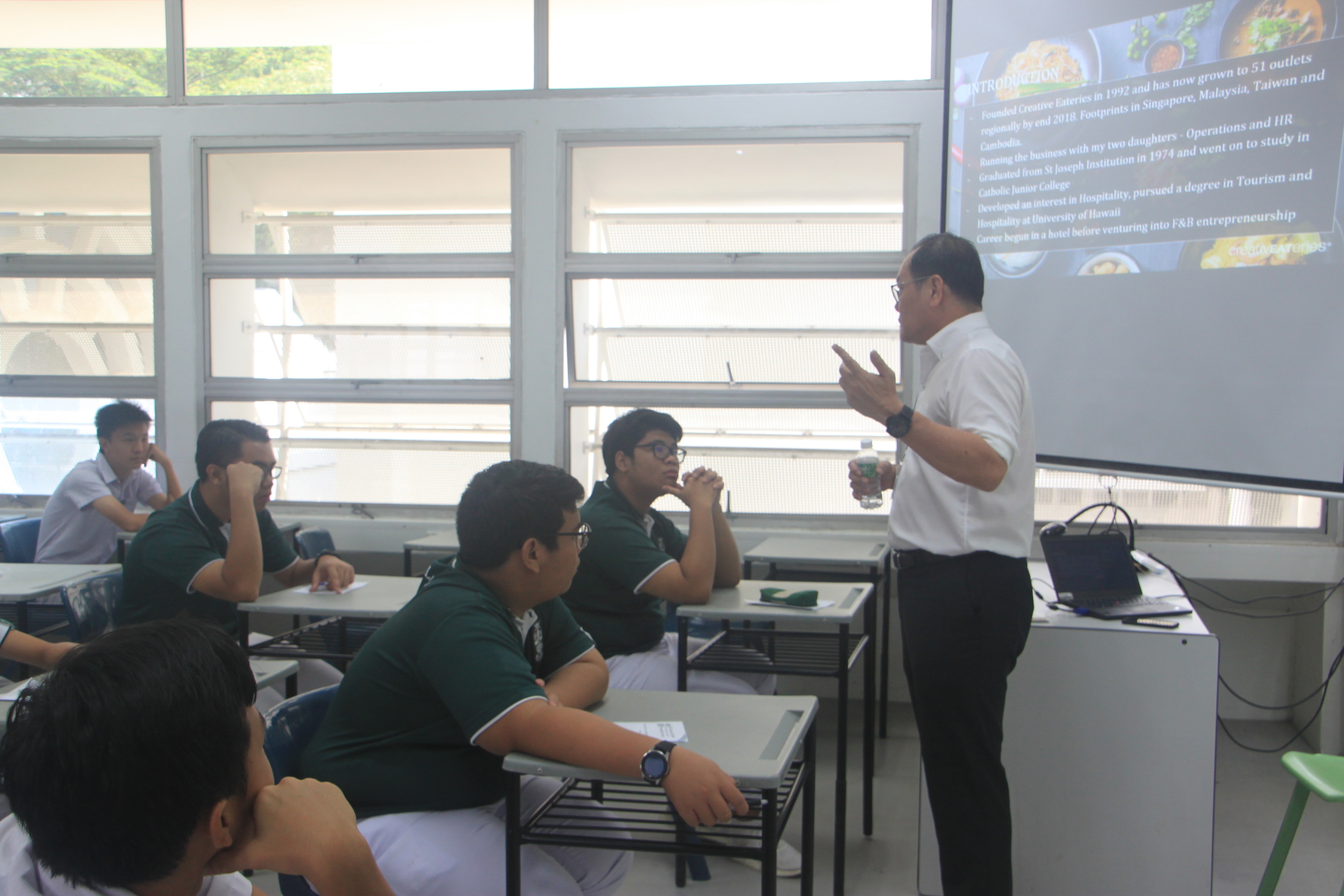 Mr Anthony Wong (Class of 1974)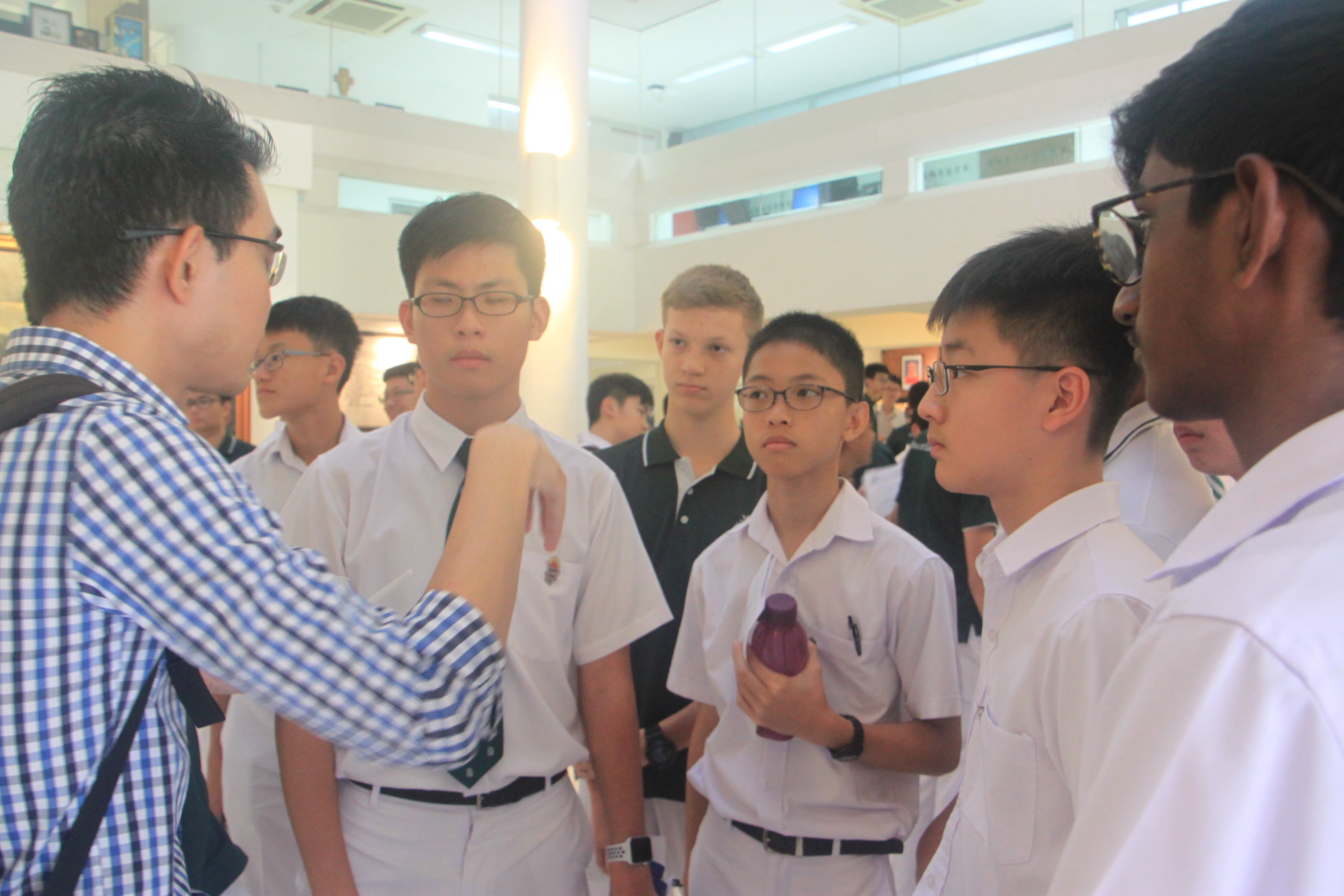 Dr Suhairi (Class of 2004)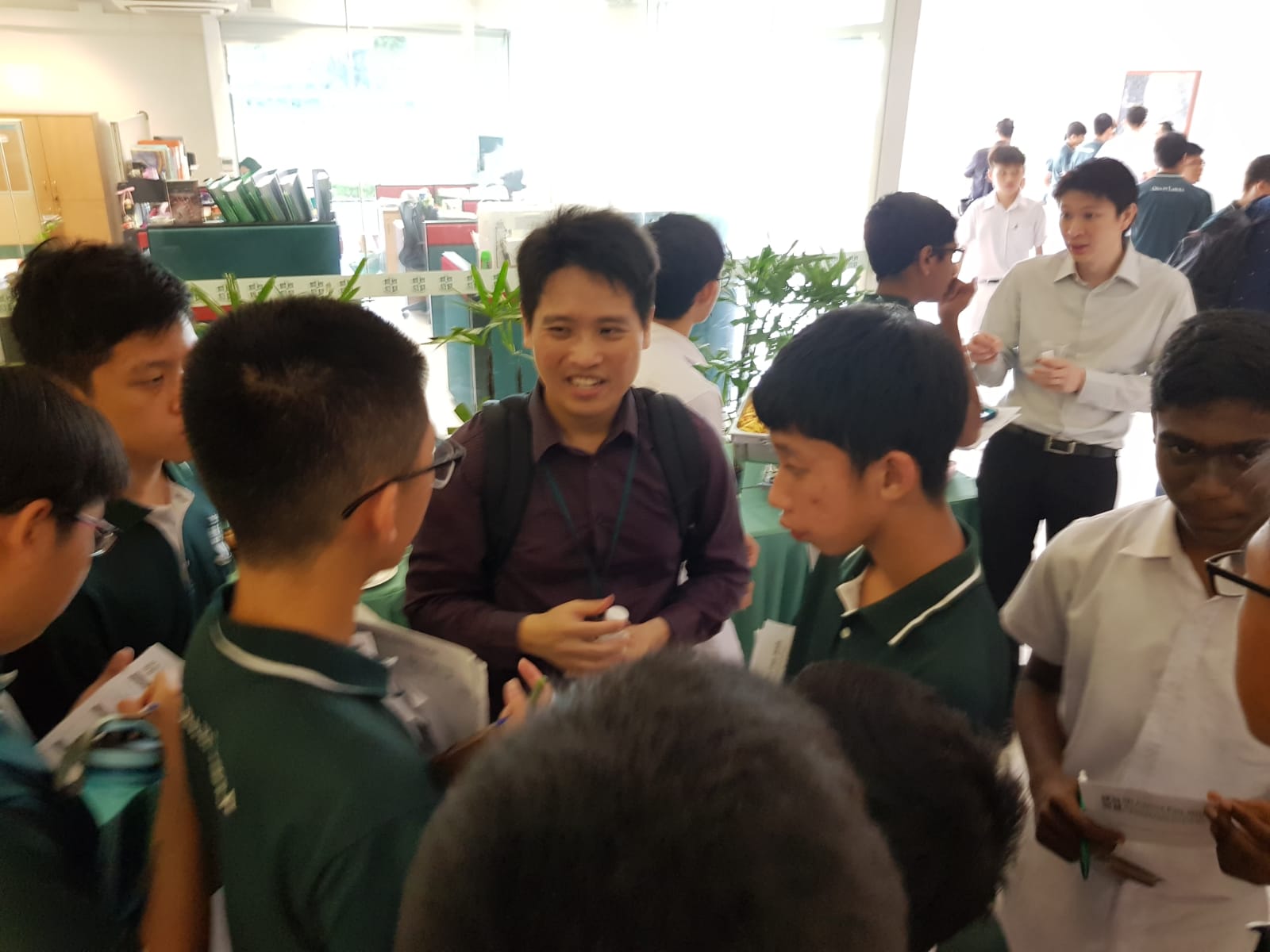 Justine Tan (Class of 2000)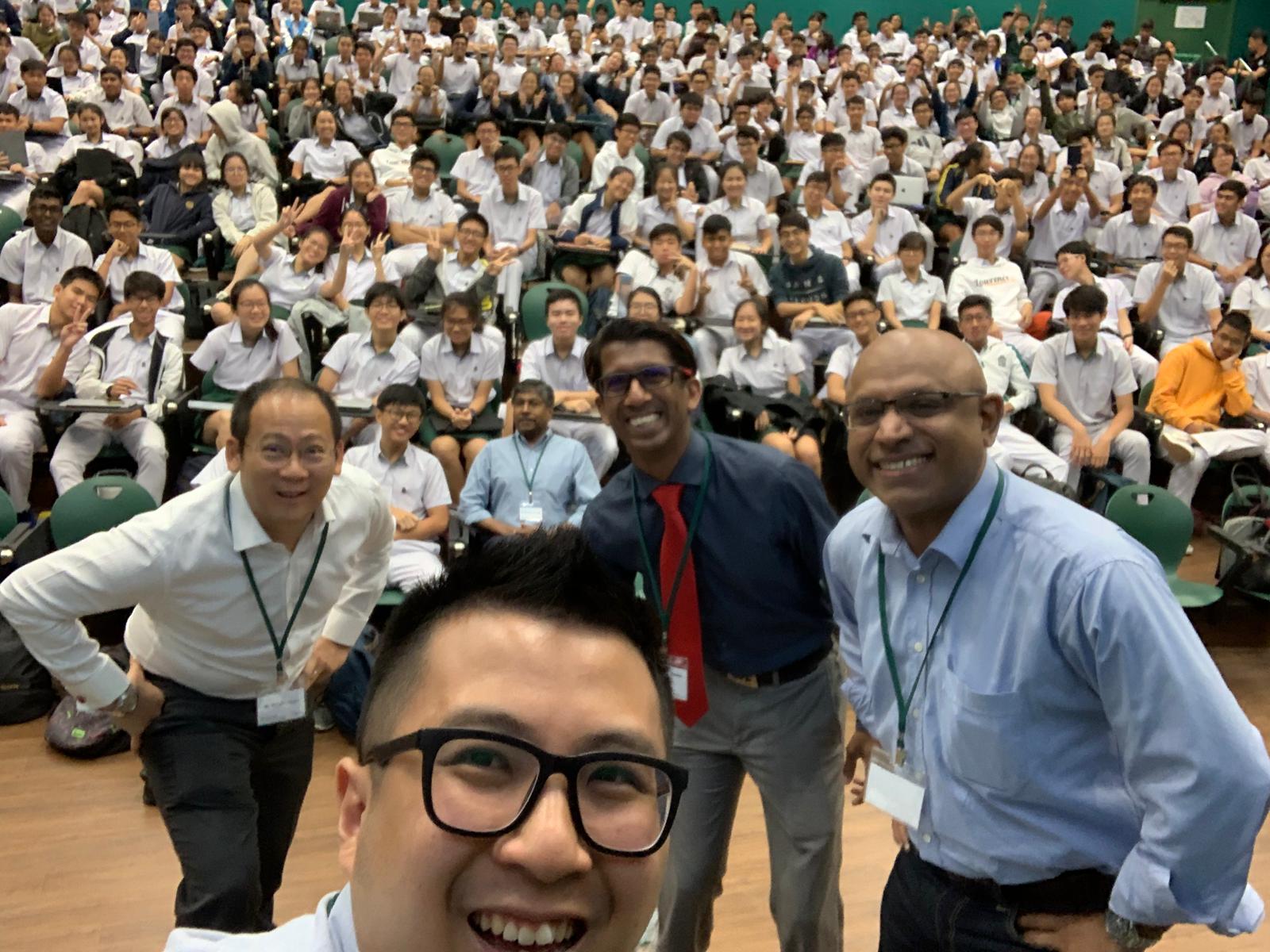 Alumni speakers at the JC Forum
---
October: IB Class of 2018 Sent off at Farewell Paraliturgy and Graduation
By Mr Raymond Karam (Head of Level 6, IBDP)
12 October 2018 was a day to remember for our graduating Year 6 students. It began with a Paraliturgy where the students reflected on their years in school and the future ahead. It marked the end of their schooling years and a new beginning that was to come for many: National Service for the boys and universities for the girls. Candles have always been used to symbolise taking their light into the future to brighten the world with the values that they have been blessed with at SJI.
Many of the students found this occasion very emotional, especially the boys who have been in SJI for the last 6 years. Many shed tears and expressed their appreciation of friendships that they have shared over their teenage years. They sang the traditional school songs with passion and gusto, and with arms on shoulders over one other, to symbolise the bond that all Josephians share.
Mr Karam reminded the graduands that words of wisdom can be found everywhere. He pointed out the importance of being "men and women for others", acting as "men and women of integrity" and being "servant leaders". He encouraged the students to think about these words of wisdom, and to enact these principles in their lives.
The graduating class was then joined by the Year 5 students in the final assembly, where Vedant Chauhan, president of the 5th Student Council addressed the assembly. This culminated in an emotional send-off of the Year 6s as the Year 5s sang "The Salute to the Alma Mater" in the background.
The Graduation Ceremony in the evening saw the families coming together to celebrate with the graduands. SJI was graduating its largest cohort of 271 students since the IB programme started in 2013. Ms Janet Ang Guat Har, Chairman of Caritas Singapore, was the guest of honour. Ms Ang's inspiring speech presented to our graduating students how she balanced her work as a Chairman of Caritas Singapore with being the Managing Director of IBM Singapore as well as being a mother to four daughters. The speech by Principal Fr Adrian Danker was as meaningful to the students. His reference to Ed Sheeran's songs and humming of the lyrics eventually got the students singing along too.
Although the presentation of the certificates to all 271 students took a long time, yet every student was cheered for and celebrated with throughout the ceremony. To end off the celebrations, the SJI boys were sent off in the same way they were welcomed at the start of Secondary 1, with the ringing of the school bell from the former SJI campus at Bras Basah Road.
The following students have achieved the highest awards and recognition from SJI:
Spirit of SJI Award (Principal's Award) and Lasallian Distinguished Leadership & Service Award:
Neil Bhargava

Vedant Chauhan
Lasallian Distinguished Leadership & Service Awards:
Bou Dolphie

Kevan Toh

Maretta Simon
---
October: SJI Teacher Wins Inspiring Teacher of English Award
SJI congratulates our English teacher, Ms Mishaelle Chua, for being awarded the Inspiring Teacher of English Award for 2018. She is one 9 awardees this year.
Mishaelle embodies the best of what English teachers do: teach students about the truth and goodness of humankind and how they can express these to better the world.
In her speech, Ms Indranee Rajah, 2nd Minister of Education, the GOH, said that English and English Literature teachers do not teach a subject or a communication tool. They teach students to know what is the truth and what is good, and how to express these to better the world. Teachers have an important role to help their students grow and contribute through the teaching of English and Literature.
(embed fb post here)
---
September: SJI Celebrates with Class of 2018 at 166th Speech and Graduation Day
By Ms Patsy Chua (Head of Level 4, OP)
It was a 'Triduum' celebration for our graduating Year 4 boys on 28 September. From the reflective Paraliturgy in the morning where the boys were led by Friar Michael - to be retrospective of their call to mission which started when they joined SJI. During the Paraliturgy, the boys reflected on how they could continue to stay grounded to what they are called to do and overcome their challenges as they surmount the mountains in their lives after they leave SJI. As we pinned the SJI collar badges on our Year 4 boys, we celebrated their graduation. It was a day of gladness, as we cement their memories of SJI before they embark on new journeys ahead to serve the different communities and be persons for others after graduation.
The Farewell Assembly saw a joyous school community come together to affirm the boys becoming men for others, and their juniors celebrated their seniors' giftedness and love for the people demonstrated through their acts of service and leadership to the school.
The highlight was the 166th Speech & Graduation Ceremony in the evening where the boys' families came to celebrate the gift of each boy that God has entrusted the school with. The Guest of Honour was Mr Joshua Soh (Class of 1986), Chief Operating Officer, Nogle Limited. Many were encouraged and stirred by the speeches from Fr Adrian and Mr Soh – that the boys have been blessed with the SJI education and they would share the legacy of SJI education with others after they leave the portals of SJI.
The Class of 2018 is best remembered for their love for the community, willingness to go the extra mile and most importantly a cohort that rose above mediocrity as persons for others.
The following students are the winners of the highest awards and recognition from SJI:
Senior Josephian 2018:
Spirit of SJI Award (Principal's Award) and Lasallian Distinguished Service Award:
Gabriel Yeo Chong Jing (ML401)
Lasallian Distinguished Service Awards:
Ernest Ang Boon Khiong (FN401)

Nigel Sim Jun Yi (MN403)

Ashley Tan Kai Li (FN401)
---
September: Josephians Excel in MOE's Science Mentorship Programme
SJI congratulates four Year 4 IP boys on their fine achievement in MOE's Science Mentorship Programme! They have seized the opportunity to engage in research work to pursue scientific research in tertiary institutions and excelled. The boys participated in this programme under SJI's MAGIS Scientia initiative for IP students.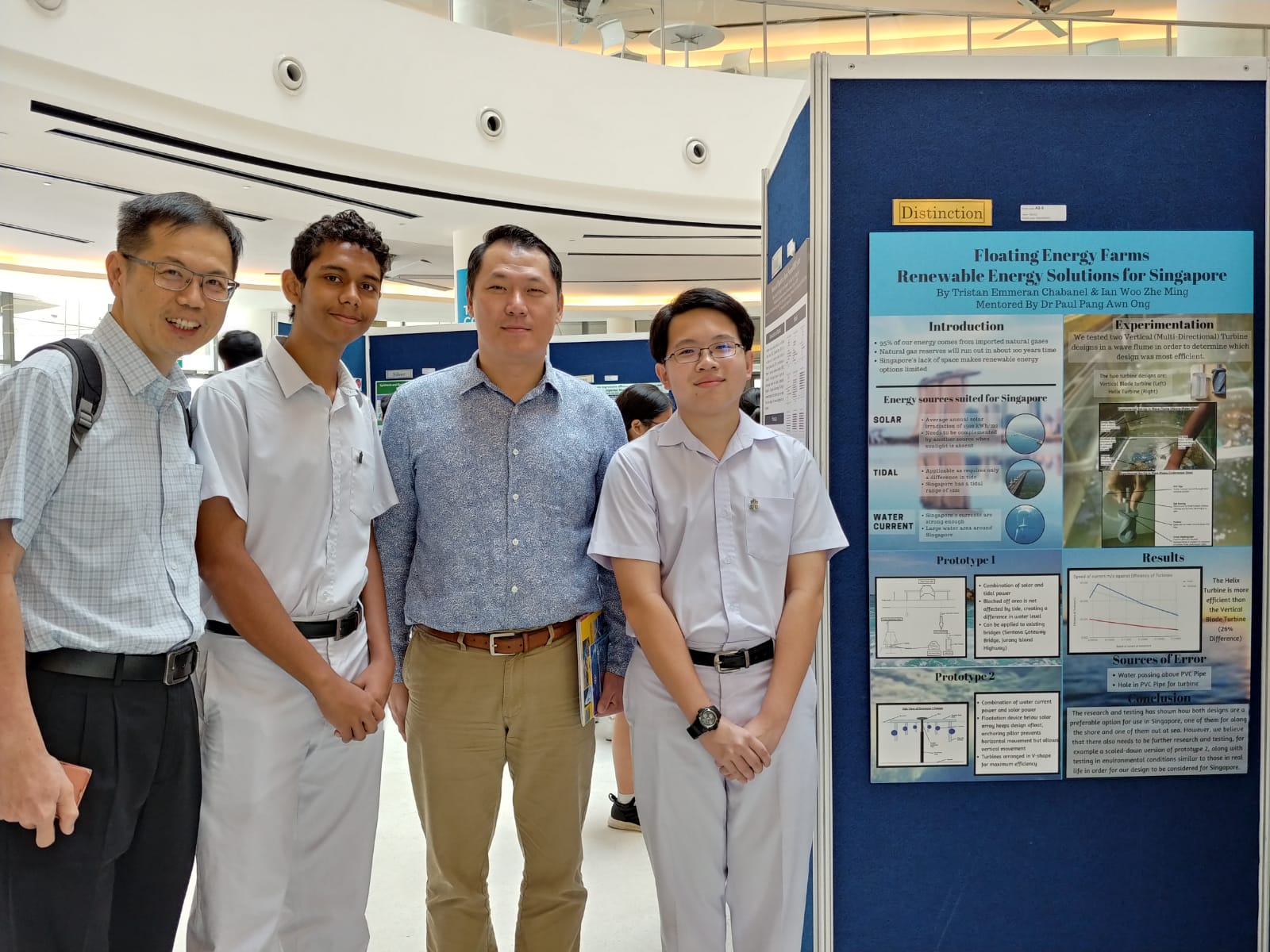 Ian Woo and Chabanel Tristan Emmeran earned a Distinction Award for their 'Floating Energy Farm Project'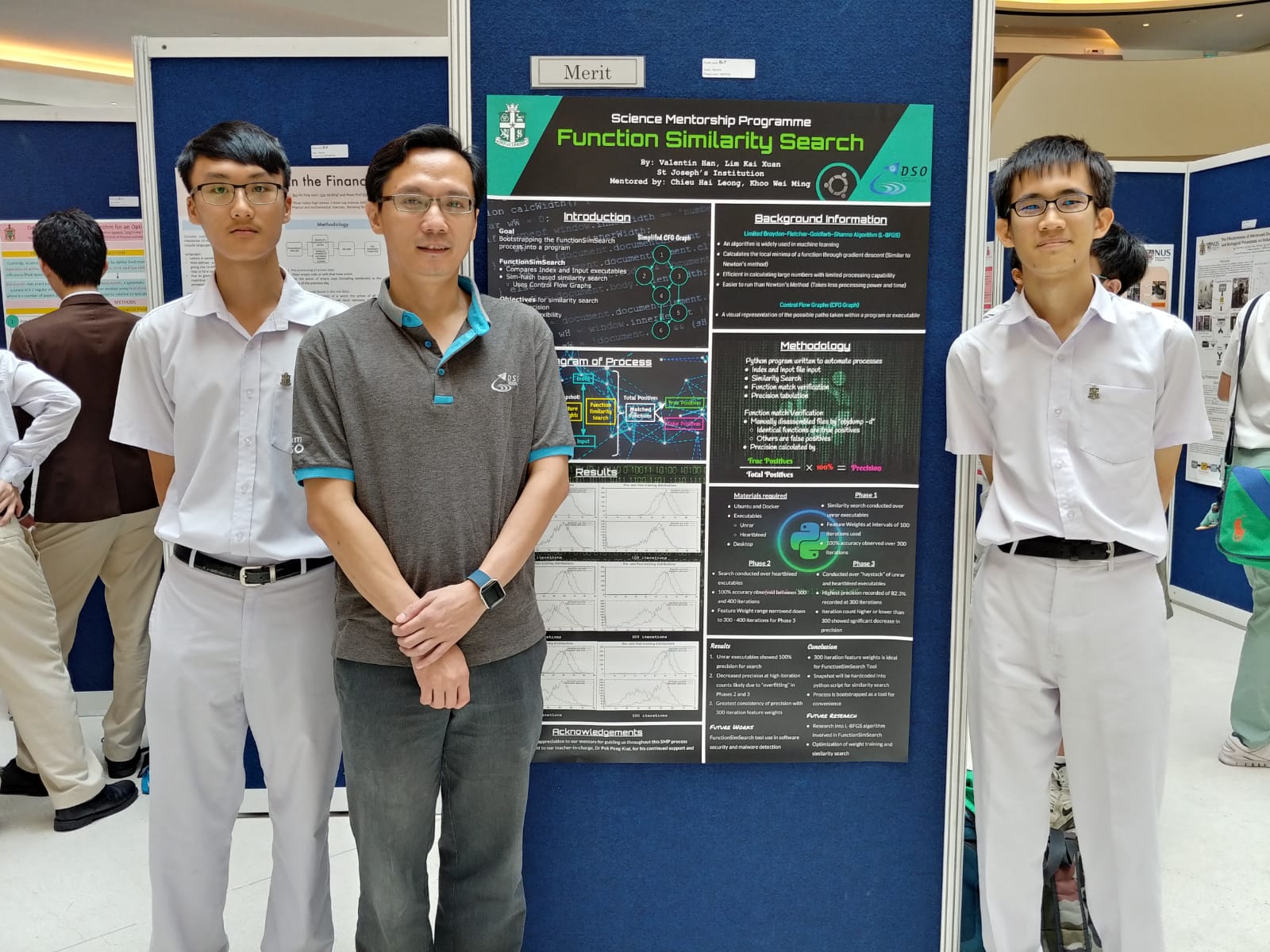 Lim Kai Xuan and Han Ray Ding Valentin receives the Merit Award for 'Function Similarity Search Project'
---
September: Four Josephians Attain SINDA Excellence Awards
We congratulate our Josephians who have achieved the SINDA Excellence Awards 2018: Sudeesh Thiagu (FN401), Keerthi G Kaarthik (ML403), Sassidaran s/o Murugasu (ML403) and Pothakamuri Tulsi Kiran (ML403).
This award, given to Indian students who are in the top 20% of the IP cohort, recognises the efforts and positive mindset that students have maintained in their journey as a student.
This award helps students to understand their potential in excelling in academics and character development. The students have mentioned that they were "truly grateful for the support they have received from my teachers, friends and most importantly, my family. This award has shown me that I can be a better version of myself. Thus, I will work hard and try my best at sculpting my persona into that of an efficient academic learner and someone with the values that make him a Josephian".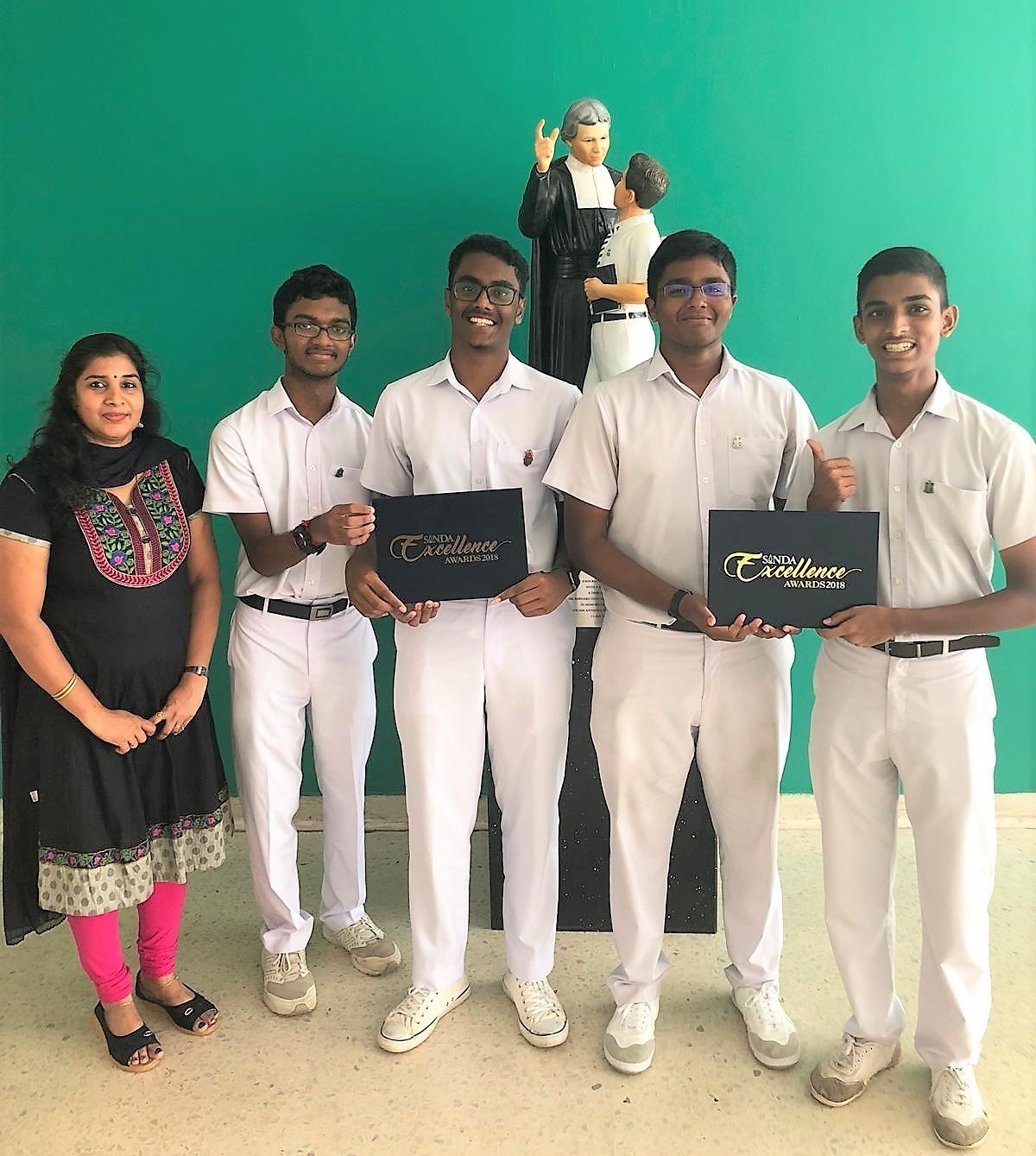 ---
September: Year 6 Students Contemplate at Retreat
Our Year 6 Catholic students and their friends in SJI spent 26 hours at the retreat themed 'The Journey Begins'. They sang praises. They contemplated in silence. They prayed walking the labyrinth. They worshipped together. They reflected in gratitude. They looked ahead with hope. In everything on retreat, they experienced God.
(embed fb post here)
---
September: SJI shines at The Queen's Commonwealth Essay Competition 2018
36 Josephians from Years 1-4 and at Year 6 participated in the prestigious Queen's Commonwealth Essay Competition and won awards: 6 Golds, 15 Silvers, and 16 Bronzes! Among the 12,000 entries from across the Commonwealth, our winners shared their ideas on the topic of "Towards a Common Future". Their views were diverse, creative and hopeful. We hope they will continue to write and inspire others.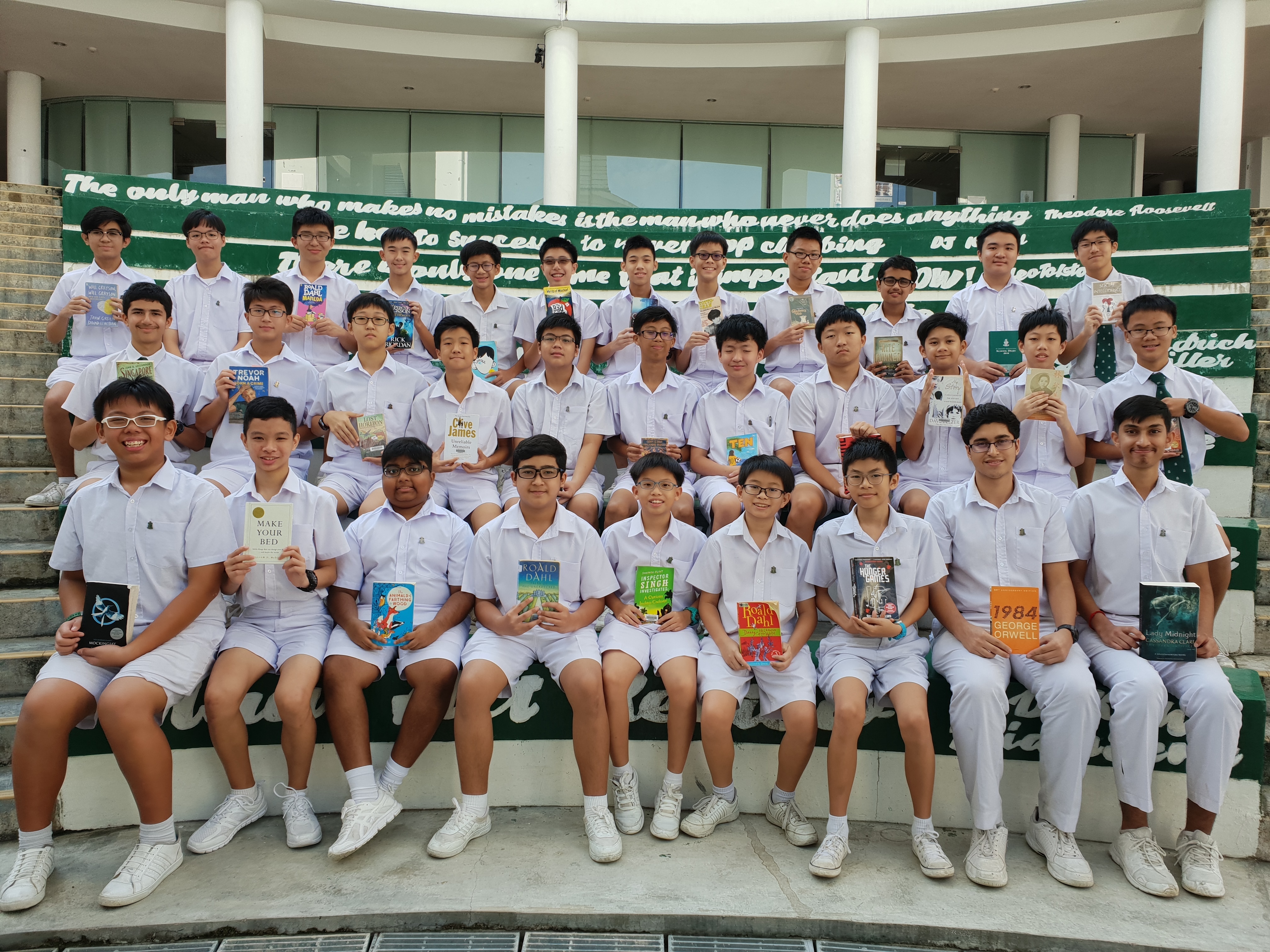 ---
September: IBDP Arts Students Present the Grad Show 2018
SJI's Year 6 IB Music and Visual Art students presented their graduating works to a full crowd in a gallery space at Indoor Sports Hall Training Room on 10 September. Two Music students and nine Visual Art students shared the culmination of their effort and persistence towards their craft that evening, in the presence of school leaders, teachers, parents and friends. They displayed talent, passion, skill and creativity in every music piece played and art work exhibited. It's amazing to see how much they have developed as musicians and artists in these two years. Art students from various schools also visited the gallery in the span of two weeks to draw inspiration and learn more about the IB experience. The exhibition runs till 21 September in SJI.
(embed fb post here)
---
September: Josephians Commemorate Catholic Education Sunday
The Catholic Church celebrated Catholic Education Sunday across the parishes in Singapore on 9 September. Our students and staff who were at 10:15am mass at St. Ignatius's Church and 11:30am mass at Church of the Holy Cross, helped out as altar servers, lectors, sang with the choirs, offered the gifts for the masses, hospitality ministers and ushers.
At the Church of St Ignatius: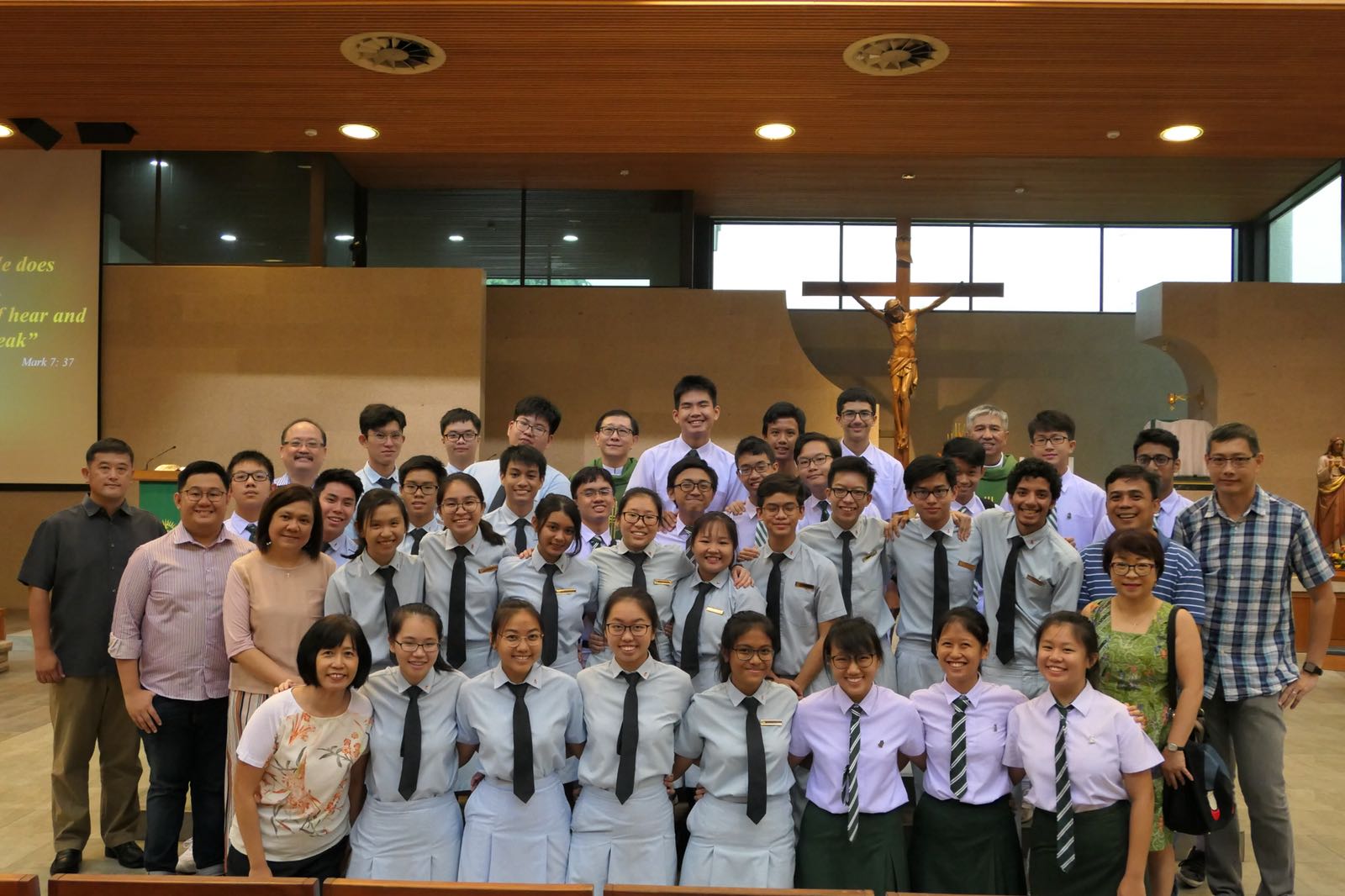 At the Church of the Holy Cross: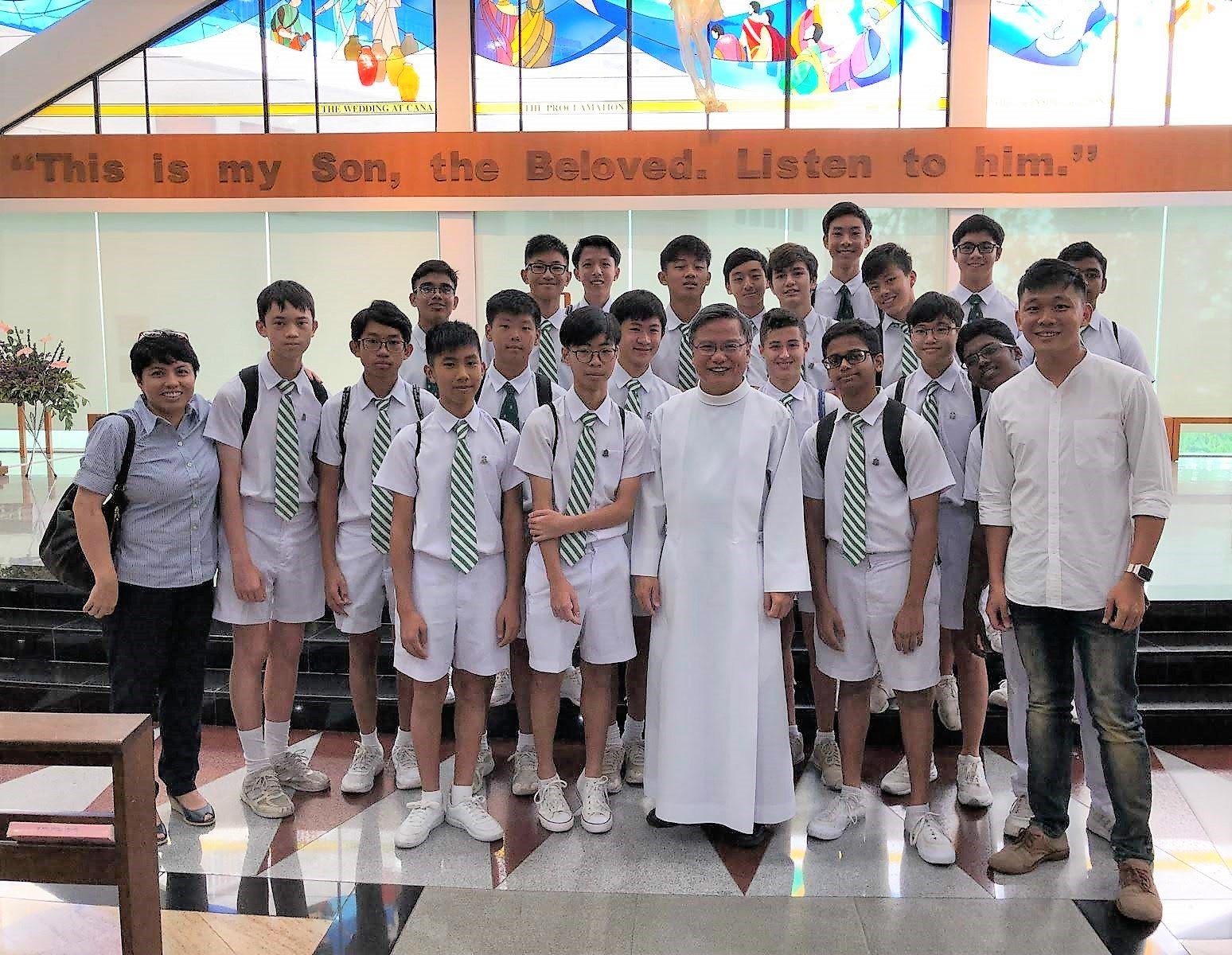 (embed fb post here)
(embed fb post here)
---
August: Alumnus Selected to Play for National Football
Alumnus Jacob Mahler (Class of 2016), who was SJI's Sportsboy of the Year in 2016, has been called up to the senior National squad of the Football team for Singapore's friendlies against Mauritius and Fiji on 7 and 11 September respectively. He currently plays for the Young Lions in the Singapore Premier League.
In the statement by FAS, Jacob is the youngest player at 18 years old to be selected into the team. The squad also includes the nine Singaporean players who are plying their trade in Malaysia and Thailand.
---
August: Josephian Elective English Programme grows from strength to strength
Our Year 3 and 4 IP students, Michael Yeo, Pothakamuri Tulsi Kiran, Harith Zaydan Bin Imran and Darren Koh were Runners Up in the Comic Monologue and Duologue sections at the recent ACJC Speech Act Competition.
Their peers, Emmanuel Lim, Michael Tam, Keegan Tan and S. Mahavignesh were commended by academics for their presentation on Langston Hughes' poetry at the MOE Literature Seminar on 25 August.
(embed fb post here)
---
August: SJI Footballers Play Against St Joseph's College (HK)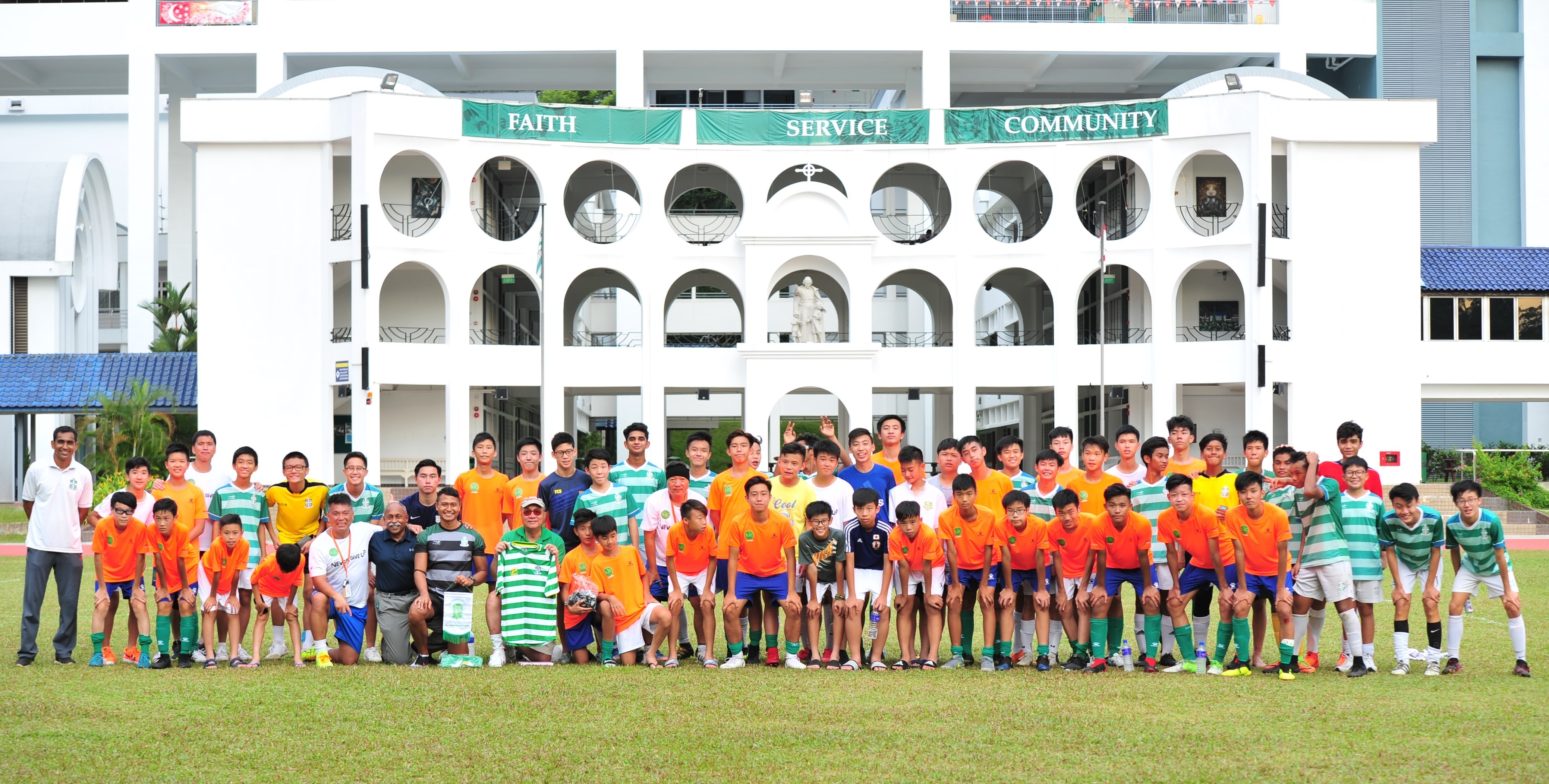 Our C Division footballers won 2-1 against St Joseph's College (HK) Under-14 team on 23 August, with 2 goals from striker Muhd Naufal (ML201). Our B Division boys also won their Under-17 team, with the same scoreline with 2 goals from striker Joshua Varghese (ML302).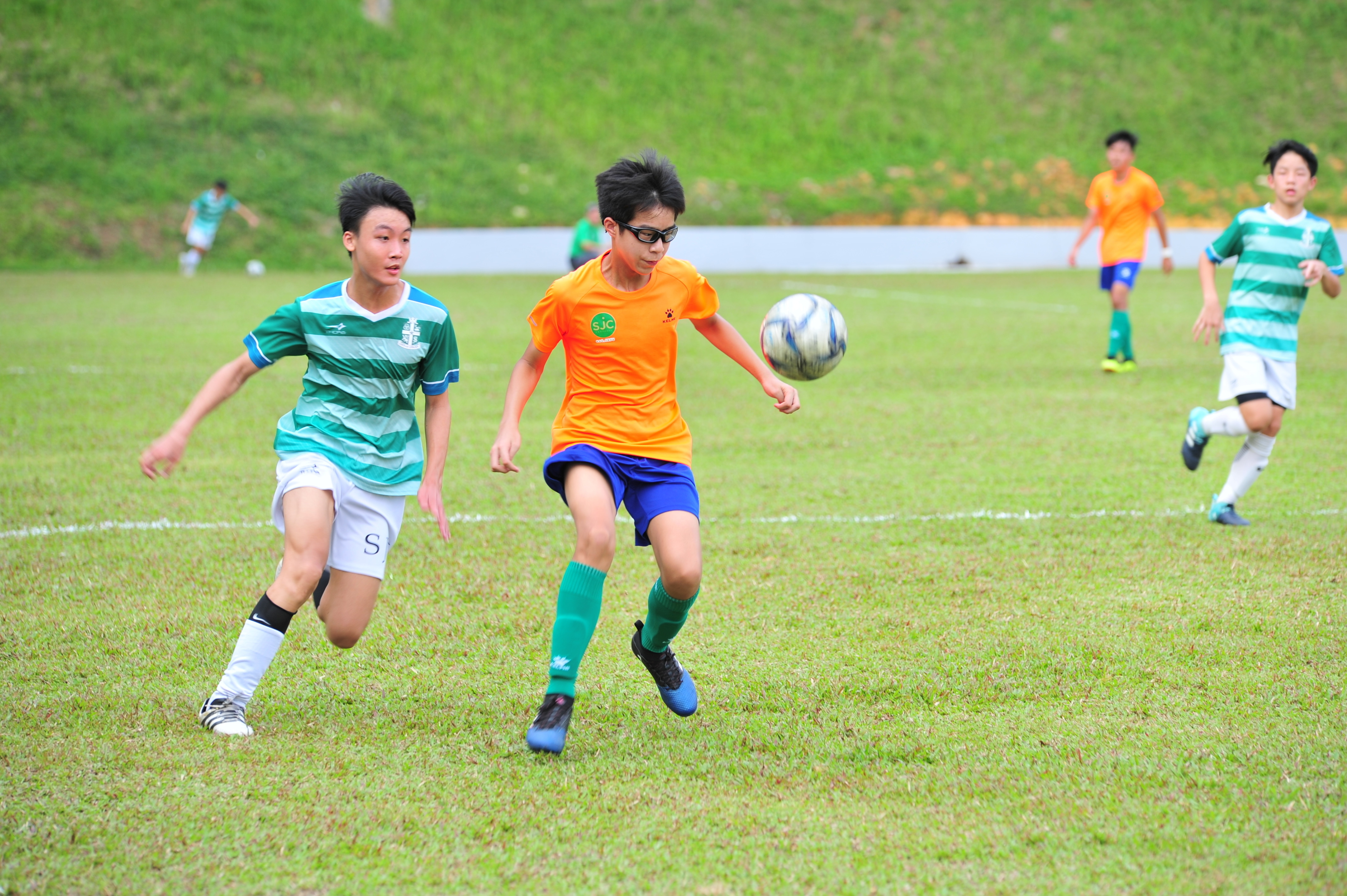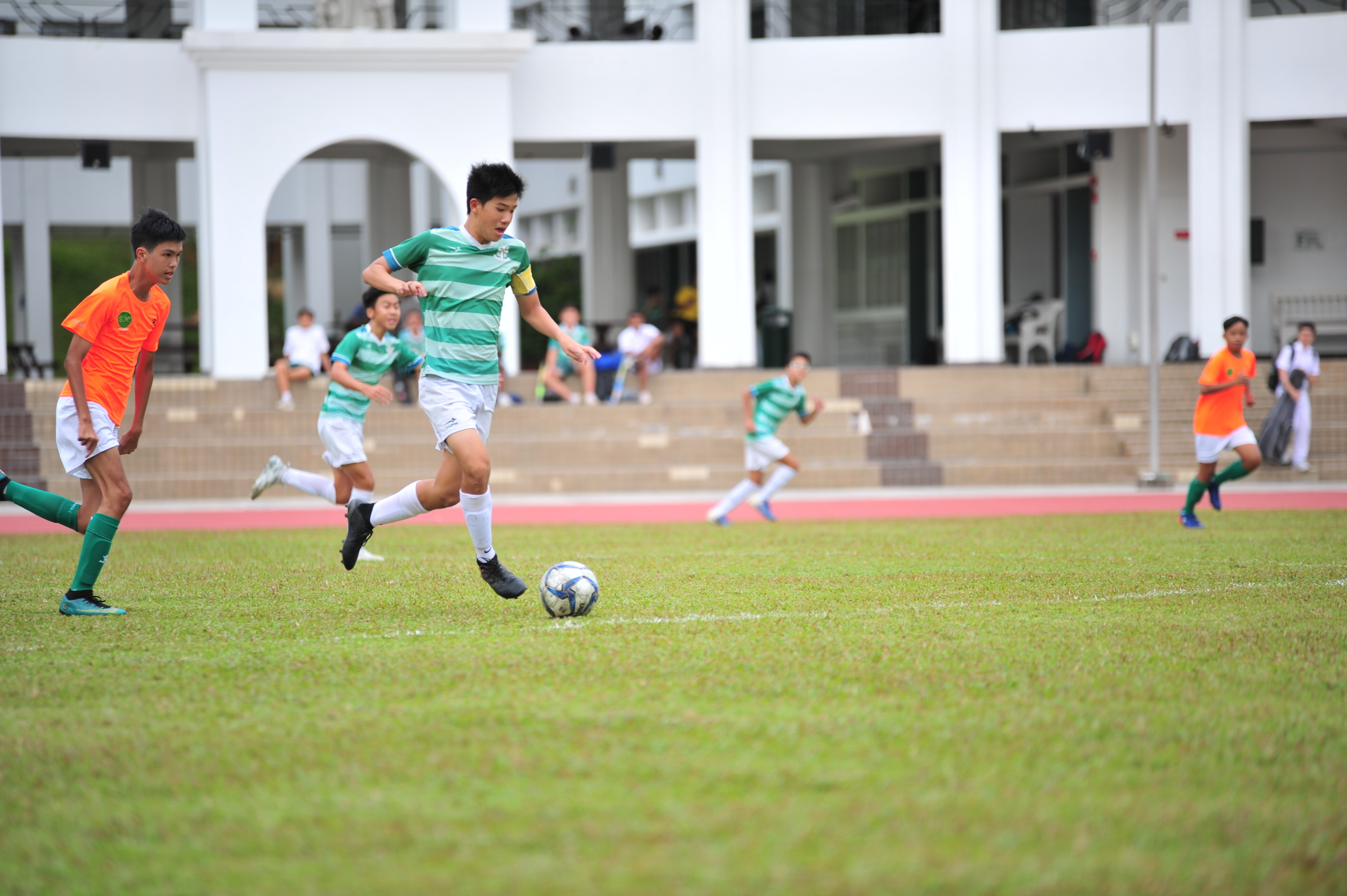 ---
August: SJI Holds Annual Economics Symposium
The Economics Symposium that took place on 14 August has been very successful in bringing together the industry specialists and over 165 students and teachers from other schools. Together with our very own SJI Economics Y5 students, more than 500 attendees with eager and curious minds listened attentively to the talks and contributed to the panel discussions with numerous well thought questions.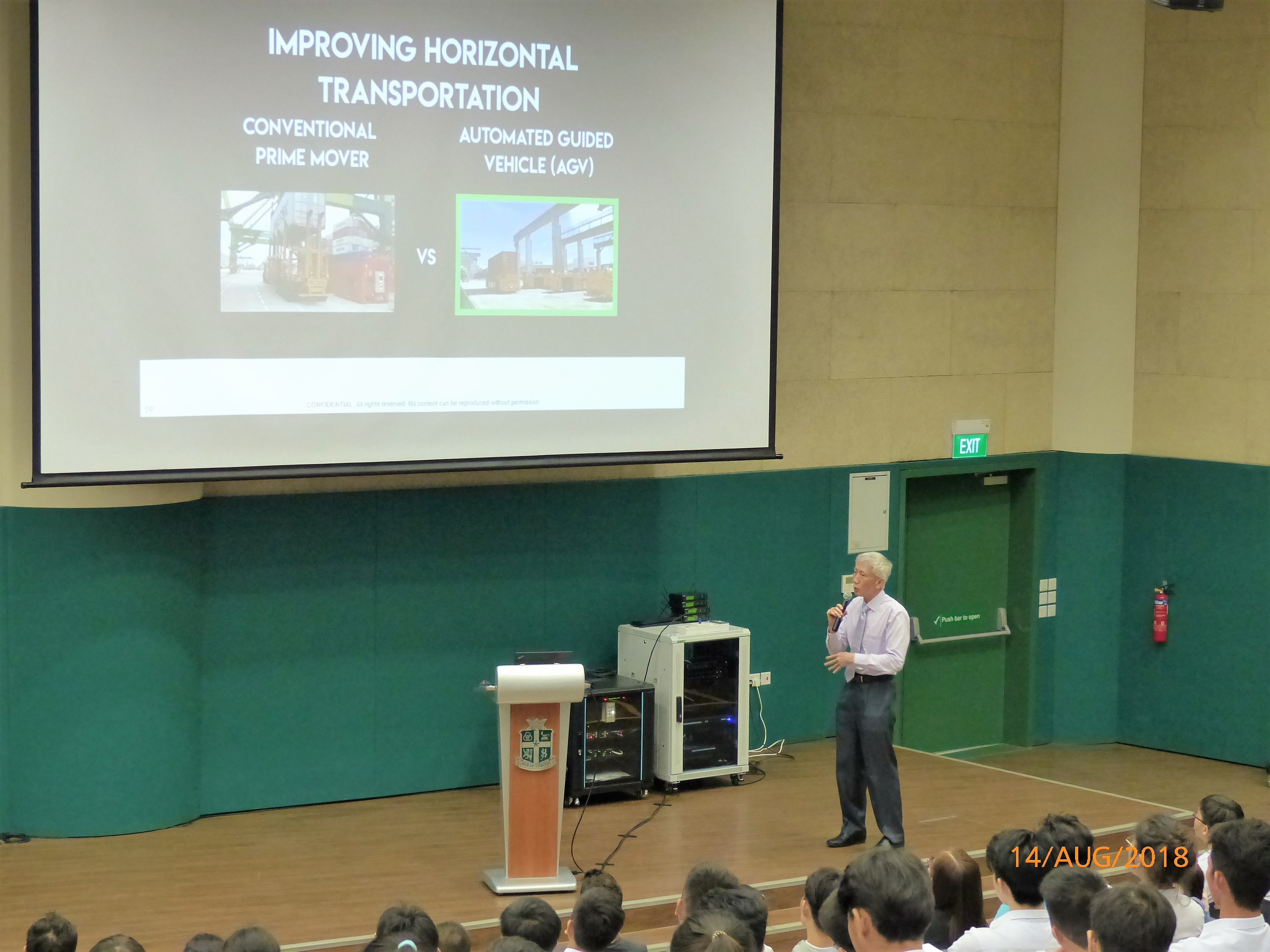 The topic of this year's Economic Symposium was "Economic Outlook: Challenges and Opportunities". This is a particularly relevant topic for anyone studying Economics and also an opportunity for students and teachers unfamiliar with the subject to be exposed to views and predictions of the Singaporean Economy from industry experts. We were lucky to have Mr Mark Tan (GIC), Mr Goh Mia Hock (PSA), Mr Song Sen Wun (CIMB Private Banking) and Mr Liew Yin Tze (MAS) as our guest speakers, who were able to share their views from their respective fields of expertise.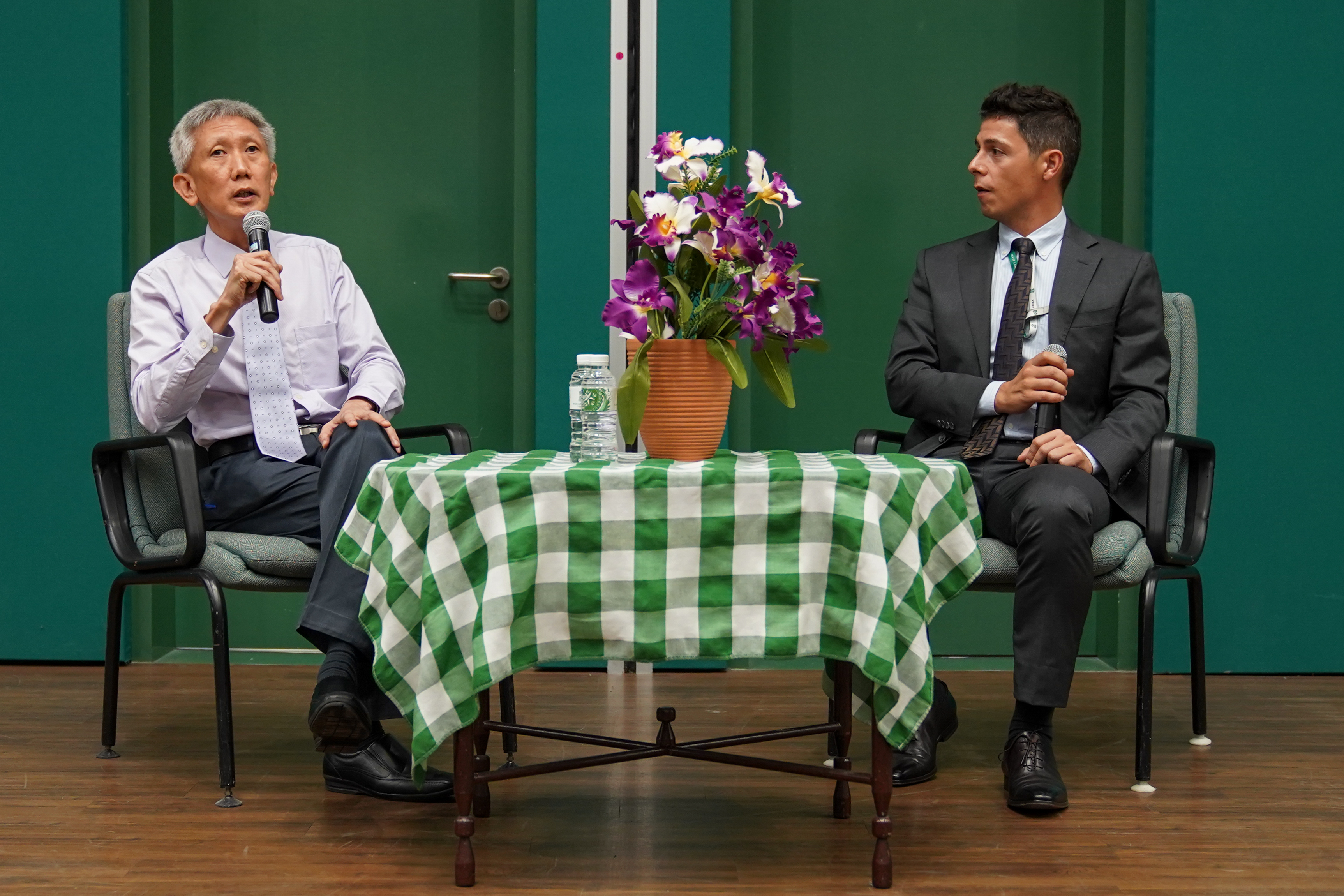 ---
August: SJI Teacher Nominated for Samsung-Stomp Inspiring Teachers Award
SJI's biology teacher, Mr Lim Meng Chye, was nominated by his student Wei Jin, for the Samsung-Stomp Inspiring Teachers Award. Mr Lim has helped to build up his confidence and encourage him in his schoolwork. Wei Jin says, "Mr Lim's support has also allowed me to be thankful for the many people who are always supporting me in times of fear. He is more of a brother and friend." Click here to read more.
---
August: Josephians' Articles Featured on Discovery Channel - DCode
As part of the Josephian English Elective Programme (JEEP), 3 IP students have their internship articles featured on DCode on Discovery Channel Singapore's website. They are:
'The Science Behind Old Wives' Tales' - Lim Zhi Quan Emmanuel (MN303)
'Is it for Life to Exist Life Beyond Earth' - Jerome Chong (LE302)
'The Technological Wonder of Blockchain Explained' - Eram Al Mamun (ML303).
The JEEP students at their visit to the Discovery Channel Office: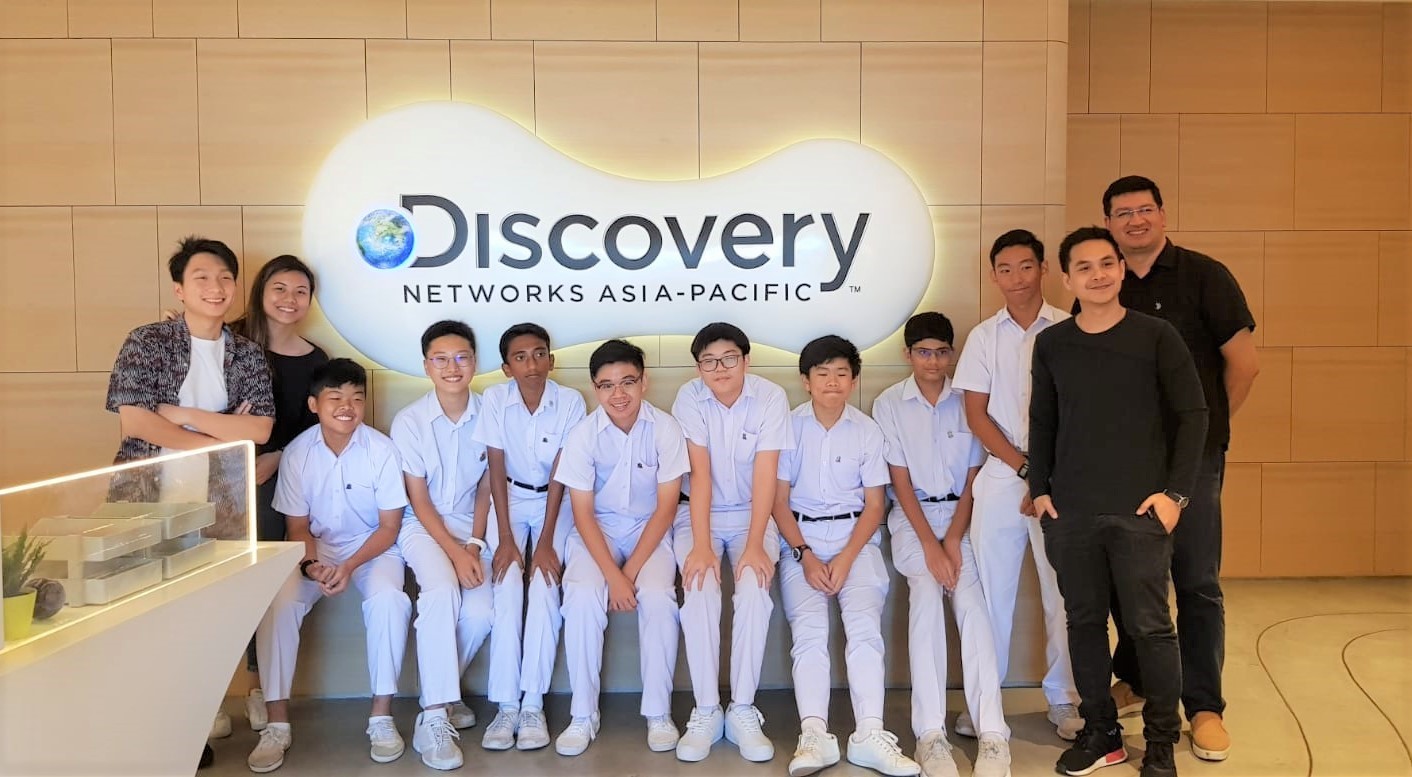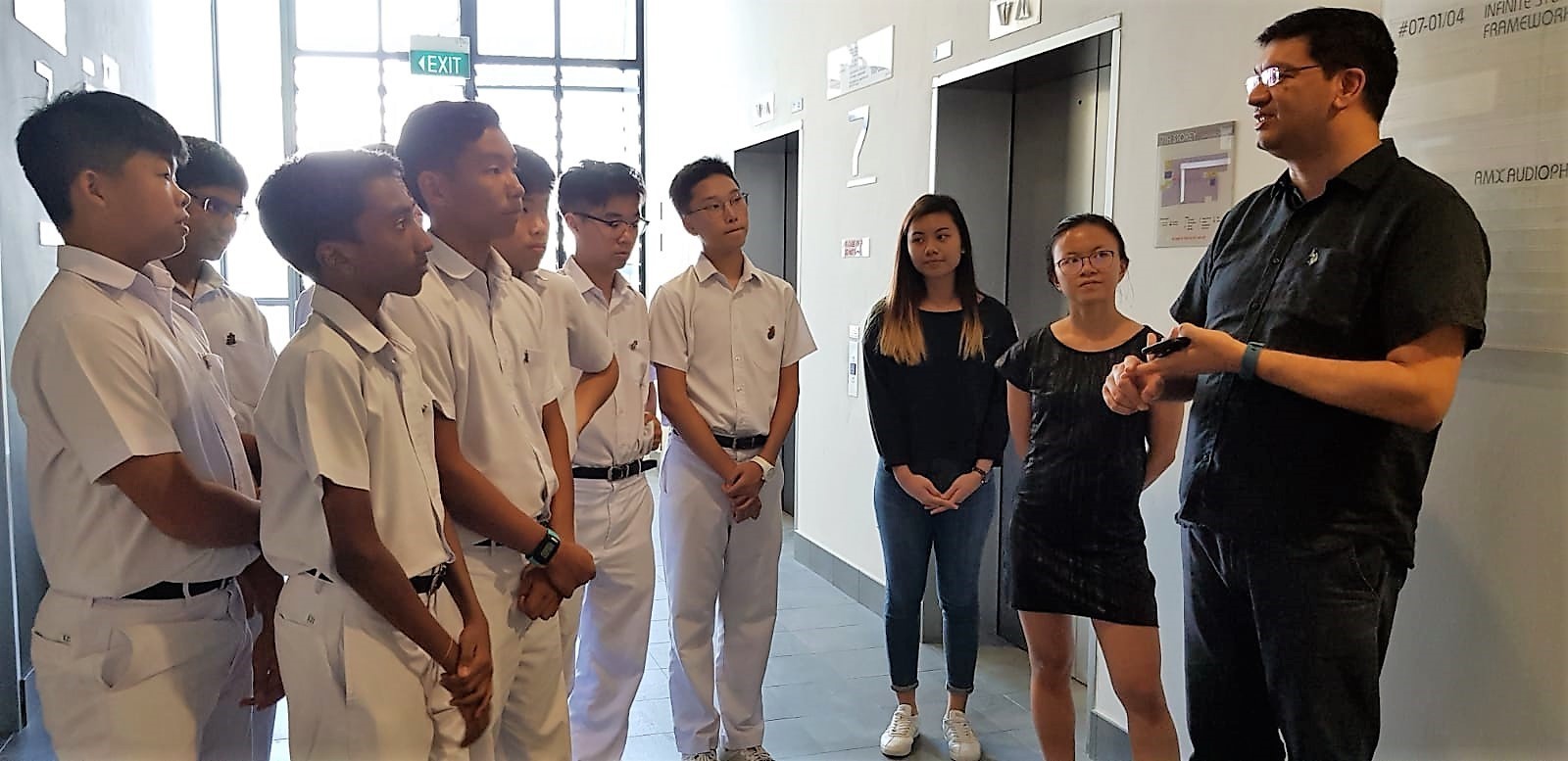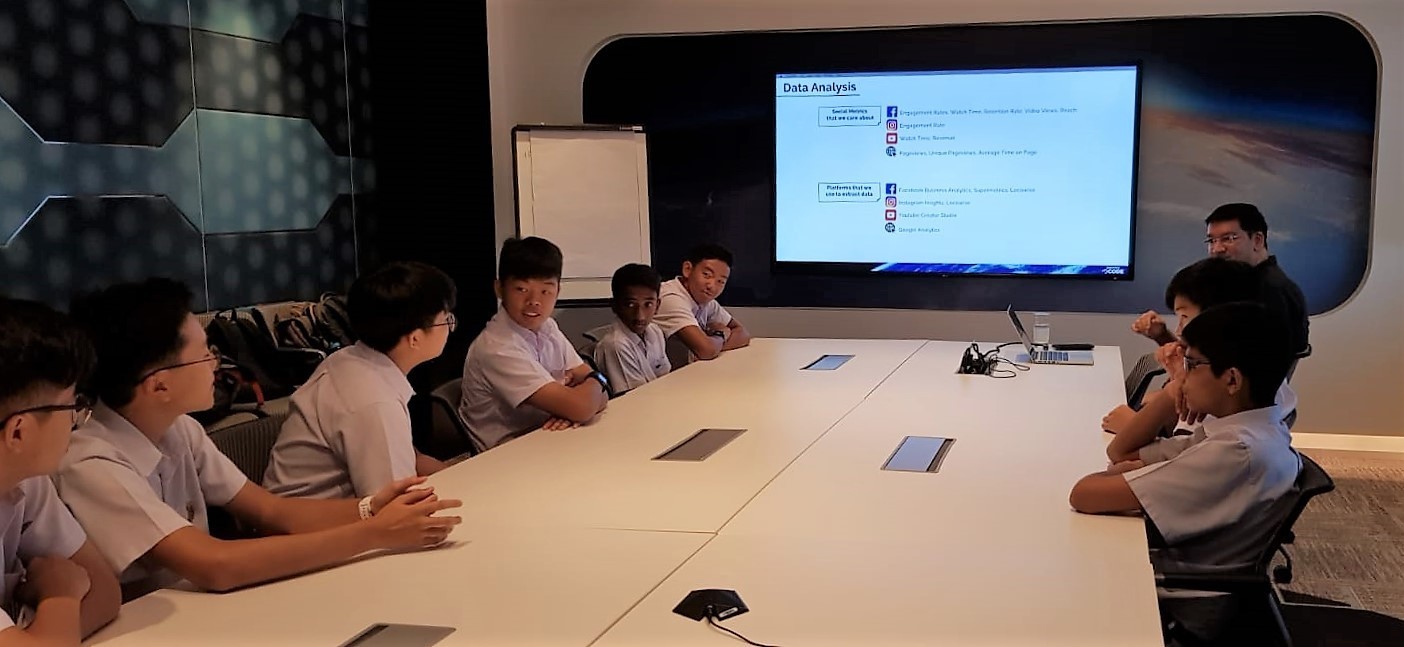 ---
August: Josephians Win 3rd Spot in Story-writing & Illustration Competition
Congratulations to our team of five Year 2 boys from FN203 who won a prize for their illustrated storybook for Write for Kindness story-writing competition. Their boyish story - The Lion with No Mane, targeted at children, is a good learning experience on storyboarding, perspective and teamwork.
Write for Kindness is a national creative-writing competition organised by the Singapore Kindness Movement (SKM) and supported by the All In! Young Writers Festival by the Singapore Book Council. It is a platform for secondary, junior college, centralised institute, madrasah and international school students to promote kindness to the younger audience by creating age-appropriate and culturally relevant children's stories, through short stories, poetry and illustrations.
---
August: SJIOBA Organises Tour At SJI's Former Bras Basah Campus
The SJIOBA Tour@SAM on 17 and 18 August was initiated as part of the Singapore Bicentennial Project, which aims to commemorate the 200th anniversary of the founding of modern Singapore, to be held in 2019. Being one of the earliest schools founded in Singapore since 1852, SJI's heritage and legacy at its original campus along Bras Basah road contributed an important part of the nation's history. Thus, the St Joseph's Institution Old Boys' Association (SJIOBA) organised the tour to welcome the alumni and the public to visit its iconic campus before it is closed for renovation and restoration works for the next three years.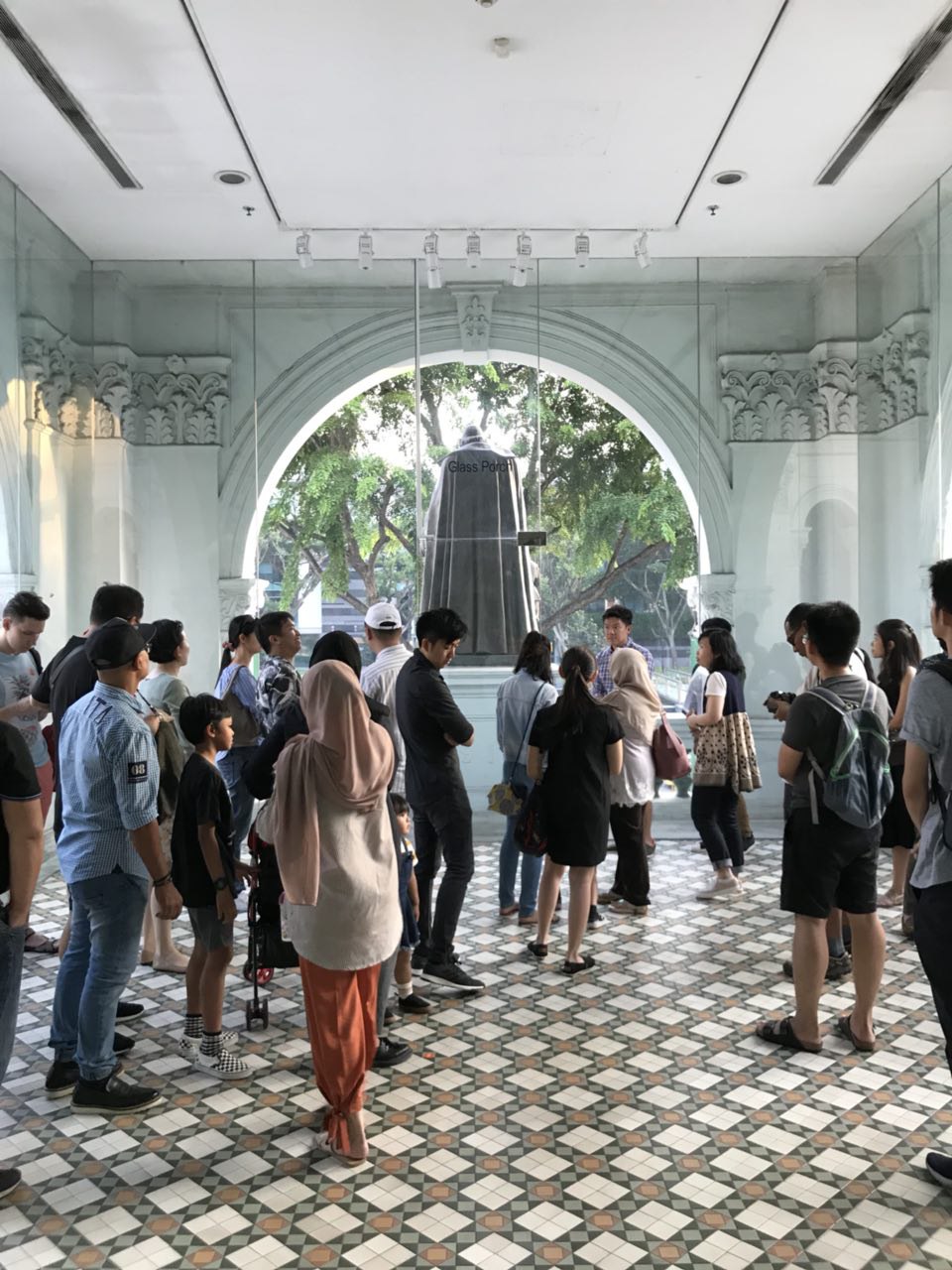 More than 200 alumni and members of the public packed the storied halls, made new memories and took many photos.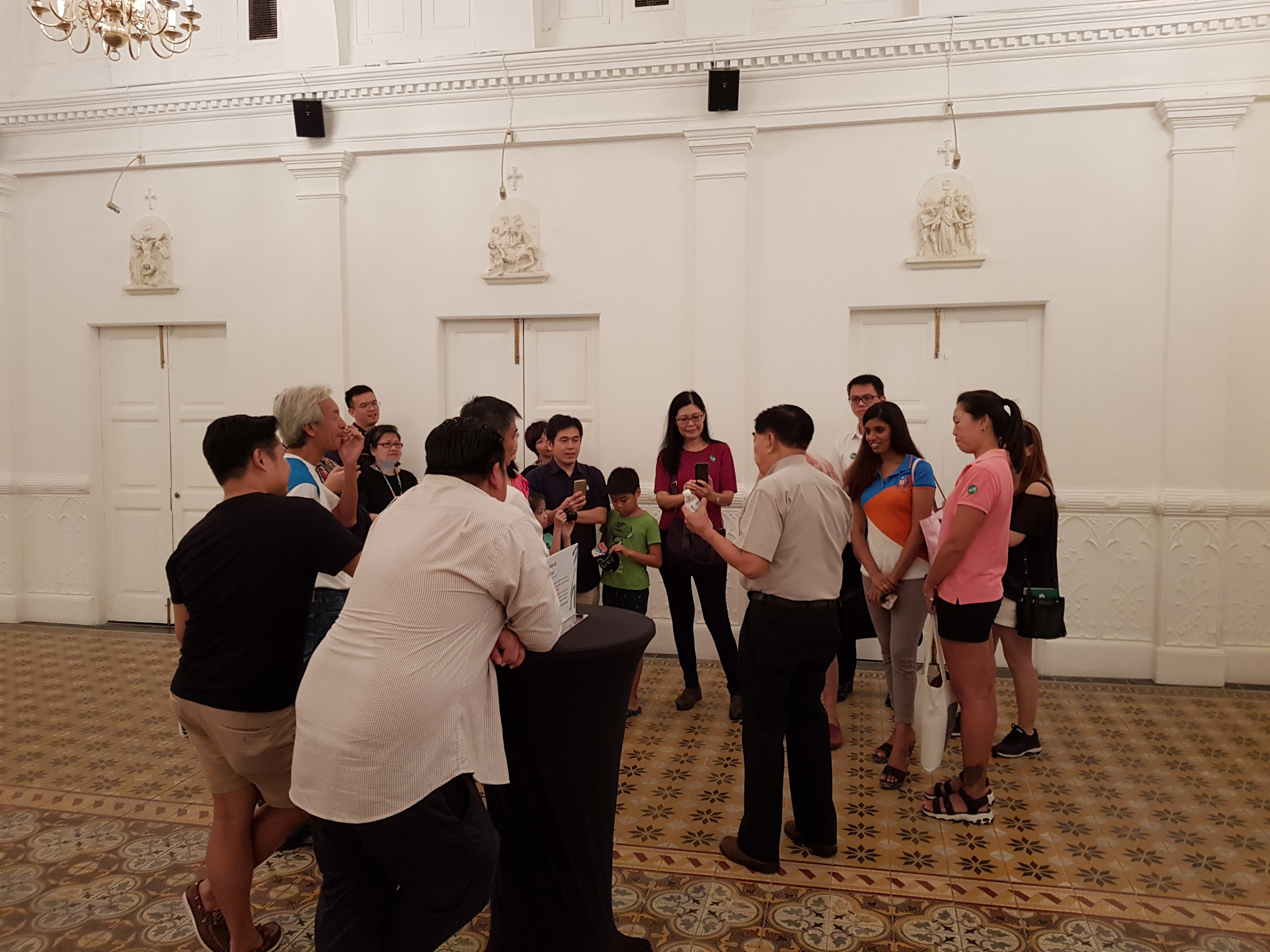 ---
July: Alumnus Receives DSTA Scholarship
We congratulate Lim Bo Zhi (Class of 2012) who has received a scholarship from the Defence Science Technology Agency (DSTA), a statutory board under MINDEF that harnesses and exploits science and technology, and provides technological and engineering support to meet the defence and national security needs of Singapore. He will be reading Computer Science at the Nanyang Technological University, with plans to also do a Masters after his undergraduate studies.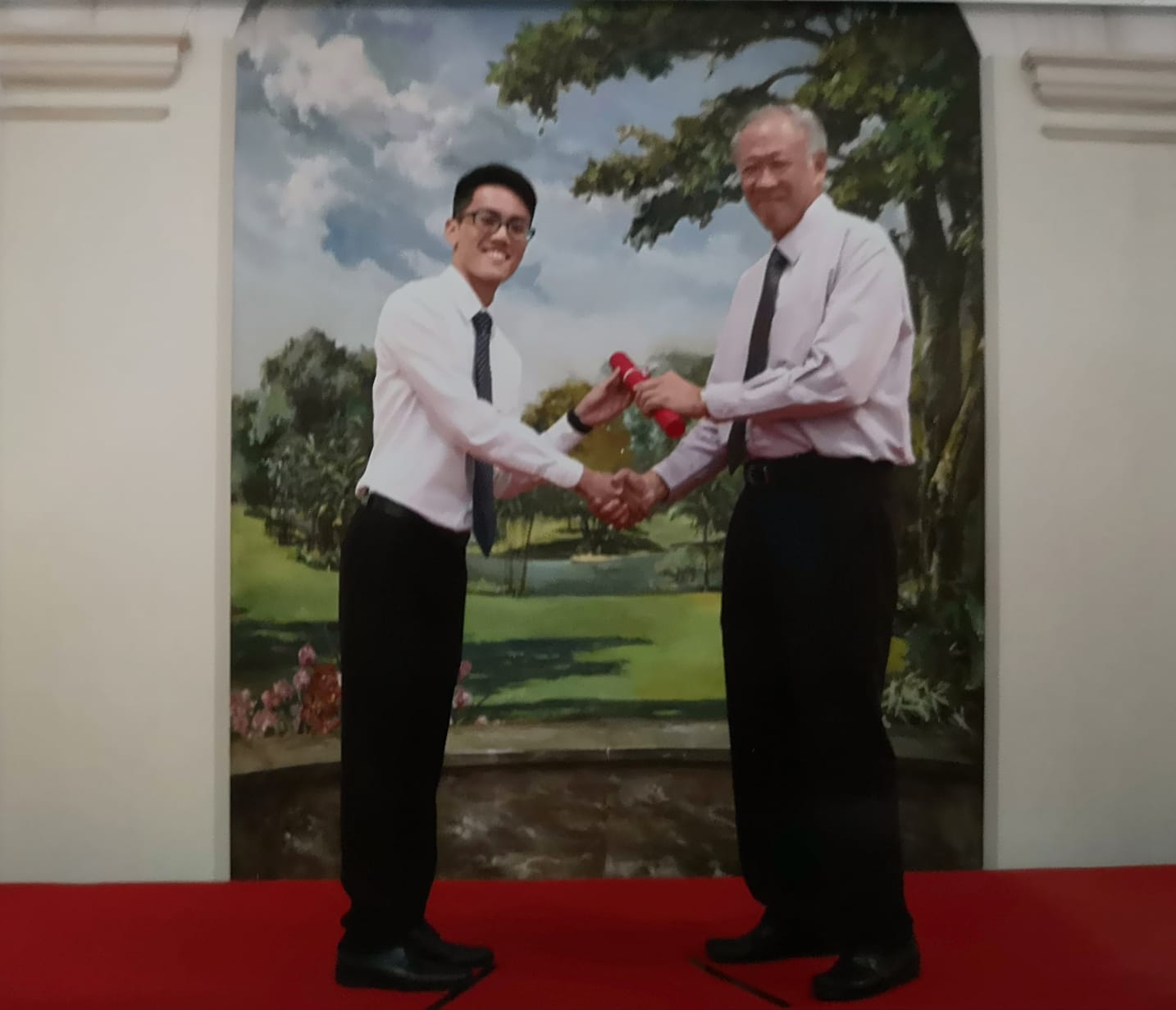 Bo Zhi receiving his scholarship from Minister of Defence Mr Ng Eng Hen at the Istana
---
July: 6 Josephians Received MOE and PSC Teaching Scholarships and Awards
SJI celebrates 6 Josephian alumni who received MOE and PSC Teaching Scholarships and Awards. They are from the Class of:
2017 (IBDP) - Nurin Huda Bte Hanif and Natasha Wong Ee Shuen
2015 (IBDP) - Ahmad Zaki Bin Yazid and Jonathan Ong Sing Huat
2014 (O Levels) - Dylan Raj Singh
2013 (O Levels) - Hubert Yeo Jing Jie
They have not chosen a career but a vocation - to teach minds, touch hearts and transform lives, like their teachers exemplified for them in SJI and all their previous schools. Well done, Josephians!
(embed fb post here)
---
July: SJI Brings Home the Ortega Cup
By Kelvin Hoon (Class of 1998)
Jointly organized between Old Rafflesians Association (ORA) and St. Joseph's Institution Old Boys' Association (SJIOBA), the 12th Ortega Cup between SJI and RI was held on 27 July 2018 at Raffles Institution. A traditional exchange of appreciation plaques between ORA and SJIOBA marks the start of a wonderful day of great camaraderie and rekindling of old friendships.
The young Under-16 boys kicked off proceedings of the day with their youthful zeal and energy. Two successive quick-fire goals by our outstanding boys silenced the home crowd; only to be revived when the RI boys snatched back a goal just before half time - a screamer from outside the penalty box; drawing applause from all. Another quick attack right off the whistle restored SJI's advantage of 2 goals ahead once more and it was followed with end-to-end action, including nerve wrecking misses by the boys to extend the lead. Our boys was clearly the better side, showing great skills and strength across all departments and with no surprise, won the game at 1-3.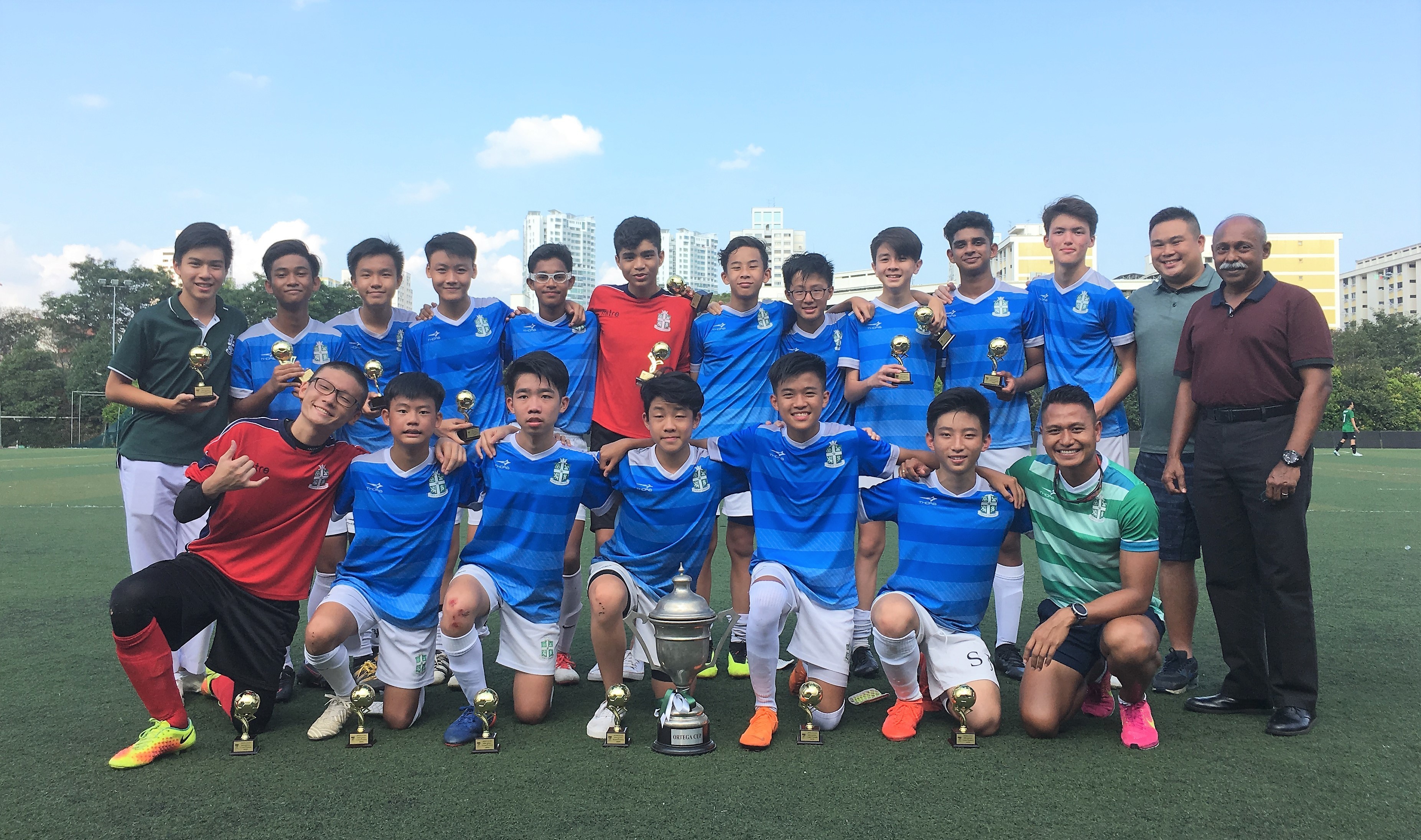 Literally translated from a famous Chinese proverb: "Old ginger is hotter than young ones", our Over-40s gents came on the field and showed everyone what they were made of. With silk runs, great positional play and one-touch passing, our old boys featuring the likes of an ex-National soccer player and former SJIOBA president Kok Fann – played with grace and finesse over their tougher tackling RI counterparts. Some proved to defy age; rolling back the years and running like how they did when back in SJI. Both sides fought tooth and nail, leaving their sweat and blood on the field and cancelled each other throughout the games. There were moments of individual brilliance and tactical discipline but all was for nought and the game ended with a 0-0 draw. SJI, as the visiting team, wins this game.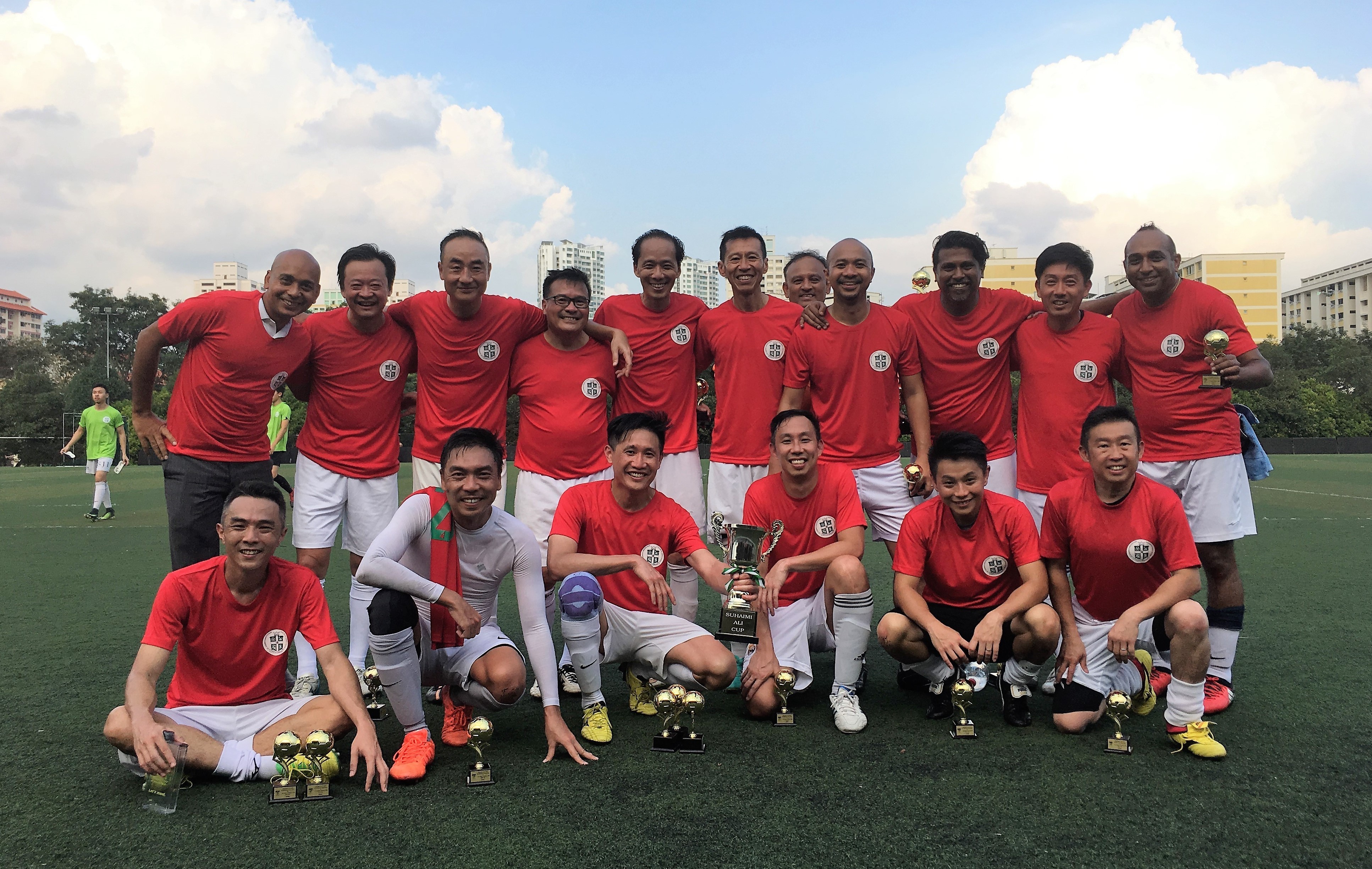 Sitting comfortably and winning already 2 out of 3 games against our Rafflesian counterparts, Siong Guan – an alumnus of 2003 and long-serving captain of our Under-40s team in his opening pep talk, asked for the team to not let up but to give their opponents a good match. The boys attacked at RI's goal with vigour and purpose but were indecisive and RI finished as the better team at the end of first half with 0-0. Plenty of chances from both sides ensued in the second half but none were able to capitalize. Both teams drew at 0-0 at the end of full time. And again, SJI as the visiting team wins this game.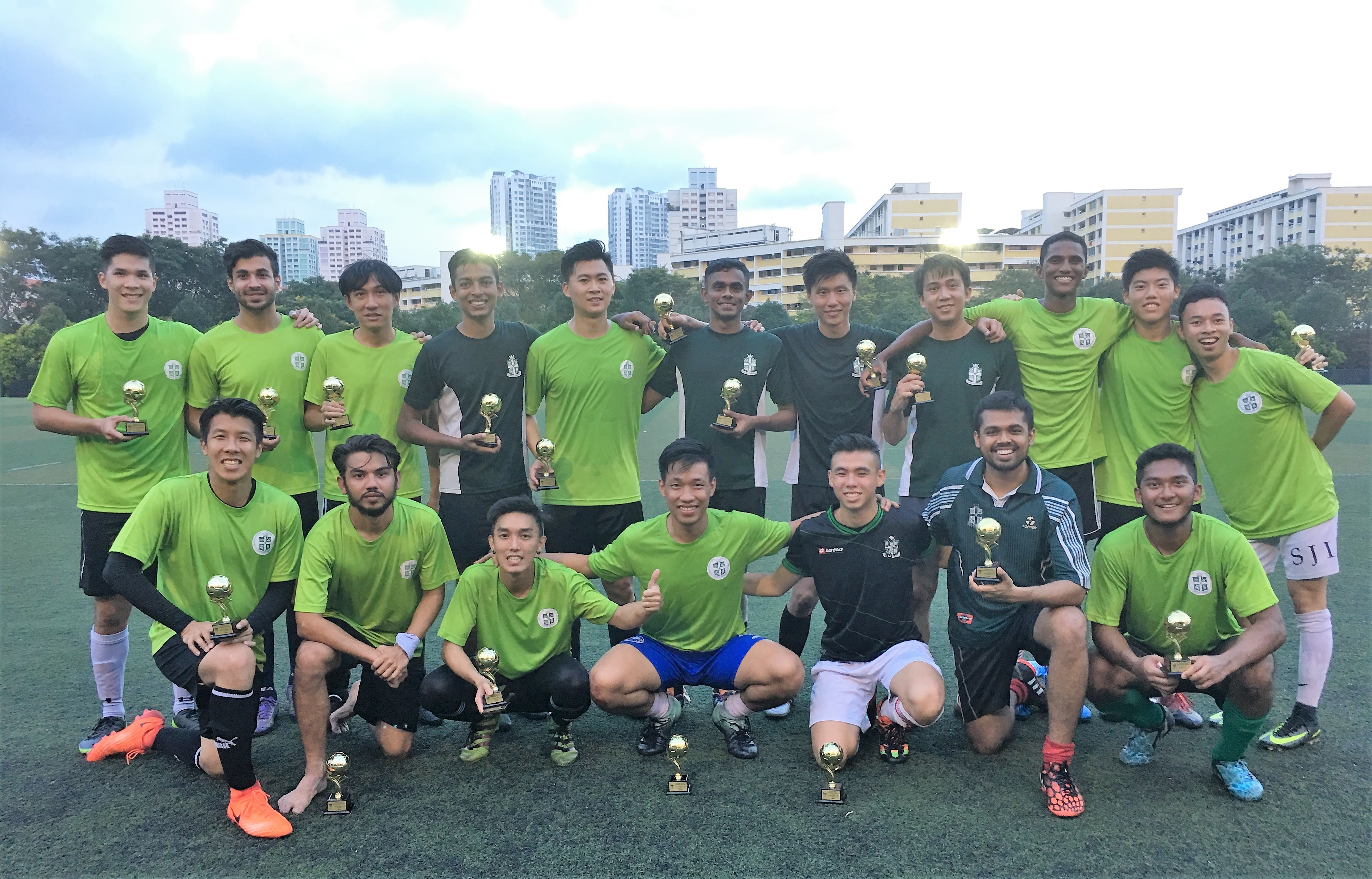 With the completion of the 3 games, SJI was clearly the eventual winner of the 12th edition of the Ortega Cup and retained the trophy for the 3rd successive year. The boys were awesome and wore their hearts on their sleeves. We hope to continue this rich tradition in the years to come and continue to support our boys and girls in other similar soccer competitions.
An inaugural appreciation dinner/whisky event was also held on 21 August 2018 at a whisky bar to celebrate our outstanding win at the Ortega Cup 2018 and to thank everyone who has fought hard for SJI in the Ortega Cup games throughout the years.
---
July: Founder's Day Dinner
The SJI Old Boys' Association reunited with the seven Lasallian schools in Singapore at the Founder's Day Dinner on 28 July 2018. Held at the Pan Pacific Hotel, the theme for this year's dinner was 'Seven Lasallian Schools - One Family'.
The Founder Day's Dinner is a celebration of our Lasallian education, values and heritage, to rekindle the spirit and glory of the days of the old CBS Founder's Day Dinners when all Lasallian schools came together to celebrate their common foundation.
In all, the evening brought together 350 alumni, teachers, school staff, students and family members from all 7 Lasallian schools - De La Salle School, St. Anthony's Primary School, St. Joseph's Junior (former St. Michael's School), St. Stephen's School, SJI, SJI International and St. Patrick's School as well as volunteers from the Lasallian Youth Network.
Dinner was piped in by the SJI Pipe Band, SJI Student Council members performed with our Old Boy Busking Team and ran a photo booth featuring backgrounds from both SJI campuses at Bras Basah Road and Malcolm Road. A rambunctious fine whiskey auction conducted by emcees Anthony Lim and Cary Chan from the SJIOBA Executive Committee was the highlight of the night, raising spirits and laughter from their memorable high jinks.
The night ended with the School Rally, a song shared by all the seven schools. A moving show of unity as well as diversity as everyone sang with pride whilst naming their own school during the song.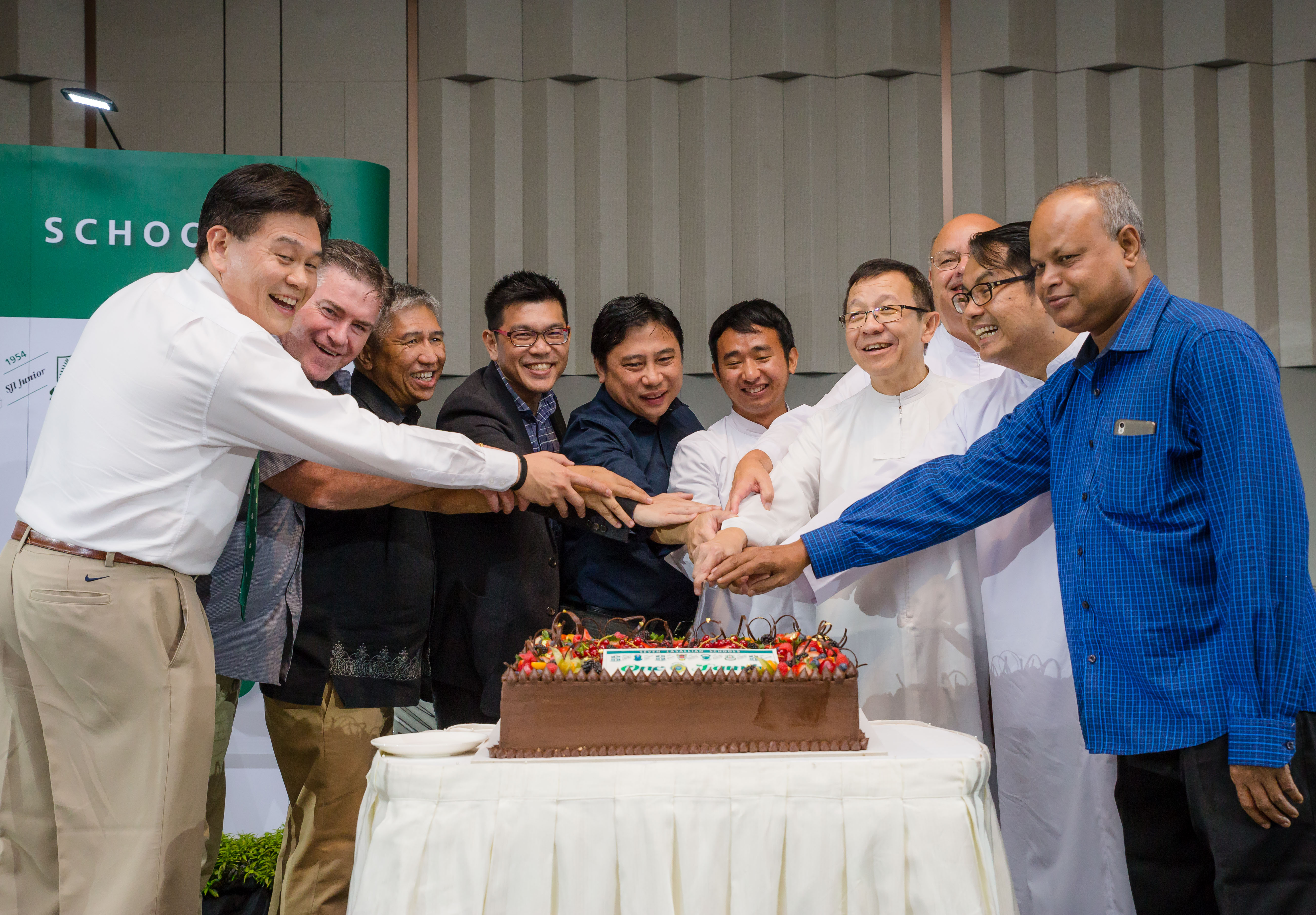 Cake cutting by the Christian Brothers, Principals and SJIOBA.
---
July: SJI Pipe Band Performs at Sentosa
SJI's Pipe Band took part in Sentosa's National Day Celebrations on 21 July. The Pipers and Drummers were invited because they are recognised for the quality of their music. It's wonderful our Pipers and Drummers have achieved such standards. Bravo, Josephians! Well done!
---
July: Josephians Celebrate Racial Harmony Day
SJI celebrated Racial Harmony Day on 20 July. This year's Racial Harmony Day was particularly meaningful as both the Secondary and Senior Student Councils joined forces to put up some activities for the student cohort. Josephians were treated to a Lunchtime Jam organised by Rock-A-Cause, as well as appetizing traditional delights put together by our canteen vendors. The celebrations ended off with a bang where representatives from each class in the senior section donned their traditional costumes and sashayed down a Model runway with cultural music accompaniment.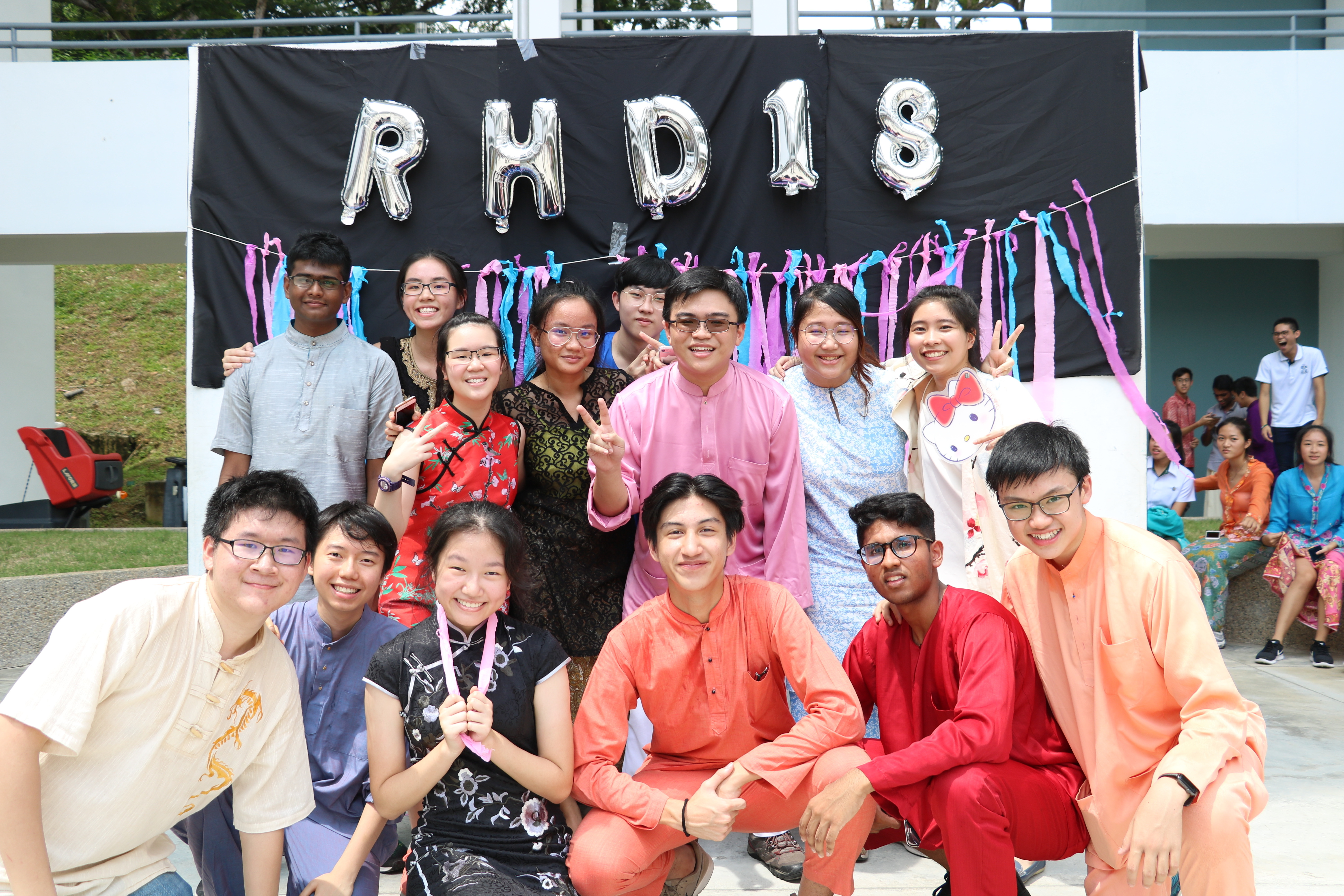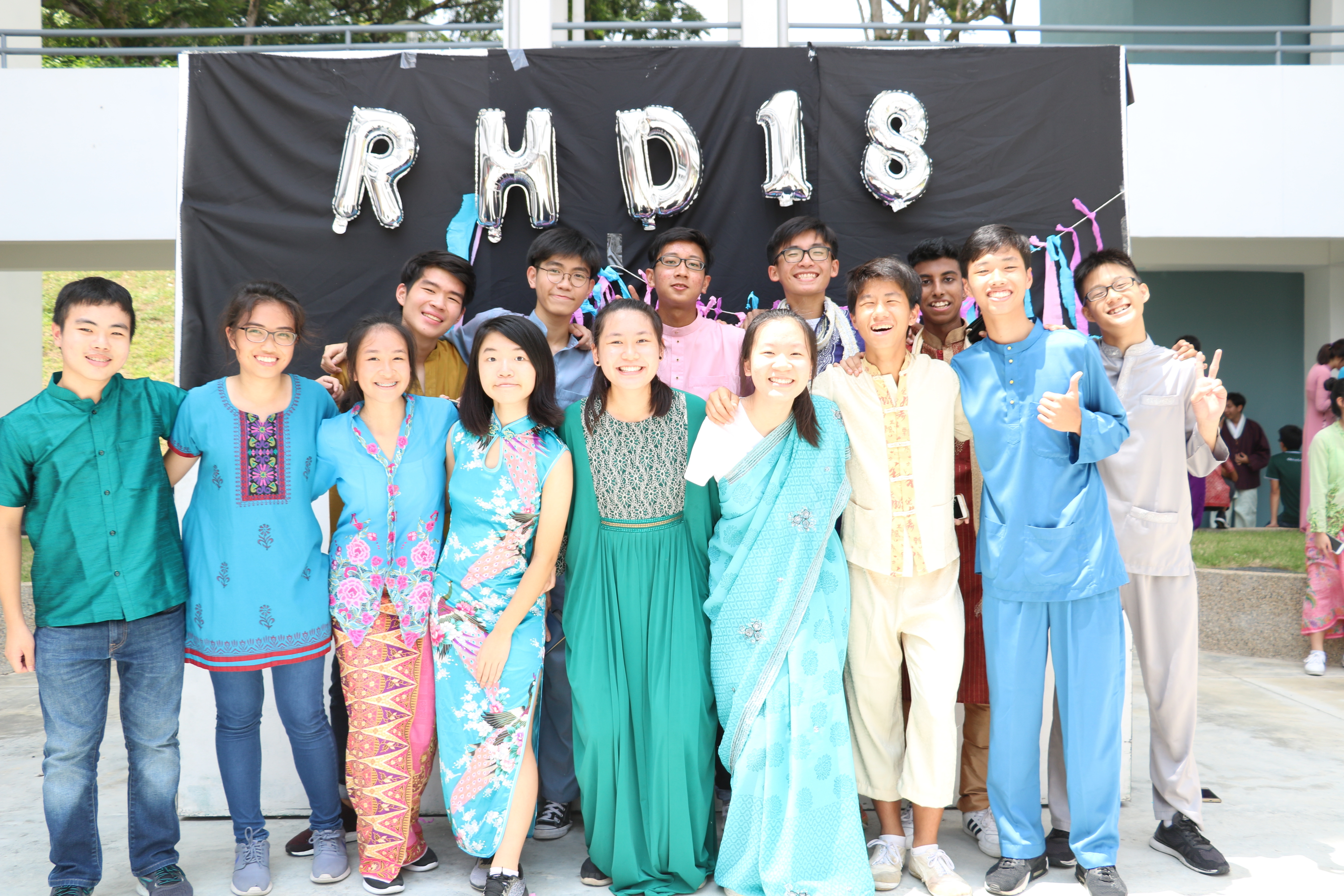 ---
July: Josephians Named NSF of the Year
We congratulate Kok Yao Xiang and Emmanuel Lee Zong Wei (Class of 2013) who have achieved the Army NSF of the Year award. This annual award is presented to the most outstanding servicemen of the cohort who have demonstrated a strong commitment to Defence and displayed exemplary qualities and competencies during their 2 years of National Service.
---
July: Josephians Awarded PSC Scholarships
SJI congratulates six alumni who received the Public Service Commission (PSC) Scholarships on 18 July. They are from the Class of:
2017 (IBDP) - Yasha Lai (to UK, LSE to read Social Anthropology) and Elliot Ng (UK, King's College: Political Economy)
2015 (O Levels) - Andrew Chew (SG, NTU: Chemical and Biomolecular Engineering) and Camagni Fabio Ganesa (SG, NUS: Chemical Engineering with Business Administration)
2014 (O Levels) - Lee Yi (UK, Cambridge: Engineering)
2012 (O Levels) - Thaddaeus Tan (SG, NUS: Medicine)
Their accomplishment testifies to much more than their ability, character and intellect. It witnesses to their selfless choice to live lives of service to make Singapore and the world better and brighter!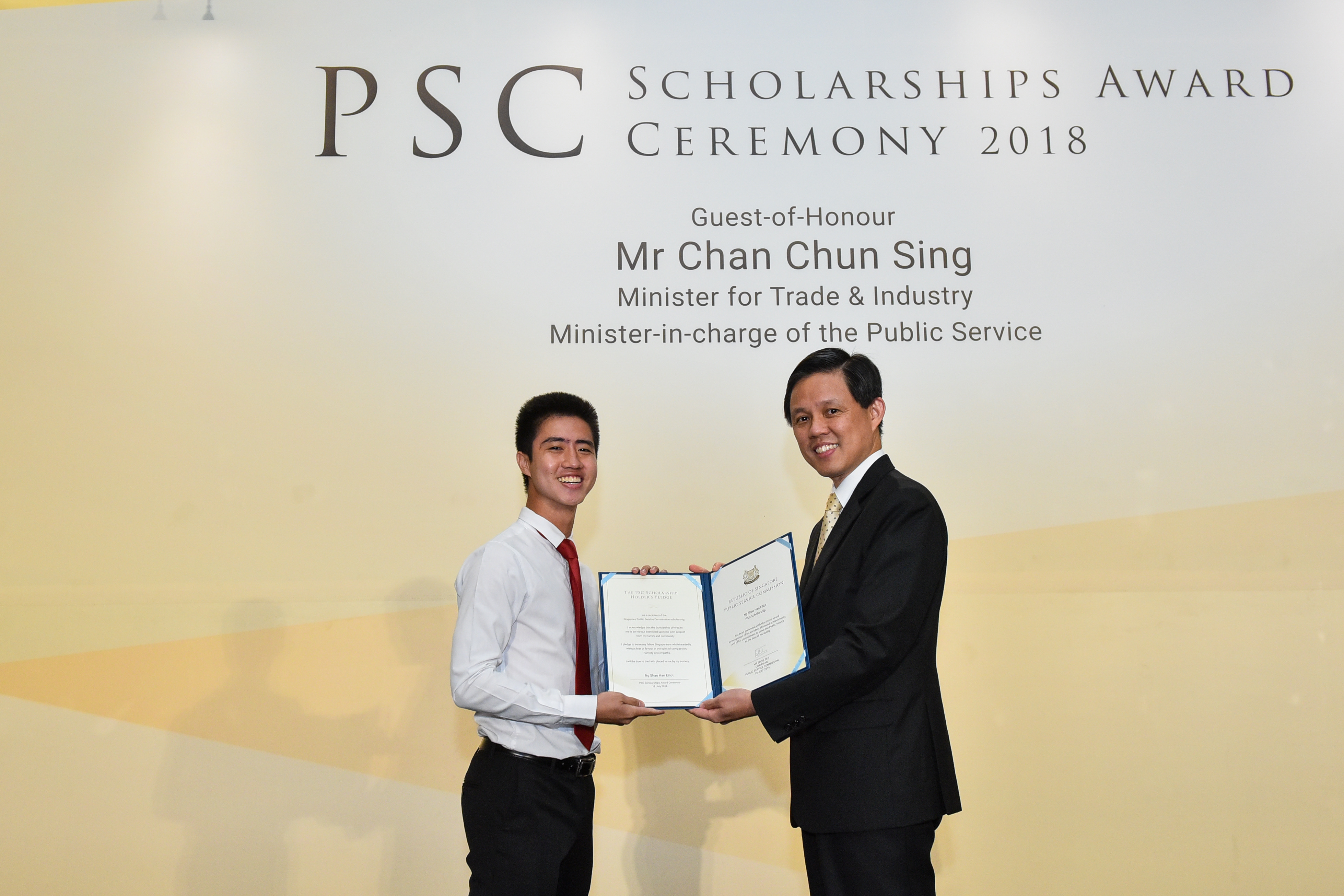 Elliot Ng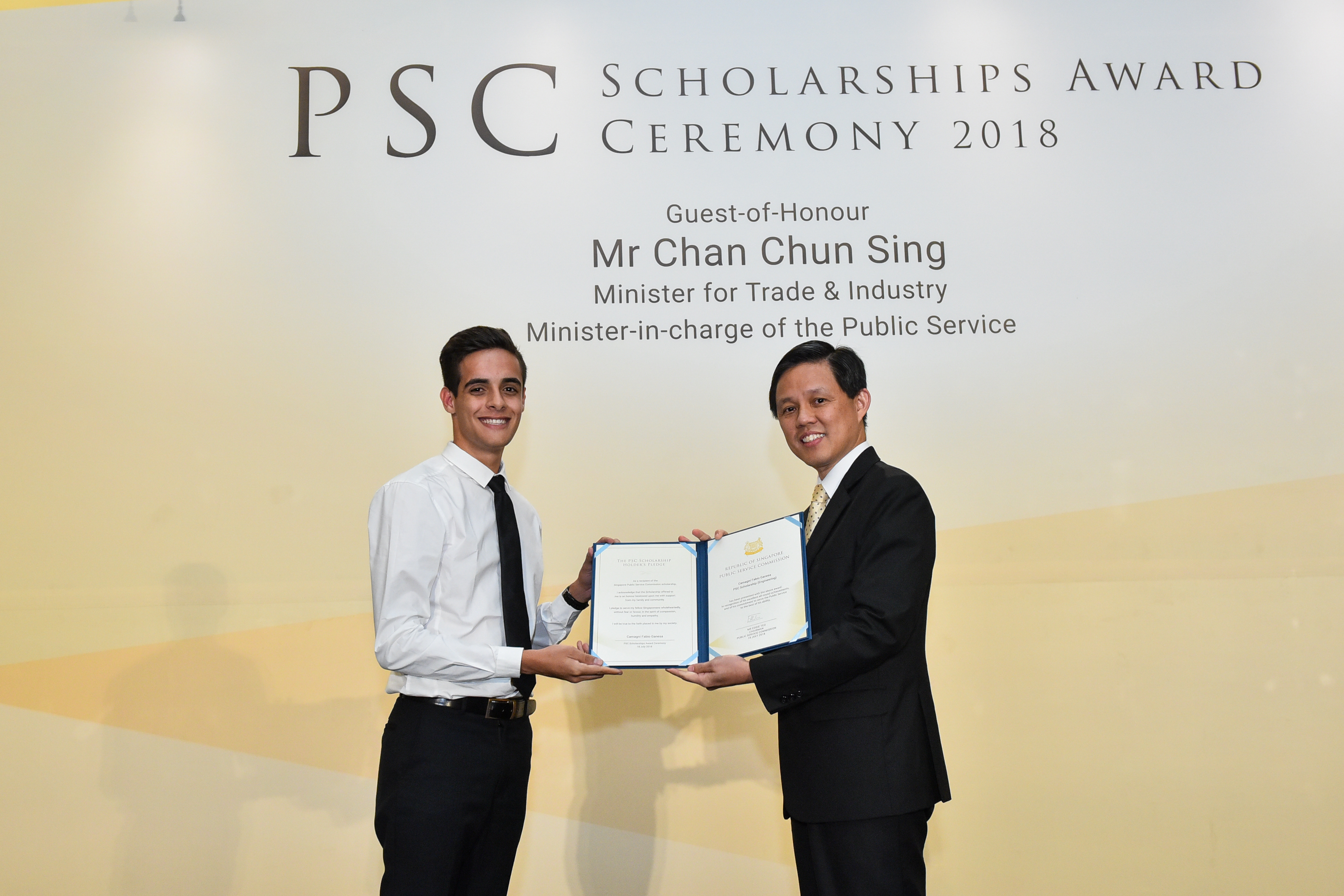 Camagni Fabio Ganesa
Mr Edward Ng (father of Elliot), shared on SJI's Facebook: "We wish to thank Fr Danker and all the teachers and staff for helping to nurture Elliot into what he is today. Thanks for all the opportunities given to Elliot too. Both our sons attended SJI and the school has done a wonderful job in moulding and nurturing the character and values of all its students and we appreciate its efforts."
(embed fb post here)
---
July: Josephian Pays It Forward to Help Other Kidney Patients
Mark Goh (Class of 2007) who overcame his adversities as a kidney transplant survivor, pays it forward by studying medicine so as to help other kidney patients in the future. Read about his story here.
---
June: SJI's A-Division Dragon Boating Teams Paddle to Top 3 Spots at National Championships
At the National Schools A Division Competition held at DBS Marina Regatta, our Dragon boaters clinched the Silver medals for the 12-Crew (DB12) Boys and DB12 Girls, and Bronze in the 22-Crew (DB22) Girls events. Read more about the Boys' and Girls' achievements.
---
June: SJI Debaters Wins the MOE-ACJC Debating Plate Finals
SJI won the MOE-ACJC Debating Plate Finals. SJI defeated SJI International to win. Two SJI debaters are in the Top 20 Best Speakers nationally. SJI is among the top ten debating teams in Singapore this year.
(embed fb post here)
---
June: SJI Students Win the Moonshot Award at MOE's ICT Conference
SJI has won the Moonshot Award for the most original and ambitious project at MOE's 2018 ICT Conference. The team of four Year 3s use Design Thinking and ICT to propose learning with Augmented Reality.
---
May: Igniting the Josephian Spirit
The school comes together to witness the investiture of SJI's 6th Senior Section Student Council and CAS Leaders of the batch of 2019 on 25 May 2018. The theme for the event is "Accende Spiritum", or "Ignite the Spirit". This year, we strive to renew the Josephian Spirit in each and every Josephian, bringing together our SJI family and imbibing in them a sense of community as we witness the handover of leadership from the outgoing student leaders to the incoming student leaders. The investiture also reflects our gratitude to the outgoing 5th Student Council and CAS Leaders for their passion and dedication over the past year. In line with the council's mission and vision, we aim to be the spark, to inspire both the council and the SJI community through our actions, as an embodiment of what it means to be a Josephian.
(embed fb post here)
---
May: Josephians Think Out of the Box through ArtScience & Design Thinking
ArtScience and Design Thinking are two special programmes in SJI. Though these, our Year 3 IP students develop skills and dispositions for life, like 'blue sky thinking', critical and creative thinking and presentation skills. Most of all, they develop a sense of empathy for those they have to design their projects for.
(embed fb post here)
---
May: Lenten Project 2018

As part of our annual Lenten Project, the SJI community came together to collect, pack and distribute items to the different beneficiaries of different religious background and social status. This year, our Year 1 and Year 5 students collaborated with the mosque in Bishan that helped to arrange this distribution for the Muslim community.
---
May: Former Josephians Achieve Outstanding Results in Polytechnics
We congratulate our alumni who have graduated with outstanding results from their courses in various polytechnics:
• Ngee Ann Polytechnic:
Tan Wei Ren, Ezekiel – Diploma in Engineering Science
Ezekiel will be receiving the following prizes:
- Terasaki Electric Silver Medal & Prize (For second most outstanding performance)
- Diploma with Merit
- Rohde and Schwarz Asia Prize (For most outstanding academic performance)
• Republic Polytechnic:
The Diploma Gold Medal Award are presented to the most outstanding student who tops his/her diploma for each graduation cohort.
Diploma with Merit is awarded to students who are in the top 10% for each graduating course cohort.
Module Prize is awarded to students with outstanding academic performance in the Module.
Low Cheong Wah, Alan – Diploma in Infocomm Security Management
Alan received the following prizes:
- IMDA Singapore Gold Medal Award
- Diploma with Merit
- Module Prize
Clement Phua Yong Jin - Diploma in Consumer Behaviour and Research
- Diploma with Merit
Benjamin Jeremiah Koh P C - Diploma in Game Design
- Diploma with Merit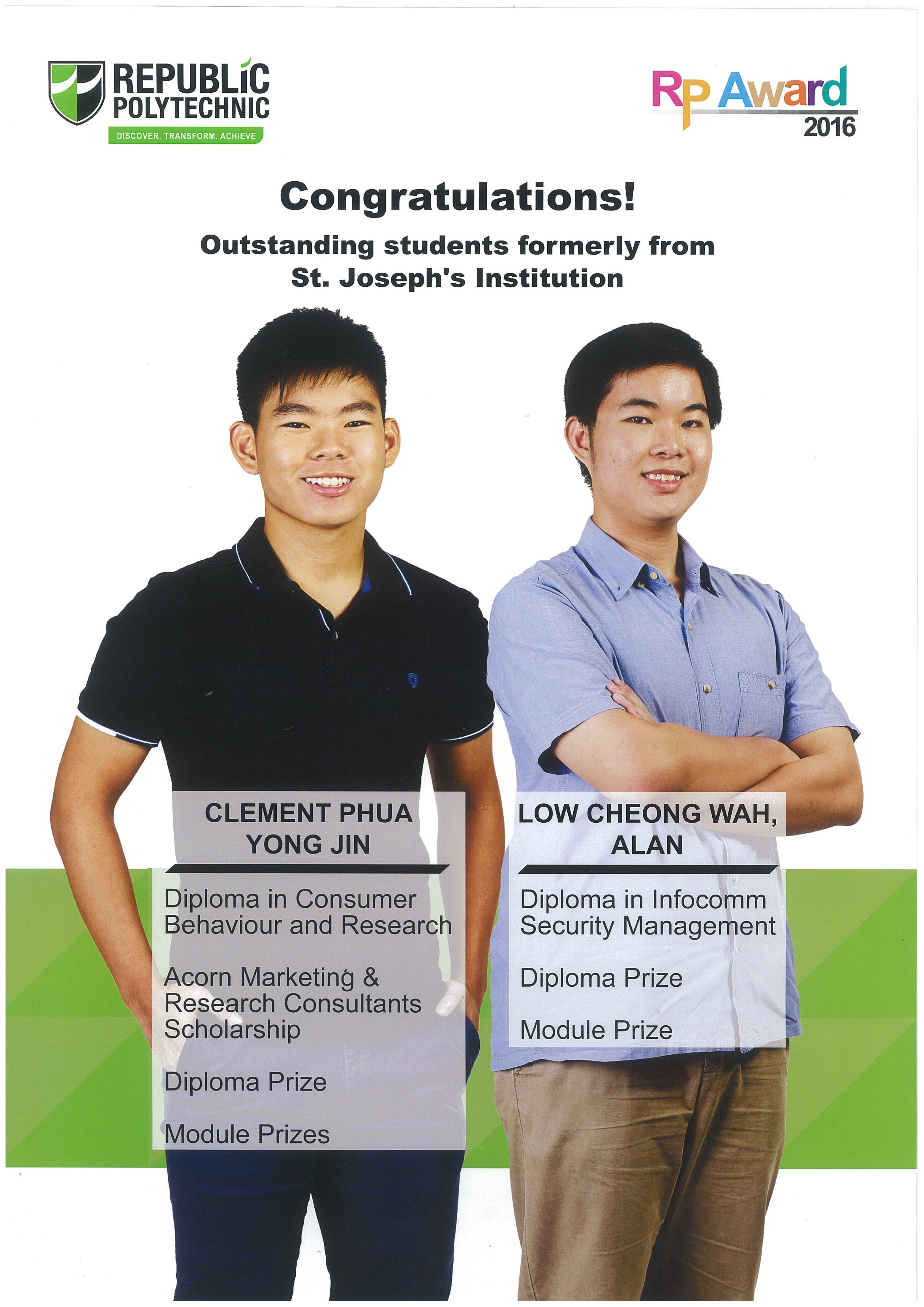 ---
April: SJI Alumnus Appointed Senior Minister of State for Law and Health
SJI congratulates Mr Edwin Tong Chun Fai (Class of 1985) on his appointment as Senior Minister of State for Law and Health with effect from 1 July 2018.

Read more about this here

.
---
April: Lucas Huan Paddles to Top Positions at National Junior Canoeing Competition
Lucas Huan Zhi Kai (TG511) has emerged in the top 3 positions for National Junior Canoeing Competition. As the only representative from SJI for the A Division, he competed against the other JCs, polys and tertiary institutions, to achieve 1st positions for Men's (Under 20) C1 Canoe Sprint - 200m and Men's (Under 20) C1 Canoe Sprint - 1000m, and 2nd position for Men's (Under 20) C1 Canoe Sprint - 500m.
In the National Schools Canoeing Championships, SJI's B Division Boys Team picked up the third position at 39 points, while the C Division Boys took the second position at 53 points. Click here to read more.
---
April: Josephians Receive Young Defence Scientist Programme (YDSP) Scholarships and Awards
The Young Defence Scientist Programme (YDSP) is a prestigious programme by Defence Science and Technology Agency (DSTA) and DSO National Laboratories (DSO). It seeks to inspire youth in the area of defence science and technology.
This year, 8 Josephians received YDSP Awards for Academic Excellence in Maths and Physics. YDSP awarded 2 Josephians with scholarships. Two more Josephians participated in the YDSP Research project. One of them is Ryan Karthik Pary who is featured below.
(embed fb post here)
(Source: Ministry of Defence, Singapore (MINDEF) and Defence Science and Technology Agency)
Project: Obstacle Detection Methods for the Autonomous Navigation of Ground Robots
Mentors: Head Capability Development Charles Ng (pictured, left), Senior Principal Engineer Anthony Chua and Senior Engineer Raven Poh from Defence Science and Technology Agency's (DSTA) Command, Control and Communications Development Programme Centre
Is there a way for ground vehicles to automatically detect and overcome obstacles? This was what SJI student Ryan Karthik Pary (centre) and Raffles Girls' School student Avellin Wong (right) tried to tackle in their project.
The two 17-year-olds integrated ultrasonic and infrared sensors into their robot and programmed it to perform positive (above the floor surface) and negative (below the floor surface) obstacle avoidance along its path. They also added a processing interface which used information from the sensors to instruct the robot on where it should move forward to.
"I found the YDSP programme to be enriching – it's beyond the classroom experience," said Ryan, who hopes to become a defence scientist.
Mr Ng, who was one of the team's mentors, said: "I hope to spark their interest in science and technology as this is an area that is developing very fast. As Singapore is a small nation, I hope to be able to do my part in building up a force of local engineers, especially in the defence industry."
---
April: Jibreel Khaleel Shines at the National Schools B Division Artistic Gymnastic Championships
SJI's Jibreel Khaleel Hussein Abo Al Thinin wins five of the six individual apparatus titles at the National Schools B Division artistic gymnastic championships, bringing home the titles for the floor (12.400), pommel horse (11.000), rings (11.433), vault (13.000) and parallel bars (12.133) events. Read more about his win.
---
April: Mahalo: An SJI Carnival
By Koh Boon Kiat (MN403)
To celebrate the gift of thanksgiving and mark the return of SJI to her Malcolm Road campus, the 7th Secondary Student Council organised a school carnival on 14 April. Mahalo, which means gratitude in Hawaiian, captures the essence of the message the Student Council wanted to put across, as there is so much to be grateful for in SJI. Thus, in the spirit of thanksgiving, the proceeds of the carnival would be donated to Hopehouse and the school's Student Development Fund.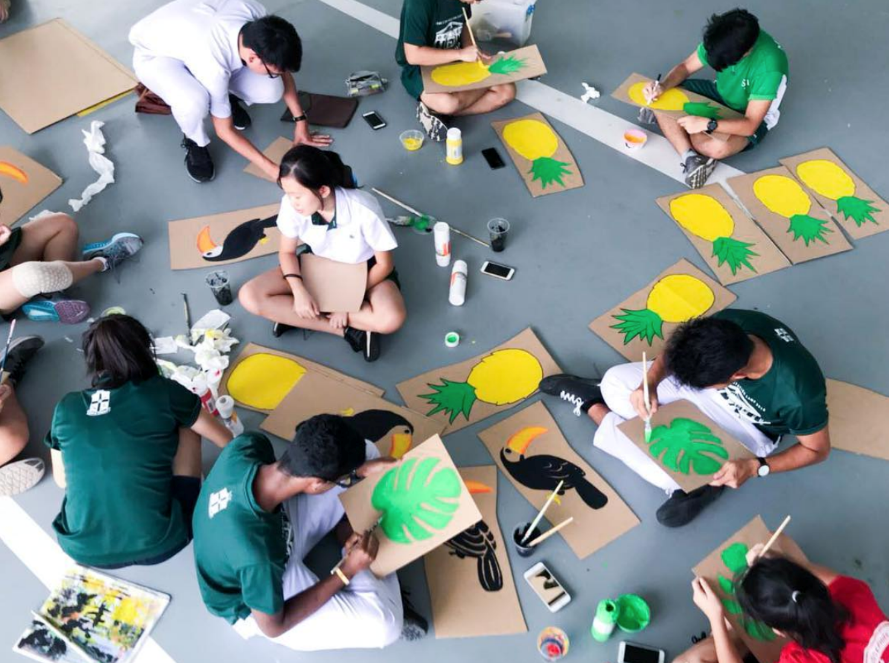 The days leading up to the carnival were tiring yet rewarding. From painting banners to counting tickets and designing merchandise, many volunteers from Year 4 and 5 offered to stay past their school hours to ensure the success of the carnival. The Parent Support Group (PSG) spent several afternoons with the student council to work out the various aspects of their stalls and were generous in their sponsorship of food and lucky draw prizes. With the help of students, teachers and parent volunteers alike, the carnival was poised to be a great success.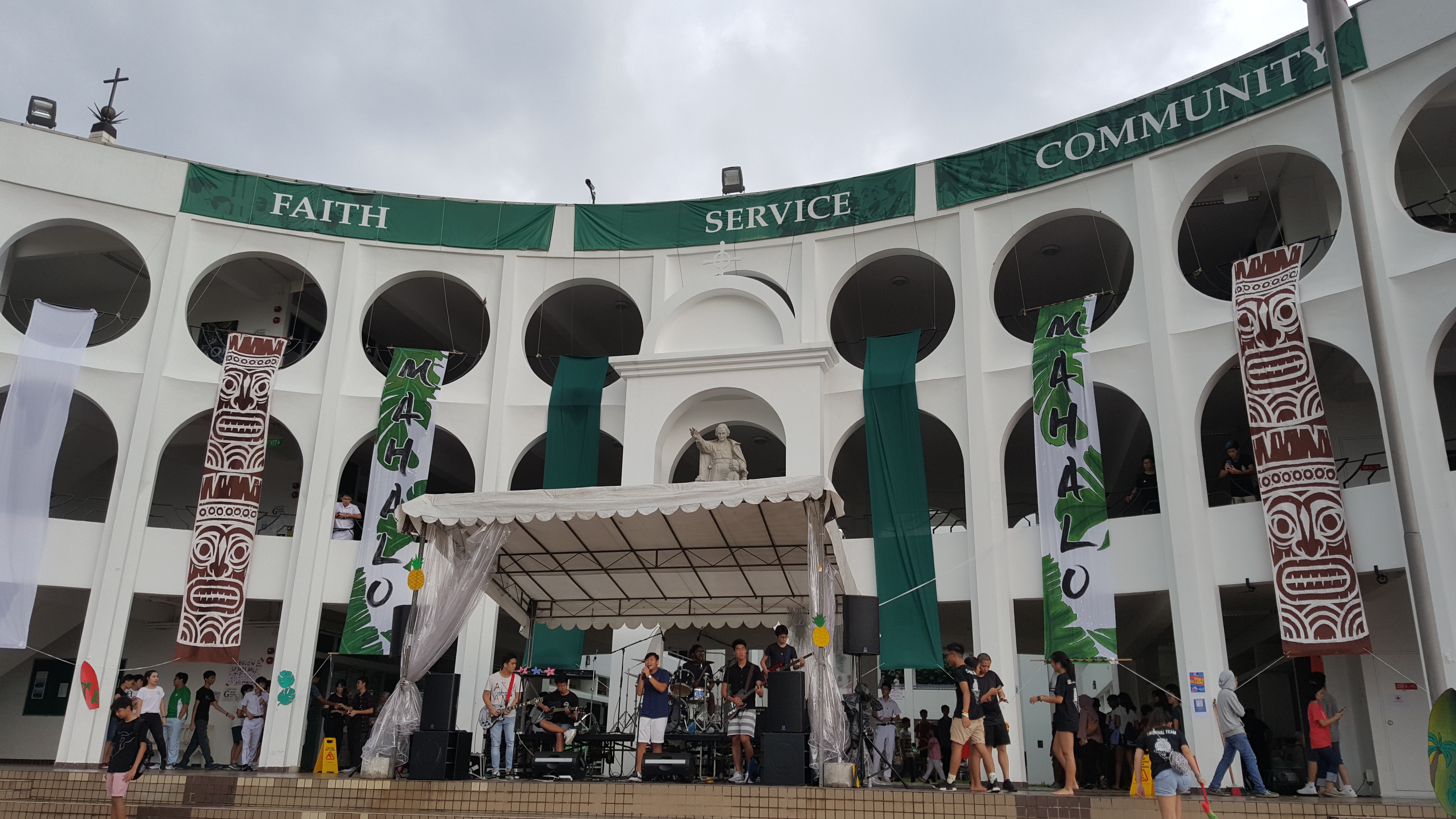 On 14 April, the school opened its gates to a large eager crowd, comprising of friends, family and alumni, who could not wait to join in the fun and games. The live concert put up by talented Josephians, the trike-drifting event (pictured below) brought in by the SJI Old Boys' Association (SJIOBA), and many more highlights, definitely brought the hype at the carnival to the next level. The highlight of the carnival was the opportunity to dunk our Principal, supported by the unanimous cheering of the excited spectators, heard above the fanfare.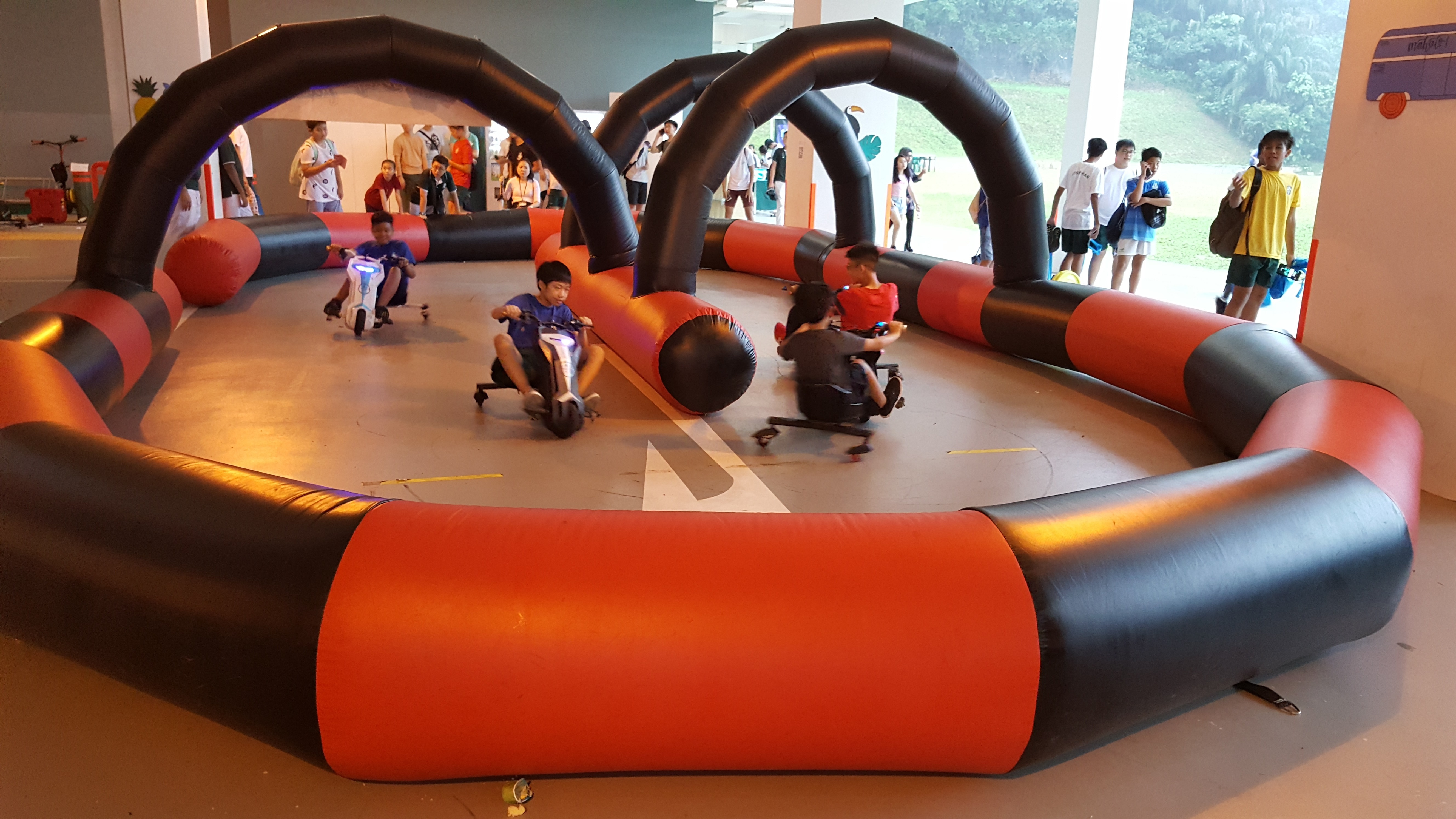 The 7th Student Council and Carnival Organising Team 2018, is extremely grateful to all teachers, students, parents and alumni volunteers for their effort, time and energy to plan and run the stalls. From designing the most artistic posters to coming up with an interesting game to entice the crowds, the carnival was a success and raised to a total of $30,000.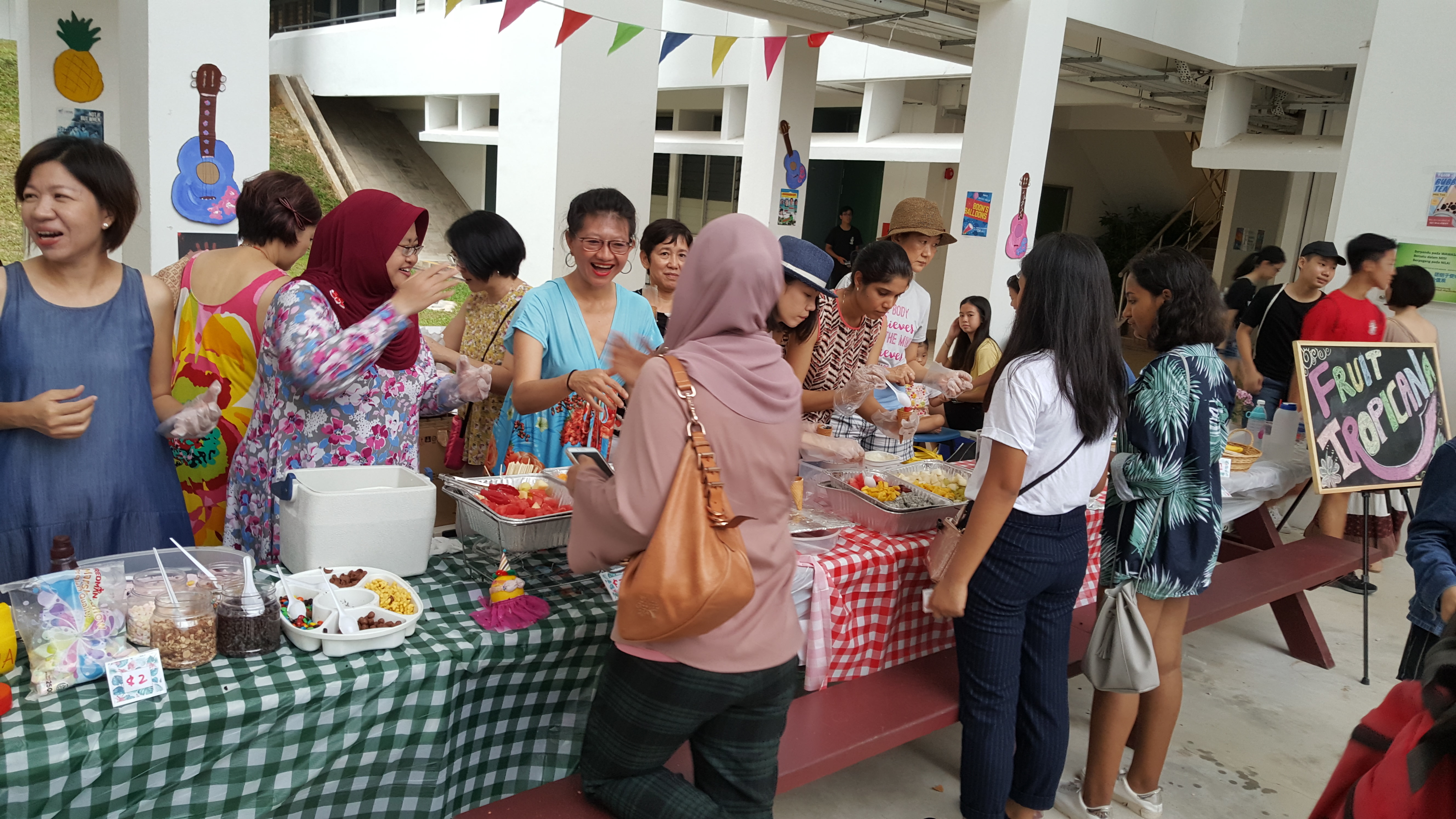 It was an amazing experience and we are extremely humbled to have an opportunity to plan such a large-scale event. We hope that it was a memorable and enjoyable event for all and we thank you for your support of Mahalo 2018!
---
April: SJI BLOODay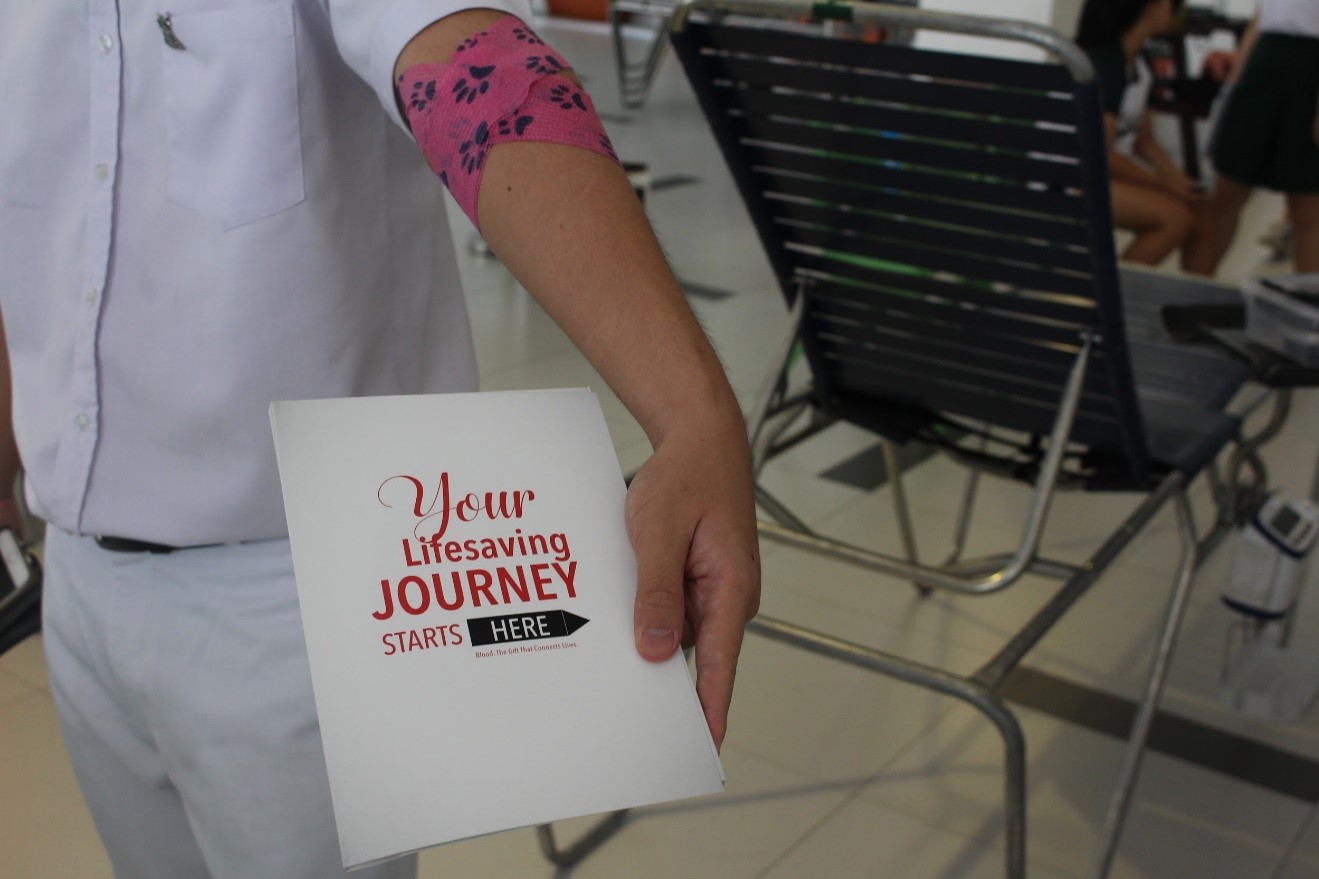 SJI held its first blood drive for 2018 at the foyer on 10 April. There was an overwhelming number of responses from the students, teachers and staff, totalling 100 sign ups.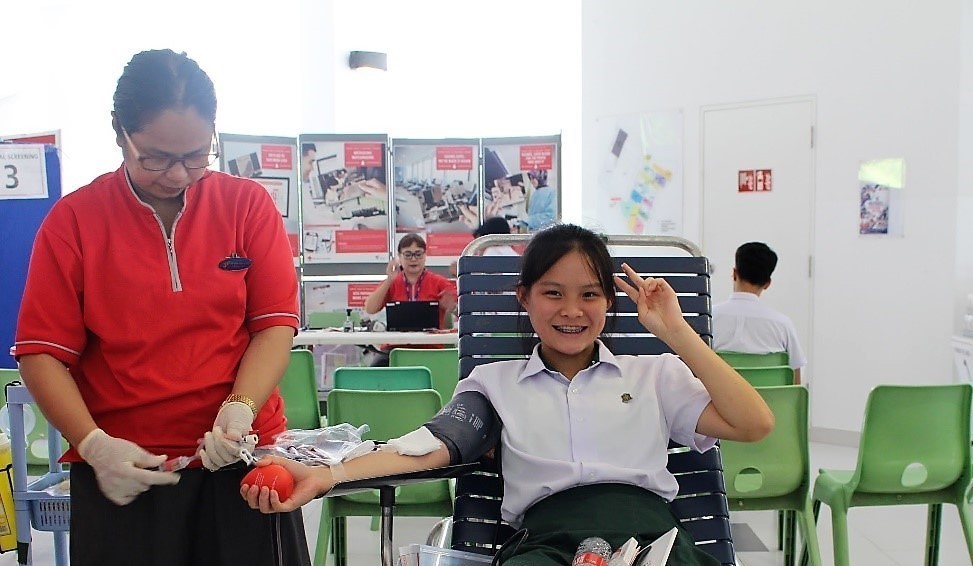 77 donors registered on the day itself. However, due to the stringent criteria required of all blood donors, only 55 people were eligible for blood donation. This amounted to almost 80% of the projected collection. The BLOODay CAS is very heartened by the enthusiastic response from Josephians for such an altruistic cause, living true to our mission of becoming "men and women for others". The next blood donation drive will be held on 29 August 2018.
---
April: SJI Debating Society Achieves Outstanding Performance at the Oldham Cup 2018 Competition
SJI participated in Oldham Cup 2018, an international debate competition organised by ACJC from 5 - 7 April. SJI was placed in the sixth position out of 50 teams, with 6 wins from 8 rounds. The first four teams ranked above us were national-level teams and did not belong to any academic institution. Thus, amongst schools in Singapore, SJI is the second highest-ranking institution in the competition after Raffles Institution.
The SJI Debating Society is a student-led organisation (CAS) led by our dedicated coach Mr. Aloysius Chan. The following Year 6 and Year 5 students represented SJI in Oldham Cup 2018:
1) Anna Nielsen (TG614)
2) Sean Michael Koh (TG603)
3) Jay Parmar (TG618)
4) Ng Kang Jie (TG518)
5) Jonah Lo (TG504)
---
April: SJI's Uniformed Groups March on at the Anniversary Parade
The Anniversary Parade (AP) marks the change of command of the school's uniformed groups (UG) – the NCC Land, NCC Air, NPCC, Scouts, and St John Brigade. For many of the Year 4 UG students, the AP is often known as the last parade, where they march for the last time with their respective units in SJI, before they step down to focus on their upcoming examinations.
The AP was preceded by skillful aeromodelling display by the NCC Air cadets and impressive precision drills by the NCC Land cadets. The SJI Bagpipes & Drums and Military Band provided the music.
The Guest of Honour was Colonel Tan Boon Kiat, Joseph (Class of 1989). He is the Director, Nexus, Ministry of Defence. In 1989, Col Tan was part of the NCC Land Unit that took part in the Opening of SJI's Malcolm Road campus by Dr Tony Tan who was the Education Minister then.
---
April: Founder's Day
St John Baptist De La Salle, the Founder of the Institute of the Brothers of the Christian Schools, passed away on 7 April 1719. Every year, the school comes together to celebrate Founder's Day in honour of St John Baptist de La Salle on a Friday closest to 7 April.
This year's Founder's Day Assembly marked SJI's 30 years as an Independent School at our Malcolm Road campus. Mr Nicholas Fang (Class of 1991) was the Guest of Honour. He was amongst the pioneer batch of students to study at the then-brand-new Malcolm Road campus in 1988. He urged Josephians to be more than "cool Joes"; he challenged them to be "great Joes" in all that they do and become. At the celebrations, awards were presented to the top students who have achieved outstanding results in 2017. The school also thanked the Campus Development Committee that oversaw the redevelopment of the Malcolm Road campus. The celebrations began with Mass for Catholic students and teachers. The non-Catholics in SJI reflected on the values Bro Kevin Byrne lived his life by when he was Principal of SJI in 1988.
---
March: Easter Triduum Celebrations in SJI
By Gatongay Ryqx Manoza and Manuel Tristan Pereira (FN302)
Holy Week marks the most important season in the Catholic liturgical calendar. It begins with Palm Sunday and culminates in the Paschal Triduum (Maundy Thursday, Good Friday, Easter Sunday).
On Maundy Thursday students and teachers witnessed the washing of feet. This was done by various teachers and students who were accompanied by their parents. The act of foot-washing reminds us of Jesus' humility and His commandment to serve and love one another.
The Eucharistic celebration to recall Our Lord Jesus's Last Supper with his disciples was held in the evening in the Chapel. It was attended by more than 300 staff, students and parents.
On the same night, the Catholic CCA groups went on their annual visitations to churches across Singapore. Some went on public transport while some went on foot from church to church. They recited prayers along the way as they recalled Jesus' final hours before His crucifixion.
On Good Friday morning, the Stations of the Cross began at 3am and different representatives from different Legion praesidia led the groups in the Way of The Cross. A reflective mood was set with the repetition of antiphons, readings, and various re-enactments of certain scenes during the Stations. These helped the students to relate the story of each station to their daily lives. They also had hands-on activities where everyone wrote their sufferings on a cross made of ice cream sticks and exchanged it with someone else. The students then had a group sharing about the church visitation and their experience of the walk to the various churches. They were given a bun to break and to share it with everyone. A Good Friday service was held in the Chapel to conclude the activities for the Easter Triduum.
---
March: SJI Footballers Retain South Zone C Division Title
SJI retained the South Zone C Division football title when the team defeated Bendemeer Secondary 3-1 at Toa Payoh Stadium on 27 March. Naufal Taib was voted Man of the Match. Click here to read more.
---
March: Josephians Snapped Up Top Awards in Tamil Arts Competition
Our Indian Cultural Society (ICS) students took part in the Victoria-Cedar Tamil Arts Competition.
Shananth Sivakumar and Uma Shankar Suhas (both from ML301) received first position in Sollai Sollu Parisai Vellu Competition.

The SJI team - comprising of Vishal Theerthagiri (MN302), Kaviyarasan Kirubakaran (FN303), Mayazhagu Pradeep (FN301), Ramesh Babu Rohan Babu (LE302) and Velu Mithilesh (FN202) - received the second prize for the Drama Competition.
In the RI Tamil Literary Competition 2018, more than 450 students from 35 schools participated and our students won the following prizes:
Sanfo Bimal Thomas (ML 301) - 1st Position in Essay Writing Competition (Sec 3)

Murugesan Lokesh (ML 402) - 2nd Position in Essay Writing Competition (Sec 4)

Velu Mithilesh (FN 202) won the 2nd Position in Impromptu and Speech Competition (Lower Sec Category)

Uma Shankar Suhas (ML 301) - Consolation prize in Impromptu and Speech Competition (Upper Sec Category)

The following members took home the top position in Literary Drama Competition:
Guru Anand Anish (FN 203)

Vivek Pramod (FN 203)

Ajai Karthik Balasubramanian (LE 203)

Surya Subramanian (LE 203)
---
March: 59th National Cross Country Championships
The 59th National Cross Country Championships were held on 21 March at Bedok Reservoir. SJI is the National Convenor (organizer) for this event.
SJI achieved the following in this year's championships:
C Division - 5th placing

B Division - 11th placing

A Division/Boys - 9th placing

A Division/Girls - 12th placing
Ku Zi Ming (LE202) - 8th out of 367 runners and Marcus Phua (JC215) - was in 14th position out of 152 runners.
Congratulations to all our runners for competing and running well. Special congratulations to Marcus and Zi Ming on a fine effort. SJI may not be a power house in cross-country but our runners gave their best and competed well. They exemplified the SJI "can do" spirit!
---
March: Josephians Relay in Support of Singapore Cancer Society
by Basil Tan (TG504)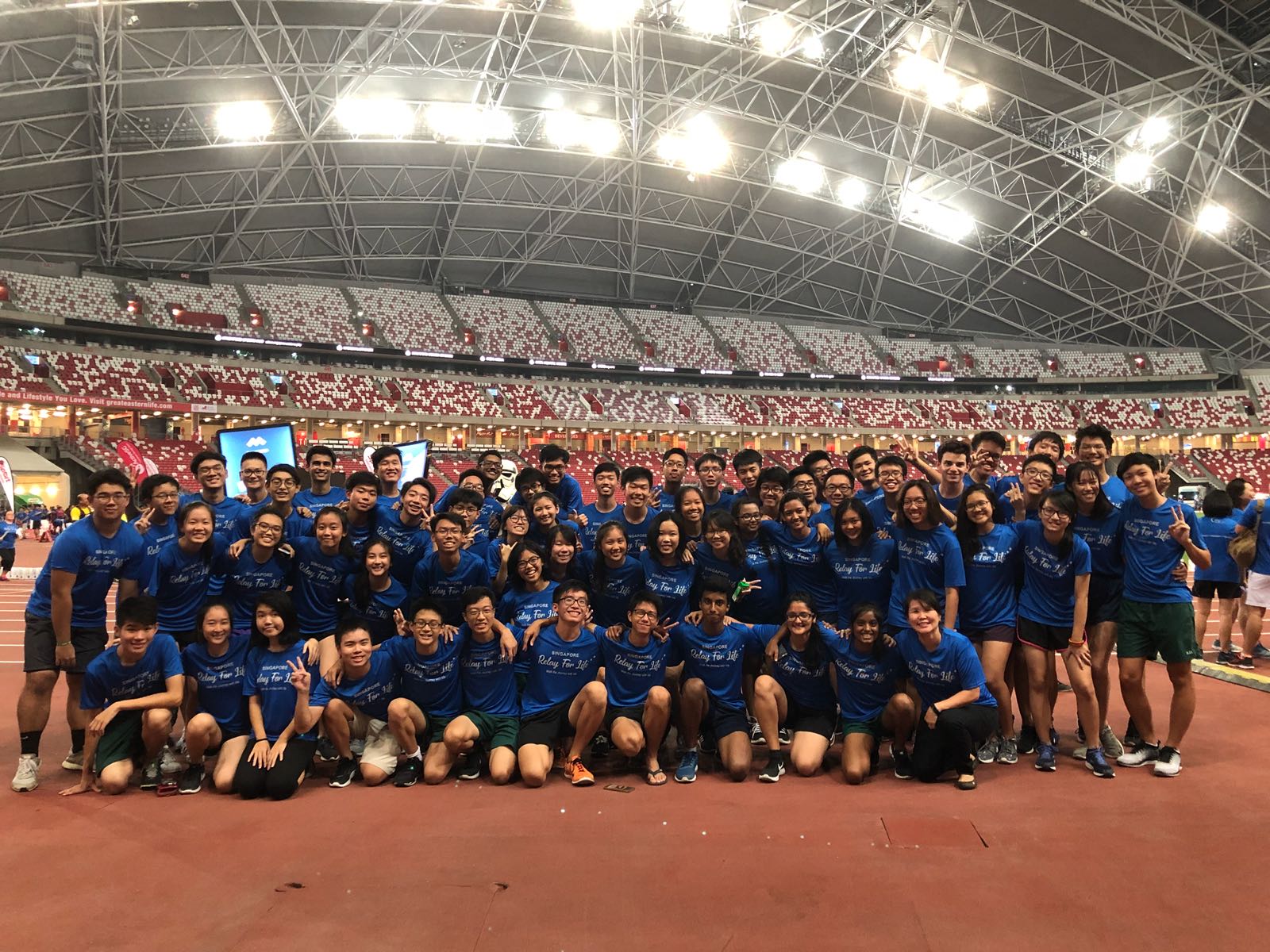 The Relay for Life event organised by the Singapore Cancer Society on 10 - 11 March was an excellent opportunity for Year 5 students to get together and give back to society in a unique way. Almost one-third of the Year 5 cohort - a total of 65 students - participated in this event. The overnight relay saw 51 of us taking up the 100 km challenge as a team to complete the distance within 15 hours. The others just participated in the relay by walking or running. By simply having any one team member running at any time, we were able to show our support for cancer research and stand in solidarity with current cancer patients. As it was a team event, we had the chance to display teamwork by rostering and assigning different people to run at different points of time. Together, we were able to overcome the seemingly impossible task of running 100 km in about 10 hours, a surprising amount of time considering how demoralised we all were at the beginning.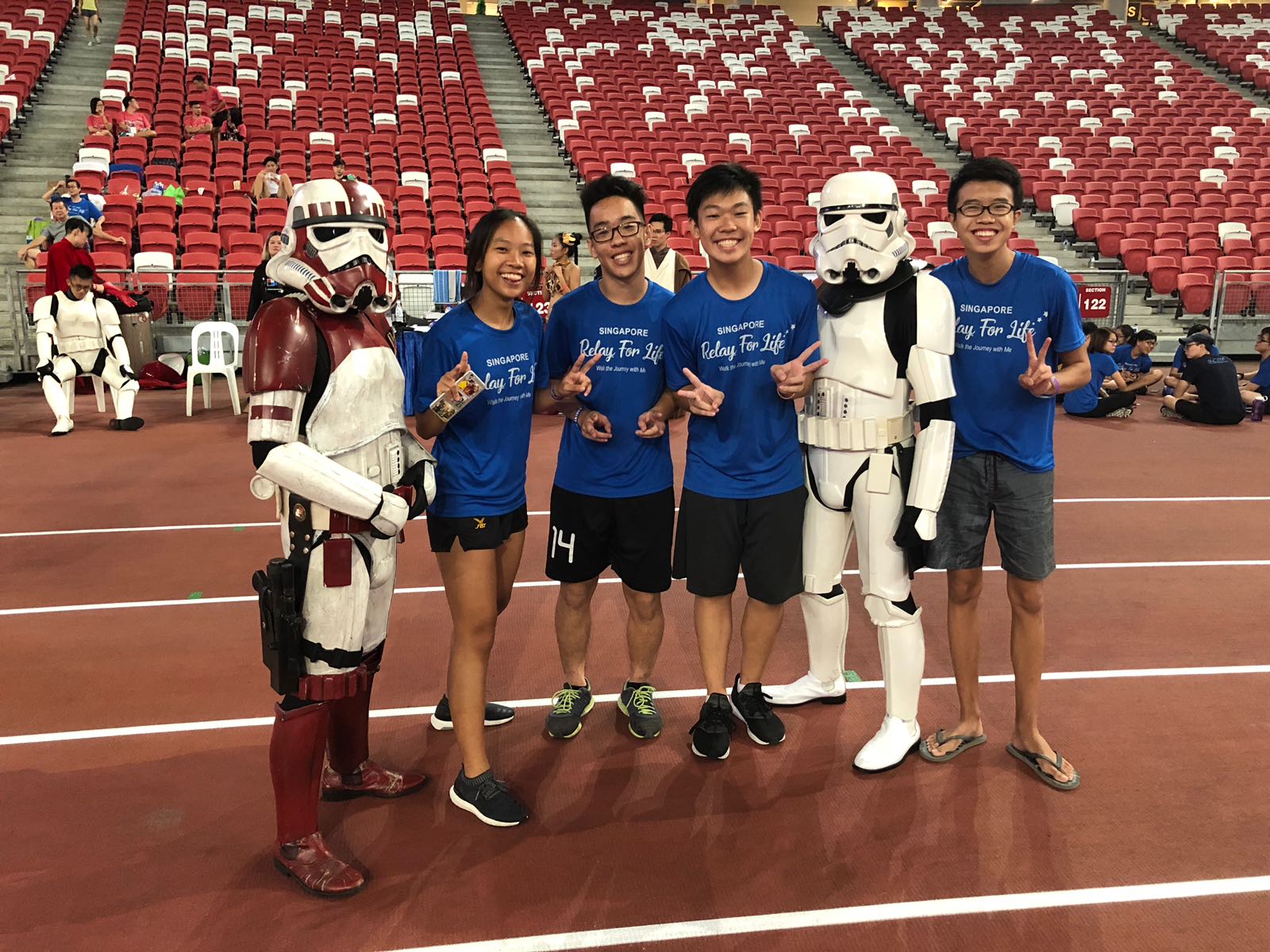 Besides the main event, we helped to raise money for cancer research by blowing balloons. We also had the opportunity to meet cancer survivors who inspired us to continue running through the night and into the wee hours of the morning. Overall, it was a fulfilling experience for everyone and it was heartening to see people from all walks of life coming together to support a good cause.
---
March: Lasallian Catholic Youth Societies Camp 2018
The Catholic Camp on 9 March began with an opening address by Mr Dominic Ang (Vice-principal, Student Development), where he called everyone to silence, to remind everyone about the peaceful tranquil sound of silence. Opening songs led by the Praise and Worship team set the mood for the camp - one that was upbeat and energy-filled. The Year 1 students, along with their respective facilitators were at various locations around the school campus for games and other bonding activities.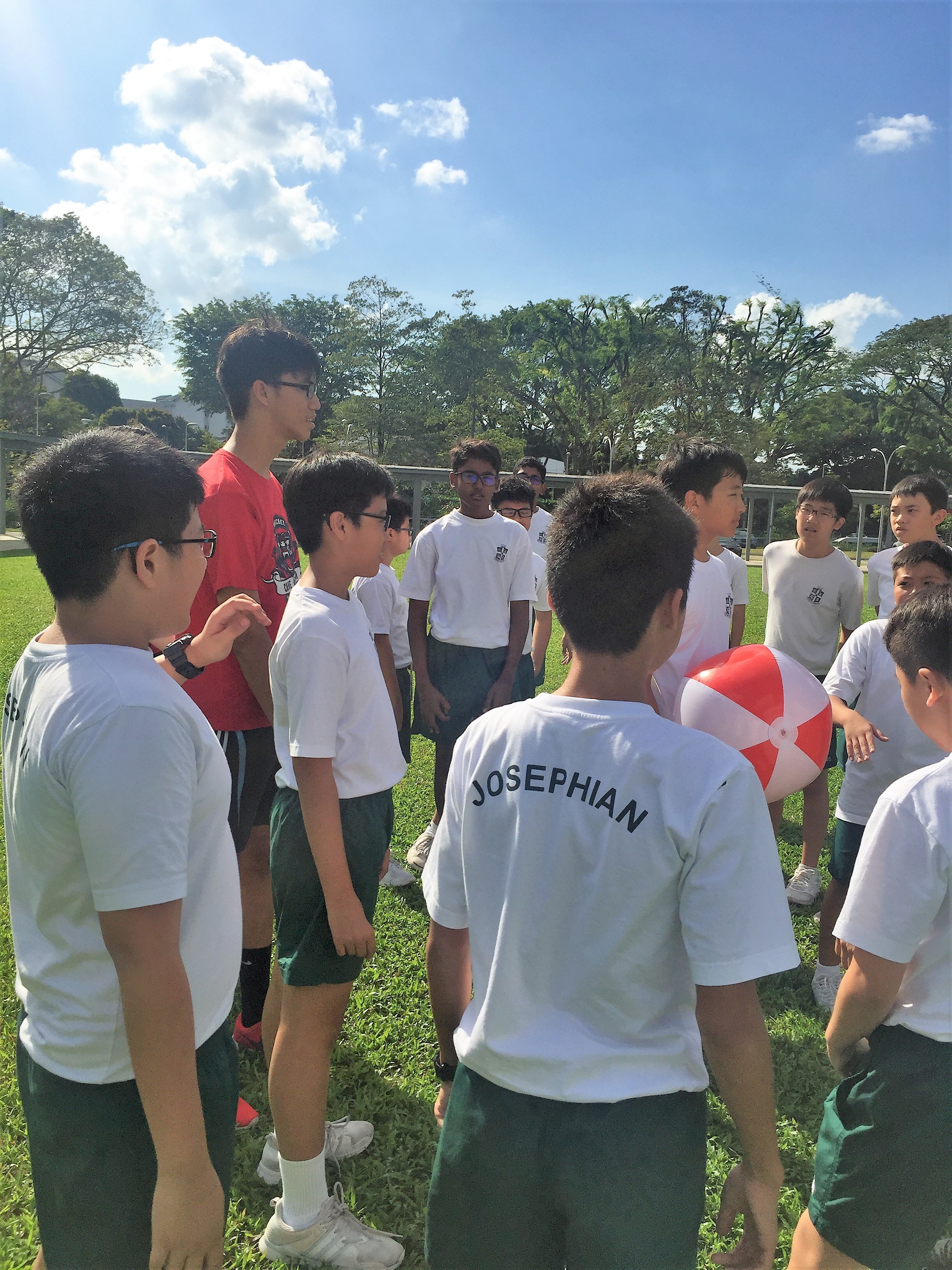 After an hour of games, everyone was hungry and settled in at the canteen to prepare for dinner. The fellowship meal began with prayer and songs. One could feel the energy flowing through the air as everyone sang 'Hinei Ma Tov' loudly and proudly with the strong steady beat of claps and stomping of feet. Incorporated into the meal was the aspect of being in a faith community, where the importance of helping each other was stressed upon. This was followed by the movie 'Pursuit of Happiness'. It was screened in the Lecture Theatre. This was followed by Night Conversation where the groups went for a late night reflection. It was heartwarming to see the Year 1 students open up and share their thoughts with their group members. The praise and worship team wrapped up the day with one last hymn for the night, "Thankful for this good day".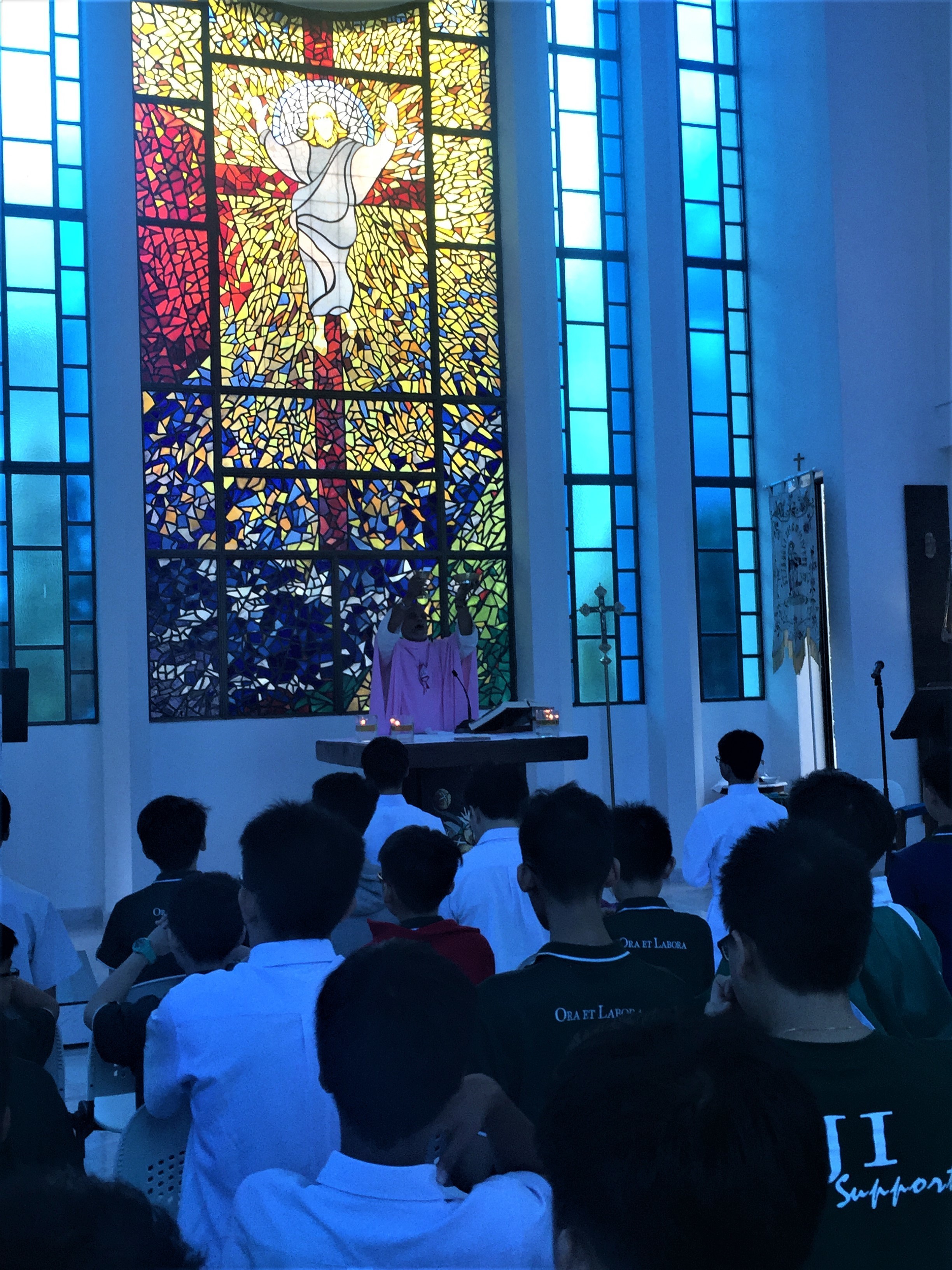 The second day started with breakfast and morning prayer. The Presidents of the 3 presidiums - Jon Kwong, Gabriel Yeo and Matthew Notorahardjo - explained the meaning of Monday, Tuesday and Thursday's psalms from morning prayer. Our lunch sustained our energy for the next praise and worship session. The songs were beautifully led by the Praise and Worship team made up of Year 5 and 6 students. Mass was then celebrated by Friar Michael D'Cruz, OFM. The camp came to a close with us remembering and thanking God for a good weekend spent with friends in reflection, prayer and song.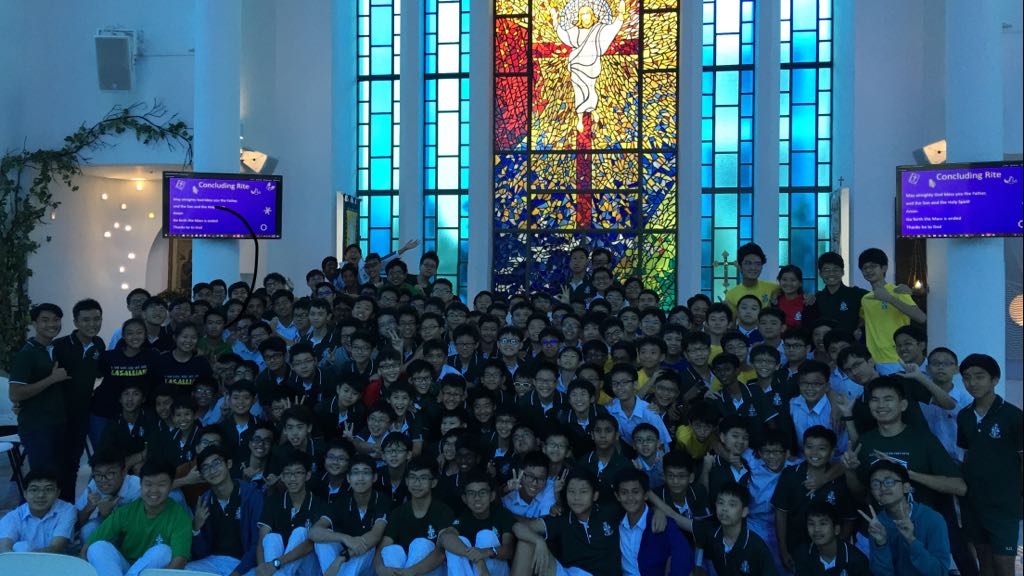 ---
March: Lasallian Formation Day
By Mr Eugene Ong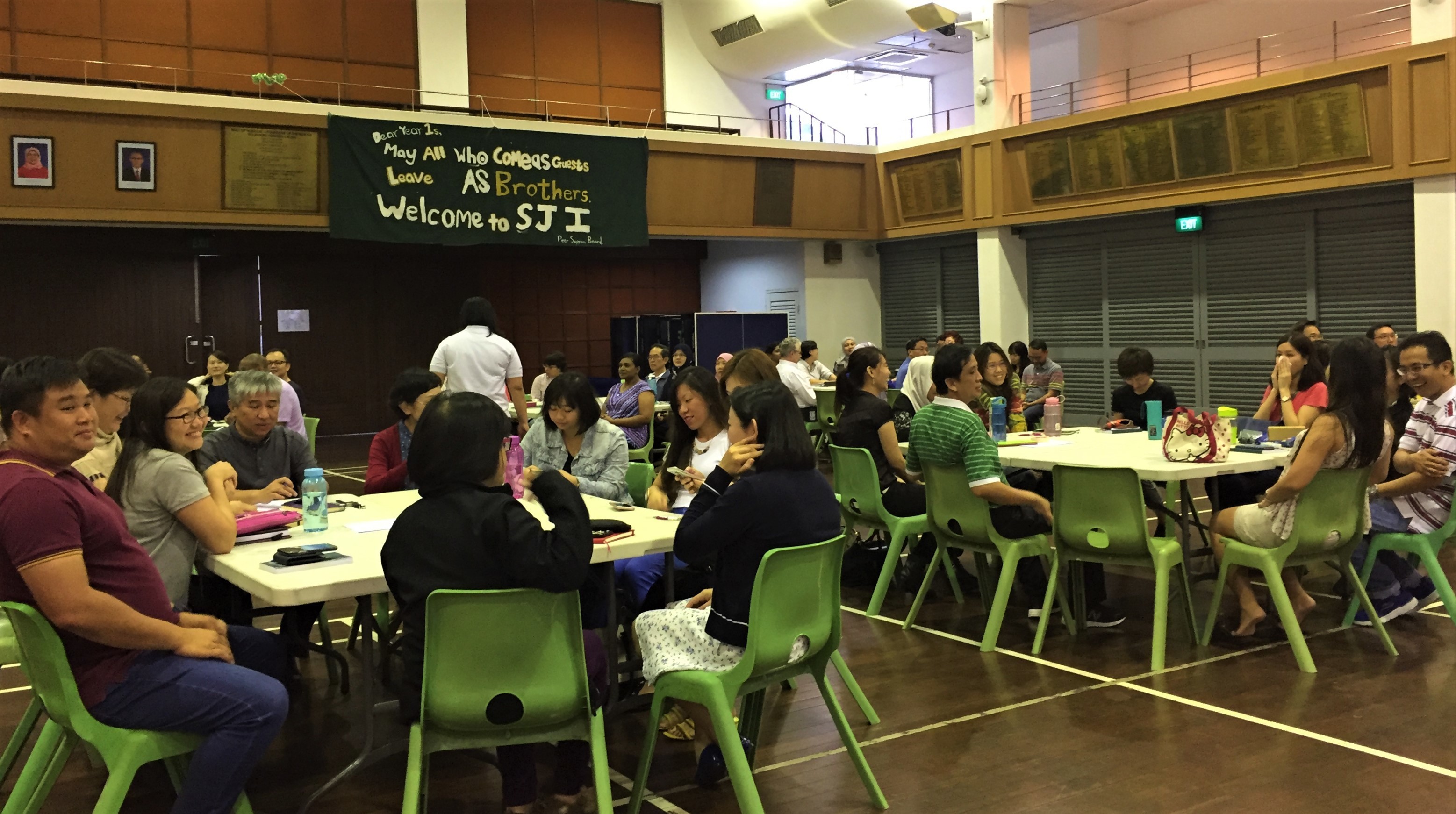 The quartet of Br. Emmanuel Gerardo Sia, Ms Thea Quintos, Ms Vangie de Peralta and Mr Jayjay Jacinto arrived from the Philippines to conduct 2018's Lasallian Formation Day in SJI's founders' Hall and library on 9 March. Our fellow educators from St. Patrick's School joined SJI Teachers for this morning's reflection of what Lasallian education is all about.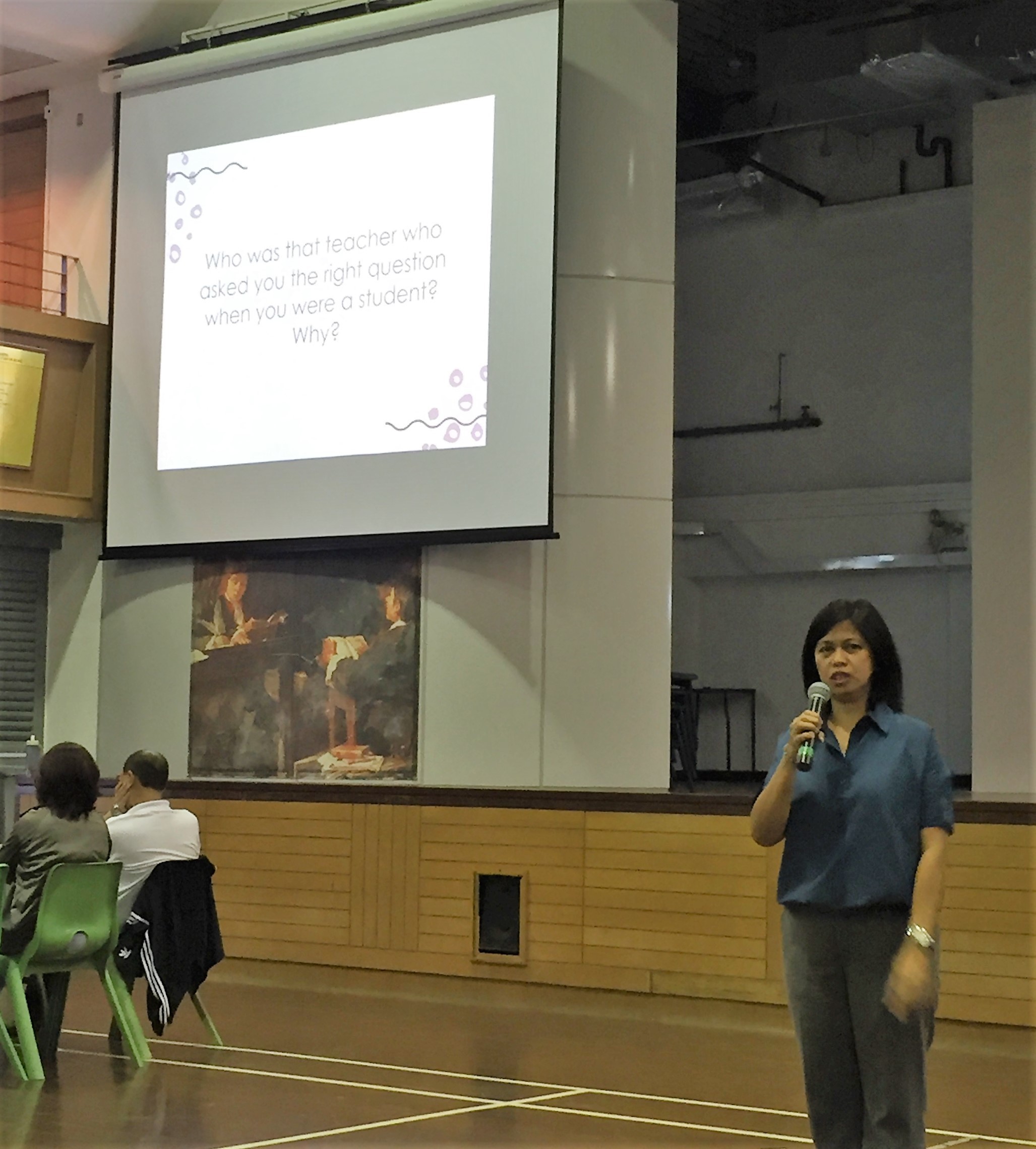 Teachers reflected on and shared their responses to such questions as "Who was that teacher who asked you the right question and why?" or "How would I describe the current Lasallian youth of today?" Brother Manni also contextualized some of his teaching experiences in Luzon and provided tips on cultivating a better "student-centered relationship". The session concluded with Fr. Adrian Danker (Principal, SJI) summarising the morning with A.C.T, an acronym that stands for:
A. – Ask students the right questions to set them on the right call or direction.
C. – Care for them by nurturing significant relationships with regard to their studies and growth.
T. – Teach them to learn and live with what matters - the more significant things like Faith, Community and Service.
---
March: 110th Annual Track & Field Championships
The Josephian spirit was alive and on display at the 110th Annual Track and Field Championships on 2 March. The determination and resilience of the athletes, the vibrance and energy of the fraternities, and the leadership of the fraternity ex-cos in leading their peers shone through at the Yishun Stadium. There were many good and exciting races. Many cheered the participants on enthusiastically and supported their fellow Josephians and fraternities. It was a happy day!
---
February: SJI C-Division Crossers Run to 3rd Position at Wings Cross-Country event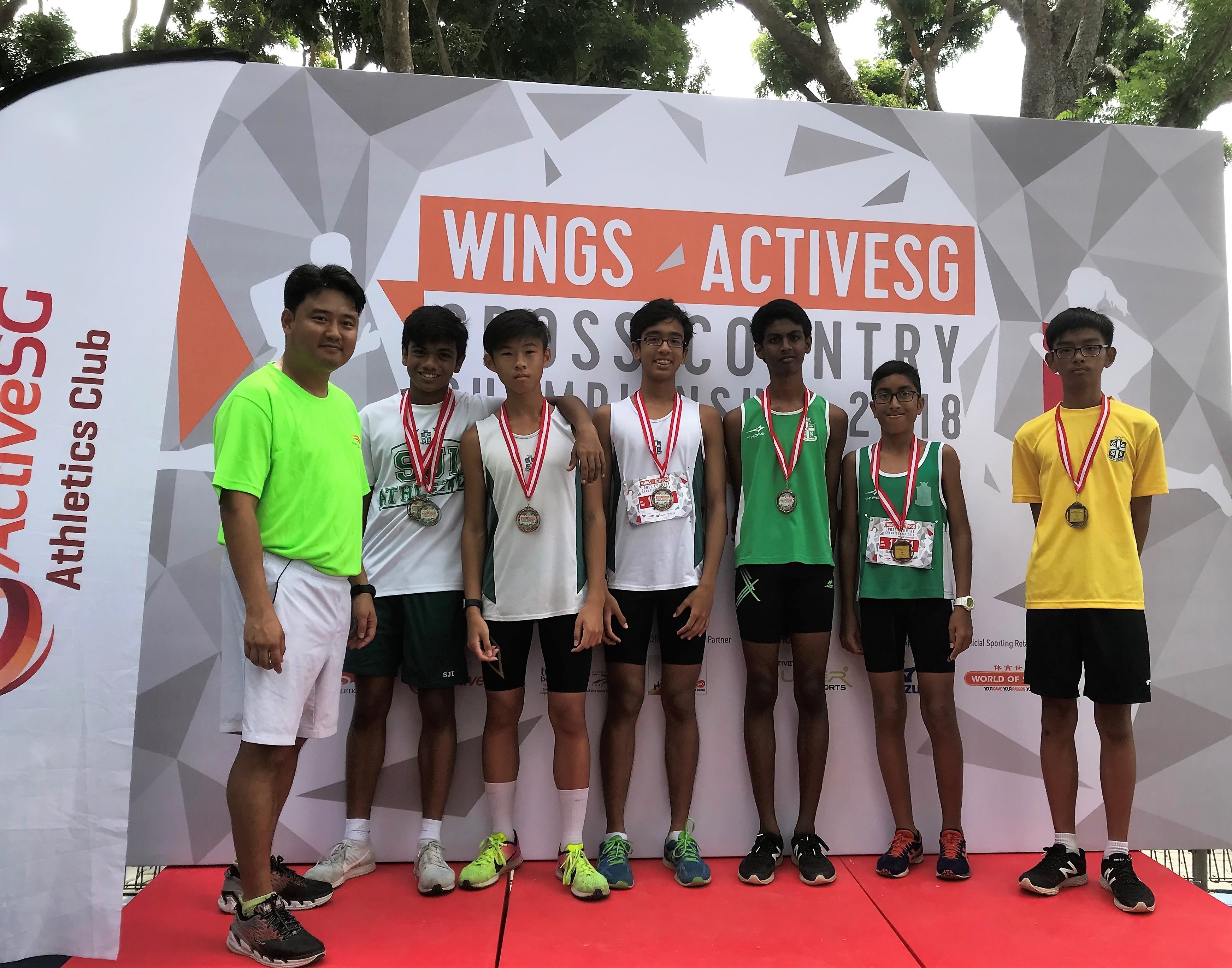 The Athletics Cross-Country Team participated in the Wings Cross-Country event on 24 February. The SJI crossers did well and our 'C' Boys achieved a 3rd Team overall position. Mohammad Shaariq Anshad (ML201) came in 2nd and Ku Zi Ming (LE202) came in 9th. What was more surprising was our new Year 1 boy, Kieran Andre Longue (ML102) was placed in the top 20 at the 19th position. His training from the beginning of the year paid off handsomely. Even though our 'B' Boys are not in the medals position, the team led by captains Tang Kai Evans (ML403) and Avdhoot Fuke (LE401) performed well and all of them finished the race close to each other.
---
February: What it means to be a Josephian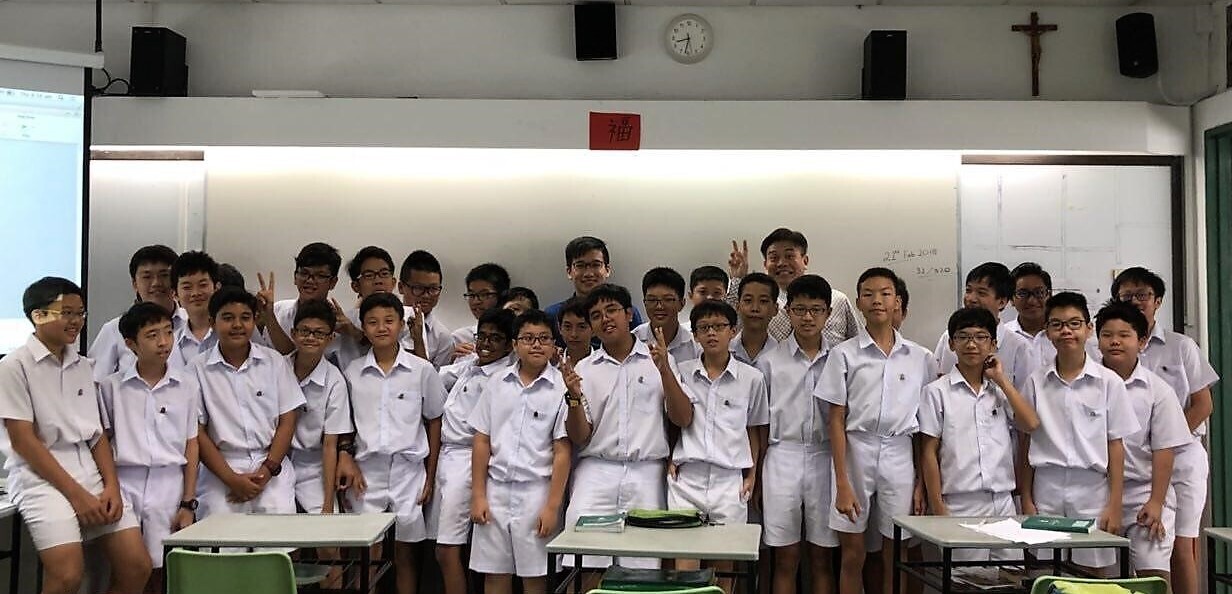 For the third year running, the SJIOBA organized the 'What it means to be a Josephian' talk for our newly enrolled Secondary One boys on 22 Feb 2018. The one-hour interactive session between the alumni and the students excited the students as they learned about the rich heritage of SJI and how to become exemplary Josephians. Many look forward to the formative years that they will spend in SJI and becoming Men for Others.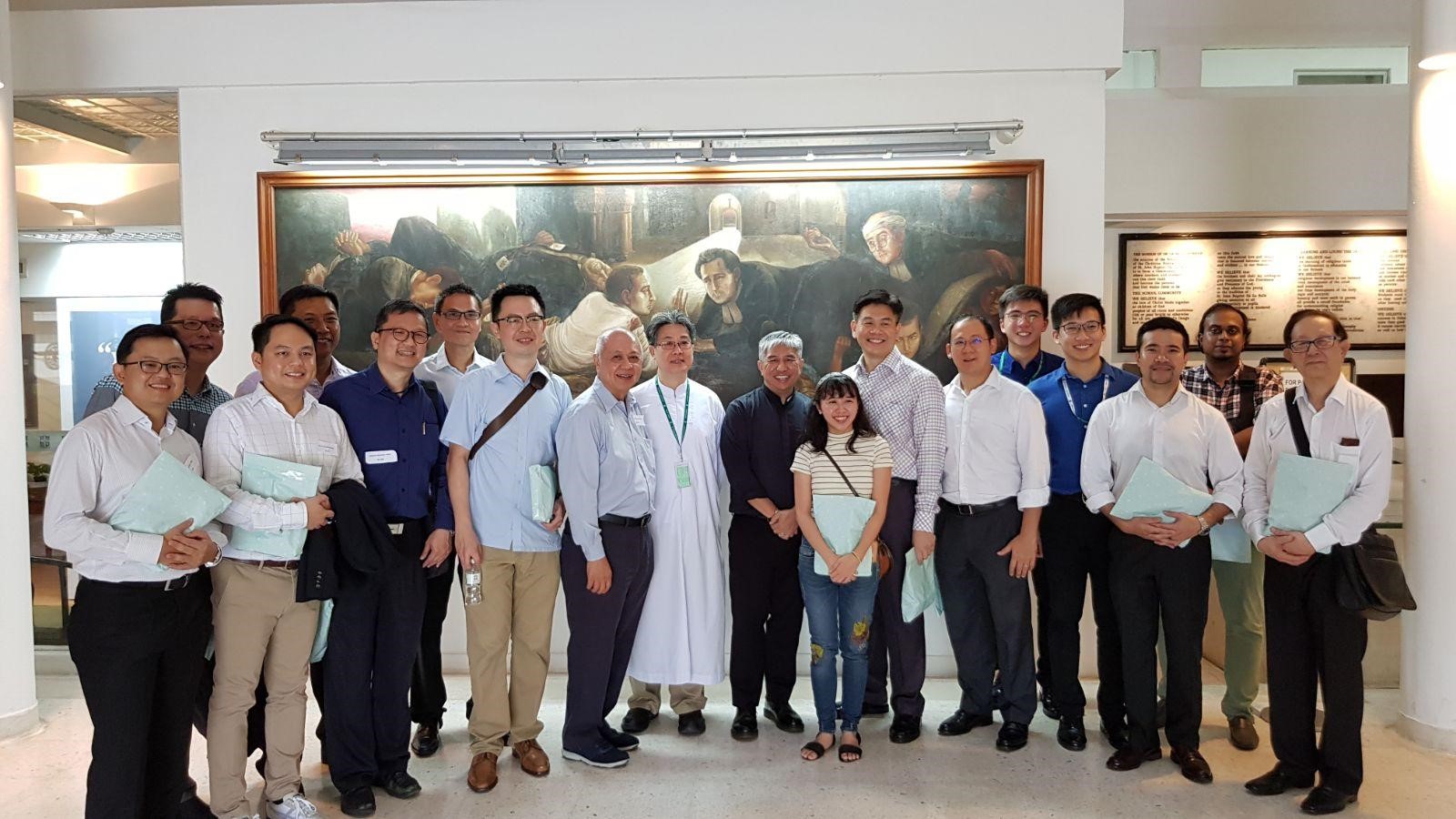 ---
February: SJI celebrates Chinese New Year
By Ms Tay Tze Hoon
The Chinese New Year celebrations began with "珲春" (Hui Chun) - a calligraphy activity held at the Foyer on 14 Feb. Students and teachers seized the opportunity to try their hand at writing auspicious Chinese calligraphy phrases. They also admired the beautiful calligraphy works by Mr Ron Tok, Mr Tan Puay Hock & Ms Huang Mei.
Celebrations on the eve of CNY on 15 February began with a Mass in Lecture Theatres 2 and 3 and a reflection activity in classrooms. This was followed by a CNY concert in the Indoor Sports Hall. Ang pows were presented to the school's support staff and the cleaners in appreciation of their hard work. An exciting performance by professional dancers from The Dance Ensemble was the highlight of the CNY celebrations. The elegant dances and the splendid performance of martial arts wowed the audience and drew rounds of applause as the event came to a close.
---
February: Josephians United at Inaugural Assembly
By Adam Christopher Yamson Chan (LE401)
Josephians came together as one community for the first time in 2018 at the Inaugural Assembly on 9 February. This was the first official assembly to welcome all students, including the Year 1 and 5 students who had just completed their week-long orientation camps and been introduced to the SJI community.
The 2018 Prefectorial Board, the two Student Councils and various student leaders were also officially appointed at this Assembly. The Lasallian Awards were also given out to the deserving recipients.
The SJI Vocal Ensemble showcased its veritable repertoire of songs, from school songs like "Hymn to St. Joseph" and traditional and familiar Catholic compositions such as "O God Beyond All Praising", to more unconventional songs of worship like "O Sifuni Mungu". The ensemble did not fail to bring out both the spirit of SJI and the artistry of music to enrich the 2018 Inaugural Celebrations.
The Inaugural celebrations concluded with an outdoor movie screening on the school field, where Josephians came with baskets of food and drinks to picnic under the stars with their fellow classmates.
---
February: SJI Welcomes the Year 5 at Orientation Camp Olympia
By Maretta Simon (TG606)
Orientation Camp (OC) "Olympia 2018" was the pinnacle of many Josephians' IB experience in SJI, and indeed it was a blast for the new Year 5s. Looking at the new faces trying to make small talk, enjoying themselves at the beach, shouting their hearts out for their Fraternities was rewarding to all of the Orientation Group Leaders. Not only was it the start of something new for the Year 5s, it was also a reflective time for the Year 6s as we embrace the final lap of our journey here in SJI by stepping up and taking on the role to be the seniors in school.
As many watched that last fireball goes down the string during Campfire, our hearts melted in an amalgam of joy, happiness and fear of what is to come next. This marked the start of an even tougher road ahead, but even so, we were grateful for everything that has happened, and for everything that is yet to come. The magic of the community touched our hearts and pushed us to go the extra mile during the intense one-week camp, but it was all worth it. Orientation was one tiring journey filled with many skype calls, editing proposals after proposals, rewording safety measures, and many others, but OC 2018 brought up the best in Josephians: the spirit, the care, the love for one another. Ora et Labora!
---
January: Once In a Blue Moon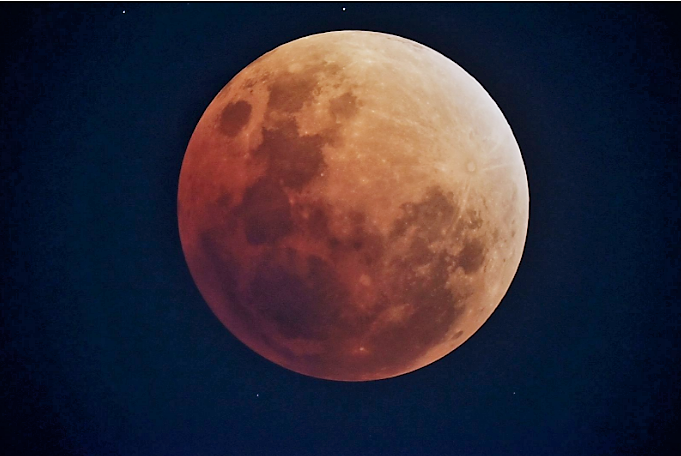 On the eve of 31 January, the Astronomy Club organised a night of moon viewing during an extremely rare celestial event. The super blue blood moon, estimated to occur only once every 150 years, was out in full view that night. The celestial show is the result of the Earth, Moon and Sun, lining up perfectly for a lunar eclipse as the Moon is at its closest point to the earth, making it super large. The eclipse began at roughly 8.00pm, as a black shadow began to devour one corner of the moon. Within minutes, the lunar surface began to plunge into darkness or totality, after which the bronze rusty tone began to sheath the moon reflecting the light of all the sunrises and sunsets on Earth at the same moment. Along with more than 40 students and staff who attended the viewing, the Astronomy club had a great time learning about the night sky through powerful telescopes, while admiring the wonders of the blood moon in the company of friends and music.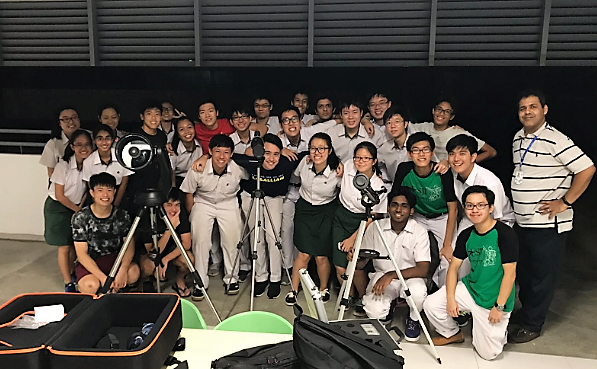 The Astronomy club would like to thank Joachim Ong, one of our old boys who came back to share some of his telescopic equipment with us.
PHOTOS: Blood Moon (Joachim Ong IG: @cosmic_palette).
---
January: Josephians Visit Istana Heritage Gallery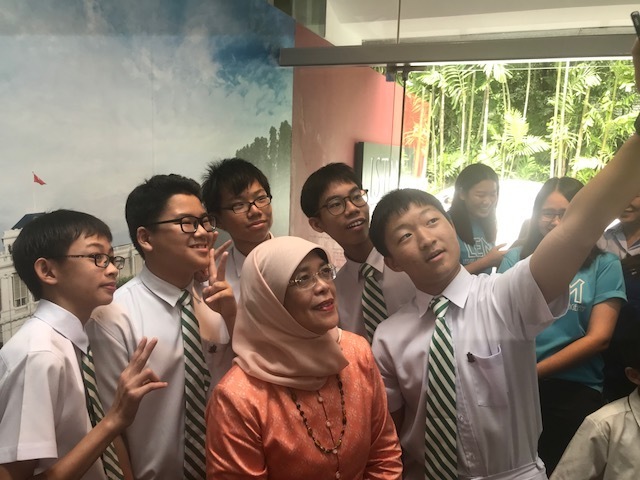 SJI's Year 2 Josephians visited the Istana Heritage Gallery on 26 January for the history challenge run. They interacted with President Halimah. Torance Tan, 14, who scored a selfie with the President, said, "Usually, we hear about foreign delegates coming over to Singapore to visit, but now we can see for ourselves the things they bring,". Read more about it here.
---
January: SJI Welcomes the Year 1 Boys at Orientation Campfire
Our Year 1s sang and danced at the Orientation Campfire on 19 January, their voices resounding throughout the Founders' Hall. Their seniors and the alumni heard the call and joined in as one SJI community. The annual orientation campfire marks the climax to end the Year 1 Orientation 2018! Welcome to SJI, Year 1s!
---
January: SJI Class of 2017 Excels in GCE 'O' Level Examinations
SJI's Class of 2017 has performed well in the GCE 'O' Level examinations. The school achieved 100% passes, with 100% receiving at least 5 GCE 'O' Level passes. All the boys will advance to junior colleges and polytechnics for their post-secondary education, with 93% of the boys qualifying for junior college.
The Class of 2017 is the second batch of boys on the O-level track to take the GCE 'O' Level examinations since SJI started the dual track programme in 2013. 40 out of 253 boys scored 5 A1s or more, and 33% (82 of 253) of the boys achieved scores of less than 10 points.
SJI is proud of the following students who have performed very well in the 2017 GCE 'O' Level examinations. They testify to the holistic education that SJI provides.
Fr (Dr) Adrian Danker, SJ, says, "I am very happy for our Class of 2017. They have achieved good results by living our school values fully and joyfully. They have lived with faith in themselves and in God to do well and in God's guidance. They have grown up together as a community by supporting each other. They have learnt the value of their SJI education is when they uplift others. SJI is extremely proud of the boys' achievements and the school wishes them well in their next phase of post-secondary education."
Summary of SJI's GCE 'O' Level Examination Results
2017

Number of students who sat for the GCE 'O' Level examinations

253

Pass rate/ Qualify for JC/Polytechnic education (%)

100%

Boys who qualified for JC education (%)

93%

Boys with 5 GCE 'O' Level passes (%)

100%

Boys with 6A's or more (%)

33%

Boys with scores of less than 10 points (L1R5) (%)*

33%

Distinctions (A's) per student (%)

56%

*

Aligning with the direction of more pathways to the tertiary education, the L1R4 (10 points and below) is introduced to track the students qualifying for popular courses in the polytechnics. The L1R5(10 points and below) remains an indicator used to track the students qualifying for popular junior colleges

.
| Subjects With High Distinctions: | SJI | National |
| --- | --- | --- |
| English Language | 58% | 27% |
| Mathematics | 81% | 55% |
| Geography | 80% | 52% |
| Additional Mathematics | 71% | 55% |
| Literature | 67% | 45% |
| History | 65% | 48% |
| Biology | 55% | 48% |
| Chemistry | 54% | 43% |
| Physics | 52% | 46% |
---
January: SJI Class of 2017 Excels in the International Baccalaureate Diploma Examinations
SJI's Class of 2017 International Baccalaureate Diploma Programme (IBDP) students have performed very well in the November 2017 examinations. All 138 students from our fourth IBDP cohort passed the examinations, and achieved an average score of 41 out of 45 points.
Seven students achieved perfect scores of 45 points, and 17 students had a near perfect score of 44 points. 50% of the cohort (69 students) scored 42 points or more, and 79% (109 students) attained at least 40 points out of 45. Six students were also awarded the prestigious Bilingual Diploma this year.
The Class of 2017 includes our pioneer batch of 55 boys who switched from SJI's 'O'-Level Programme to the Integrated Programme at Secondary 3 in 2014 to do the IBDP. The results achieved by our Class of 2017 is evident of a trend that the SJI IBDP relates well with students who enjoyed high academic expectations from the programme. They have found joy in learning by being risk-takers who pursue their interests and passion instead of being rote-learners.
Fr (Dr) Adrian Danker, SJ, Principal of SJI, says "We are very proud of our fourth IBDP cohort who have graduated with stunning results. More importantly, we are glad to know that our students have enjoyed learning from the two-year IBDP. We are confident that they are well prepared for their next phase of education beyond SJI. But what I am particularly proud of our school's achievement is that our students achieved this by having a healthy and happy balance between studies and play, between learning deeply and serving the community generously, between acquiring skills to do well in the world and letting our Lasallian values and ethos form them into men and women who now want to go out and make a difference in our world. To see this alive in our students is for me the enduring gift they have received from an SJI education that I know they will share with many."
As a Catholic and Lasallian school, SJI is committed to developing every student's character and to helping them realize their academic potential so that they become men and women whose education empowers them to make a positive difference in the world. The IBDP results of the 2017 cohort are an affirmation of the quality of the balanced and holistic education offered at SJI.
Summary of SJI's International Baccalaureate (IB) Examination Results
| IBDP Results | 2017 | 2016 | 2015 | 2014 |
| --- | --- | --- | --- | --- |
| Number of students | 138 | 80 | 80 | 76 |
| Diploma pass rate (%) | 100% | 100% | 100% | 100% |
| Average points out of maximum 45 points | 41 | 41.5 | 40.7 | 40 |
| Percentage of students with 40 or more points | 79% | 84% | 71.25% | 58% |
| Number of students with Perfect Score (45 points) | 7 | 1 | 0 | 0 |
| Number of top students (44 points) | 17 | 10 | 4 | 3 |
| Number of bilingual diploma students | 6 | 2 | 3 | 2 |
Read more here.