December: Alumnus is Chairman of the Archdiocesan Commissions for Catholic Schools
Education Minister Heng Swee Keat wants values and character development to be a priority for schools. Professor Tan Cheng Han (SJI Graduating class of 1980) the new chairman of the Archdiocesan Commission for Catholic Schools, reflects on how Catholic schools have worked at fulfilling their social mission in his speech.
"While I understand fully the importance of academic rigour, it sometimes strikes me that we over-emphasise this at the expense of other important dimensions", says Professor Tan.
"My view of education was shaped by the type of education that I received in SJI in the late 1970s," he states. "I was struck by the goodness and selflessness of the Christian Brothers in the school … I also recall the strong values that were an integral part of my scouting co-curricular activity (CCA) in the 2104 Pelandok Scout Group." Being a man for others was always emphasised, Professor Tan recalls.
"Ultimately a child needs to be properly grounded with right values and character traits if he or she is to thrive in the world beyond childhood. This is where I think our Catholic schools have done better than most."
December: Alumnus excels at 2011 Golden Horse Film Awards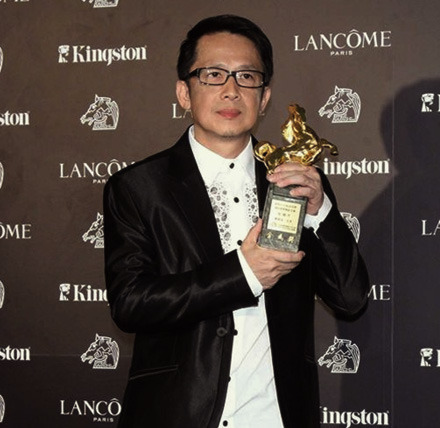 Ricky Ho (SJI Graduating Class of 1975) has won the award for Best Original Film Score in the 2011 Golden Horse Film Awards. This adds to an already extensive list of prestigious awards the composer and producer has received for film-scoring, writing jingles and producing.
Ricky Ho was born in Hong Kong but raised in Singapore. He is currently based locally. He is a graduate of the Grove School of Music in Los Angeles and has worked in virtually every part of the Asia-Pacific region, including Taiwan, Shanghai, Hong Kong and Malaysia. 
He has won 65 advertising awards worldwide for his scoring for commercials for companies like Nippon and Bank of China and produced artistes like Tracy Huang, Sally Yeh, Allan Tam and Andy Lau.
In SJI, Ricky was the Class Monitor of Sec 4 Arts 7. His brother, Bernie, was in the same class. Both Ricky and Bernie had great interest in running and sprinting. Ricky also represented SJI in Athletics for the 100m and 4x100m events. "I had an unforgettable time, especially in Sec 4," says Ricky.
November: Living the Mission
Mohamed Fareez Mohamed Fahmy (Class of 1997) has been awarded the title of The Most Promising Social Worker. He received his award from President Tony Tan  (Class of 1958) at the Istana on 14 November. (Picture from left: MG (NS) Chan Chun Sing, President Tony Tan and Mohamed Fareez)
After leaving SJI, Fareez went to NJC and NUS where he majored in Social Work.  Upon Graduation he worked as a social worker at the Ang Mo Kio Family Service Centres and later was involved in the setting up of a new prison services initiative called the NEXUS Programme and the Family Resource Centre in the Changi Prison Link Centre.
While in college, Fareez knew that he wanted to be involved in work that saw tangible benefits to society. He was motivated by the work ethic of his colleagues and supervisors at the Ang Mo Kio Family Service Centres who are really the ones who inspired him to think creatively and out of the box.
About SJI, he shared, "SJI, the teachers, and peers, certainly placed a big role in my decision to be a social worker. I was always impressed by the selflessness of teachers like Ms Chia who took pains to get to know her students better on top of just focusing on teaching. 
SJI is a school that does not only focus on grades, but on the building up of character, as evident in moral education lessons that take precedence in our education. Although I am not Catholic, I felt very much a member of the SJI family, and the lessons I learnt there about being a man for others, is certainly a value that I keep to heart today."
November: SJI wins at International Competitions and Assessments for Schools (ICAS)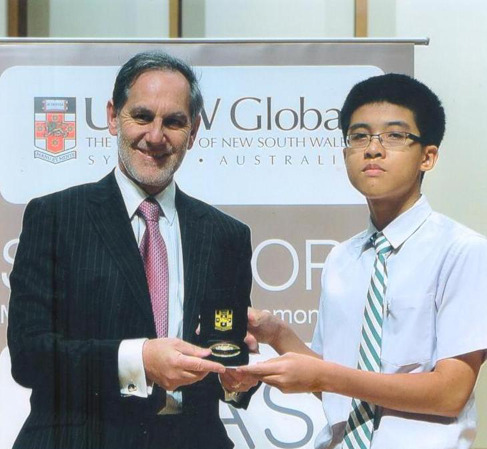 Lim Sze Yuan (334) is the sole medal winner in the ICAS 2011 for Writing for the Secondary 3 Level in Singapore. He received his award on 3 November from UNSW Global CEO, Dr Rob Forage (see picture).
Sze Yuan's brother Lim Sze Wei (SJI graduating Class of 2010) also won a medal for ICAS English when he was in Secondary 2.
This year, Sze Wei, who is in ACJC now is one of the Gold Award winners from Singapore for the Commonwealth Writing Competition in his age group.
November: SJI Ruggers Champions
The SJI Under-14 rugby team was crowned Champions for the Under-14 category of the Grant Thorton Saint 7's rugby tournament held on 12-13 November. They beat the favourite Australian International School in the finals.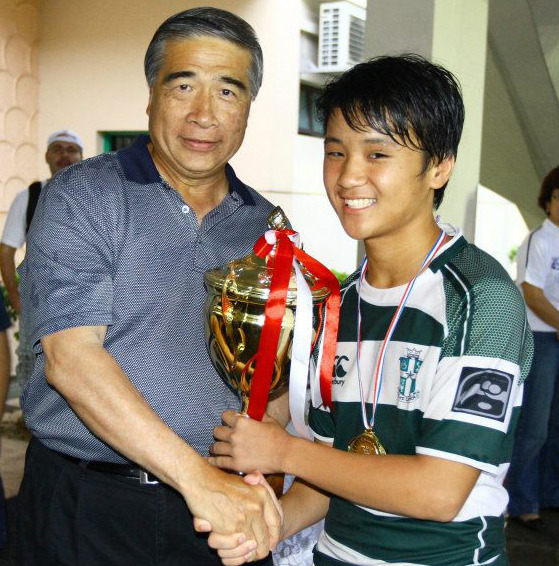 The 'C' Division boys did well throughout the season:
| SJI vs Singapore American School | 0-0 |
| --- | --- |
| SJI vs Bukit Batok Sec School | 42-0 |
| SJI vs Evergreen Sec School | 32-0 |
| SJI vs St. Andrew's School | 19-0 |
| SJI vs Australian International School | 12-0 |
The team comprised captain (in picture) Arend Wong (211), vice-captain Riq Haris (211), Mikael Nunis (202), Anders Seah (202), Ryan Wee (205), Vickneswaran  SS (211), Gabriel Silva (210), Venkateswaran E (211), Teo Jian Kiat  (207), Markus Tan (112), Christopher Mak (108) and Jonathan Lin (204).  The team also garnered the Fairplay Team Award.
The SJI 'B' Division team was Plate Champions in the Under-16 category.
| SJI vs Singapore American School | 0-5 |
| --- | --- |
| SJI vs Monfort Secondary School | 12-5 |
| SJI vs Evergreen Sec School | 19-0 |
| SJI vs Overseas Family School | 29-0 |
November: Silver award at The National StrITwise® Challenge 2011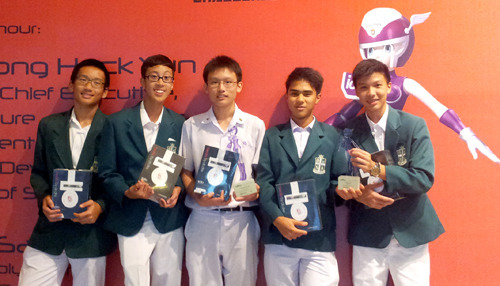 The National StrITwise® Challenge is a flagship national IT competition organised for secondary school students. It is a broad-based infocomm and interactive digital media competition conceptualised by Ngee Ann Polytechnic's School of InfoComm Technology, with the objective of developing the awareness and interest in IT in a fun and engaging way. 
The SJI team comprised Tan E-Liang (321), Tay Tian Hoe (333), Ian Yeap (212), Hubert Yeo (212), Jon Tan (212) and Joshua O'Hara (204).
They took on three categories: StrITcombat - a true test of technical coding skill; StrITDesign - where craft meets style; and StrITBiz - a rigorous drill of research and analytical skills put on trial.
For the StrITBiz category, Andrew, Hubert and Ian did an impressive market report based on a case study of the Apple Ipad and the Samsung Galaxy Tab. The report was certainly impressive - 8 pages including a full bibliography. 
For StrITCombat, the boys programmed a virtual robot to fight other schools' robots in a virtual environment. This category required lots of coding expertise and time for trial and error. 
The boys shined at the StrITDesign category. They were judged on 4 aspects: process, animation (of the storyline), cosplay and presentation. The design team really went above and beyond to produce a unique, gritty and very authentic storyline and experience for the audience. 
View their amazing animation:
November: Best Tamil Debaters
SJI debaters from the Tamil Cultural Society bagged top honours at the Tamil debate competition called Chutti's Club which is produced by Megastar productions and broadcast on Vasantham TV every Friday.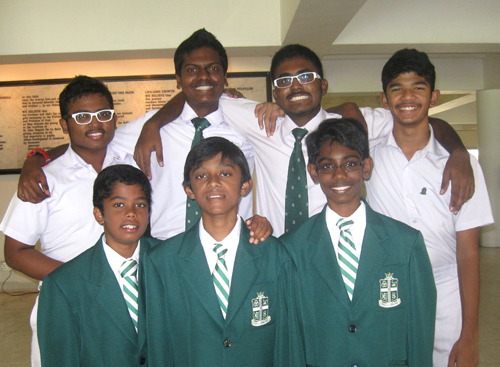 The SJI team was represented by Kumaran s/o Selvvaratnam (101), Renganathan Ramasamy (111) and Mayazhagu Guhan (105) (front row in picture. Here with the supporters from Sec3). 
The boys threw themselves into preparations for the debate after returning from an exciting school camp at Pulau Ubin the day before.
Under the skilful guidance of teachers Mrs Kumuda and Mrs Jothibai, the students were able to put their best foot forward. Renganathan also took the Best Speaker Award at the competition.
The debate will be aired on 'Vasantham Central' (Kids club) on 16 Dec 2011 at 6:30pm.
November: The last session of The Fullerton-SJI Leadership Lecture Series
DPM Teo Chee Hean (SJI Graduating Class of 1972-Pre U2) was the speaker at this session.
He shared with a captive audience of about 220 students and adults from various industries on why he took up the post as DPM. He also gave his opinion on meritocracy and what leadership means to him. he also took questions from the audience on various topics relating to leadership.
This is the last session of the Leadership Lectures organized under the auspices of Fullerton Hotel and St Joseph's Institution (SJI), with the support of The Straits Times as media partner. The lecture was held at The Beurel (School Library, SJI) on Wednesday, 2 Nov 2011 from 4.30pm to 6.30pm. 
Each Lecture features an SJI old boy who has had a major impact on Singapore and Singaporeans. By sharing their experiences and 'leadership moments', we hope to learn about the art of leadership, and key considerations that go into making critical decisions in both the public and private sectors. This will foster greater awareness of developments that have shaped Singapore over the years, and hopefully, inspire Singaporeans.
Read about it on Straits Times.  Watch him on RazorTV and CNA videos below.
DPM Teo shared that there are times leaders might need to make unpopular decisions. He also touched on the values education at SJI which is an integral part of the school's mission. 
DPM Teo shared memories of his secondary days at SJI. He talked about his classmates, NCC Land and playing soccer bare-footed. His former teacher Mr Tang Wing Kee and a couple of his classmates also shared some memorable moments with RazorTV.
DPM Teo, his father and  his son were all students of SJI. Here DPM Teo shared that he was involved in many self organised activities at SJI such as debate, drama, and even running a newsletter at SJI during his Pre-U days. He also shared memories of school days with his classmate, former Minister George Yeo. They had worked together on the school newsletters and so on. As he recounts them: Good days.
The leadership opportunities provided and the culture at SJI prepared him in some ways to work with others. He also shared that the SJI teachers gave their all for the students in their care.
October: His Beautiful Museum Home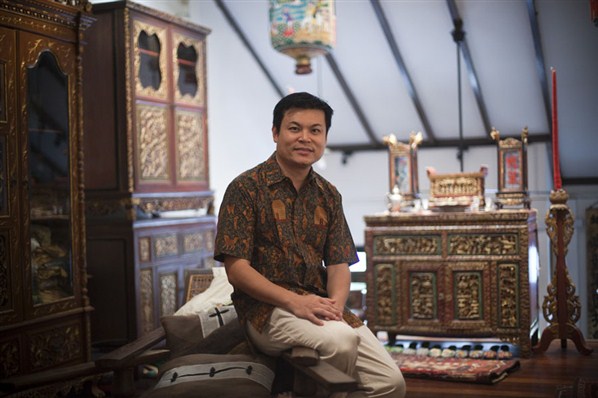 Alvin Yapp (SJI Graduating Class of 1986) is one of the four winners of the first-ever national accolade for Singapore's museums, the Museum Roundtable (MR) Awards, an initiative by the National Heritage Board.
Alvin said, "The MR award is an excellent way to encourage museums to improve or look at the way we've curated our exhibits as well as how we present ourselves to the public."
His contribution, which is really his own private residence, Intan, also won the Best Overall Experience Award. In recognition of tremendous effort to raise awareness and appreciation of the Peranakan heritage in such a personal way, he received S$5,000 and a trophy as well as rights to the MR awards logo. His home is open for tours, purchase of Peranakan merchandise, and also the Pernakan food experience.
With this award, Alvin is working with SJI to help raise awareness and appreciation of culture and heritage at SJI.
October: ArtScience Selection Workshop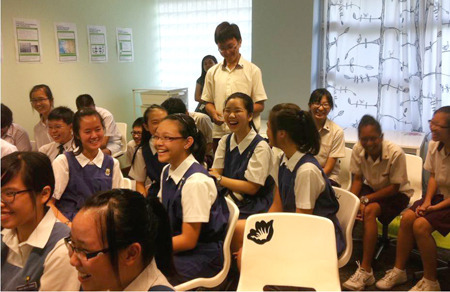 On 14 and 17 October, SJI conducted selection workshops for the 2012 Singapore ArtScience Prize Programme in which 70 SJI students and 32 invited students attended. 
The students invited to join the programme are from schools that had sent teachers to attend an earlier ArtScience briefing at SJI.  Andrea Sachdeva and Carrie Fitzsimmons, Directors from ArtScience Labs Boston had so convinced the teachers about the importance of Aspirational Design Thinking at the briefing on 15 September 2011 that they subsequently got their students to sign up. 
The schools that join SJI in the endeavour to forward this authentic, aspirational and progressive mode of learning include ACS (Barker), Anderson Sec, Balestier Hill Sec, CHIJ Toa Payoh, Henderson Sec, St Patrick's School and Unity Sec. 
In the end, 26 invited and 42 SJI students made the shortlist. Lessons will begin on 12 January 2012.
October: Gold Award for the NEA 3R Competition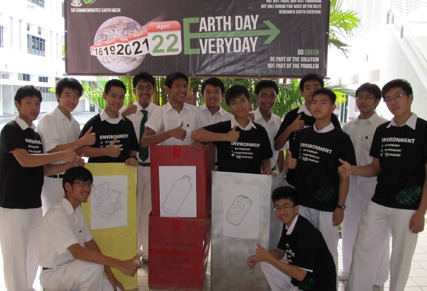 SJI has attained the Gold Award for the competition this year. This is the highest award for the competition and SJI has won it for a second year. 
Students from the SJI Green Club served as school ambassadors when the assessors visited the school. Three EXCO members, Gilbert Lim (331), Nicholas Franslay (331) and Cyrill Salim (332) brought them on a tour of the school to highlight SJI's 3R points and processes.
The award affirms the many 3R processes in the school. 
As SJI is among the Top 3 in the Gold Award category, the Green Team has been invited to participate in the annual Clean & Green Week Carnival by putting up an exhibit on 9-10 Nov 2011 at the ITE West Campus.
October: Old Boy, new priest visits SJI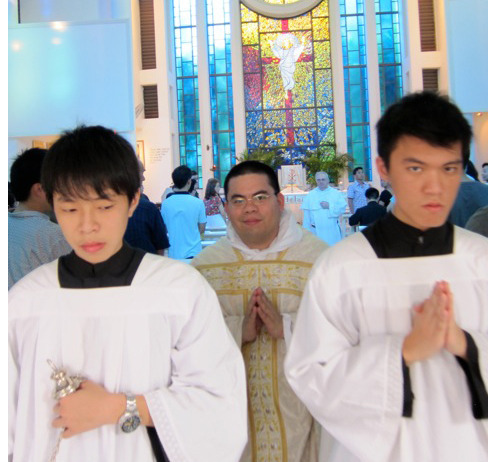 Old Boy, Lawrence Lew (SJI Graduating Class of 1993), was ordained Dominican Priest in Oxford, England.
He came back to SJI to celebrate Thanksgiving Mass in the school chapel on 15 Oct 2011. 
Father Lawrence is the first graduant from the SJI Malcolm Road campus to be ordained as a priest. He currently serves as Chaplain to Universities in Edinburgh, Scotland.
October: 159th Speech and Graduation Day
SJI commemorated the Sec 4 Josephians' graduation on Saturday 1 October 2011 together with parents. The ceremony was graced by Guest of Honour, Mr Lionel Yee (Class of 1982), Mr Gerard Ee (Chairman of the SJI Board of Governors) and some members of the Board (Mr Gabriel Lim, Dr Bernard Thio, Mr Stuart Palmer and Mr Chan Keng Luck).
The graduating class was presented to the parents with resounding cheers. The Senior Josephian for 2011, Yu Kai Yan (431) is also SJI's Head Prefect. This award is the highest award given by SJI together with the Dr Tony Tan Ken Yam trophy in recognition of his character and achievements.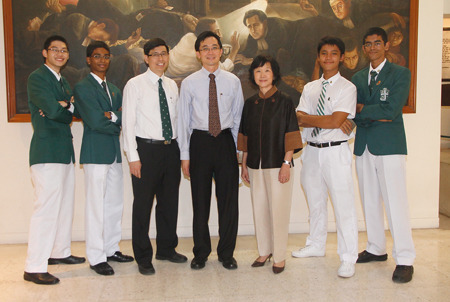 The Sportsman of the Year was awarded to Karthic Ragupathy (433) who excelled in Cross-Country. The Lasallian Distinguished Service Awards were given to Peter Daniel (431), James Cyriac (432), Sai Surya (433) and Kok Rabin (434). The service award was established in 2001 to recognise a deserving graduating student who has shown exemplary witness to the Lasallian values of faith, service and community.
October: SJI boys receive the SINDA Excellence Awards
GCE 'O' Level Category (2010): Daveraj Sivasegaran (432) and Wira Hakim Bin Isa (434) 
National Colours Category (2010): Achanta Ram Sagar (432), Pratham Anil Sabannavar (435), R Shakthi (433), Shashi Kumar Hazra (436), Wira Hakim Bin Isa (434) and Karthic Harish Ragupathy (433/2011)
September: ArtScience Teacher Training Workshop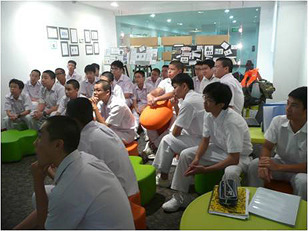 Eleven teachers in SJI in the Special Programmes Department held a workshop with Carrie Fitzsimmons (Executive Director) and Andrea Sachdeva (Director of Curriculum and Evaluation) of the ArtScience Labs in Boston. The workshop was held at the SJI ThinkSpace from 12-16 September.
This is a follow-up of the March 2010 workshop held in SJI in which 12 teachers were introduced to the philosophy and methodology of ArtScience.
Teachers were involved in developing the curriculum and creating resources and community partners who will support the programme in 2012.
As a result, next year's ArtScience students can look forward to an exciting programme that will possibly include visits, talks, workshops and mentorship provided by institutions such as Fraunhofer IDM@NTU, Ngee Ann Polytechnic, Lasalle College of the Arts and Artscience Museum (MBS).
In addition, teachers from 13 schools as well as the Sec 2 Josephians had the opportunity to listen to the two trainers from Boston share on the ArtScience programme. Besides being able to learn in a very integrated and liberal classroom environment, participants will be part of an international network of designers, venture capitalists and entrepreneurs. 
The current Sec 3 students who participated in this year's ArtScience Programme were each presented with their certificate of participation endorsed by ArtScience Labs and Harvard University.  
September: SJI in the Science Mentorship Programme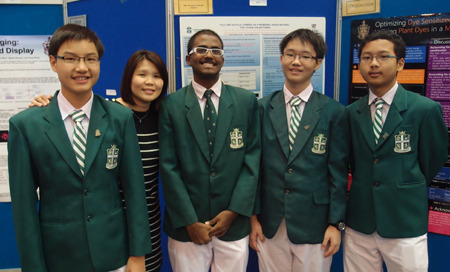 For the past seven months, eight SJI students took part in the Science Mentorship Programme organized by the Gifted Education branch of MOE.
In this project, two groups of students are teamed up with qualified lecturers form various research institutes. These lecturers mentor the students in a research project for which the students collect data, build prototypes, write a scientific paper and finally create a poster for judging.
They showcased their findings at the 17th Youth Science Conference which was conducted in the Nanyang Technological University on the 17 September 2011.
Team 1 with their project wearable solid state electronic coolers which was mentored by Dr S.E. Valavan from the Republic Polytechnic was awarded the Merit Award. Team 2 won the  Distinction and 3M best poster award and a $150 book voucher for its project on Fe2O3 and ZnO.Fe3O4 hybrids as a promising anode material for lithium ion batteries. Their mentor Dr. M .V. Reddy from the National University of Singapore, Department of Physics, Solid state Ionics/Advanced batteries Lab (http://www.physics.nus.edu.sg/solidstateionics) also received the Outstanding Science Mentorship Award.
Team 1 comprised Teo Jian Ming (331), Ng Chong Zheng (331), Dadi Santosh Amoghrag (331) and Peng Tao (332).
Team 2 (in photo) comprised Kevin Chee (331), Kannan Ramanathan (331), Tan Yi Hao (331) and Daryl Tew (331).
In addition, Ms Tan Sia Hui (in photo with the boys from Team 2) who was the teacher-advisor for these two groups was also awarded with the Best Teacher Advisor Award.
September: SJI at the National Science Challenge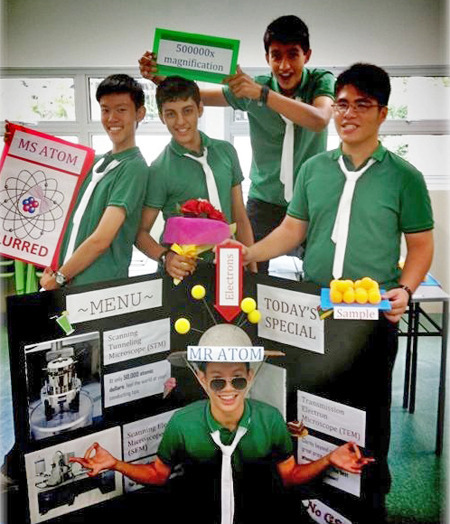 On 18 May, SJI sent a team of five boys for the National Science Challenge (NSC) 2011.
During the demanding pre-qualifying written test and rapid presentation round, SJI put up a very strong performance and took one of the coveted spots to become the top 12 teams in the nation-wide competition.
The team then went on to become the quarter-final round winner and marched into the semi-final challenge along with Raffles Institution and Nanyang Girls.
After an exciting battle of wits and speed in the mediacorp studio, SJI finish with a 4th placing.
The SJI team comprised boys (clockwise in photo from left) Marco Lizwan (332), Shubendu Sumbli (337), Nesar Raviprakash (332), Alexander Fonseca (332), Nathaniel Too (332).
The team was led by teachers Mr Kyris Ang, Mr Genesius Chan, Mrs Michelle Toh and Ms Gina Tan.
September: Alumnus is the new Principal Private Secretary to the Prime Minister
Mr Gabriel Lim (Graduating Class of 1991) was appointed Principal Private Secretary to the Prime Minister in September 2011. In this role, he will be supporting the Prime Minister in coordinating policy issues among various government ministries.
Prior to this, Mr Lim served in various capacities in the Singapore Ministry of Defence, Ministry of Health and the Public Service Division.
Mr Lim graduated from Stanford University's Sloan Management Programme with a Masters of Science in Management under the Lee Kuan Yew post-graduate scholarship. Mr Lim also holds a Master of Science in Economics from the London School of Economics and a BA in Economics from the University of Cambridge.
Mr Lim also serves on the SJI Board of Governors and is the Vice-President of the Movement for the Intellectually Disabled of Singapore. He is also a member of MENSA.
At SJI, Gabriel was in 4S1 with Ms Lim Bee Eng as Class Tutor.
September: SJI at the Singapore Mathematical Olympiad (SMO) 2011
The competition was held on 31 May and 1 June 2011. Over 5000 students from 122 institutions participated in the Junior section, 3500 students from 105 institutions participated in the Senior section, and over 2000 students from 62 institutions participated in the Open section.
SJI's award tally
Junior Section: 3 Silver, 14 Bronze and 10 Honourable Mention 
Senior Section: 2 Gold, 1 Silver, 15 Bronze and 3 Honourable Mention
Open Section: Gold, 2 Silver, 3 Bronze and 2 Honourable Mention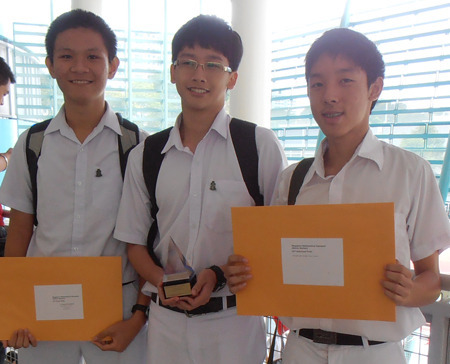 The SJI team was ranked a credible 20th in the Junior Section and 11th in both the Senior and Open Sections. 
Christopher Tanujaya (331) was also ranked among the top 30 in the Senior Section Individual Awards and was awarded the 24th Individual Prize.
Winning the team prize from the Junior Section are Chung Jun Ying (206), Klement Tan (206) and Timothy Cutter (206); while the team in the Senior Section (picture) comprised Do Trong Phat (331), Truong Vinh Hien (331) and Christopher Tanujaya (331).
September: Silver Award at the National Software Competition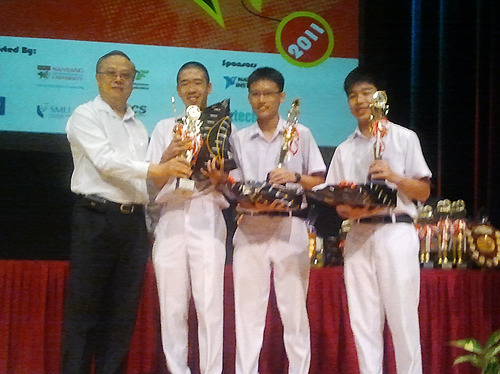 SJI sent two teams of students to the competition on 3 Sept 2011 at the Singapore Polytechnic. This competition is organised by IDA and brings together the best young programming talents for a 2-hour showdown. 
Representing SJI were students from the Micromouse Club and STDP Computer Science class. David Goh (321), Tan E-Liang (321) and Andrew Tay (333) (from left in picture) and were in the Algorithm Event (Non-IP), while Raphael Ong (326), Zhang Yixin (3330 and Jonathan Loh (321) were in the IT Quiz.
After a 2-hour showdown, the Algorithm Team walked away with the Silver award.
August: Alumnus, Dr Tony Tan, is President of Singapore
Congratulations to His Excellency Dr Tony Tan for being elected in as the nation's 7th President. Dr Tan will take office on 1 September 2011.
Dr Tan (SJI Graduating Class of 1958) said in his final election broadcast, "I spent my formative years at St Patrick's School and St Joseph's Institution. These were schools run by the La Salle Brothers. They dedicated their lives to educating us. The Brothers reminded us daily that we each had an obligation to help the last, the lost, and the least."
He continued, "Singapore's success cannot be judged solely by our ranking on international tables or the success of our highest flyers. As a society, we must judge ourselves by how we care for those in need."
He pledged, "Together, we should ensure that the last are not left behind, the lost have a guiding hand, and the least are the first in our considerations as a democratic society."

While at SJI, Dr Tan served the school as a Prefect. He was awarded the top prizes for Mathematics, Physics and Chemistry for Form 6 (Upper), and the Certificate of Merit on Prize Day 1958 (see picture in middle: Dr Tan is in back row, fourth from left). 
He was also on the school's table-tennis and tennis teams (see picture right: Dr Tan is in the front row in the middle).
August: The Fullerton-SJI Leadership Lecture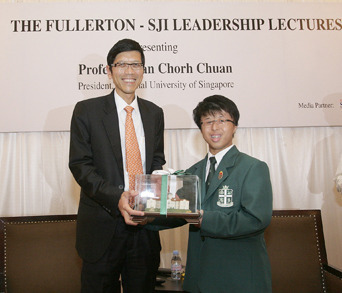 The third session of The Fullerton-SJI Leadership Lecture saw Prof Tan Chorh Chuan sharing with a captive audience of about 150 students, young adults and professionals from various sectors on his road to leadership at the Straits Room, The Fullerton Hotel Singapore on 26 August 2011.
He spoke about his pursuits of the useful and the seemingly "useless" interests that helped shaped him. He also focused on the multi-dimensional aspects of inner and external discovery, and crisis leadership during the SARS episode in Singapore.
Jointly organised by The Fullerton Hotel Singapore and SJI, the Lectures feature SJI alumni who have played significant roles in Singapore's development. The Fullerton Hotel Singapore is the venue sponsor and The Straits Times is the media partner. Mr Warren Fernandez, an alumnus of SJI chaired the session and moderated the ensuing discussions.
Read more about it here.
Picture: Prof Tan receives a token of appreciation from Deputy Head Prefect Leung Yu Rong
August: Hair for Hope @SJI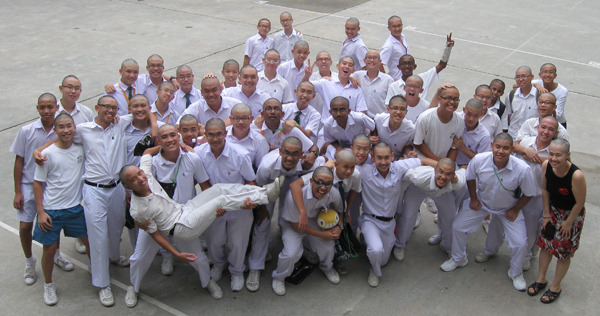 When SJI started Hair for Hope in 2008, it was a student-led initiative by the 2008 Prefectorial Board at that time. In 2008, SJI saw about 160 staff and students giving up their crowning glory to raise awareness for childhood cancer. 
And into its fourth year, the tradition remains strong. On 26 Aug, we saw 211 boys shaving their heads and a collection of about $19,000 for the Children's Cancer Foundation.
Mrs Mishaelle Chua, who was not ready to shave her head this year, managed to raise about $2,000. She said, "I hope with that amount of donation, it is my way to show support to my students who are organising the event." 
It was also her way of sharing a very special message: Some see a hopeless end while others see endless hope.
Picture: Ms Daisy Chia with boys from her Form Class (334). This is the third time that Ms Chia has shaved her head at Hair for Hope @SJI.
August: Alumnus garners President's Award for Teachers
Mr Chong Jack Sheng (Class of 1990) received the 2011 President's Award for Teachers from Mr S R Nathan yesterday at the Istana. Jack was one of the five teachers who was awarded this year. 
This annual award established in 1998 recognises the commitment of teachers towards the development of their students and to nation-building, and is the highest honour for educators here.
Jack currently teaches at Woodlands Ring Secondary School where he heads the Character and Citizenship department.
Read article here.
August: SJI makes a big Splash
Three students from the Micromouse Club at SJI takes GOLD at the Splash Awards 2011 on 29 August 2011 at the Asian Civilisation Museum. Splash is an IT competition organised by IDA and sponsored by the Singapore Computer Society.
The SJI team "SplashJoes" comprised Raphael Ong (326), Tan E-Liang (321) and Daniel Lee (102). 
They conceptualised and designed a mobile app that is related to the 2011 theme "Mobile Heritage".
August: SJI and ArtScience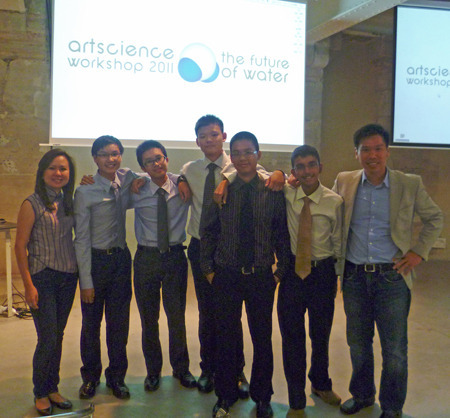 A group of five students attended the 2011 ArtScience Workshop in Paris from 14-19 August. The group comprised Aaron Lam (331), Ng Chong Zheng (331), Kevin Chee (331), Pratyay Jaidev (331) and Yeo Wai Weng (333) (see picture on right with Mrs Janet Kwok and Mr Malcolm Wong).
While at SJI, the boys had spent many hours on their ArtScience idea of the H2Outfit and this journey of discovering was creative and original for a group so young. 
At the workshop, Josephians were rubbing shoulders with designers, professors, lawyers, start-up entrepreneurs and venture capitalists who spoke to them about everything related to their idea and where it could go. 
At 15 years old, our SJI boys were the youngest in the entire group of about 80 participants comprising mainly of senior high school/university students and young entrepreneurs. There were people from cities all over the world: Bahrain, Dublin, Oklahoma, Boston, Brussels and Paris. 
 It was an exhilarating and humbling moment for our boys when they received the loudest and longest applause after their presentation. They were also given an unofficial title as the 'Idea Backstreet Boys'. In attendance was also a representative from the Singapore Embassy among other important invited guests.
August: Once a Josephian, always a Josephian
Straits Times ran an article from alumnus Ethan Lou (Class of 2006) on his experience with SJI after graduating from the school. He cited examples on how the school keeps in touch with him, gives him a voice, and also his experience back in school one day. The nurturing and warm reception he received, even after graduating, made him feel very proud to call himself a Josephian.
Link to article here.
August: A new team of Governors at SJI
The 9th SJI Board of Governors (BOG) will see a team led by Chairman Mr Gerard Ee and Deputy Chairman Prof Tan Cheng Han (Dean of Law, NUS).
The Board will also comprise the following members: Dr Koh Thiam Seng (P/SJI), Bro Paul Ho Kok Chee, FSC, Msgr Eugene Vaz, Bro Nicholas Seet Pee Hock, FSC, Mr Chan Keng Luck, Mr Michael Sng Beng Hock, Mr Mak Keen Tuck Gideon, Mr Stuart Palmer, Dr Bernard Thio Yauw Leng, Mr Lim Meng Liang Gabriel, Mr Danny Yong Ming Chong, Mr Loh Eu-Tse Derek, Mr Quek Hong Sheng Roy, and Mr Tang Wing Kee.
The school would like to thank the out-going members from the 8th SJI BOG: Mr Noel Hon (Chairman), Mr Tan Tee How (Deputy Chairman), Mr Bernard Lim Kay Yi (Treasurer), Mr Leo Yip, Bro Collin Wee and Mr Lawrence da Silva.
The school has been enriched by having these esteemed alumni serve on the Board. And now, they continue to serve Singaporeans as Men of Integrity and Men for Others.
August: SJI Micromouse team garners glory again
The SJI Micromouse team emerged Champions at the Inaugural Picomouse Competition held at Ngee Ann Poly on 28 July 2011. 
In a tough competition against 24 other schools, the students did an excellent job.
August: The East Zone Robotics Challenge
The SJI Robotics team emerged third at the competition this year.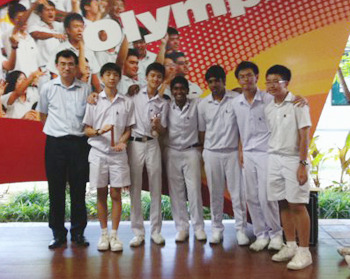 The team comprised:
Alexander Fonseca (332),  
Chua Wei Png (323), 
Vincent Stanislaus (324),  
Jeremy Jogakumar (322), 
Benjamin Lau (325), 
Liew Zhengyi (208), 
Bryan Thng (336) and 
Benjamin Lew (101).
July: SJI takes Silver at the National Schools Judo C Div Team Championship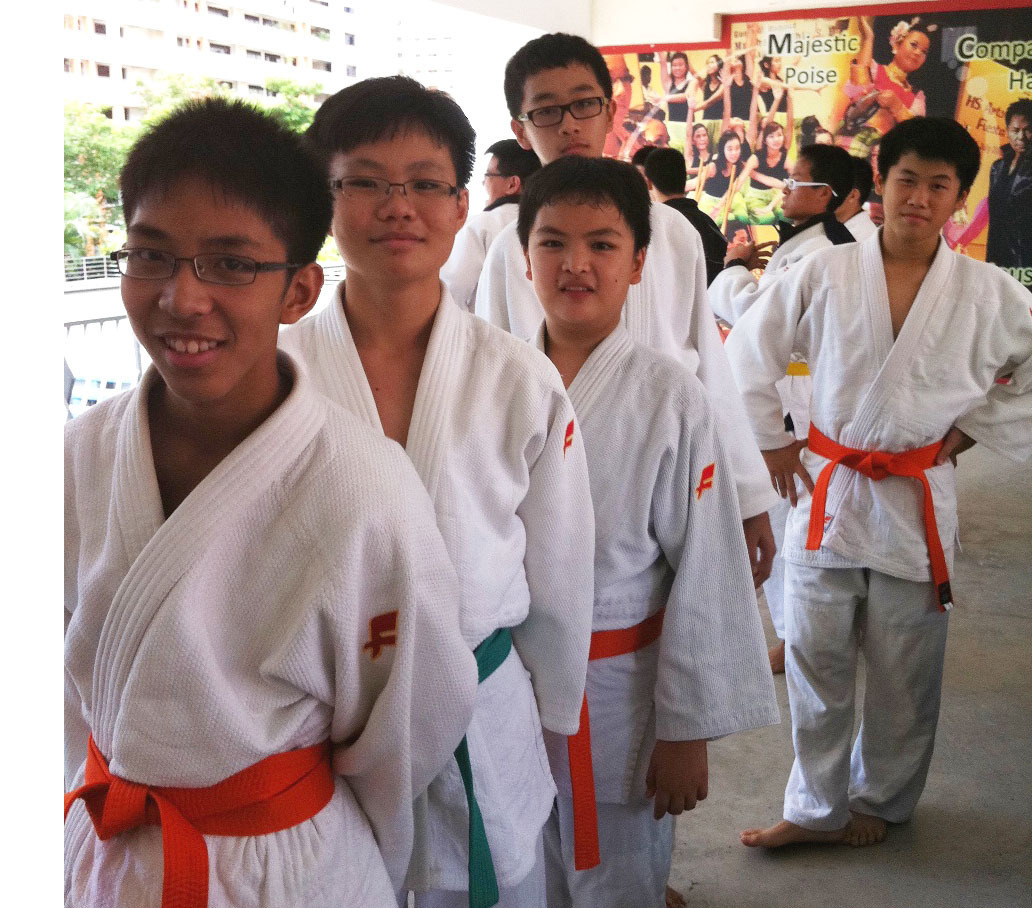 The SJI Judo 'C' Division boys garnered the Silver medal after a tough bout with Hwa Chong Institution for the team event on 13 Jul 2011 in Hougang Secondary School. The SJI team was represented by Mark Chee (202), Delvin Indratjuatja (202), Hariharan (203), Lim Dewei (205), Marc Wei Jie (205), Zachariah Ow (208), Lee Chien Ta(210) and Thant Zin Tun (109).
In addition, the Judo boys also showed a strong presence in the individual competition with Mark Chee (202) receiving Silver at the 'C' Division Feather-Weight category and Marc Fernando (205) receiving the Bronze at the 'C' Division Light-Weight category.
The teachers-in-charge of Judo also did an excellent job pulling the team together to bring out their best. They are Ms Winnie Yap, Ms Elizabeth Oh, Mrs Michelle Toh and Mr Kyris Ang.
July: Alumnus wins at the UOB Painting of the Year Competition with 'O' Level artwork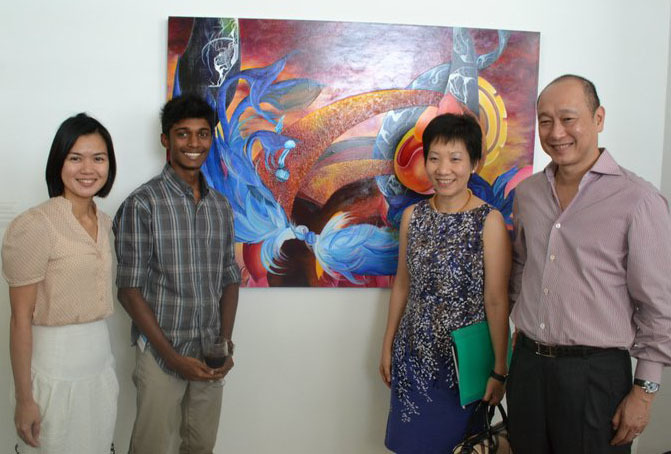 Meiyappan Karthik (Graduating Class of 2010) has won the Highly Commendable Award for the Youth Section of the 2011 United Overseas Bank (UOB) Painting of the Year (POY) category. 
His winning entry, an acrylic on canvas piece titled "A Tracker's Life" was done when he was in Sec 4. Only four awards were given out in the Youth Section in YOP 2011 - 1 Most Promising Young Artist award, and three Highly Commendable awards. 
Karthik's entry was the only one from a secondary school to win a prize this year. The other 3 were entries from junior colleges. 
The competition was launched in March 1982 and has been held annually since. The year 2011 marks the 30th year of this premier visual arts event here. Singapore's Senior Minister of State for Information, Communication and the Arts & the Environment and Water Resources, Ms Grace Fu, presented the prizes and certificates to the winners.
(picture from left): SJI Art Teacher Mrs Vivian Tan, Karthik, Ms Grace Fu and Mr Wee Ee Cheong (Deputy Chairman & Chief Executive Officer, UOB) with Karthik's winning entry.
July: SJI at the Model UN Conference
SJI sent a team of six Josephians from Sec 4 to participate in the 4th session of the International Model United Nations Conference 2011 (IMUNC 2011) held at Anglo-Chinese School (Independent). 
The 3-day conference saw intense discussion, grueling debates and exceptional hardwork from the boys to excel as one of the best teams in this competition. The boys were initiated into writing resolutions to form guidelines for governments in the United Nations to follow and subsequently, communicating these proposals and persuading others to come on board. The students felt the responsibility to work independently and also to serve in various while speaking off the cuff about our countries' respective views on the topics.
Azfer Khan (431) and Surya Bhat (435) took the title of Best Delegates while Matthew Wong (432) took the Honorable Mention for his council. The other members of the Josephian team comprised James Cyriac (433), Leonard Yip (434) and Benjamin Soh (434).
Azfer shared, "I am happy that we walked out of the competitions with our heads held high. Importantly, we had made many new friends and built lasting relationships with students of other schools."
July: Alumnus receives Sword of Honour at Commissioning Parade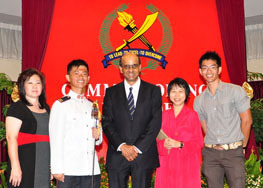 Kenny Yap Hon Kee (Class of 2007) was among the over 400 officer cadets who were commissioned as officers of the Singapore Armed Forces (SAF) at the Officer Cadet Course commissioning parade at SAFTI Military Institute on 10 July 2011.
Kenny and seven other graduands of the Officer Cadet Course received the Sword of Honour for achieving excellent performance in their respective fields of specialisation. The prestigious award is given to top performing cadets in each cohort. 2LT Kenny Yap is an Armour officer. 
Kenny already showed great leadership while at SJI. As a Josephian, he was the Unit Secretary and Stingray Patrol Leader from the Pelandok Scout Unit and received the Scout Chief Commissioner's Award in 2007.
(picture): Kenny and family share a proud moment with Deputy Prime Minister Tharman Shanmugaratnam.
July: Alumnus Philip Yeo conferred the NUS honorary degree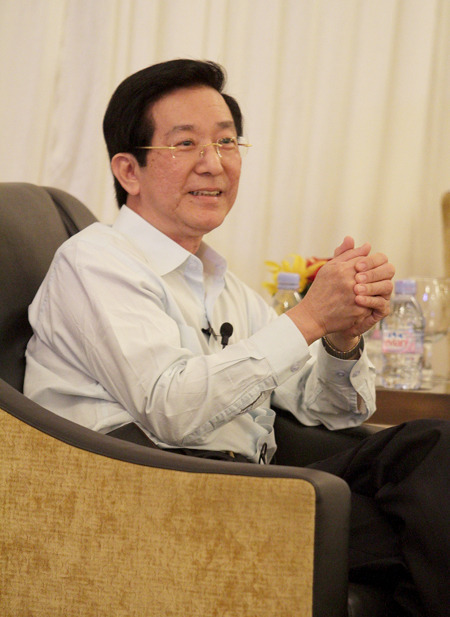 At the NUS Medical Dept commencement ceremony on Monday, 4 July 2011, Mr Philip Yeo (Class of 1965) was conferred an Honorary Doctor of Letters from NUS. 
Addressing 279 medical graduands from the National University of Singapore (NUS) on Monday in the first of the university's commencement ceremonies this year, Mr Philip Yeo, 65, shared some life lessons with them. 
He advised them to choose a job 'that makes you happy', and 'while it is good to seize opportunities for oneself, it is far more rewarding to create opportunities for others'. 
His final sharing was for the graduands to 'boldly make new friends' in this IT era where the various social networks serve as a platform to meet 'amazing people'.
Mr Yeo is the chairman of Spring Singapore and also serves as Special Advisor for Economic Development at the Prime Minister's Office. He is also the Chairman of the Josephian IP Track Leadership Panel which comprises other distinguished Old Boys as members.
July: SJI boys top polytechnic courses
In recent years, a number academically-strong SJI boys have chosen the polytechnics for their further education, being clear about their passions and their preference for the more practical-oriented course. Many of these boys have done very well.
Earlier this year, Jonathan Ong Baolin (Class of 2007) topped his course in Architecture at the Singapore Polytechnic. He was awarded the Singapore Institute of Architects Gold Medal, Board of Architects Prize, RSP Architects Planners & Engineers Prize, Real Estate Developers' Association of Singapore Prize and Diploma with Merit at the commencement ceremony on 26 May 2011.
Graduating with Jonathan were fellow Josephians Jay Yeo Si Ming and Daniel Bok Min Hao. Jay was awarded the School of Communication, Arts and Social Sciences Prize and Diploma With Merit while Daniel was awarded the  Aerospace Merit Award and Diploma With Merit.
On 13 July 2011, Leonard Tan Pei Yuann and Lim Yi Xiang, both from the SJI Graduating Class of 2010, will be receiving scholarships at the "Scholarship Awards Presentation Ceremony" at the Singapore Polytechnic's Hall.
June: Josephians at the 2nd Singapore Junior Chemistry Olympiad (SJChO)
Josephians garnered 4 Gold Medals, 5 Silver Medals, 9 Bronze Medals and 36 Certificates of Merit at the SJChO on 2 June 2011 at Raffles Institution.
The Singapore Junior Chemistry Olympiad (SJChO) is a competition organised by the Singapore National Institute of Chemistry (SNIC) in partnership with Raffles Institution and NUS High School of Math & Science, supported by the Ministry of Education and the National University of Singapore.
Our students competed against more than 2000 students in this demanding competition and our school managed to emerge as one of the top 8.  
Gold Awards were presented to the top 5% of the students, Silver Award to the next 5%, Bronze Award to the next 10% and Certificate of Merit to the next 20% of the students based on the total marks scored in the first round and second round of the competition. Certificates of participation were awarded to all other students.
Gold medallists: Dylen Mun (431), Nguyen Vu Hoang Nam (435), Vo Hoang Khai (431) and Vo Minh Tu (433)
Silver medallists: Gregory Gunawan (431), Joshua Loo (432), Phan Dang Khoi (432), Pho Duc Nam (433) and Lai Hoang Dung (435)
Bronze medallists: N Karthik (431), Emmanoel Hastono (431), Matthew Wong (432), Louis Medina (433), Brian Chew (433), Benjamin Eu (433), Po Qi Rong (433), Pham Huu Khue (332) and Shubendu Sumbli (337)
The teachers who led these teams are Mr Tang Woh Un and Mr Raymond Wong.
June: SJI Alumni Winston Hodge heads ACS(I)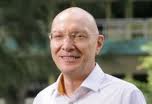 Mr Winston Hodge (Class of 1975) has been appointed the new Principal of Anglo-Chinese School (Independent) with effect from 21 June 2011. With 30 years of experience in education,he has served as principal at Raffles Junior College and St Gabriel's Secondary, and MOE Cluster Superintendent.As a student at SJI , Mr Hodge was in 4T3 under the guidance of Form Teacher, Mr Chen Si Kok. Mr Hodge served as one of the committee members of the SJI Co-operative Society in 1975.
June: Golden Jubilee Ordination of Rev. Monsignor Francis Lau
Monsignor Francis Lau celebrated the golden jubilee (50 years) of his ordination as a Catholic priest. He was ordained on 18 June 1961. He received his primary and secondary education at St. Joseph's Institution, which was near his home along Bras Basah Road.
In 1952, Monsignor Lau entered the St. Francis Xavier Minor Seminary in Singapore before proceeding to the General College, Penang in 1955 for his studies in philosophy and theology. As a Catholic priest, he has served in various parishes in Singapore. They include Church of St. Joseph (Bukit Timah) (1960 - 1962), Church of St. Michael (1962 - 1963), Church of Our Lady Queen of Peace (1964 - 1970), Church of Risen Christ (1983), Church of St. Peter and Paul (1983 - 1993), St. Joseph's Church (Victoria Street) (2001 - 2002), Church of the Holy Cross (2002 - 2005) and Cathedral of the Good Shepherd since 2005.
He served as Rector of the St. Francis Xavier Minor Seminary from 1971 - 1980 and was the Vicar General from 1983 - 2000.
June: Josephian summits Mt Everest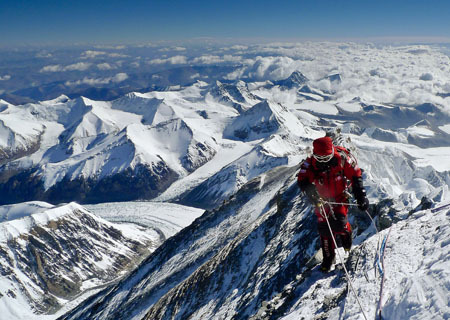 Kenneth Koh (Class of 1981) summited Everest on 27 May 2011 at 9.40am through the North Ridge. He is the first Josephian to reach the highest peak in the world.
Kenneth is a freelance travel and adventure writer and photographer based in Singapore.
His trek was filled with thrilling and humbling experiences. While the adrenaline picked up to amazing levels, there were also spiritual and grounding moments seeing dead bodies along the way. It was a "stark reminder of how fragile human life is at this extreme altitude".
Read about the thrilling climb, the tense descent with seasoned sherpa, Jamlin on Kenneth's blog
May: LaSallian East Asian District Inauguration
The newly created "Lasallian East Asia District" (LEAD) was officially inaugurated at a ceremony in St Joseph's Institution, Singapore, on Sunday 15 May 2011 with Bro. Thomas Johnson, Vicar General, as Guest of Honour. The first Visitor, Bro. Edmundo Fernandez, and Auxiliary Visitor, Bro. Thomas Lavin, received their letters of appointment during the ceremony
The programme commenced at 10.30am in the Performing Arts Centre with Holy Mass celebrated by Archbishop Nicholas Chia.
The new District comprises seven countries: Hong Kong, Japan, Malaysia, Myanmar, Philippines, Singapore, Thailand. The Provincial offices will be based in La Salle College, Kowloon, Hong Kong. 
May: SJI represented in The Little Green Dot
Three SJI teams were selected for the five secondary school teams in the Little Green Dot research.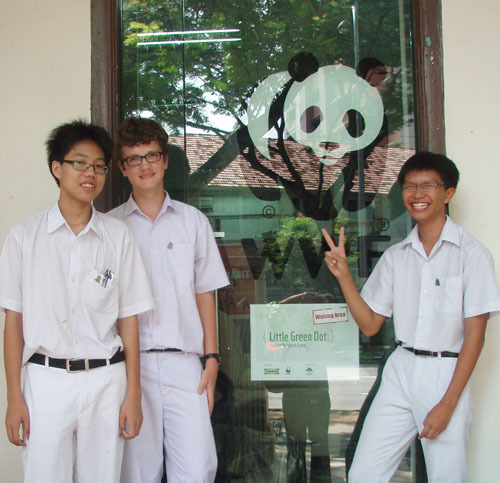 Seagrass Patrol Squad (in picture) is represented by Huynh Thuan Phuoc (333), Korycinski Damian (333), and William Sentosatio (333). Their research focuses on the importance of conserving seagrasses in our ecosystem. 
Group 2 comprises Christopher Melky Tanujaya (331), Gilbert Lim (331), Nicholas Putra Franslay (331) and Nadriel Ukadin (332). Their work centres around conserving coral reefs in Singapore.
The third group represented by Cyrill Kafi Salim (332), Marco Lizwan (332), Kevin Radinal (332) and Nesar Raviprakash (332) is studying the effects of fish fertilizers on algal blooms
The Little Green Dot is a student research grant that promote learning of Singapore's natural environment through direct study and discovery. It aims to facilitate the development of a new generation of leaders in conservation and biodiversity studies. The theme for 2011 is Marine and Freshwater Conservation. It is a collaborative effort by IKEA Singapore, WWF Singapore  and Nature Society (Singapore).
May: SJI in the National Inter-School Gymnastic Championship (2011)
SJI took the Silver award in the 'C' Division Artistic category. The team comprised Marc Koh (109), Keefe Cheong (109), Barnabas Hu (211), Geoffrey Yip (209), Max Ko (211) and Han Guang (109).  Han Guang was also awarded the individual prizes.
The team also won Silver and Bronze for the Vault and Pommel categories respectively.
SJI's 'C' Division Trampoline team took the Bronze award. This team comprised Karl Png (202), Kok Yao Xiang (203), Keerthan Arularasan (201), Yi Yoon Hyung (206), Sean Teng (208) and Keefe Cheong (109).
In the 'B' Division Trampoline category, the SJI team took Silver as well. The team comprised Gabriel Teo (421), Darryl Chia (335), Clement Chong (426), David Goh (321), Sean Ng (326) and Gregory Yee (422).
May: The Fullerton-SJI Leadership Lecture
At the second lecture of the 2011 series, Mr Peter Seah (Chairman, DBS Bank) shared management and life lessons with an audience of about 150 people.
In response to queries, he shared that failure is an important ingredient to success. The 34-year banking veteran also spoke about adjusting to different organizational cultures at the Fullerton-SJI leadership lecture series at the Fullerton Hotel on Friday (May 13).
Watch some highlights of the lecture on Razor TV and read the Straits Times and Lian He Zao Bao articles.
May: SJI Canoeing Champs at 2011 National Inter-School Competition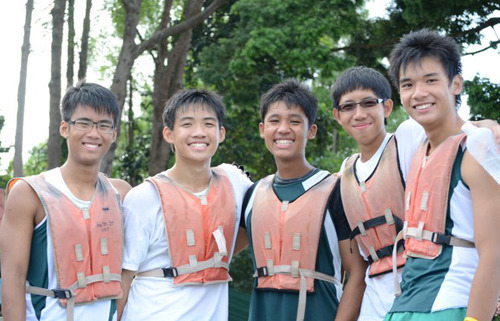 The SJI Canoeing team has kept up the tradition of strong performance at the 2011 National Inter-school Championships, with the 'B' Division team clinching third placing, and the 'C' Division team emerging overall champions.  
The 'C' Division boys (Under 15) was especially dominant at the championships, winning 5 Golds, 2 Silvers and 3 Bronzes in the respective events. This performance comes having won the championships 13 times and being runners-up 7 times in the past 20 years.  
Outstanding SJI canoeists at the 2011 champions included Chua Teck Yan (Class 205) who won 2 Golds (K1 500m and K1 1000m), and Hubert Yeo (Class 212) who won Gold in the C2 500m (with Jonah Tan of Class 201) and a Silver in the C1 500m.
May: SJI Old boys at the 2011 General Elections
SJI is proud of our old boys who stepped forward to offer their service to the nation in the 2011 General Elections: Mr Mah Bow Tan (Class of 1966), Mr Teo Chee Hean (Class of 1972), Mr George Yeo (Class of 1972),  Mr Charles Chong (Class of 1972), Mr Christopher de Souza (Class of 1992), Mr Alec Tok (Class of 1981), Mr James Gomez (Class of 1981) and Mr Edwin Tong (Class of 1985). 
Our congratulations to the old boys who were victorious in their electoral contests and are now called to serve the people for the next five years. 
SJI would like to especially pay tribute to Mr George Yeo (Class of 1972), who has served the nation with distinction for the past 23 years in parliament and in Cabinet, and who has been a fervent supporter of SJI. The SJI community wishes him well in his discernment and as he continues to serve the people and nation with his many talents and gifts.
May: SJI Vocal Ensemble garners GOLD with HONOURS at SYF 2011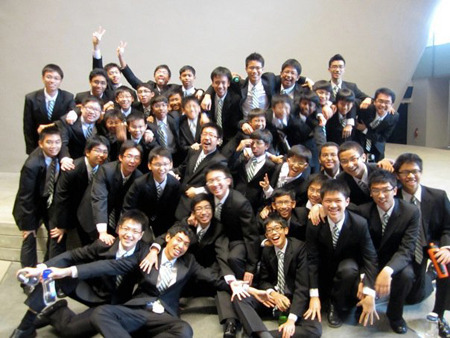 The SJI Vocal Ensemble received GOLD WITH HONOURS for the Choir category. Their judging repertoire included Ubi Caritas by Ola Gjeilo, Kruhay by Beny Fruto Castillon (adapted for TTBB by Toh Ban Sheng) and the set piece The Wind by Singapore composer Kelly Tang. 
This is the Vocal Ensemble's maiden participation in the SYF Central Judging and they were the only ones in the TTBB category to have received the Gold with Honours Award.
Another GOLD for SJI at SYF
The SJI Guitar Ensemble took GOLD for the Guitar category at the SYF competition. With 27 members, the senior ensemble was one of the smallest teams at the SYF Central Judging for Guitar Ensembles 2011. The SJI members capitalized on their strong bonds to encourage and inspire each other to achieve their best, and achieved the GOLD Award this year.
The choice of pieces by ensemble trainer, Mr Michael Gaspar, an old boy of the school, was a critical factor too. The first piece, Austin Tango was composed in 2009 by Roland Dyens, a French interpreter, composer, arranger and improviser. The second piece, Kalimba is another relatively modern piece composed by Jurg Kindle. 
The SYF Central Judging has been a very good learning experience. Far more important than the GOLD though is that the members continue to learn and grow as musicians and friends to each other because those are what they will remember and retain in years to come.  
The Malay Dance team walked away with the GOLD Award at the dance competition. The dance team comprised 20 Josephians. The title of their item was Gema Tingkah, which is a kompang dance. The dance depicts happiness in celebration.
Other 2011 SYF results
The SJI Military Band received the SILVER Award. The set piece was "Memories of Friendship" by Satoshi Yagisawa. Our choice piece was "The 7th Night of July" by Itaru Sakai. The choice piece is based on a romantic legend.
The band education in SJI covers the entire learning process of the boys. Over the last few months, band members have grown to become more close knit, the team has learned to embrace other genres of music and musical styles. The band leaders have also blossomed into confident young men.
The Chinese Cultural Society bagged the SILVER award for the Chinese Drama category. Their play, titled "To master or be Mastered Over" was written by a group of students from the Chinese Drama team.
The play highlights how mobile phones ave become an integral part of teenagers'lives such that iti s 'taking over' their lives.  It strives to lead the audience to reflect upon on how they use their phones and the influence it has on their everyday lives.  
The Drama Club received the BRONZE Award: The 2011 play was based on the boys' interpretation of our Sec 1 Literature Text "The Outsiders".  The story deals with a young boy caught in the midst of a gangland struggle, in which he must survive against the odds.
April: The SJI Foundation
The formal launch of the SJI Foundation took place on Saturday 23 April 2011 at the Glass Hall, SJI International. The event was graced by Guest-of-Honour Mr.George Yeo.
SJI Foundation is envisioned as a charitable institution focused on enabling the Josephian community and its supporters to contribute their experience, expertise and resources in support of the mission of the De La Salle Brothers as well as providing support for the education and growth of young people in Singapore and the region. 
The SJI Foundation Board of Trustees is headed by Philip Yeo, Chairman SPRING and Edmund Tie (Vice Chairman), Executive Chairman DTZ Debenham Tie Leung (SEA) Pte. Ltd.  Its operations are overseen by a Management Committee chaired by Derek Loh, Executive Director of TSMP Law Corporation.
The Minister's speech.
April: The green Award again
SJI has been awarded the LOTUS AWARD, the pinnacle award in the Singapore Environment Council's Green Audit competition in recognition of the school's conservation and environmental awareness efforts. The school's first Lotus award was in 2008.
Check out what the Green Club does at SJI.
April: Alumnus garners Businessman of the Year Award (2011)
Mr Chia Kim Piow (Class of 1964) was honored as the Businessman of the Year at the Singapore Business Awards (SBA), held at the Ritz-Carlton, Millenia Singapore hotel. Mr Chia is the Chairman and MD of Rotary Engineering.
On the Straits Times report on Friday, 8 April 2011, Mr Chia shared the company's humble beginnings in business in 1972 when he and four buddies chipped in $3,000 each to start Rotary Engineering. What started as a small engineering venture with only 10 staff members has grown to an impressive globally competitive company with a 7,000-strong workforce.
And since going public in 1993, Rotary has spread its wings and now has an established presence in Australia, Malaysia, Indonesia, Thailand, India, Saudi Arabia and the United Arab Emirates.
March: SJI gymnasts garner Silver and Bronze awards
The SJI team of gymnasts took the Silver and Bronze awards for the 'B' and 'C' Divisions respectively at the National Inter-School Trampoline Championships. The competition was held at the CCAB Multi-Purpose Hall on 30 March 2011.  
The teams comprised the following Josephians.
'B' Division: Gabriel Teo (421), Darryl Chia (335), Clement Chong (426), David Goh (321), Sean Ng (326) and Gregory Yee (422).
'C' Division: Karl Png (202), Kok Yao Xiang (203), Keerthan Arularasan (201), Yi Yoon Hyung (206), Teng Yee Sean (208) and Keefe Cheong (109)
March: Singing for Japanese disaster relief at SJI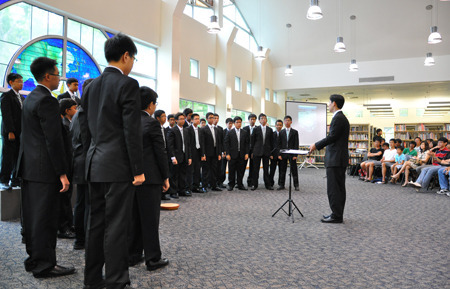 SJI hosted a combined school choir mini‐concert at The Beurel (SJI library) on Saturday, 26 March 2011 from 5.15pm to 6.00pm to raise funds for the victims of the earthquake/tsunami in Japan.
The combined choir comprised choral groups from the SJI Vocal Ensemble, Dunman Secondary School Choir, Catholic Junior College Choir, Raffles Chorale, Raffles Voices, and the Raffles Voices Alumni. The Choral Director for the schools is Mr Toh Ban Sheng.
The concert was aptly titled Ubi caritas et amor, Deus ibi est ‐ Where charity and love are, God is there. This fund‐raising effort, which is the brainchild of Mr Toh, aligns very well with SJI's ethos and mission to reach out to the community and make a difference to 'the last, the lost and the least'. 
About 260 students, parents and well-wishers listened with awe and wonder as The Beurel filled with the beautiful voices of the various choir. 
Proceeds from the evening went to Mercy Relief.
Read the Catholic News and Straits Times.
March: Josephian in the National Debate Team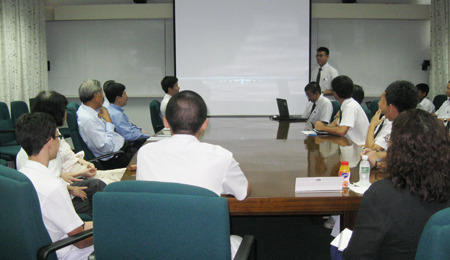 Rabin Kok (434) has made it to the National Debate Team. He will start training with the current National team. The team will be representing Singapore at the World Schools Debating Competition in South Africa in 2012. 
Rabin is the first Josephian on the list of debaters for this team.
Rabin has been a member of the SJI Debate Society since 2008.  His ability to grasp complex ideas and express them simply is one of his key strengths. This ability was clearly seen in his academic work and even during RME lessons which involved discussion on moral and social issues.
He represented SJI at various Mock United Nations Conferences. Rabin was also the student leader in charge of the inaugural SJI U-14 Debate Tournament which was successfully run in 2010.
(pic): Rabin (standing) shares his experience as a Josephian with Minister Ng Eng Hen, Dr Koh and peers during the Minister's visit to SJI in 2010.
March: National Cross Country Champ
At the National Cross Country Competition on 23 March 2011, SJI runner Karthic Harish (433) took the individual Gold medal once again.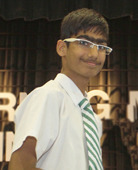 In 2010, Karthic (in pic) attained a credible third position, competing against the older Sec 4 boys. This year, he cruised home in style taking the top spot without any challenge. Karthic has been nursing a shin splint injury for the last few months. He was determined in his training, but also very careful not to exasperate the injury.
This would be Karthic's second Championship title at the National Inter-School Cross Country Championships. He also won the title in 2009 in the 'C' Division category. He holds bragging rights as the second male athlete to have won GOLD in both the 'C' and 'B' Divisions (Individual category). The other athlete was also a Josephian.  
The SJI cross country team emerged fourth in the 'B' division Team category. Credit goes to the hardwork and dedication of the team, led by captains Karthic and Justin Tan (421). Justin bagged the 8th position in the Individual competition.
Click here to read more
February: SJI's 3R Journey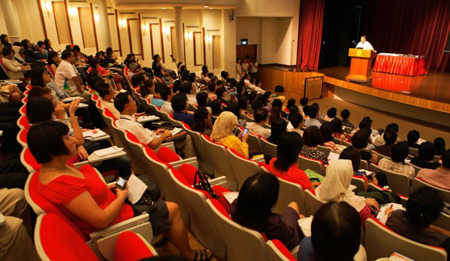 On 19 and 26 February, Mr Tan Too Yong (in pic at podium) and Ms Gina Tan, the teachers-in-charge of the SJI Green Club, were invited to share at the NEA's Environmental Education Advisers' (EEAs) Networking Sessions. 
They shared on SJI's 3R journey – which culminated in SJI being awarded the Gold Award (with Special Commendation) in the 2010 NEA 3R Award Competition. 
A total of 137 schools attended the sharing sessions, which were held at Nanyang Girls' High School and Zhangde Primary School respectively.
February: Scout Frank Cooper Sands GOLD Award 2010
The St Joseph's Pelandok Scout Section has achieved the gold award 14 times, consecutively for the past 6 years, since the award was first started.
It is also the first time that all three sections - Scout, Venture and Rover of the Pelandok Group attained the GOLD award at the same time. The Venture Section caters to young people in the 16 – 18 age range while the Rover Section caters to those in the 17 to 26 age range.
In 2010, two SJI scouts garnered the Chief Commissioner's Award, the highest award that a scout can attain in the Scout Section. Troop Leader V Santhosh (Class 434) and Senior Patrol Leader Oh Chin Ying (Class 422) did the unit proud by being two of the recipients of this award nationwide.  
Created in 1995 in honour of the father of Scouting in Singapore (Frank Cooper Sands), the Frank Cooper Sands Award is awarded annually to sectional scout units for unit excellence.
2011 marks 100 years of Scouting at SJI. For information on the upcoming celebrations, please write to Mr Alphonsus Gregory, Group Scout Leader (scouting100@sji.edu.sg).
February: Honours at the 2011 Biomedical Olympiad
SJI Walked away with a stunning collection of prizes at the 2011 Singapore Biomedical Challenge organized by Anglo-Chinese Junior College and Yong Loo Lin School on Saturday, 19 February at ACJC. 
Three sets of Gold, Silver and Bronzes  and the team Trophy for Non-IP Schools have found a place in SJI. Awards winners for gold were Daniel Harianja (432), Putu Agung (432) and Vo Minh Tu (433). Medina Santos (433), Gregory Gunawan (431) and Vo Hoang Khai took Silver, while Josephians Marco Lizwan (332), Jian Ren (436) and Christofer Kristo (431) took Bronze.
Judges for the competition comprised clinicians, scientists, medical academia and members of the Yong Loo Lin School of Medicine, National University of Singapore, and medical professionals.
February: Read it. Like it. Pass it on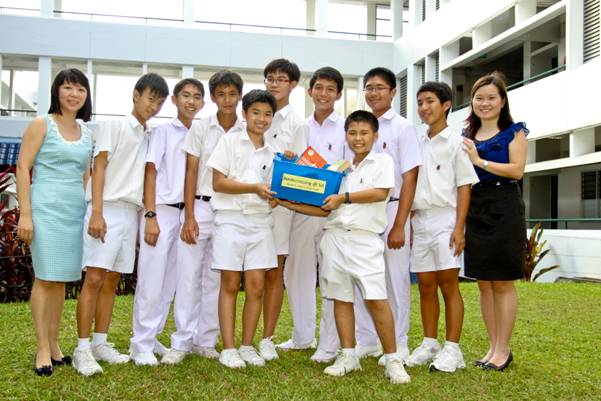 On April 2010, Brandon Krygsman (201), Kenneth Sean Teo (201), Heng On Scott (201), Jared Martens Wong (204) and Bryan Lim Jun Hao (209), together with the help of their teachers Mrs Mishaelle Chua, Mrs Adeline Tan and Ms Elisa Tan, launched a project, Bookcrossing@SJI. The project served to widen a student's exposure to different genres of books and to spur the interest for reading in even the most reluctant of readers.
"Bookcrossing" is the practice of leaving a book in a public place to be picked up and read by others, who then do likewise. The collection of books in the six Bookcrossing zones at SJI is sustained by the donation of books from teachers, students and the National Library Board (NLB).
To enrich the experience, an online forum was created to allow students to share their views on the books they have read. Students can also join the Facebook group, Worm E, creating an avenue for students with a common interest to discuss and interact.
A student-initiated project, the organizing committee plans include critique of literary works, conducting monthly Reading Circles discussion of a selected text and training workshops for Reading facilitators.
Their efforts at promoting reading caught the attention of NLB who invited the boys and teachers to share their reading programme at one of the NLB workshops in March.
Find out more here.
February: The CNY collaboration with SGH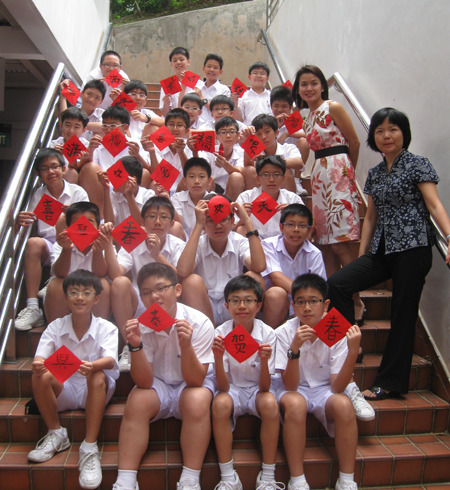 The SJI Chinese Department and Design Club participated in a Chinese New Year CIP project with SGH and two other schools. 
With the combined effort of the staff and students of SJI over three days in SJI involved the entire Secondary 1 cohort. On the last day, the effort was opened to the school population. We saw a total of 450 boys and 25 staff involved in this worthy project.
SJI presented a total of 1600 pieces of calligraphy writing to SGH. These were packed with mandarin oranges into little goodie bags, and a little photo of the boys at work as a greeting card.
Senior SGH staff presented these 'gifts' to the patients on 2 Feb 2011. 
January: The Science Mentorship Programme (SMP) by the Gifted Education (GE) Branch
Eight Josephians attended the SMP launch on Friday, 28 Jan 2011 at Ngee Ann Polytechnic. In this mentorship attachment, students will work closely with mentors from institutions of higher learning for a period of seven months on a research topic. This attachment provides our students with first-hand research experience and helps nurture their interest in science.
Josephians from Class 331 Teo Jian Ming, Ng Chong Zheng, Dadi Santosh, Daryl Yew, Kevin Chee, Kanna Ramanathan and Tan Yi Hao, together with Peng Tao from Class 332 will be working in groups of four with NUS and Ngee Ann Polytechnic.
The programme is structured with the aim of developing pupils' interest and talent in scientific research. Boys will be able to hone their interest in a particular research area, learn about the latest research developments and be challenged by the process of scientific research.
For the period of the attachment, boys will work on their projects for a minimum of 3 hours weekly from January to July and will spend 2 weeks full-time during the June holidays at the tertiary institutions. They will complete the attachment with a scientific paper for publication in the Proceedings of the Youth Science Conference.
The Youth Science Conference showcases through posters and oral presentations all the projects in the programmes to an audience of peers, teachers and scientists. These projects are also judged by panels of professional scientists and awarded with prizes.
January: Alumnus Prof Philip Choo is the new CEO of Tan Tock Seng Hospital
Prof Choo is also a member on the Medical Advisory Boards for Ang Mo Kio Hospital and Bright Vision Hospital. He also sits on the Board of Directors, Johns Hopkins Singapore International Medical Centre, Management Board of NHG 1-Health, NHG, and the Medicine Advisory Committee of the Health Sciences Authority.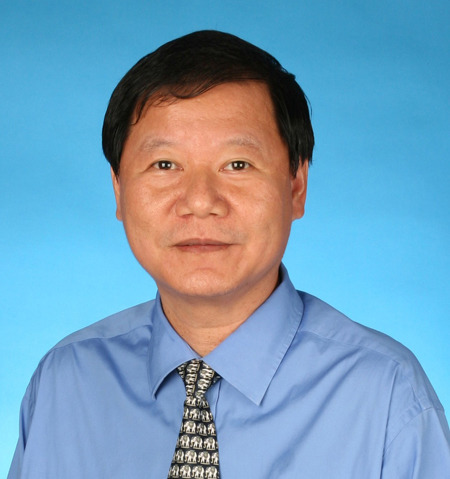 He started as a House Officer in MOH in 1982 and moved to TTSH as registrar in 1987. A TTSH veteran, he holds myriad positions at the hospital where he was the Chairman, Medical Board (TTSH), Lean Sponsor (TTSH), spearheaded the TTSH's MyCare programme, an initiative based on the principles of Lean Management and Senior Consultant, Department of Geriatric Medicine (TTSH).
As a clinician, Prof Choo with his high professional standards was awarded TTSH Doctor of the Year in 1996. In 2003, he was awarded the National Day Public Service Star Award.
Prof Choo graduated from SJI in 1974 from Class 4S6 which was under the guidance of former SJI teacher Mr Simon Tan.
He said, "The value and teamwork I learned from school has been very useful in my working life."
January: SJI boys' strong showing for GCE 'O' Level results 2010
With the largest cohort ever of 423 boys entered for the GCE 'O' Levels examinations last year, SJI boys continued to display a strong showing when the results were released on 10 January 2011.  Not only did the top academic boys feature strongly among the nation's top 'O' Levels students, but the cohort as a whole showed how much they have grown in their four years at SJI through their value-added scores.
January: SJI-Harvard Artscience Programme 2010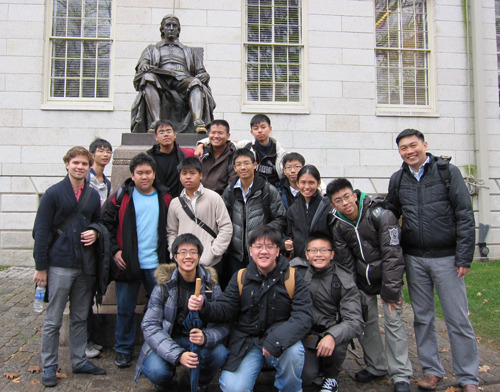 Twelve boys and two teachers from SJI were in Harvard University for two weeks in the December holidays for a joint SJI-Harvard Artscience programme. 
The Artscience programme is an initiative founded by Harvard Professor David A. Edwards that aims to promote socially beneficial innovations through experimentations in the arts and science. 
In a continuing collaboration with Cloud Foundation and Harvard University's Idea Translation Lab, this second cohort of SJI boys in the programme were engaged in seminars, workshops and discussions with Harvard students, faculty and the team from Cloud Place, to develop their project "The Future of Water", culminating in a final presentation of it to faculty members and students from Boston schools.
For more on the visit, Singapore Idea Translation Programme