November: The Josephian who created the SG50 logo
Alumnus Jackson Tan (Class of 1990), co-founder and creative director of multi-disciplinary creative agency Black, is the designer behind the ubiquitous SG50 logo, commissioned by the Ministry of Culture, Community and Youth.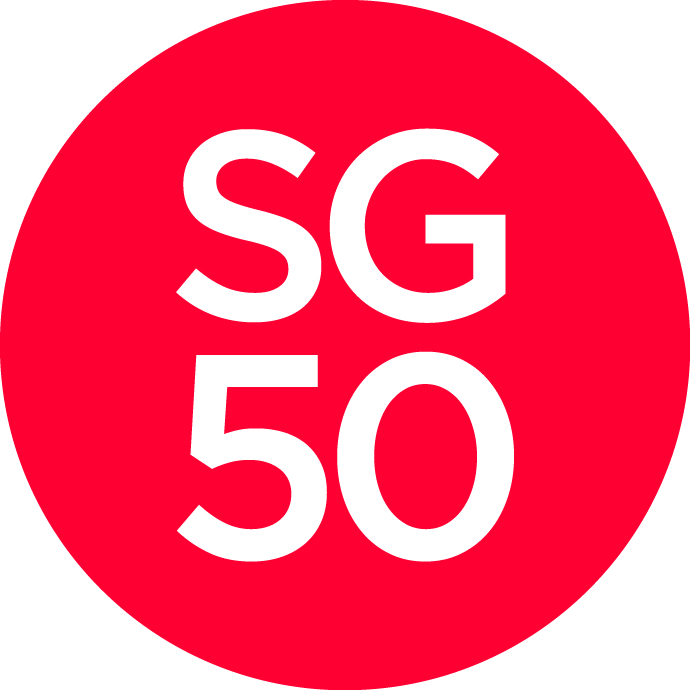 Read more about him in The Straits Times.
---
November: SJI Junior Band Concert
The SJI Military Band had a graduation performance this morning to celebrate our Sec 1s who passed out of their first year of music training. With the rest of the SJIMB, the Sec 1 bandsmen gave a fabulous musical performance of vivre, passion and energy. Many parents attended too. Well done, gentlemen!
---
October: End-of-Year Thanksgiving Assembly
The school marked its official closing of the year at the annual Thanksgiving mass and assembly on 23 October.
Through his usual story-telling homily and reflection, Fr Michael D'Cruz led the students and staff to recall their journey of the past 10 months spent in SJI. He also reminded them to be grateful for these happy and sad memories as the school year came to an end.
The students and staff also shared their farewell tributes to Dr Koh Thiam Seng, who will be leaving SJI at the end of 2015, after having led the school as Principal since 2009. Words of gratitude echoed throughout the tributes, to the visionary principal who had brought SJI to another level in the last seven years. To mark the closing of the school year, the school flag was lowered as The School Rally was sung, and Dr Koh handed over the school flag to Fr Adrian Danker SJ, symbolising the handing over of leadership to the new principal who will lead SJI from 2016.
---
October: SJI NCC (Air) Supports The Save More Challenge 2015
The SJI NCC (Air) unit has through the unit's Project Scubilion, been helping her cadets become more aware of the plight faced by the physically disabled. The cadets have been going down to Handicaps Welfare Association, the unit's adopted charity, on a regular basis since 2012, to provide service and at the same time, to learn and understand more about the various challenges faced by the handicapped.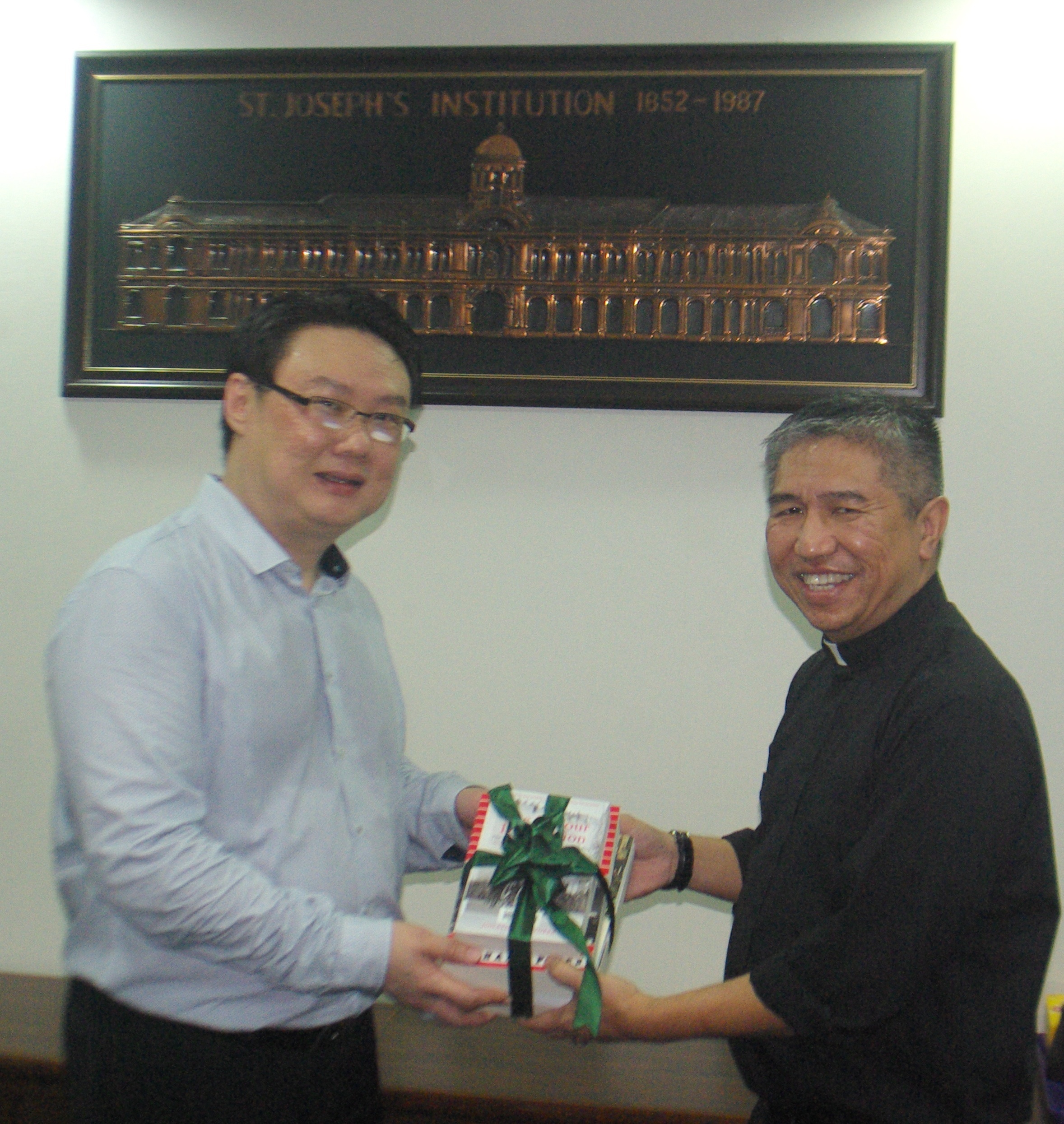 For the past 2 years, the SJI community has also joined in the unit's efforts. In Term 3 this year, the Sec 1s together with the NCC (Air) cadets took part in the "Save More Challenge 2015" organized by CrimsonLogic Pte Ltd. Students were assigned a coin bank each, to save their coins and loose change, and the funds collected were donated to the Handicaps Welfare Association.
Amongst all the participating schools, SJI came in with the highest contributions, with a collection of more than $3,700. For this effort, the school won $2,000 worth of books for the school library, sponsored by CrimsonLogic Pte Ltd. The five participating schools in Singapore collected a grand total of S$12,941.55 from 7 July to 3 September 2015.
---
October: JC 2 Speech & Graduation Day
The graduands entered the parent-packed auditorium to the tune of "Glorious Patron", followed by Mr Gerard Ee, Chairman of SJI Board and Guest of Honour; Dr Koh Thiam Seng, members of the Board of Governors and senior leadership.
Dr Koh delivered his final official speech as Principal to the graduands before he leaves SJI at the end of the year. This was followed by an inspiring speech from Mr Gerard Ee, who encouraged the students to follow their passion instead of traditionally popular professions.
The students were presented their certificates from Mr Ee. This was complemented with a creative presentation of slides put together by the students themselves on their thoughts of the occasion. The form tutors also introduced their classes, with their personalised set of speeches ranging from references to friction from the Physics tutor to singing by the English tutor.
The last speech of the occasion was by outgoing leader of the student council, Lee Suyi Seraphine. With mixed emotions, her strong speech summarised how the cohort had grown up in the last two years.
As a final celebration of their final lap at SJI, a group of students performed an emotional "Long Live" by Taylor Swift, as the audience viewed a show of slides of the students' lives and memories of their time well spent in SJI.
---
October: JC 2 Farewell Paraliturgy Assembly
Our second batch of JC2 students celebrated the end of their two-year journey at SJI at the Farewell Paraliturgy and Assembly, and the Graduation Ceremony on 16 and 17 October respectively.
The mood was contemplative and solemn as Friar Michael D'Cruz led a combination of prayers, hymns and songs. Having decorated receptacles secretly and wrote reflections for their peers, the students then filled these receptacles bearing the Signum Fidei, with water. The act of pouring the water into one big bowl that represented the whole school community symbolised the contributions of many into one.
There was a light moment though still reflective, as teachers put aside lessons to deliver an impressive dramatized "Oh, the places you'll go" by Dr Seuss.
The students had the opportunity to reflect quietly about their SJI experience, jotting down their thoughts on their receptacles and a Signum Fidei star prepared for them. This was followed by the form tutors presenting their students with a green scarf memento from the school. Tutor groups gathered, cherishing and reminiscing the special moments of their two-year journey together. The quietness was quickly broken with a spontaneous dance to "Malo! Malo! Thanks Be to God" – an apt rousing closure to celebrate the paraliturgy.
The next part of the celebrations saw the JC1s joining in to cheer "Salute to The Alma Mater". Mr Nick Moughtin's speech, referring to his unavoidable passion, football and his favourite team, Everton, reiterated to the students the inevitability of "once a Lasallian, always a Lasallian".
The current Student Council President, Mark Ngoh, on behalf of his cohort then bade his farewell to the JC2s who proceeded outdoors to the garden singing "We are Lasallian". To commemorate their graduation, a tree was planted by Dr Koh Thiam Seng, Principal; Mr Moughtin, Head of Senior School; Mr Raymond Karam, Head of Level – JC 2; and the JC2 students watered the tree with the water from the receptacles.
---
October: 163rd Sec 4 Speech & Graduation Day
The 2015 Secondary 4 Speech and Graduation Day was celebrated at SJI International this year, with Guest of Honour, alumnus Tan Guong Ching, Chairman of Singapore Technologies Telemedia Pte Ltd. It has come full circle for the cohort as it meant that they have now grown from young, carefree students in 2012, into young men of integrity in 2015. The entire cohort was presented to all in attendance, and various Lasallian awards were given out:
The Senior Josephian to Noah Joel Lopez (Lawrence 402),
Distinguished Lasallian Awards to both Joshua Low Jun Yang (Michael 401) and Wee Rui-An Fabien (Lawrence 402),
Sportsman of the Year to Ng Shao Han Elliot (Fintan 401).
---
October: Sec 4 Farewell Paraliturgy Assembly
October 2nd was an emotionally charged day for the graduating Secondary 4 cohort. The Paraliturgy event started with Friar Michael inviting all the Secondary 4 boys to join in prayer, to reflect on their 4-year journey in SJI and most importantly to pen down their thoughts and dreams onto a star. The level tutors celebrated with the cohort by dedicating a song to them, which was followed by an address by the Head of Level, Mr Sirhan. The form tutors then pinned the graduation badges personally on each student and gave each a personal blessing.
---
September: SJI Wins 2nd Runner Up at National Science Challenge 2015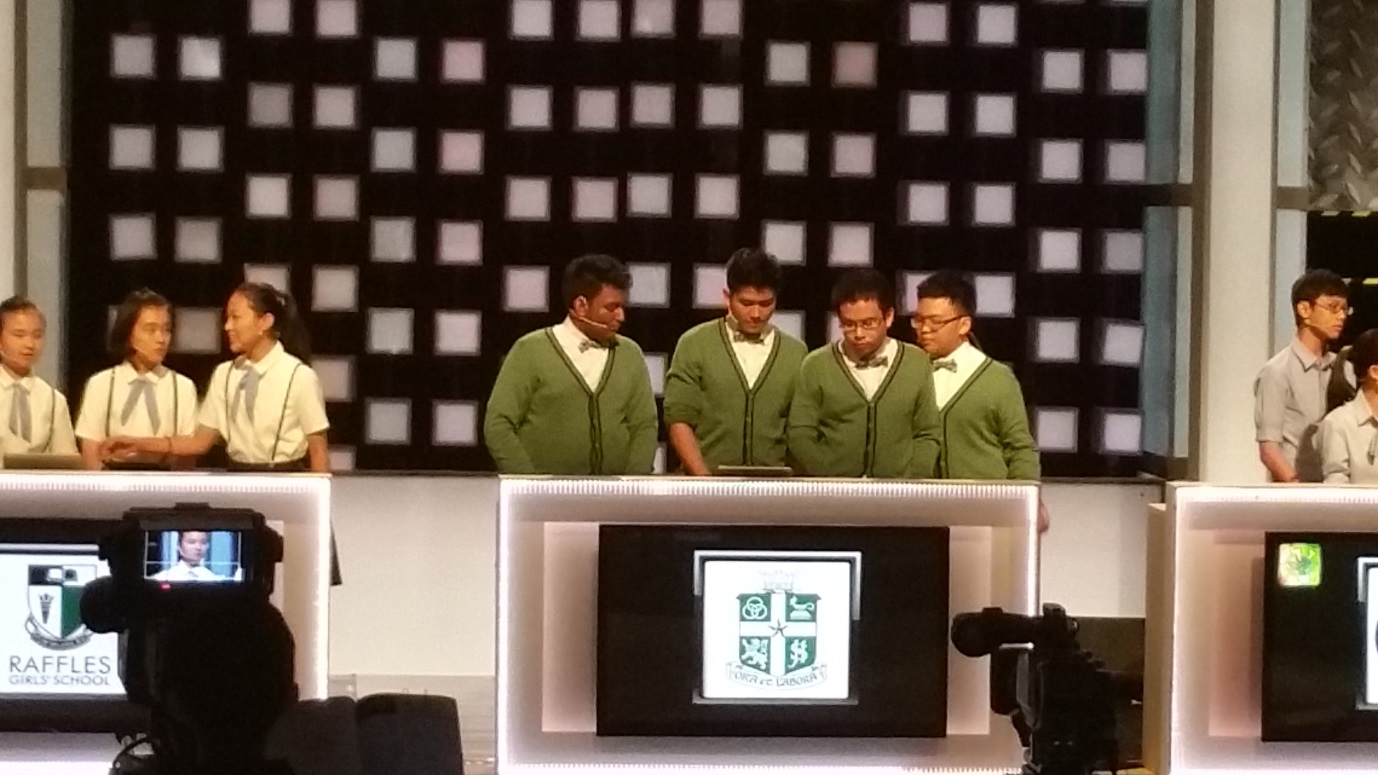 On 6 September, SJI faced Bukit Panjang Government Secondary School (BPGSS) and Raffles Institution (RI) at the National Science Challenge (NSC) Grand Finals. This is the first time the SJI team had made it to the NSC Grand Finals. The SJI NSC team advanced to the Grand Finals after defeating several other schools in the preliminaries and semi-finals over two months; and after attaining one of the highest scores ever in the NSC history.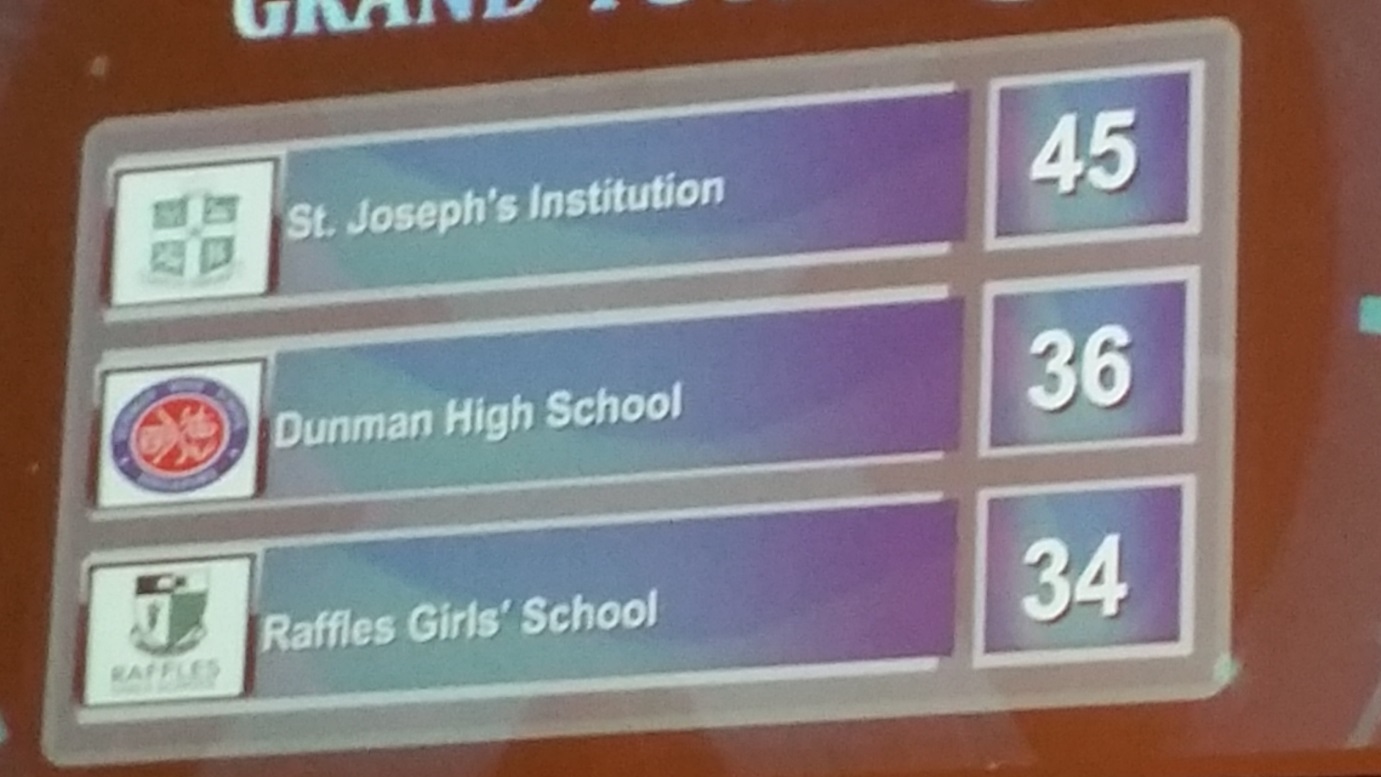 Launched in 2004, the NSC aims to promote science education among students and the local public. The competition provides a fun and informal learning experience for the participants. Jointly organised by the Agency for Science, Technology and Research and the Science Centre Singapore, with support from the Ministry of Education, this competition was broadcast on TV Channel 5. Our Secondary Two and Three boys, as well as form teachers and the head of department, headed to MediaCorp to watch the competition to support the team.
After a tough fight against defending champions RI and BPGSS, the competition ended with a score of 9. The SJI Team brought home the 2nd runner up place in the NSC – a spectacular achievement for a team that had fought its way through 41 schools in this competition!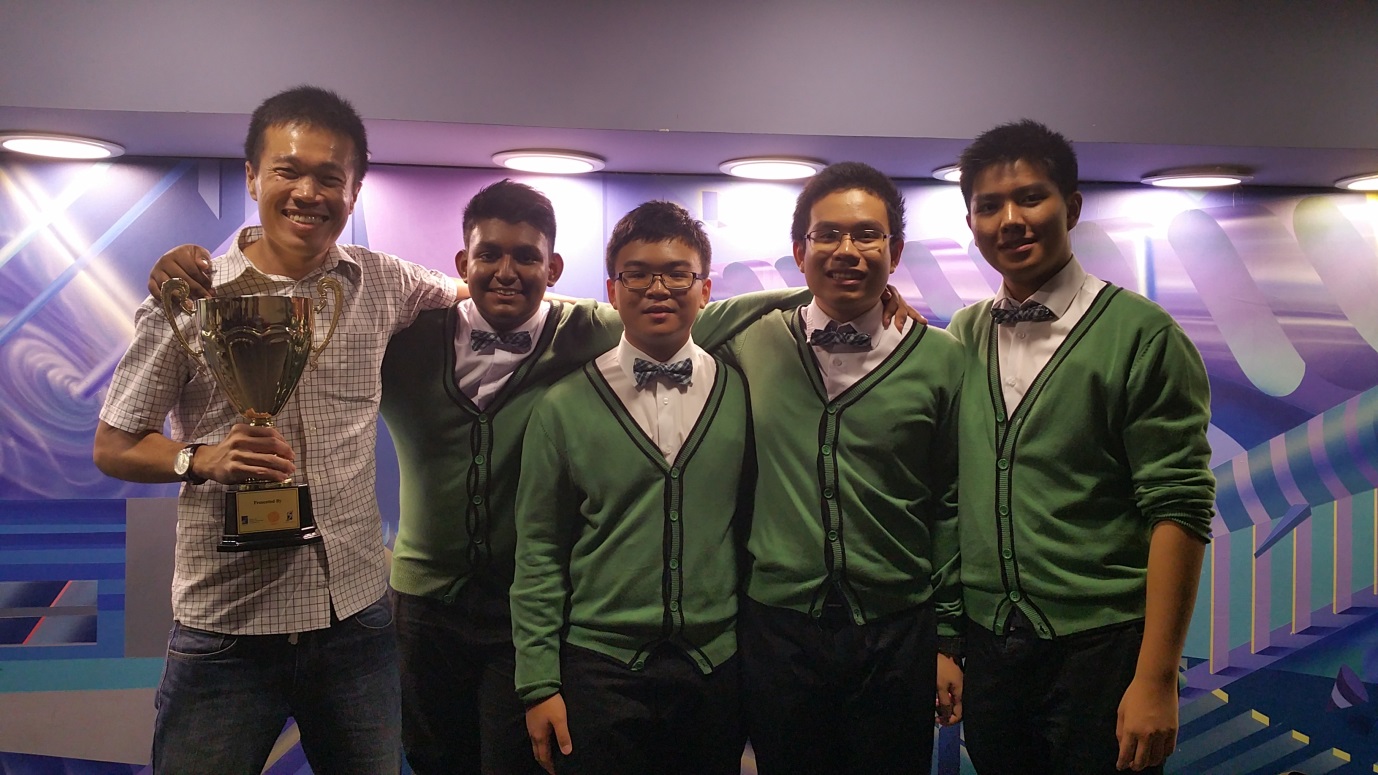 ---
September: An Art Talk with UOB Painting of the Year Winners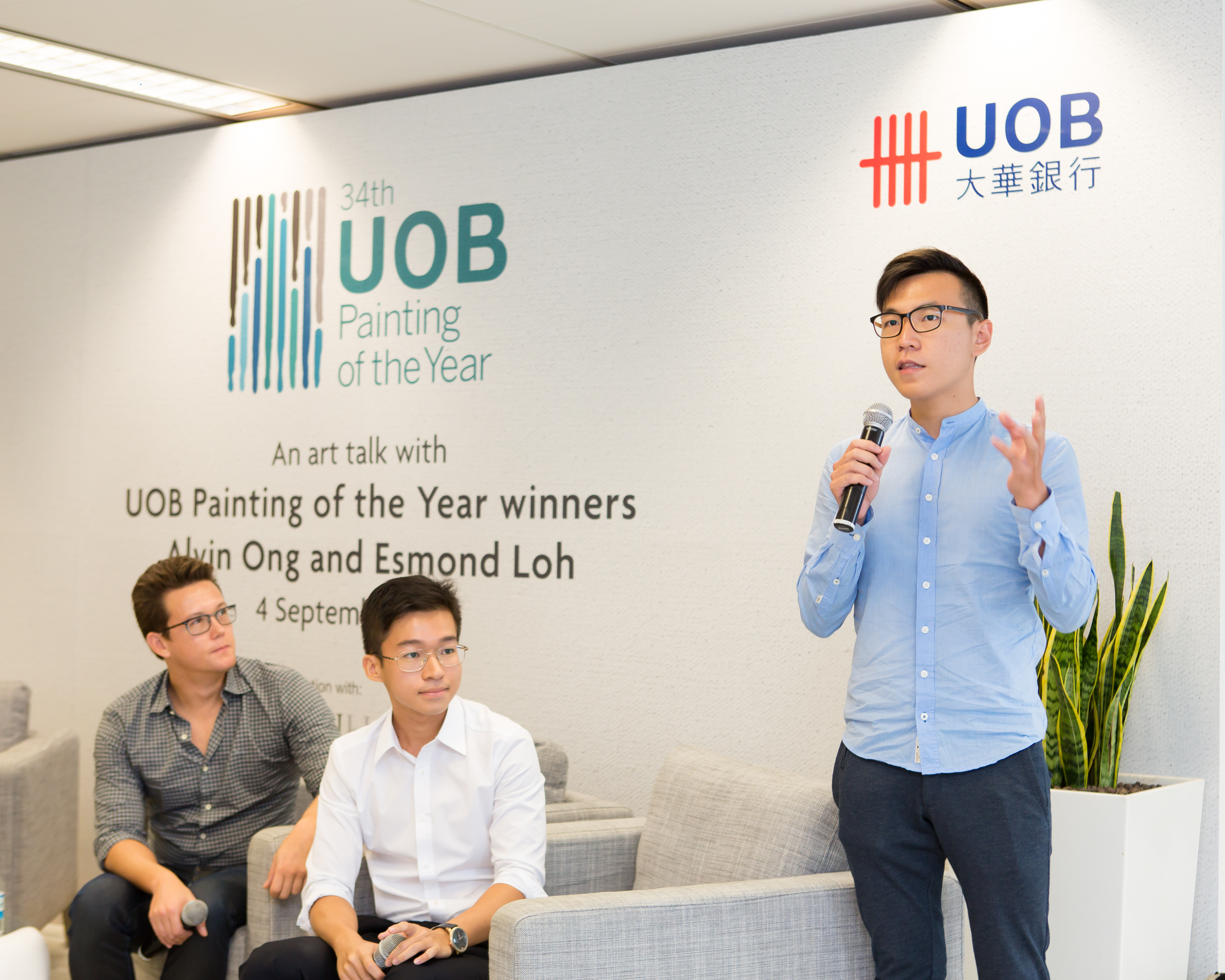 Some of our Art students from Secondary 3 IP and Senior School had the privilege to attend a preview of the joint exhibition by SJI alumni Alvin Ong and Esmond Loh (Class of 2004 and 2011). Both Alvin and Esmond were former recipients of the prestigious UOB Painting of The Year awards in 2005 and 2012. The exhibition was organized by UOB, in collaboration with ChanHampe Galleries. The students had the opportunity to view the alumni's original works up close, as well as listen to Alvin and Esmond share about their lives after winning the UOB Painting of The Year awards. The following are some of our students' reflections on the event:
Luke Lim (MN303): This exhibition showed me that there are more opportunities for young upcoming artists to join the industry. It also taught me that there are many ways to create an art piece, and many shortcuts that can be taken to ease the job of the artist. It also really motivated me to become an artist in future and be as successful as Alvin and Esmond, and allowed me to broaden my horizons on different art styles.
Benjamin Su (MN303): From the trip to see Esmond and Alvin's work, I learned that although art may not be largely celebrated in Singapore, there are still various opportunities for aspiring artists to join the industry. I found Alvin's work very interesting, as he managed to portray his intended scenes very realistically with well-placed marks.
Andrew Seah (ML301): Awed by the inspiring paintings, I was motivated to work harder. It was also both interesting and heartening to find that such young artists from SJI have also won prestigious awards like UOB painting of the year. Nevertheless, it was an encouraging experience as it opened my eyes to the possible opportunities and downsides to be an artist in Singapore. I really enjoyed Alvin's paintings. They have expanded my horizons on how interesting acrylic paintings can be (something I am not very good at yet). All in all, it was very enlightening and I would like to visit more art exhibitions in the future.
Jerald Foo (ML304): The exhibition helped me understand the standard of professional work. Both artists were previously from our school and it really motivates me as it tells me that SJI students can achieve high standards in the arts industry. The talk made me seriously consider if I want to take art as a career as it seems more possible for young artists like us to become professionals. From Esmond, I also learned that an artist does not need to stick to only one style or styles that he is good at, he can explore different styles that he has interest in even if it is not the one that got him to the professional level.
Isaac Yap (ML301): Through the exhibition and the interaction with the artists, I realised what it means to be a professional. I have learnt that there are actually many different styles for art and even one artist can change his style over a course of time. I loved the way Alvin played around with colour such that the epicenter of his paintings are easily distinguishable. On the other hand, Esmond's work made me see monochromatic paintings and portraits in an entirely different light. I felt that his work conveyed the simple message of everyday people doing their everyday work and it spoke to me in a way that I have never experienced with other paintings of people. Finally, I realised that I am still a beginner at this and that I have to work a lot harder.
Lai Kit (ML301): Not too long ago, we went for an art related field trip to a UOB art exhibition. It was located at Raffles Place and two young aspiring local artists were present to give us insight on the professional art industry. From this experience, I have no doubt, learnt a lot. Firstly, I learnt that being a professional artist is not an easy career path to excel in, just like many other jobs. Before I venture into any occupation in the future, I must first ensure my sustainable passion in it and my capability to excel. The next thing I learnt is that art is a form of expression of oneself and any artwork that I do must be close to my heart for it to be special and unique.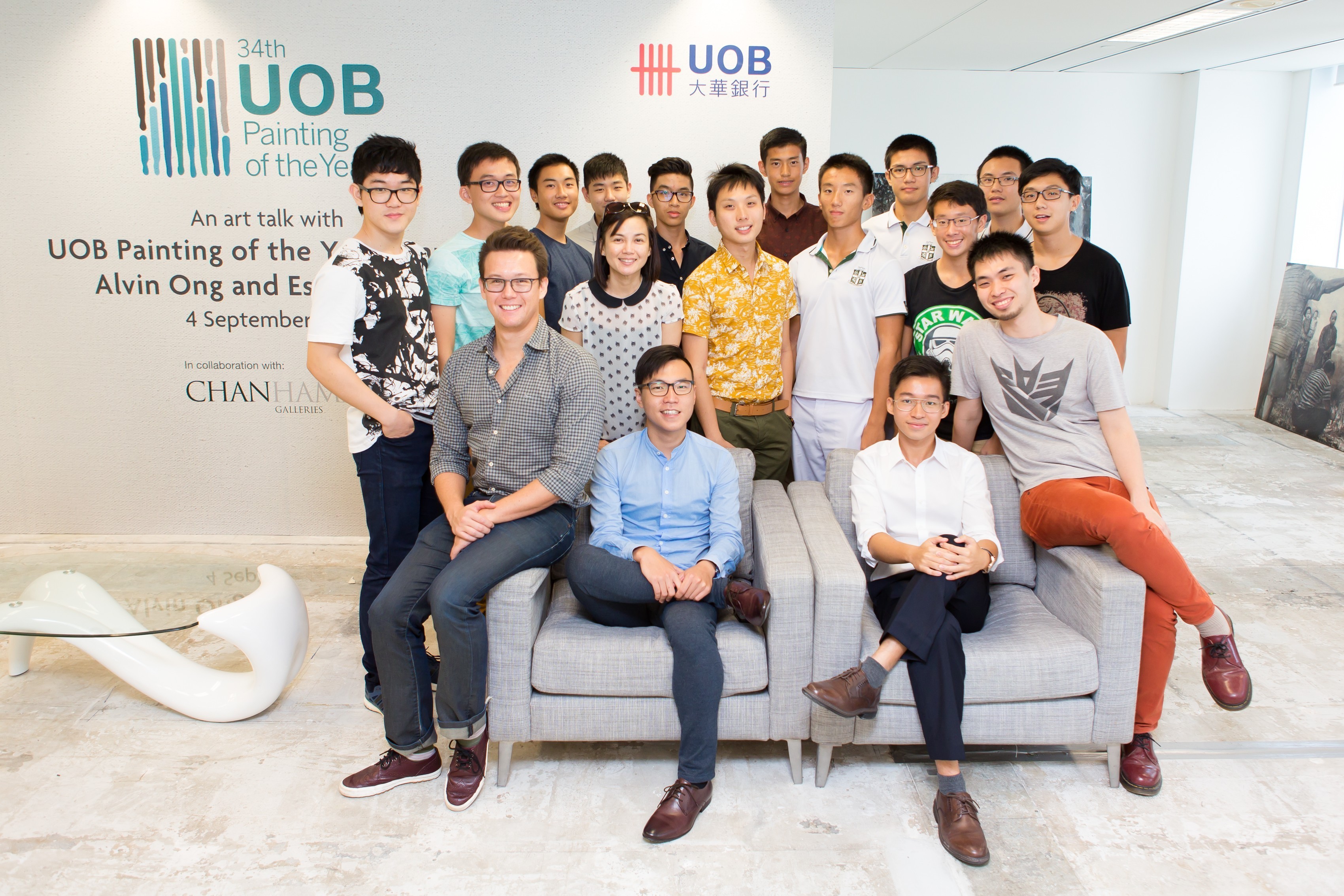 Photo source: UOB
---
September: SJI Talents Unveiled At ArtsFest 2015
Themed ''Breve'' (which means a break in music terms), ArtsFest 2015 was starkly different from the three-day event last year. The organising team made a brave decision to present ArtsFest 2015 over eight weeks, with short, intimate and interactive lunchtime performances. The result? A smorgasbord of amazing performances that coloured our otherwise mundane lunch breaks.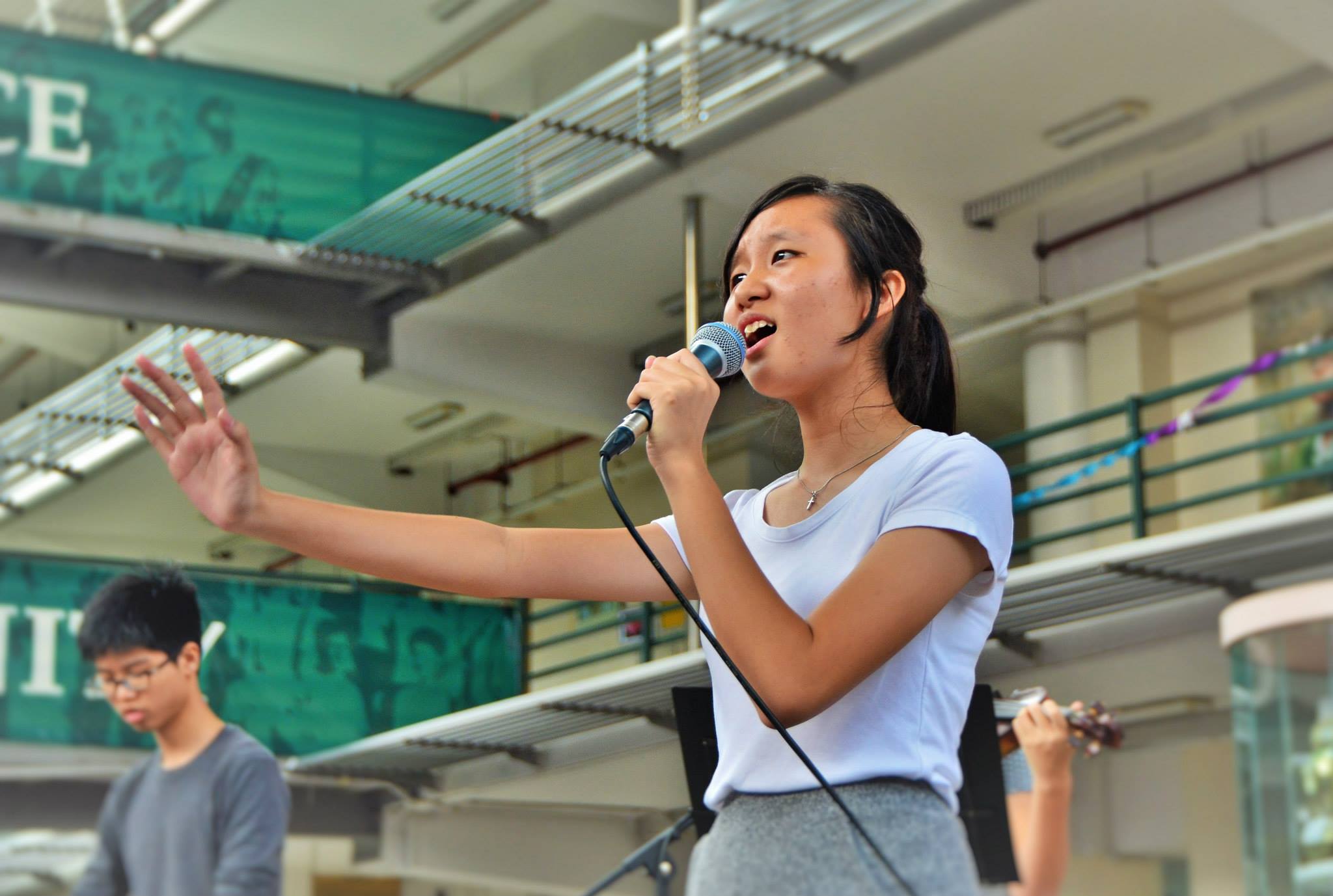 From Chinese opera music to German love songs to acoustic renditions of Justin Bieber's 'Baby', ArtsFest definitely brought forward an eclectic mix of music and thrilled the audience with its diverse showcase of talent. Duyu (TG107) introduced us to beautiful Chinese opera music, a genre otherwise foreign to most of us, while Deryn Teoh (TG102) had us all momentarily transfixed as she serenaded us with a charming German song. These performances highlighted the notion that music truly transcends all borders, as these non-English songs moved some of the audiences close to tears, despite not understanding these languages.
Fong Zhi Qin (TG107) courageously performed a solo and brought the spirit of rock and roll to SJI with his edgy renditions of All Time Low's Therapy and Paramore's Brick By Boring Brick. Contrastingly, Ally (TG108) and Annika (TG106) captivated us with their saccharine, acoustic performance of Lorde's Team and Counting Crow's Accidentally in Love, which featured the duo's wonderful harmonies and soothed our souls.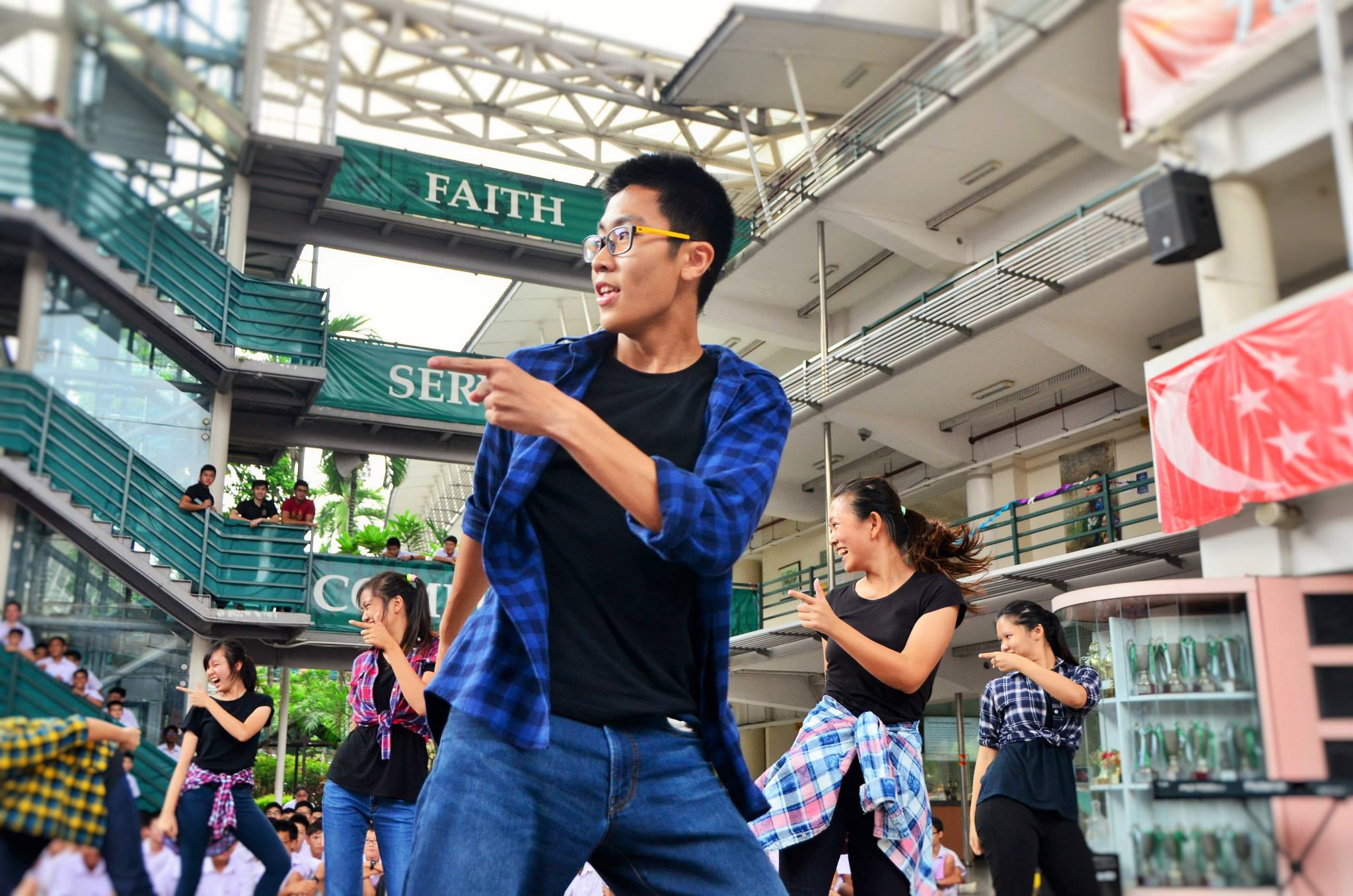 Apart from these musical acts, ArtsFest 2015 also saw magical and enchanting dance performances by Eliana Balasubramaniam (TG103), and solo contemporary dance by SJI Senior School Dance CAS. The audiences were enthralled by the beautiful, fluid movements of Eliana's selfchoreographed dance performance to 'Mad World', while Dance CAS's fun, enthusiastic performance to 'Uptown Funk' perked up our day, leaving us with smiles and cheers by the end of their performances.
The final instalments of ArtsFest performances held on 27 August and 1 September saw solo acts by the secondary school boys Ng Sze Yeow (MN303), Ethan Lee (ML103) and Kwok Jing Yang (FN403), and bands such as Indecisive Acoustic, comprising of members Maximillian Lim (MN201), Ridge Pang (ML202) and Chia Kwang Yang (MN203). The boys thoroughly enthralled and captivated the audience with their sheer talent and passion.
The second instalment of ArtsFest saw the return of performers like Indecisive Acoustic and Kwok Jing Yang (FN403), and a presentation by a band comprising of Paul Neo (MN403), Senthil Dhanabalan Kumar (MN303), Kiran Keshvani (FN202) and Emmanuel Fransisco (ML403), who found their love for performing from an earlier event – ''Band of Bros'' organised by the SJIOBA. These performers delighted the audiences with their awesome musical performances, and their passion and enthusiasm was truly contagious, leaving everyone in the audience captivated by their passionate performances.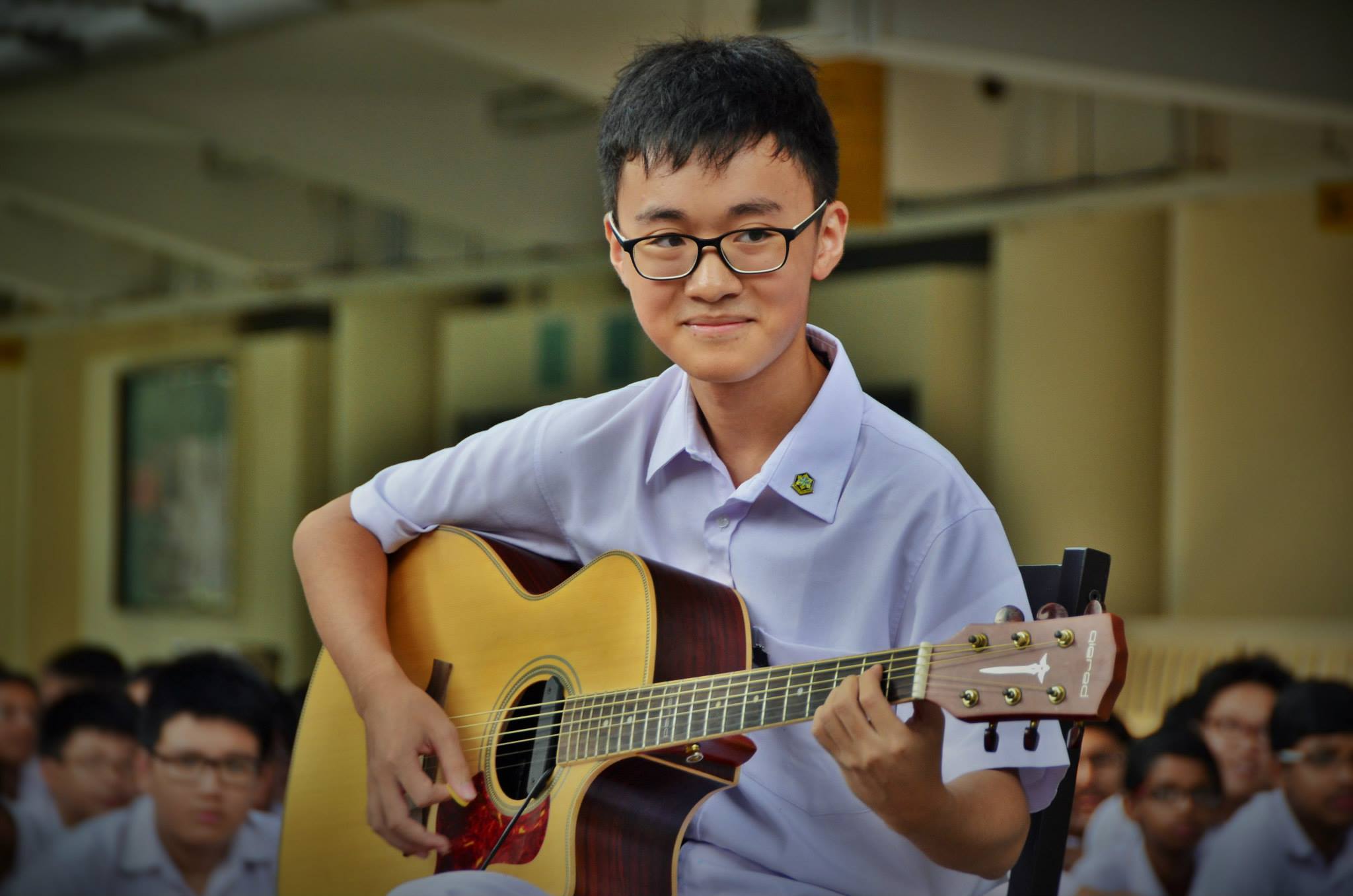 The grand finale of ArtsFest ended with a big bang on 4 September, to coincide with the Teacher's Day Concert. The Green Club started the ball rolling with a captivating skit that eased everyone into the heart of the concert. The audiences were completely swooned over by the talents of Frigoris, a trio comprising of Zhu Ziyi (ML401), Aristo Wilbert (FN402), Raymond Victorio Handoko (FN402), who amazed the entire school with their finger-style guitar performance. Consonants, a band made up of Senior School students Kelly Zheng (TG104), Tan Wei Lynn (TG105), Tay Yong Hong (TG103) and Fong Zhi Qin (TG107) gave their debut performance. They performed a breathtaking and beautiful original song composed by Kelly that echoed in our heads after the performance. Zhou Zitong (FN303) invited the audiences into the world of magic and left them completely awed with his astonishing magic tricks. Band X then took centre stage with their moving performance of 'Chasing Cars'. The concert ended with Last Minute, where the seasoned performers got the audience clapping along to 'Payphone' and a small snippet of 'Seven Nation Army'. With that, the Teacher's Day Concert ended on a sweet note, perfectly wrapping up our long, but fun ArtsFest journey.
Overall, ArtsFest 2015 was a very rewarding and memorable journey for the organising team. The breathtaking performances unveiled the artistic talents and passion of many SJI students which would otherwise have gone unnoticed, and encouraged many to step forward beyond their academics and to bask in the glory of the spotlight.
---
September: SJI Drama Club Presents Strawberry Generation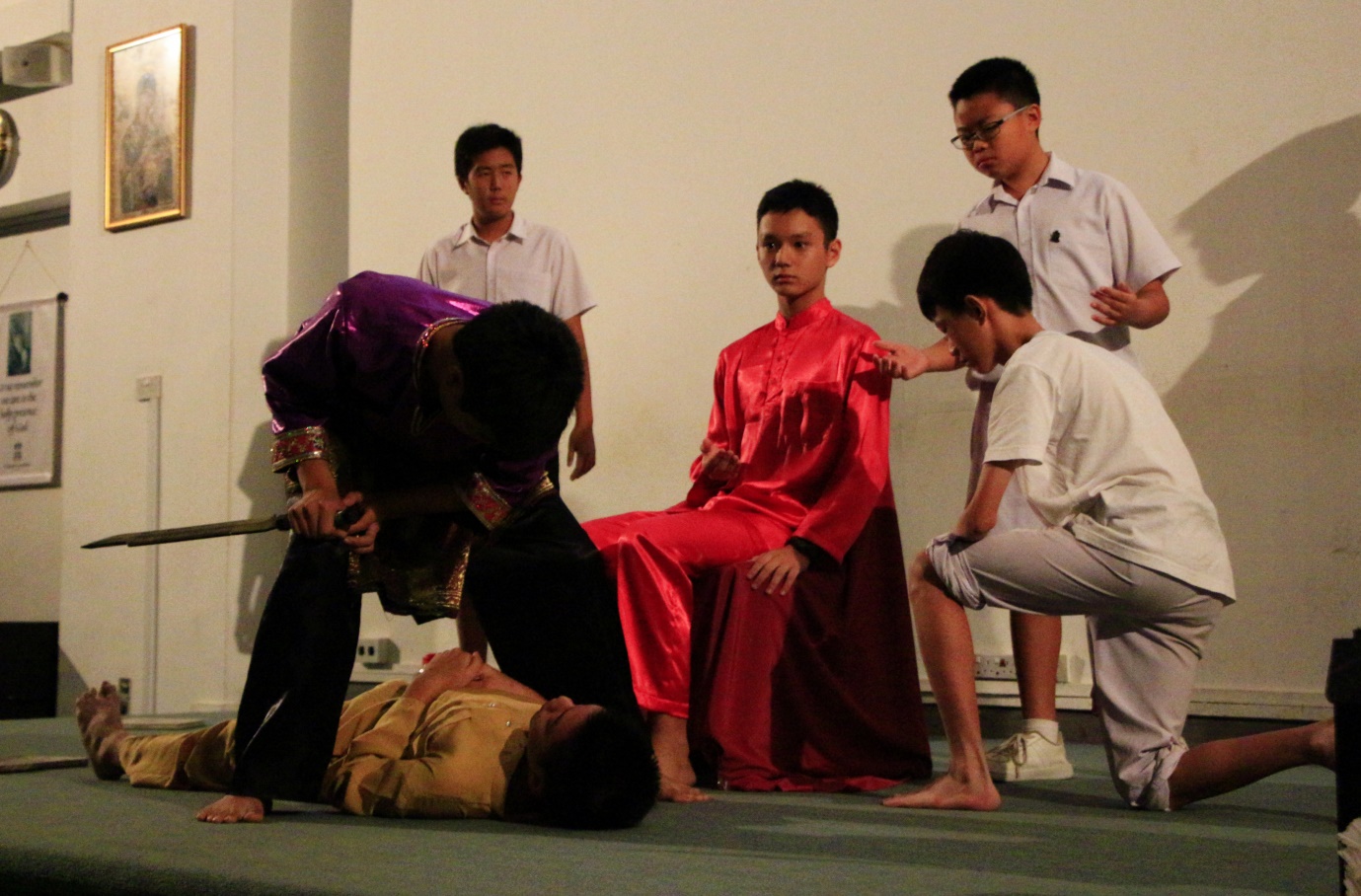 On 1 and 2 September, SJI Drama Club celebrated SG50 with a performance featuring a medley of local plays. The audience delighted in "History, Whose Story and Survivor Singapore" by Haresh Sharma, "Shoes of my Sensei" by Goh Sin Tub and, "Strawberry Generation," an original play written by our very own budding playwrights. The plays, which explore the themes of friendship, National Education and history tantalised the audience with a smorgasbord of sweetness, pain and guilt and humour. The performance was a memorable tribute to the nation for many.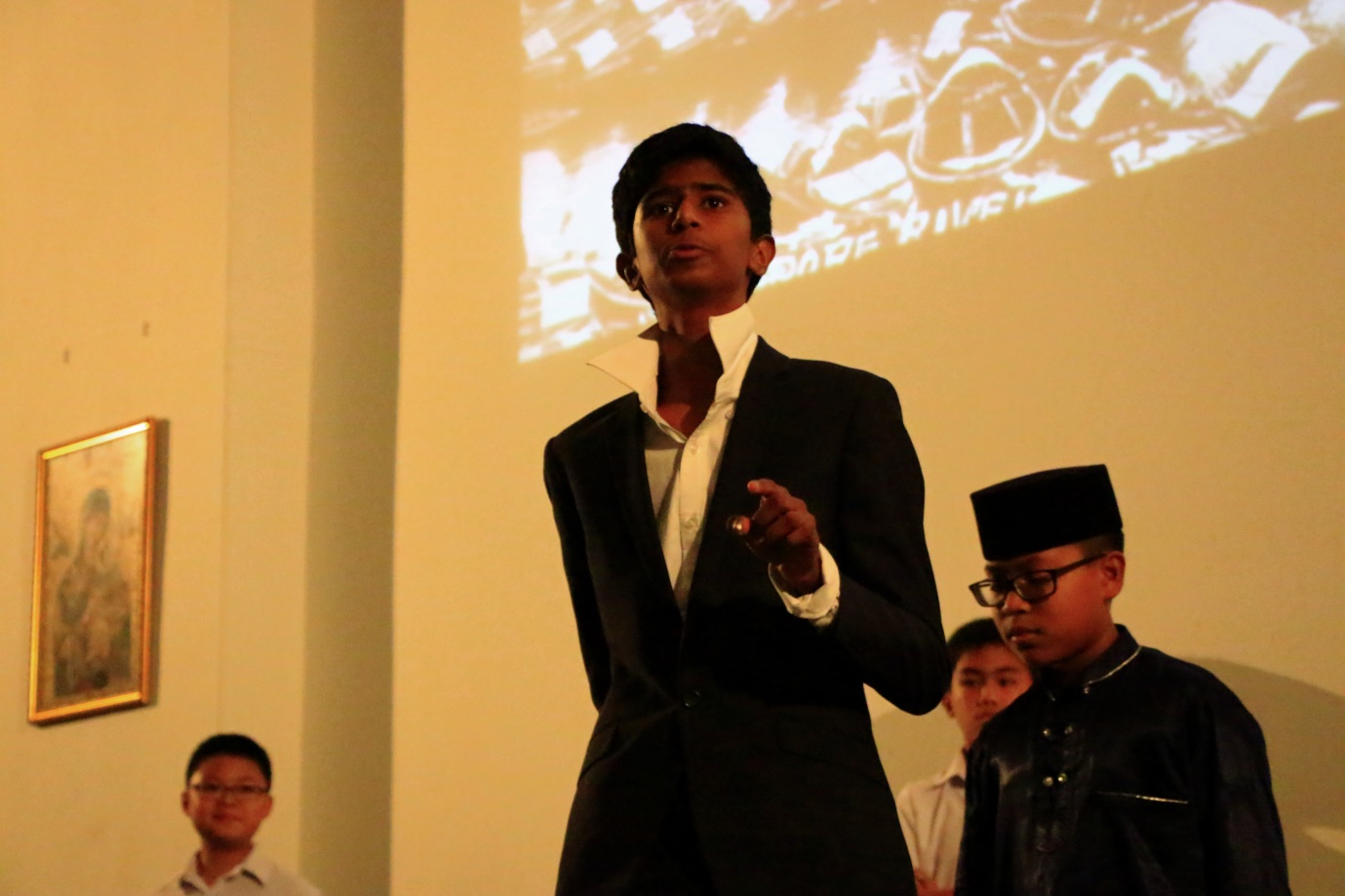 ---
August: Ortega Cup 2015
U-16


The 10th edition of the Ortega Cup was held on 21 August at Raffles Institution. The U-16 boys were hungry for revenge and having just come off a fantastic soccer season, they were raring to go and win back the Ortega Cup.




Right from the get go, the boys were on the attack, breaking into the Raffles defense on many occasions and finally, they were rewarded with a goal towards the end of the first half. The second half was no different, with the boys relentless on the prize to win back the Cup. This culminated in another well taken goal.


Final Score: SJI 2 – Raffles 0
O-40s



The O-40s are always a sight to watch and this time round it was no different. With a contingent of more than 20 able-bodied souls, the O-40s donned their jerseys with pride and played with their hearts on the sleeve. However, the Raffles team this year was bolstered with new entrants, with one of them having a little bit more gas in the tank. The gameplay was quick and thrilling and Team Raffles was up 2 goals to 1 by the end of the first half.




After a quick re-group, the SJI O-40s team came out firing, and equalized at the start of the second half. Spirits were bolstered and all the team needed to do was to park the bus and hold out for the draw to win back the Suhaimi Ali Cup. However, a crucial injury blow was dealt to Adrian Quek with a nasty head-on clash, taking out a key defender towards the trail end of the half. The Rafflesians capitalized on this, scoring two quick goals in the last 10 minutes, and effectively ending SJI's chances.


Final score: Raffles 4 – SJI 2

U-40s


The U-40s were the perennial underdogs coming into this match. The Raffles U-40s team has been playing for many years together and is a very well drilled unit. Captain Siong Guan (Class of 2003), specifically took it upon himself to make it a mission to finally get a win. Training for the U-40s started early on, with many training matches and games having played over the Saturdays leading up to this day.




The strategy was to play the ball out of our own halves and this was brilliant. New additions to the team bolstered up the defences and Siong Guan's performance was exceptional. Long balls played up field frustrated the Rafflesians. The first half ended up 0 – 0.




The Raffles team came out firing in the second half. Desperately wanting a goal, they surged forward but the SJI team held strong and gamely counter-attacked. With a long through ball, and with the Raffles defense caught unaware, the Josephians ''smashed'' one goal right in.




From there, it was a matter of holding out and the boys packed everything they had into our defense. This effectively ended any chance that the Rafflesians had.

Final score: SJI 1 – Raffles 0



---
August: SJI Staff Conferred 2015 National Day Awards
The SJI community celebrate with our colleagues who have been conferred the 2015 National Day Awards recently. They are:

---
August: SJI Congratulates Alumni on their Scholarships Awards
SJI congratulates four of her outstanding graduates who have received the distinguished Public Service Commission (PSC) scholarships this year. The prestigious PSC scholarships, widely recognised as second only to the President's Scholarship, are awarded to candidates who have outstanding academic performance and leadership qualities. The 4 alumni are:
| 1. Mohamed Noor Hakeem Zulkiflee | Class of 2012 | PSC Scholarship |
| --- | --- | --- |
| 2. Hud Syafiq Bin Herman | Class of 2014 (IBDP) | PSC Scholarship |
| 3. Nathaniel Wong Kin Yew | Class of 2014 (IBDP) | SAF Scholarship; PSC scholarship |
| 4. Ryan Lai Chi Ming | Class of 2014 (IBDP) | The Singapore Police Force Scholarship; PSC scholarship |
Syafiq, Nathaniel and Ryan are amongst the pioneer batch of graduates who undertook the International Baccalaureate Diploma Programme (IBDP) at SJI, while Hakeem completed his 'O'-levels at SJI and continued his A-levels at Temasek Junior College. To date, a total of 14 alumni from the Class of 2014 (IBDP) have received scholarships and merit awards from various ministries, statutory boards and universities. Three old boys from the Class of 2010 — Brian Thian Wen Yao, Jeremy Lum Wei Jian and Chan Hui Yang — were also awarded Teaching scholarships and awards from the Ministry of Education.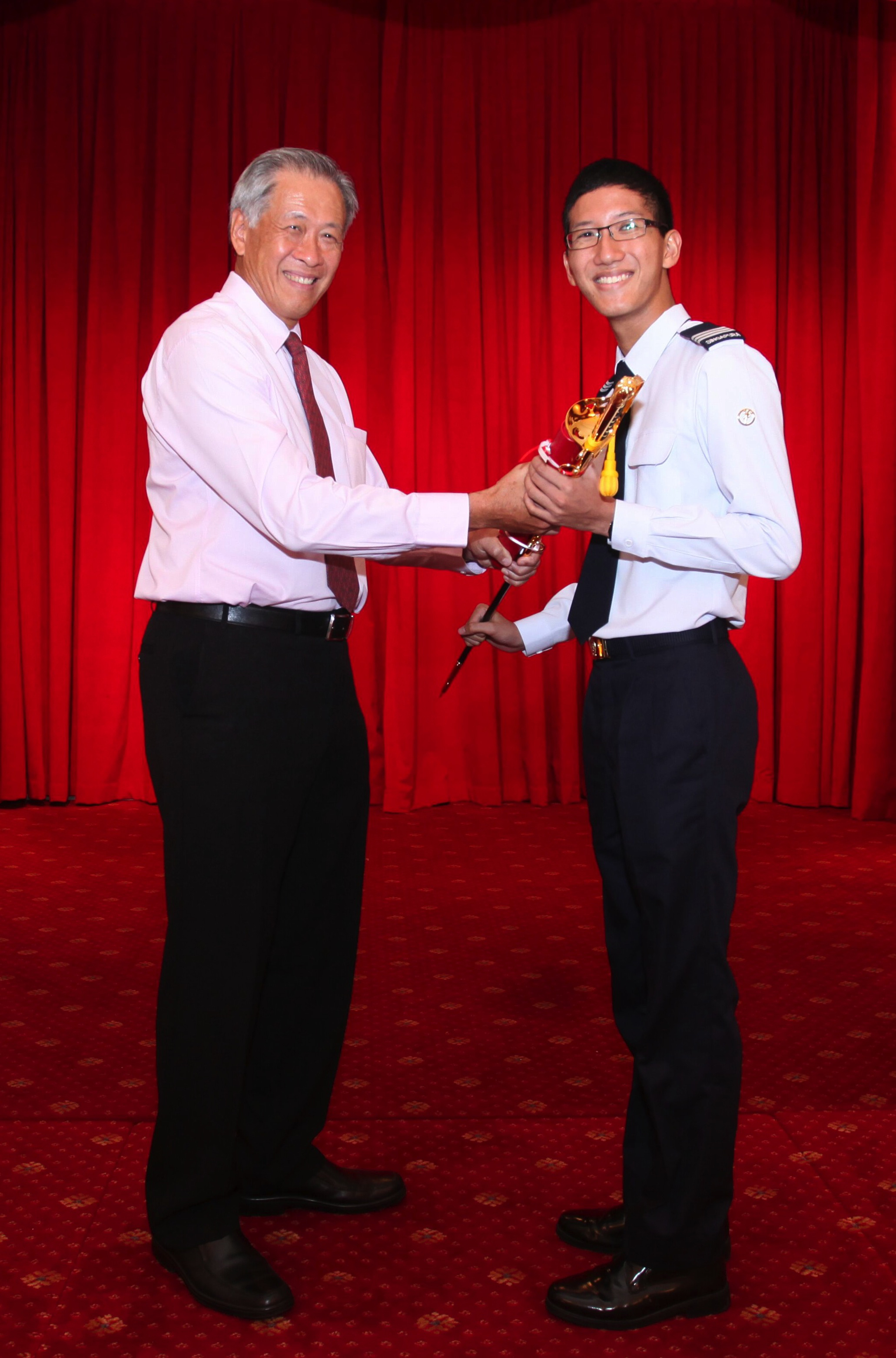 Officer Cadet Trainee (OCT) Nathaniel Wong received the award from Defence Minister Dr Ng Eng Hen (Source: MINDEF)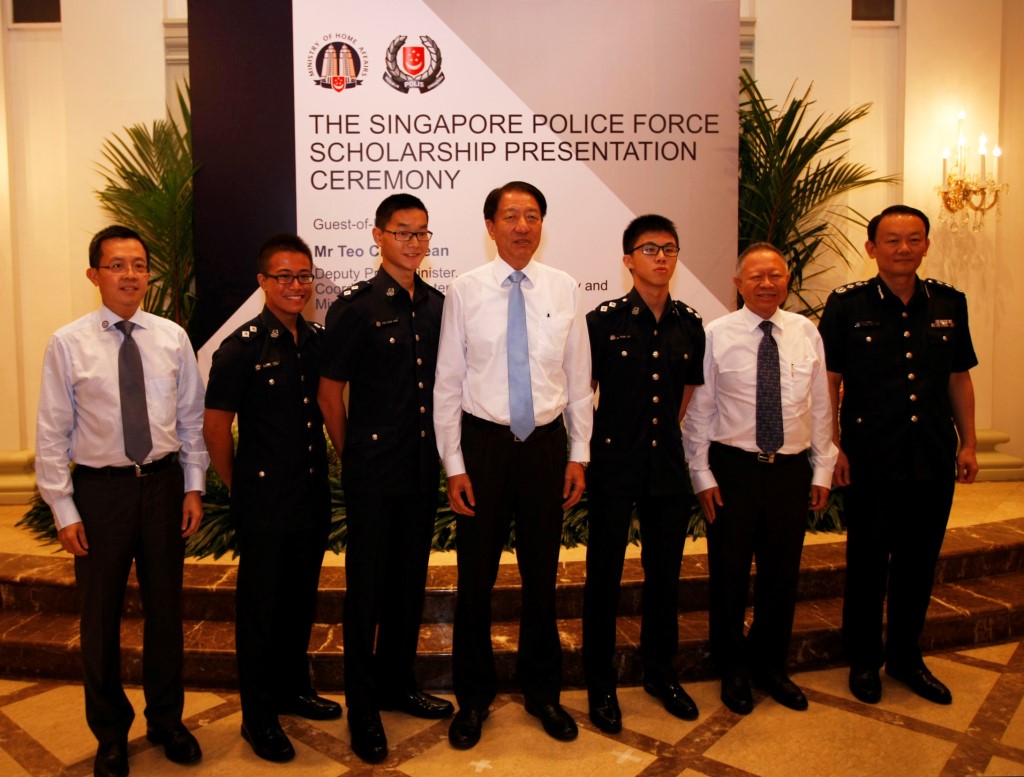 L - R: Permanent Secretary, Ministry of Home Affairs, Mr Leo Yip, INSP Darrel Long, INSP Tan Kuan Hian, Deputy Prime Minister, Mr Teo Chee Hean, INSP Ryan Lai, Chairman, Public Service Commission, Mr Eddie Teo and Commissioner of Police Mr Hoong Wee Teck (Source: Singapore Police Force)
Amanda Foo is the first female Josephian in SJI's history to be awarded a MINDEF scholarship.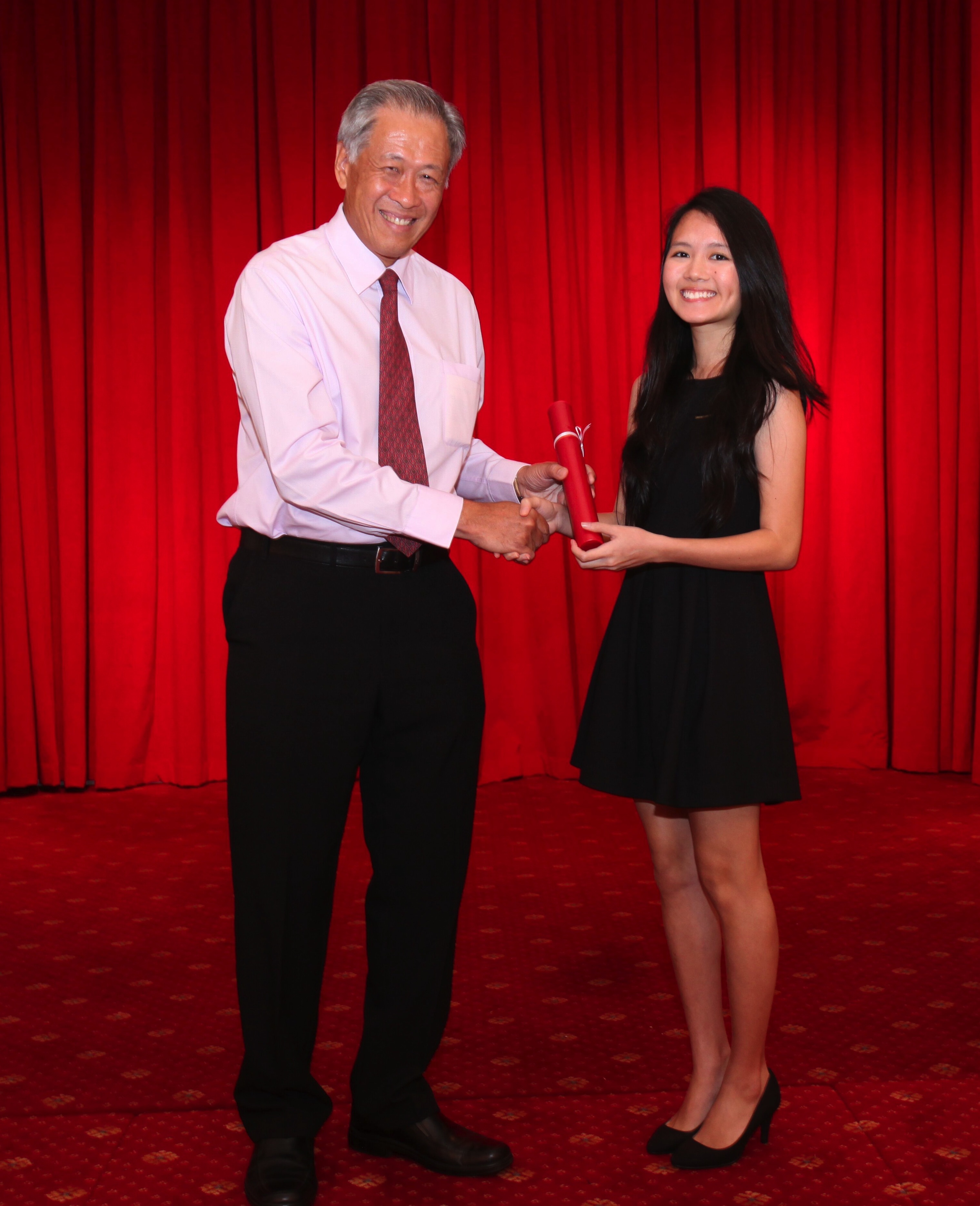 Amanda Foo received the award from Defence Minister Dr Ng Eng Hen (Source: MINDEF)
See our full list of scholars from the PSC, Ministries and Statutory Boards, and Universities.
Read more about our scholars here: Berita Harian, Lian He Zao Bao, The New Paper and Channel NewsAsia.
---
August: A Day Well Run
By Teoh Xinyi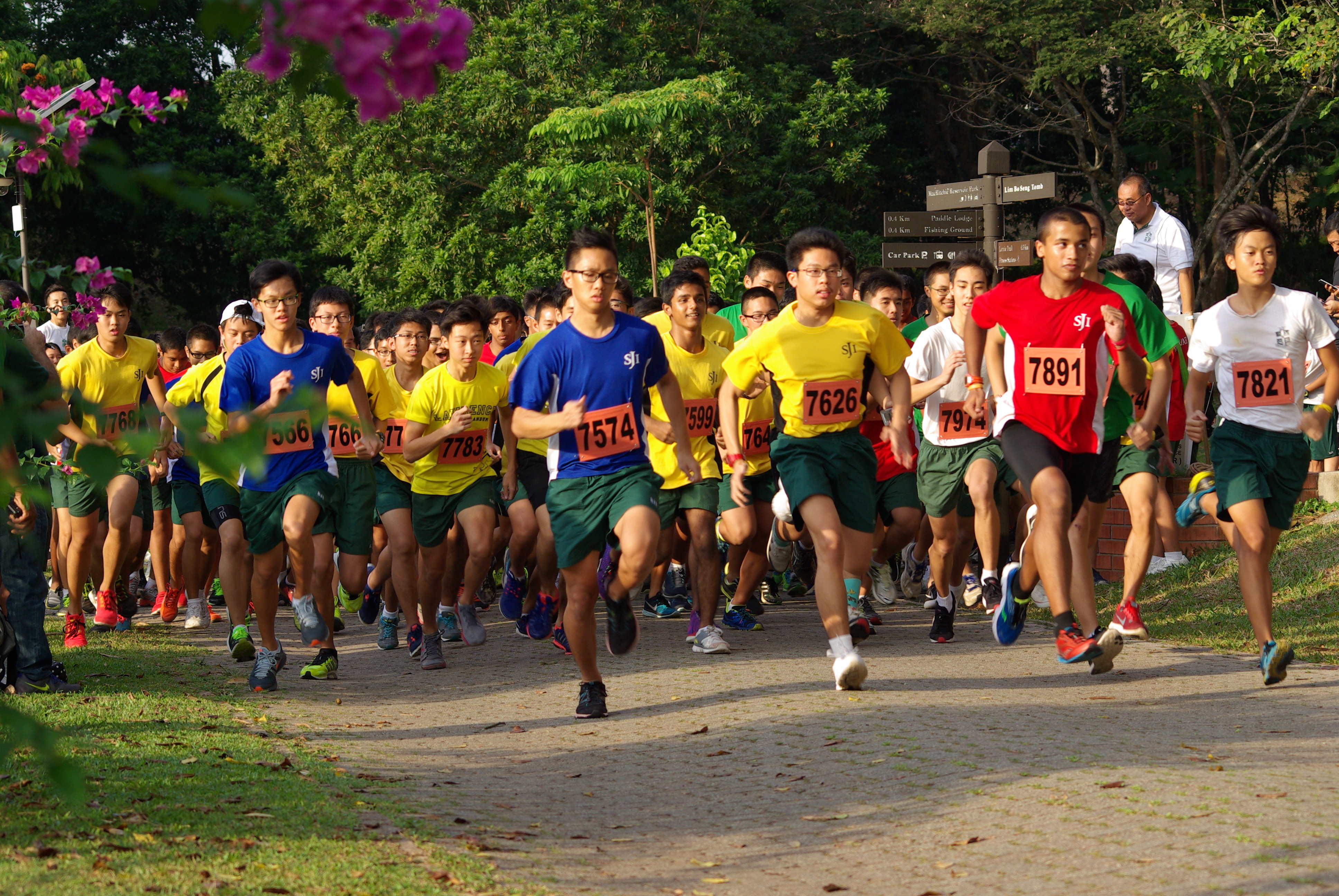 Among JC1s, most had decided on the wisdom of "walk up slopes and run down the side slopes", which proved to be sound wisdom, for trying not to slip and fall on such slopes was a chore in itself. Another seemingly insurmountable challenge were our soft, weak bodies, unaccustomed to running anything more than a minute in it. It was always going to be an uphill battle, and the end of the run was both a blessing and a curse as we charged up the slope to get to the Finish, panting, and thinking along the lines of Kelly Clarkson's song, " what doesn't kill you makes you stronger! "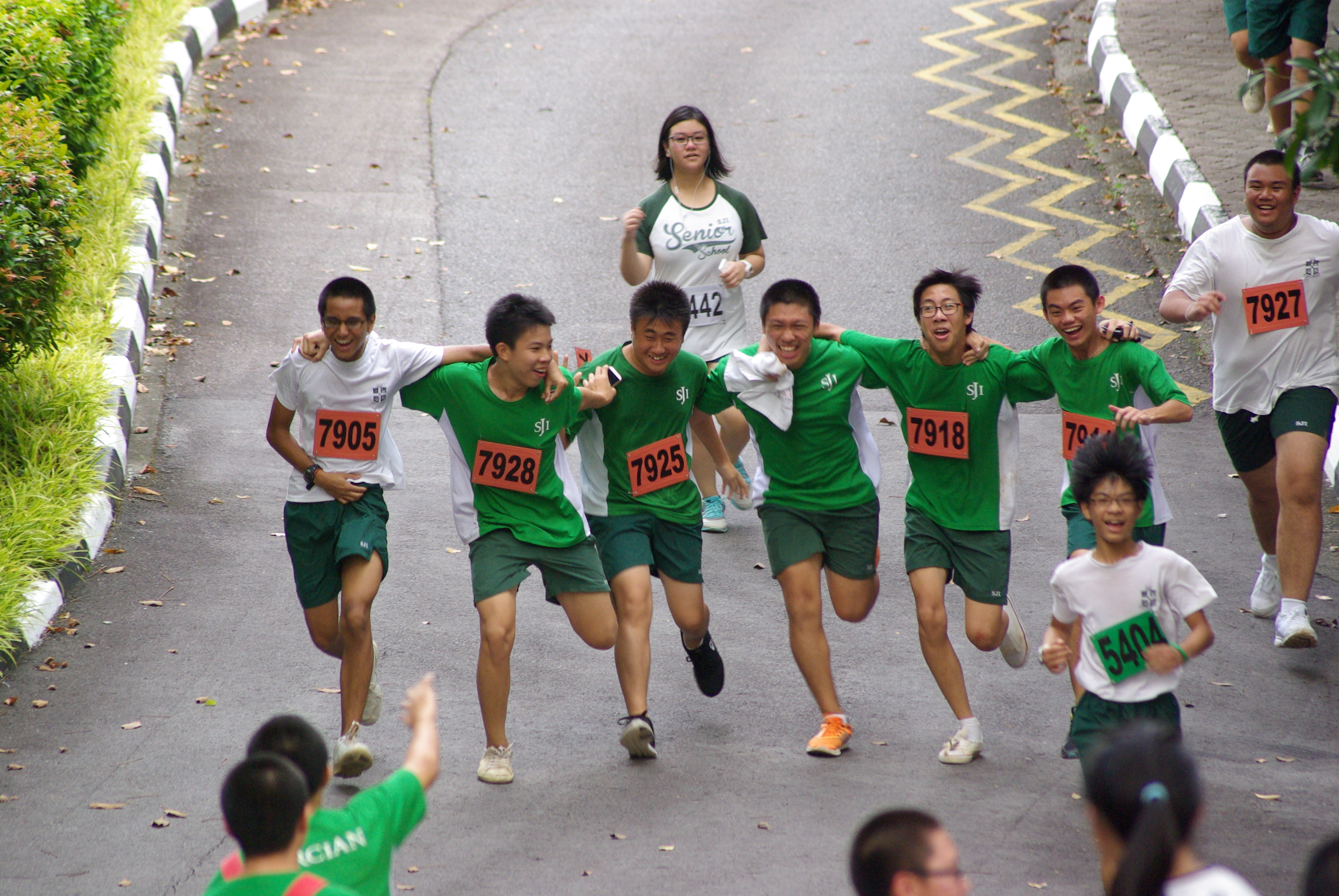 Finally, the finish line!
The event concluded swiftly, with top runners from each level collecting their medals to the applause of the school. They have run the race and kept the pace, and it's only right that their friends offer them a warm congratulations.
---
July: Eureka Challenge 2015
By Ong Jun Xun (LE302)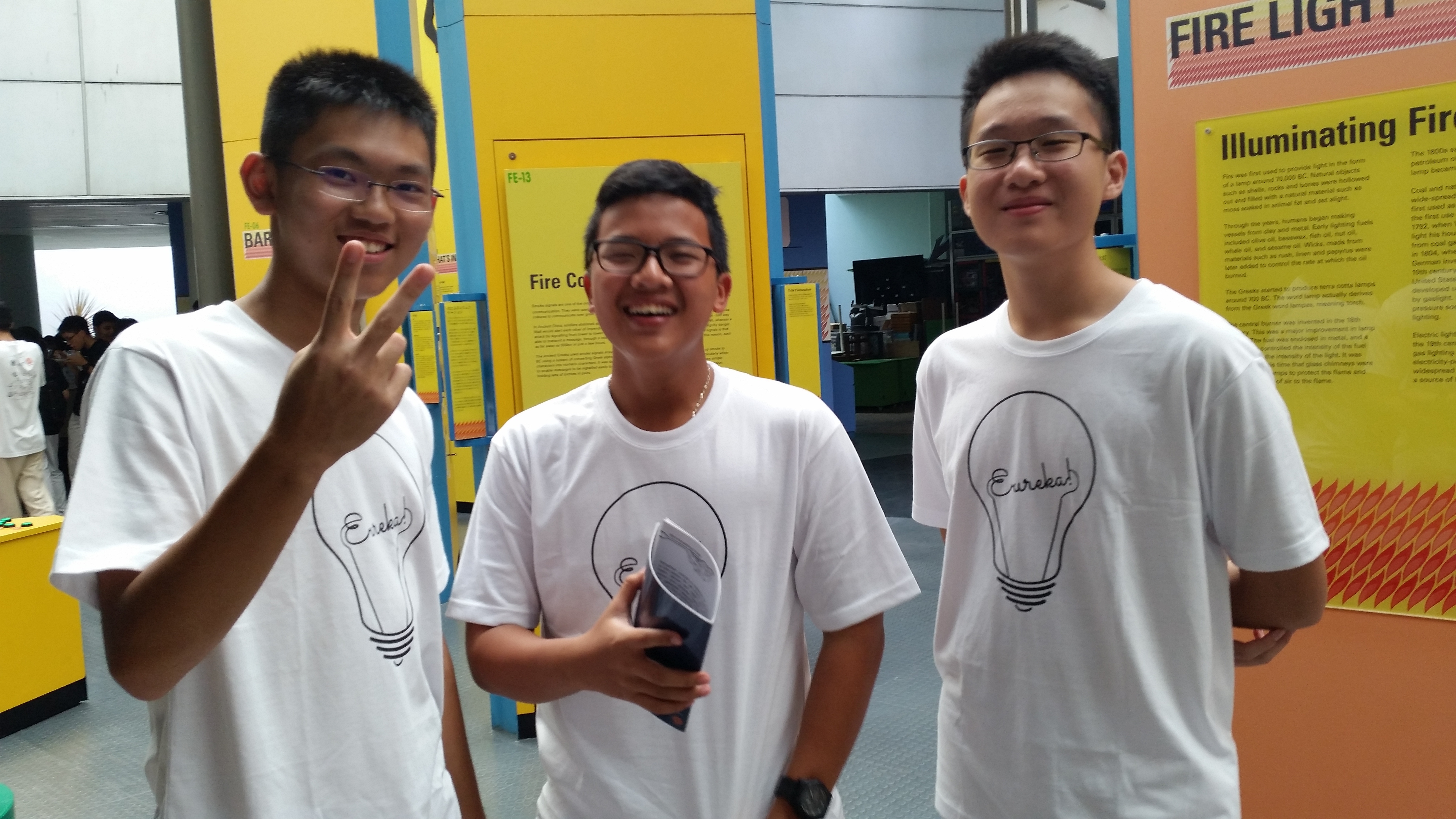 SJI sent five teams to participate in the Annual Eureka Challenge on 29 July. Organised by Raffles Institution, this amazing race styled competition serves as a platform for students to enhance their science skills and knowledge in the various aspects of science, with stations including astronomy and organic chemistry.
Each group had to report to various stations to complete activities and earn points for the group. Some of these stations involved hands-on activities, while some were test-based questions and answers, and all of these brought us to a whole new level of "scientific thinking". The tasks we had to do were quite different from what we had done in school. At the physics section, we had to build a bridge to support as many weights as possible, while at the astronomy section, we had to take a test on our universe. Each subject was ranked from tier 1 to 3, and each group will take 2 from each level of difficulty.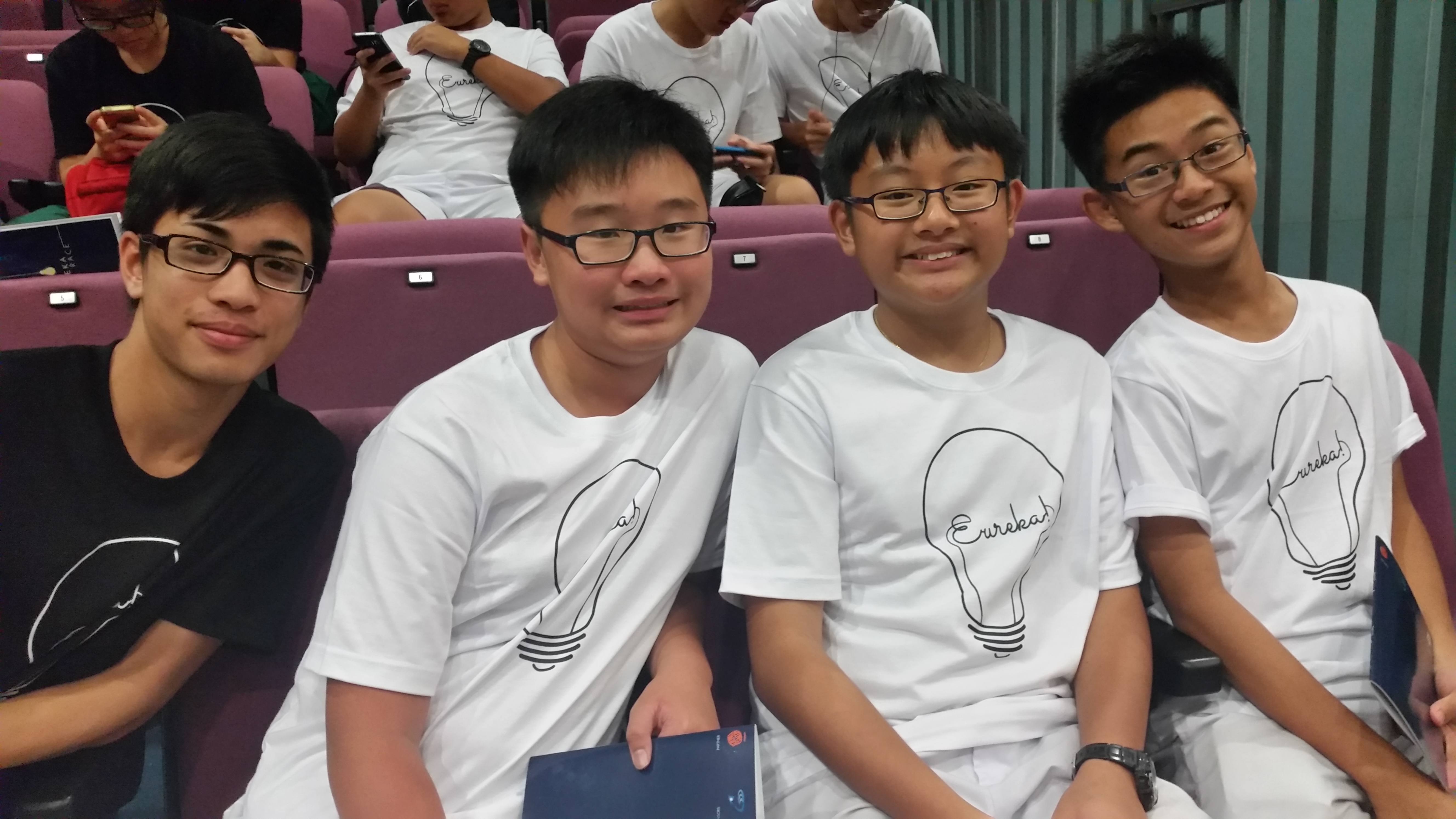 Some stations were of great challenge but we enjoyed ourselves, immersing ourselves in the new knowledge we could gain out of the competition. After the speech by the Guest of Honour, Mr Tan Ah Tuan, Director of DSTA, the results for the competition were announced. Out of all the teams, 9 teams were awarded with a bronze, silver or gold award, as well as an extra award for the best Institution.
Much to our surprise, one of our Secondary 2 teams, consisting of Andrew Chua Tiong Oon, Julian Tham Jun Jie, Chong Hao-Chun Gareth attained a bronze award, while one of Secondary 3 teams consisting of Lee Rui Zhe, Jordan Joseph Stanley, Ong Jun Xun attained a silver award. Although we did not clinch the trophy for the best institution, we knew we had tried our best for the competition. Through this experience, we were enlightened by how much there is for us to learn, and how science continues to advance and can be applied to our world.
---
July: SJI Malay students play host at Hari Raya Open House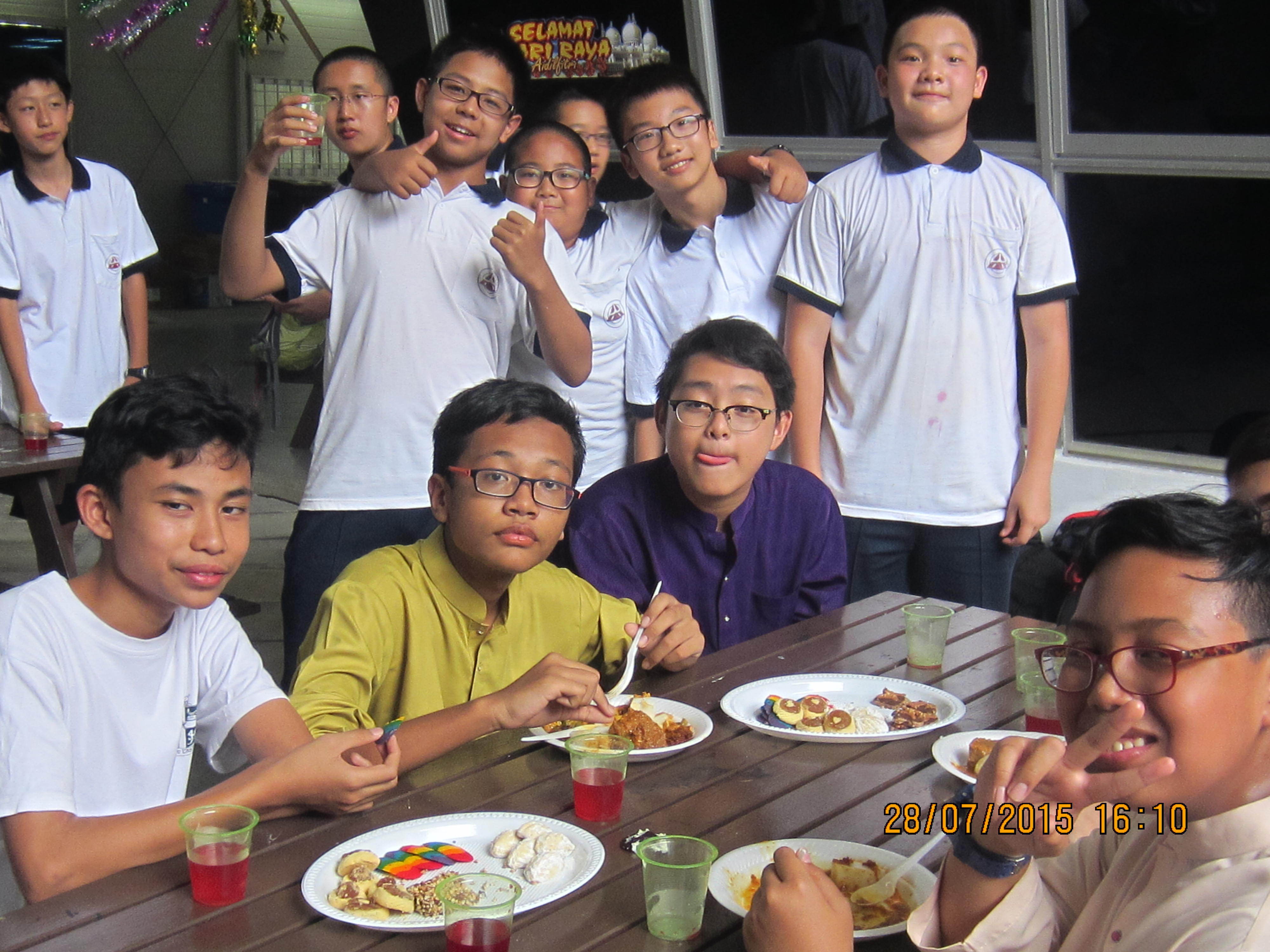 The Malay Cultural Society at SJI collaborated with the Malay Ab Initio JC 1 students from the SJI Senior School to put up the Hari Raya Open House on 28 July 2015. Our guests for the day were the students from Beijing No. 8 School who were in SJI for an exchange programme. The session started with a presentation by the Senior School students on the meaning of Hari Raya celebrations. This was followed by several hands-on activities such as ketupat weaving (a type of rice dumpling packed inside a diamond-shaped woven palm leaf pouch), the tying of samping (the Malay sarong worn with the male baju kurung), donning of Malay baju kurung for photo-taking and making of onde-onde, a traditional Malay kueh. The students were also treated to a spread of traditional Malay dishes like the ketupat and lontong, beef rendang, coconut serunding and the everfamous sambal tumis, topped off with a taste of the Hari Raya kuih (biscuits). Through culture and food, this was indeed a good learning experience to promote inter-cultural understanding amongst the students.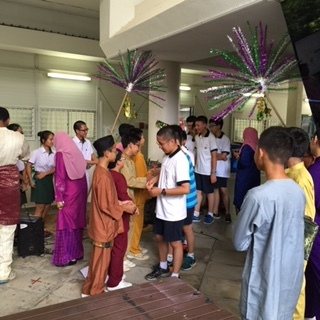 ---
July: SJIOBA Organises Inaugural Bands of Bros and Sisters
On the warm, sultry evening of 25 July, the SJI Amphitheatre resounded with the chords of music and, peals of laughter and applause, as the SJIOBA held the first ever ʹBands of Bros and Sistersʹ event. The night brought together 10 bands from the Josephian family as musicians from 15 to 50 years old got together to create beautiful music. The fans and supporters were not disappointed as their favourite bands churned out hit after hit, with songs from every genre. Original numbers, as well as covers of U2, Taylor Swift, Fiction Factory, Rachel Platten, Jason Mraz, The Beatles, Ed Sheeran, The Eagles and many more, were performed to everyone's delight.
Hot dogs, satay, nachos, ice cream, draught German beer and, other snacks and beverages went on sale to raise funds for the SJIOBA's Fathers and Sons' Mission to Cambodia with ACTS. The night's exhilaration was topped off with a rousing rock version of the school rally like itʹs never been sung before.
Special thanks to Theodore Chan (Class of 1976) who could not take part in this event but had kindly loaned his entire set of music equipment for the concert, and to all Cool Joes, friends and supporters who contributed, participated and supported the event.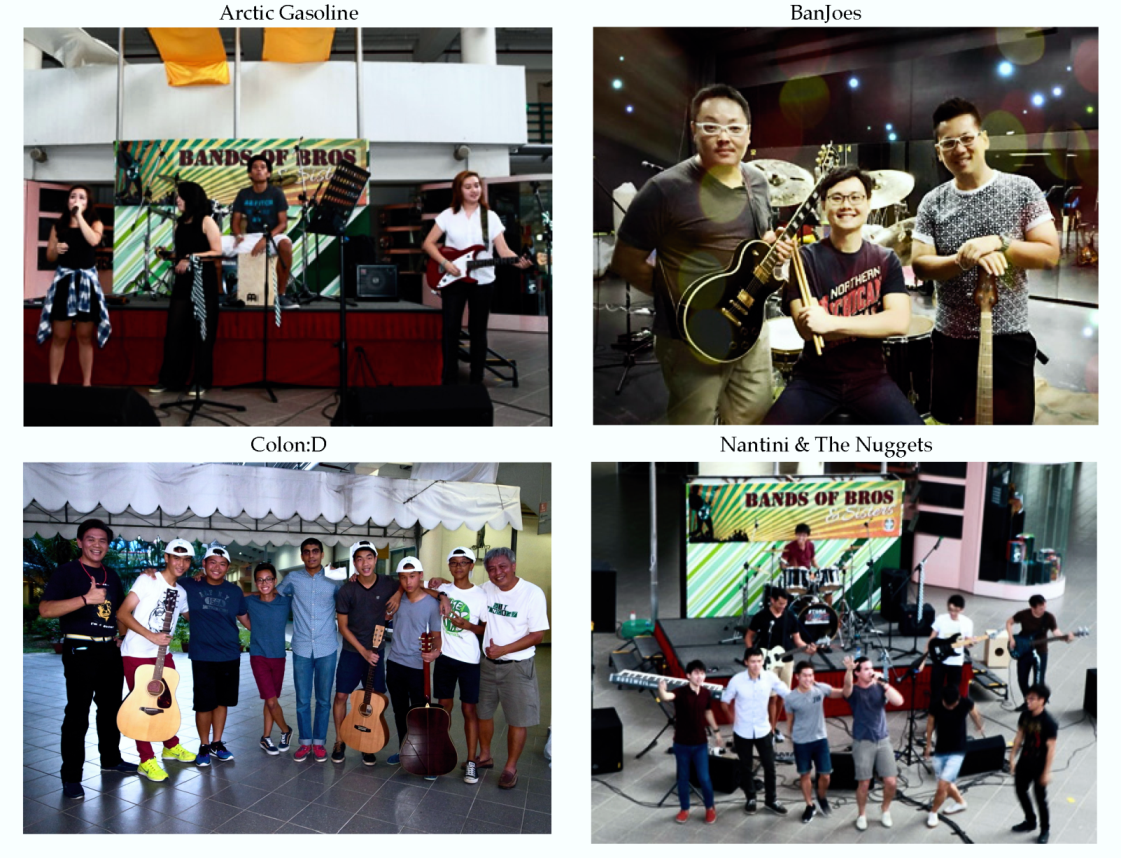 Honour Roll of the inaugural SJIOBA Bands of Bros and Sisters (in alphabetical order):
1. Arctic Gasoline
2. BanJoes
3. Colon:D
4. Destination Unknown
5. Fine Wine
6. Last Minute
7. Nantini & The Nuggets
8. Out of Time
9. Serendipity
10. Vestige
---
July: Josephians-At-Large 2015: ''Work, Life, Learn – your journey starts now''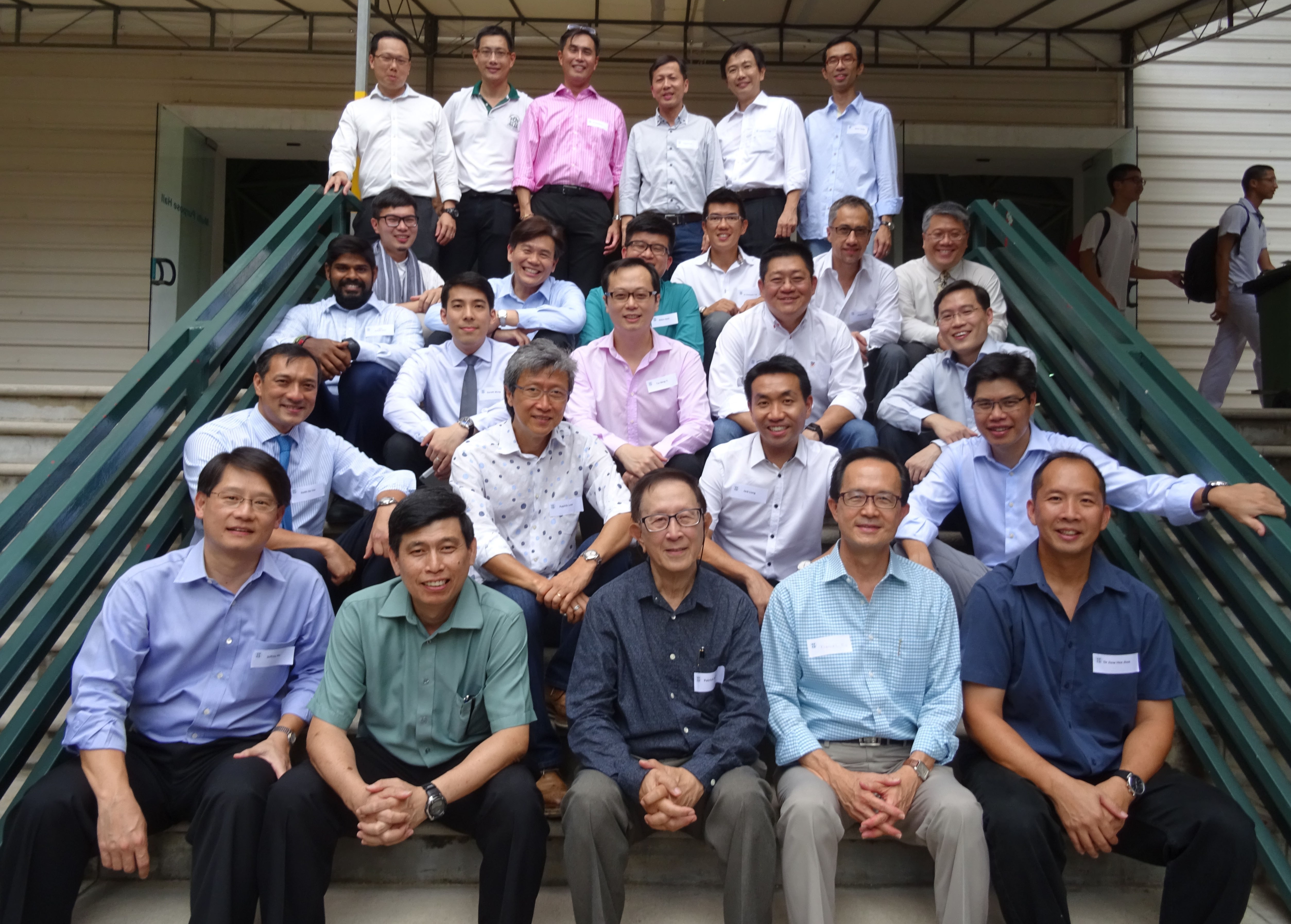 This year marks the 5th consecutive year that the SJI Old Boys Association (SJIOBA) organized the Josephians-At-Large (JAL) career workshop for SJI students. Every year, the speakers walk away learning much from the younger generation of Josephians.
This is also a great way for the alumni to re-connect with our Alma Mater. The SJIOBA welcomes Josphians from all fields to come forth to share their worklife experiences. In fact time and again, the feedback we have received from students is that they value such personal interactions. Hence, more students will benefit from this JAL programme when the alumni come forward to speak at this annual career workshop.
The Josephians-At-Large term came about in a moment of inspiration. We are all At-Large, carving out our careers and lives in different professions within and outside of Singapore.
The theme this year is ''Work, Life, Learn – your journey starts now.'' It used to be that we go through our life journey in the reverse order of Work, Life, and Learn – attend school to learn, use this as a means to make a living, start a family and dedicate ourselves to working and achieving financial security. Today, working, living and learning are no longer independent of one another, and integral to enriching our life journeys.
Students need to identify and understand their strengths and interests, and in the process, start thinking about their career choice. It is hoped that through these sharing sessions by the alumni. The present students in SJI will be inspired to learn how to learn and to learn how to live.
---
July: SJI Commemorates Racial Harmony Day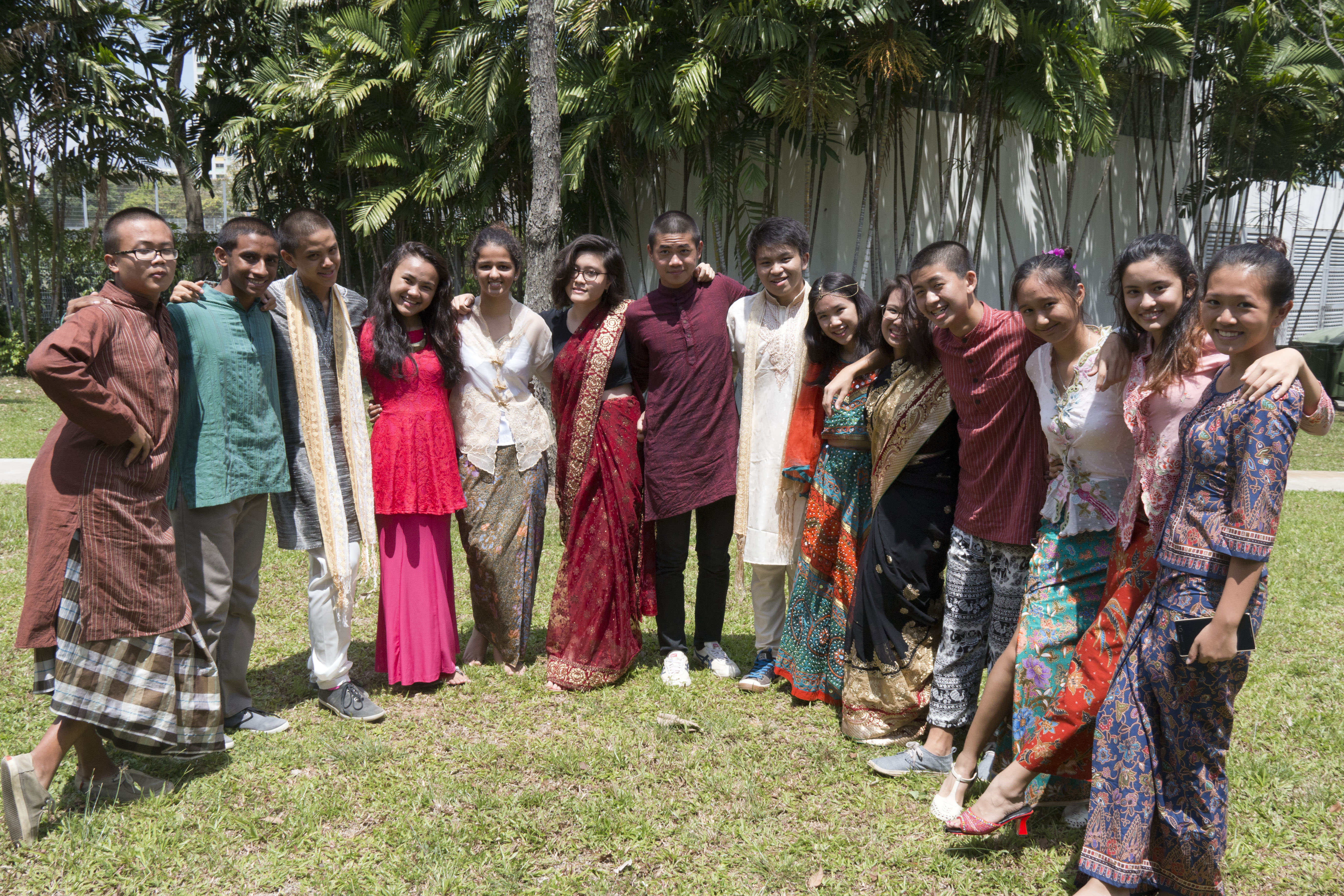 This year, SJI's celebration of Racial Harmony Day (RHD) on 24 July was like no other; it was held on the same morning as SJI's football team played in the National Inter-School Boys B Division Football Finals for the first time in 37 years. The excitement about the match was intensely felt throughout the SJI community.
To add cheer to the occasion, Josephians came dressed in traditional ethnic costumes as they watched the live streaming of the match in the hall. The SJI Parent Support Group (PSG) sold traditional snacks such as Indian crackers (muruku) and nuts (kacang putih), Chinese snacks (mua-ji), fried dough fritters, and Malay kueh kueh to raise funds and in-kind donations. About $1,600 was raised from the event for a good cause – Boys' Town.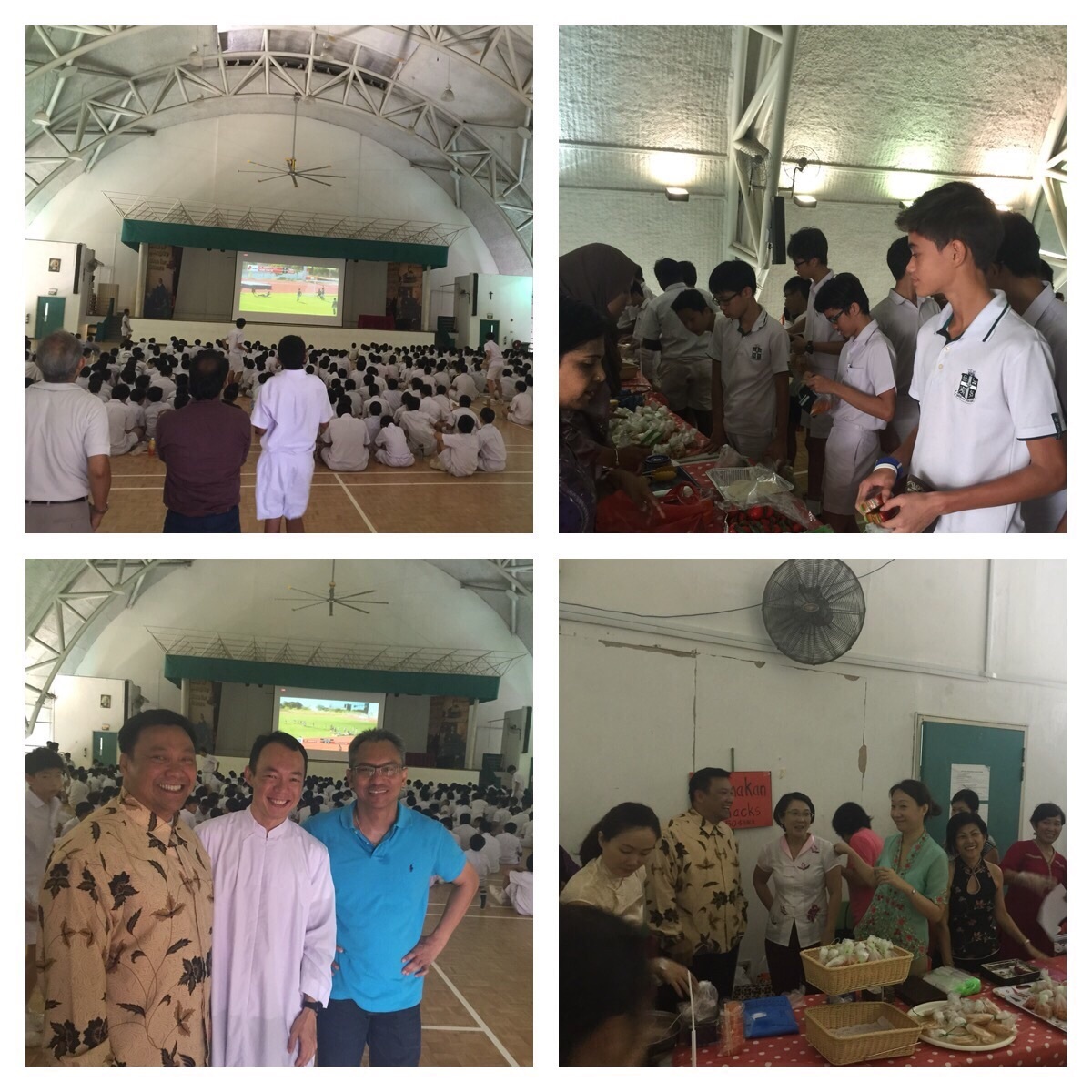 ---
July: SJI Football Team Wins 1st Runner-Up at National Finals
By Sophia Evangeline Goh Yi Qing (JC104)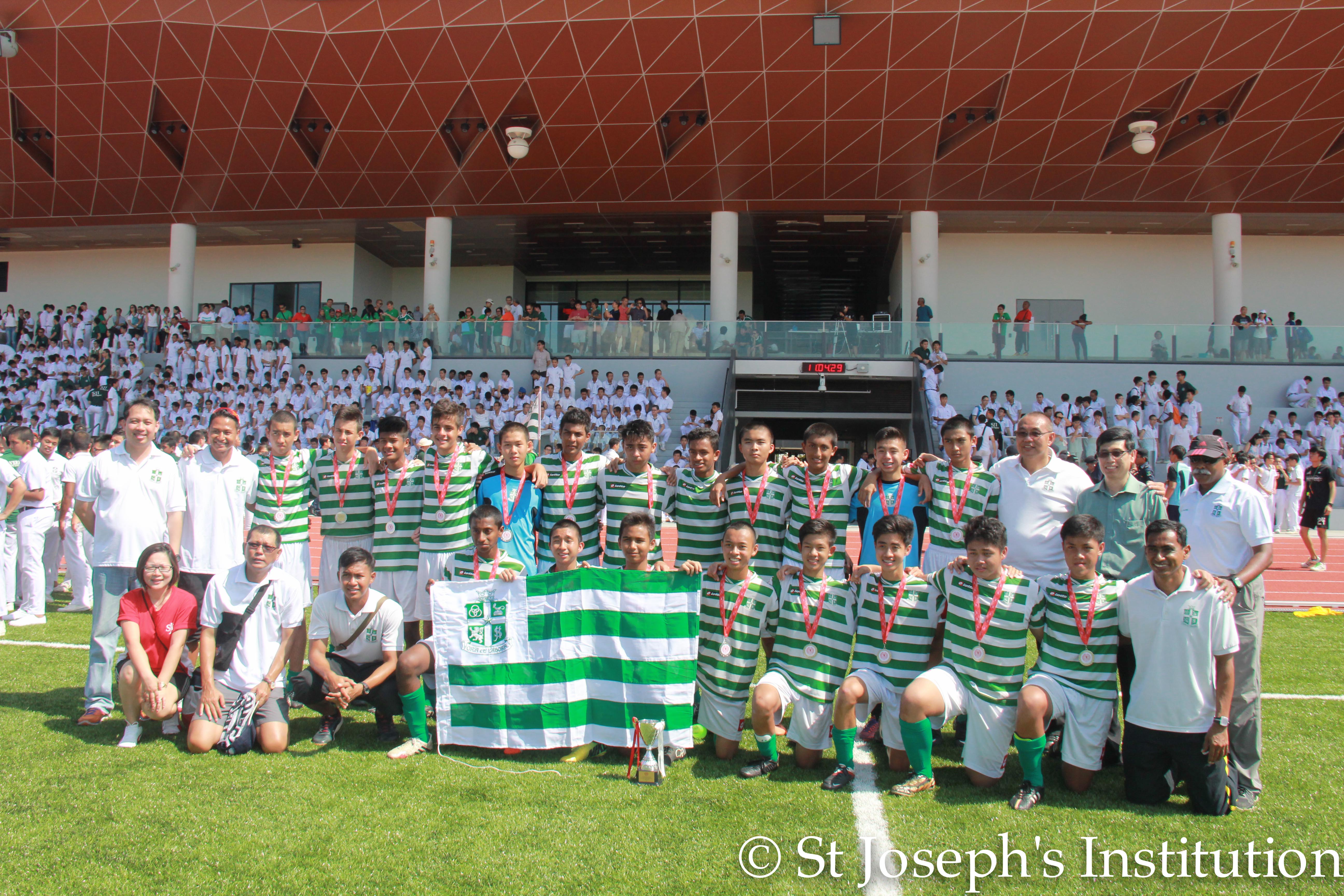 The SJI Football Team had earlier defeated Singapore Sports School in the semi-finals , and advanced to the finals after winning the penalty shootout with a score of 5 to 4, after having played to a 2-2 tie with extra-time. This is the first time the SJI Football team, which was revived in 2011, had made it to the National Finals after 37 years.
In support of the SJI Football Team, the entire cohorts of Secondary 3 and 4 boys, as well as the JC 1 students, headed to the Singapore University of Technology and Design to watch the match and cheer for the SJI Footballers. After a tough fight against the defending champions Hong Kah Secondary School, the match ended with a score of 6-0 to Hong Kah Secondary School. Despite the defeat in the finals, the SJI Football Team still took home the 2nd place in the Nationals – a brilliant achievement especially for our young team!
Catch all the actions via our photo gallery and the photo gallery by SJI Football Parent Support Group.
---
July: SJI Football team beats Singapore Sports School to enter National Inter-School Boys 'B' Division Football Finals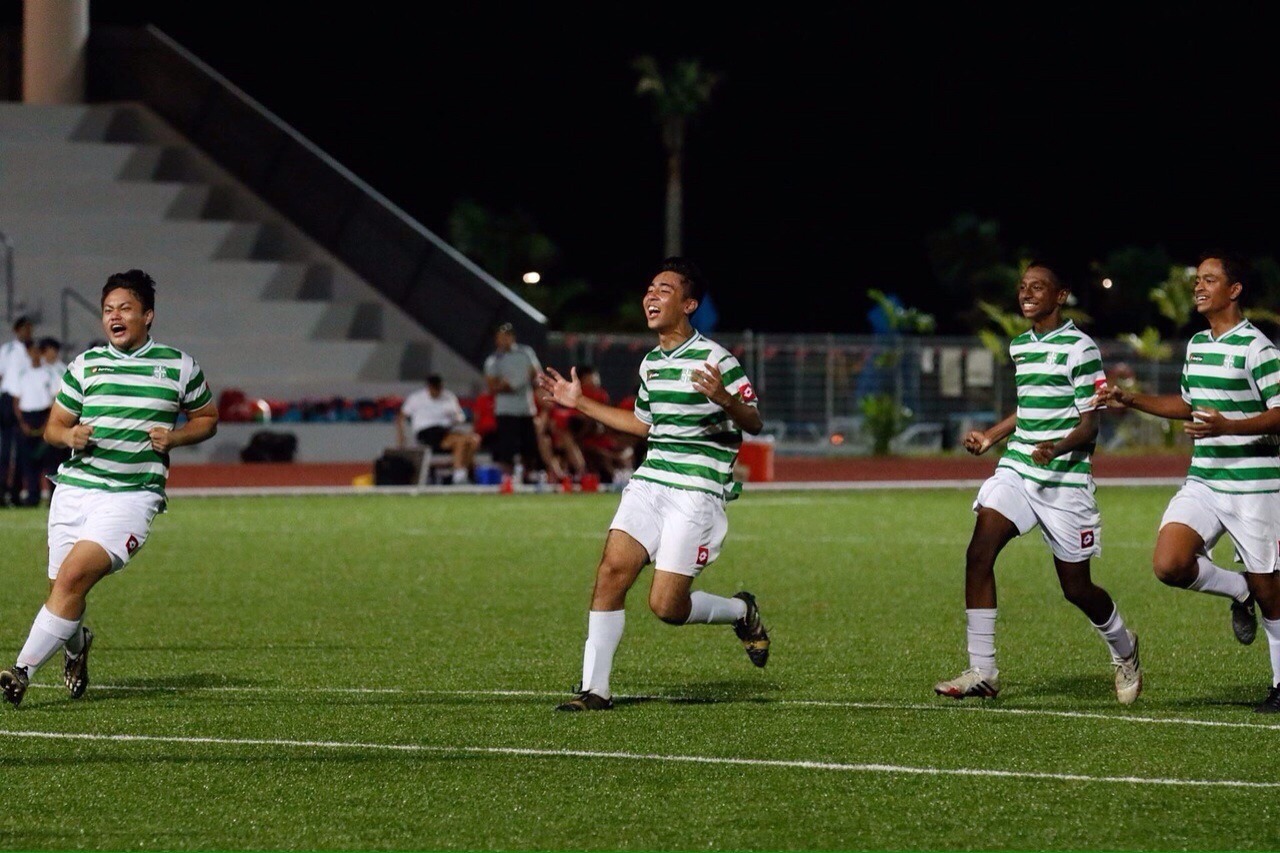 SJI's 'B'-Division soccer boys beat Singapore Sports School team at the National Schools Semi-Finals on 22 July, to earn a place in the Finals. It was a closely fought game, ending with a score of 2-2 after extra time. SJI was in the lead on both occasions before Singapore Sports School equalised. SJI won the penalty shoot-out with a score of 5-4.
This is the first time the SJI Football team which was revived in 2011, has made it to the National Finals after 37 years. SJI last won the title in 1978.
video to be embedded here!
The details for the National Finals match against Hong Kah are as follows:
Date: Friday 24 July 2015
Time: 9.00 am (kick-off)
Venue: SUTD (8 Somapah Rd)
---
July: Singapore Energy Innovation Challenge 2015
By Lai Kit (ML301) and Senthil Kumar Dhanabalan (MN303)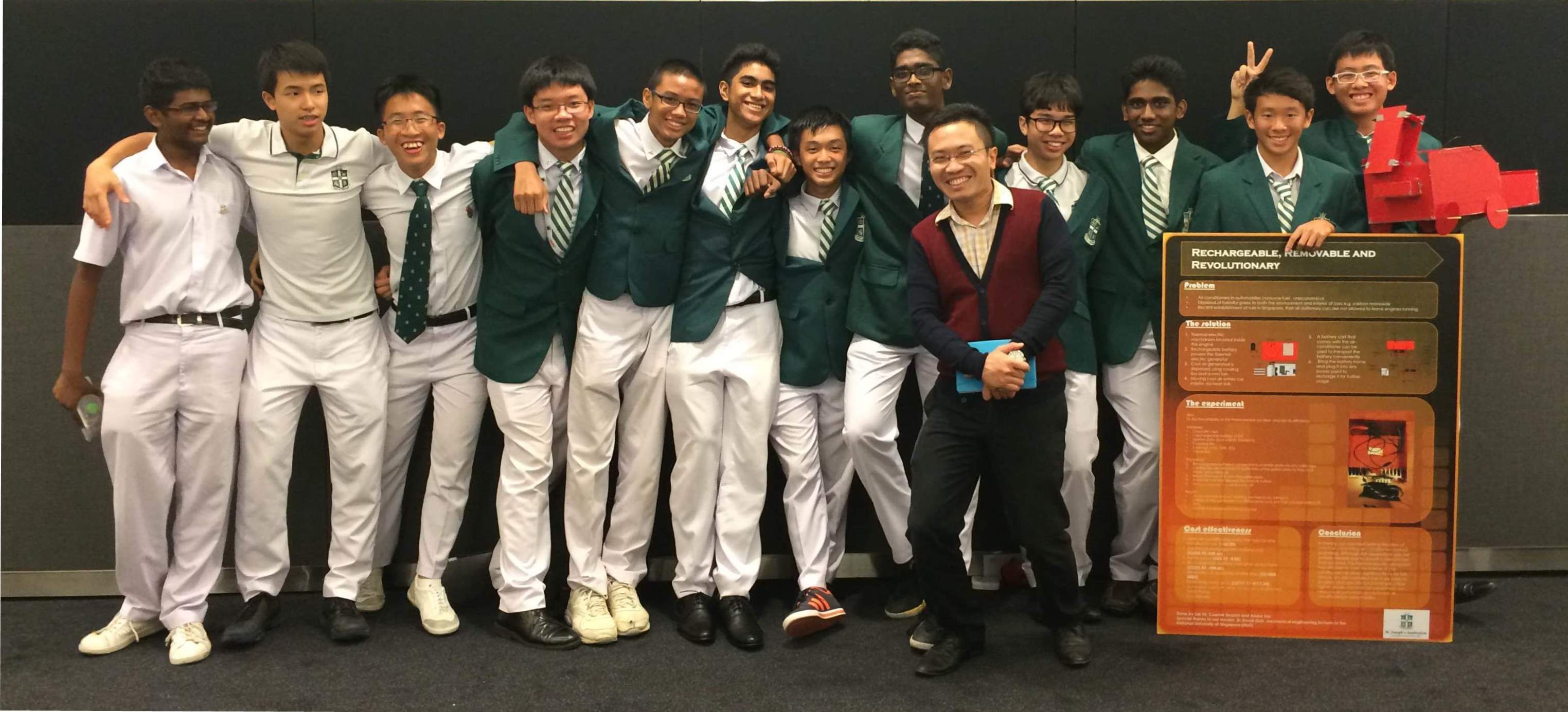 This year, a dozen Secondary 3 boys participated in the annual Singapore Energy Innovation Challenge competition, as part of the Academic Development Modules (ADM) offered in the Integrated Programme. The module was intended to bring out the ''engineering spirit'' in the boys. The students were split into groups of three, and they worked together throughout the four months. The process and build-up to the final competition week was a gruelling and tedious process which involved many late nights and demanding deadlines. But all our efforts eventually paid off.
It all started in the early days of March, when teams from different schools in Singapore congregated at the Microsoft Singapore Operations Office for a Networking and briefing event. We were challenged to either improve on or invent an alternative source of energy from a modern day electronic device that could revolutionize the industry. The teams were also at this juncture introduced to their respective mentors. Mentors were highly qualified specialists in their expert field of engineering and were of close guidance to the students during their project development. They were there to provide technical help and to guide them in processing their ideas from theory to reality. The Networking Party also offered an opportunity for the students to experience a true engineering environment such as the Microsoft Office Operations Office. Students were given tours of the place, in order to give them an idea of how engineering was applied in the Microsoft context. SJI was represented by four groups of three students each, who were ready to battle it out for the top awards in the Challenge competition.
The teams constantly organized meetings with their mentors to develop our unique ideas, while simultaneously keeping our teacher-in-charge Mr Chong Kai Qin updated with our progress. He also provided feedback on our Project ideas, experimental procedures and results, analysis and engineering Prototypes. To receive more guidance in the development of our prototypes, the competing teams worked together with the Singapore Science Centre to attend workshops for the students in technical aspects of engineering like 3D-printing, iron soldering and laser printing, just to name a few of the many workshops which were organized for the benefit of the participants.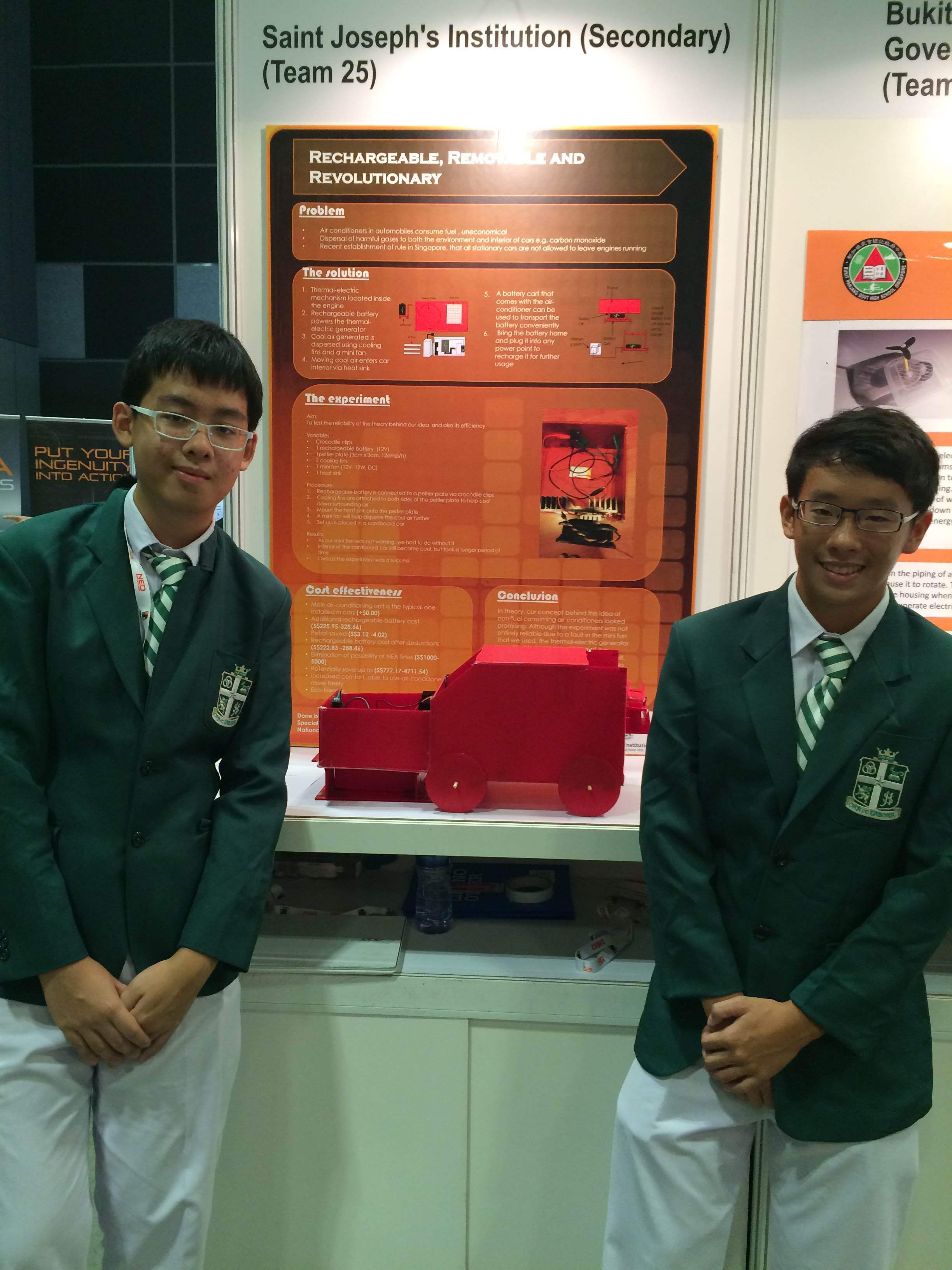 Through gruelling brainstorming, research and preparation for the following four months, every group successfully constructed unique, feasible and promising ideas. These included a non-fuel-consuming air conditioner for automobiles, an eco-bag with solar-powered mobile charger and a hand-crank dynamo to help power devices on the go using just sunlight and some circular motion, and ''Teabags'' that generated heat to boil water using 'waste products'. As the days flashed by, we geared up for 22 July when the competition would commence.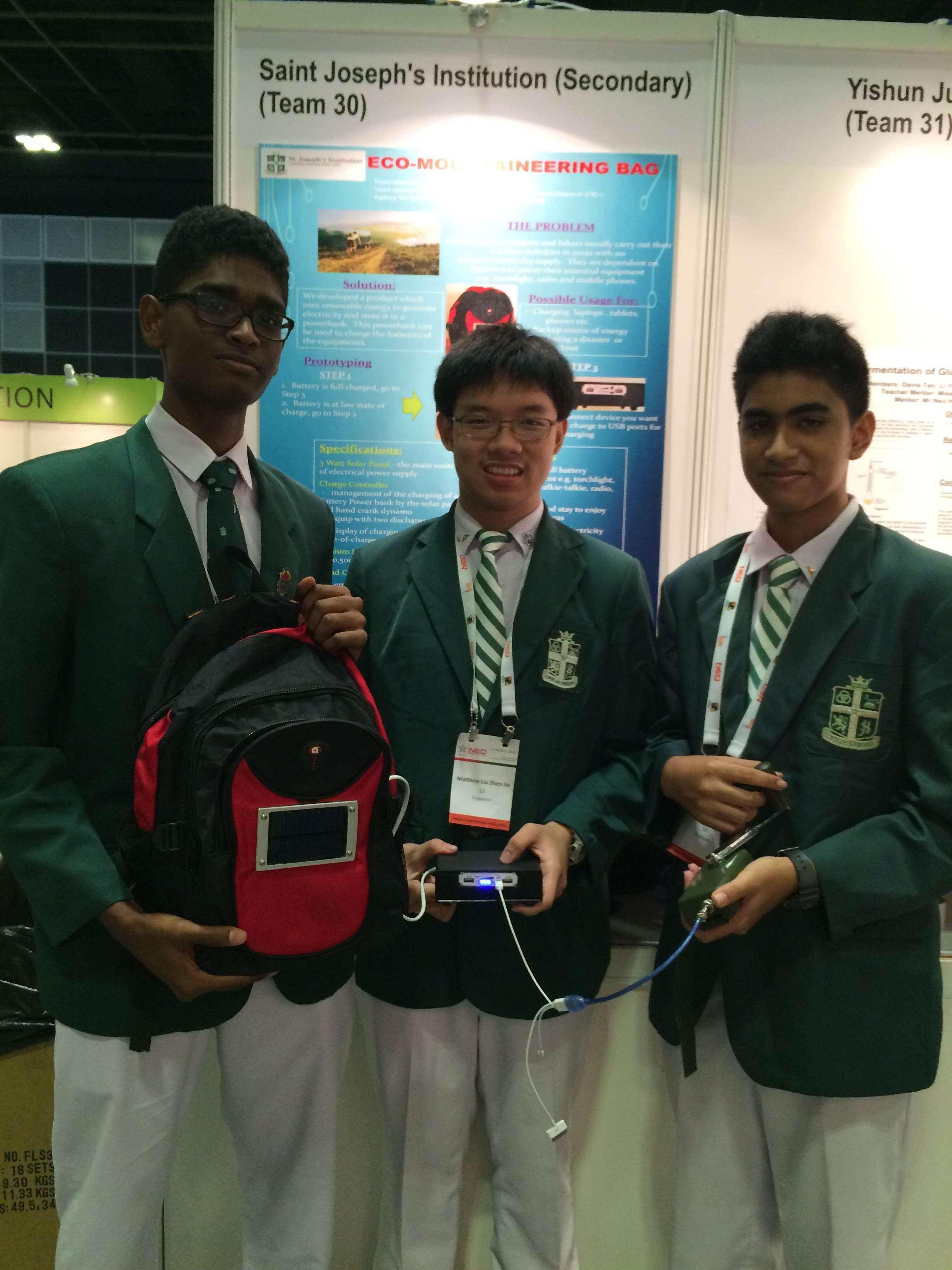 The Energy Innovation Challenge showcase at Suntec City Convention Hall was part of an exhibition organized in conjunction with the National Engineers' Day. Many renowned faces from the nation's engineering field visited this event. Judges from all walks of life and many visitors toured the booths and exhibitions. Guests of honour included Deputy Prime Minister, Mr Teo Chee Hean, as well as Minister of Education, Mr Heng Swee Keat; they were also present to listen to our ideas. We faced stiff competition from other secondary schools, and junior colleges. The SJI teams were determined and presented to the best of our abilities before the judges and the numerous visitors to the various booths.
Despite the strong competition faced in the Junior College/Secondary Category where about 35 teams participated, three of the SJI Teams received Merit Awards for our accomplishments in the competition.
---
July: President Tony Tan launches new SJI book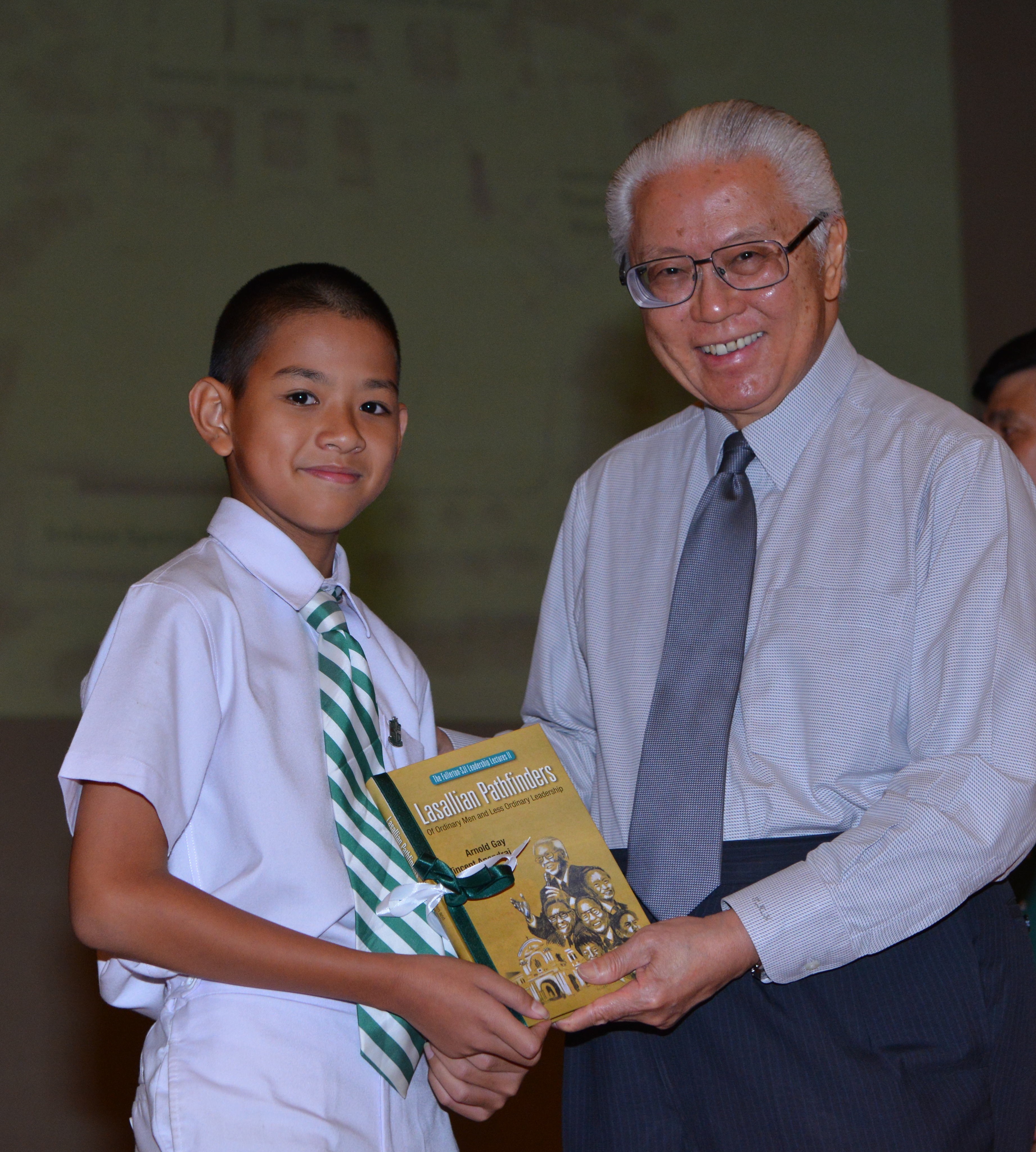 President Tony Tan launched the new SJI book, "Lasallian Pathfinders: Of Ordinary Men and Less Ordinary Leadership", a collection of leadership lectures from the second Fullerton–SJI Leadership Lectures Series. This book provides an insight to the leadership experiences of our prominent leaders from the Lasallian family of schools which include SJI alumni such as: the President of Singapore, Dr Tony Tan (Class of 1958); Professor and Director of Special Projects, Faculty of Science at National University of Singapore, Professor Leo Tan Wee Hin (Class of 1963); Judge, Chairman of Public Transport Council and Expert (IBC) Member, UNESCO, Richard Magnus (Class of 1963); Chairman of Singapore Business Federation, Tony Chew Leong Chee (Class of 1965); leading jazz musician, Professor Jeremy Monteiro (Class of 1976); founder of Makansutra, KF Seetoh (Class of 1978); and Brother Armin Luistro, Secretary of the Department of Education of the Philippines.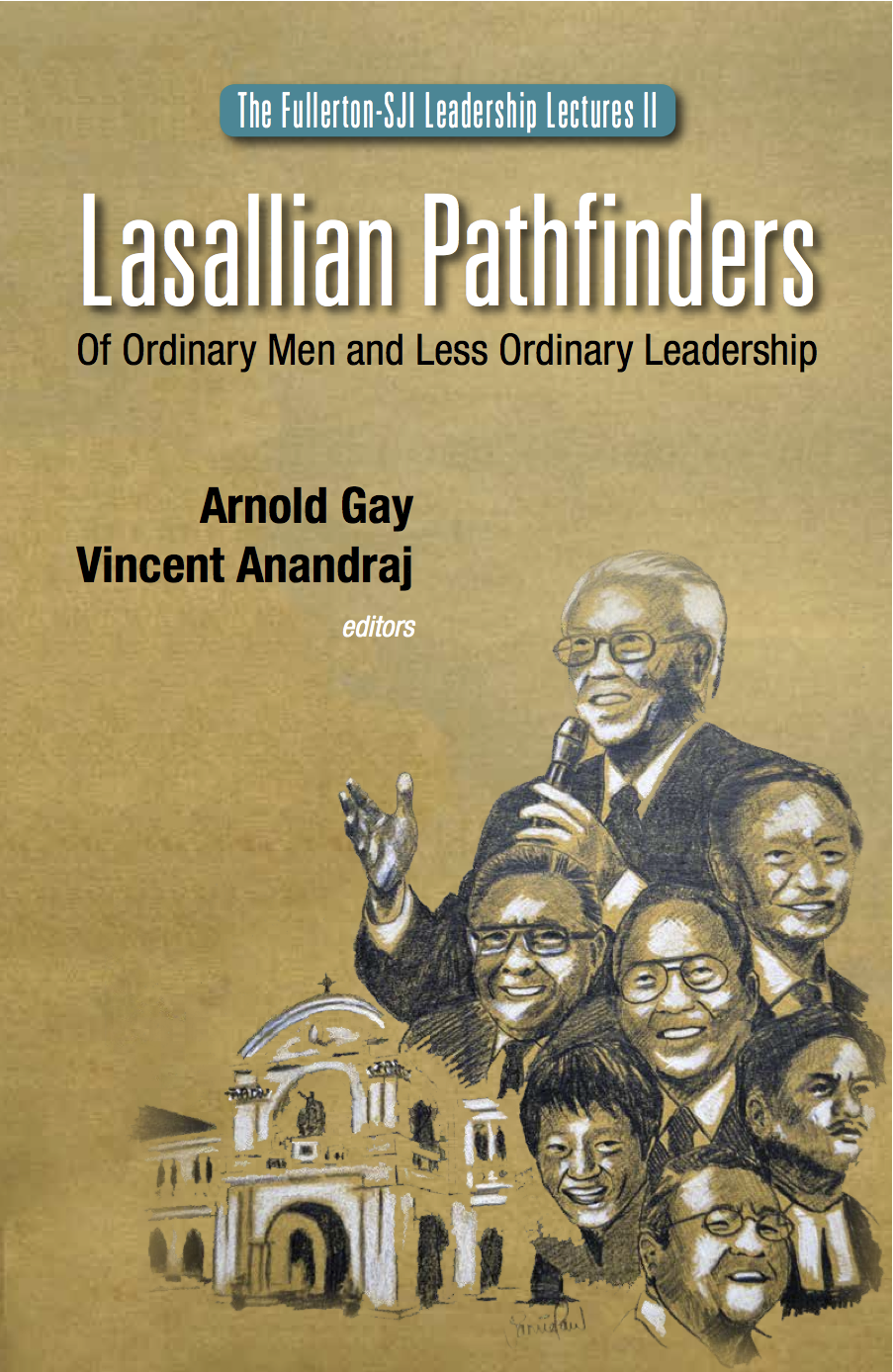 The speeches contain a wealth of interesting personal anecdotes about leadership that reflect their Lasallian heritage. Readers who are interested in the diverse aspects of leadership, entrepreneurship, and management will be able to gain much from this volume.
The book is available for sale at the SJI Shop and at major bookstores at a retail price of $32 (excluding GST) from 21 July 2015. The electronic version of the book is available for sale via http://www.worldscientific.com/.
---
July: President Tony Tan unveils SJI's new masterplan for the Malcolm Road campus and officiates "ground breaking" ceremony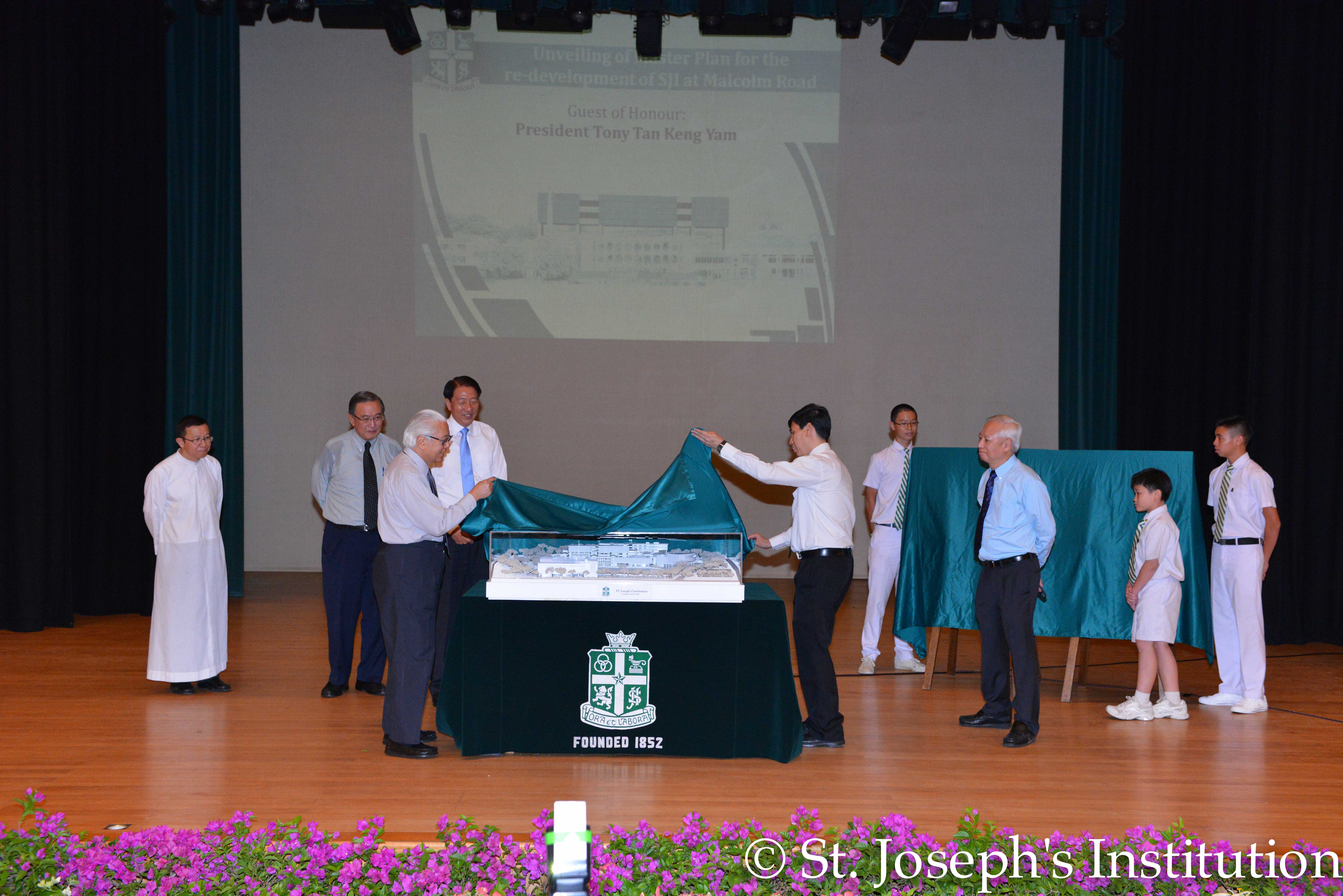 President Tony Tan Keng Yam unveiled the masterplan for SJI's upgraded campus and officiated at the "ground breaking" ceremony on Monday, 20 July 2015.
The SJI campus redevelopment project marks another significant milestone in the school's 163 years history. With the introduction of the Integrated Programme (IP) and the International Baccalaureate Diploma Programme (IBDP) in 2013, there has been a need for SJI to look into the redevelopment of its campus to meet new requirements. There is also a need to critically refurbish existing facilities and buildings which are now more than 25 years old. Since 2011, SJI has worked on the redevelopment of the Malcolm Road campus to ensure that it is able to meet the demands of education in the 21st century.
In order for SJI to be responsive to new learning requirements and to continue to provide a holistic and balanced education that focuses on character formation and leadership development for our current and future generations of Josephians, SJI's campus redevelopment is timely: it will ensure that the school can meet future learning requirements and continue to provide holistic education to form our current and future students' character and leadership. This is why we are calling our redevelopment "Designed for Learning and for Interactions, Now and the Future".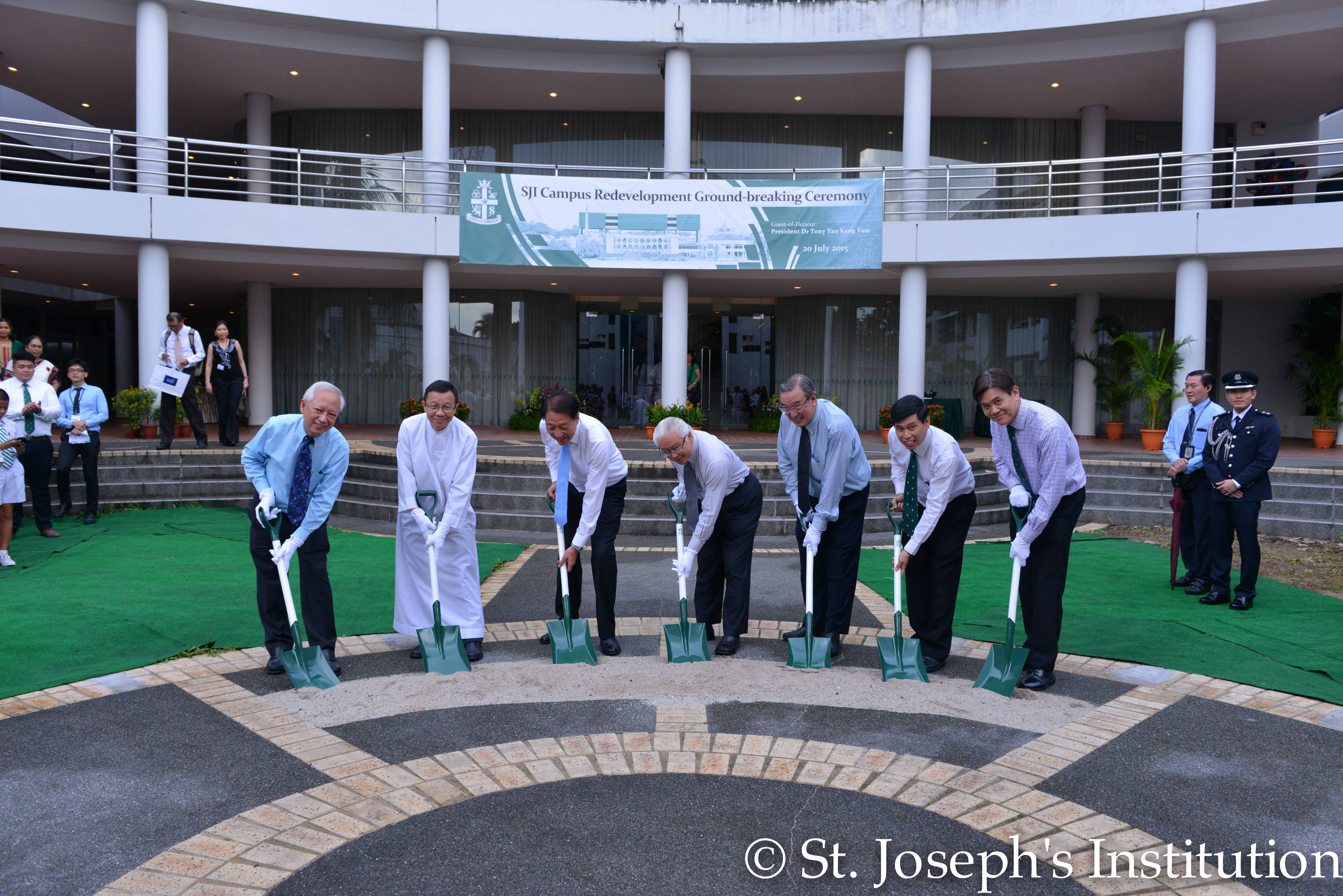 The S$40-million redevelopment project includes adding four new buildings to increase SJI's capacity and refurbishing the existing buildings, which are more than 25 years old. The new sports hall will house basketball, tennis and badminton courts. There will be a 600-seat lecture theatre block with meeting rooms. Two other blocks with a total of 32 classrooms will be built above the existing buildings and connected by a link bridge.
For regular updates on the progress of the redevelopment project, please visit Campus Redevelopment Updates(private page) or follow us on: https://www.facebook.com/stjosephsinstitution
---
July: Josephians Spread the Passion for Reading at Book Week
By Ryan Tok (ML304)
SJI Book Week 2015 has been a great success, with students and teachers alike enjoying the variety of different activities that spanned the four days. From the Readathon to the screening of the films and performances put on by the Secondary 3 IP boys, the array of activities arranged by the Book Week organizing committee was positively received by the SJI community, leading to much enjoyment being had by all who were involved in Book Week 2015.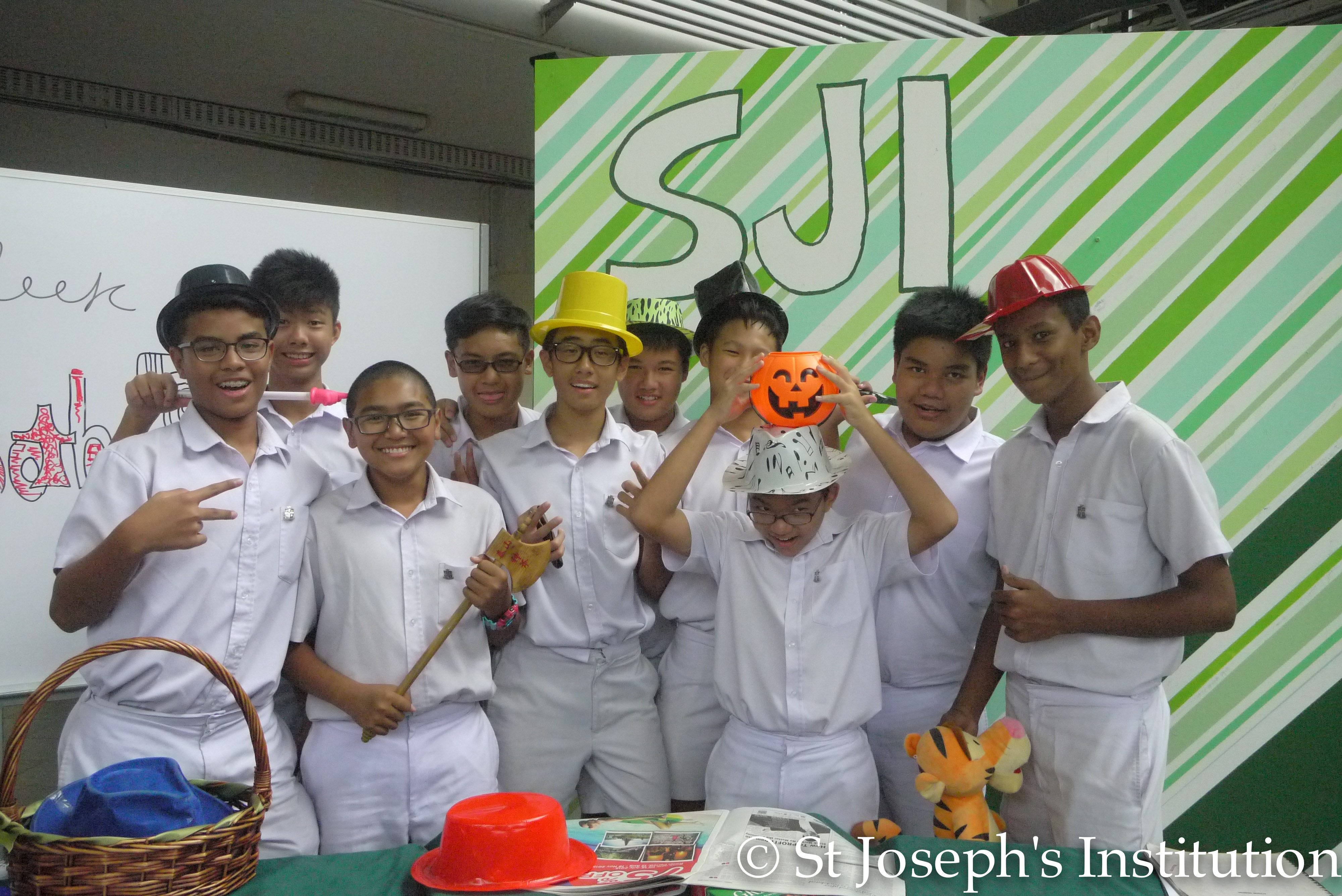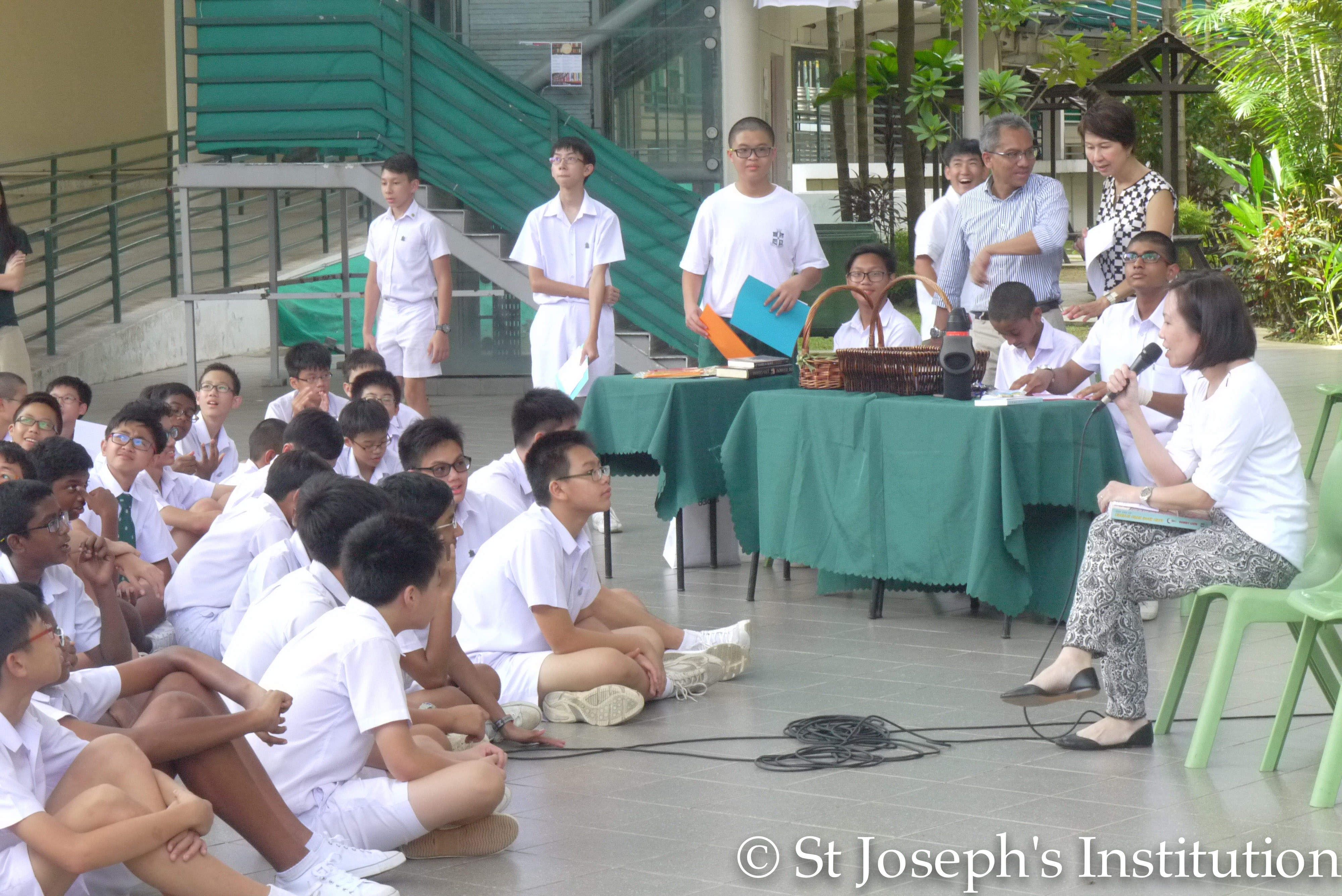 Check out the SJI Book Week on Facebook and the Book Week video by Goo Jia Ming Tristan Paul (LE203):
---
July: Marching On at SJI's Anniversary Parade
By Hoang Quang Anh (ML201), Ng Kang Jie (ML203), and Nicholas Pua (ML304)
The anniversary parade is a tradition of SJI where the seven Uniformed Groups – National Cadet Corps (NCC) Land, National Cadet Corps (NCC) Air, National Police Cadet Corps (NPCC), St. John's Ambulance Brigade, SJI Pelandok Scouts, SJI Military Band (SJIMB) and SJI Pipe Band (SJIPB) – come together to celebrate one other's achievements for the year. It is also a time to recognize outstanding cadets who have served in their CCAs. At this time, the Secondary 4 student leaders pass on their roles and responsibilities to their Secondary 3 counterparts.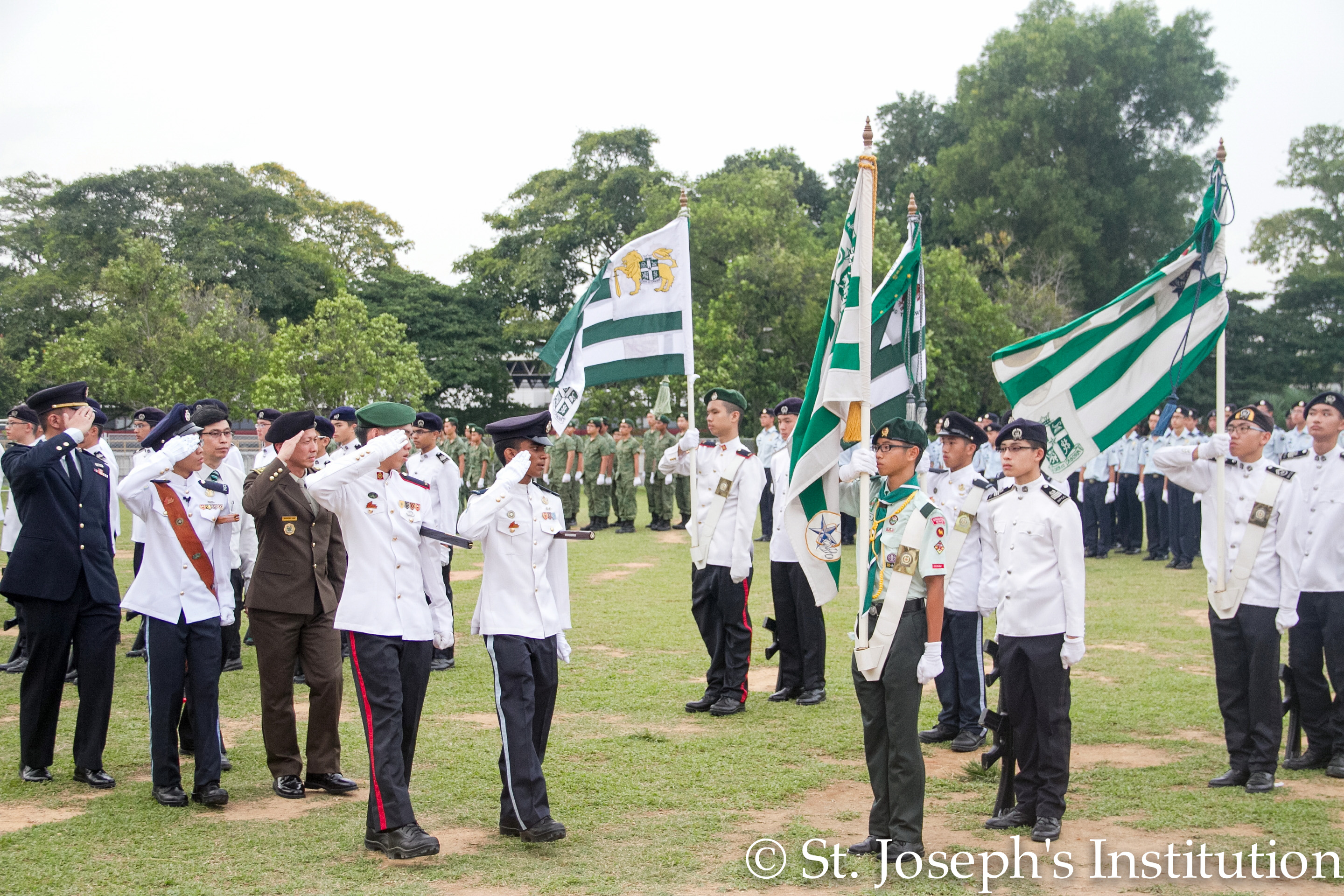 "The Anniversary Parade is a nice way to appreciate the Secondary 4s for their hard work and commitment to their co-curricular activities in the past 4 years" shared Christopher Lam (ML201), a participant and performer from the SJIPB at the Anniversary Parade 2015.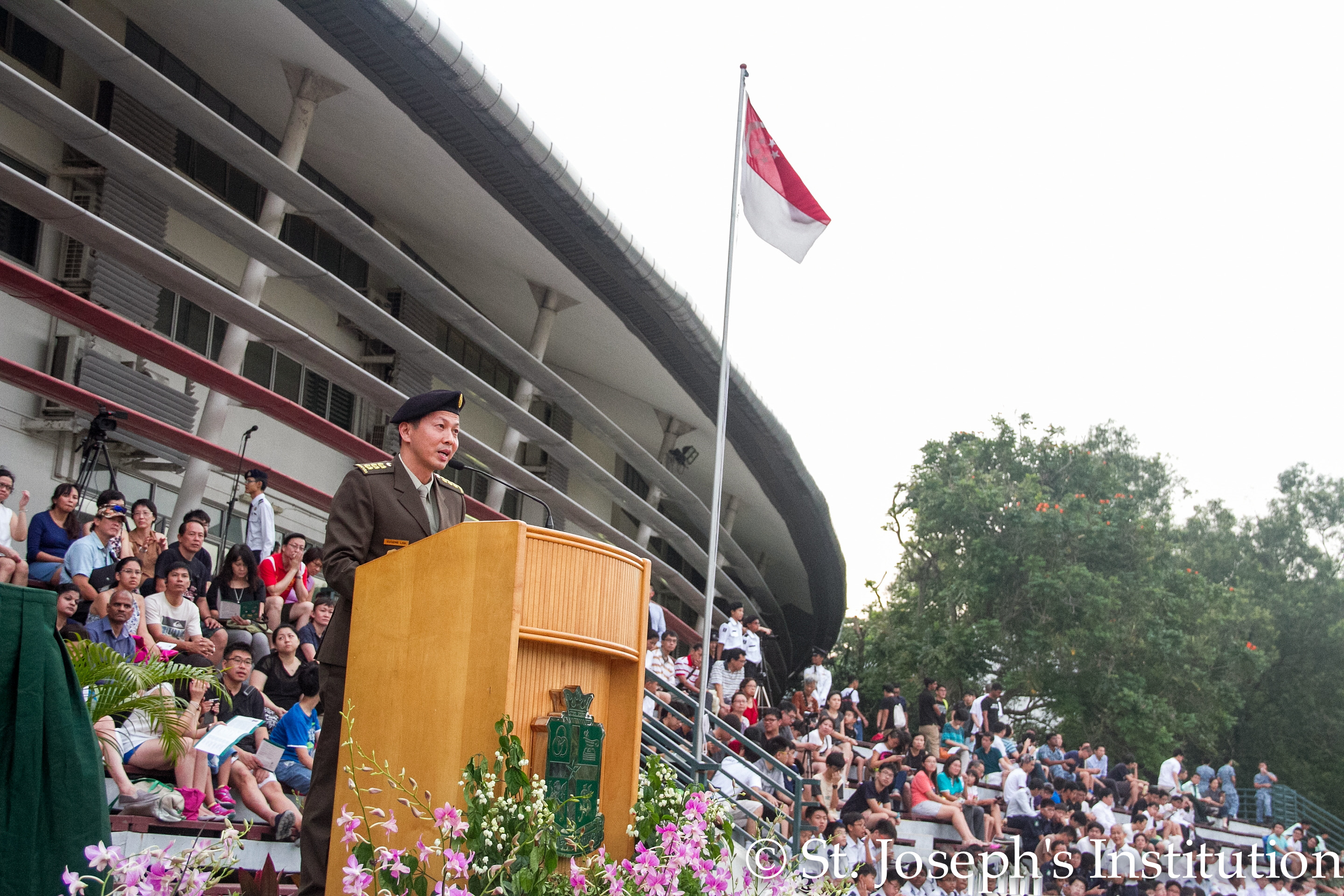 Braving the immense heat, the cadets stood true to their values of discipline and camaraderie as they marched on proudly in their uniforms. The parade, graced by Guest of Honour Colonel (NS) Eugene Lam (Class of 1981), also featured stunning performances such as air shows by NCC Air, drill shows by NCC Land, enchanting musical performances by SJIMB and SJIPB as well as a march past by the Uniformed Groups. The parade ended with triumphant and proud cheers of "Hail! Hail! Alma Mater!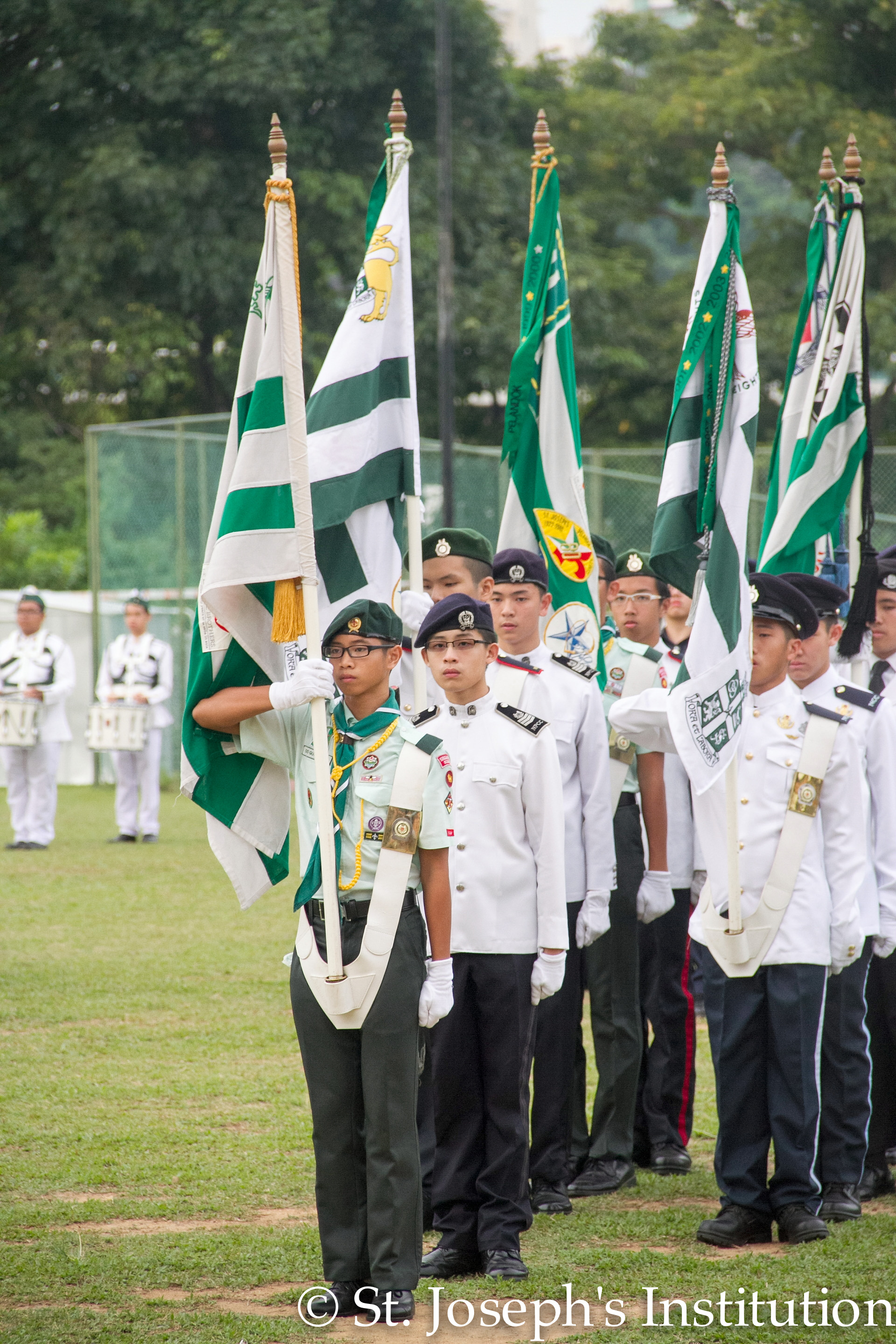 ---
July: SJI Enters National Schools Hockey Semi-Finals after 8 years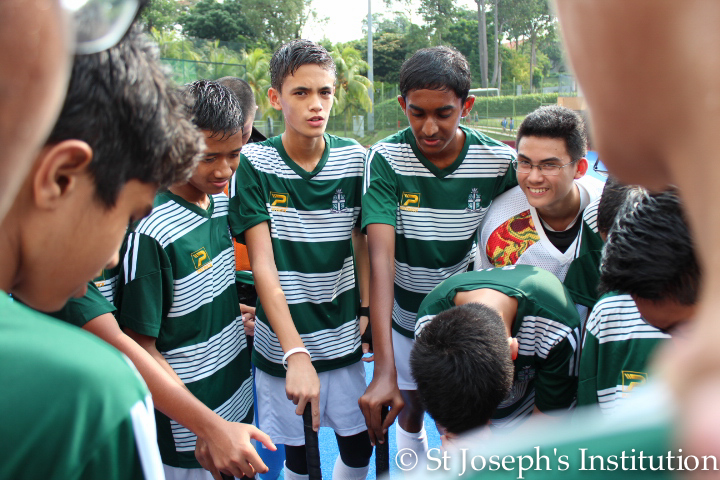 SJI played against Raffles Institution (RI) at the National Inter-School Boys C Division Hockey Semi Finals on 13th July at Co-curricular Activities Board. The SJI team was overpowered by RI with three goals in succession within the first 10 minutes of the game. However, the SJI team did not roll over and give up but continued to put up a strong defence. Despite several good chances to score, the SJI forwards could not capitalise on the errors of the RI defence to match their score. The game ended with a 3-0 win by RI, even though the SJI defence was unyielding during the second half and the SJI forwards and halves were gaining in confidence.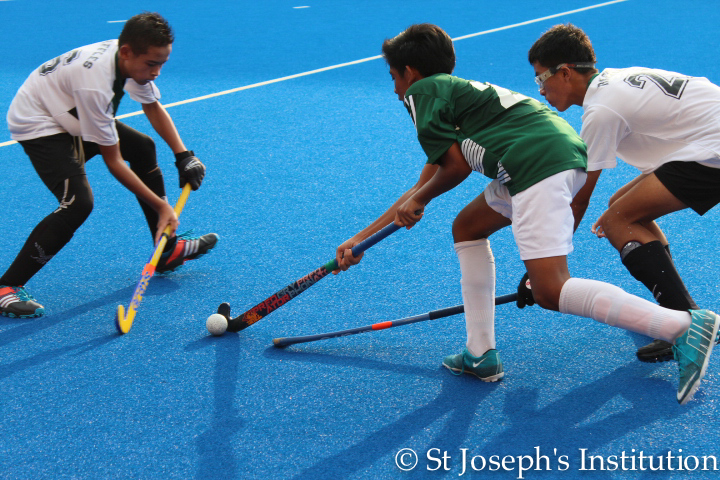 SJI will play against Victoria School in the National Inter-Schools Semi-Finals on 4 August, 3pm at Sengkang Stadium.
---
July: SJI Paves the Way with a Shave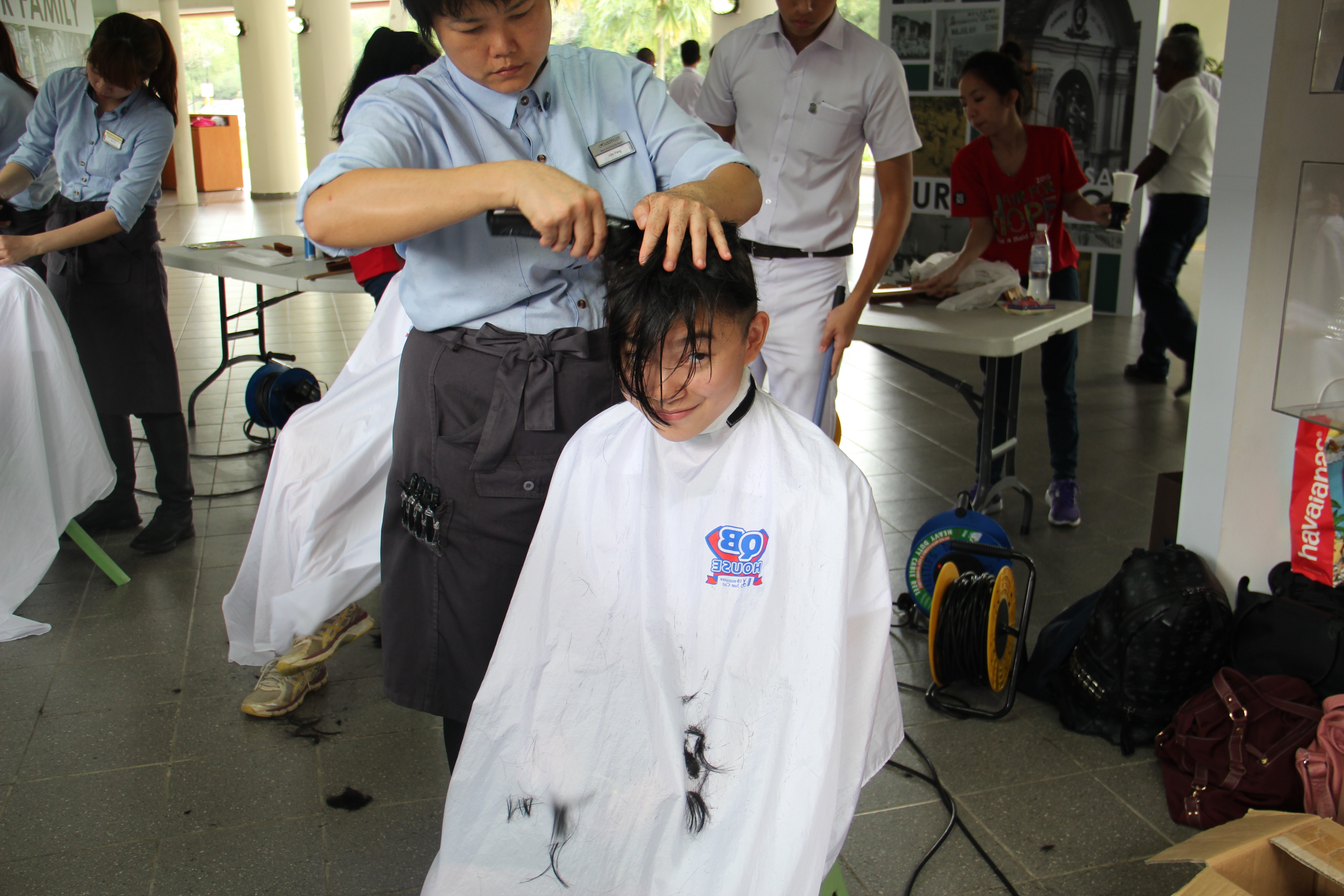 In collaboration with Children's Cancer Foundation, SJI once again played host to a Hair for Hope (HfH) satellite event. The event was one of many that took place around Singapore to collectively raise funds and awareness for childhood cancer.
This year's theme was "Pave the Way with a Shave", and it revolved around the idea that every Josephian can make a difference to a cancer patient's life with this simple act, financially and through solidarity. It challenged Josephians to lead by example and united us through a common goal.
In the weeks leading to the event, Josephians across all levels were challenged to pledge their participation in the event. Especially significant was the 'Wax for a Cause' challenge that ran online on social media platforms, where Josephians pledge either to shave their heads or to donate for the cause.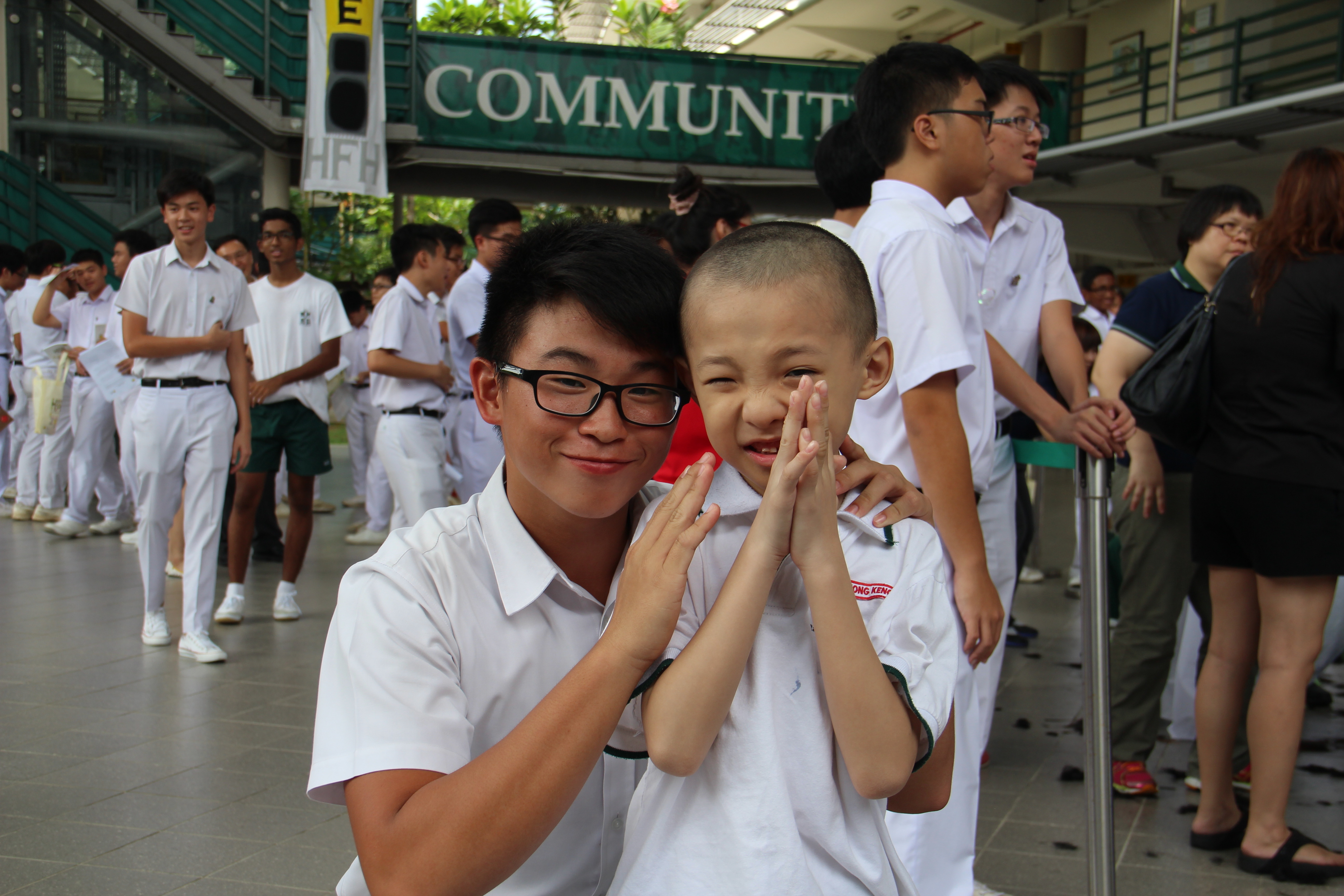 On 6 July 2015, steady streams of students poured into the amphitheatre from 9am to past 2pm to participate or to support their friends. Close to 350 students shaved for this noble cause. This year saw a new milestone for SJI; we collaborated with Rainbow Centre for this cause. There were more than 20 participants from the centre, volunteers and children alike, who turned up to take part in this event. Ultimately, Hair For Hope was a great success with the huge turnout, and with students inspired to pave the way in society with this tough yet simple act of a shave.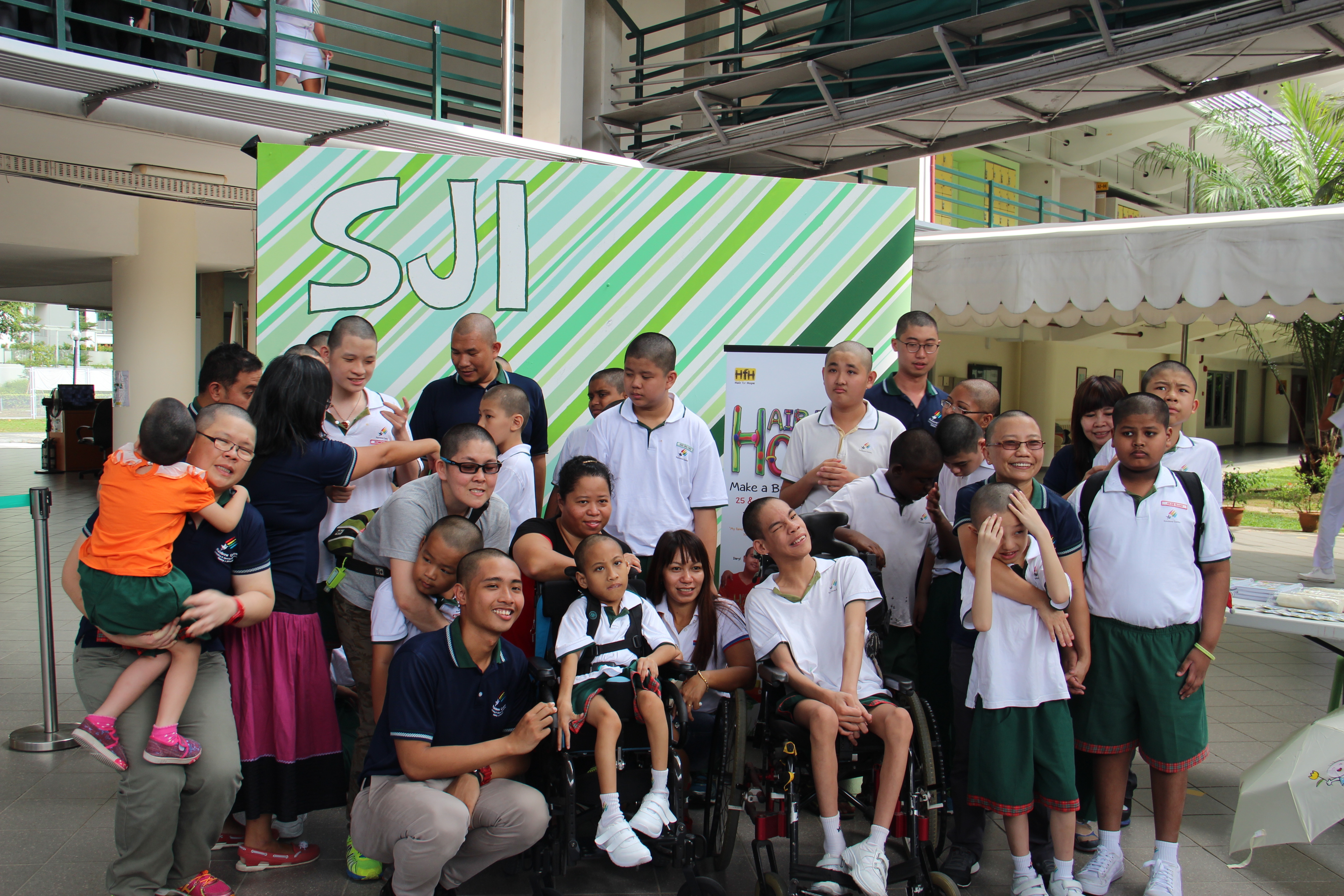 ---
July: Alvin Tjioe Appointed as the Parade Commander for NDP 2015
Lieutenant Colonel (LTC) Alvin Tjioe Jin Kiat (Class of 1997) was appointed the Parade Commander for the SG50 National Day Parade. Alvin was the Company Sergeant Major for NCC Land in 1997. Click here to find out more about how he prepares for the NDP 2015.
---
June: Vietnamese Twin are Winners at Singapore Mathematics Olympiad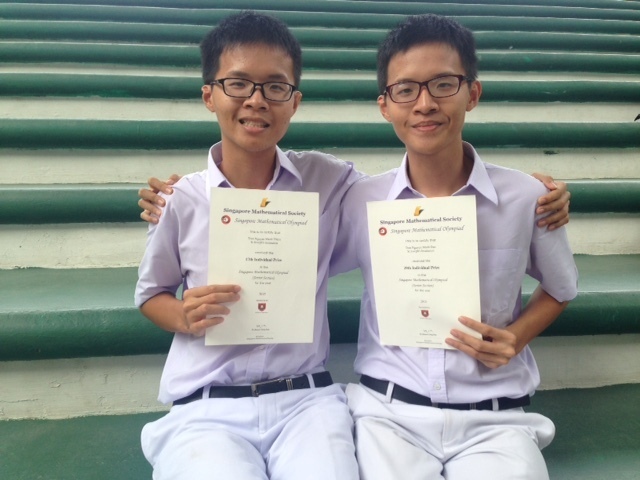 In this widely popular national competition organised annually by the Singapore Mathematical Society of NUS, which sees many Secondary and Junior College students competing for prizes, SJI had 2 individual winners: Tran Nguyen Manh Thien (FN 303) obtained 17th position in the Senior Section, while his twin brother Tran Nguyen Manh Dan (LE 303) obtained 29th position in the same category.
SJI was also awarded the Silver Award in the Secondary School category and a Commendation Award in the Junior College category.
---
June: Alumni Twins Dive to Silver Medal at SEA Games 2015
Twin brothers Tim Lee Han Kuan and Mark Lee Han Ming (Class of 2010) clinched the silver medal for Team Singapore in the Men's 3m Synchronised Springboard. Malaysia won the gold and Indonesia the bronze.
---
June: SJIʹs Seeds of Society Emerged as Champion of SAGE SG 2015
By Ben Ng Zheng Nan, Ian Chan Kit Wai, Fiona Chua Jia En and Elisha Yeo Min Yee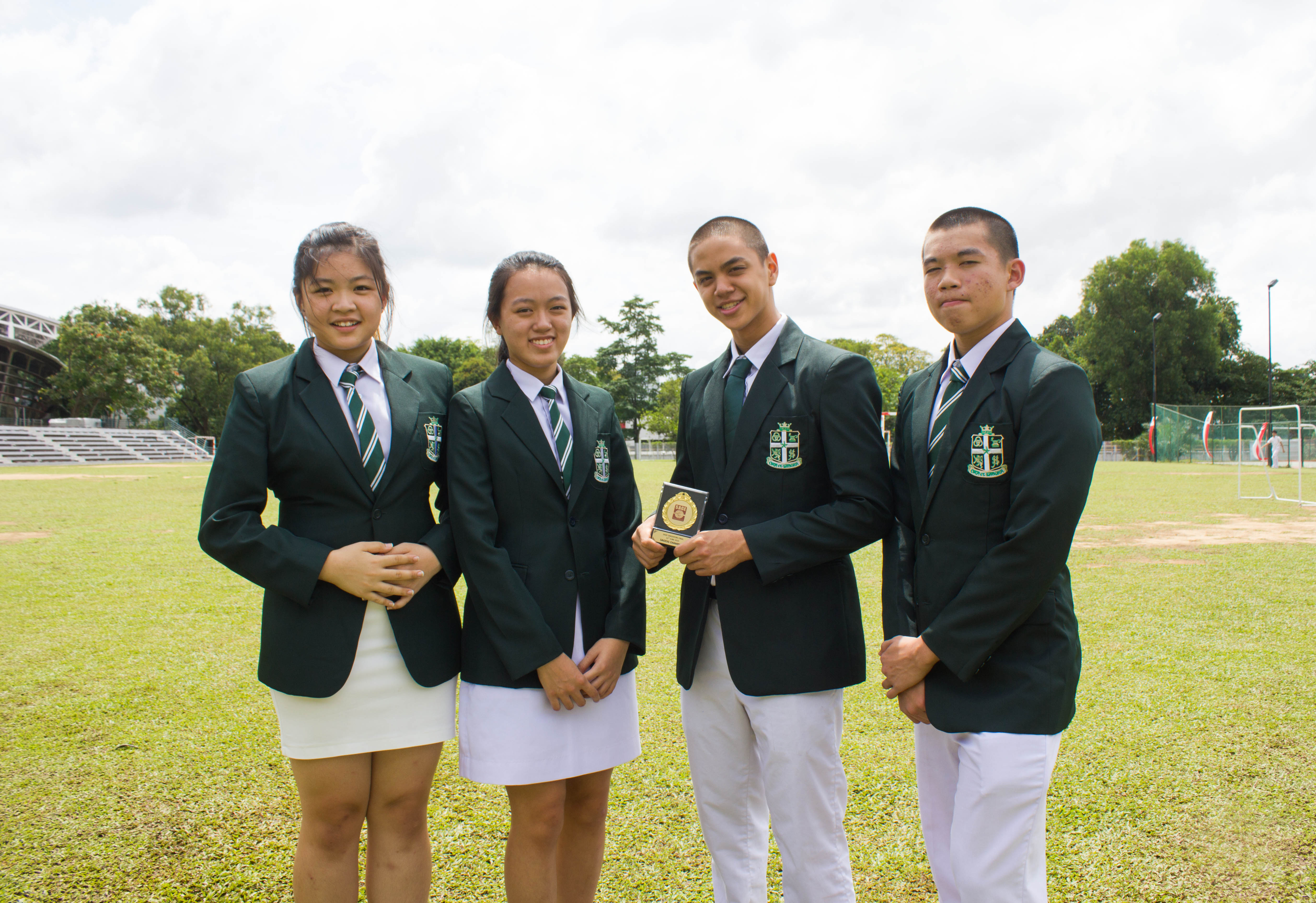 ʹʹA global community of teenage entrepreneurs sharing a common purpose: to make the world a better place.ʹʹ This is the vision of a team of four students from PRISM, the entrepreneurship club in Senior School. Towards this end, the team, comprising Ben Ng Zheng Nan, Ian Chan Kit Wai, Fiona Chua Jia En and Elisha Yeo Min Yee, participated in the Students for the Advancement of Global Entrepreneurship (SAGE) competition, SAGE SG 2015 competition in March 2015.
SAGE is a global, non-profit organization that connects schools internationally to mentors from local universities and businesses to empower students to make impactful social change through social enterprises. The team brainstormed ideas with our teacher-in-charge and eventually developed and structured a convincing and feasible social enterprise to make meaningful social change. In fact, our final inspiration was completely different from our initial idea; this underscored the amount of time and effort all of us had expanded in this meaningful initiative. However, through a series of feedback sessions with our mentor from SMU, as well as our teacher-in-charge, we drastically revolutionized our idea to that of a more sustainable and practical enterprise.
During our planning phase, we visited many intellectually disabled homes in Singapore. We were surprised to find that the residents would idly sit by every day. In some homes, physiotherapy sessions were conducted, but these were only two hours twice a week; this was simply insufficient for healthy adults! This tugged at our heart strings. Unbeknownst to the public, these residents have their moments of joys and sorrow, ups and downs even hopes and dreams. Thus, keeping them isolated in a home may not be the best way to ʹʹmanageʹʹ them. And this was what motivated the development of our new social enterprise, Seeds of Society (SoS).
Our business plan revolved around creating opportunities for meaningful engagement of individuals with intellectual disabilities in homes by involving them in the hydroponics farming process. Hydroponics farms and kits would be constructed in these homes, where the residents would be taught to care, harvest and maintain the crops. They would also be roped in to help market the vegetables. Along with the help of staff, they could subsequently sell these vegetables to the public. With this, we hoped to kill the proverbial two birds with a single toss of a rock where the residents would be meaningfully engaged physically and mentally, while the public would start to view them as assets in our society rather than to outcast them. We also plan to use e-commerce to increase awareness of the sales of the hydroponic crops and to educate the public that the intellectually-disabled persons are an integral part of society who are under-appreciated and misunderstood.
SoS plans to expand this business concept to other homes in Singapore such as the Thye Hua Kwan Home. Taking a longer term view, we hope to eventually involve displaced professionals from Silver Spring to help the projects in the various homes once it achieves sufficient economies of scale.
We presented our idea to a panel of judges through a series of pitches. We made it through the quarter-finals, semi-finals and eventually reached the finals. It was during this period, that our idea underwent the most changes. We faced many constraints, the biggest of which was the initial investment cost needed to fund the construction of a hydroponics farm in homes. This gargantuan sum, usually costing a few thousand dollars, was simply too risky for a home to invest in. We had our backs against the wall, and with the semi-finals coming up in two weeks, we could not overcome a major loophole in our plan.
As the saying goes, ʹʹwhere there's a will, there's a wayʹʹ. We crafted compact hydroponics kits that were space efficient and cheap enough to be adopted by homes. Made of styrofoam and containing eight netted pots, each kit cost around $18 but could generate upwards of $350 a year from sales. We even went the extra mile to contact various homes such as Bishan Home and Thye Hua Kwan Home, obtaining letters of their intent to cooperate and work with us. All our efforts eventually paid off as we made it through to the finals in June. On 13 June 2015, Seeds of Society beat five other teams during the SAGESG Finals to emerge as the 2015 SAGESG champion team.
ʹʹDoubt kills more dreams than failure ever willʹʹ. Yes, while we always had doubts throughout the competition, we never gave up but pushed for what we believed in. Ultimately, our triumph in this national competition symbolizes not only our undying spirit and determination, but the start of a spark which we hope will fuel a genuine acceptance of the intellectually disabled in our society.
---
May: PRISM 2015 Competition Updates
Three teams from PRISM, the Social Entrepreneurship Club of SJI Senior School, participated in the Citi-YMCA Youth For Causes (YFC) 2015 programme in February this year. The initiative is funded by Citi Foundation and aims to promote social responsibility and entrepreneurship in our youths. YFC complements the "Values In Action" programme as part of the Ministry of Education's Character and Citizenship Education. Each participating team will champion the social cause for a Voluntary Welfare Organisation (VWO) of their choice. They are required to pitch to a panel of judges a business proposal that includes the aims and benefits of their plan, the projected financials and the strategy to raise funds and public awareness for their VWO. The judges were "very impressed and inspired" by the business pitches from two of our teams who were awarded S$1,600 each. Over the next few months, YFC will assign mentors to each team and they will also attend the YFC 2015 Leadership Boot Camp to learn how to put their winning ideas into action. Notably, this seed money empowers our students to put into action the values of faith, service and community taught at SJI by multiplying the seed money exponentially to benefit their VWO.
Team Marrow has chosen to champion the cause for the Bone Marrow Donor Programme (BMDP). It is a nonprofit organisation that aims to build a large register of potential bone marrow donors in Singapore, to raise the currently low 1 in 20,000 chance of finding a matching donor. Blood cancer is not a lifestyle disease - it can strike anyone young or old, sick or healthy, weak or strong. Leukemia is the number one killer in children in Singapore and everyday, six people in Singapore are diagnosed with blood-related diseases. But half of them will not survive because there are insufficient donors. Thus, Team Marrow aims to educate the public on leukemia and lymphoma, to raise funds for the BMDP and to encourage more donors. There will be a series of events such as concerts and merchandise sale culminating in a record-breaking number of illuminated balloons in one place. Through this experience, the team aims to bring hope and light to the patientsʹ lives by encouraging the public to heed the urgent need for more bone marrow donors.
GO Make A Difference (Go Mad) has partnered with Breast Cancer Foundation (BCF) to raise awareness that breast cancer is a curable disease if detected early. Currently, breast cancer is the leading cause of cancer among Singaporean women despite the fact that 93% survive if it is detected at the initial stage of the disease. Yet 1,100 cases are diagnosed every year and a large 25% of the cancer patients succumb to the disease. The team feels that the actions taken thus far to promote the awareness of breast cancer require reinforcement.
Towards this end, the team will plan successive activities including a concert and a street sale of pink scarves and pink gerberas. The pink theme ties back to the pink ribbon, which has become an iconic symbol for breast cancer awareness. Each gerberas sold will also come with a note from breast cancer survivors to remind the public that the disease can be overcome with early detection. One of the highlights is a walk-the-street event during which this message will be proclaimed using the symbols of the pink scarves and gerberas.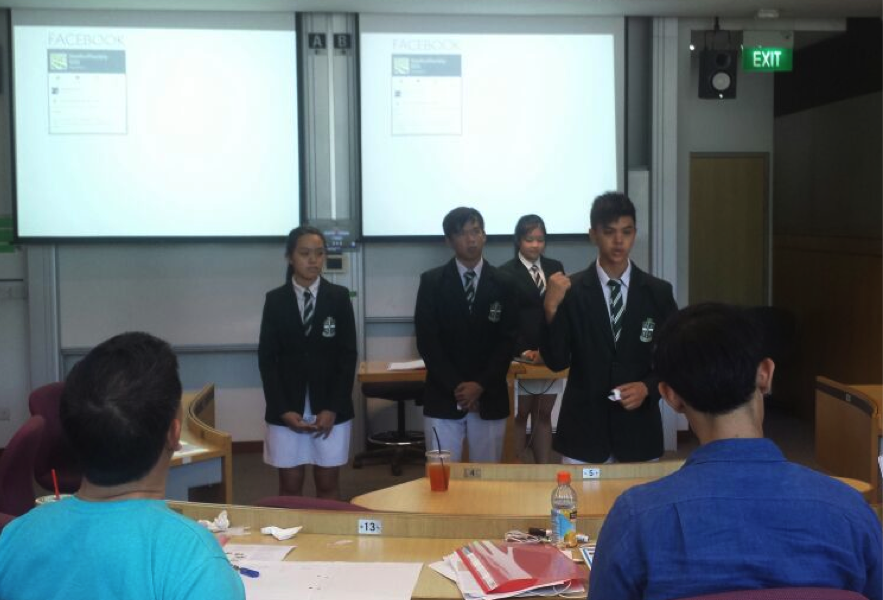 SAGE Teamʹs (S-O-S) Presentation To Panel of Judges
At the same time, four of our members participated in the Students for the Advancement of Global Entrepreneurship Singapore (SAGE Singapore 2015) competition, conducted by the Singapore Management University (SMU). They have successfully passed through a few rounds and have been selected as one of the six finalist teams who will compete in the Grand Finals on 13 June 2015. The winning SAGESG champion team will proceed to represent Singapore in the SAGE World Cup competition.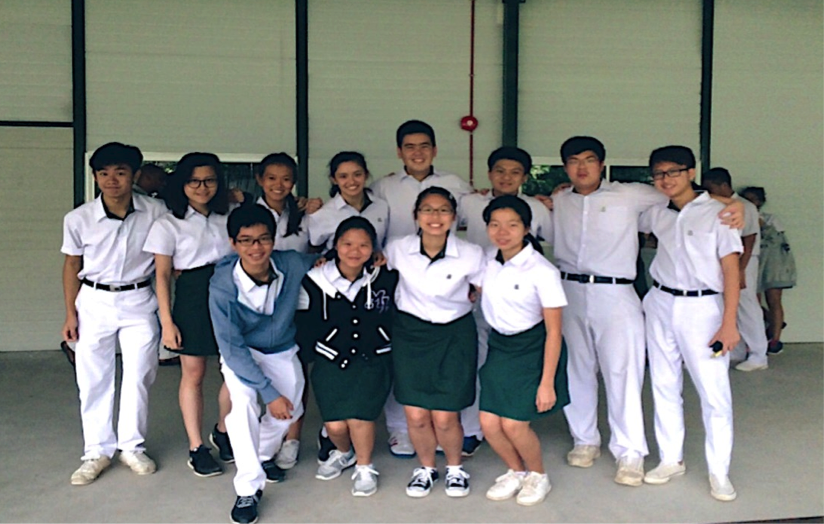 Participants in the IE Global Business Challenge 2015
Three teams from PRISM have also participated in the IE Global Business and have submitted their business plan to the panel of judges on 1 May 2015. The successful teams will participate in the Grand Finals on 9 June 2015. Although this competition has no direct social entrepreneurship relationship, the teams have indicated their desire to donate part of their prizes to a charity of their choice if they win.
---
May: The Art of Science - IDEA 2015: Biodiversity
By Christopher Thian (ML304)
On 30 May, close to 250 Secondary 3 students from SJI and a few participating schools gathered in the SJI Auditorium for IDEA 2015. It was the culmination of months of hard work students spent on their respective ArtScience projects as they competed for the ArtScience Prize. Featuring the ArtScience Prize, students had to invent products and initiatives based on the theme, Biodiversity. The competition challenged students to come up with innovative ideas to solve problems that threaten our planet's biodiversity.
Over the course of five months, students worked in groups to think of inventive solutions to current environmental problems through "blue-sky thinking" and then refining and improving these ideas through the disciplines of Art and Science. This culminated in their final ideas which were presented at the preliminary rounds on the eve of the competition. Many creative ideas were presented; but in the end, the top 8 teams were selected to present their projects at the Finals the very next day.
Students and their innovative projects to solve problems faced by the environment.
The celebration of their ideas started with an inspiring speech by the Guest of Honour Professor Leo Tan, Director of Special Projects in the Faculty of Science at NUS, who encouraged the students to continue innovating as it would be their creativity and ingenuity that would truly change the world. After his speech, the judges worked hard to assess the ideas presented by the eight finalists; they selected two winners. Team Magnum Opus won with their innovative idea of a reverse vending machine that awarded credits when recyclables were put into it. Team Algaenators won with their idea of an attachment for boats that filter harmful algae out of the water. These two groups went to Boston ArtScience Lab in July to interact with winners from the other ArtScience teams from around the world, as well as to work with other experts to further develop their project.
The ArtScience programme was an enriching experience for all the students who participated in the journey. It challenged their minds to go beyond ideas that are already established and encouraged them to think outside the box.
| | |
| --- | --- |
| The Algaenators - Winners of the Singapore ArtScience Prize 2015 | Magnu Opus - Winners of the Singapore ArtScience Prize 2015 |
---
May: Celebrating SG50 with our Pioneers
By Yash Bhojwani (MN202)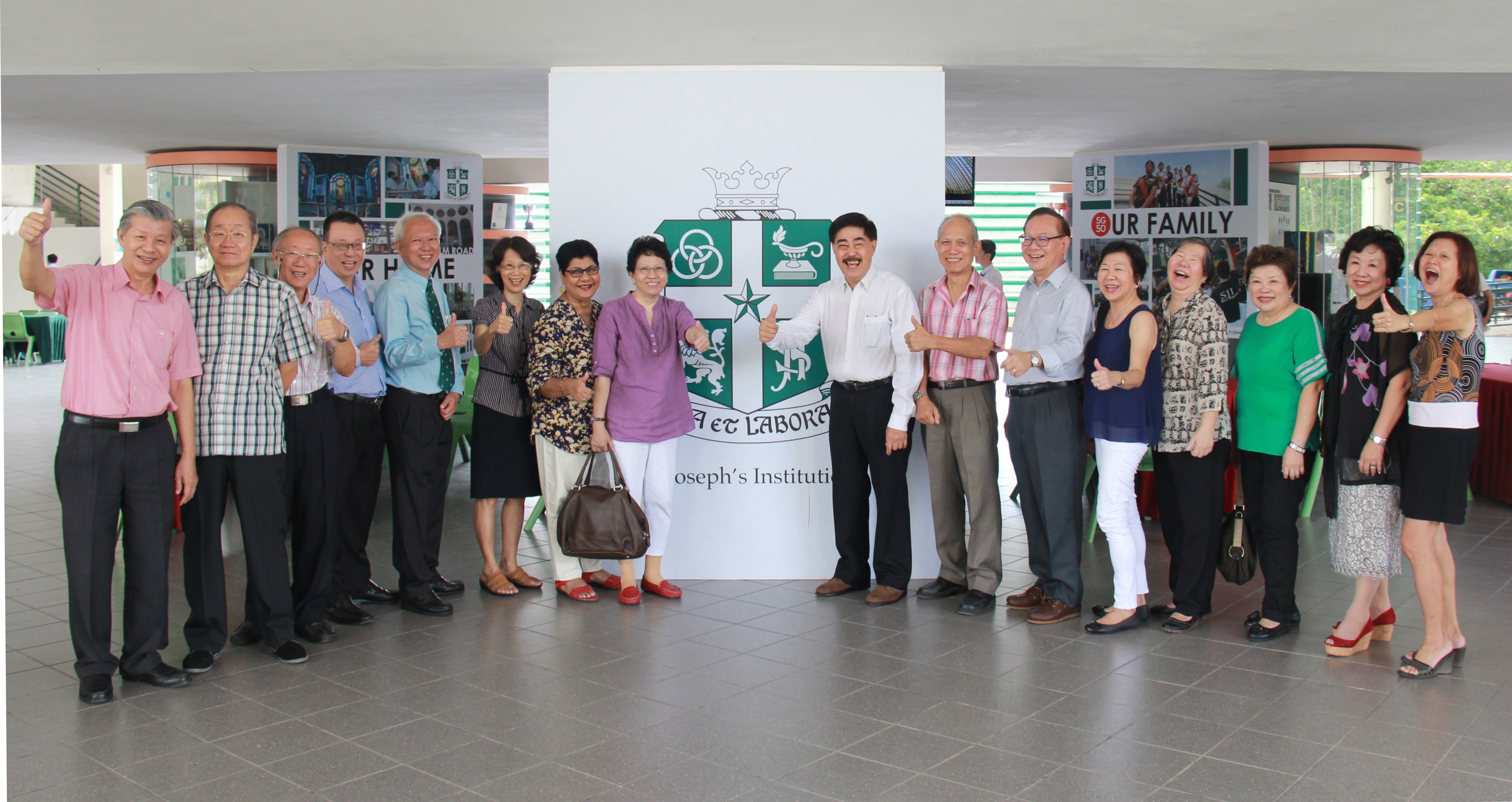 The SJI community cheered as they welcomed the pioneers, our former teaching and non-teaching staff, at a reunion to celebrate Singaporeʹs 50th anniversary. What can be a better way to celebrate Singaporeʹs golden jubilee of independence than bringing the Josephian community back together?
The pioneers were treated to artistic and visual feasts of music, dances and raps, performed by the students from various CCAs including the Guitar Ensemble, Voice Ensemble, SJIʹs Indian Cultural Society, Chinese Cultural Society and the Secondary 2 CAL groups.
Spencer Kwan Ying Zhye (MN202), a member of SJIʹs Guitar Ensemble said that he was proud to carry on the Josephian culture and was delighted to be a part of this celebration. He said that although Singapore has developed in leaps and bounds, the goodwill of Singaporeans and their culture are still intact and he hopes these values will not be lost.
The SG50 celebrations ended with a video montage of pictures of SJI at Bras Basah, and personal photos of many teachers and students of their time. Alan James Bean (MN202) said "Itʹs great to see our school and nation being built into what it is now. We are very grateful to have the pioneers with us."
The pioneers were also given a commemorative SG50 gift bag for their contributions for building the Josephian community.
Alexander Wilfred Chew Fu Chon (LE203), a student helper, noted that "Singapore and SJI would not be what it is today if it werenʹt for them. I guess this gift is just a token of appreciation from the school for everything that they have done for us. Now itʹs our turn to grow this school and nation for the next 50 years!"
Check out the SG50 projects done by the students on our website - https://sites.google.com/a/sji.edu.sg/sji-celebrates-sg50/
---
May: Shoesical: The Musical
By Gregory Tan (JC201)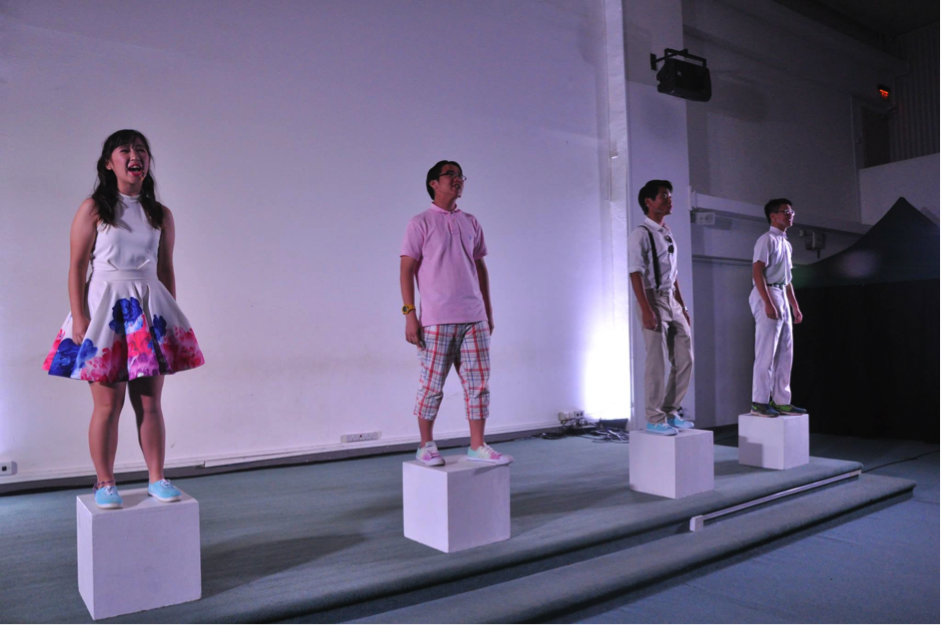 Itʹs a Friday evening in a fully-seated SJI auditorium, the words "life is on its way" are belted out, people are cheering and jumping with their hands in the air. You would think a ʹpraise and worshipʹ session was just held, when really, it was a performance of SJI Senior Schoolʹs first ever original theatre production, "Shoesical: The Musical".
Close to a year ago, I was on a bus when an idea about a musical where mind-controlling shoes cause havoc in a town occurred to me. I could never have predicted that a year later, that musical would be staged by a team of 45 students, costume designers, hair stylists, set designers, directors, actors, producers, musicians, stage crew, writers, and various others. Every single one of them, onstage and off, was greeted by a thunderous ovation after the show.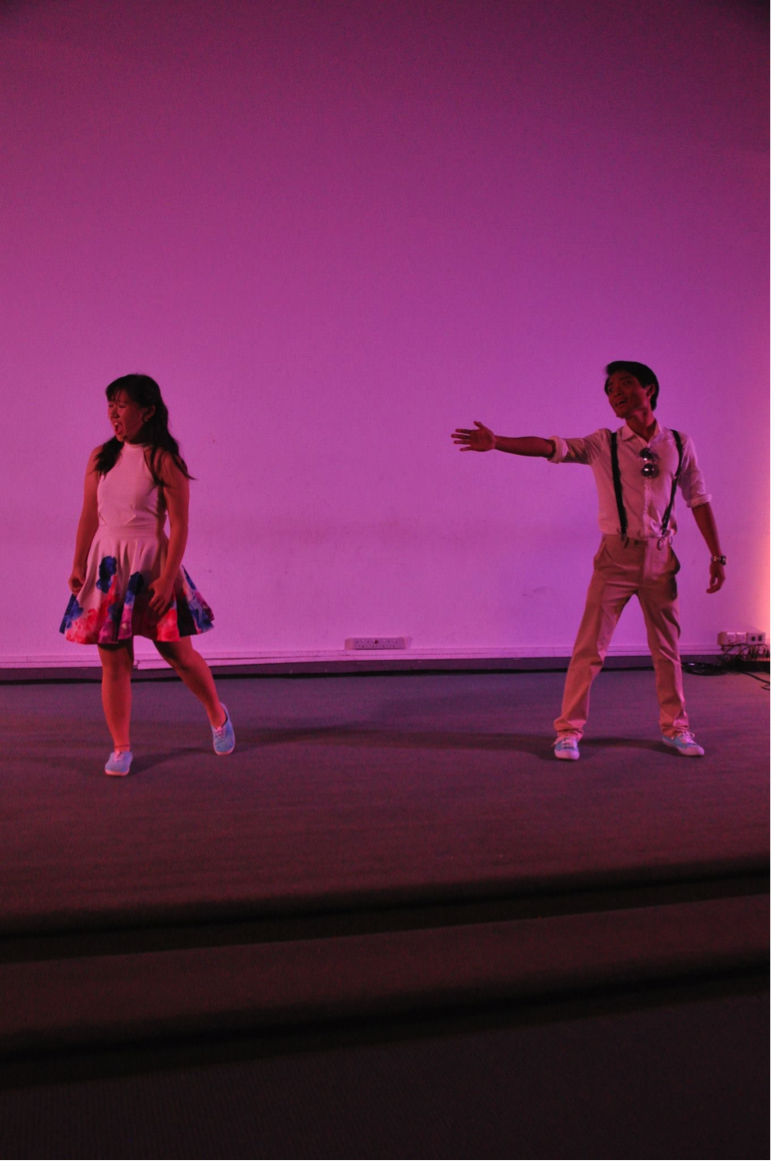 It still boggles me how much has happened between the bus ride and the final bow. It all started with that contagious idea, I decided to share it with a group of my friends (who I knew loved musicals) and, given the nature of senior school, five people came to me the next day asking "Youʹre putting on a musical?!". There was mostly excitement in their voices of course, but there were times when I could detect a hint of concern as well. "Are you sure? Itʹs not easy, you know" and "Are you sure you want to write original songs?" were common questions posed to me, and every time I responded with a "yep". Sure, you could say I was being cocky but what I really was confident in was the people around me, the terribly talented students who pledged to put their hearts into the project.
Over the subsequent months, the producers and writers worked tirelessly to write a working script and acquire a budget. Once that was done, we assembled the bigger team; we announced during assemblies, convinced and coerced our friends into helping us and sooner or later, we had a full production on our hands. What really took me aback was just how much everyone embraced the story and the characters and really made the musical their own. People were volunteering to use their talents in whichever ways helped the production, whether by writing music, designing posters or organising rehearsals. Nobody felt out of place, everyone had a task and everyone fulfilled their tasks passionately.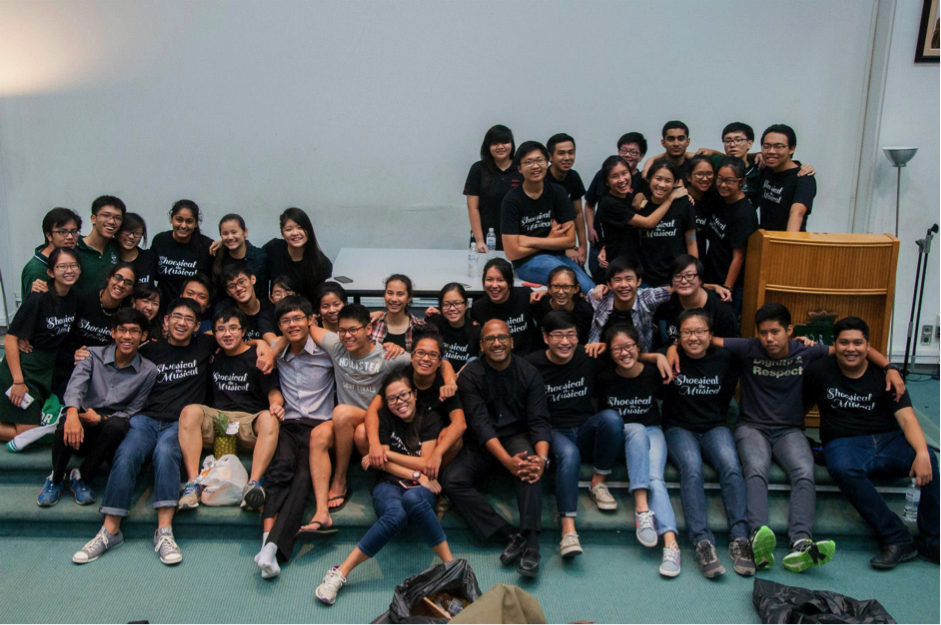 With the help of our teachers - Mr Alan Johnson, Ms Jill McMillan and Mrs Vivian Tan, we put on the show on 22 May and, needless to say, the audience loved it. I felt undeserving in a way to be singled out to represent the musical after so many people have poured their time and energy to turn this into so much more than just a musical. It has been an incredible opportunity for me and so many of my friends to explore and test our abilities. And the fact that this show was even staged at all really speaks volumes about SJI and the people in it.
The musical raised more than $900 for the Red Cross, which will go towards relief efforts in Nepal.
---
May: SJI Alumnus Wins Angus Ross Prize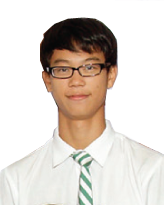 Raymond Scott Lee Chian Hoong (Class of 2012), beat 12,000 candidates worldwide to clinch the Angus Ross Prize, a prestigious literature prize awarded to the best performing non-British candidate in the GCE A-Level English Literature examinations.
The Angus Ross Prize is awarded each year to recognise students' outstanding performance in Cambridge International A-Level Literature in English examinations. This is the 15th year a Singaporean student has clinched the Angus Ross Prize that was first awarded in 1987. It was named after Dr Angus Ross in honour of his long association with Cambridge International Examinations as Chairman of the A-Level English Literature examiners.
Raymond is also an accomplished athlete who is in the SEA Games squad in the 4x400m relay. Click here to read the ST article.
---
April: The (F1) Race of A Lifetime
By Ian Tan Wei, Chow Yan Kai Ernest, Jaren Loke and Quarish Shoeb Burhanuddin (LE201)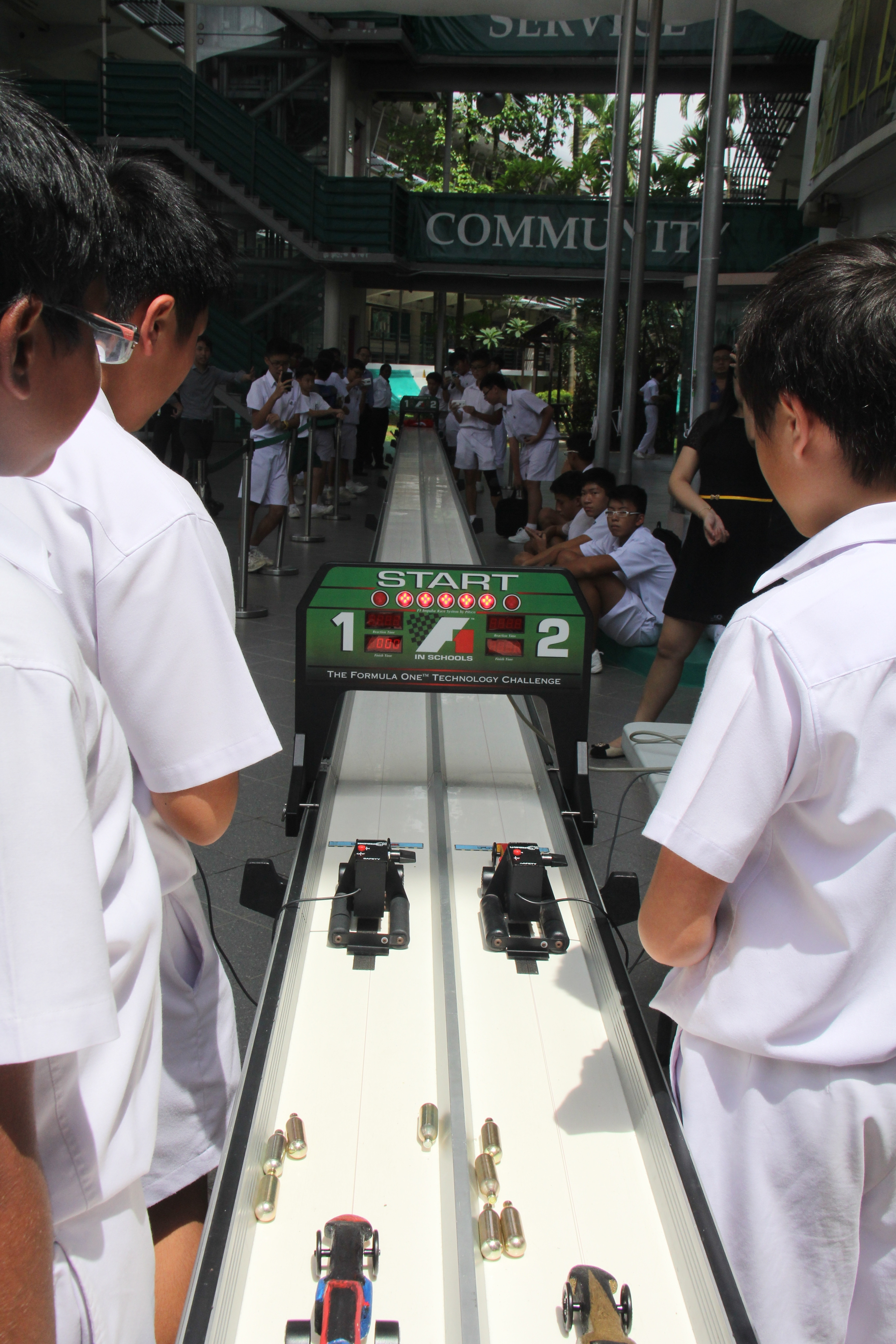 During the eight lessons of our selected CAL (Creativity, Action, Language) module – F1 Build and Race, we learnt many new and interesting things. On the first lesson, we were given a general overview of the plan throughout the course of the module, and we were shown an entertaining video featuring all the past F1 competitions that had taken place around the world!
We also learnt to design our very own model car using the computer software Autodesk. Based on our model drawings on the computer, the models were carved by a machine. We then had to sand, design and paint our very own car models!
Throughout this CAL, we learnt to be independent and to solve the problems ourselves. The last lesson came to a close so quickly – where we will get to race our masterpieces. It was thrilling to see our cars speeding down the track. The race was not just based on how well your car was taken care of and designed, but also on your reaction timing. The amphitheatre was roaring with cheers and encouragements, as many students and teachers were curious and dropped by to watch the races.
---
April: The Hype Carnival
By Lee Rui Zhe & Lee Yhu Fhei (LE302)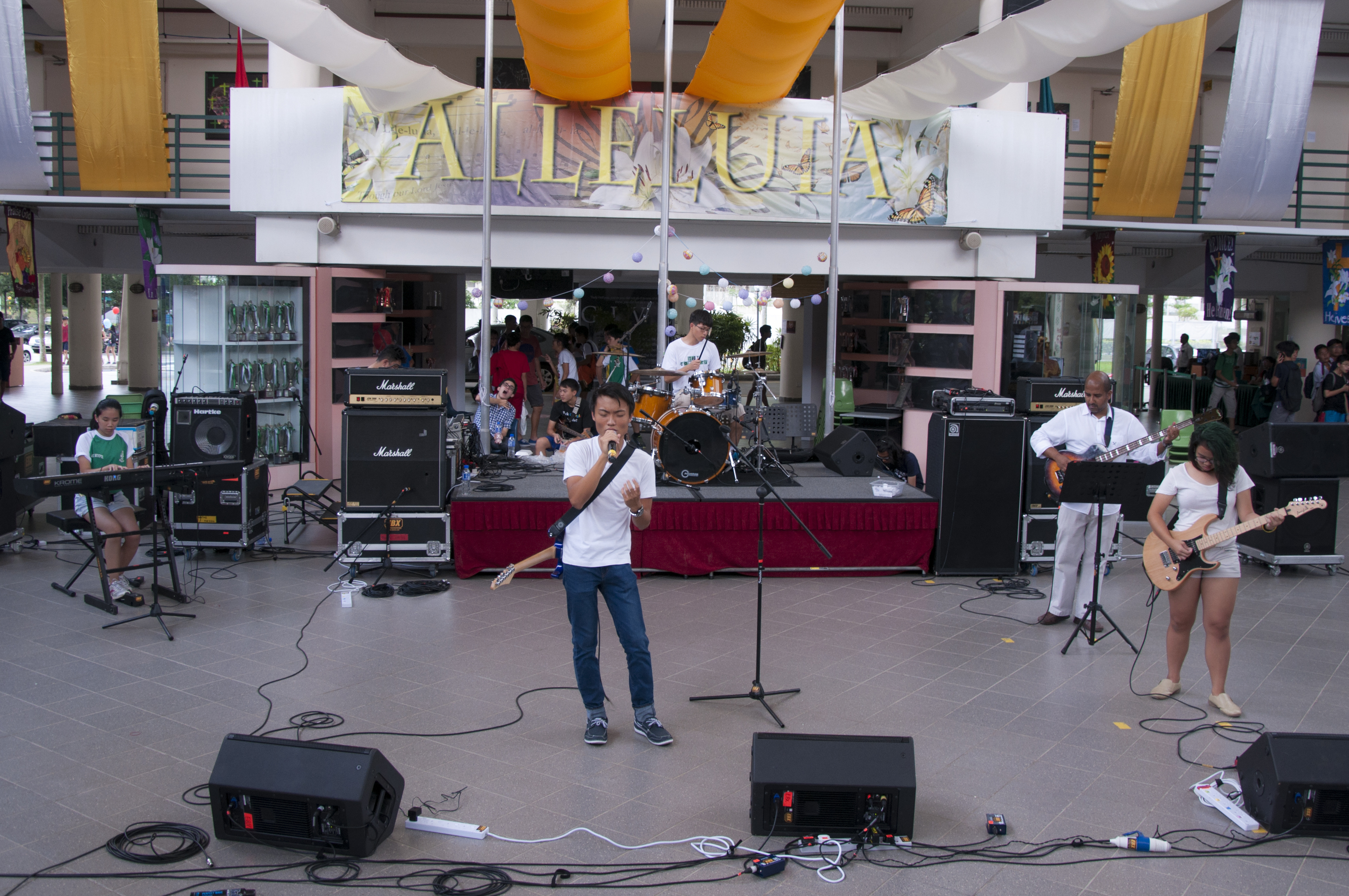 SJI was feeling "The Hype" on 11 April 2015 as the SJI Carnival was one of the most anticipated social event of the year. This was organized by the SJI student council and was open to members of the public, and all revenues generated were used to fund the Lasallian mission for the less fortunate in Singapore. Exhilarating games and exquisite cuisine were run by students and parents at the various stalls, while special performances by teachers on the grand stage hyped up the atmosphere for Josephians and visitors at the carnival.
---
April: Dave Tung Wins 2nd Gold for C-Division 1500m at 4:41.46
Tung Kin Pang Dave (ML201) won the gold medal for the C-Division boys' 1500m at the 56th National Inter-School Track and Field Championships. He clocked a timing of 4 minutes and 41.46 seconds, just 0.02 ahead of Armand Mohan of Raffles Institution. Click here to read more.
---
April: Lord of the Flies – Review
By Radhika Vu Thanh Vy (JC205) & Gregory Tan Wei Yuan (JC201)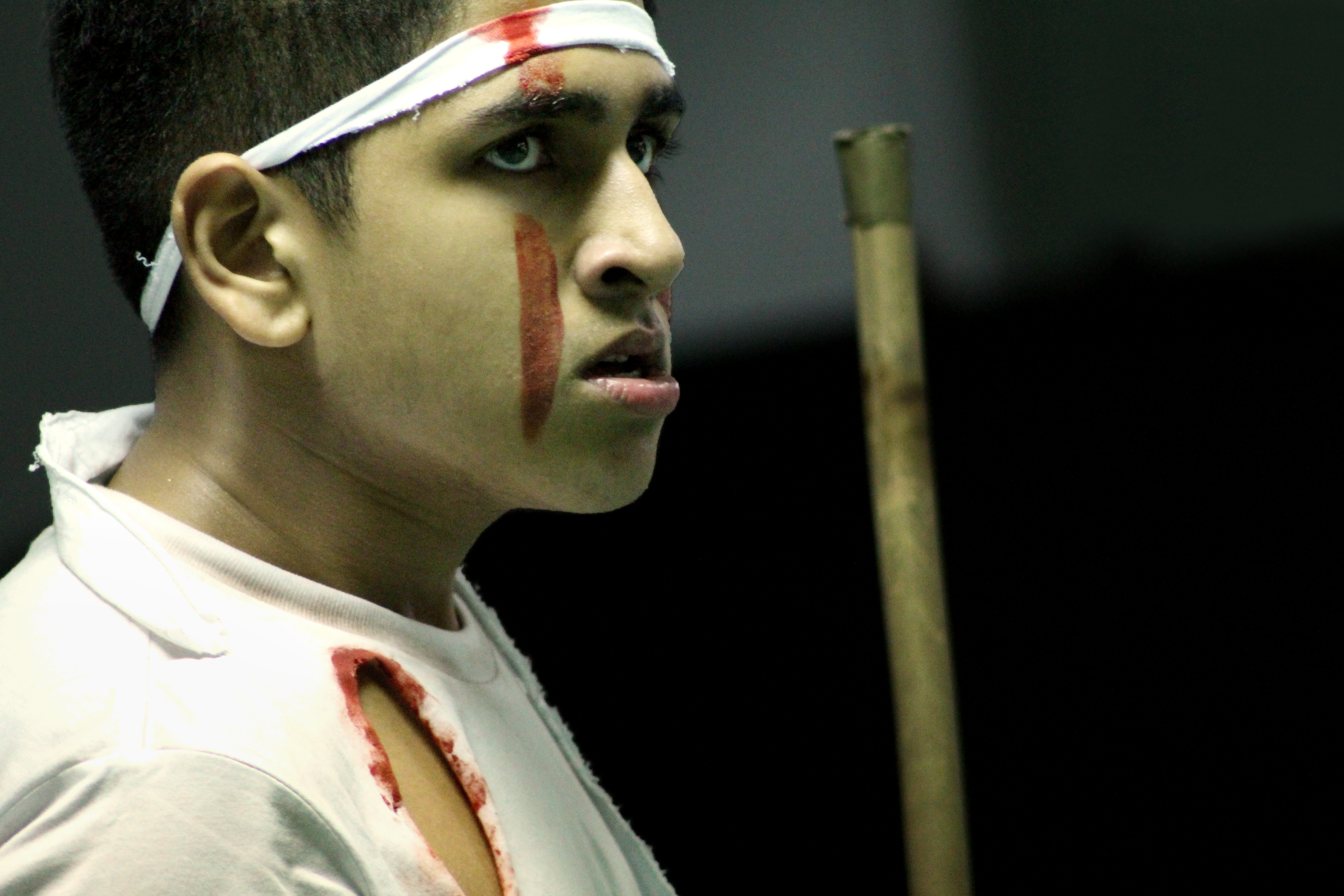 I read Lord of the Flies and adored it, so naturally, I had reservations walking in to this stage adaptation. The source material was gripping and raised pressing questions about the human condition. It would have been a bold undertaking for any theatre group to stage this play. Even more impressive is the fact that it was staged by secondary school students. Fortunately, the bravery paid off, resulting in a very strong performance.
The play tells the story of a group of schoolboys' descent into savagery. Sound and lighting were used effectively to set the atmosphere of each scene; eerie and unsettling at times, calming stillness at others.
The blocking and direction were masterfully worked to highlight the capacity of violence within each character. Jack Merridew, who personifies the worst of human baseness, was portrayed by Dylan Sim who displayed controlled physical movements and precise facial expressions ranging from smugness to torment. Similarly, Shaun Hue showed an impressive emotional range in his performance as Ralph, the chief of the group. The scene of Piggy's death was the highlight of the performance. Brendan Chen gave a bold and powerful performance when Piggy was manhandled by Jack's band of "savages". The scene was made all the more effective by the smart use of staging as Piggy was forced up the aisles of the auditorium creating a gulf between him and Ralph.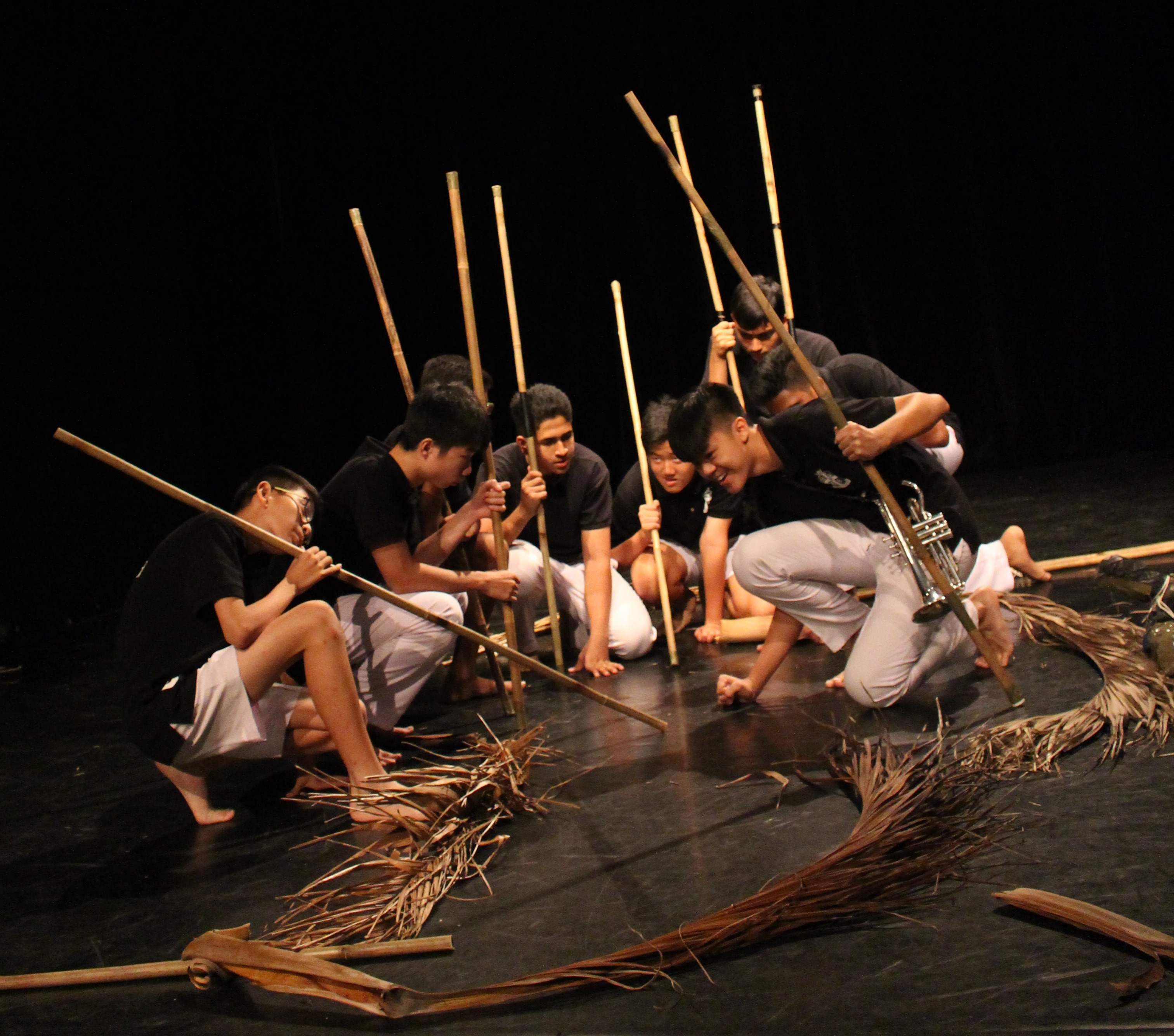 If I had to find a weak point in the play, it would have to be its depiction of the titular "lord of the flies"; the severed head of the pig killed by Jack and his "savages". The symbol did not carry the same weight as it did in the book, perhaps as a consequence of adaptation from page to stage. This was, however a mere speck on an otherwise impressive and memorable production.
---
April: SJI Guitar Ensemble Strums to Distinction at Singapore Youth Festival 2015
By Sheares Toh Xue Wen (FN401), President of Guitar Ensemble and the Exco members
2015 has been an eventful year for the SJI Guitar Ensemble. Only a few months into the year, the senior ensemble participated in the Singapore Youth Festival (SYF), a platform for various CCAs to showcase their talents in the performing arts and also promote the appreciation of the arts amongst the youths.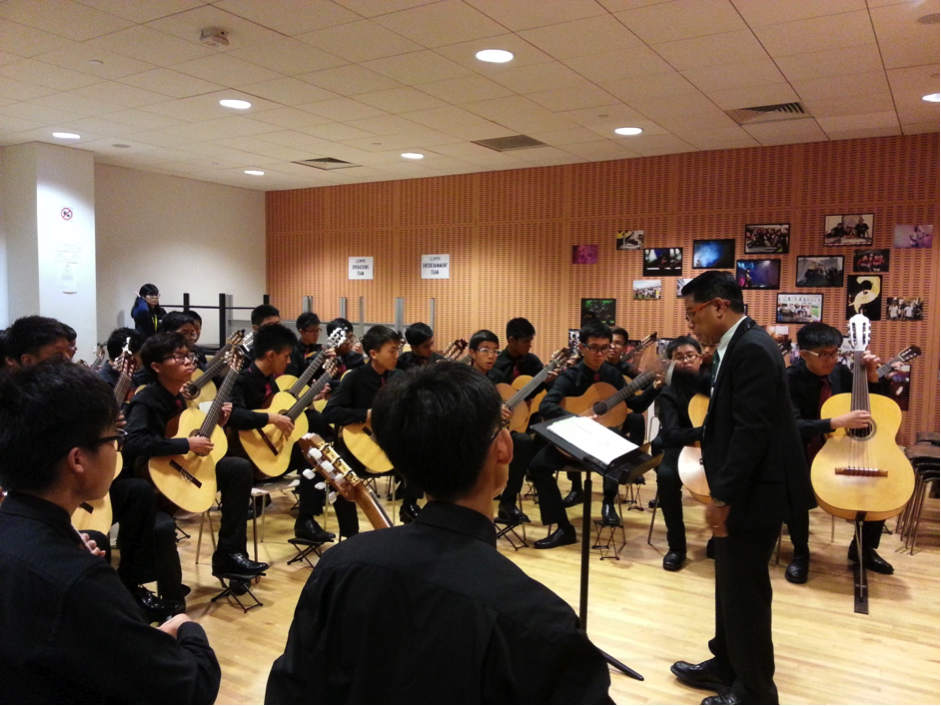 With the instructor, Mr Michael Gaspar, in the tuning room before the SYF performance
Besides the training sessions thrice a week, we had musical exchanges with schools like RI (JC) and ACSI. The ensemble also attended master classes with Prof Ruben Reyes from the Conservatory of Music, Centro Escolar University in Manila, and Mr Kazuyuki Terada and Mr Yoshinori Takeuchi, both master conductors from the Niibori Academy, Japan. Through the vigorous training and exchanges, our ensemble improved and peaked, and the members gained greater confidence with each training session.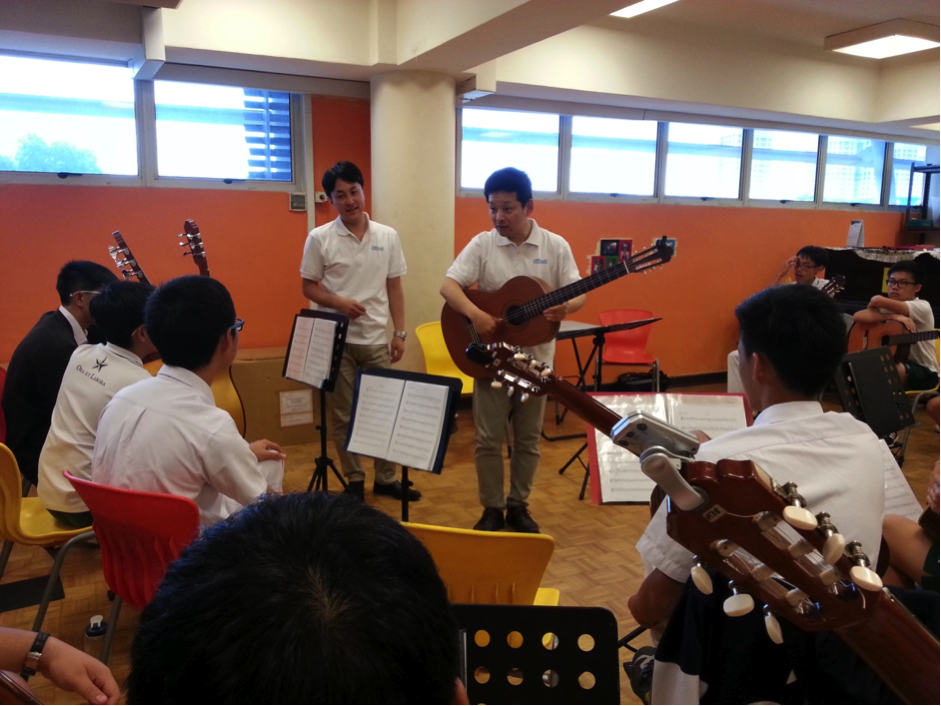 Master conductors, Mr Kazuyuki Terada and Mr Yoshinori Takeuchi from the Niibori Academy Japan conducting a master class for the Guitar Ensemble
On 16th April, our ensemble participated in the SYF Arts Presentation for Instrumental Ensemble (Guitar). With the unwavering support and guidance from our instructors, CCA teachers, the junior ensemble and God, the SJI Guitar Ensemble was awarded the highest certification, Distinction.
---
April: SJI Paints in the Neighbourhood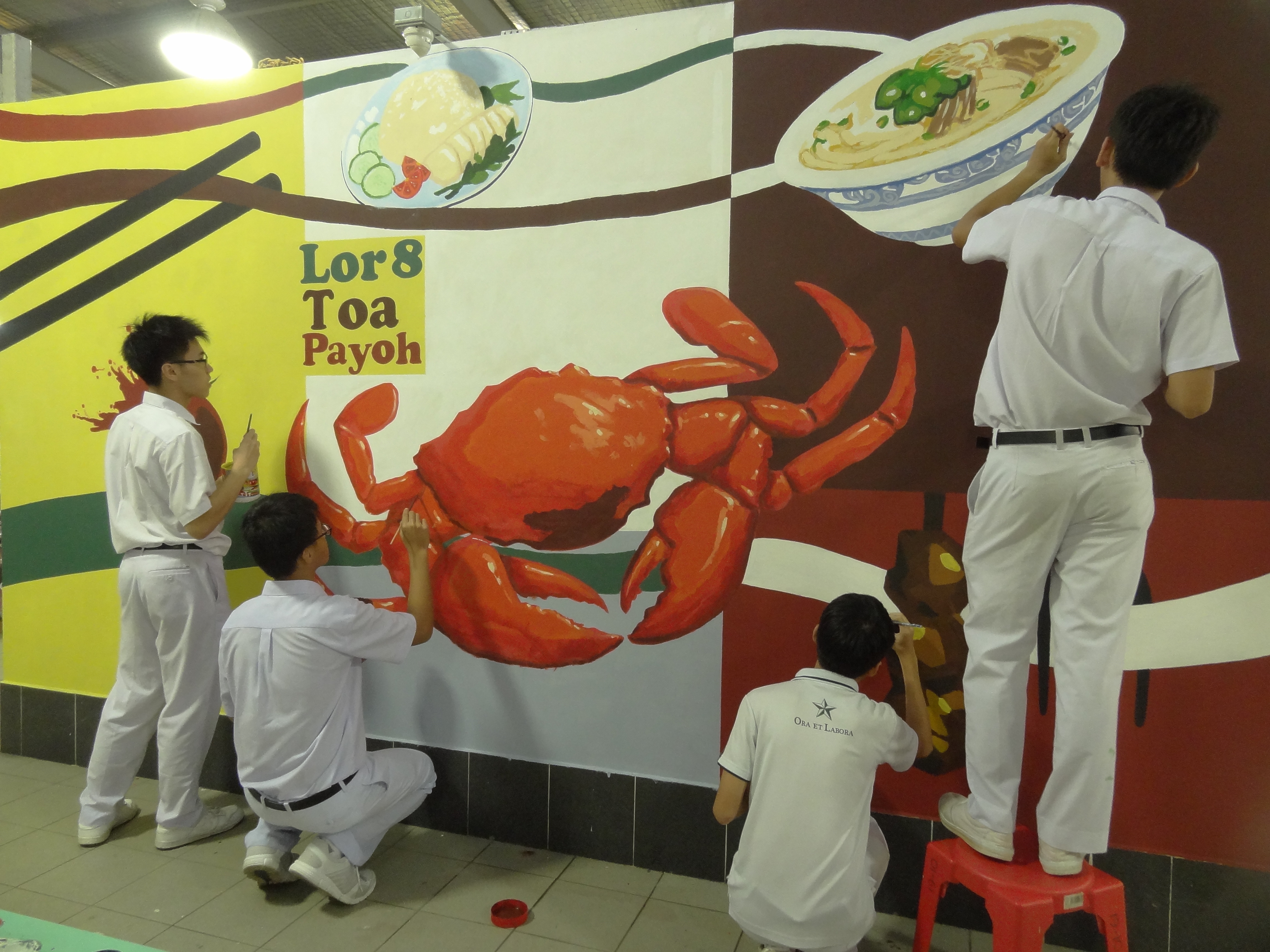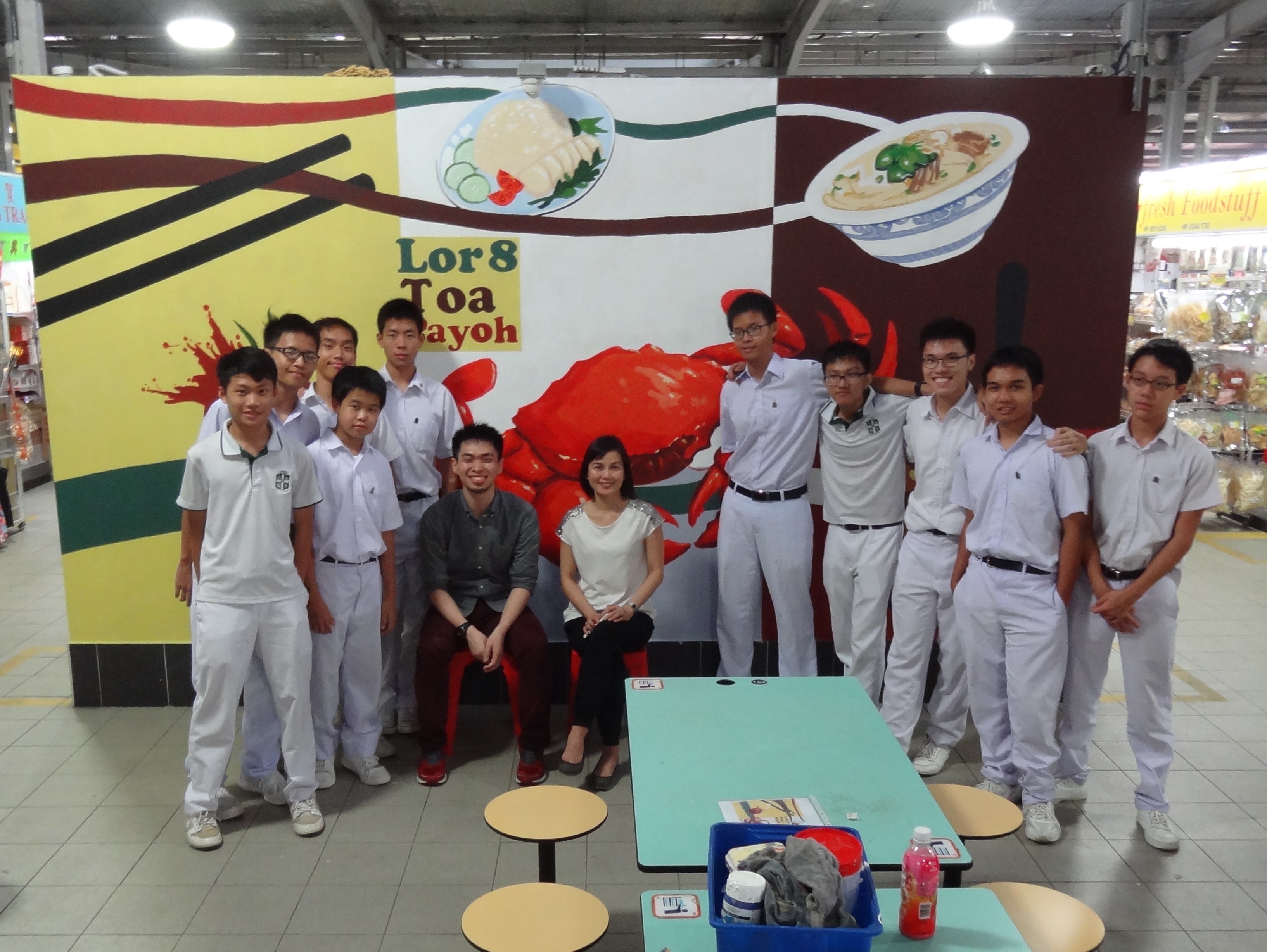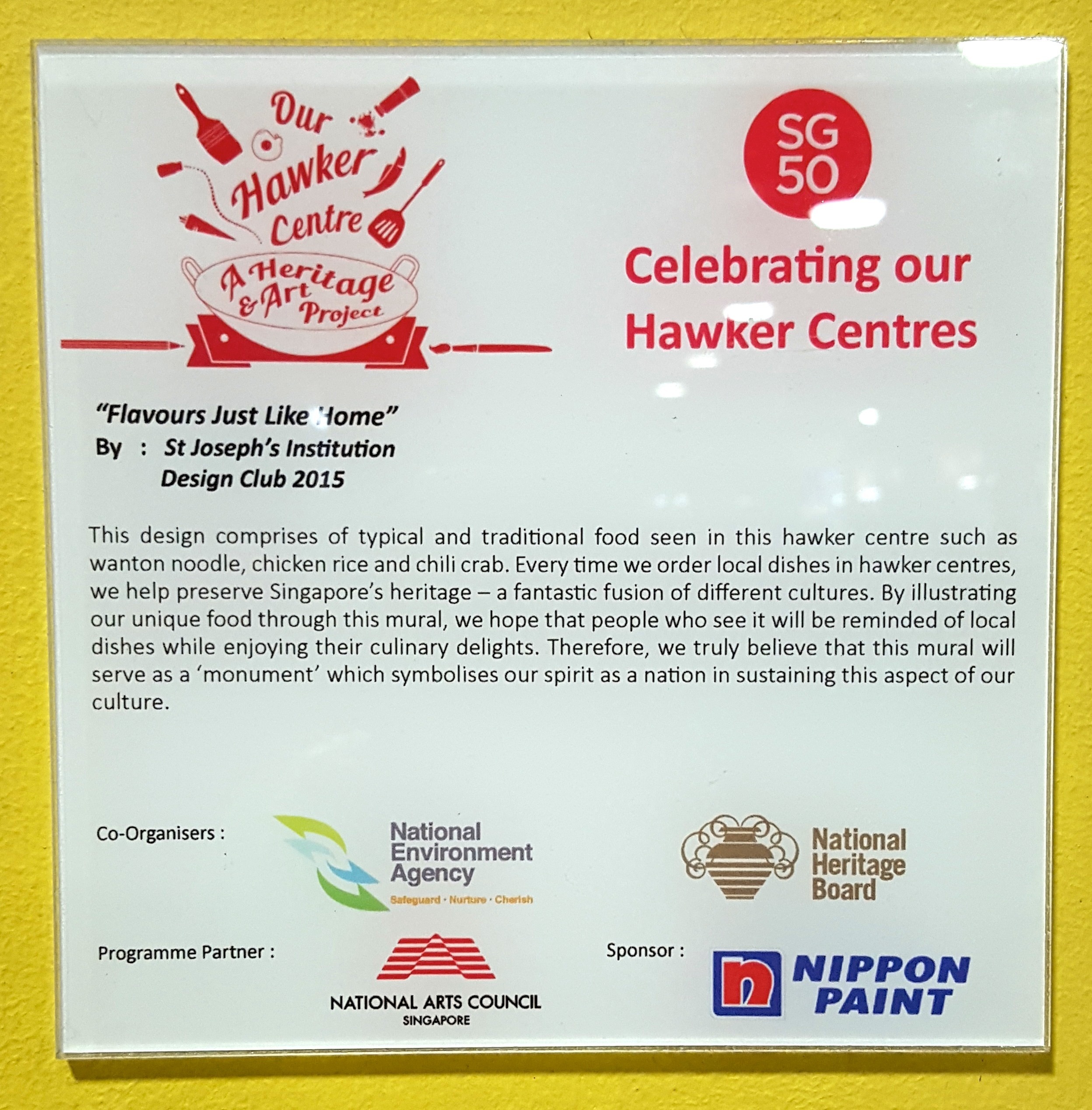 Students from the SJI Design Club adopted a wall at the hawker centre at Toa Payoh Lorong 8 and transformed it into a food mural, as part of the national project "Our Hawker Centres – A Heritage & Art Project". The boys together with their teacher Mr Alfonsus Wong, spent 23 hours across six weeks to paint local cuisine such as chilli crab and chicken rice.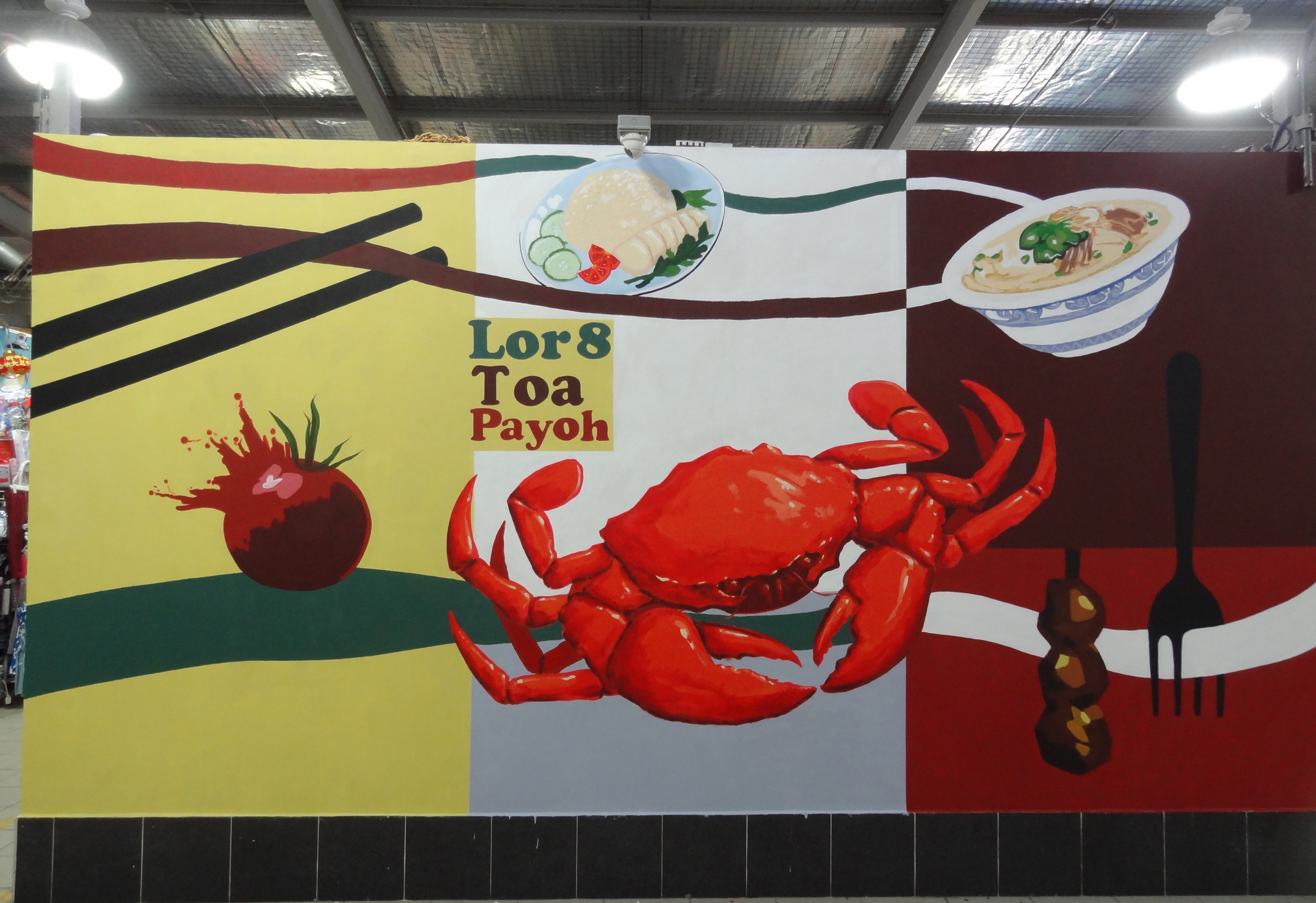 More details on Channel NewsAsia (5 April 2015): Hawker centres to be spruced up with murals and art installations.
---
April: An Amathzing Race for SJI
By Ezekiel Young (ML303)
| | |
| --- | --- |
| The Champion - SJI's Team 3 from FN303 | The boys working hard to solve the mysteries at the AMathzing Race |
On 10 April, SJI Secondary Three students brought glory to the school with their achievements in the AMathzing Race organized by the Catholic Junior College Mathematics Society. After a rigorous race against time and teams from CHIJ Secondary and Maris Stella High School, SJI Team 3 with team leader Tran Nguyen Manh Thien, Nguyen Huu Thinh, Gu Xian Rong and Zhou Zi Tong from FN 303 emerged as the champion. Close behind them, second overall, was SJI Team 1, with team leader Ezekiel Young, Lee I-Shiuan, Angelo Kristoff Manuel Macario from ML 303 and I Gusti Ngurah Ryan Maheswara from MN 302.
The inter-school competition featured eight stations with topics ranging from binary and bases to the Fibonacci sequence and infinite geometric sequences.
---
April: SJI wins 3rd place at the Young Mayor Competition 2015 - Planning a Clean and Green Township
| | |
| --- | --- |
| The 2 teams with Prof Leo Tan at the finals | The SJI team that won 2nd runner up prize |
SJI boys won the 2nd runner-up position in the Junior category of The Young Mayor Competition 2015 – Planning a Clean and Green Township. Targeted at youth leaders between 14 – 26 years old, this international township planning competition hopes to nurture youth leaders for a sustainable future. The theme for 2015 is Planning a Clean and Green Beautiful City, Manila. Participants are required to submit a written proposal of the township taking into account various sectors of Housing, Parks and Recreation, Commercial, Water usage, Waste. Successful participants will proceed to the semi-finals where they will give a 20 minute presentation on their case study. The finalists will then present their model city.
| | |
| --- | --- |
| The SJI Millenial Manila Team with their model | The SJI Building Block Team making their model |
SJI sent four teams to take part in this competition, of which two teams were shortlisted for the finals. The winning team comprised of Hari Menon (ML304), Nicholas Pua Hsien Han (ML304), Chew Ann Kim (ML301), Zachary Yee Zhuo Zeng (ML301) and Ham Wee Jian James (ML304) submitted a proposal on how to rejuvenate Manila and make it more enticing for investors, tourists and its own citizens while staying true to the goal of being "green". Their proposal included plans to implement OLEV (on line electric vehicles), COMETS and charging stations on OLEV roads. To overcome the problems with housing and water, the group also proposed using models similar to Singapore to create a more liveable and sustainable city for Manila.
---
April: SJI Celebrates Founder's Day
By Lee Rui Zhe (LE302)
More than three centuries ago, Saint John Baptist de La Salle founded the Institute of the Brothers of the Christian Schools. A few hundred years later, on this day every year, his legacy is celebrated by the Lasallian schools that have since sprung up around the world and he is remembered and revered for his dedication towards educating the less-privileged. Distinguished alumnus Mr Eugene Wijeysingha (Class of 1953) was the Guest of Honour to celebrate this joyous occasion with us. Along with this, the school also celebrated the academic and sports achievements by our fellow peers and schoolmates, attained through consistent hard work and determination. Enthusiastic applause and loud cheers could be heard throughout the ceremony as Josephians congratulated their peers on the fruits of their labour.

Academic prize-winners from Class of 2014
---
April: SJI Canoeists Paddle to National Championship
| | |
| --- | --- |
| B and C Divisions of SJI Canoeing Team 2015 | National Champions - SJI's C Division canoeists |
The SJI canoeists endured months of exhausting training sessions in the blistering heat at MacRitchie Reservoir. At the National Inter-school Canoeing Championship held from 6th to 9th April 2015, the boys paddled their way to clinch the National Champions title for the C Division and a Bronze for the B Division. This is the second consecutive year that the C-Division boys have won the National Championships.
---
April: Tribute to Goh Yong Hong (1939 - 2015)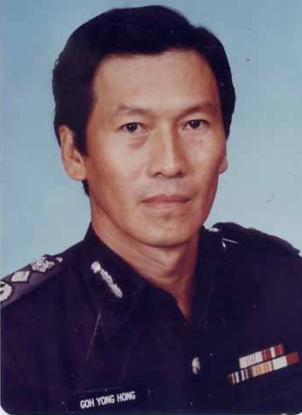 SJI alumnus Mr Goh Yong Hong, the former Commissioner of Police passed away peacefully at age 76 on 10 April 2015.
Yong Hong was also an alumnus of St Anthony's Primary School and he completed his 'O' levels and pre-university education at SJI in 1955 and 1958 respectively.
He joined the Singapore Police Force in 1961 and retired as Commissioner of Police in 1992. Over his 31 years of service, Yong Hong held various appointments in police land divisions and the Criminal Investigation Department. He became Deputy Commissioner of Police (Operations) in 1976 before assuming the position of Commissioner of Police in 1979.
During his 13-year term as Commissioner of Police, he initiated community policing. The Neighbourhood Watch Scheme and the National Crime Prevention Council were set up in 1981 during his watch. In 1983, he oversaw the set up of the Neighbourhood Police Posts, which marked a shift from reactive, investigation-based policing to a more proactive policing approach that emphasized prevention and community co-operation. During his tenure, he also introduced new technology to improve police operational and investigation capabilities.
The SJI community prays for the repose of his soul. May he find eternal rest and peace in God.
---
April: Tribute to Bernard Chen Tien Lap (1942 - 2015)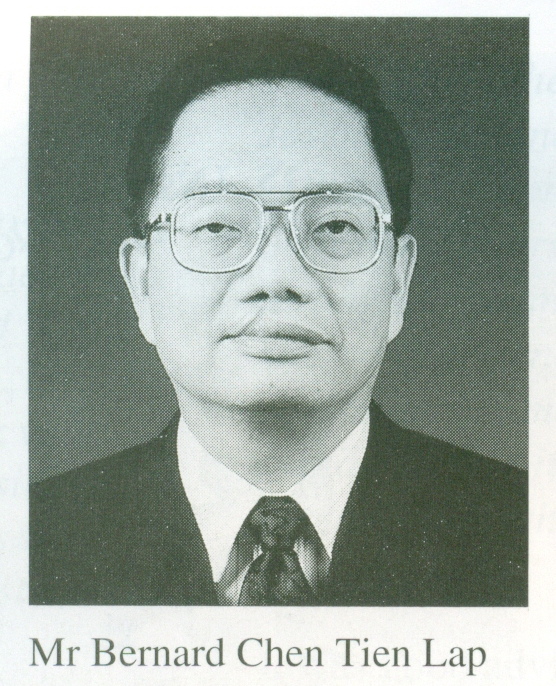 The SJI family is saddened by the news of Mr Bernard Chen Tien Lap who passed away on 8 April, at age 73. Bernard completed his 'O' levels and pre-university education at SJI in 1960 and 1962 respectively. He served in SJI's first Board of Governors (BOG) since August 1987 and was the Deputy Chairman of 3rd BOG until he stepped down in January 1995.
The former Minister of State for Defence and Member of Parliament was a strong advocate of family values and education. He was Chairman of the Archdiocesan Commission for Catholic Schools (ACCS) for 10 years and also the Chairman of Catholic Junior College Management Committee.
He began his distinguished career in the Public Service in 1967 in the Economic Development Board (EDB) and subsequently served in the Ministries of Defence and Finance before becoming Minister of State for Defence from 1977 to 1981. He represented the constituencies of Radin Mas, Clementi, Pasir Panjang, Brickworks and West Coast as a Member of Parliament over a period of more than 20 years. After retirement from public office, Bernard contributed his wealth of management experience to the development of Singapore's private sector as General Manager and Director of Fraser & Neave (F&N) and Chief Executive Officer of Intraco. He was also Chairman of Singapore General Hospital and a Director of DBS Bank.
Deeply concerned about promoting the welfare of workers, Bernard served as Adviser to the Union of Keppel Shipyard Employees of Singapore and later as a Director of the Singapore Labour Foundation. For his contributions to the union movement, Bernard was awarded the NTUC Friend of Labour Award in 1979 and the NTUC Meritorious Service Award in 1986.
The SJI community prays for the repose of his soul. May he find eternal rest and peace in God.
---
April: SJI Commemorates Easter Triduum
By Wong Kai-En Matthew Ryan (JC104), Hoang Quang Anh and Tan Jia Jun Bryan (ML201)
Maundy Thursday, also known as Holy Thursday, is the Christian holy day before the Easter Triduum, where Christians commemorate the Last Supper of Jesus Christ with the Twelve Apostles, and are given the commandment to love through the ritual washing of the feet, a gesture of love and humility. This year, the ritual of the washing of the feet was performed by the Lasallian Brothers for the canteen staff at the morning assembly, as an act of service and gratitude towards them, while the SJI Vocal Ensemble sang their hearts out in unity.
In the evening, Deputy Principal Fr (Dr) Adrian Danker SJ, celebrated the mass and shared in his homily about remembrance and memories of our lives. This was followed by the washing of the feet of 12 SJI students, before the Eucharistic celebration. After the mass, an entourage of students departed in three groups for church visitations throughout the night at St Peter and Paul, St Joseph's Church at Victoria Street, St Ignatius, Blessed Sacrament Church, Church of Risen Christ and Holy Spirit.
Christ is Risen! Alleluia!
Friar Mike began the Easter Monday assembly with a short explanation of the true meaning of Easter and why it is known as such. He then proceeded to explain that Easter, a festival that we commonly associate with chocolate eggs and cute bunnies was actually a time to reflect upon our responsibilities. This was followed up by a few examples of how we as Josephians could uphold the values of our school mottos: Faith, Service and Community. The assembly concluded with 'A Prayer for Others' and the distribution of chocolate eggs, a symbol of the new birth and new life.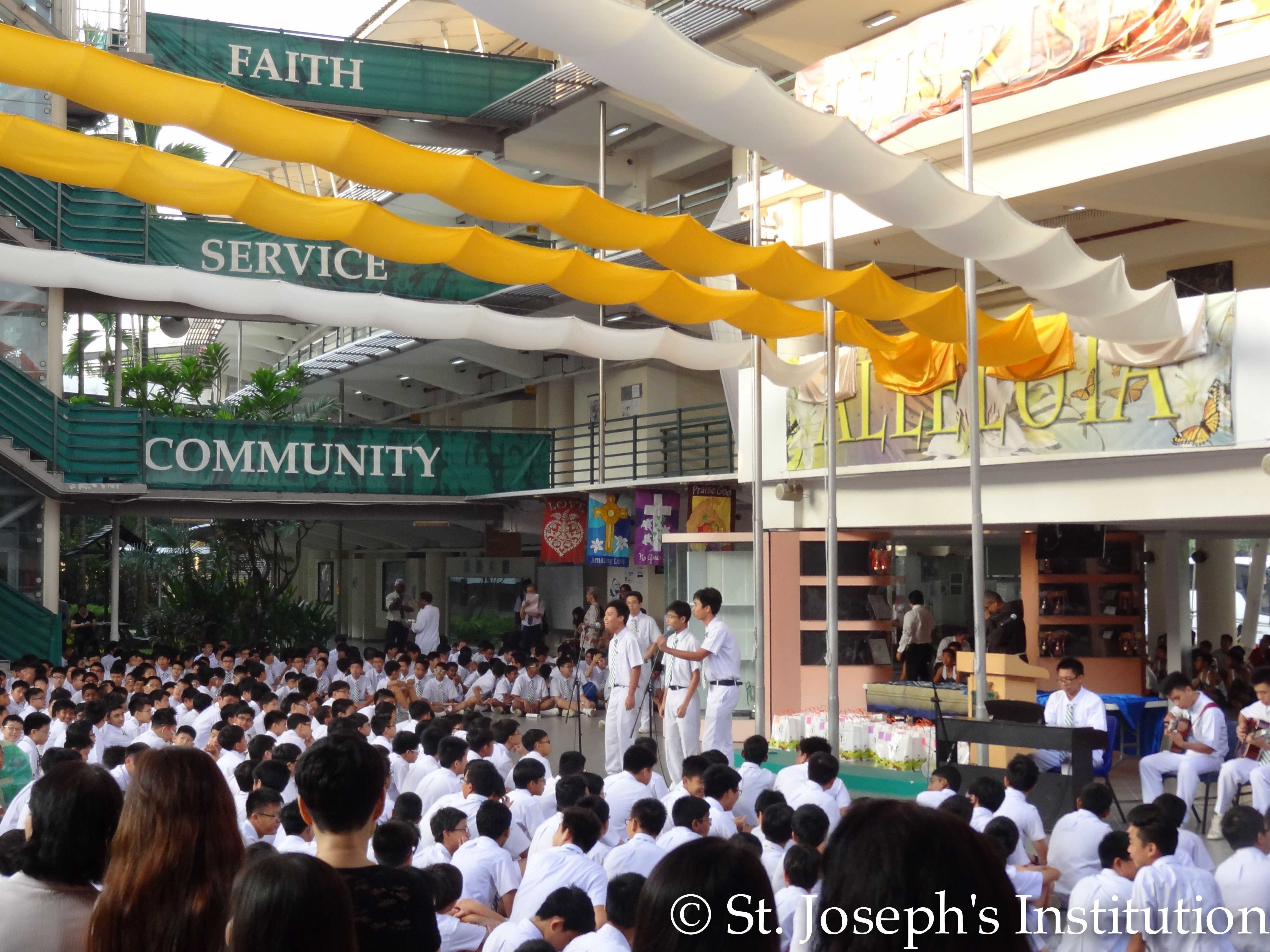 SJI students singing Alleluia at Easter Monday morning assembly
---
April: SJI wins first football title in 30 years
SJI claimed its first football title in 30 years when the team beat Queensway Secondary School 1-0 in the finals of the National Schools' South Zone B-Division Football Championship at SAFRA Tampines yesterday.
Read more in TODAY.
View the winning moment:
video to be embedded here
---
April: SJI Judokas at the 49th National Inter-School Judo Championships 2015
The SJI Judo 'B' Division Team won the Silver medal in the National Inter-School Judo Championships (Team). At the individual championships, the Judokas took home a Silver and 3 Bronze medals - by Jeremiah Toh Rabino (LE202) for 'C' Division Feather Weight Category; Asai Taisei (FN402) for 'B' Division Feather Weight Category; and Eu Chun Kang (LE401) for 'B' Division Heavy Weight Category. Teh Wei Yih (LE203) won a Silver in the 'C' Division Boys Extra Light Weight Category.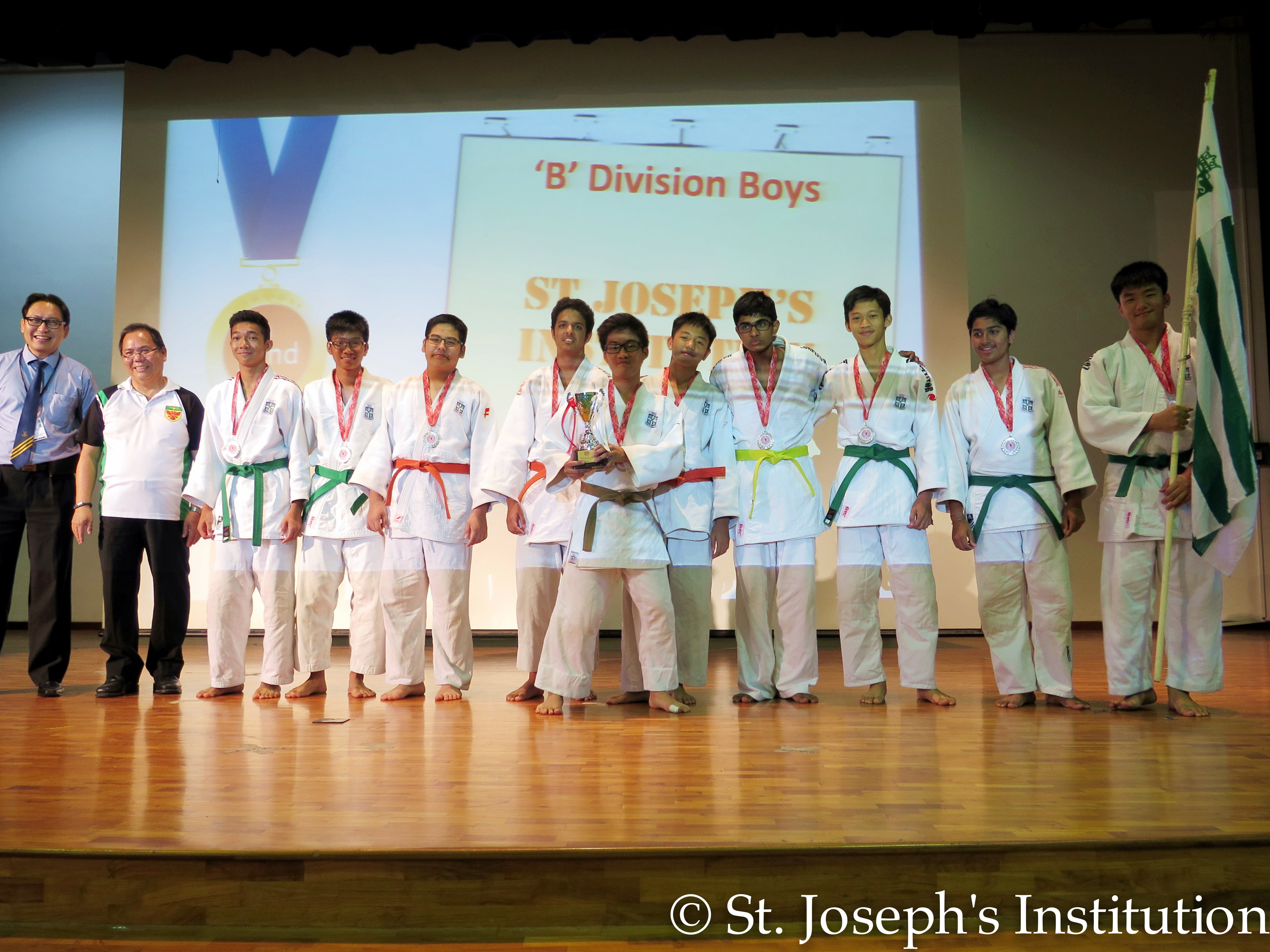 ---
March: Reading Circle Training Workshop
By Mrs Mishaelle Chua (English Language Department)
Mr S.Rajaratnam, Singapore's first Foreign Minister, once said, "Reading literature gave (me) wisdom, humanity and a capacity to empathise with others."
Through Reading Circles, our students learn to extend themselves – mind, heart, interests and passion – into the topics that were discussed. This self-extension makes reading a personal experience for our students which ultimately, develops their empathy skills. Armed with this fundamental belief, the English Language Department conducts the yearly Reading Circle Training Workshop to selected Secondary One and Three students so that they can become facilitators during Reading Circle discussions in class. Through regular discussions, our students will find greater meaning and enjoyment in reading and develop greater empathy towards others. This is the sixth year we have conducted our Reading Circle Training Workshop and the third year we have conducted our in-house workshop via our student leaders.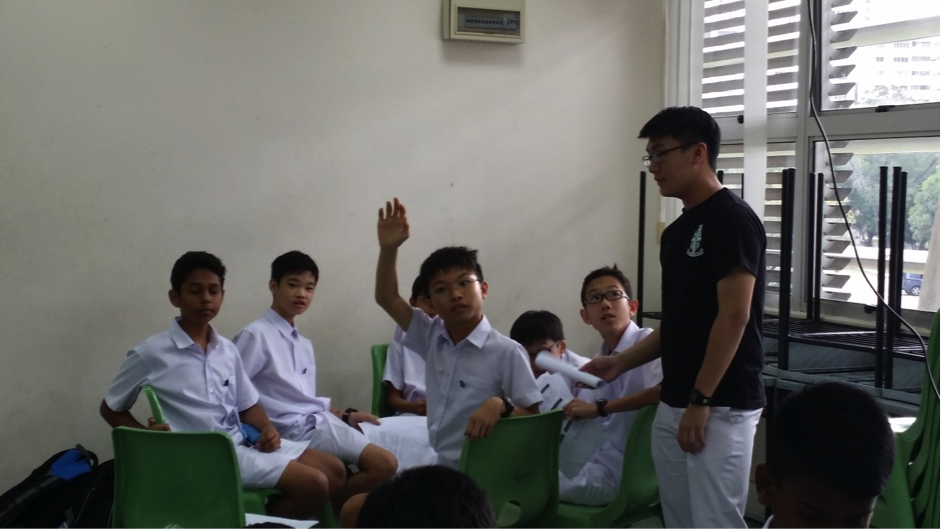 At a S1 Reading Circle Training Workshop where they were trained to be facilitators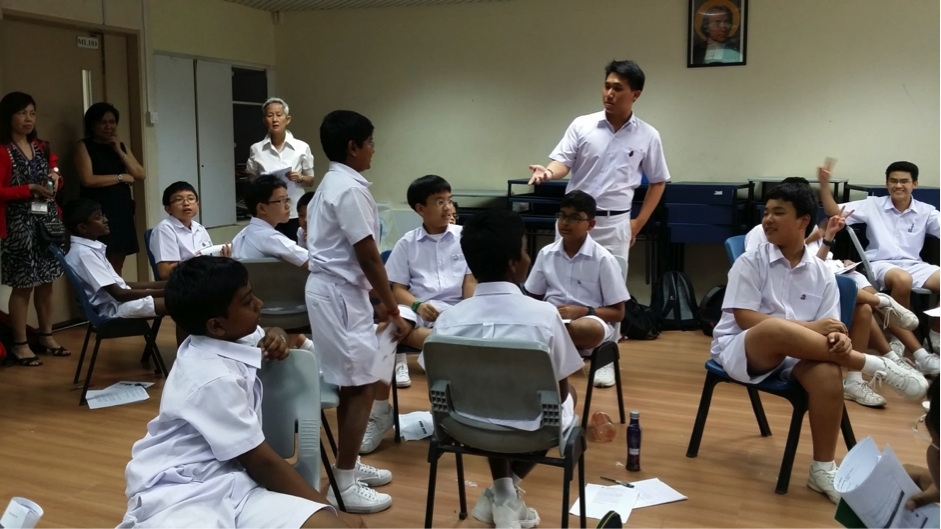 Brian Loh (FN402) takes on the role and responsibility of a trainer to train the new batch of S1 students (Teachers in the background included Master Teacher, Mrs Joy Lee and SJI teachers, Mrs Sandra Lee and Ms Teresa Lim)
SJI is also a partner with ELIS to promote reading in other schools in Singapore. Click here to read more.
---
March: SJI Pays Tribute to Founding Father of Singapore
The SJI family was deeply saddened by the passing of Mr Lee Kuan Yew on 23 March 2015.
As a school established in Singapore since 1852, SJI has seen the transformation of the nation from a fishing village to the first-world clean and green city state over the last five decades. It was Mr Lee's leadership, foresight and determination that transformed and led the nation during the tumultuous times in the 1950s - 60s to become an independent state in 1965.
SJI was privileged to have Mr Lee Kuan Yew, then Prime Minister of Singapore, as its Guest of Honour at the 115th SJI Founder's Day Parade held at the former Bras Basah campus on 15th May 1967.
As a mark of respect for the late Mr Lee Kuan Yew, the SJI student council set up a Condolence Book for the Josephian community and well-wishers to pen their tributes to the late Mr Lee. Many students, staff and parents who penned their tributes in the Condolence Book, expressed their immense gratitude to the late Mr Lee Kuan Yew for his nation-building efforts to lead Singapore to become a first-world country it is today. The book was sent to Prime Minister Mr Lee Hsien Loong.
A contingent of students, student leaders, and staff also paid their final respects to Mr Lee Kuan Yew at the Parliament House on 25 March where his body was laid in State. The school held a memorial Mass on 26 March, to commemorate and celebrate the life of one of our greatest leaders in the history of Singapore. More than 200 students, parents, staff and alumni attended the Mass, celebrated by school chaplain Friar Michael D'Cruz.

View the SJI Condolence eBook:
---
March: Ubi Caritas Et Amor Charity Concert
By Ethan Choo Yi Heng (ML 402), Vice-President, SJI Vocal Ensemble
It all begins with a single note, as this is how the SJI Vocal Ensemble learns every song. After racking up 3 months of practice, together with our new members from Secondary One and Three, our efforts were put to the test on 21 March 2015 at the charity concert "Ubi Caritas Et Amor" which means 'where true charity is, there is God'. SJI bore the honour of being the host of the concert, held at the School of the Arts (SOTA).
In line with Singapore celebrating her 50th anniversary, we wanted to show our gratitude towards our pioneers who have made Singapore what she is today. Hence, as a gesture of our appreciation, the proceeds from this concert was donated to St. Theresa's Home for the Aged, one of the adopted charities of SJI.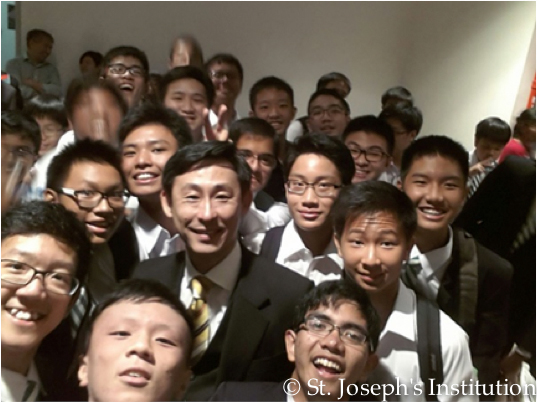 Together with our friends from Raffles Voices, Crescent Girls' Choir and Dunman Secondary School Choir, all conducted by Mr Toh Ban Sheng, we certainly did our best to live up to the spirit of charity in line with our school's mission and ethos of being "Men For Others". We were happy that for one evening, friends came together as one and lived the mission together.
The practices leading up to the performance were indeed intense. Months were spent drilling in the dynamics, rhythm, pitch and minute intricacies of the songs, with additional practices held in the mornings before school every week. Also, it is during this period that our perseverance was challenged. There were many mistakes, struggles and reflections, all part and parcel of the road to the concert. Sometimes tears were shed.
The amount of effort necessary to perfect each piece of music was immense, making our preparations arduous. It was essential that we worked hard in order to deliver a performance worth listening to. After all, we were not performing for ourselves, but to raise funds for the old folks at St. Theresa's Home.
On the day of the concert, fanciful costumes were a common sight, with the sound of familiar musical notes filling the air. One could nearly feel the tension in the air as we spent the remainder of the time running through the details of each song.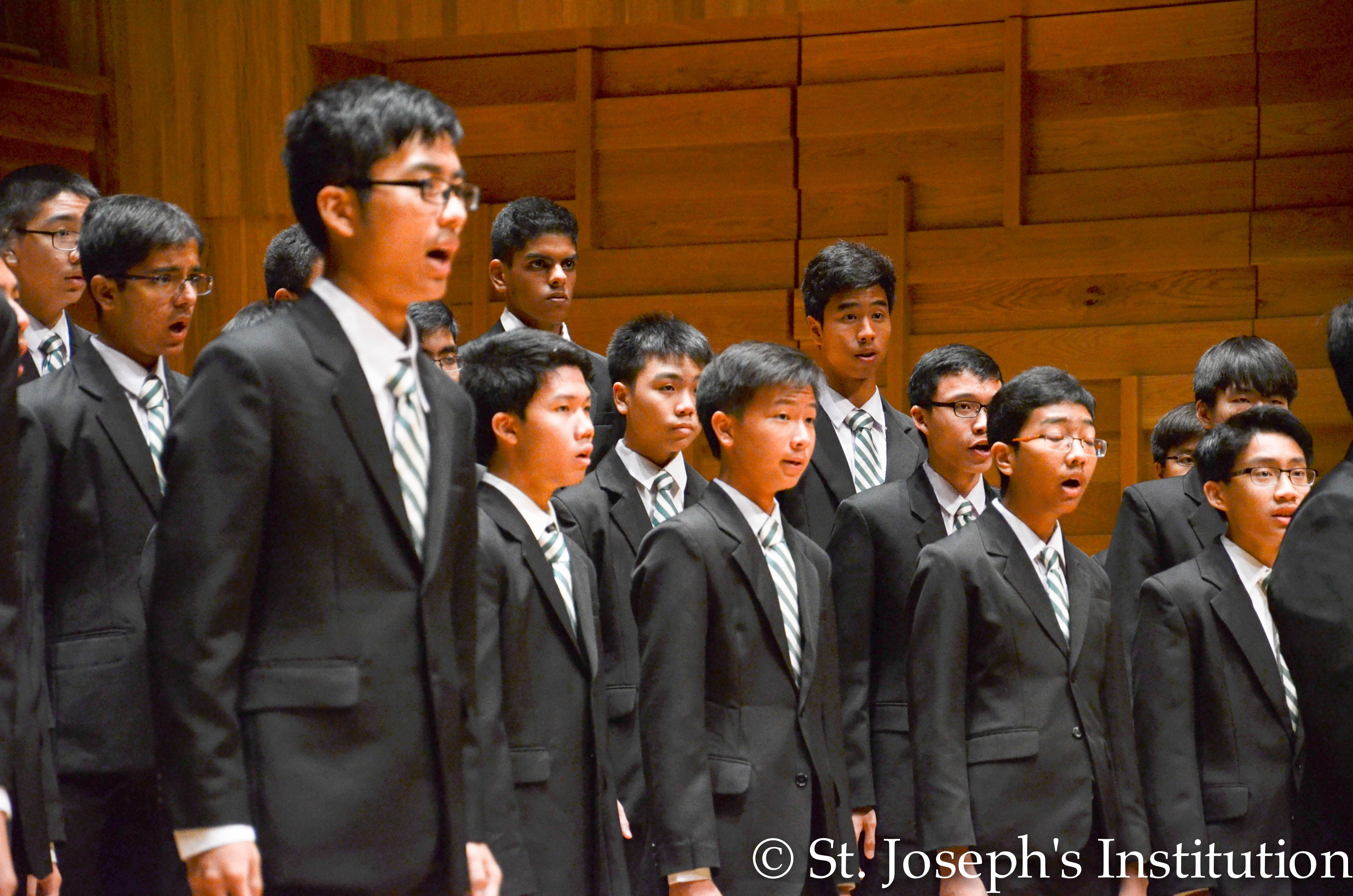 As we walked out onto stage, we all shared the feeling of nervousness, but we did not let it stop us completely. One of the songs sung was 'Ahma', a tribal Finnish song by Juha Holma depicting a wolverine as a tireless wanderer in the wilderness. This was followed by 'Ave Maria' by Japanese composer Ko Matsushita. It is a piece based on an intercession of Mother Mary for Jesus her son, which inspired Matsushita to compose when he first saw his newborn daughter. Our last piece was 'Kruhay', a Filipino song by Beny Castillon, about the exile of 10 Bornean Chiefs.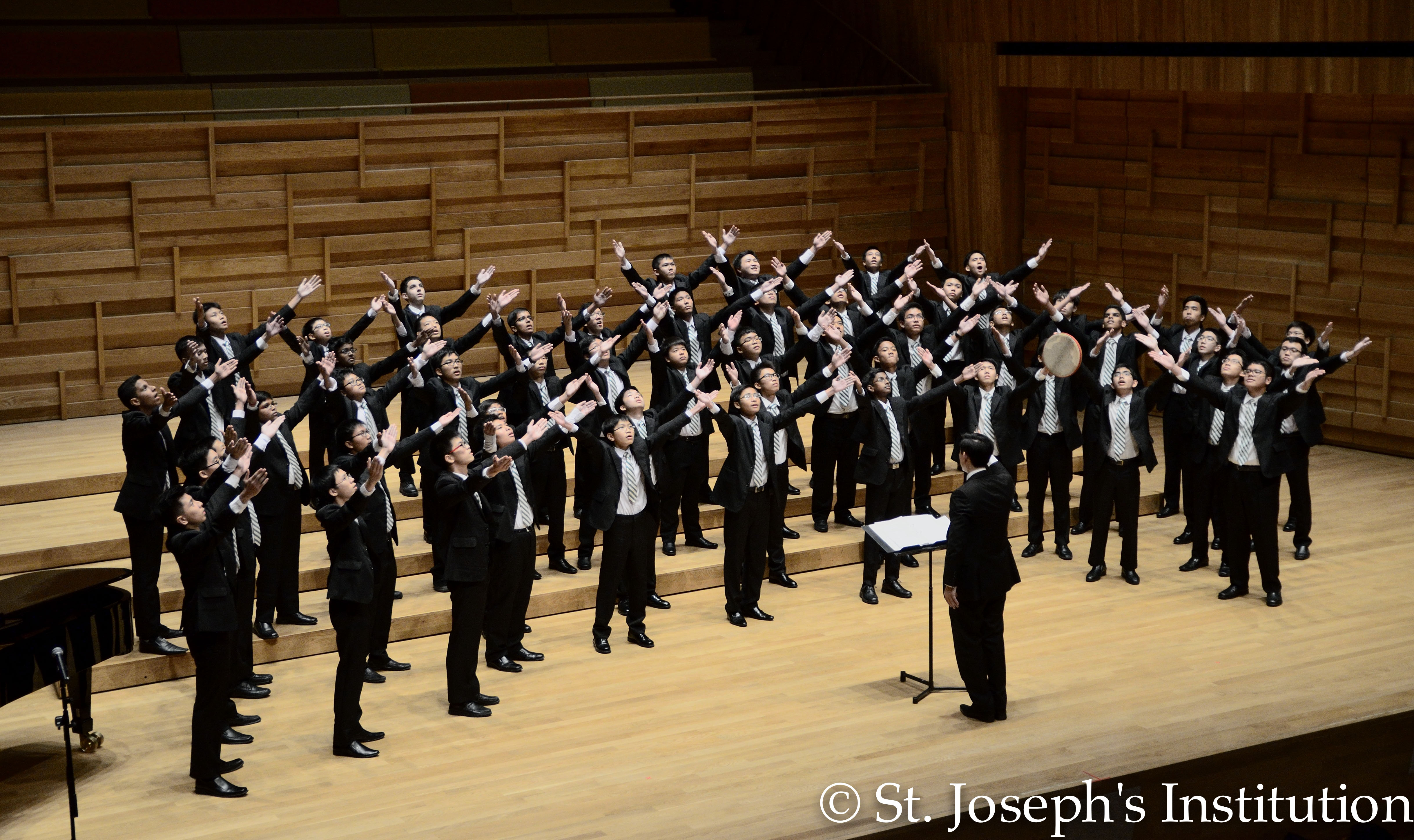 "Kruhay!" our final song for the evening
One of our members shared his experience of the concert: "This performance is the moment when you can feel all the states of emotion at the same time: nervousness, happiness, regret, fear, relief. But all these emotions united in the end to become the exuberance we felt when we heard the ovation from the audience. And we knew that our diligence had paid off, that people really appreciated the performance."
The concert ended with a combined choir performance of 'I Believe In Springtime' and 'Dirait-On'. 'I Believe In Springtime', composed by John Rutter, is a song that celebrates the beauty of nature, and praises God for his creations. 'Dirait-On' is a French piece composed by Morten Johannes Lauridsen based on a poem about Narcissus, a character in Greek mythology of great beauty who was enamored by his own reflection.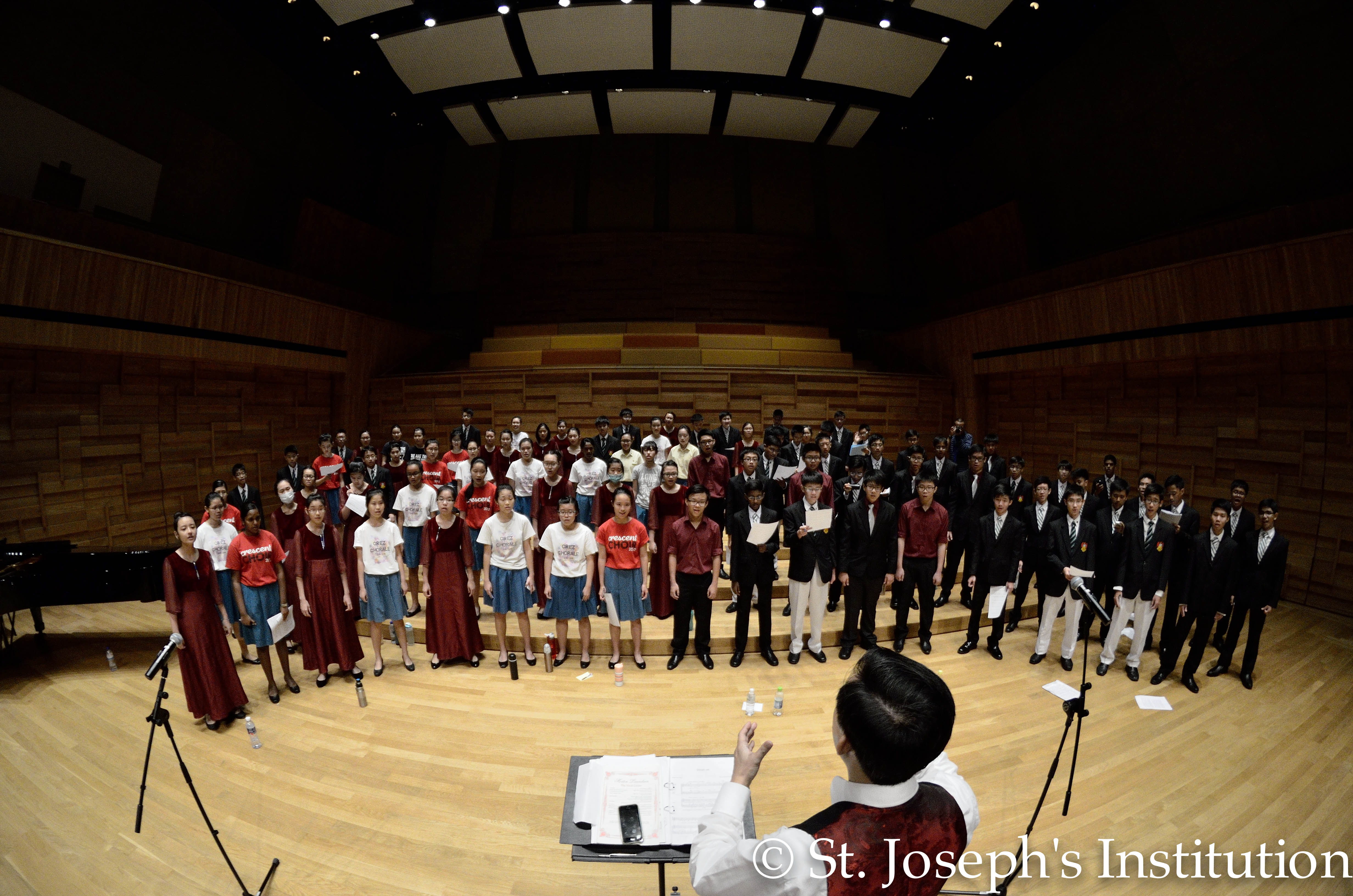 The night ended wonderfully for us knowing that we laboured for a good cause, and we were able to improve our singing as well. The SJI Vocal Ensemble left, excited that we had in our own way celebrated SG50 and paid respect to the pioneer generation in our own small and humble way.
---
March: SJIOBA Introduces New Members of 11th Executive Committee
Following the 20th Annual General Meeting of the SJI Old Boys' Association (SJIOBA) held on 20 March 2015, the SJIOBA is pleased to introduce the members elected as the 11th Executive Committee: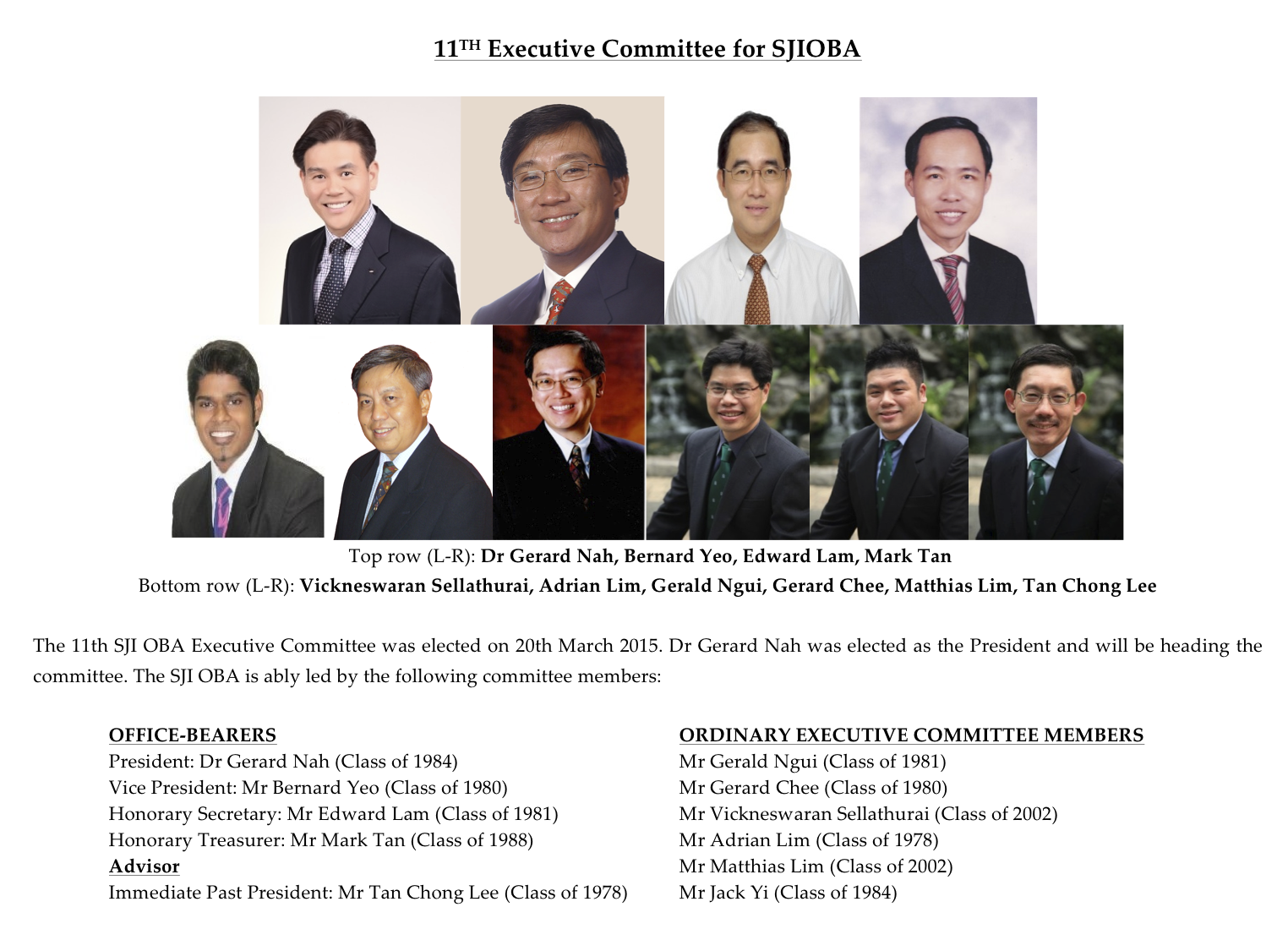 (*the previous President is automatically appointed to the new Exco under the Constitution for continuity)
The new SJIOBA President, Gerard Nah, is a 3rd-generation Josephian. He was the Former Head Aeromedical Centre, Republic of Singapore Air Force and Head Vision Performance Centre, Singapore Armed Forces. He is currently a Senior Consultant in Ophthalmology and Aviation Medicine in private practice. He is active in the Roman Catholic Prison Ministry, Genesis Family Choir & Infant Baptism Ministry at the Church of St Francis Xavier.
Gerard will lead a team consisting of many members who had served on the previous Executive Committee. His vision is for "Continuity with Change" - where the team will strive for continuity in our Josephian heritage and change for an inclusive alumni. With this in mind, the team intends to build on its previous successful activities and programmes, such as the SJIOBA Scholarship, Concert at the Park, Josephian-at-Large and the Ortega Cup, whilst exploring new ones such as reuniting old class bands for a musical carnival and a mission trip to a developing country with old boys and current students.
---
March: SJI Fraternities Battled It Out at Annual Track & Field Championships
By Ryan Woon (LE302), Eugene Xue (ML303) and Chaganti Achintya (MN202)
The SJI Pipe Band's long hymn of trumpet sounds marked the House Procession of the four fraternities — Fintan, Lawrence, Michael, Marcian. This ignited the competitive spirit of all the Josephians present. The electrifying atmosphere was matched with the sweltering heat of the sun. Even though we are one Josephian community, the competition between the fraternities could be felt throughout the Toa Payoh Stadium. Teachers, students and old boys were all involved in the events with equal enthusiasm. With the houses cheering and spurring the athletes on, it was surely a day to remember as Josephians forged closer bonds with one another.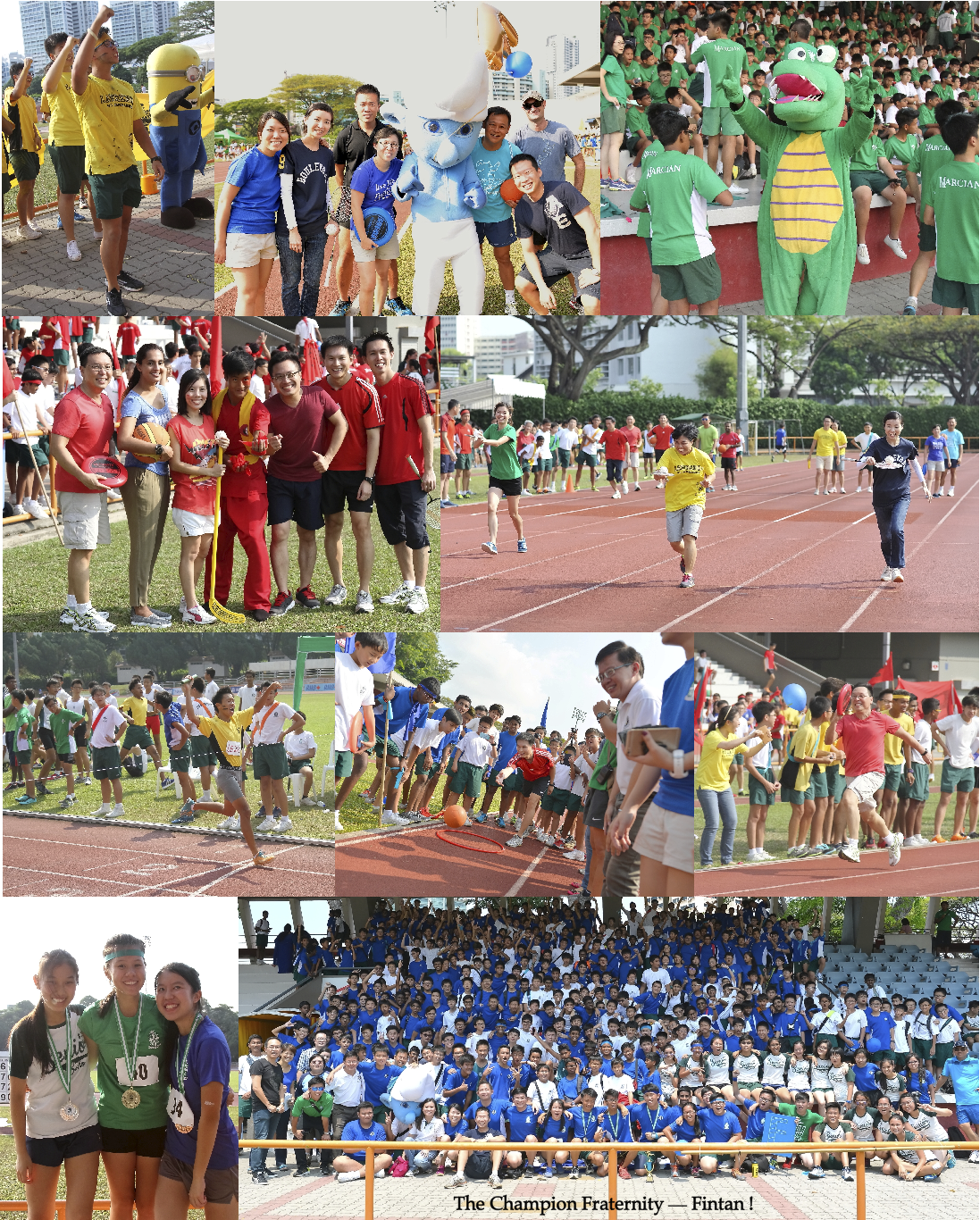 ---
February: SJI Remembers Mr Rudy Mosbergen – Olympian, sportsman, teacher, principal, educator, and author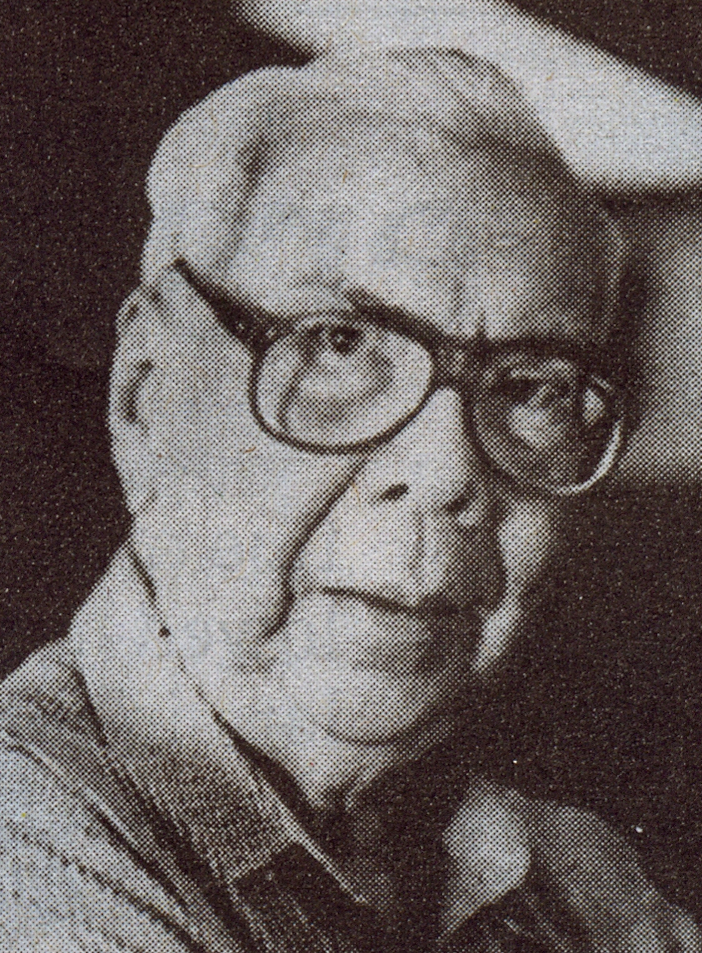 SJI mourns the passing of Mr Rudolph (Rudy) William Mosbergen, former Deputy Principal (Pupils Services) of SJI from 1988 – 1989. An old boy from the Class of 1948, Mr Mosbergen stood out among the SJI community at almost every stage of his life and career. During his school days, he was an all-rounded sportsman, taking part in soccer, hockey, badminton and athletics. He was vice-captain of the school's formidable soccer team. He went on to play in the national soccer and hockey teams, and represented Singapore in the 1956 Melbourne Olympics as a member of the National Hockey team. After a teaching stint in SJI from 1955 – 1961, Mr Mosbergen left to lecture in the then Teachers Training College. He went on to become the principal of several secondary schools – Naval Base Secondary, Pasir Ris Secondary and Swiss Cottage Secondary, as well as Principal of Raffles Junior College. He also served as a deputy director of Curriculum Development at the Education Ministry. In 1988, he returned to SJI as deputy principal and played a key role in SJI's move to Malcolm Road and its transformation into an independent school.
---
February: SJI Celebrates Cultural Diversity
Strokes of Festivity by Chinese Calligraphy Masters of SJI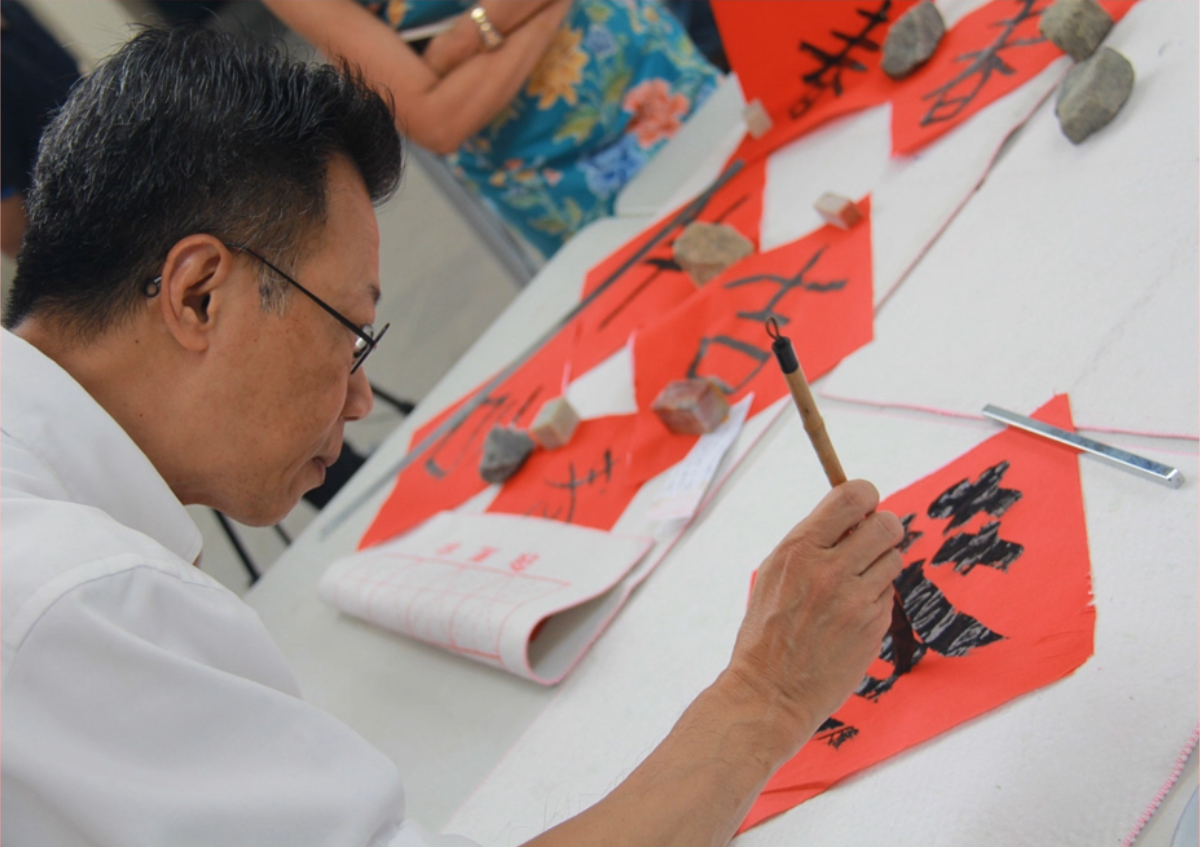 As part of the Lunar New Year celebrations in SJI, Chinese language teachers Mr Tan Puay Hock, Dr Heng Guek Boon, Dr Lee Lyn Hin and Mr Ron Tok Kian Hong from the Mother Tongues Department conducted a Chinese calligraphy writing session for students and staff. The four Chinese calligraphy masters demonstrated the writing of Chinese New Year couplets (春联), which are usually displayed as festive decorations.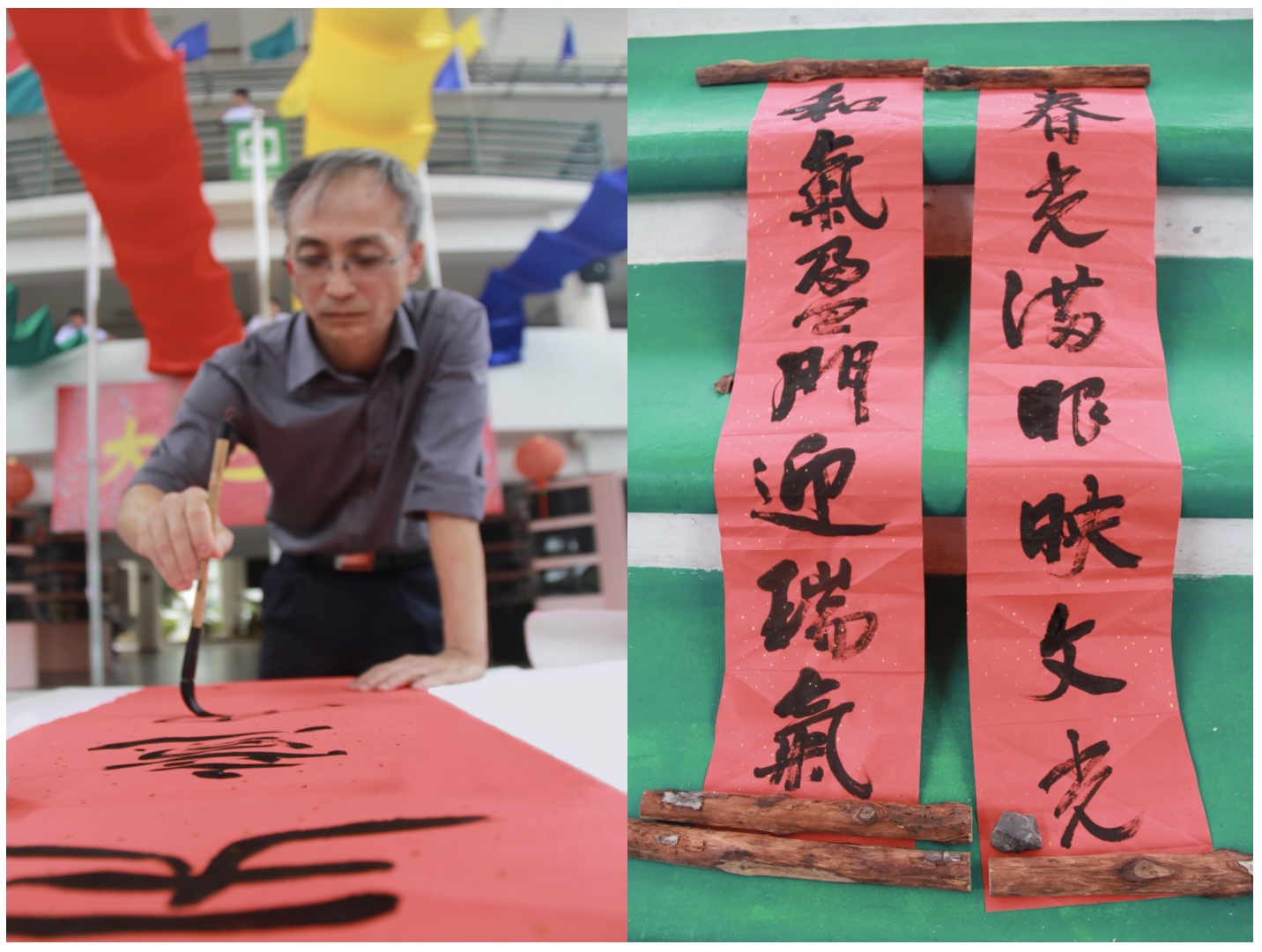 Several non-Chinese students also took the chance to join in the fun to pick up the art of calligraphy. They created several inscriptions on one-foot square sheets(斗方)and vertically-hung scroll(条幅)as decorations for the classrooms.

SJI Student Gives Thanks for Good Grades
Sec 2 student Shankar Kannan was one of more than 100 kavadi-bearers who took part in the Thaipusam procession that started from 5.30pm on 2nd February. He carried a 7kg wooden kavadi, an intricate structure of steel and wood that incorporate sharp body piercings and milk pots. He walked barefooted and danced along the 7km journey with the kavadi (as seen in the video below), as a form of offering to the Hindu deity in exchange for his answered prayer for good grades and entering his dream school at SJI. Read more about him in The New Paper.
---
January: SJI Marks New School Year with Celebration of Inaugural Mass
The new school year officially starts with the celebration of the inaugural mass, traditionally held after the week-long Secondary One orientation. The first mass of the year was celebrated by both Deputy Principal Fr (Dr) Adrian Danker and School Chaplain Friar Michael D'Cruz.
This ceremony also acknowledges the new appointment holders for Student Council, Prefectorial Board and Co-Curriculum Activities for the year. Six boys were also nominated for the Lasallian Student Award, which recognises Secondary 2 students who have consistently demonstrated and upheld the Core Lasallian values of Faith, Service & Community; and being truly a Man of integrity and Man for others. The award also recognises the Josephian who has displayed all-round ability and displayed leadership to his fellow Josephians displayed in the key attributes of the Profile of the SJI Boy.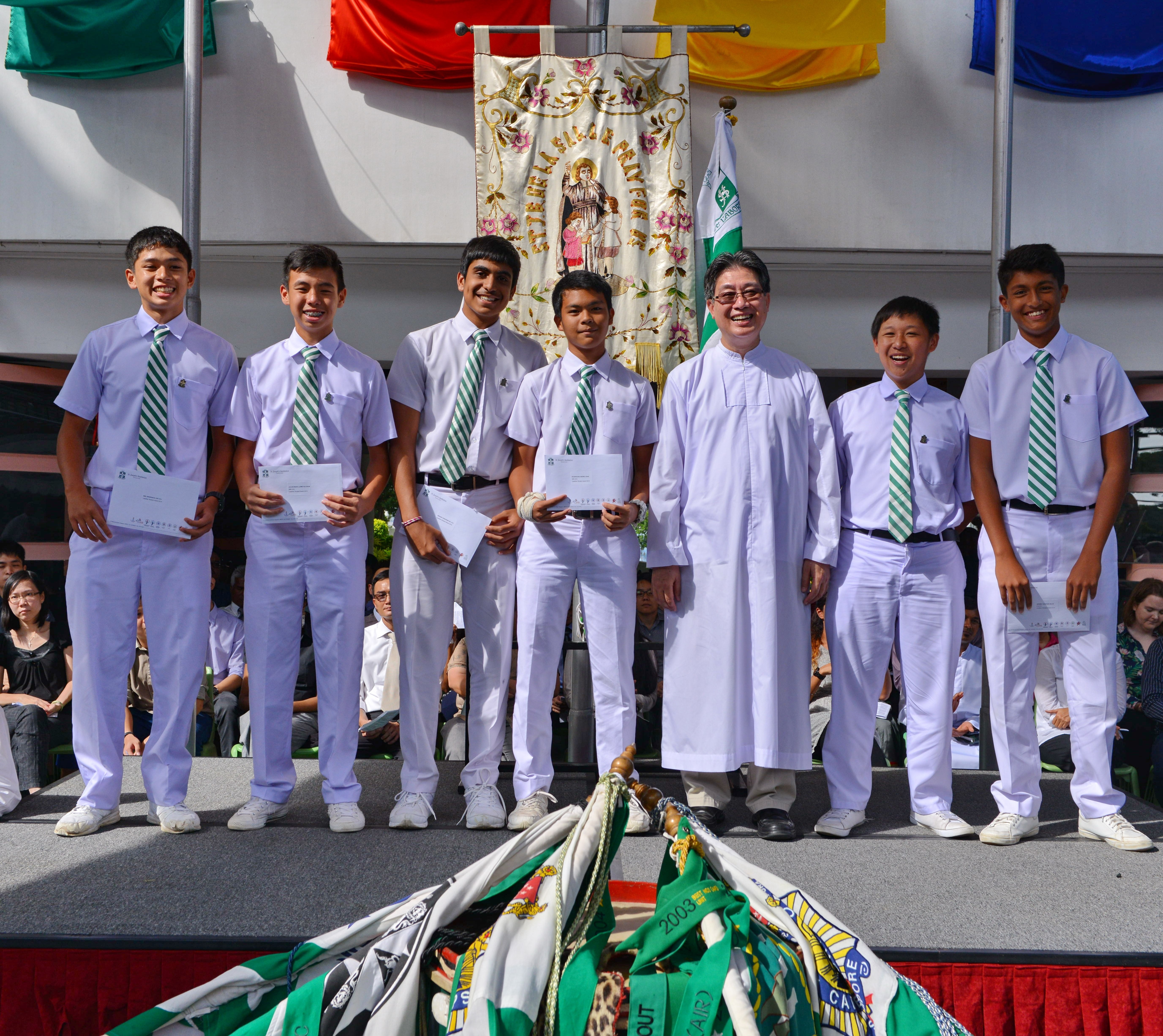 The Lasallian Student Award was presented to the following students from the Sec 2 cohort of 2014: Jeremy Stephen Silva (FN 201), Christopher Thian Wen Long (FN 202), Vedant Chauhan (ML 203), Julian Marc Lowe Ka-Chun (MN 202), Neil Bhargava (MN 203) and Rodrigues Andre John (MN 203).
---
January: SJI Spirit Burns Bright at Secondary 1 Orientation Campfire

While the unique SJI green flame burned brightly throughout the evening, the spirit was high at the Secondary One Orientation Camp on 16 January. More than 700 parents and SJI boys rallied around a campfire led by the Peer Support Leaders and Facilitators to unite the new boys as they embrace their new school environment. Cheering nonstop from Signum Fidei to the SJI Spirit, the Secondary Ones proudly sang the school songs and cheers from their hearts with great gusto. Even though the week-long Secondary One Orientation has ended, seeds of new friendships have been sown that will help the newly minted Josephians adapt to their new life in secondary school.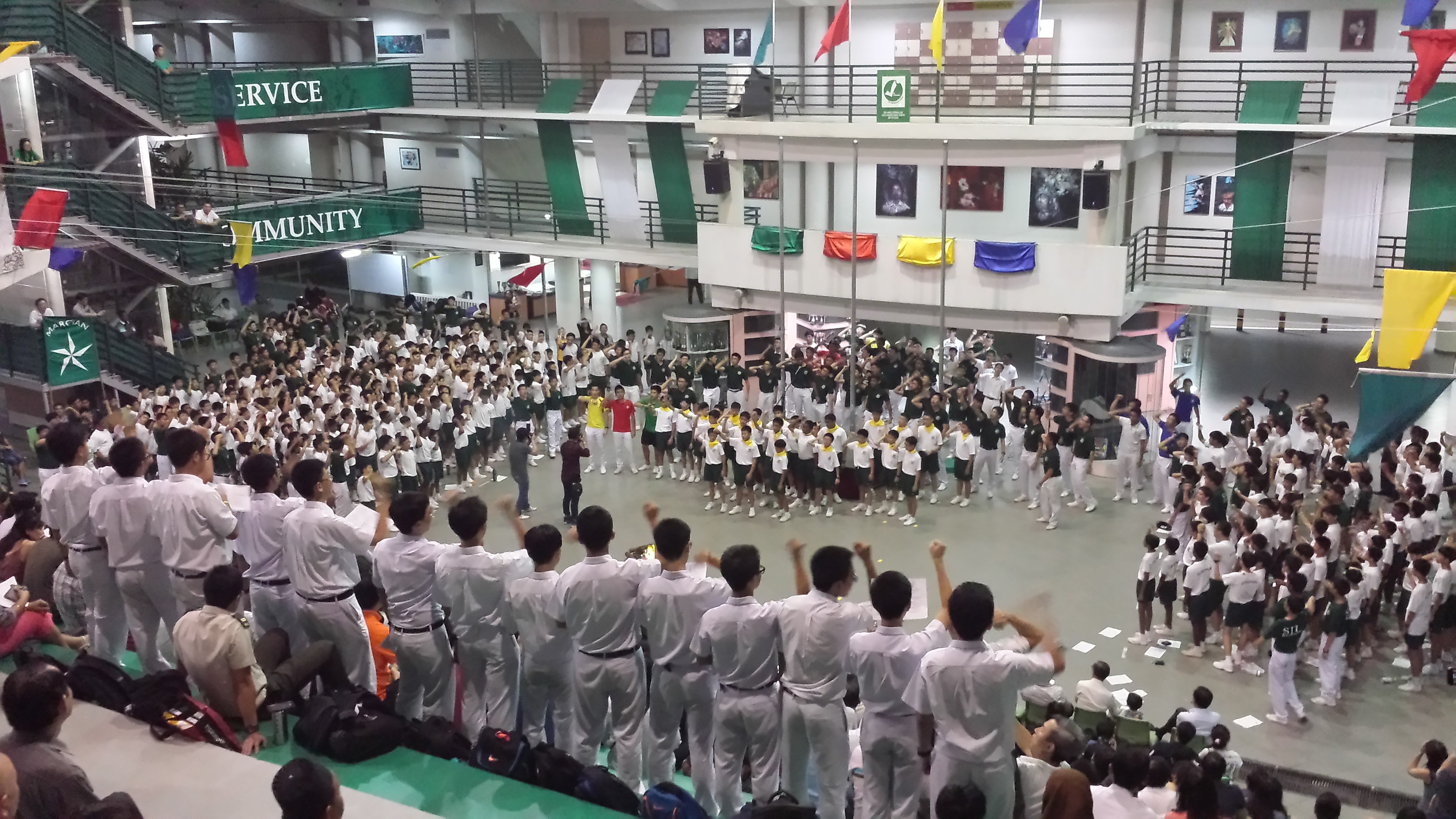 ---
January: SJI Alumnus Justice Tan Siong Thye Appointed Nation's first Deputy Attorney-General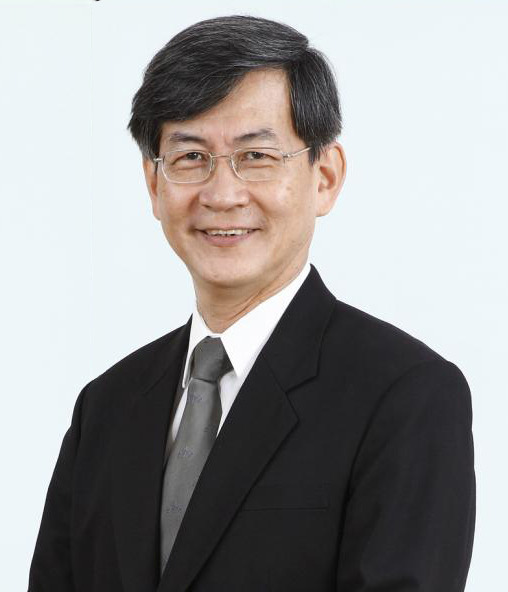 High Court judge Tan Siong Thye (Class of 1970) has been appointed Singapore's first Deputy Attorney-General.
Justice Tan who has been a High Court judge since July 2014, will start a three-year term at the Attorney-General's Chambers (AGC) on Feb 2. He will be working closely with Attorney-General V.K. Rajah and Solicitor-General Lionel Yee (Class of 1982) to raise professional standards in the AGC.
Justice Tan has unique insights into the administration of justice and a wealth of experience in many areas, especially in criminal law and in management. Before his appointment as a High Court judge last year, Justice Tan was appointed Judicial Commissioner on Oct 1, 2013. He started his legal career as a Deputy Public Prosecutor in the AGC in 1979 and headed the Commercial Affairs Department from 1999 to 2008. In 2008, Justice Tan rejoined the Subordinate Courts as Senior District Judge, and he became Chief District Judge two years later.
---
January: SJI Boys Rejoice Over 2014 GCE 'O' Level Results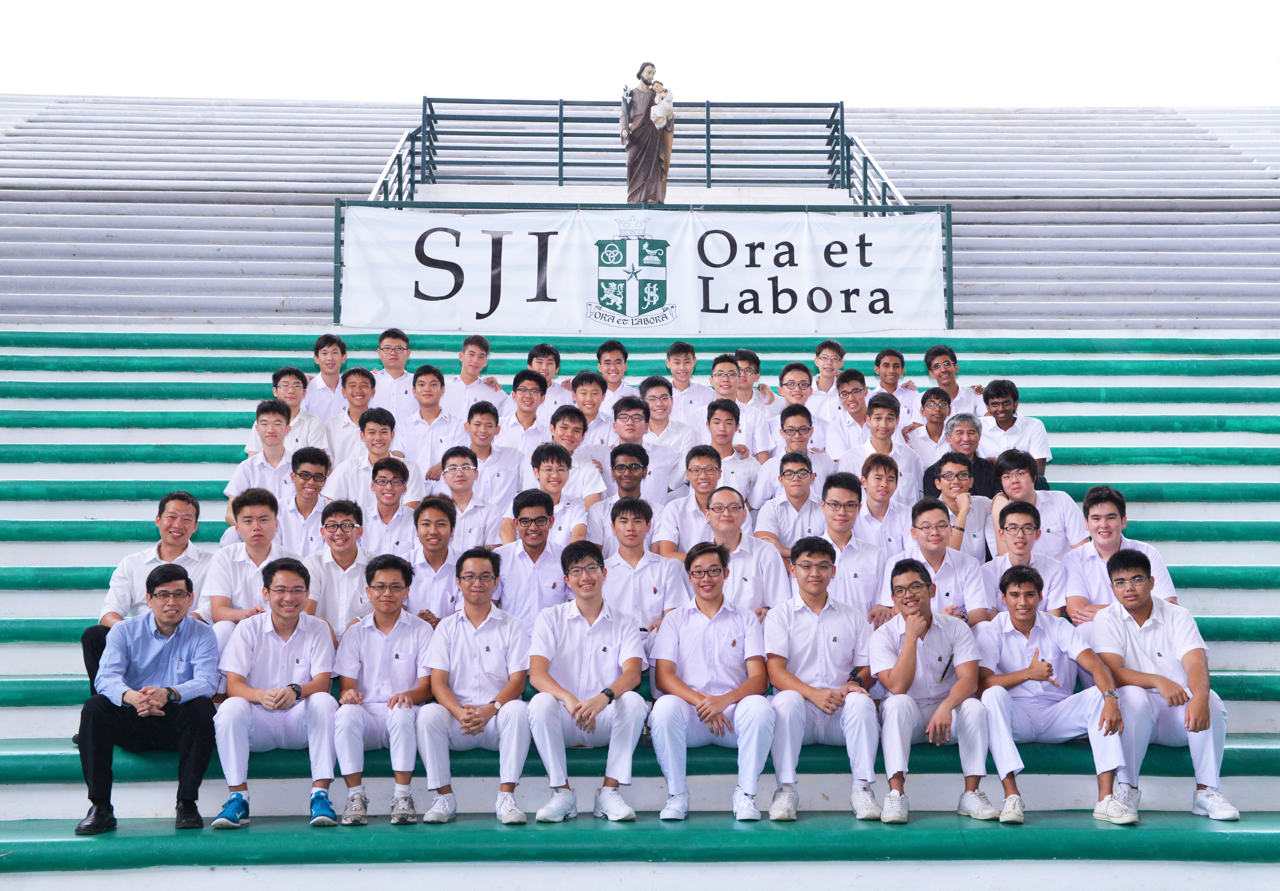 SJI boys with 6 or more A1s
SJI boys were jubilant over their stellar 2014 GCE 'O' Levels examinations results that were released on 12 January 2015.
All boys qualified for post-secondary education, with 98% of boys qualifying for Junior College and the others for polytechnics. 60 boys scored six or more A1s, and 100% obtained at least five GCE 'O' Level passes.
Strong distinction rates were achieved in many subjects, including:
English Language - 59%
Literature - 75%
Mathematics - 93%
Additional Mathematics - 85%
Biology - 81%
Physics - 75%
History - 83%
Geography - 81%
Combined Humanities - 74%
Art - 100%
Higher Art - 100%
Click here to read more.
---
January: SJI Alumnus Professor Philip Choo is now CEO of National Healthcare Group (NHG)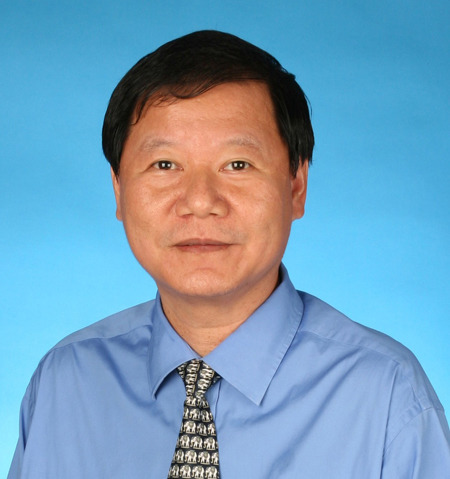 A pioneering geriatrician in Singapore, Professor Choo (Class of 1974) was previously CEO of Tan Tock Seng Hospital (TTSH) and concurrently Deputy Group CEO (Regional Health) at NHG.
As CEO of TTSH from 2011 to 2014, Prof Choo reshaped the 170-year-old hospital's operations and clinical infrastructure to enable the delivery of integrated care across disciplines to provide even better service to patients.
Professor Philip Choo graduated with MBBS from the University of Singapore in 1982. He trained and practised as a geriatrician in the Department of Geriatric Medicine from 1989 till present. He was Tan Tock Seng Hospital's Chairman Medical Board from 2003, serving till 2011. Prior to that appointment, he was the Divisional Chairman of Medicine where his decisive leadership, steadfast tenacity and exemplary performance during SARS earned him the Public Service Star. From 2011, he served as the Deputy Group CEO (Regional Health), NHG and concurrently, CEO of TTSH. In 2011, Prof Choo was awarded the Public Administration Medal (Silver) for his outstanding contributions to Singapore's healthcare.
---
January: New Appointments for SJI Alumni in Supreme Court

SJI congratulates three SJI alumni on their new appointments in the Supreme Court. Mr Lee Kim Shin (Class of 1976) and Mr Edwin Tong Chun Fai (Class of 1985), both partners from Allen & Gledhill, were appointed as senior counsel. Mr Foo Chee Hock (Class of 1976), previously the Registrar of the Supreme Court, was appointed as Judicial Commissioner.
---
January: Camp TABA: Together As Buddies Always
By Vikraman Vemketasubramanian and John Christopher Phang (ML304)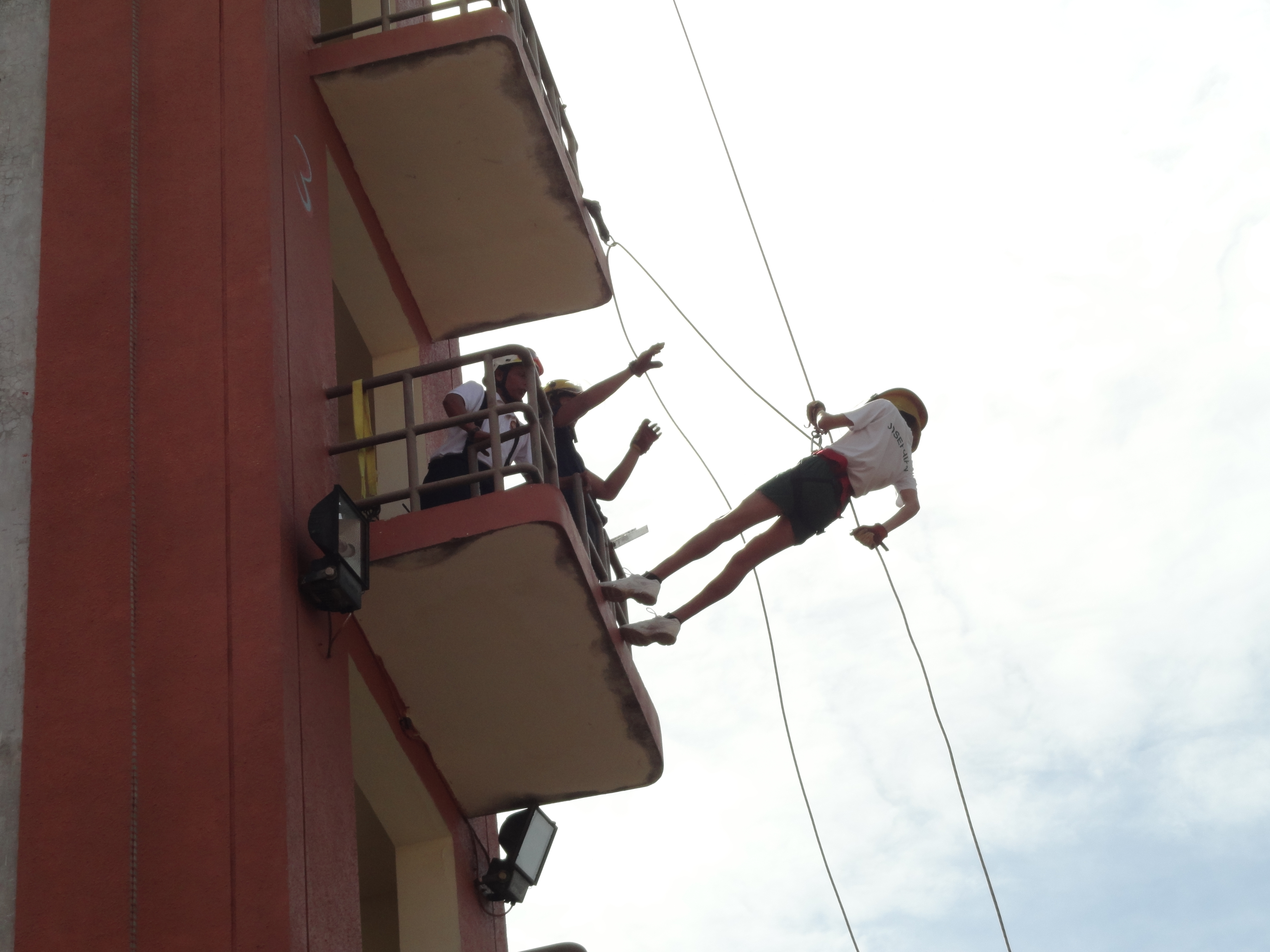 Together-and-by-Association, the camp that signifies a Josephian's transition from lower to upper secondary, from one class to another, and from shorts to long pants. Camp TABA is a means to help the Secondary Threes settle into our new classes, and to be comfortable with our newfound friends and the teachers. Without this camp, my classmates would not have known each other or discovered each other's stories. We could have been just a random group of boys being forced together, little more than the strangers we once were. The activities at the camp would have been boring, if not for the presence of my new classmates. Camp TABA bonded Josephians to form friendships that will last for the rest of our lives.

---
January: SJI Applauds Results of Pioneer Graduating Cohort from SJI Senior School
IBDP Results for Class of 2014
SJI
Singapore
Worldwide #
Number of students who sat for Nov 2014 exams
76
1,072
67,524
Diploma pass rate (%)
100%
97.32%
79.35%
Average points out of maximum 45 points
40*
36.43
29.94
Average grade obtained out of maximum 7
6.34*
N.A.
4.7
Percentage of students with 40 or more points
63%*
N.A.
6.8%

* Figures confirmed by International Baccalaureate Organization (IBO) as at 29 January 2015




Based on figures for IBO examinations taken in May 2014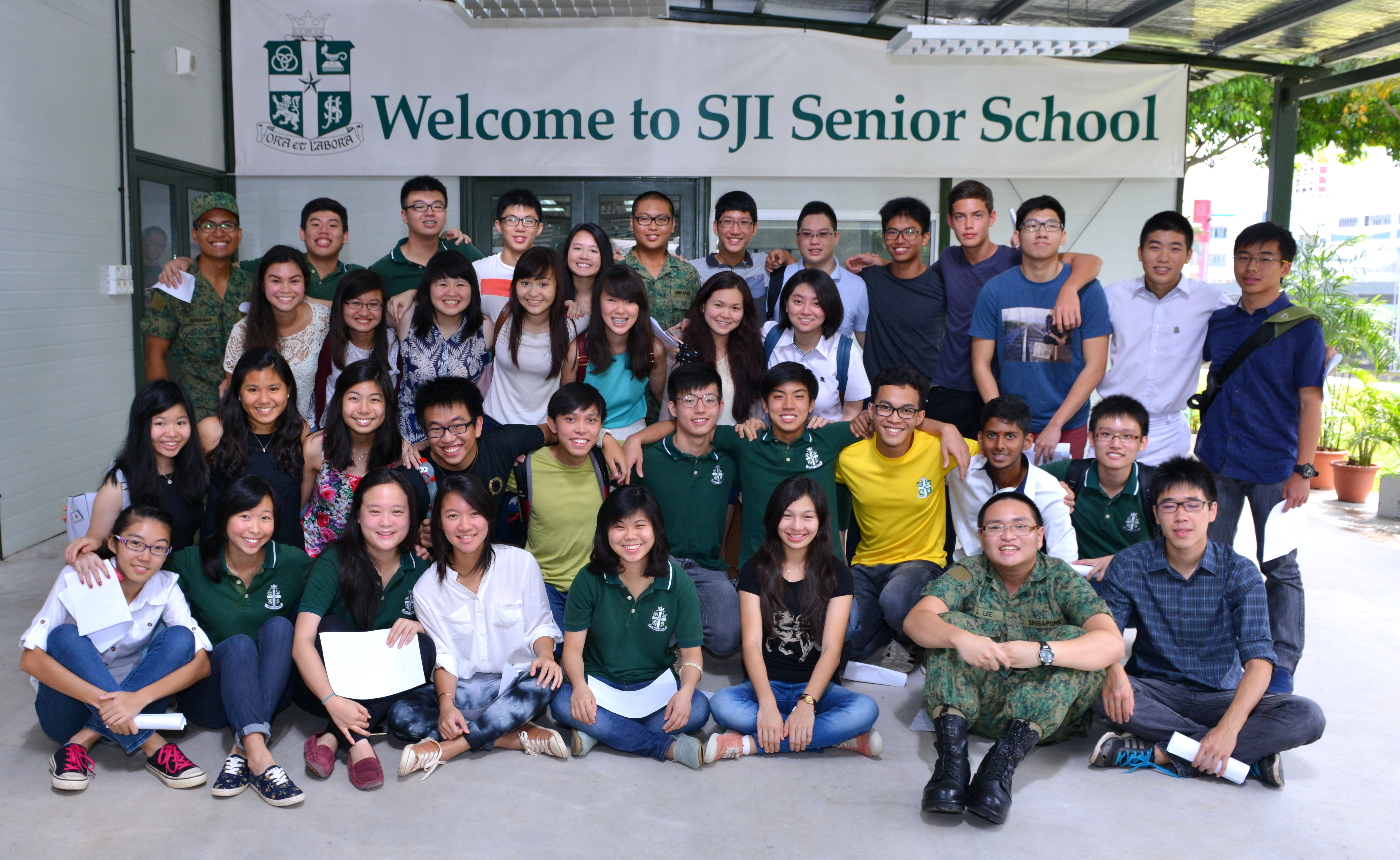 SJI's top performing students with 40 points and above
5 January 2015 - The pioneer cohort of 76 students from the SJI Senior School (Class of 2014) received their results for the International Baccalaureate Diploma Programme.
SJI achieved a 100% Diploma pass rate. The average score at SJI was 39.4 points out of a maximum of 45 points, which was better than the national average of 36.43 points and the global average of 29.94 points.
Two students were also awarded the prestigious Bilingual Diploma. Also, about one in four students (20 students) achieved at least 42 points and about six in 10 students (44 students) scored 40 points or above.
The Class of 2014 is SJI's first batch of IBDP students. They were admitted in 2013 for the 2-year pre-University programme.
As a Catholic and Lasallian school, SJI Senior School is committed to developing every student's character and to helping them realize their academic potential, so that they become men and women whose education empowers them to make a positive difference in the world. The good IBDP results of the 2014 cohort are a testament of the quality of the balanced and holistic education offered at SJI. The school is particularly proud of its students' diverse contributions made to the larger community through their service and leadership. SJI applauds their fine performance.
The Head of SJI Senior School, Mr Nick Moughtin, is delighted with the results and is very proud of the students. In particular, nearly 60% gained grade 40 or above. The excellent grades were a result of the hard work of the students and the dedication of the staff. He said, "Although we share in the celebrations with the students, we must not forget that a Lasallian education is not just about academic excellence; we want to nurture students who live our mission and want to make a positive contribution to society. We feel that these young men and women will leave SJI with a real sense of purpose in life and will continue the proud traditions of SJI."
Dr. Koh Thiam Seng, Principal of SJI, said, "Despite not having a track record in IBDP, we are proud that we have graduated our first cohort of students doing the IBDP with outstanding results. After seeing their initial difficult transition from the O-levels to IBDP which emphasizes a more active and self-directed approach to learning, our pioneer cohort of students, with the help of our dedicated and supportive teachers, adapted and actively participated in an education that is aligned to the spirit of IBDP. We are heartened that our students were not only able to develop themselves academically but many also found time to grow as a person through their active participation in the school and wider community; aiming to be a positive difference in the lives of others.".
About the SJI International Baccalaureate Diploma Programme (IBDP)
The SJI IBDP focuses on rigorous academics coupled with character development and values education. The International Baccalaureate (IB) Diploma, as an alternative to the GCE 'A' Levels, is recognized for admission to all Singapore universities and leading universities globally. It is valued for its holistic curriculum and strong focus on independent learning and thinking for university studies, the workplace and the all-round development of young people for a fulfilling life. Its strong emphasis on internationalism, intercultural understanding and making a positive difference to the world fits well with the mission of SJI.
Click here to read more.