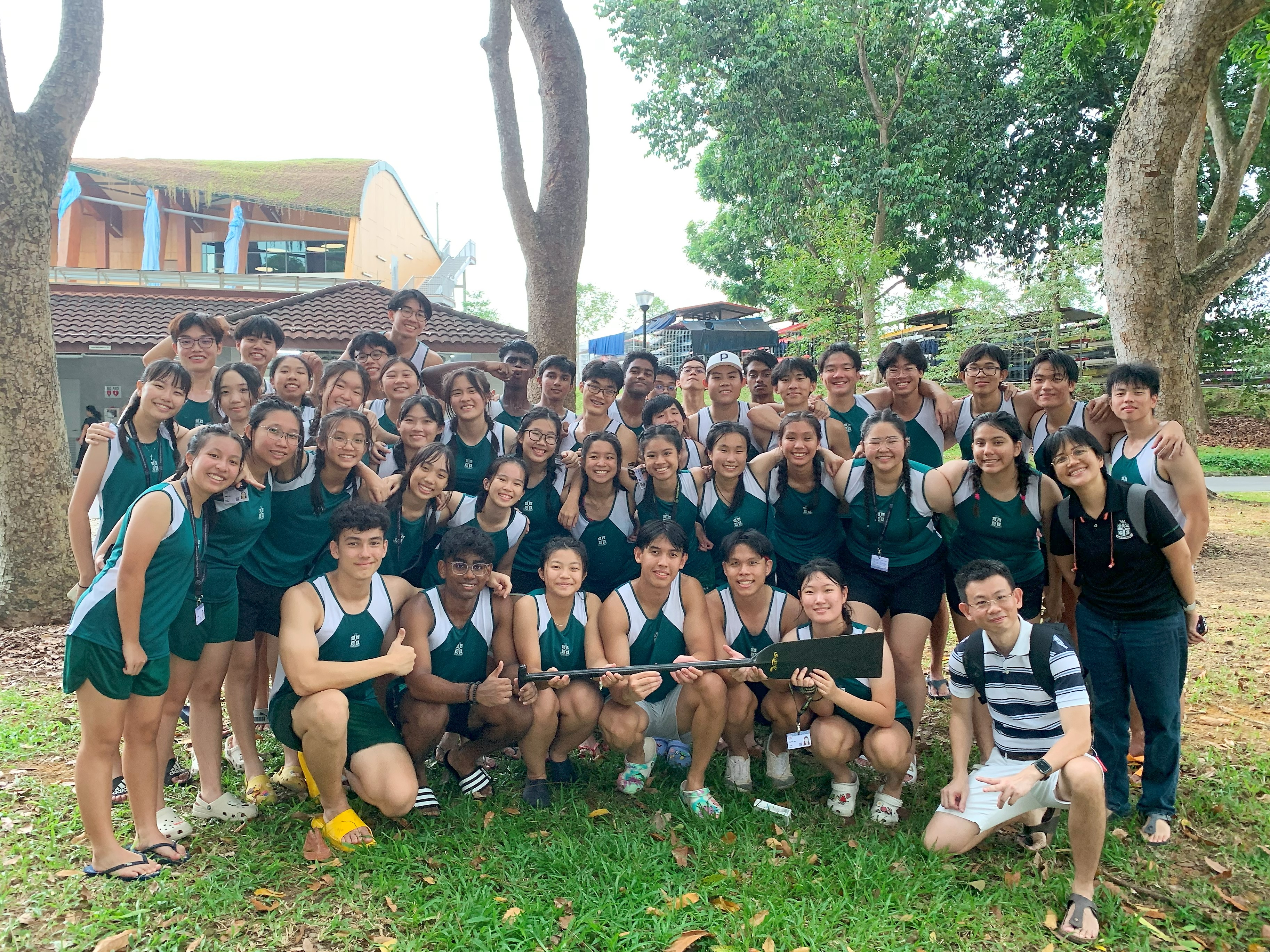 The SJI Dragonboat A-Division Boys and Girls teams competed at the Inter-school Dragonboat Competition held at Bedok Reservoir on 27 May. Paddling against other Junior College teams in the 22-man boat category, the SJI Boys and Girls teams clinched the 2nd and 3rd positions respectively after 2 intense rounds of races. Well done, Team SJI!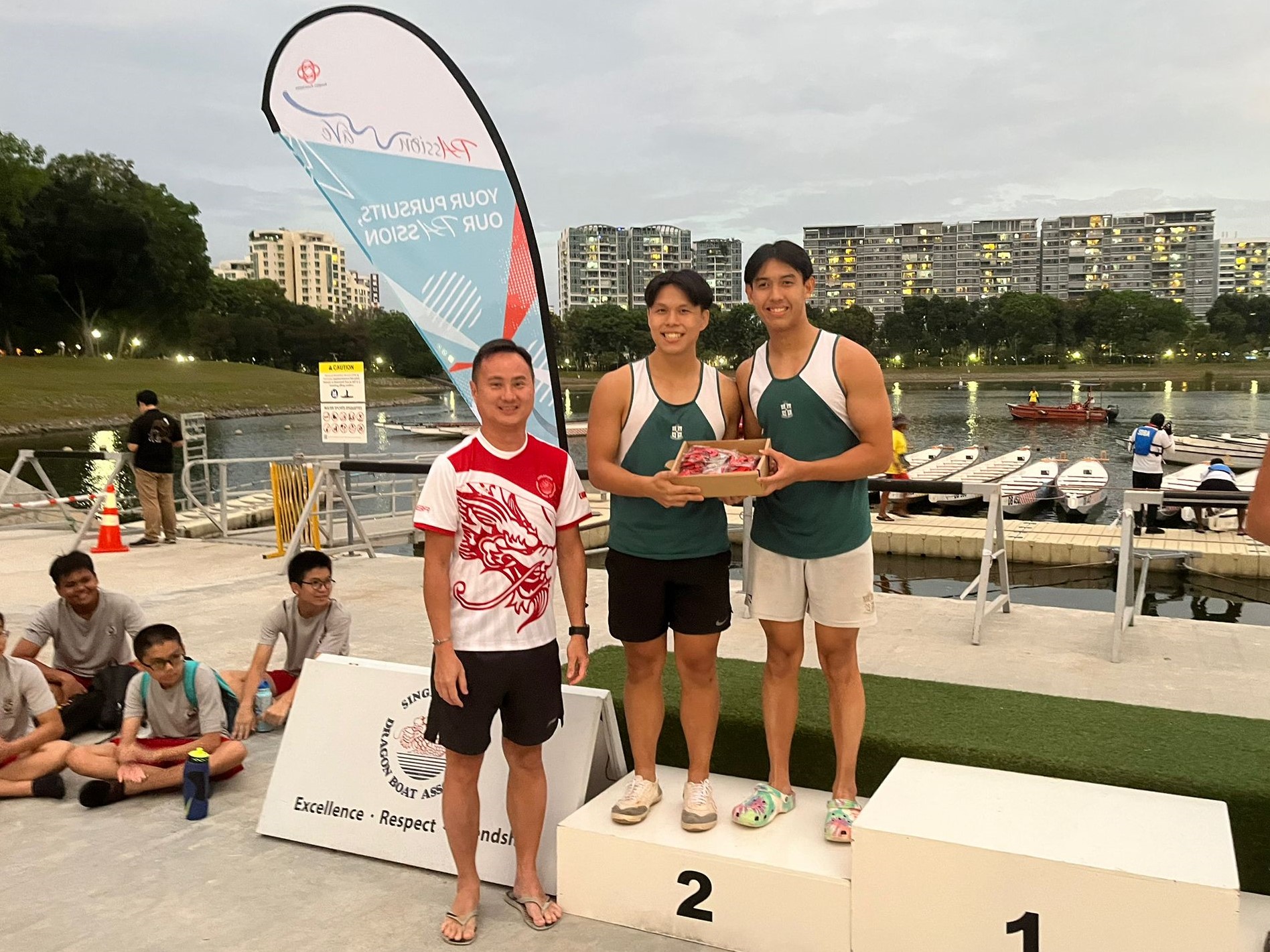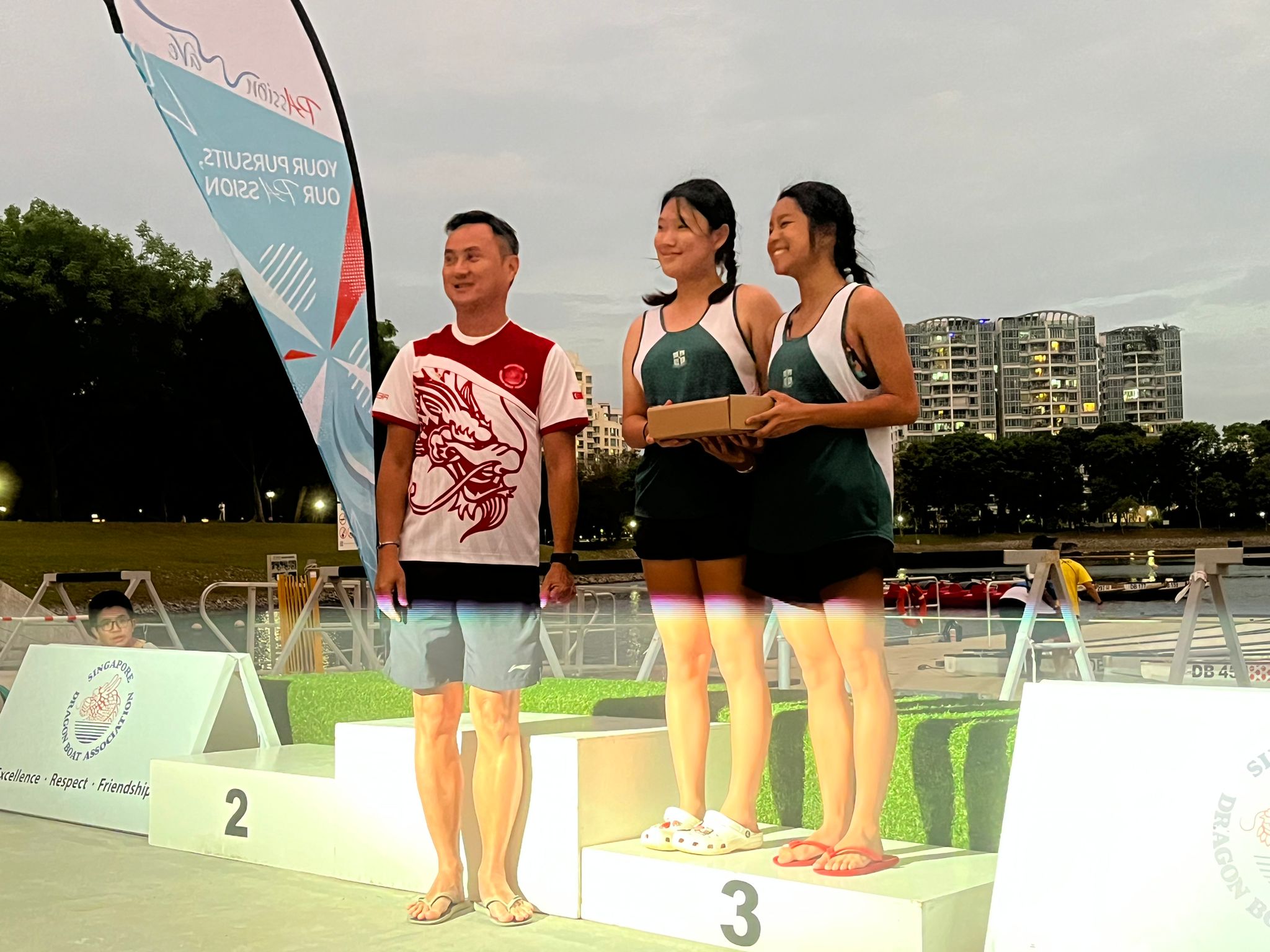 ---
Three teams of Year 4 students participated in the Archifuture Design Challenge 2023 organised by the Architecture and Sustainable Design Pillar, Singapore University of Technology and Design (SUTD). As part of the competition, the students attended a three-day immersive workshop to foster their abilities to innovate and design based on this new city narrative. Throughout the workshops, they had to complete several mini challenges followed by the main challenge submission. Two out of the three teams won prizes in the Secondary/JC Category.
1 . Team Bobs the Builders – Luke Chan Onn-Jit (MN401), Balakrishnan Akshath (LE401) and Venkatesh Pranauv (MN401) won the 2nd Prize in the Challenge.
| Prototype 1: | Prototype 2: |
| --- | --- |
| | |
2 . Team Jutobastian – Damhaut Justin, Hayashi Yuto and Sebastian Jerome Chin Long Yee (all from MN401) received a certification for the Mini Challenge.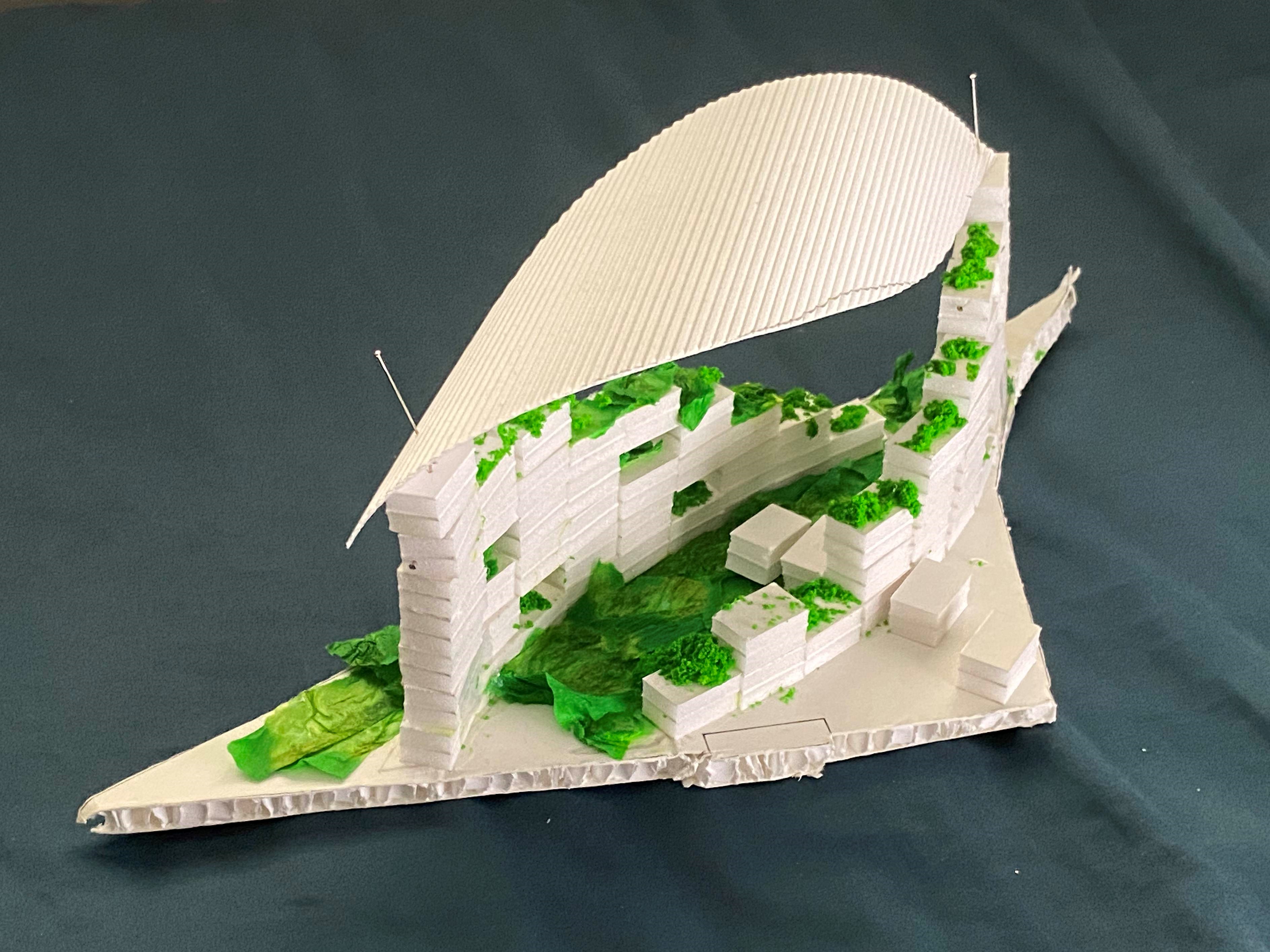 The boys received the award from Mr Heng Swee Keat (Deputy Prime Minister and Coordinating Minister for Economic Policies) at the award ceremony held in conjunction with SUTD Design Innovation Forum on 26 May 2023. The Mini Challenge award was presented by the Head of Pillar, Prof Tai Lee Siang at the Mini Challenge Award ceremony held at ASD office.
Team Bobs the Builders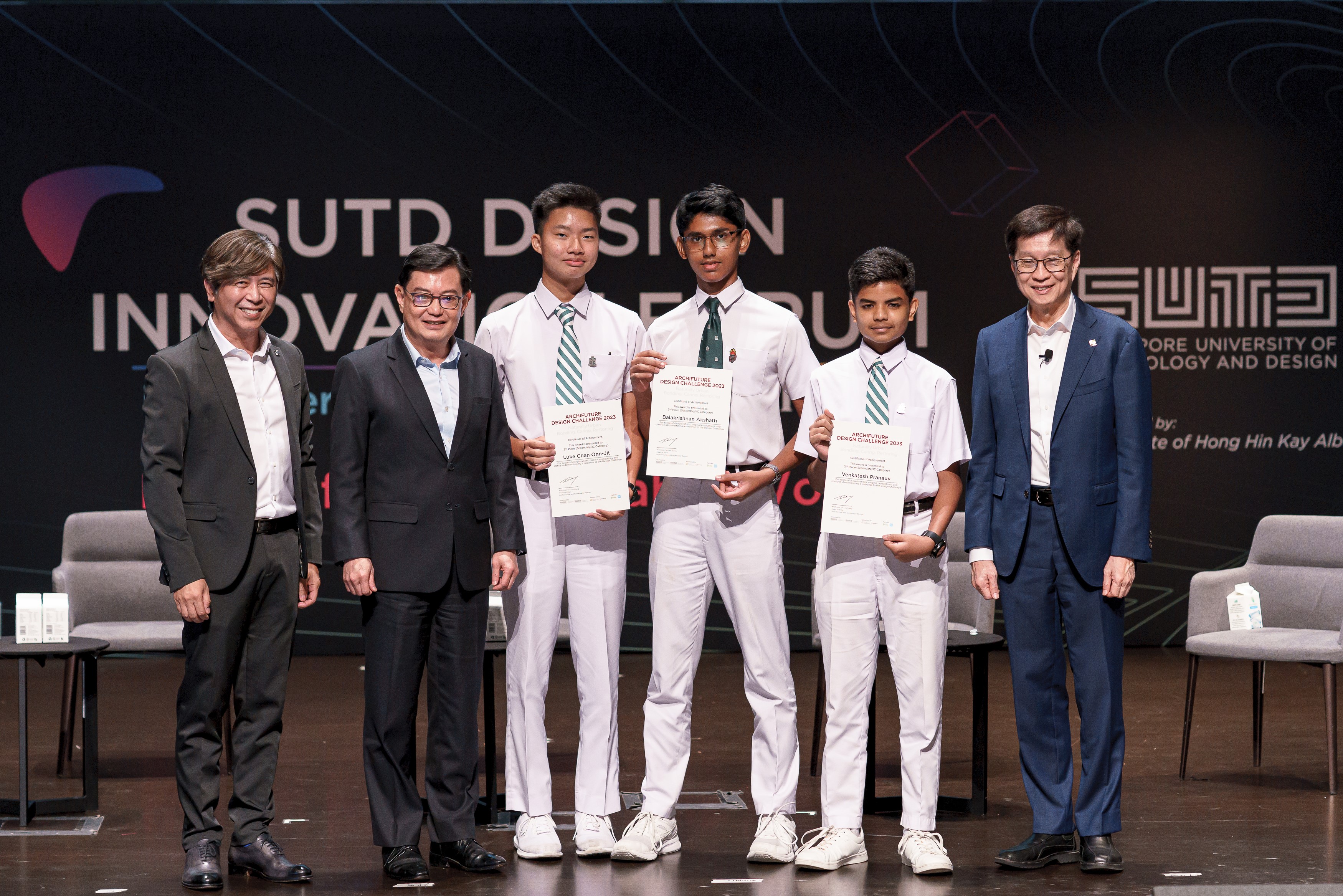 Team Jutobastian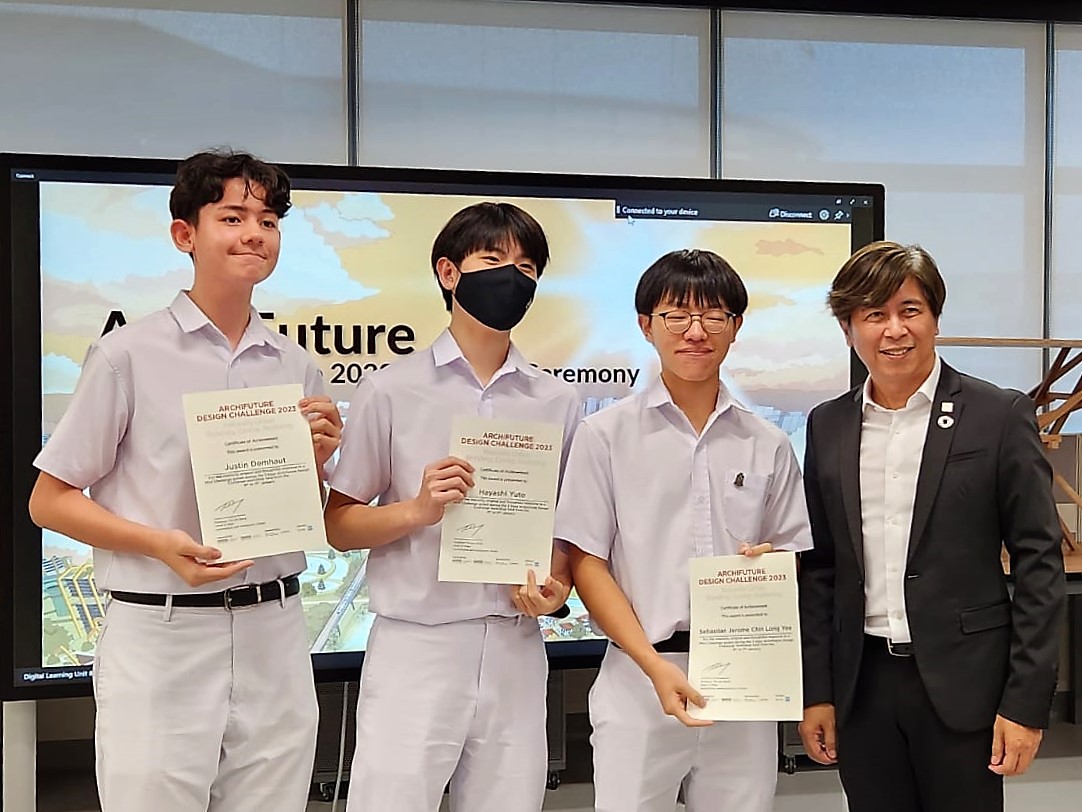 View our students' work and progress throughout the workshops on this Padlet link
---
SJI organised the inaugural Lasallian Invitational Carnival on 23 May, where seven schools participated to play football and floorball together. Besides our Lasallian primary schools - St. Stephen's School, St. Anthony's Primary School and St. Joseph Institution (Junior), Pasir Ris Primary School, Damai Primary School, St. Gabriel's Primary School and Monfort Primary School attended this carnival as well.

This event was organised to foster better bonding and social mixing amongst the primary school students, and to reach out to them to consider SJI as a school of their choice. The event also created a service learning opportunity for our own Josephians to lead and serve in their respective CCAs - Football and Floorball, empowering our young student leaders to organise this event for the juniors.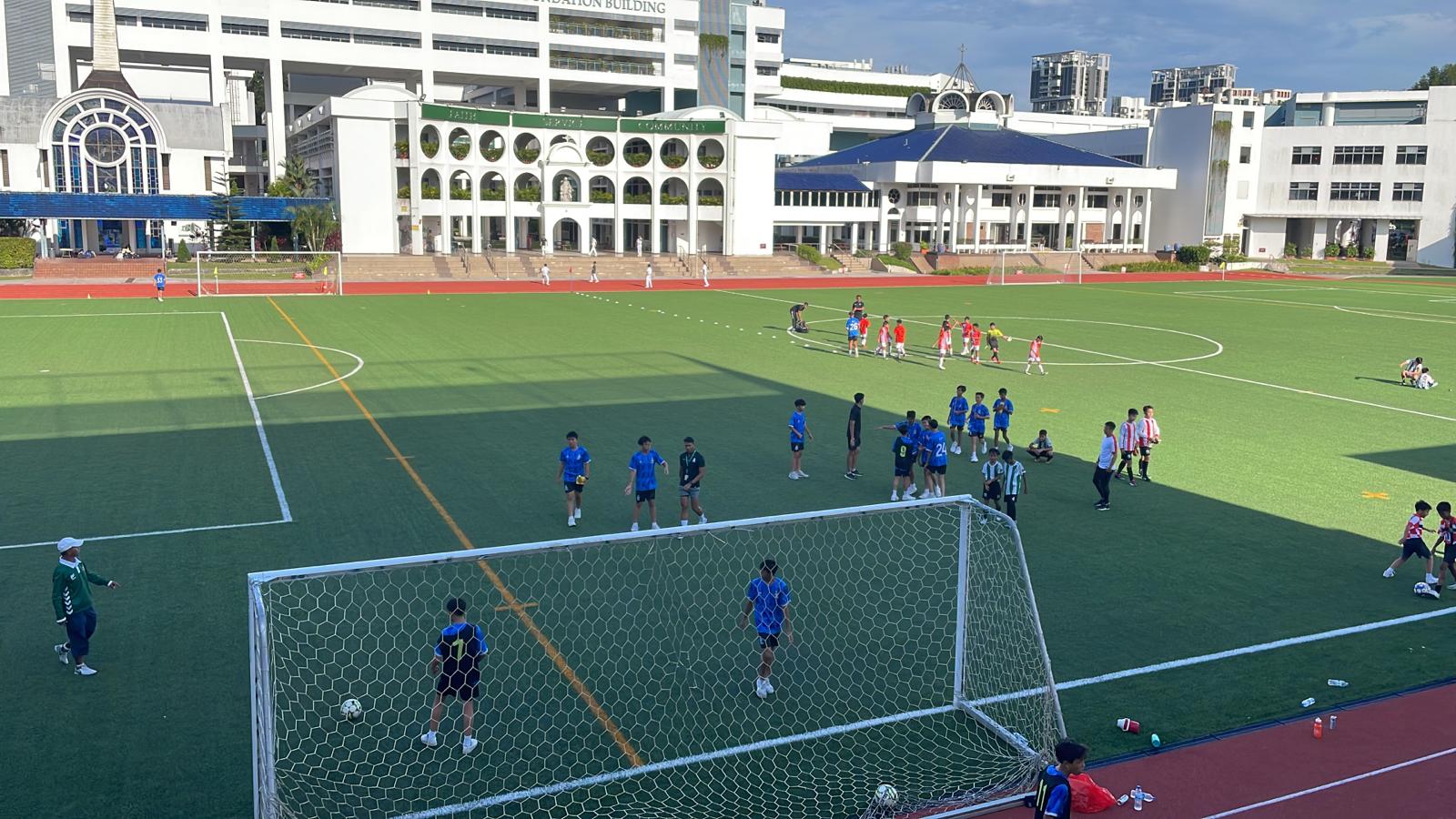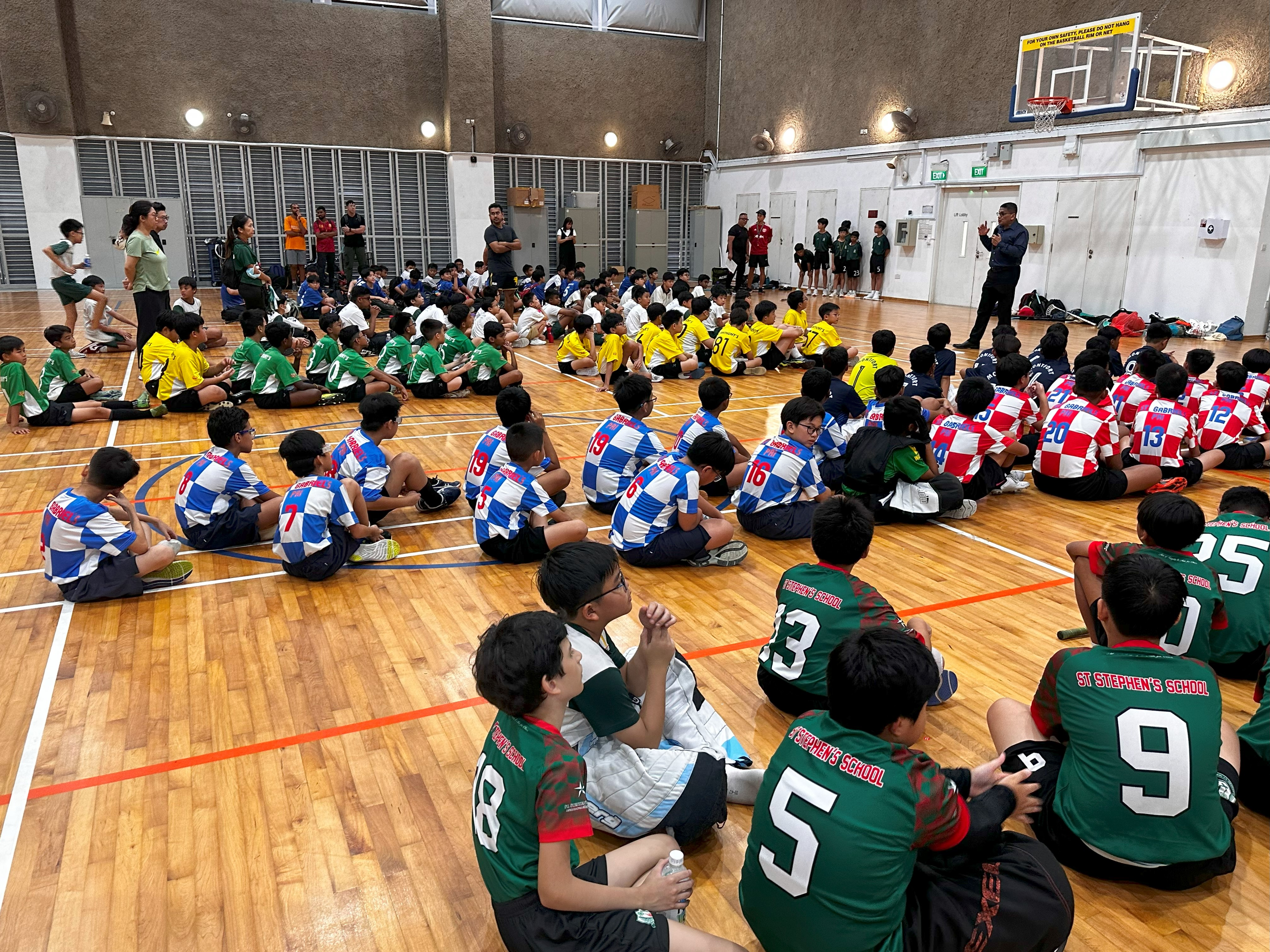 The primary school students first went on a mini tour of the school before the games embarked. After the opening address by SJI Principal, Mr Justin Pierre, the carnival kicked off and the competition was rather intense amongst the players.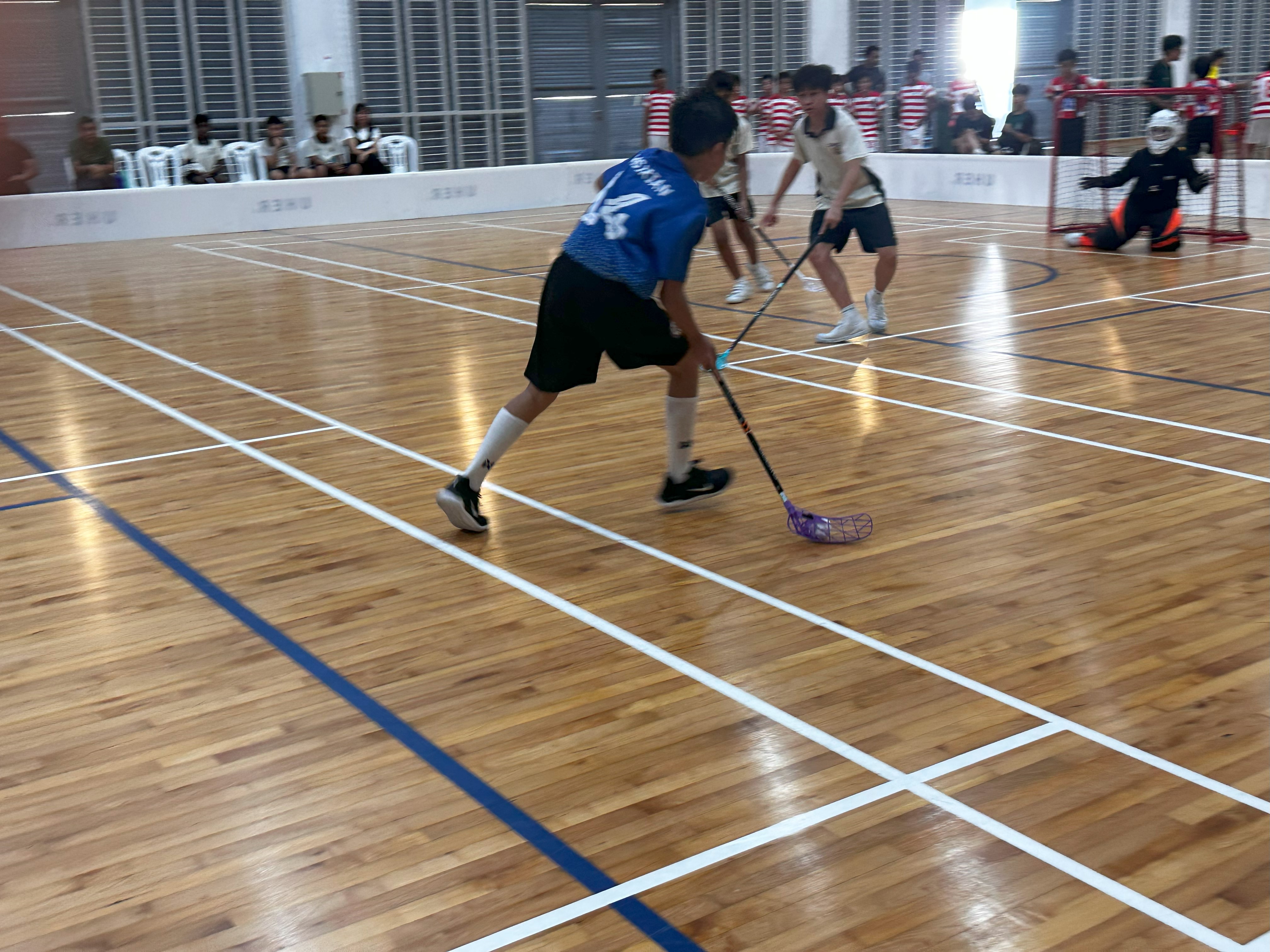 The carnival concluded with a prize presentation where medals were given to schools which achieved top 4 positions. Congratulations to the young sportsmen from the following schools!
| Floorball | Football |
| --- | --- |
| 1st - Pasir Ris Primary | 1st - Monfort Primary |
| 2nd - Damai Primary | 2nd - St Stephen's School |
| 3rd - SJI Junior | 3rd - SJI Junior |
| 4th - St Stephen's School | 4th - St Gabriel's Primary |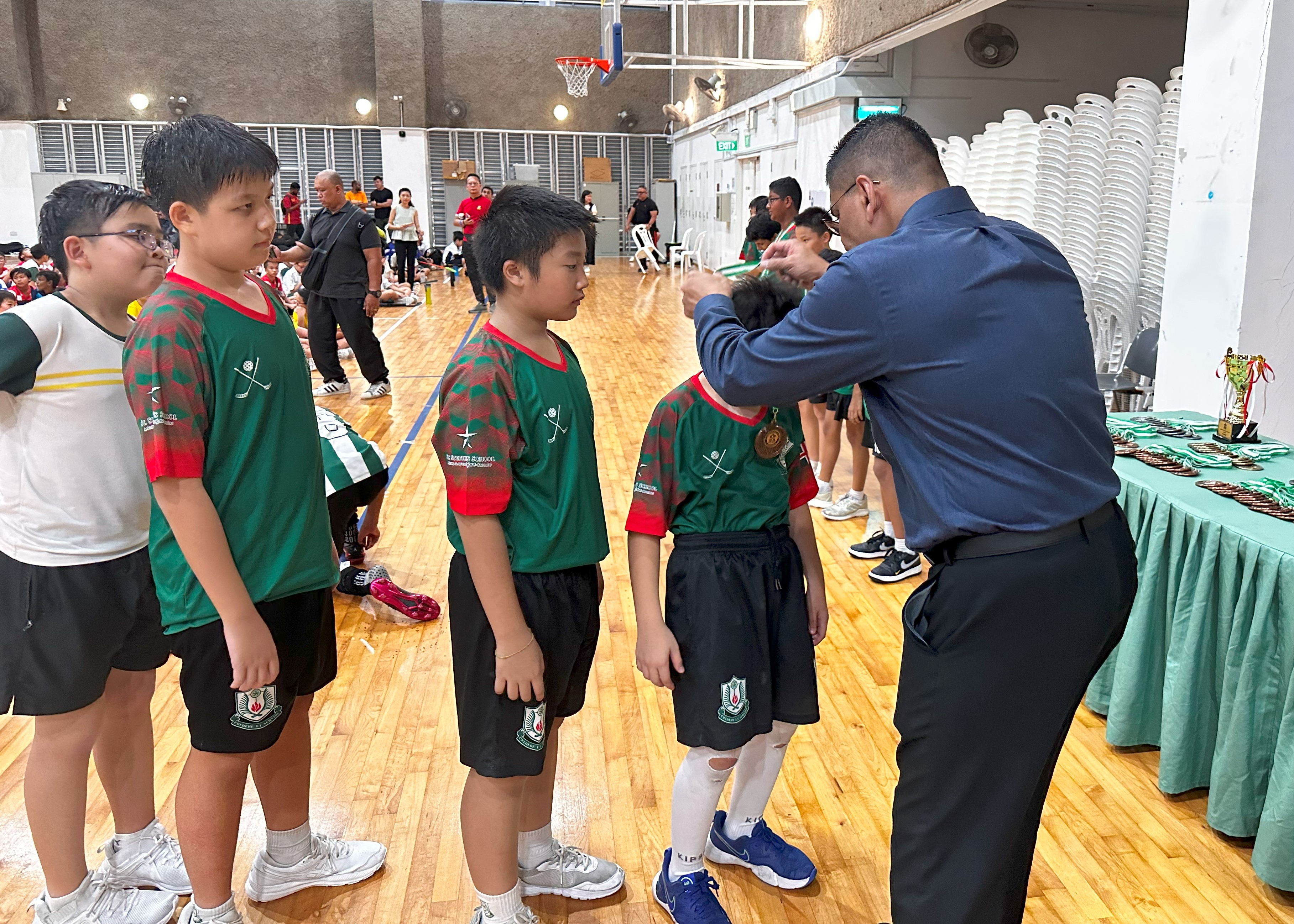 ---
In honour of our founder, St John Baptist de La Salle, SJI commemorated our 171st Founder's Day to celebrate our students' achievements in the past year. Mr Lawrence Chan, alumnus from Class of 1984, Group Chief Executive Officer of NETS was the Guest of Honour at this event.
More than 200 students received awards and prizes for their outstanding academic and sporting achievements. Tokens of appreciation were also bestowed to members of the SJI Board of Governors and Parent Support Group for their invaluable support and advice to the school.
View more photos at SJI Flickr Albums
---
---
Our five Uniformed Groups celebrated their annual achievements and promotion of new student leaders at their Anniversary Parade on 20 April. This is the first time our Parade resumed in full force since the pandemic disruption three years ago.
LTC Steven Jude Barter, alumnus from Class of 1998, Head C2 Operations Branch, Air Operations Department, Republic of Singapore Air Force, was our Guest of Honour at this year's event.
View more photos at SJI Flickr Albums
---
---
---
---
---
SJI hosted the annual Youth Leaders' Dialogue (YLD) organised by the SJI Student Council for 200 students from 21 secondary schools and Junior Colleges on 25 March. The theme for this year's YLD, "Winds of Change" is especially relevant in the context of our fast-paced, ever-changing world and to mark the re-opening of countries and borders since the COVID-19 pandemic.
Three distinguished guest speakers from various fields were invited to share their views on leadership and their perspectives on how they had led their respective organisations during the challenging times:
Mr Walter Fernandez, Editor-in-Chief for CNA (Channel NewsAsia) and Chief Sustainability Officer at Mediacorp
Dr Chin Pak Lin, Orthopaedic Surgeon and Co-founder of the Orthopaedic Centre and CEO as well as Co-founder of Asian Healthcare Specialists (AHS)
Mr Barathan Pasupathi, CEO of Jetstar Asia
The speakers shared candidly on their leadership journeys and the key principles and values that influenced their decision-making. The participants were engaged by the anecdotes and experiences shared, evident through the lively question and answer session after the sharing.
Interspersed with the panel discussion were activities planned for participants to interact with their peers from other schools. They were given problem scenarios to work on which required creative and critical thinking and effective communication skills that allowed them to express themselves effectively. At the end of each session, participants were led through a reflection session to help them consolidate and identify areas they could work on to further develop their leadership skills.
It is the hope of the organising committee that the 2023 YLD participants would gain insights into how they can be nimble and adapt to changes in the way they communicate, work and study, and that these would equip them with the skills to navigate the ever-evolving world and how they can ultimately serve the wider community.
---
After a 3 years hiatus, the SJI Annual Track and Field Championships returned with a bang! The theme of this year's championship is "Unleashing the Athlete Within: Celebrating Sportsmanship and Excellence". Leading up to the finals of SJI's 113th Annual Track and Field Championships, two rounds of heats for the 200m, 800m, 1500m Shot Put and Long Jump were held at Academy of Singapore Teachers. Our Josephians were very competitive and motivated to do well in their respective events.
On the day of the finals, the event began with the traditional March Past led by the SJI Bagpipers and the Fraternity Captains to cheer for their respective athletes. The event was declared open by Principal Mr Justin Pierre after the Athlete's Prayer was recited by Edmund from the Michael Fraternity. The events kicked off with the 100m, 400m followed by 4x100m, 4x400m, Fraternity Race and Lasallian Invitational race.
At the finals, the Fintan Fraternity led from the start to the end. Lawerance Fraternity put up a good fight against Fintan Fraternity throughout the day of events but lost narrowly to Fintan Fraternity by 20 points!
For the first time in several years, the response from other schools to participate in the Lasallian Invitational race was overwhelming! Catholic JC and St Patrick's Secondary School ran against our Josephians who were thankful for the friendly but tough race. Many friendships were also forged with the students from our Lasallian schools. In the primary school category, the younger students were given a glimpse of how their other Lasallian "brothers and sisters" performed on the track.
The event personified the theme of the championship where sportsmanship, excellence and participation were celebrated. Congratulations to all the winners, sportsmen and women who participated!
View more photos at SJI Flickr Albums
---
Congratulations to our female Josephian O Hao Han (LE606) who won the Bronze medal at the recent Inter-school Bouldering Championships! Hao Han scaled the climb at Xinmin Secondary School against 27 other girls from several schools to clinch third place in the A-Division Girls category.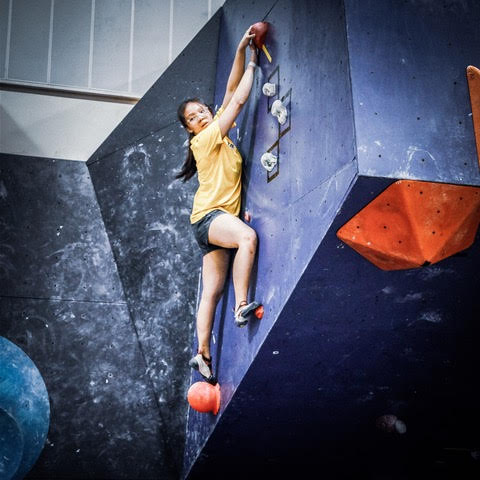 ---
Congratulations to our Year 3 Josephian – Monai Sitavarin (MN303) who secured the bronze medal in the prestigious 10th Singapore Astronomy Olympiad (SAO) at Raffles Institution on 11 March. The SAO is a nationwide competition focused on Astronomy and Astrophysics, designed to identify potential candidates to represent Singapore in the upcoming International Olympiad on Astronomy and Astrophysics (IOAA) that is scheduled to be held in Poland later this year.

Comprising three distinct sections, namely the Theoretical, Data Analysis, and Observation Round, the SAO challenges participants in various aspects of the subject. The entire examination lasts for four hours, allowing participants the flexibility to answer questions in any order they prefer. The Theoretical round encompassed multiple-choice, short-response, and long-response questions, predominantly revolving around computational astronomy and astrophysics. The Data Analysis round primarily featured inquiries related to professional astronomy research involving graph plotting and basic statistics. Lastly, the Observation round entailed two components: Telescope parts and the observation of celestial objects and constellations in the night sky.

Monai showcased his strengths and demonstrated exceptional performance in both the theoretical and observation rounds, but he could not complete the data analysis section due to time constraints. Nevertheless, his overall performance was commendable, thus securing the bronze medal. His achievement in the previous year's International Junior Astronomy Olympiad in Romania, where he obtained a silver medal, had significantly contributed to his success. Monai aspires to improve his performance in the upcoming 11th SAO, exhibiting great determination and effort.

Monai with Mr Joogal, Teacher I/C for Astronomy Club (CAS)
---
Out of the five projects that competed at the SSEF 2022 Final Judging Round on 8 March 2023, four received a total of 6 awards. These four projects from SJI this year were also led by Josephians – with 3 individual Main Category projects and with one Junior Scientist category project (for Sec 1 and 2 students). Congratulations to the following Josephians:
Junior Scientist Category (for Sec 1-2 students):
| | |
| --- | --- |
| Patrick Nott Pei De (ML303)-Team Leader, Jedidiah Eo Shuo (FN301) and Jaden Lee Zhijie (FN301). Their in-house project "Investigation of Nitrogen-Potassium based liquid fertiliser in the growth of broccoli microgreen" (project code – JBI014) mentored by Mr. Ng Shuh Lit, won them a Distinction Video Award! | |
Main Category:
| | |
| --- | --- |
| Aeden Chng Yu Khye (FN603) won a Silver Award (Research Attachment Programme (RAP) project 2022) for his project on "Phase Change Material Based Thin Film Coating for Tunable Optical Devices", conducted in the A*STAR Institute of Materials Research and Engineering (IMRE) as part of the requirements for the A*STAR Science Award (Junior College) (project code – MS039). | |
| Zhuo Chengsheng (ML615) received a Participation Certificate (RAP project 2022) for his project on "Clarification of the Water Access Pathways of the Fo Domain of Escherichia coli F-Type ATP Synthase", conducted in the A*STAR Bioinformatics Institute (BII) as part of the requirements for the A*STAR Science Award (Junior College) (project code – CO016). | |
| Keane Tan Ee Hunn (MN616) won a Bronze Award (Science Research Programme (SRP) project 2022-23) for his project on "Novel Growth Method of Microalgae to Increase Protein Content Under Mixotrophic Conditions", conducted at NUS, Department of Chemical and Biomolecular Engineering (project code – PS039). | |
| Fan Enrui (LE510) – together with 2 other students from RVHS (Team Leader) and RGS won a Bronze Team Award (Research@YDSP internship project 2022) for their project on "Design and Analysis of an Autonomous Electric Wing In Ground-Effect Drone For Ship Chandling" mentored by Ms. Gina Tan, conducted at DSO National Laboratories (project code – ET022). | |
In addition, Enrui's project also won 2 Special Awards:
James Dyson Foundation (JDF) Design Engineering Award – To recognise projects that show the design engineering thought process where students design something that supports innovation for sustainable living.
SUTD Research and Innovation Award (Aviation) – To recognize outstanding SSEF projects that demonstrated innovation and creativity in line with SUTD's next phase of growth in four key economic sectors of aviation, cities, healthcare and sustainability, supported by capabilities in artificial intelligence and data science. SUTD awarded a total of 10 awards to 10 projects, with 2 Awards focusing on the applications in Aviation.
---
The NSG 2023 Table Tennis (South Zone) competitions began since 1 February and concluded on 3 March. Throughout the tournament, the SJI B and C Division teams showcased their skills and determination, winning several matches against their opponents. The players displayed excellent techniques and strategic play, which helped them secure their victories. They worked cohesively as a team, communicating effectively and providing support to each other, which contributed to their success. Both our B and C Division teams performed exceptionally well to reach the finals, where they faced off against our perennial rival, Raffles Institution. Despite the loss and winning second place for both Divisions, our boys showed great sportsmanship and congratulated their opponents on their win. They displayed resilience and determination throughout the tournament, which earned them respect from their opponents and the audience alike.
| | |
| --- | --- |
| Ong Yi Dong playing his best against Raffles Institution | Aaron Wong playing doubles against ACS in the semifinals |
| | |
The boys' exceptional performance at the South Zone Table Tennis competitions is a testament to their skills and the dedication of their coaches and teachers in-charge. Their hard work and dedication have paid off, for them to reach the finals of the NSG 2023 where they will meet formidable opponents from other schools at the National level in Term 2.
🏓🥈#TeamSJI
---
Despite fielding a team of only 7 players from the original 15 as half the team was down with flu, the SJI Badminton B-Division team did not disappoint at the 2023 National School Games (NSG) South Zone competitions that concluded in March. Led by Jerome Ng and Ratul Ramachandran as the Overall Captain and the Year 3 Captain respectively, the team continued to show its prowess and tenacity to bring home excellent results in the first round.
Towards the end of the season, the SJI team was matched up against ACS (Barker Road) for the 3rd and 4th placing on the final day. With one of our key singles players down with an injury, the SJI team drew level at the end of the 2nd doubles but could not overcome their 3rd singles player who was able to bring the edge into the game. The team has fought hard to win the 4th-place medal at the South Zone games and this experience has definitely prepared them for a better showing in the Nationals in Term 2.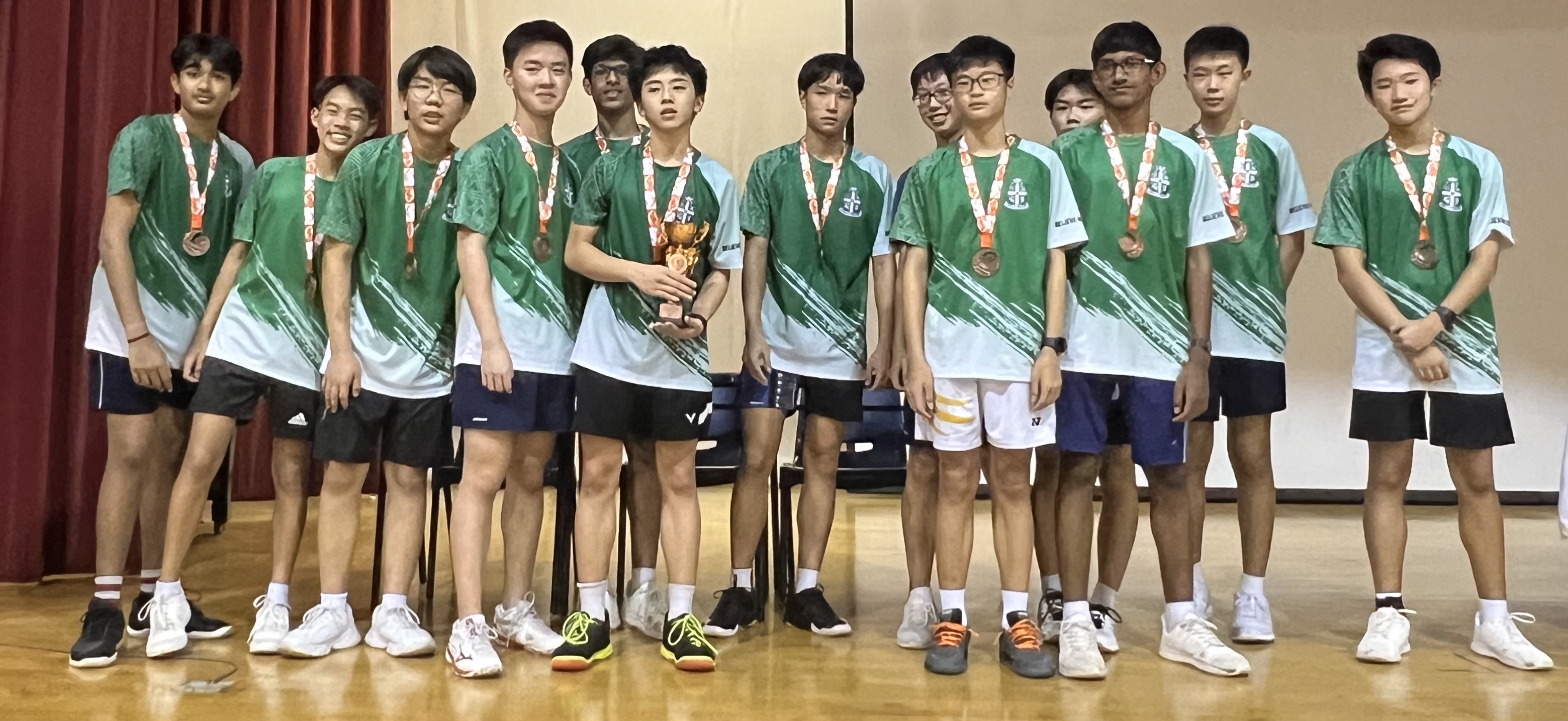 ---
Returning from a three-year-long pandemic-imposed hiatus, the Singapore Youth Sailing Championships brought with it glamorous sailing conditions allowing for twelve races to be conducted over the four-day event. Following a long-drawn battle at the top of the leaderboard, SJI is proud to announce that our sailors Russell Yom (FN604) and Felix Koo (FN401) overcame the odds to emerge national champion and under-16 champion in the ILCA 6 Division respectively. Not to be outdone, Kenan Tan (FN401) also clinched the top spot in the ILCA 4 category, thus ensuring that SJI triumphed with the national title in 2 out of the 3 categories that we fielded sailors in. Well done, SJI sailors!
🥇#TeamSJI
📸 Photo credit: Kit / Donovan Ho for Singapore Sailing Federation
| | | |
| --- | --- | --- |
| Russell Yom | Felix Koo | Kenan Tan |
---
Our artistic Josephians shine again at the annual ViaRT art competition that was organised in support of the National Environment Agency's (NEA) "Say YES to Waste Less" campaign. Based on the theme of the competition "Before Semakau Landfill in 2035", the inspiration or theme behind each piece of art should relate to the Semakau Landfill or any other sustainability topics.
Congratulations to the following students from Josephian Arts Programme for their achievements in ViaRT!
Marcus Ee Jun Wei (FN403) - The Most Artistic Award: 1st prize


Isaac Low Tze Shui (ML201) - The Most Artistic Award: 3rd prize


Cohen Seah Jia Hern (MN302) - "You Made a Difference" Category: 3rd prize
The artworks of Isaac Low and Cohen Seah, as well as other finalists Jotham Foo and Aaron Tan, will be auctioned at ViaRT's inaugural artwork auction on 24 March from 6pm - 9pm. (RSVP required via email: info@viart.green).
All auction proceeds will go to charities including Zero Waste Singapore, Bluestar Charity Asia and the ViaRT 2023 programming.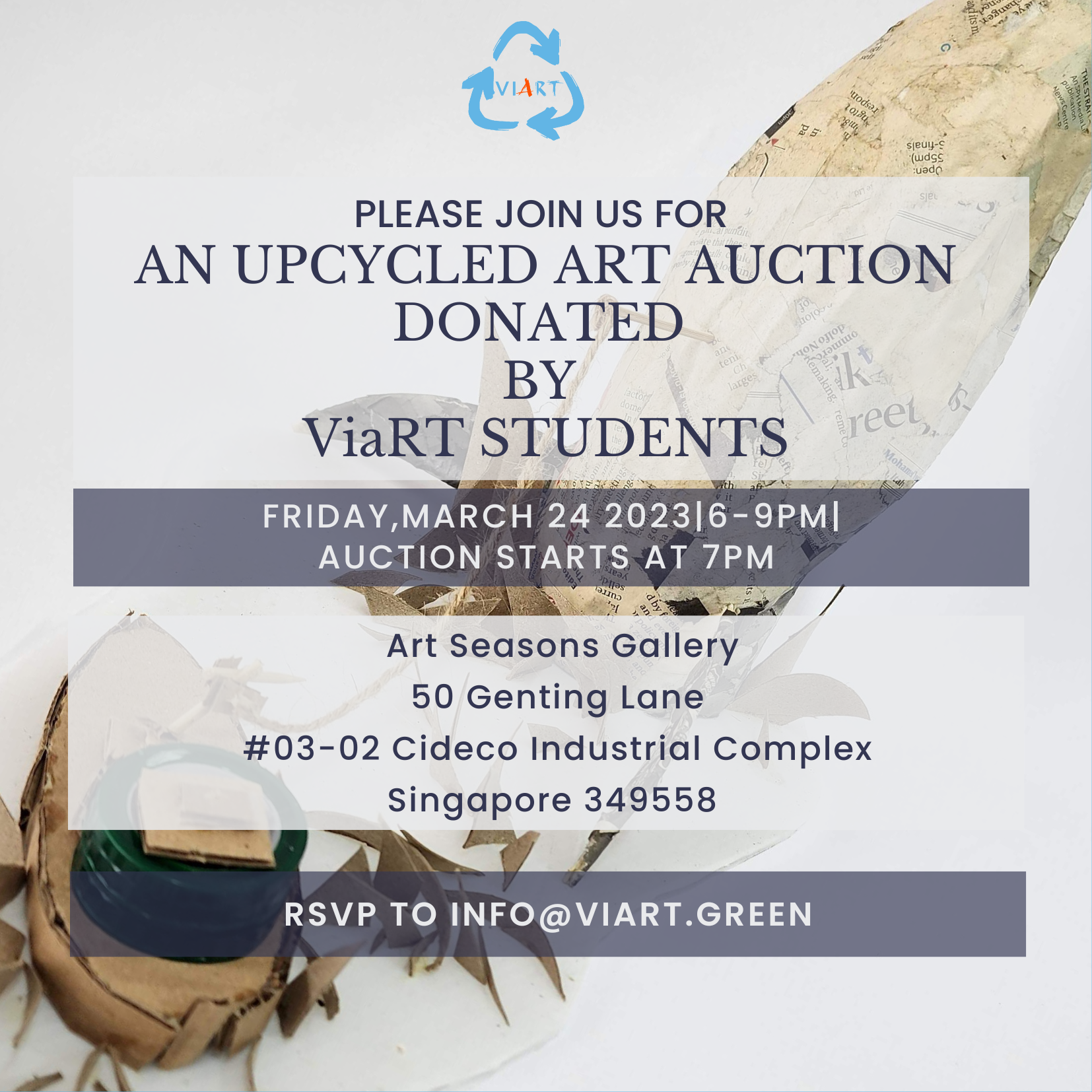 ---
Our B Division Tennis boys team defeated ACS (Barker) 4-1 on 9 March to clinch 3rd place in the National Schools B Division (Boys) Tennis Championships! Well done, boys!
🎾🥉👏
📸 Photo credit: Samuel Lim (ML403)
---
The Singapore Junior Boys' tennis team emerged victorious on 18 February, winning the ITF World Junior Tennis Asia Oceania Pre-Qualifying Tournament by defeating Kyrgyzstan in the finals at the Sri Lanka Tennis Association in Colombo, Sri Lanka.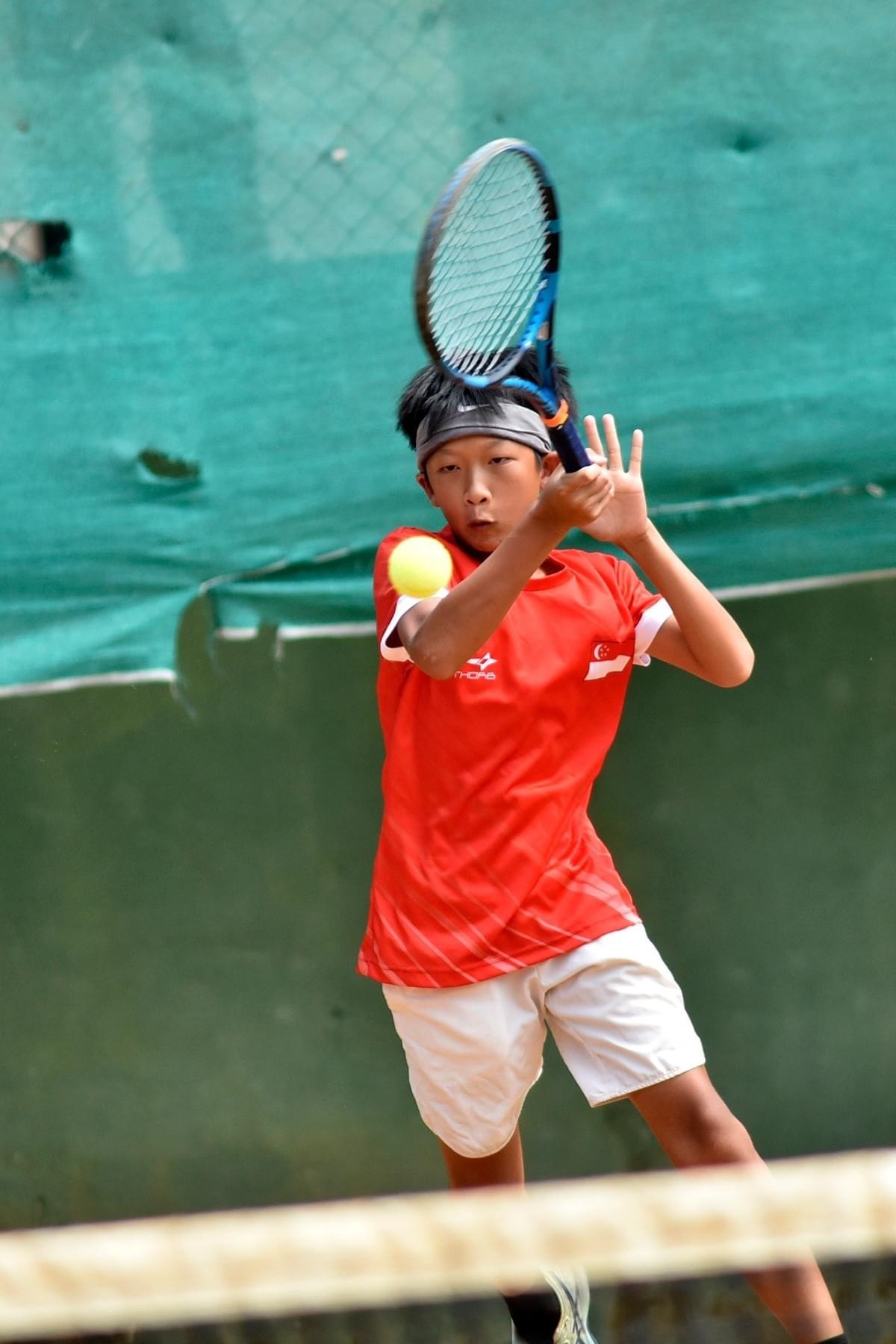 SJI's Zachary Sng (pictured left) was part of the squad, together with Luke Ho Jie Xi (Raffles Institution) and Allen Leong (Victoria School), who were led by Singapore Tennis Association (STA) National Training Squad coach and Team Captain Kiren Kumar, played a nail-biting doubles decider, and won straight sets 6-4, 6-1 after a tie on the singles match played earlier in the day.
During the 6-day tournament under extreme conditions that saw participation from 14 countries, the Singapore Boys team topped their group matches defeating perennial arch-rivals Malaysia 3-0 and Yemen 3-0. They progressed to the quarterfinals defeating Lebanon 3-0, and Turkmenistan 3-0 in the semi-finals before defeating Kyrgyzstan 2-1 in the finals to claim a historic win.
This is the first time that a Singapore team has won the ITF Junior Tennis Asia Oceania Pre-Qualifying Tournament. They will continue to the Asia Oceania Finals Qualifying to be held in Kuching, Sarawak in March where they will face the powerhouses of Asia tennis comprising 16 teams including Australia, Japan and Korea.
📸 Photo credit: Singapore Tennis Association
---
About 20 Josephians from our Uniformed Groups joined in the commemoration of the 56th War Memorial Service at the Civilian War Memorial last Tuesday 15 February, Total Defence Day. Chen Leqi from St John Brigade represented SJI to lay the wreath during the War Memorial Service.
The students who attended the War Memorial Service reflected on the nation's past and the importance of Total Defence. Abhinand Ram Koottala (Year 3), "I feel proud as I am able to pay respects and pray for the civilians who sacrificed their lives so that we now can lead a peaceful life."
Fellow Year 3 Josephian, Muhammad Khalid, shared, "I have learnt from the exhibition that each individual can contribute to the defence of Singapore by carrying out simple daily routines. I can educate my friends and family on what we can do to keep Singapore safe and united. I can spend more time with my family and friends and try to understand one another's feelings and views they hold."
Read more at Straits Times: Important for Singaporeans to stay united amid threats: Edwin Tong
| | |
| --- | --- |
| Viewing artefacts at the Exhibition Hub | Reading stories about war heroes at the Exhibition Hub |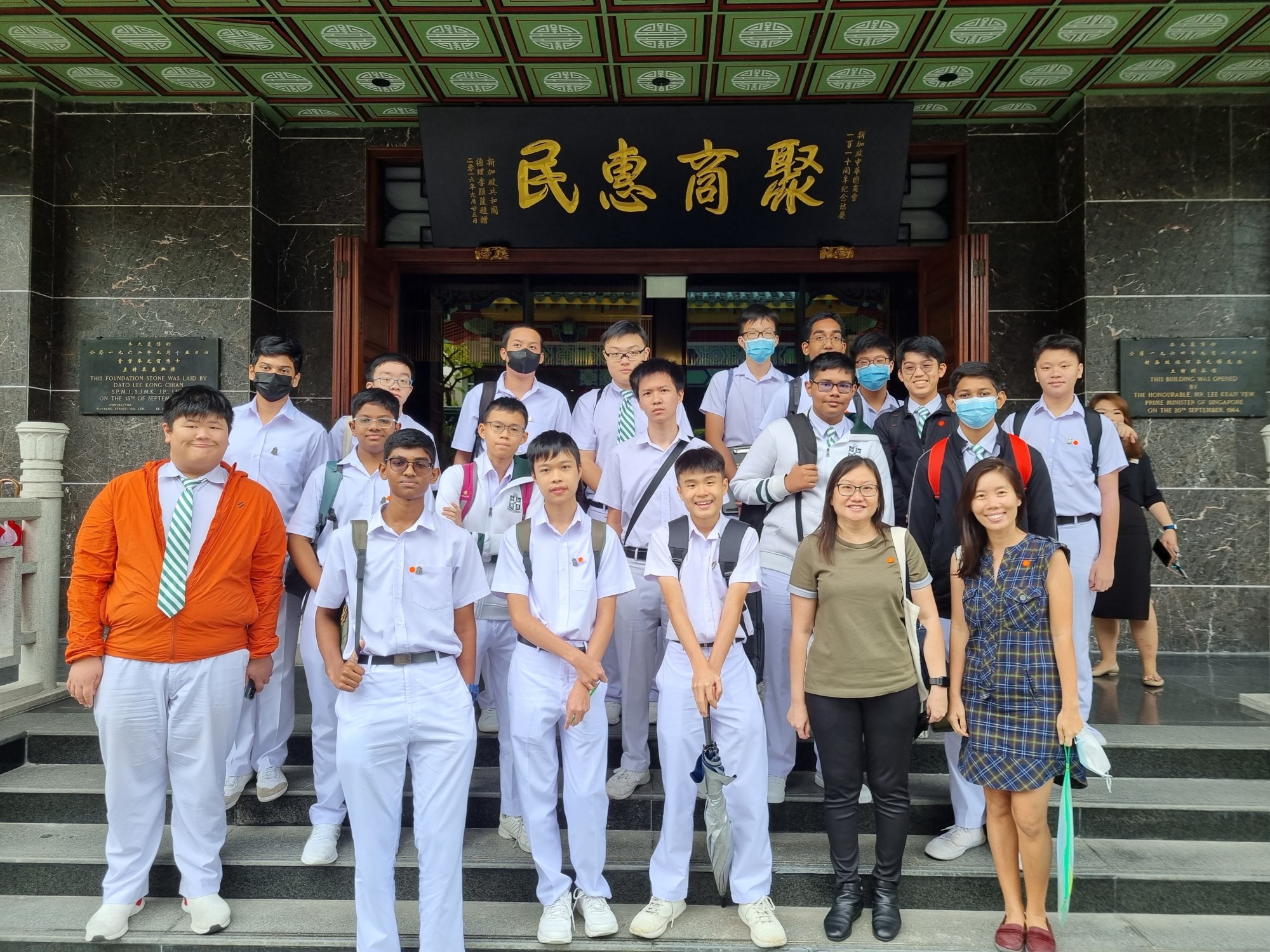 Josephians at the Singapore Chinese Chamber of Commerce Industry
---
SJI hosted the 5th Swift Innovators' Summit on 11 Feb. This annual event also called the Swift Accelerator Programme, saw graduating students showcasing the apps that they had developed and published through the 180-hour accelerator. 5 SJI students (Chan Yap Tong, Chong Jian Hang Geoffrey, Damien Lau Jia Hui, Lim Zheng Xuan Daryl, Zachary Pak) were amongst this cohort of 56 students who participated in this accelerator programme supported by IMDA, Apple and TinkerTanker. Guest-of-Honour SMS Mr Tan Kiat How presented the graduation certificates to the students.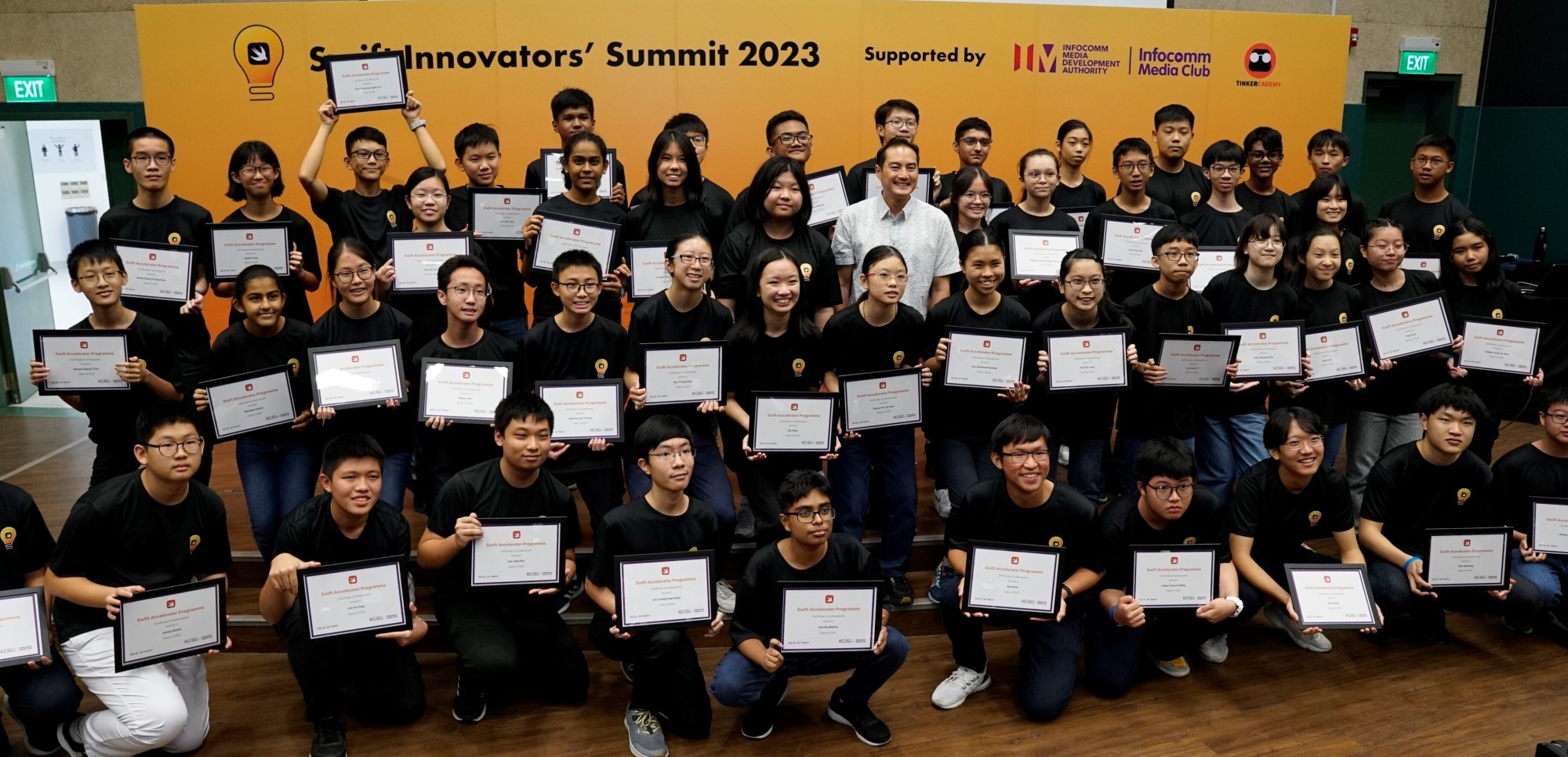 ---
The Inaugural Celebration is a school tradition and the first formal school assembly that formally marks the start of each new academic year when the entire Josephian community comes together in thanksgiving and prayer. It is the culmination after a month of orientation and authentic experiences when the school comes together to celebrate its sense of being a Lasallian community. At this celebration, SJI officially welcomes the new addition to the school – Year 1 boys, Year 3 Scholars, and Year 5 JC students, teaching and non-teaching staff members.
Josephians gathered at this assembly as a praying Lasallian community, remembering the presence of God and adoring the Will of God for SJI through the Eucharist Mass in the new academic year. The celebration is anchored on the Principal's Address, which puts forth the direction SJI is charting ahead as a Catholic, Lasallian school for the 2023 academic year with the theme - "Empowering Future-ready Josephians through learning, living and leading". Fr Edward Seah who celebrated the Eucharistic Mass, also blessed the school colours and the symbols that represented the various faculties of the school.
View more photos at: SJI Flickr Albums
---
SJI welcomed the new Year 5 Josephians to our family on 3 February. Their new JC journey in SJI began with the Orientation Camp "Nova Aurora" (which means "New Dawn"), which saw them bonding over games and forming new friendships with new classmates and their tutors throughout the following week.
Welcome to SJI - Ora et Labora! 💚🤍
View more photos at SJI Flickr Albums
---
As part of our Education and Career Guidance (ECG) Programme, SJI embarked on its inaugural Work Experience Programme (WEP) for all the Year 4 Integrated Programme (IP) students where students were assigned to various external organisations to learn and gain valuable work experience for a period of 2 weeks from 9 to 20 January before they resume school in Year 5 in February.
Through WEP, the students gained a greater self-awareness as they explored their career interests and were able to better understand the world of work beyond school. Several students also shared their interesting work experiences at the WEP closing ceremony on 1 February.
Choo Yi Ming, who was attached to Changi General Hospital, shared that his WEP experience provided him with valuable insight into what doctors do on a daily basis. It also allowed him to connect with professionals in the field and clarified doubts he had about the medical field. The doctors were very caring and explained everything to him patiently.
Matthew Oon commented that his experience at the Spectra Secondary School, a specialized school for Normal Technical students, was very interesting as he shadowed the teachers and helped out in the lessons. He observed that the teachers were very caring and often went the extra mile to foster a positive relationship with their students, such as getting to know students better after school, so that they can be a positive influence in their students' lives.
Joseph, together with his teammates Bavaesh and Daniel had an exciting time at the Nanyang Business School. In the first week, they were attached to the Academy of Career Excellence (ACE) where they attended talks and gained exposure to business, marketing and finance. In the second week, they were attached to the Undergraduate Programmes Office (UPO) where they were involved in event planning and marketing campaigns. They gained first-hand experience learning about the prerequisite and skills required for business-related careers.
---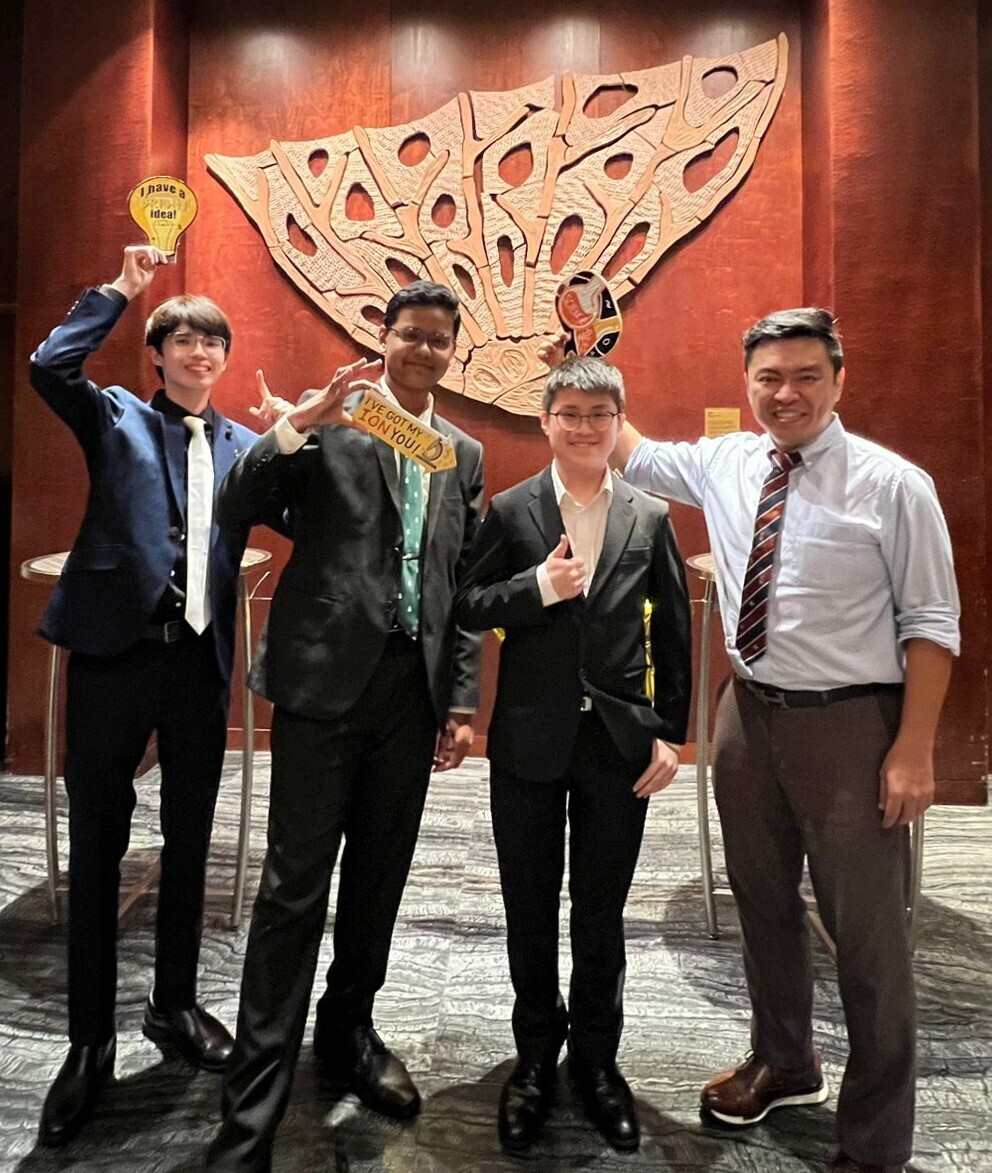 Three Year 4 Josephians – Premanandan Dishnu (LE401), Ciaran Condron (LE401) and Nathaniel Cheng (ML302) and Science educator Mr Wong Chee Choy represented SJI to take part in the International Science Youth Forum (ISYF), a prestigious science enrichment programme for top research students from all over the world. Hosted by Hwa Chong Institution, the ISYF aims to benefit not only students but also Science educators as it provides a rare and valuable platform for eminent scientists to interact and share ideas with young budding science and mathematics talents as well as build capacities of science educators.
The students attended the 5-day Science Camp from 15 to 19 January, which included dialogue sessions with Nobel laureates and eminent scientists, excursion to research institutions, cultural exchange events as well as sightseeing around Singapore.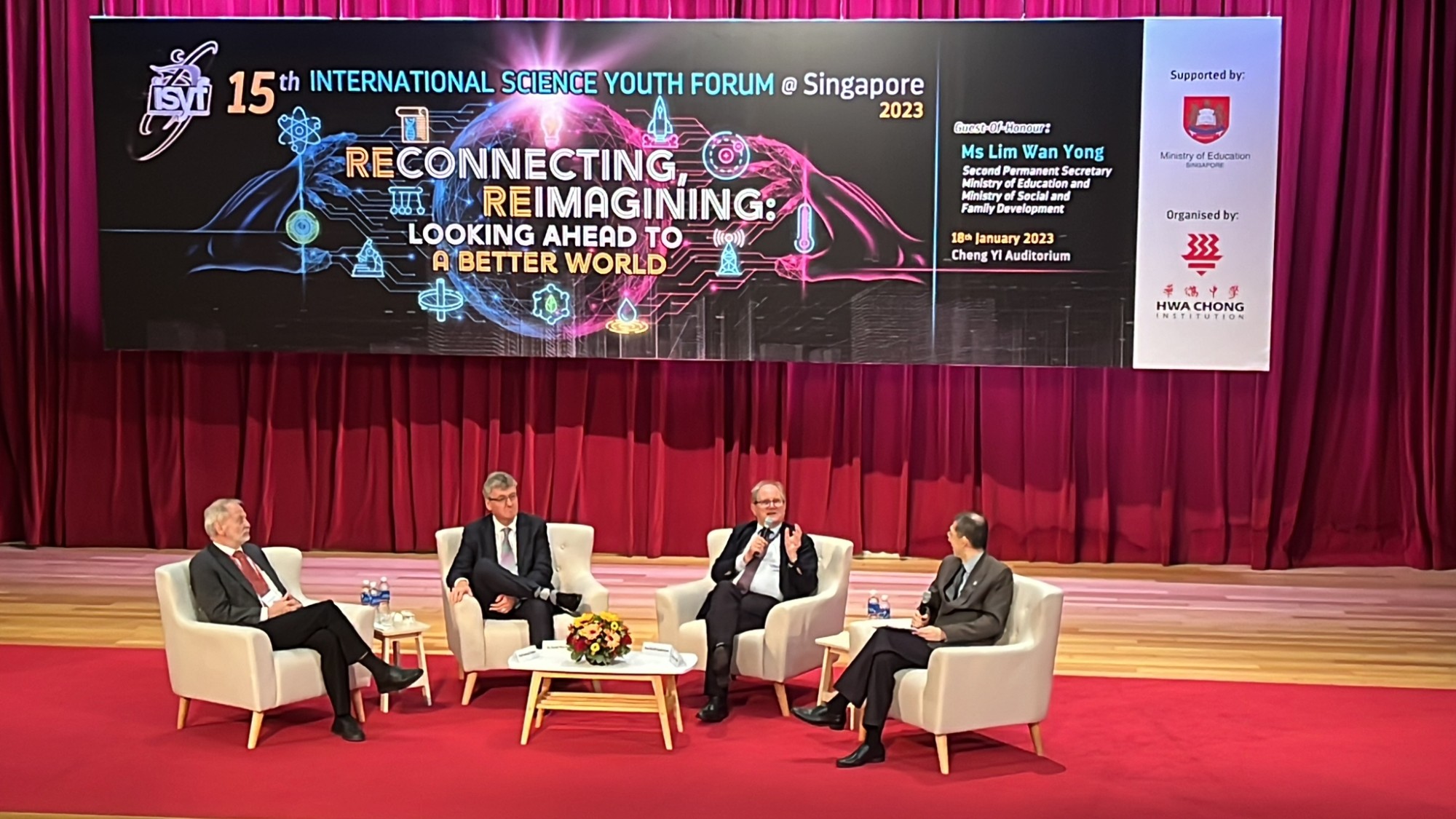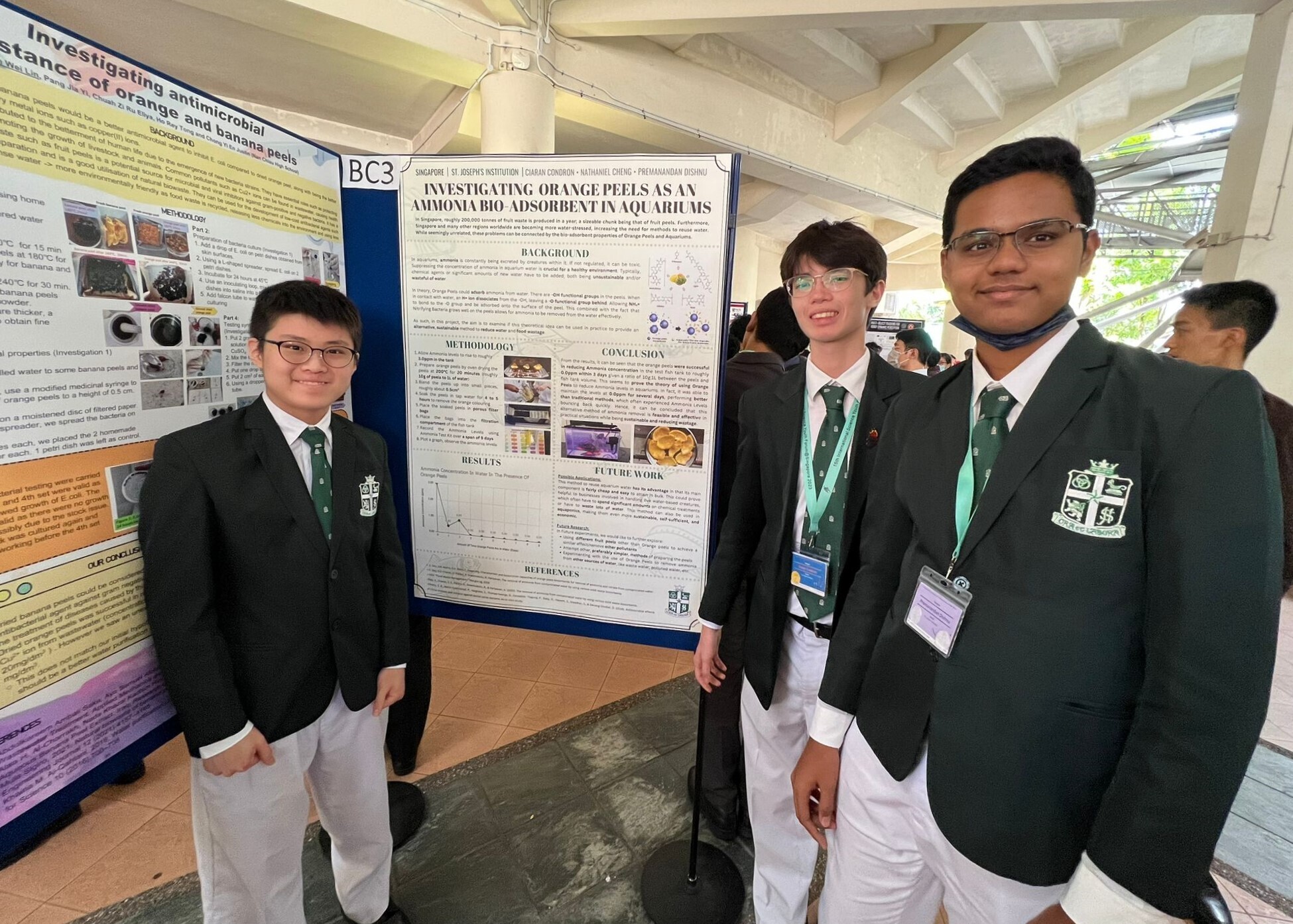 For the project challenge, the students worked in small groups with peers from other local schools and international delegates and learned how to create a Rube Goldberg machine – a chain reaction type machine to perform a simple task. The SJI team also shared their school project on the use of orange peels as a natural bio-adsorbent to remove harmful ammonia in fish tank water at the poster exhibition.
---
From CNY paper-cutting, calligraphy, lantern making, and spring couplets design conducted during the CNY tradition lessons to the Inter-Class CNY Decoration Competition, Josephians joined in the festivity to celebrate and welcome the Lunar New Year on 20 January.
View more photos at SJI Flickr Albums
---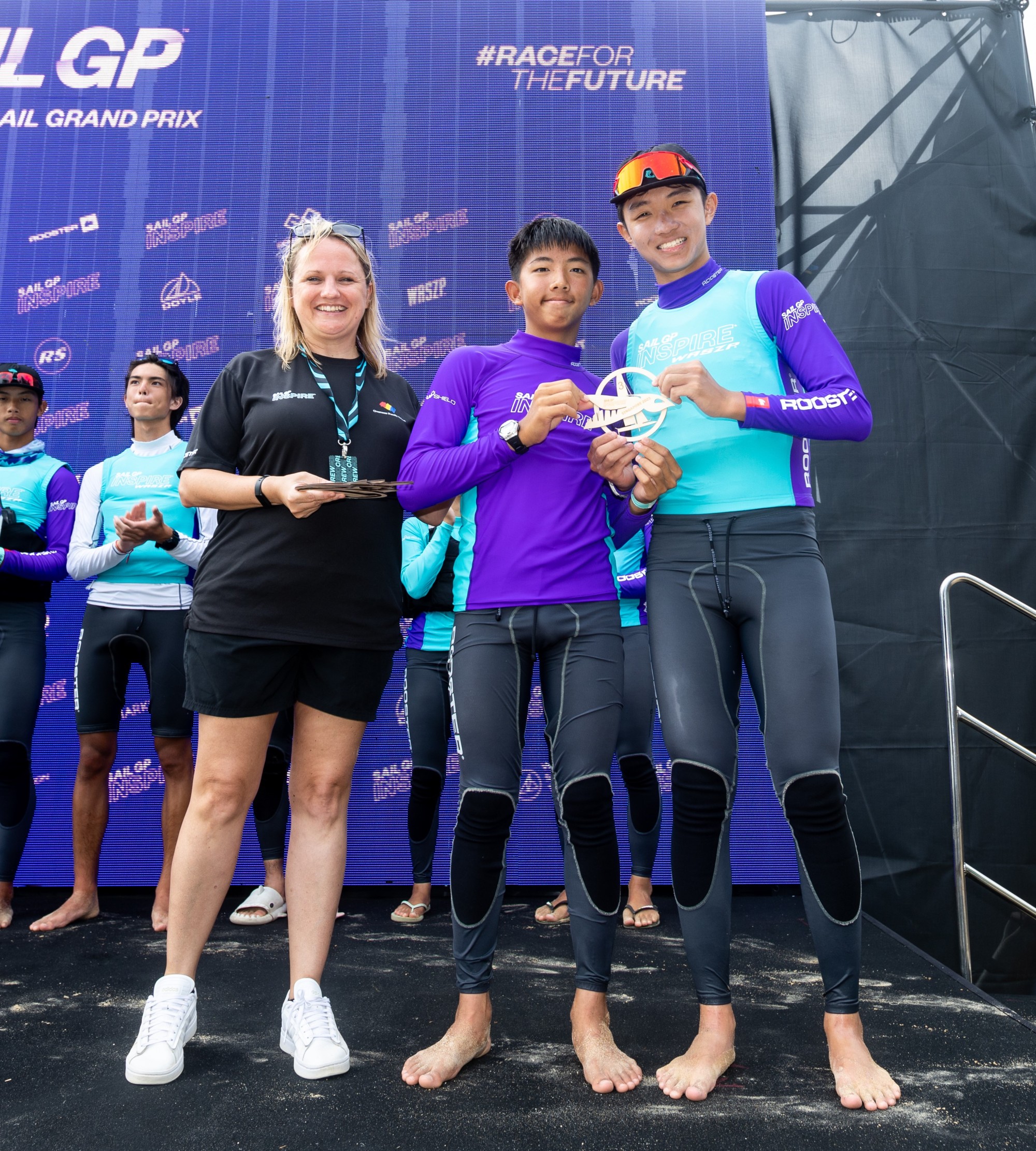 (Photo credit: Chloe Knott for SailGP)
As part of the inaugural Singapore SailGP regatta, SJI sailors Russell Yom (FN604) and Kenan Tan (FN401) from the Singapore Sailing Federation were selected to participate in the SailGP Inspire WASZP Racing series. Apart from being provided with an exclusive behind-the-scenes glimpse into the internationally acclaimed event, the boys pitted against some of the very best Under-21 sailors in Singapore for the chance to represent the Nation at the SailGP Inspire Grand Final held in San Francisco. With unyielding light winds throughout the series, racing took place in immensely tricky conditions just meters away from the East Coast Park shoreline. After three days of extremely tight racing, SJI is proud to announce that Russell and Kenan have ultimately emerged as joint vice-champions in the male division. Congratulations!
---
As part of their Values-in-Action (VIA) project and in partnership with the People's Association, the entire cohort of 360 Year 4 boys helped and guided senior citizens on the redemption of their CDC vouchers from 4 to 11 January. Besides teaching the elderly how to redeem their vouchers online using their SingPass and printing out vouchers at 36 community centres around Singapore, the Josephians also reached out to the merchants and hawkers to encourage the adoption of the CDC vouchers at their shops or stalls.
Ably led by the Year 4 student leaders from Prefectorial Board, the boys started planning the manpower schedule and worked on the translation of basic conversational terms and scripts to dialogue with the elderly since December 2022.
Find out more about what the boys did in Shin Min Daily and Berita Harian.
---
The Year 1 Orientation Programme resumed with much excitement and fanfare after a 3-year hiatus, to welcome the youngest Josephians into the SJI community. Besides the overnight camp, the Year 1s spent their first week exploring the various CCAs, from sports to the uniformed groups and performing arts.
The fortnight-long orientation programme concluded with the Initiation Ceremony and the long-awaited campfire on 13 January, celebrated with more than 700 parents, students and alumni. There were many firsts at this year's Orientation Programme, one of which was introducing a cohort batch song, "We are the Young."
The 2023 Year 1 Orientation Programme continues to reiterate our focus on community, and it is through this community of Peer Support Leaders, Peer Support Facilitators, CCA leaders, new friends, and teachers that the Year 1s will grow and develop in SJI. The brotherhood and friendships forged show the significance that we continue to be with all – a community that cares and serves.
View more photos at SJI Flickr Albums
---
Embarking on a new journey in upper secondary, the Year 3 Josephians discovered the importance of community and being a person for others at TABA - Together and by Association. During this two-day programme held on 3 and 4 Jan, the boys learnt about their own calling to be servant leaders and the importance of class community. They began with a class envisioning exercise where facilitators guided the boys on the importance of working together as a class. The students analyzed their own strengths and personality profiles through the DISC assessment which in turn contributed to classroom discussions on how each of them was called to be active contributors to recognising the vision and goals of their class.
The second half of the TABA programme sent the students on a trip to East Coast park for a morning of sandcastle building. Students were guided in designing and constructing these sandcastles which resulted in a time of fun, laughter and camaraderie while not forgetting the important skills of working together as a community.
The TABA programme was to prepare the boys for the challenges ahead and to remind them of the Lasallian charisms of being in association with one another and with the last, the lost and the least. TABA concluded with a Paraliturgy conducted by the Form Teachers where this same message of the Founder St John Baptist De Lasalle was reiterated and contemplated upon.
View more photos at SJI Flickr Albums
---
SJI congratulates our Class of 2022 who has performed very well in the GCE O-Level examinations. All 228 boys who sat for the GCE O-Level in 2022 will advance to junior colleges and polytechnics for their post-secondary education, with 97% of the boys qualifying for junior college. 100% of our students received at least 5 GCE O-Level passes. 53% (120 boys) achieved scores of 10 points or less (L1R5).
SJI is proud of our Class of 2022 who have performed very well in the GCE O-Level examinations. They testify to the holistic education that SJI provides.
| Summary of SJI's GCE 'O' Level Examination Results | 2022 |
| --- | --- |
| Candidature Size | 228 |
| % Passing with 5 'O' Level Passes | 100% |
| % advancing to JC or Polytechnics | 100% |
| % advancing to JC | 97% |
| % scoring 5 Distinctions or more | 69% |
| % scoring 10 points or less (L1R5) | 53% |
Mr Justin Arul Pierre, Principal of SJI, says "We are very proud and happy for our boys who have risen to the occasion and performed very well in spite of having to navigate various challenges and make adaptations to their learning over the last three years. Throughout this challenging period, they have supported each other, shown tremendous resilience, persevered, stayed the course and worked hard to achieve these results. The O-Level results of the Class of 2022 are an affirmation of the quality of the balanced and holistic education offered at SJI."
View more photos at SJI Flickr Albums
---
Congratulations to our Class of 2022 for their outstanding results achieved at the International Baccalaureate Diploma Programme (IBDP) November 2022 Examinations! All 266 IBDP students passed and were awarded the International Baccalaureate Diploma, with an average score of 41.3 out of 45 points. This is higher than the national average score of 39.48, the global average of 30.91 and the Asia-Pacific average of 35.6 out of 45.
| IBDP Results by SJI Class of: | 2022 |
| --- | --- |
| Number of students | 266 |
| Diploma pass rate (%) | 100% |
| Average points out of maximum 45 points | 41.3 |
| Number of students with 40 or more points | 214 |
| Percentage of students with 40 or more points | 80.5% |
The Class of 2022 includes 117 boys who were admitted to SJI at Secondary 1 in 2017 under the 6-year Integrated Programme that leads to the IBDP in years 5 and 6. The results achieved by our Class of 2022 is evident of a trend that the SJI IBDP relates well with students who enjoyed high academic expectations from the programme. They have found joy in learning by being critical thinkers and risk-takers who pursue their interests and passion by moving beyond their comfort zone to serve the community even during the pandemic.
Mr Justin Arul Pierre, Principal of SJI, says "The Class of 2022 has demonstrated that resilience, determination, effort and great faith in their ability to overcome challenges can produce good results, despite having to navigate through the various disruptions brought about by the COVID-19 pandemic. The students exemplified the very best of being a Josephian – by staying the course with faith to keep learning, through service to help each other through the examinations, and as one community to look forward with hope. The excellent results testify to the work of the competent and caring teachers who are always prepared to go the extra mile and they have done all this in the face of the more demanding circumstances of this pandemic time. The school is immensely proud of their achievements and wishes them the very best as they move on to seek their passion in their future endeavours."
As a Catholic and Lasallian school, SJI is committed to developing every student's character and to helping them realize their academic potential so that they become men and women whose education empowers them to make a positive difference in the world. The IBDP results of the 2022 cohort are an affirmation of the quality of the balanced and holistic education offered at SJI.
View more photos at SJI Flickr Albums